What is the best browser for Android ?
Your browser is the software that allows you to go on the internet. On an Android mobile phone, we generally find Google Chrome basicly set, but it exists many more than that.
You have an Android mobile phone and want to know which is the best browser app? Do you want to find an alternative to Google Chrome? Today 60 % of the internet searches are made on a mobile phone so it's as important as on a PC to find a web browser app that perfectly fits with your expectations. For you, we tried some of the most known web browsers apps available (for free) on the Google Play store for android and we decided to introduce you to the top 10 of them!
Google Chrome, The boss
Mozilla Firefox, The ideal alternative to chrome
Opera, The built-in VPN
Samsung internet browser, The rising star
Ecosia, The Ecologist
Brave, The Shield
DuckDuckGo, The discrete but fast
Kiwi, The user-friendly one
Tor, Privacy and liberty
Microsoft Edge, The renewal of Internet Explorer
Security, privacy, speed… we will help you to find the best (free) browser for you on Android!
Google chrome, the boss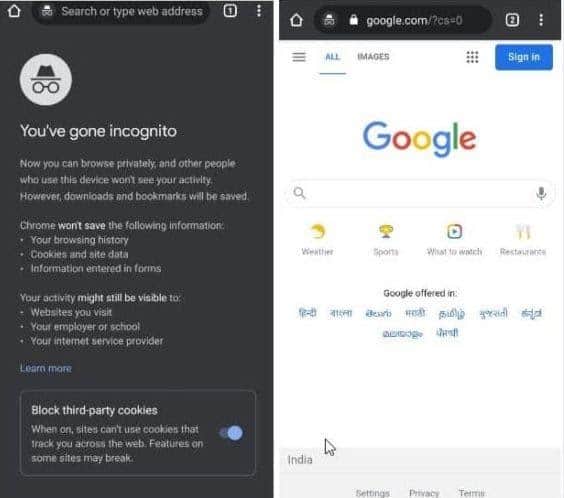 + Benefits
– Disadvantage
Performant
Intuitive
Secure
Google search voice

Collect your data
It was impossible to begin this list of the best browsers available on Android without talking about the inevitable Google Chrome. Its leading position among the browsers used by Android users is no coïncidence. Indeed, its efficiency, its multi-functionality, and its intuitive use contributed to its popularity.
This browser offers a complete and pleasant experience to the user thanks to many functions and plugins that allow you to customize it and to adapt it to your needs on desktop, but not on the mobile version. For this, Kiwi is necessary.
Above all, its principal strength is the possibility to synchronize web browsing data from your mobile to your desktop. You can hence easily switch from one screen to another.
Besides the basic functionalities such as private browsing, ad-block, or bookmark we can find some enjoyable functionality such as data saving, shield against bad websites, automatic optimization in case of a bad connection, or the vocal search assistant Google Voice.
Its complete offer and its efficiency make Chrome the ideal browser app for the average user and can be suitable for everyone.
Mozilla Firefox, the best alternative to Google chrome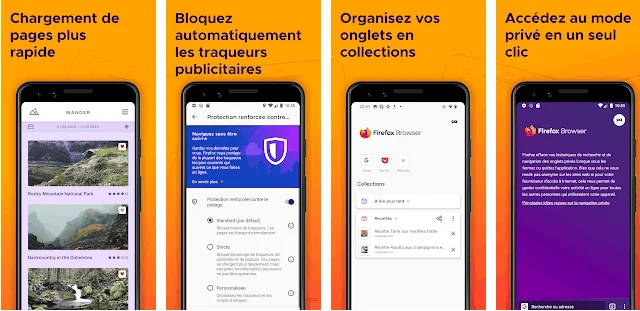 + Benefits
– Disadvantage
Is not google
Lots of add-ons
Performant
Tracker and ad blocking
Screen switching
Can be slow
Thanks to its performances and its add-ons Mozilla Firefox is the most serious contender to Google Chrome, it has been raised as a flagship by the anti-Google community.
The offer and the efficiency of Mozilla Firefox are quite the same as Google and include all basic features as synchronization between several devices, private browsing, or ad blocking.
It distinguishes itself from Google thanks to its many available plugins which make it extremely customizable and contribute to improving the user experience.
If we had to blame Mozilla Firefox for something it's that it can be quite slow and can sometimes slow down your device.
Opera, the Built-in free VPN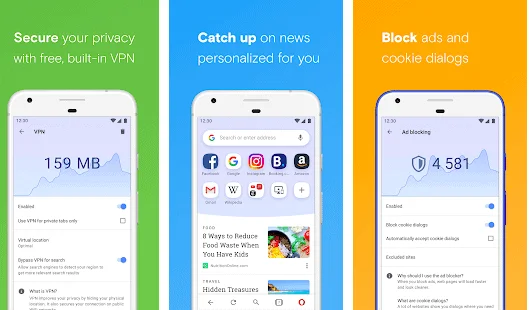 + Benefits
– Disadvantage
Privacy (Built-in VPN)
Lite mode (saving data)
Dark mode
Easy to manage
Customizable news feed
Fast
Slower than its direct competitors
Opera is now a reference among all web browsers that exist for android. Its ability to efficiently block ads as well as its built-in free VPN contributed to its reputation.
Opera is an easy managing browser and it's also extremely secure, efficient, customizable, and fast. Besides the usual functions of private browsing, ads and tracker blocking, or even synchronization, Opera offers innovative useful functions for a user who cares about peaceful and discrete browsing on the web thanks to its built-in free VPN. You can also enjoy the customizable home screen and its news feed that contribute to improving the user experience. You can also enjoy attractive functions of this app as the Lite Mode (saving data) or the night shift (dark mode).
In short, this browser offers many functionalities. If we had one thing to blame Opera for it would be his slowness compared to a browser search engine like Google Chrome or Mozilla Firefox.
Samsung Internet Browser, The rising star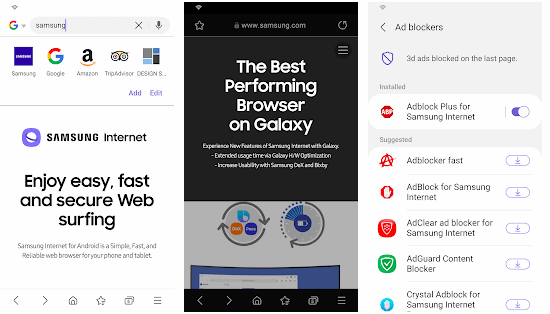 + Benefits
– Disadvantage
Video assistant VR friendly
Customizable
Good plugins and add-ons
Very complete
Absolute Dark mode
No synchronization
At first, reserved for Galaxy users, Samsung's browser app is now (since 2017) available on all Android devices.
Samsung's browser app, overshadowed by giants as Chrome and Mozilla Firefox, is yet one of the best browsers on the market. Samsung internet browser offers indeed the same features as its competitors (private browsing, ads blocking, or multi-tabs opening). However, it stands out thanks to its fast menu and its innovative functions. We especially appreciate its absolute dark mode which provides comfort during reading, its video assistant which is VR friendly as well as its very efficient download manager.
The only negative point of the Samsung browser app, compared to its competitors, is that it doesn't offer (yet) the synchronization between a device and another.
Ecosia, The ecologist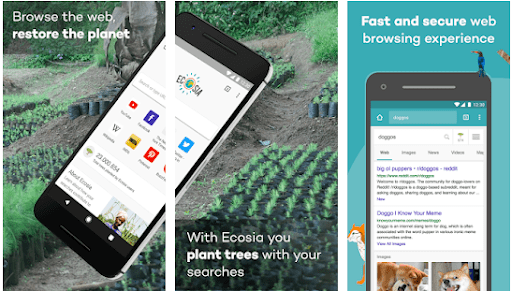 + Benefits
– Disadvantage
Ethic
Ecologic
Ad blocking
None
Ecosia is our beloved one because it's an ethical and ecological web browser. It's ideal to browse and take care of our planet.
Ecosia redistributes 80 % of its income to contribute to reforestation. Besides the ecological aspect, Ecosia also has an ethical dimension since, unlike Google Chrome, it promises to not collect your data and offers you online tranquility. Its interface won't disturb you since it's also issued from the chromium one.
Even though it's less complete than its competitors Ecosia stays a completely satisfying browser that offers enough features for normal use of the internet.
Brave, The shield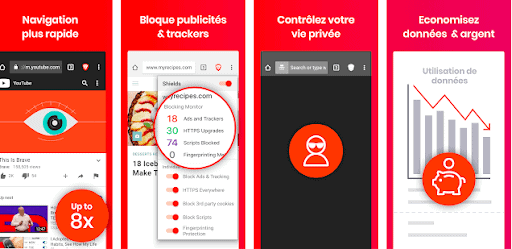 + Benefits
– Disadvantage
Fast
Secure (HTTPS Everywhere)
Respect your privacy
Efficient ad-blocking
Easy to manage

Synchronization could be better
Created in 2016 by one of the historical founders of Mozilla, Brave is a rising browser that can reach the top of the browser's ranking.
The strength of Brave is its offer which combines security, privacy, and user comfort. Concerning its interface, it's really easy to manage and isn't so different from the Chrome one since it's highly inspired by the Chromium open source.
One of the biggest strengths of Brave stands in the security it offers thanks to its HTTPS Everywhere which guarantees you the protection of your data in any place you are and on any website you browse. You will also enjoy its download manager and its speed which is 2 to 8 times Superior to a classical browser. The little bonus point : Brave allows the user to reward some websites for their quality.
DuckDuckGo, The discrete but fast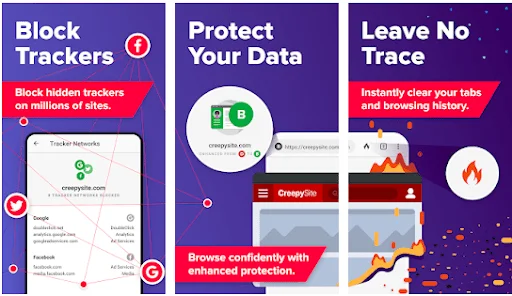 + Benefits
– Disadvantage
Fast
Encrypted connection
Tracker blocking
Easy cookie, history search and data remover
Could be more complete
DuckDuckgo, like Brave, is among the rising newbies' on the Google Play store thanks to its speed, its ad blocking, and its encrypted connection.
This browser offers you wholly anonymous and peaceful browsing since it erases every ad and pop-up. Behind its simple interface, many exciting features for the user are hidden. You can hence find a reliability score on every website you browse on, you can also enjoy a quick closure button that switches off everything you're doing at one time. Duckduckgo also takes care of your privacy thanks to HTTPS everywhere.
Duckduckgo has however some lacks, which will be corrected with time, as too few add-ons, no synchronization, or an ad-blocking that is not so efficient. It's ideal for the one who wants a simple interface and discrete and fast browsing.
Kiwi, The user-friendly one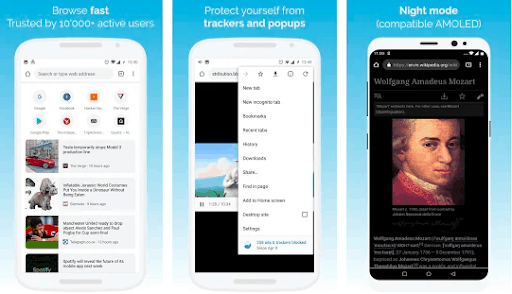 + Benefits
– Disadvantage
Customizable home screen
Night shift (Complete dark mode)
Lite mode
Secure
No synchronization
Kiwi is one of the browsers that deserves to be more known. Its interface, close to the Chrome one, as well as its numerous features, make it very user-friendly and offers a really enjoyable user experience.
If Kiwi doesn't offer synchronization it offers, however, some enjoyable features for the one who looks for comfortable browsing. Thus, its night shift allows you to watch a video and read articles in the best conditions and its lite mode helps you to save your battery and your data. Some of you will also appreciate its security and the numerous shields against ads or cryptojacking.
Tor, privacy and liberty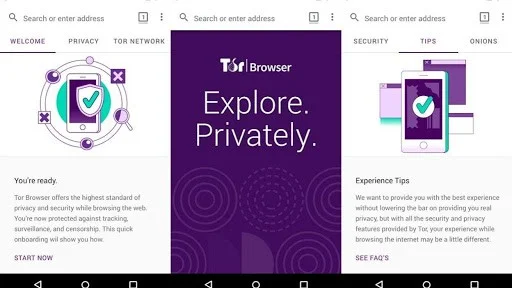 + Benefits
– Disadvantage
Secure
Privacy and anonymity
Allows to access to the internet anywhere
Quite slow sometime
You want to go on the internet without any restriction? You care about your intimacy? Tor is the perfect browser for you! Very similar to its Desktop version, the Tor browser for Android is well known by dark web users.
The main advantage offered by Tor is the encrypted connection which makes your online activity almost untrackable . It looks like a very classical browser and its interface won't disturb you. The disadvantage of so much privacy can be quite a slowness due to the data encryption.
Tor is ideal as a secondary browser to navigate in anonymity and to accede to some forbidden websites in your zone of location.
Microsoft Edge, The renewal of internet explorer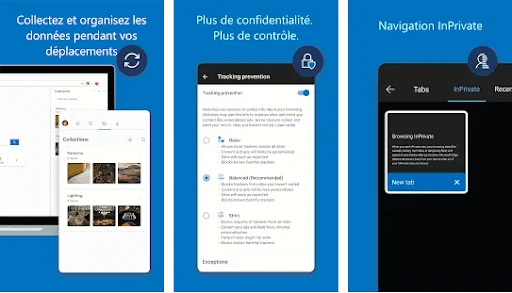 + Benefits
– Disadvantage
Complete
Ad blocking
Respect your privacy
Reading assistant
Not so many add-ons
Microsoft Edge is the new Internet Explorer and has nothing to envy to Google Chrome and Mozilla Firefox. This new version of the well-known Explorer is actually quite complete and offers many features.
Besides the usual features (private browsing, bookmark, synchronization, etc…) you can enjoy the fact that Microsoft Edge doesn't keep the cookies and browsing data on your device. You may also enjoy the ad-blocker, the intuitive fill-up password, and information, reading assistant, and other features that improve user comfort.
You are now aware of the 10 best free browser apps available on the Google Play Store for Android devices. So it's you to choose among all of them the one who perfectly fits with your expectations (privacy, speed, security, etc…). You can also go to the Google Play Store and download some other browser apps for Android that we didn't try here as Puffin free versions (a Puffin Premium one also exists), Aloha Turbo Browser, Dolphin, Vivaldi, or Phenix Browser. So… Let's be curious and make your own experience!