Notion vs. Trello – An In-depth Comparison
Notion and Trello are one of the best services available that help you with getting things done efficiently. It is natural for a new user to compare the two services to determine the best one according to their business workflows.
We will provide an analysis of both these apps, making it easier for you to decide and make a choice. Each software is great and has different uses depending upon the scenario. We are living in an ideal time because the management of your team and productivity has never been easier.
In a nutshell, the answer to finding the best app solely depends upon your intention to use the app. If you are looking specifically for project management, surely opt for Trello. If you are looking for a jack of all trades sort of application, go for Notion.
Notion allows you to accomplish any task and not just project management. If you are looking for a web based tool that can achieve beyond project management, Trello is your answer. In this article, we will be explaining the features of both and try to create a clear image in your mind.
Trello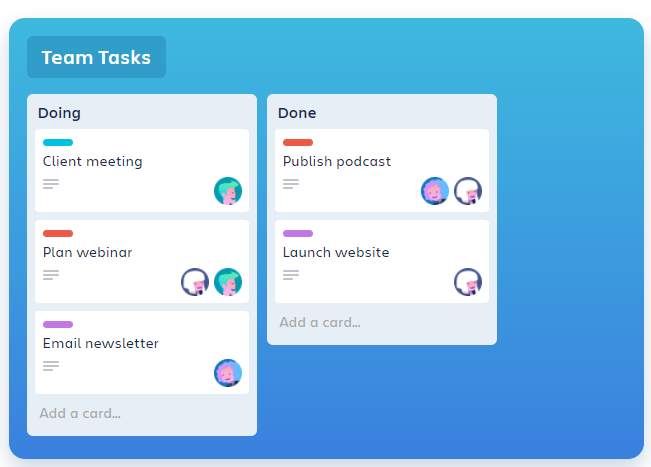 Explaining Trello
Trello is a project management platform. Trello focuses on the Kanban-style of project management. Kanban is a derivative of the agile methodology of project management popular with software development apps.
The software industry has been using this technique to manage their projects successfully, and they term it the best.
Why to Opt in for Trello?
Simplicity is what makes Trello so useful. As a project management tool, it indeed accomplishes what it promises. You can focus on one core function and deliver on that function in a well-planned and executed manner. At its core, Trello is a kanban software project management service.
If you are looking for help with any trivial task such as note-taking or making a to-do list, Trello is not the answer. If you prefer a different style of management than Kanban, Trello is not for you. However, if you are in the software development industry or a big fan of the visual representative style of Kanban, you must use Trello to improve and create your workflows. Projects have never been made easier.
Trello can also integrate with another productivity app known as Asana. Asana is a project management tool made for both teams and individuals. The stable integration of Trello with Asana provides one of the best productivity combinations possible.
The visual appeal of Trello is also enthralling. You will not find a better-looking app to work with. You have the features to customize backgrounds and tweak other things to spark your kanban board with magic.
Moving cards along the columns is relatively seamless, with the individual cards being highly customizable. Attachments can be shared with other team members. Collaboration on your projects is made easy. It is, however, not friendly for mobile users.
For what not to use Trello?
One of the most significant features of Trello is also its biggest weak point. Trello focuses only on the Kanban-style of software collaboration project management.
If you are looking for something that allows you to take notes or deal with any other trivial task, you should resort to another application. Time is money, and Trello helps you keep track of it across the project.
Trello does not try to prove something it is not. There are quite ardent believers out there of doing a single thing good than doing many things adequately. Trello has embraced this philosophy. The designs extremely beautiful that are sure to deliver using the Kanban methodology.
If you are not looking for management, collaboration and resource tracking of your software projects, Trello will not be of help.
Notion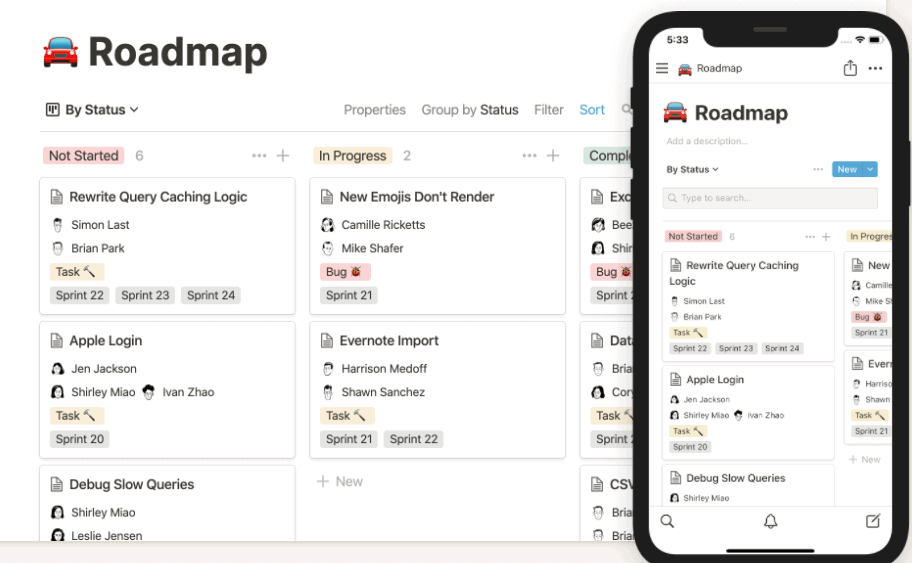 Explaining Notion
Notion brings all of your productivity tools and features in one place. Notion comprises a series of web pages in the form of a hierarchy. It can easily be compared to a swiss knife of all the productivity tools out there.
The possibilities and features with Notion are so great that there is little that this excellent tool can not accomplish. Notion can act as your to-do list manager, document collector, workplace manager, etc. It can ease any of your daily workflows, calendar management, give you that business reminder on a Monday, reduce your work, whether business-related or not.
Some people compare it with Evernote, but that is an unfair comparison. It can automate your workflows, such as an automated reply to the desired person. The view is exceptionally aesthetic and pleasing to see. You will not find a better personal and team content manager than Notion. Notion can also integrate with Asana. This combination is well-loved by many people.
Why to use Notion?
To put it in one word, task versatility. Converse to Trello solely being focused on project management with the kanban system, Notion embraces versatility. Notion can perform a wide range of functions in the workflow of productivity.
Notion does a relatively decent job with the web based tools that are already integrated inside of it. Notion promises to be flexible and that it delivers. It will simplify your productivity tasks. After you create an account, the free plan will now give you unlimited pages & blocks to manipulate with and add images, text, card, or any content, etc.
Upgrade your plan for more fonctionality. Templates are also available for newbies on the platform. Templates created by users are also uploaded on the images gallery and are available to view and use. The mobile support and view with Notion are great with the same workplace view. In short, it is best for enhancing personal productivity tasks or even a small business.
Why not to use Notion?
It is quite a well-known phrase, "jack of all trades, master of none." This does explain the situation of Trello to some extent.
Notion might be a good app for taking notes, but there are better note-takers in the field if that is solely your task. Notion can manage
to-do lists,
manipulate tables,
databases,
custom content types
But if your business only requires a single purpose, there are better apps out there. A small portion of people who desire perfectionism will not like Notion.
There is a trade-off in exchange for a one-stop-shop of productivity. You have to choose between having the best available app for a task or one app that can do it all. If you want comprehensive management of projects, Trello must be your best go-to app.
Why Trello Instead of Notion?
Trello is simply a project management web based tool and good at what it promises. If you are solely looking for project management and tracking web based tool, Trello will be your answer.
However, if you are looking for a more dynamic and versatile software, Notion is the way forward. Notion does have a Kanban-style board but lacks the features required for entire project management as ascribed by Trello. If the management of projects and tracking of workflows is what you want, do not waste your time on any other app because Trello is your go-to app.
Trello: perfect for project management, agile development, kanban view
Notion: very versatile productivity tools from taking notes, kanban project management, calendar, custom types of content, …
Are Trello and Notion Even Competing?
In short, no.
These apps are not alternatives to each other. Both the apps are fantastic and were built for different purposes. Trello was based on project management according to Kanban style geared for software developers.
This is what Trello advertises itself, as this is what it does well, i.e., projects. Notion, on the other hand, is excellent all-purpose productivity software. It is not fair to compare both the apps because both work in different ways. With many other productivity Softwares out there, such as Asana, to-do list makers, etc., it becomes challenging to choose.
Each software has its benefits and disadvantages depending upon the projects at hand and the work you want to accomplish. Both these apps are fabulous and free to some extent.
Check the features and add the best one that suits your teams to your check list and create an account today. Plan wisely!