8 Unmissable free AI art generators: watch your words become beautiful images
Looking for an easy, engaging way to create eye-catching visuals without any artistic skills? Look no further!
Today, Debugbar will introduce you to 8 unparalleled AI art generators that magically transform your text inputs into enthralling images.
Buckle up for a fascinating journey where words become art!
#1 Nightcafe: the beginner-friendly AI art generator with extensive options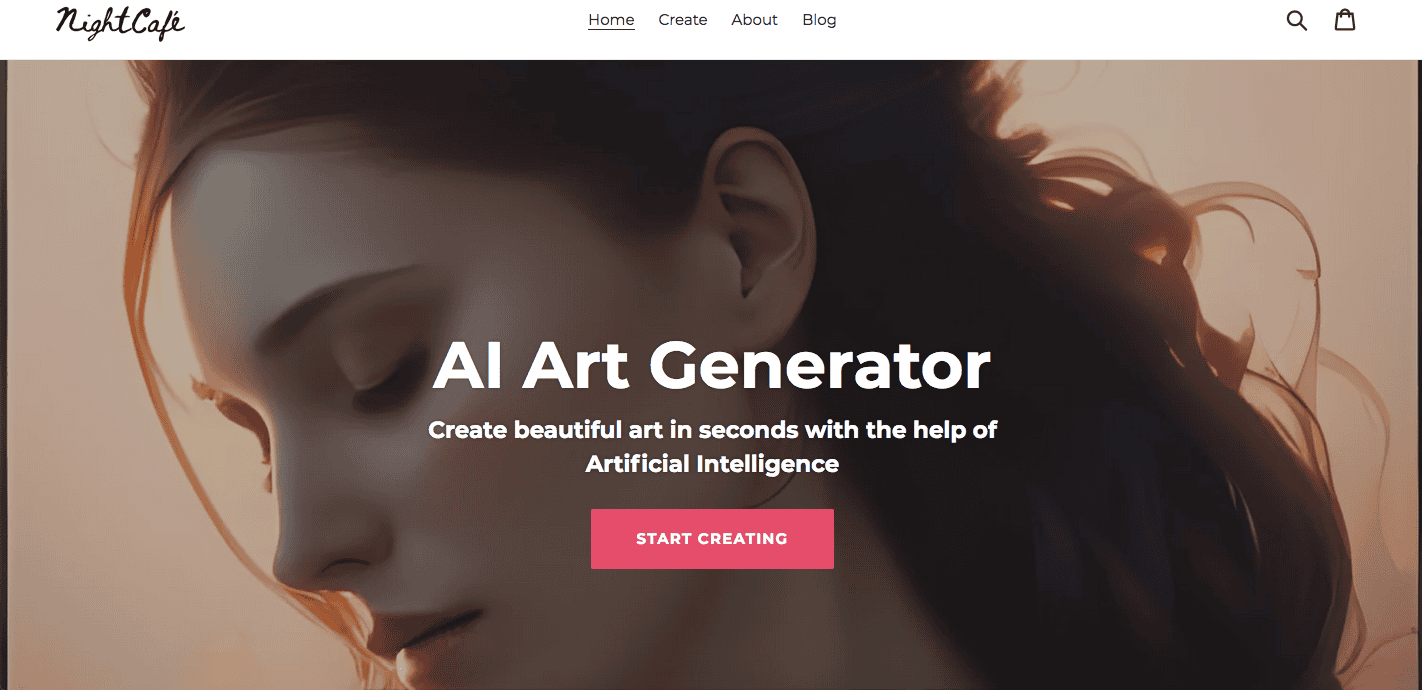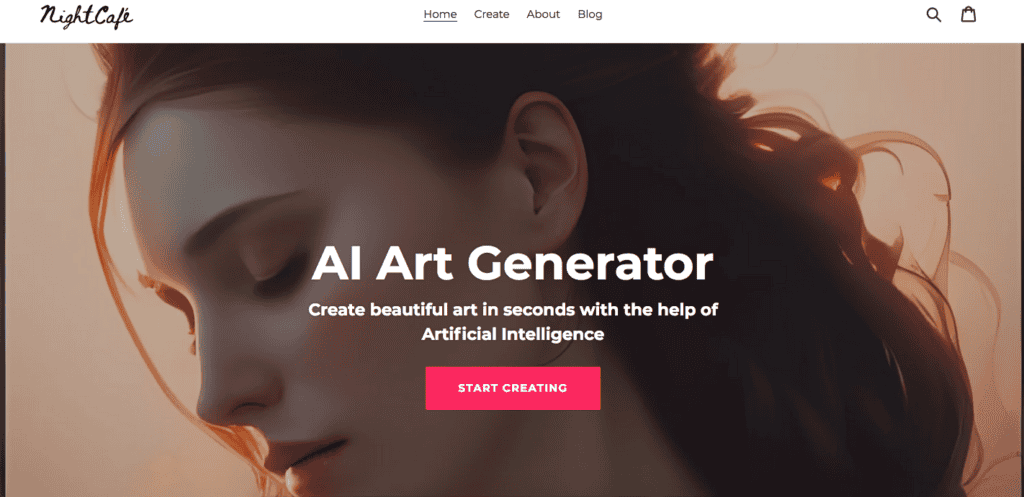 Nightcafe is a top-notch, web-based text-to-image generator that transforms simple English sentences into eye-catching paintings using AI.
Key characteristics of Nightcafe include:
Various artistic styles and algorithms.
Beginner-friendly with advanced controls for experienced users.
Credit system with generous free tier.
Community participation for credit earning.
Bulk image downloading and video creation.
Prints of your artwork available for purchase.
To get started with Nightcafe, log in and follow these steps:
Go to Nightcafe website & click on "Start creating".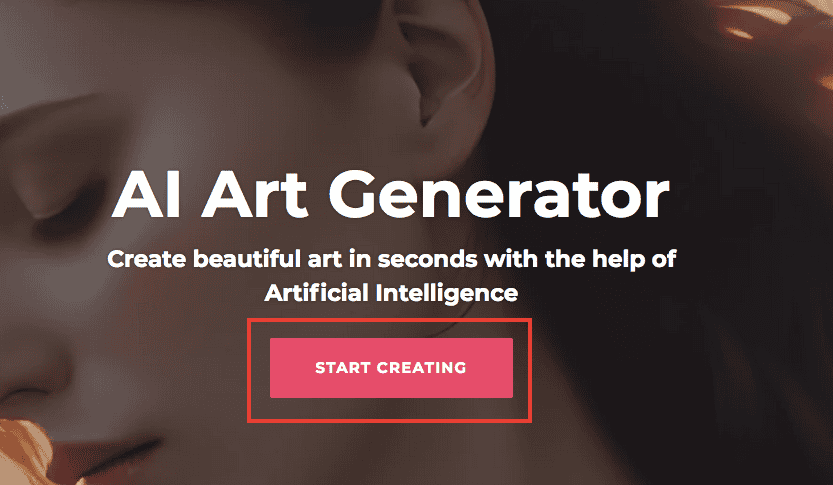 Set up all the options & click on "Create".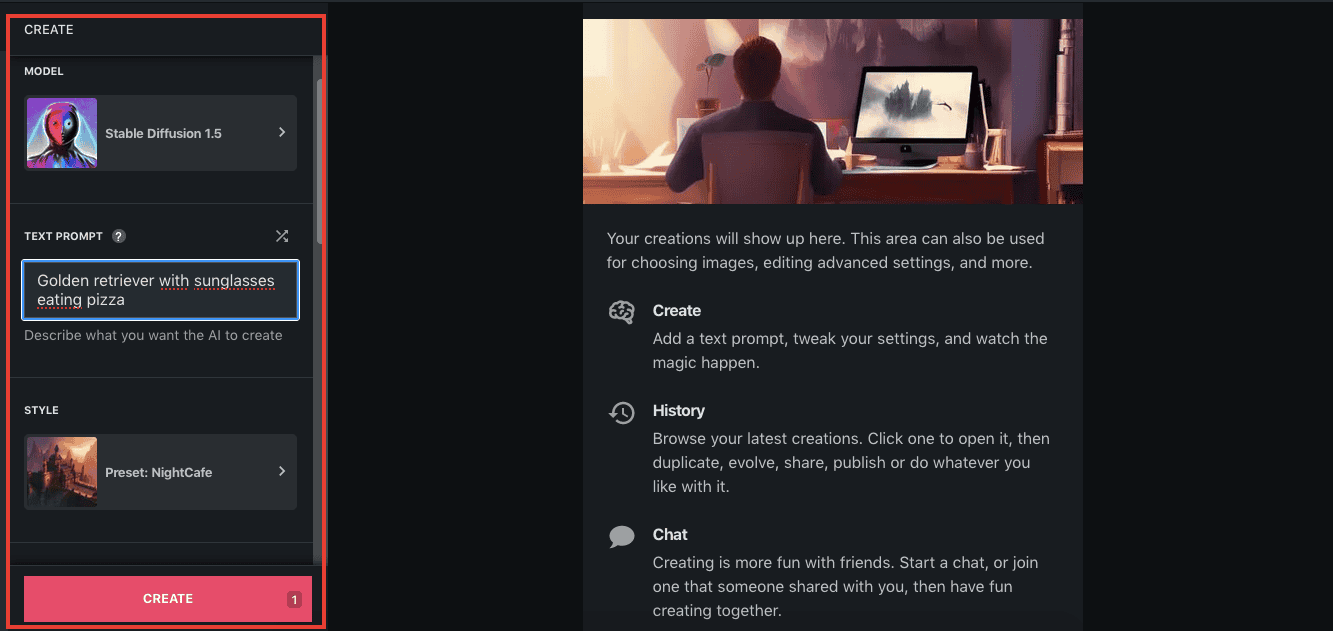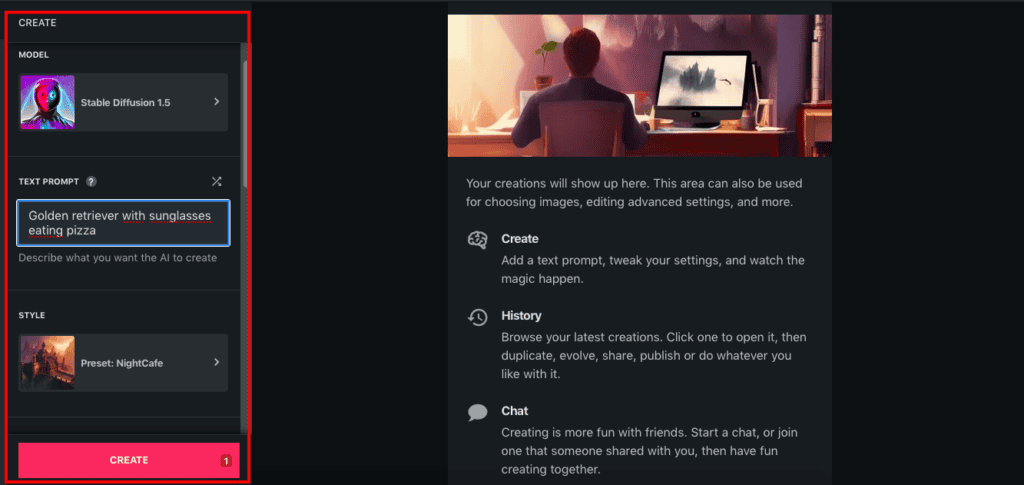 Pick the image you want to keep.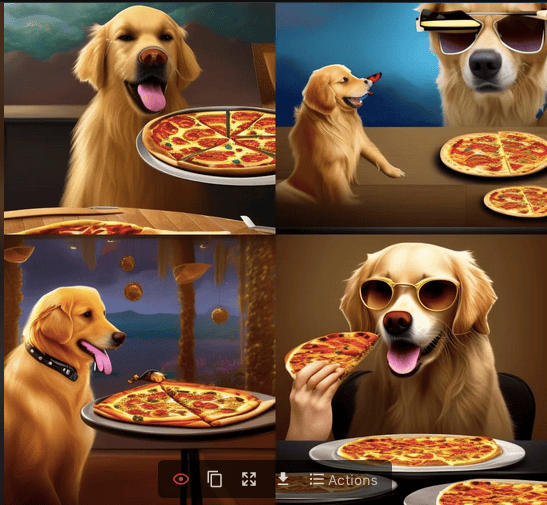 Nightcafe is an excellent choice for those looking for a free alternative to Midjourney, another popular yet paid text-to-image generator.
In comparison to other generators, Nightcafe stands out for its extensive options and models like Stable Diffusion, DALL·E 2, CLIP-Guided Diffusion, and VQGAN-CLIP.
The platform also nurtures a vibrant community with challenges, a Discord server, and a gallery showcasing AI-generated content.
#2 Starry AI: Personalized AI art at your fingertips with granular control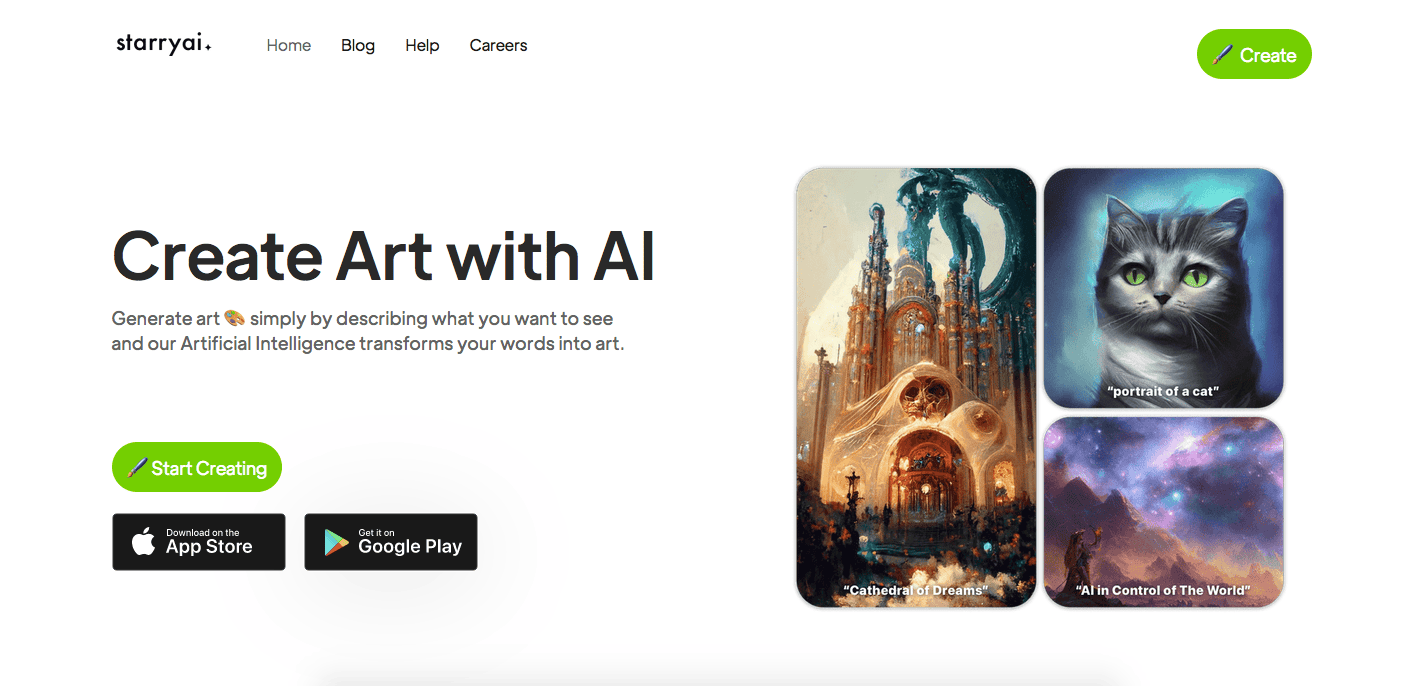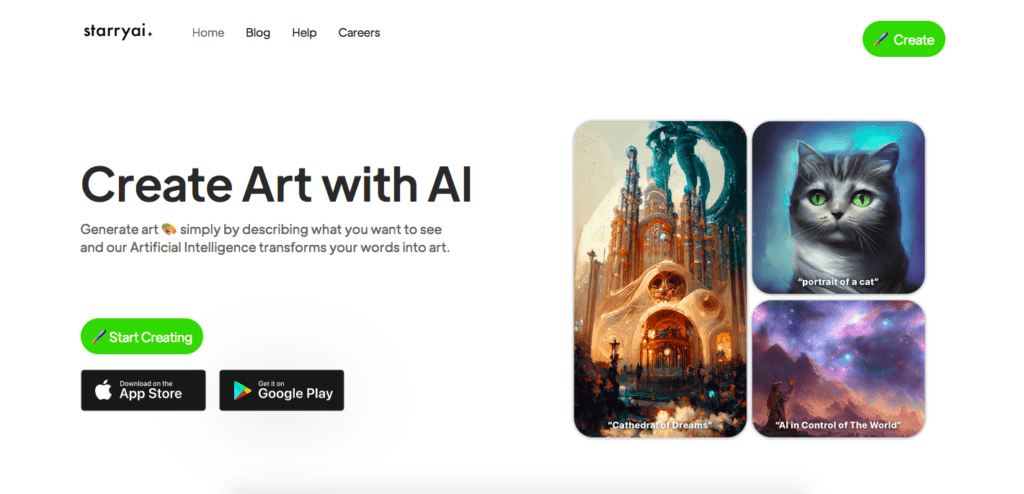 Starry AI, an AI-powered app and web-based platform, has been designed to intricately weave text into stunning, personalized AI artwork images.
This innovative tool offers you total control over the creative process, allowing you to easily explore the world of generative models.
Key characteristics of Starry AI include:
Comprehensive control over inputs such as prompt, canvas size, runtime, and optional start image for Art.
User-friendly interface with easy account creation.
Five free credits for generating images, which can be replenished by watching ads or sharing art on social media.
Utilizes advanced AI models like VQGAN-CLIP and CLIP-Guided Diffusion.
To experience the wonders of Starry AI, follow these simple steps:
Download the Starry AI app on your Android or iOS device or go directly to Starry's website.
Create an account to unlock access.
Click on "Start creating"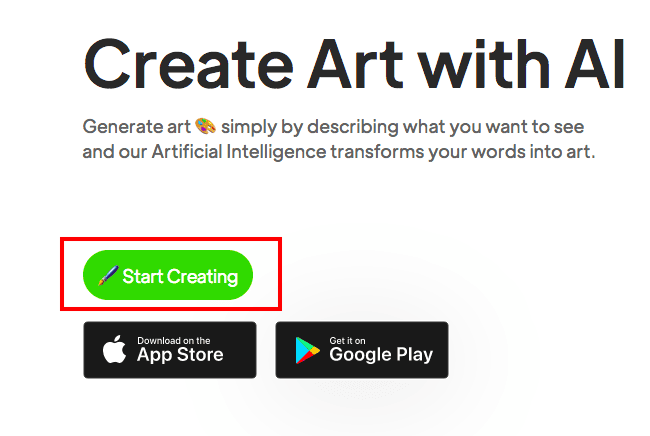 Choose whether you want the AI to draw an Art or Photo image.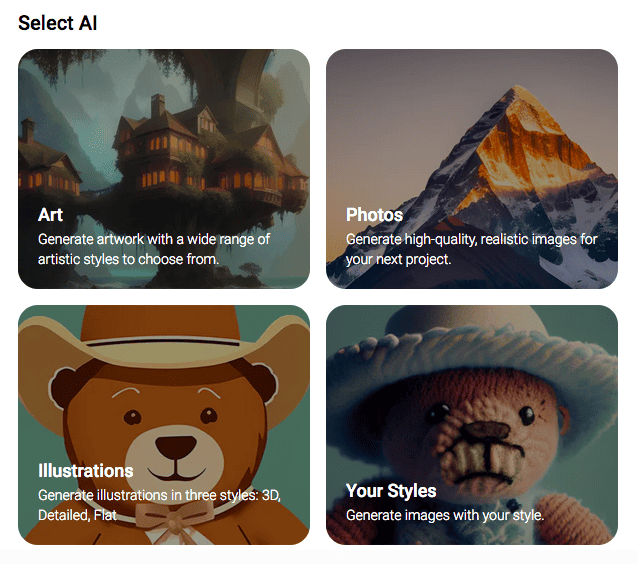 Input your desired settings based on the chosen image type.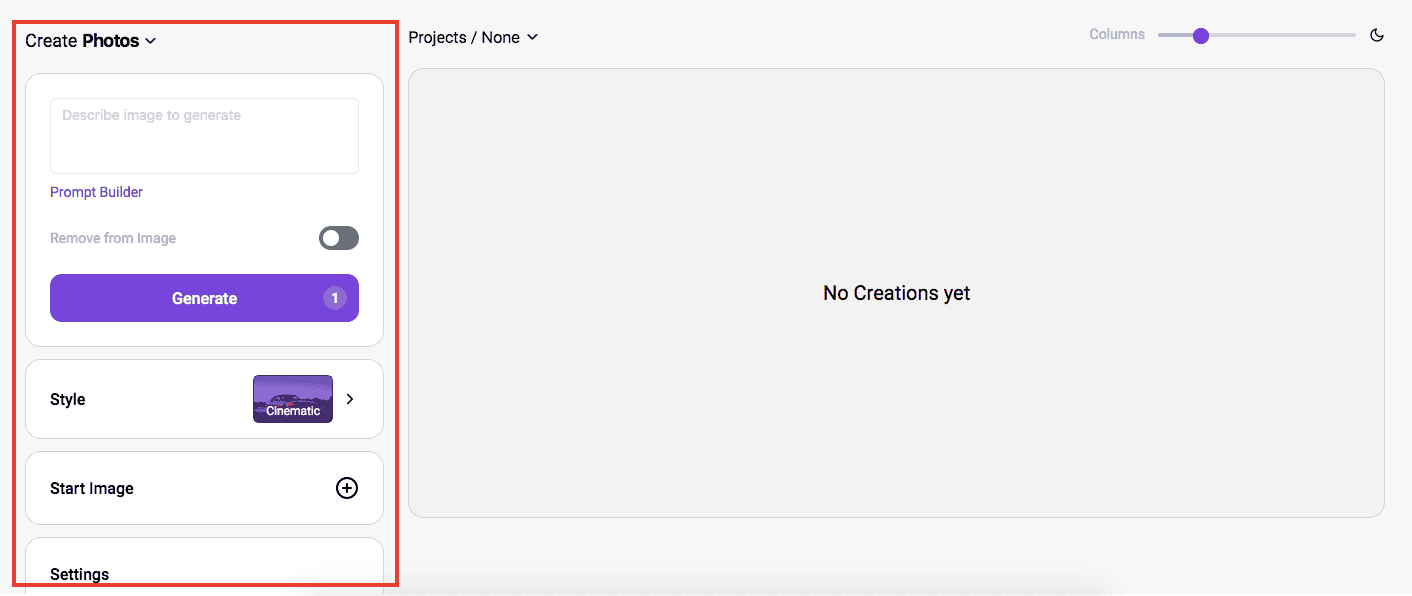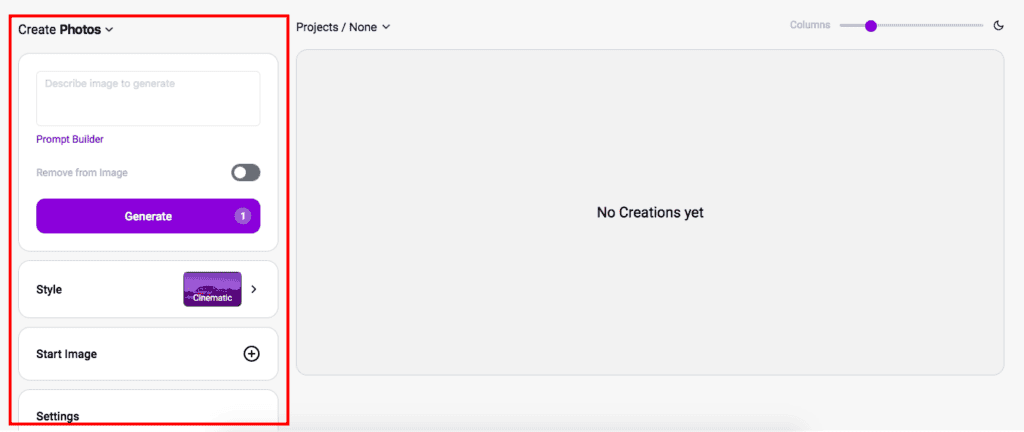 Click "Generate" and watch as your text becomes a masterpiece!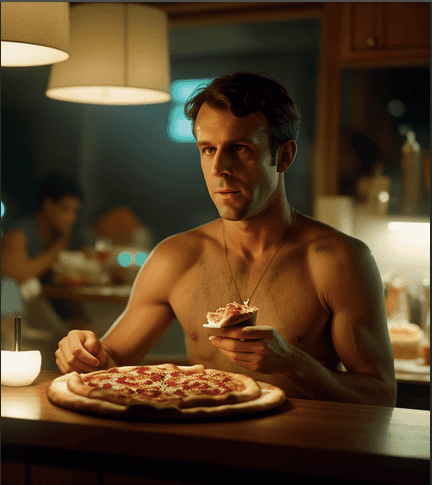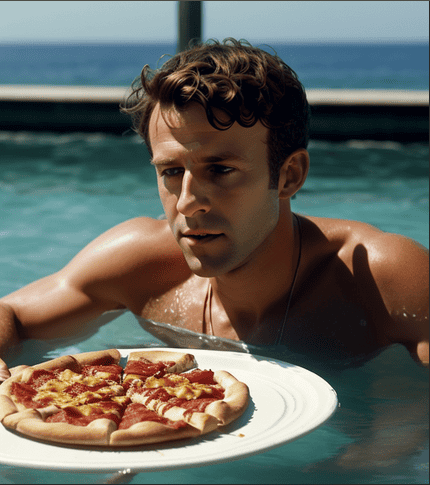 Remember that each generated picture consumes one credit, so use your five freebies wisely!
With Starry AI's unmatched granular control and diverse options, it's no wonder that this cutting-edge tool is recognized as a top choice for exploring generative art.
#3 Craiyon: OpenAI's DALL-E turned accessible and unlimited with user-friendly features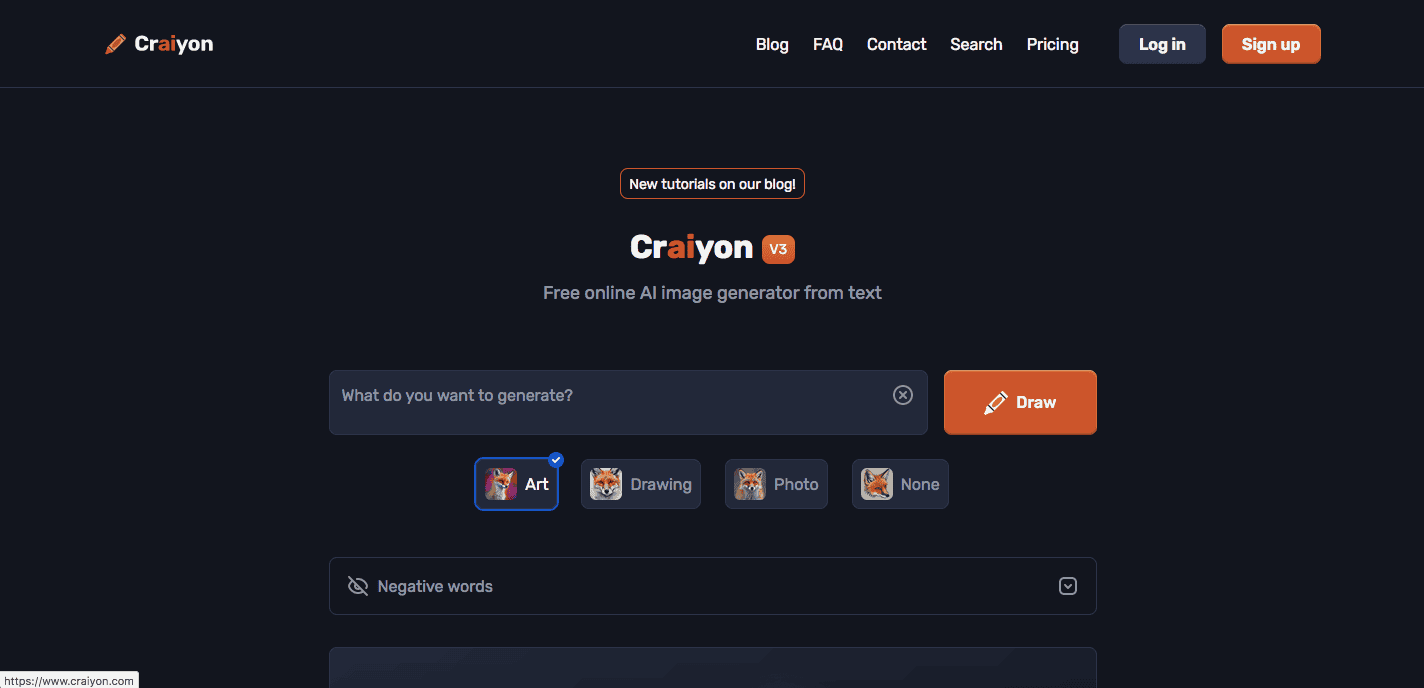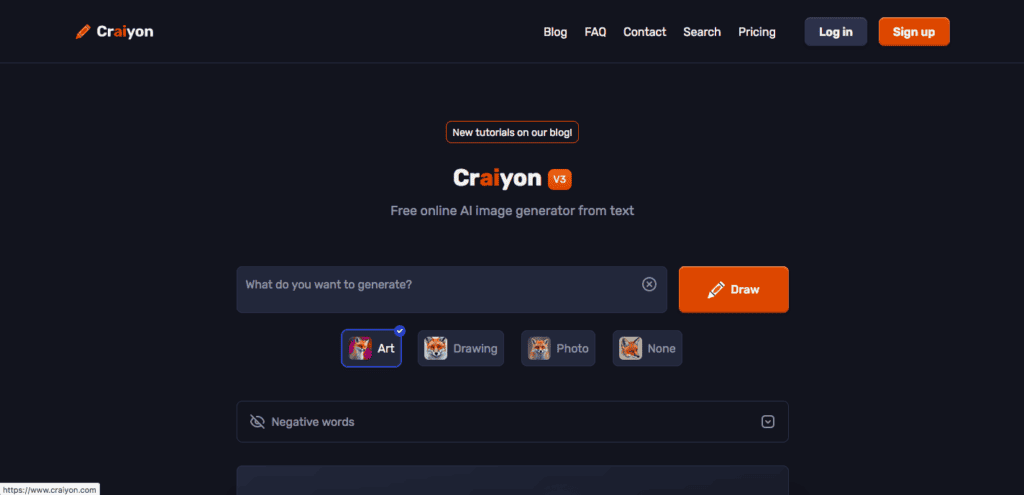 Craiyon, born out of the revolutionary OpenAI DALL-E research, is an open-source AI text-to-image generator that offers a simple and effective way for users to transform natural language prompts into impressive, visually-appealing images.
Key characteristics of Craiyon:
Web-based platform offering easy and straightforward usage.
No registration required, allowing for immediate access to the tool.
Unlimited attempts to generate images based on your text input.
Generates nine different images per prompt.
Save the creations directly on your hard drive at no cost.
Here's how you can experience the power of this tool:
Access the web platform.
Enter your sentence in the text box provided at the top of the page.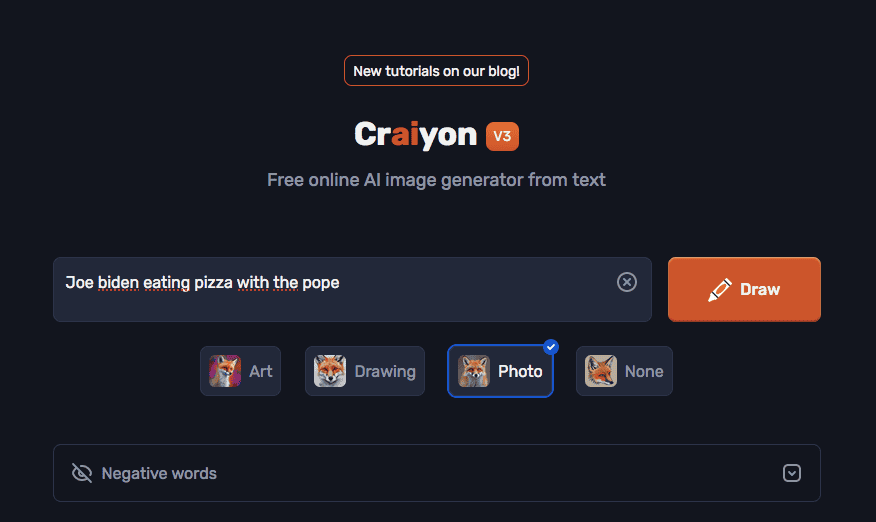 Refine your image preferences with optional negative words.
Click "Draw" to unleash your imagination!
Select the image(s) you like the most and save them to your device.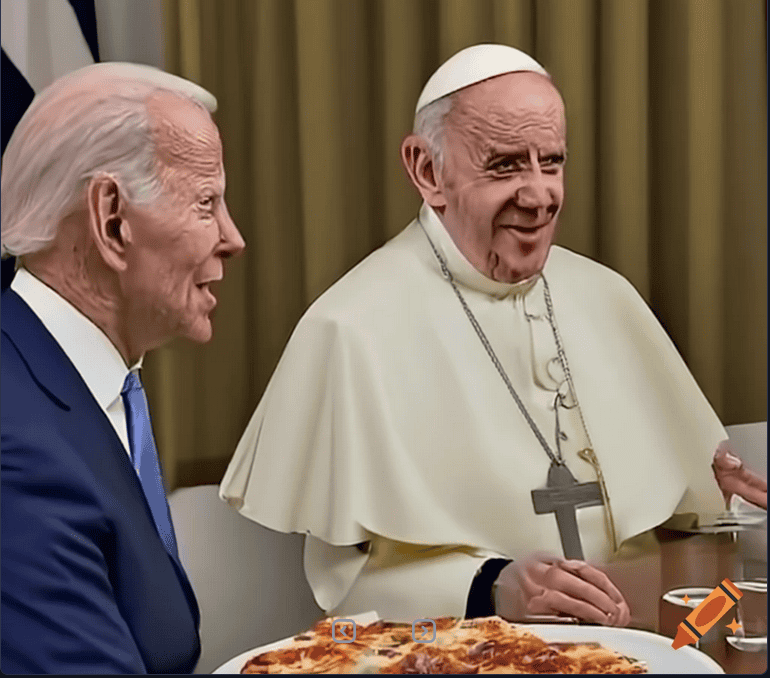 Although the tool lacks advanced attributes and customization options found in other tools, it stands as a user-friendly, free alternative that still provides an enjoyable experience.
With its roots in OpenAI's DALL-E model evolution, Craiyon is a fantastic option for those who value simplicity, accessibility, and unlimited attempts.
#4 Dream by Wombo: Turn your ideas into AI-generated masterpiece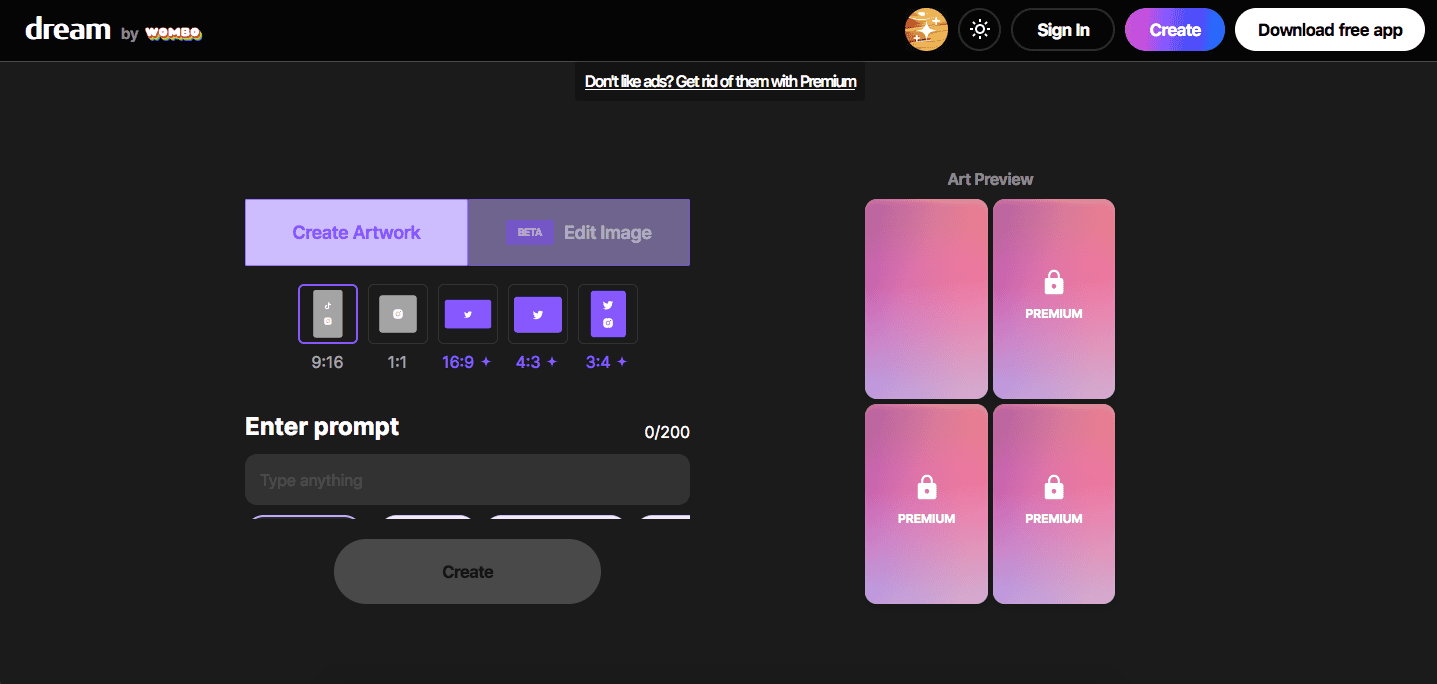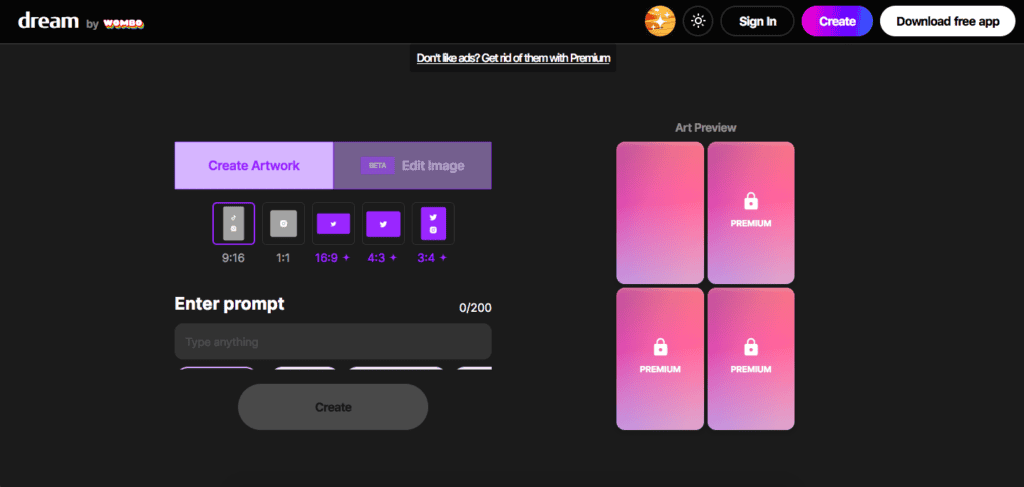 Dream by Wombo is an AI-powered NFT creator that effortlessly converts your text inputs into captivating works of art.
Available on the web and as a mobile app for Android and iOS, this comprehensive tool offers various styles, mesmerizing surreal designs, and user-friendly functions at your fingertips without the need to sign up.
Key characteristics of Dream by Wombo include:
Wide range of styles: Ghibli, Unrealistic, Anime, Surreal, and more.
Prompt-based image generation with optional iteration.
AI NFT creation capabilities.
Photo-to-cartoon or faux-painting transformations.
VQGAN-CLIP-based AI models.
To start using Dream by Wombo, follow these steps:
Access the web platform or download the mobile app.
Write a sentence to elaborate your desired picture.
Select a style from the list.
Optionally add an Input Image for more personalized results.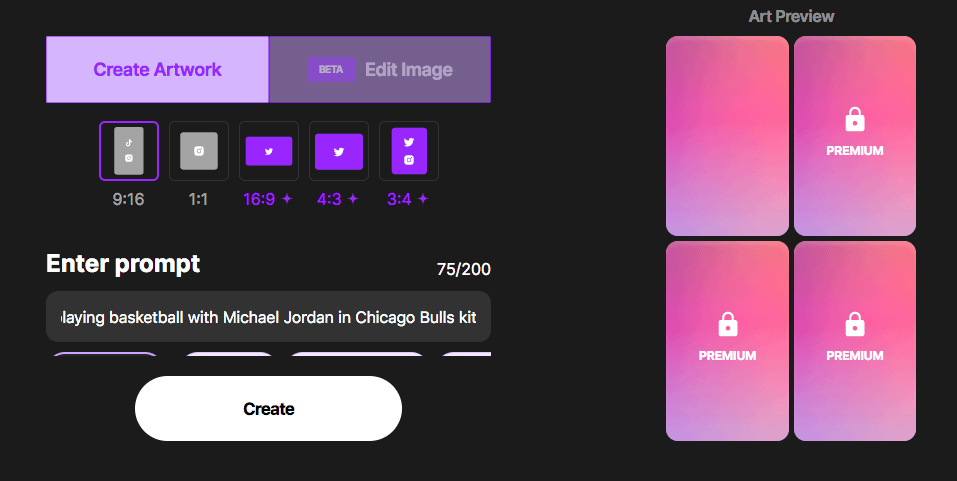 Hit "Create" and watch your idea come to life!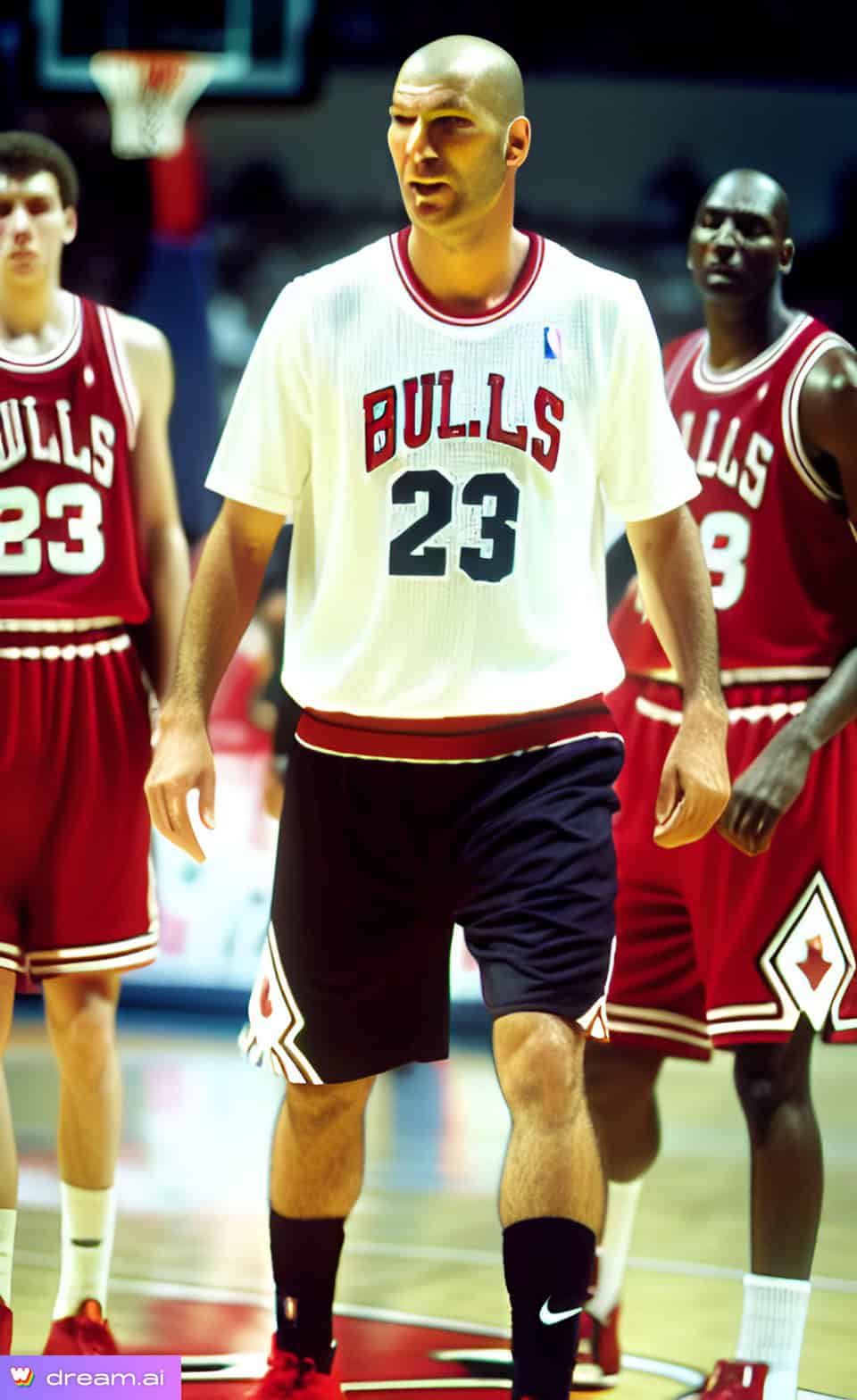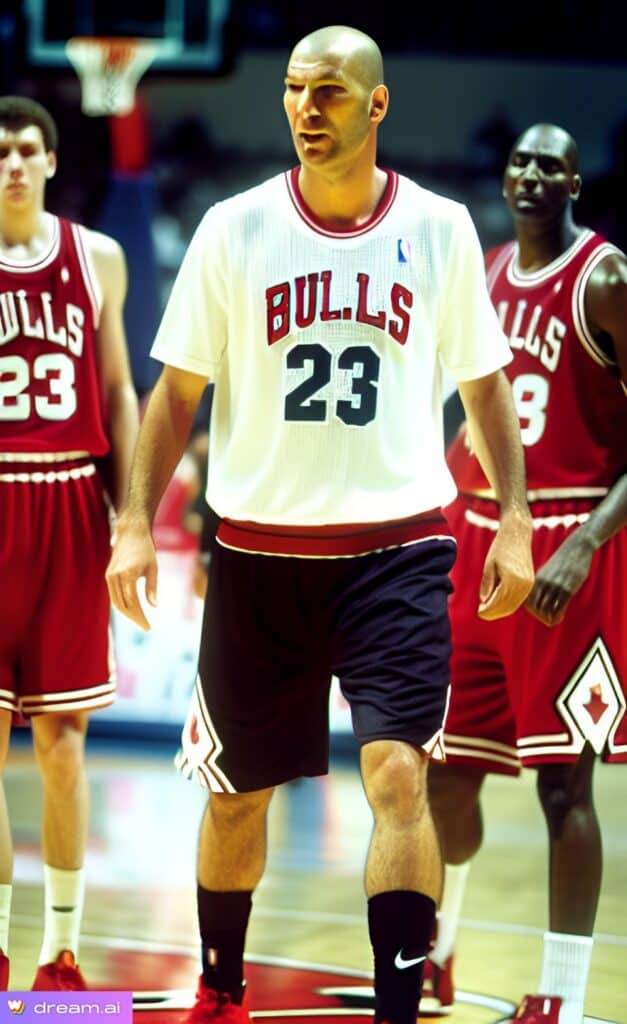 Save or request further iterations of the generated content.
With its all-around capabilities and ease of use, Dream by Wombo has earned its reputation as one of the best NFT creator apps on the market.
Offering a variety of options and functionality at no initial cost, this powerful tool allows both beginners and experienced users to explore their creativity through AI-generated art.
#5 Pixray: The ultimate playground for AI art generation with extensive customization and integration capabilities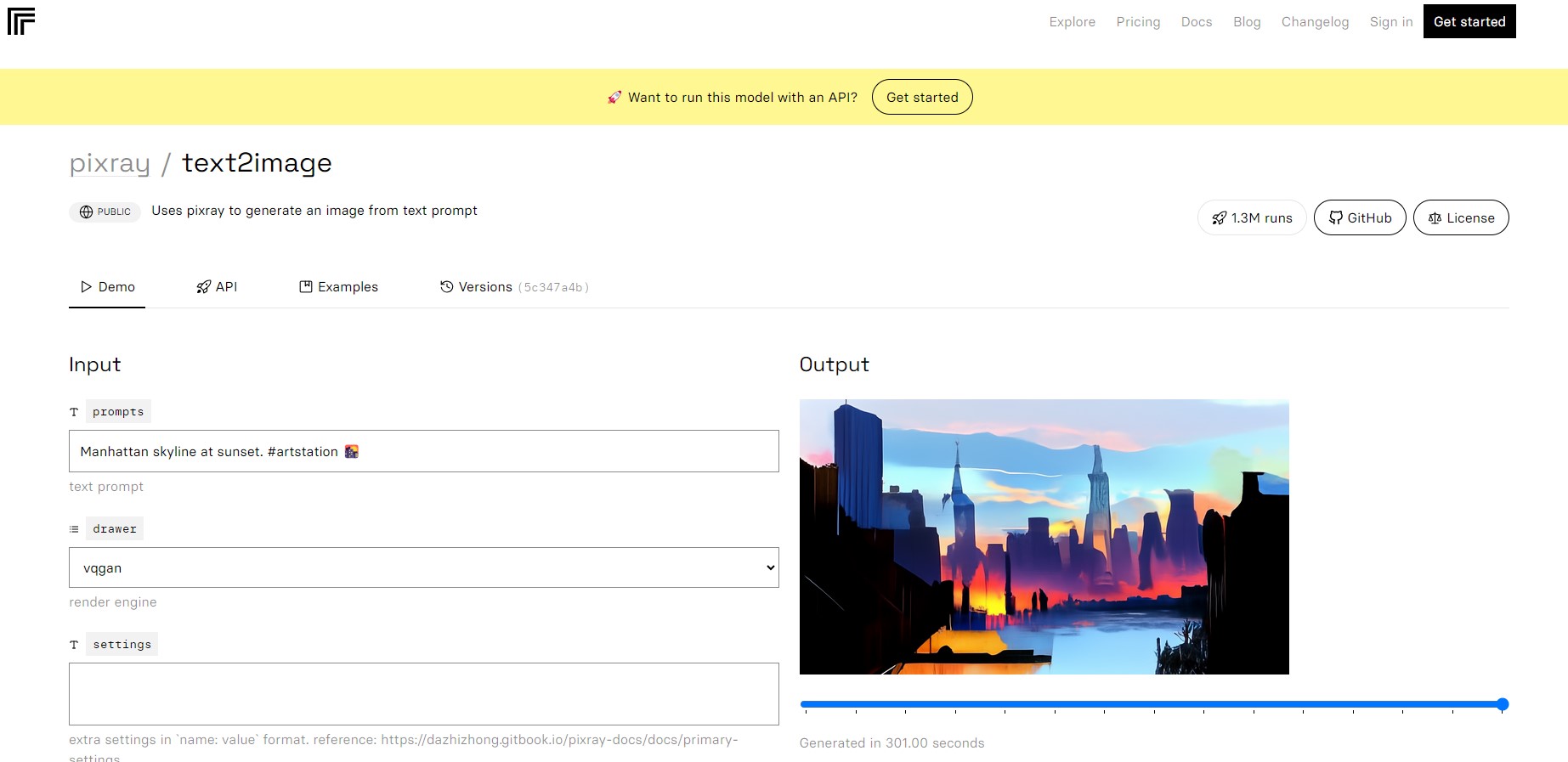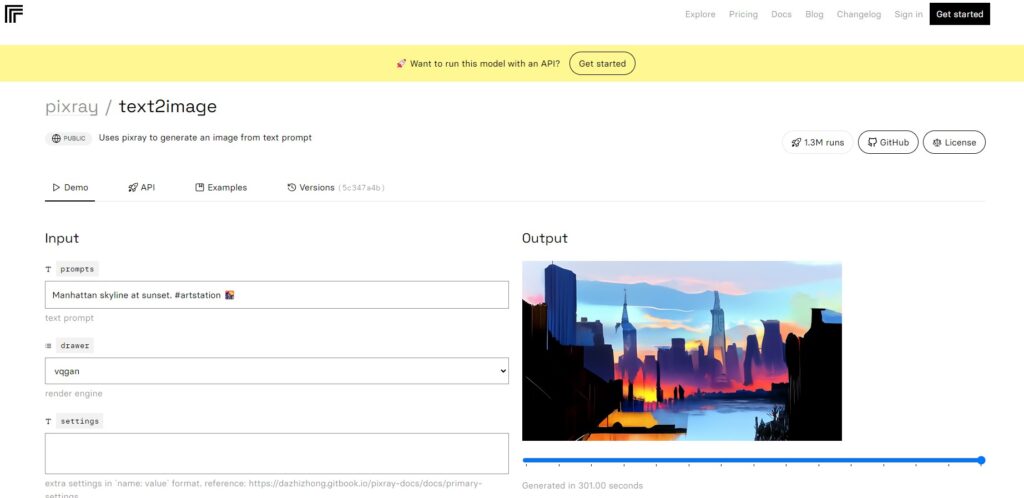 Pixray is a dynamic, browser-based text-to-art generator that allows you to transform your written prompts into unique, AI-generated artwork.
Boasting an array of AI render engines, Pixray provides an adaptable platform for users to experiment with different styles while offering seamless API and Python implementation for integration with other applications.
Some of the notable characteristics of Pixray include:
Various AI render engines: Pixel, vqgan, clipdraw, and line_sketch.
Intuitive default interface with simple prompt input and engine selection.
Comprehensive "Settings" section for customization including artists or styles, quality level, iteration count, scaling factor, and more.
To start experimenting Pixray's, follow these simple steps:
Visit the Pixray website and access the free demo version.
Enter your desired text prompt.
Select an AI render engine that best fits your artistic vision.
Adjust the various settings to customize your picture until it matches your preferences.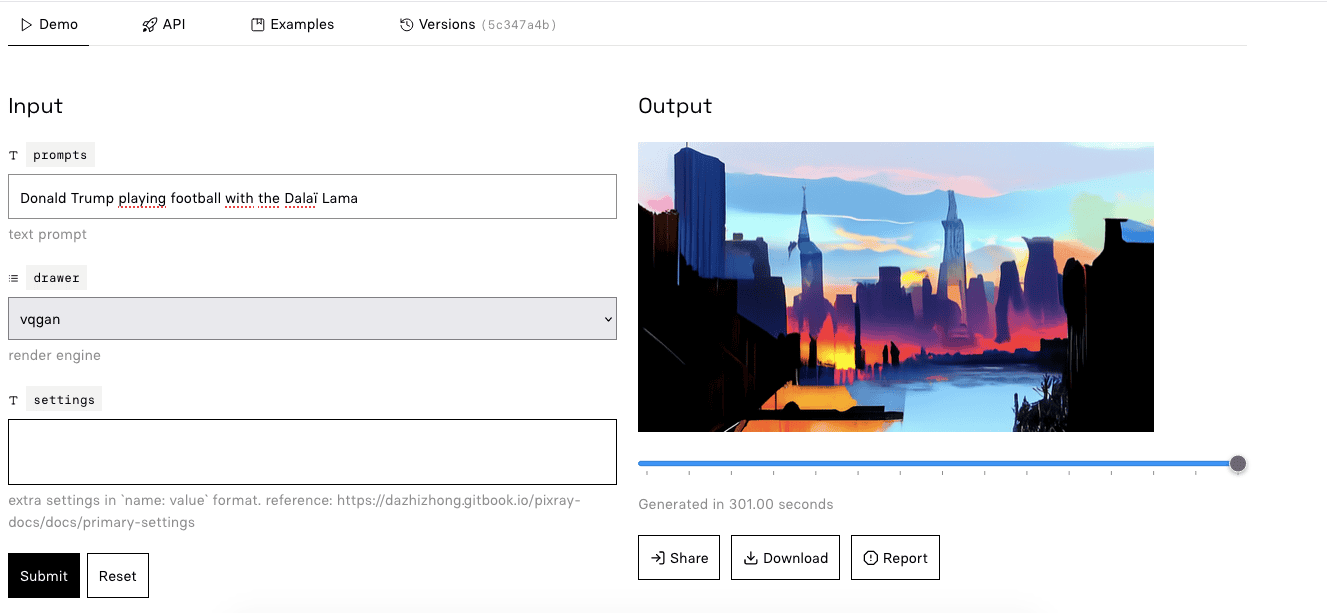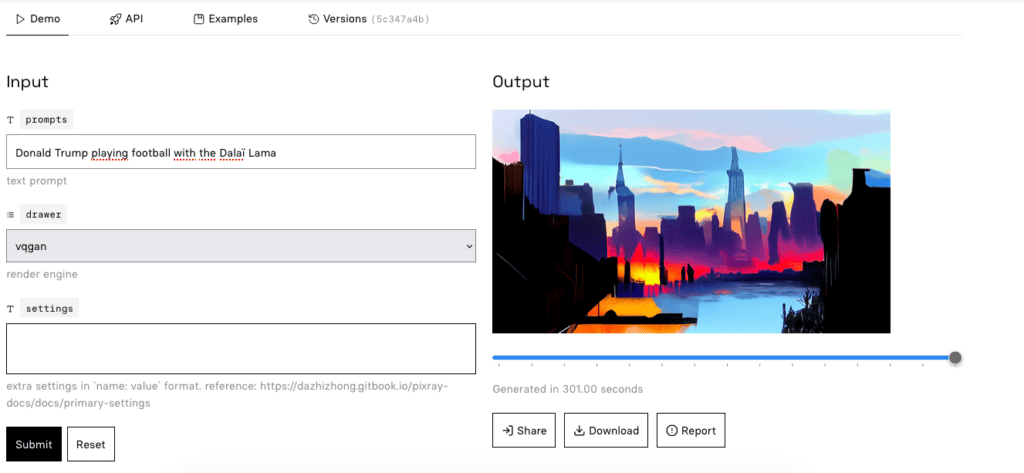 Generate your unique AI-driven masterpiece.
Whether you're a seasoned digital artist or simply looking to dabble in AI-generated art, the versatile Pixray platform offers an engaging way to unleash your creativity through customizable settings and user-friendly features.
Its extensive options and powerful capabilities truly set Pixray apart in the world of AI art generators.
#6 DeepAI: Create diverse images with impressive styles and remarkable ease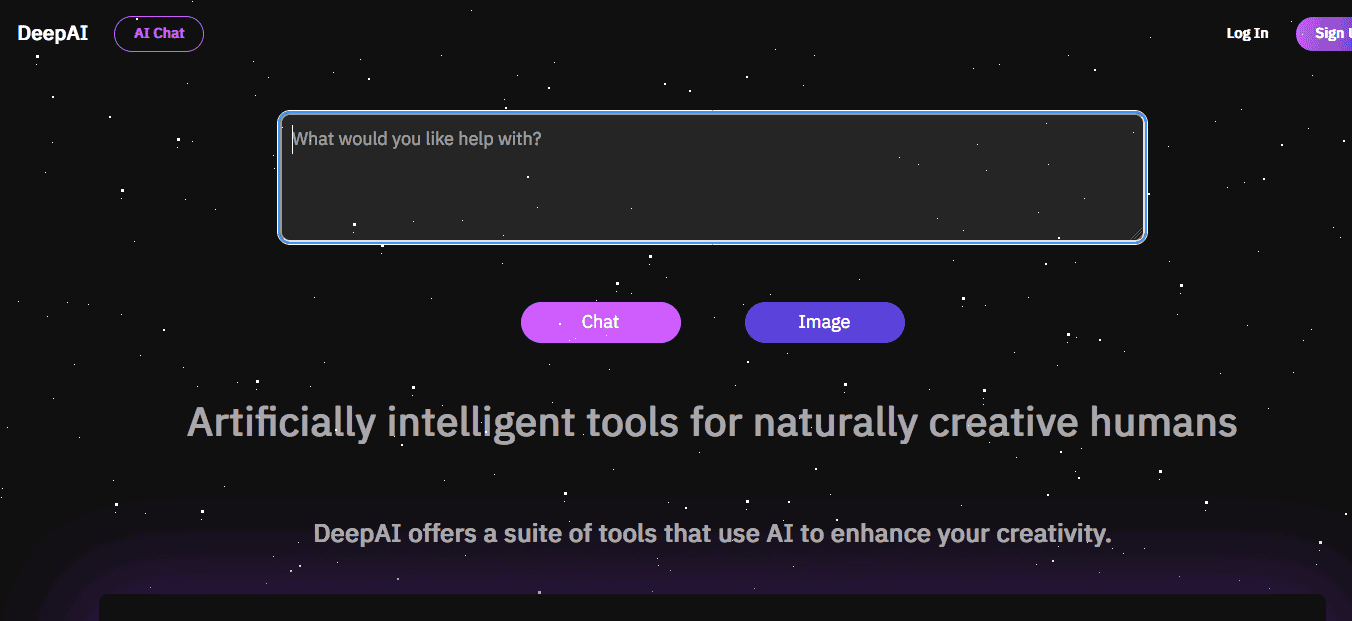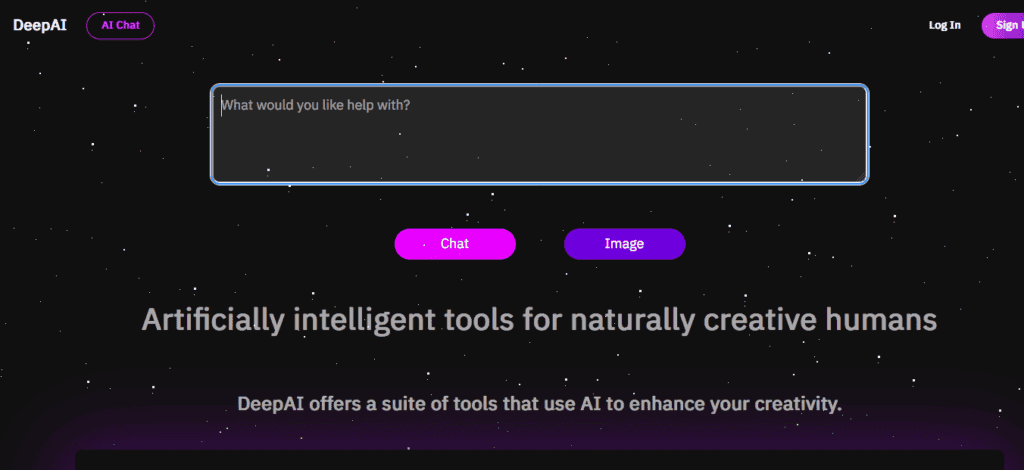 DeepAI is a web-based text-to-image generator established in 2016 to democratize AI through open-source software.
It effortlessly turns your text inputs into captivating images with a wide range of styles, making it quite versatile and beginner-friendly.
To give you an overview of this exceptional tool, here's a breakdown of DeepAI's essential attributes:
Built-in tools like StyleGAN and BigGAN to elaborate realistic images.
CartoonGAN tool for transforming images into cartoons.
Paid plans starting from $5/month for 500 images.
Suitable for developers who want to use AI API.
To begin your journey with DeepAI, follow these simple steps:
Visit the DeepAI web platform.
Type in your desired text prompt.
Choose the image style that best suits your preferences.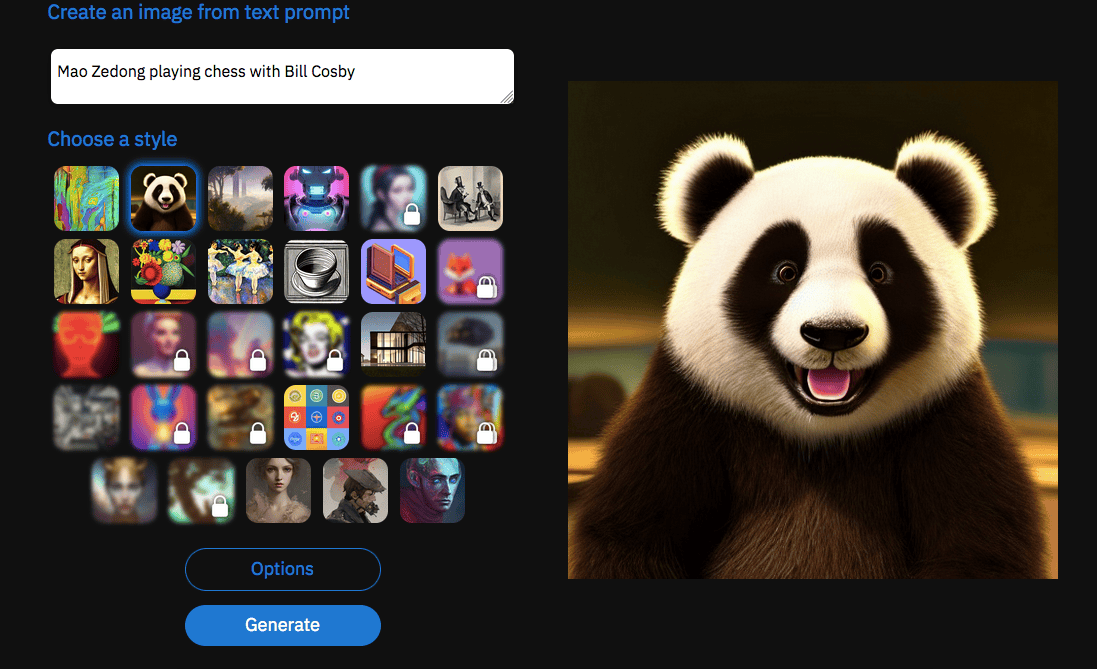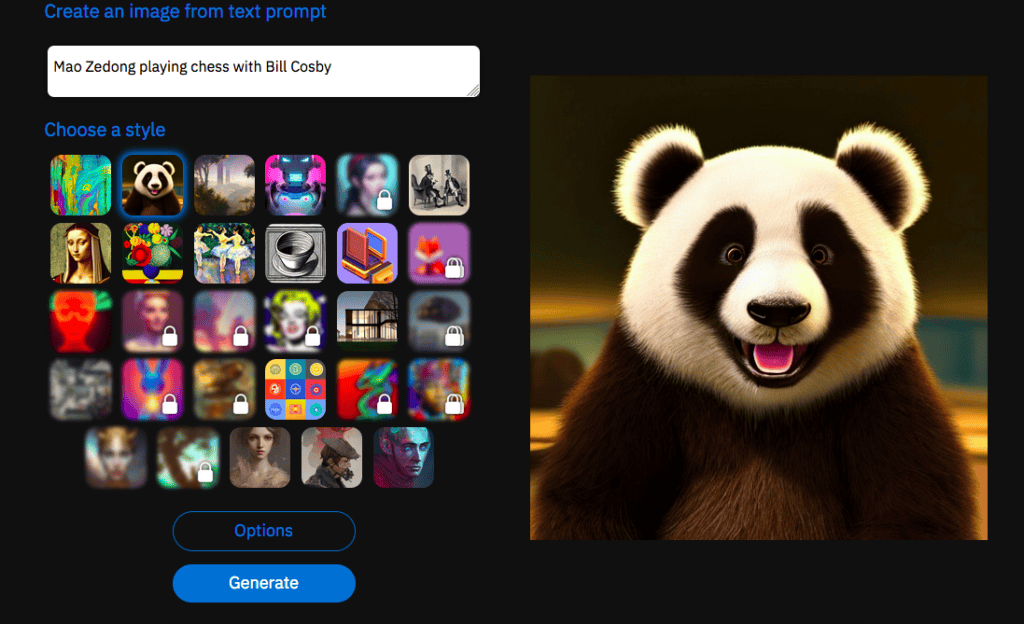 Generate your unique AI-driven visual content!
Save the generated image.
By offering an extensive set of readily available image styles and customization options alongside affordable pricing plans, DeepAI stands out as one of the most enticing text-to-image generators on the market.
With its clean web-based platform and outstanding characteristics, DeepAI serves as a reliable choice for enthusiasts and developers interested in exploring AI-generated artwork.
#7 Bing Image Creator: Microsoft's AI-powered tool for generating captivating visuals with precision and ease
Bing Image Creator (BIC), a product of the collaboration between Microsoft and OpenAI, introduces a new world of AI capabilities to Bing search.
With its ease of use and integration with Bing Co-Pilot, this powerful text-to-image generator breathes life into your prompts, producing visually appealing images tailored to your specifications.
Here are the key highlights and characteristics of BIC:
Simple and user-friendly interface for generating images by entering text prompts.
High-quality outputs with improved specificity obtained by providing detailed descriptions.
Accessible through the online web-based platform at no cost.
Utilizes DALL-E 2 for image generation but with unique default styles that differentiate it from other DALL-E 2-based generators.
To start harnessing BIC's power, follow these steps:
Visit the BIC website.
Enter a detailed description or text prompt to generate your desired image.
Click "Create" and wait for the AI magic to unfold.
Save or share your custom artwork as needed.
BIC is perfect for those looking for an easy-to-use yet powerful AI text-to-image generator that offers precise control over image outputs.
By combining Microsoft's expertise with OpenAI's cutting-edge technology, Bing Image Creator provides a formidable, free option for transforming text into visual masterpieces.
#8 Deep Dream Generator: Elaborate unique, dreamlike images powered by AI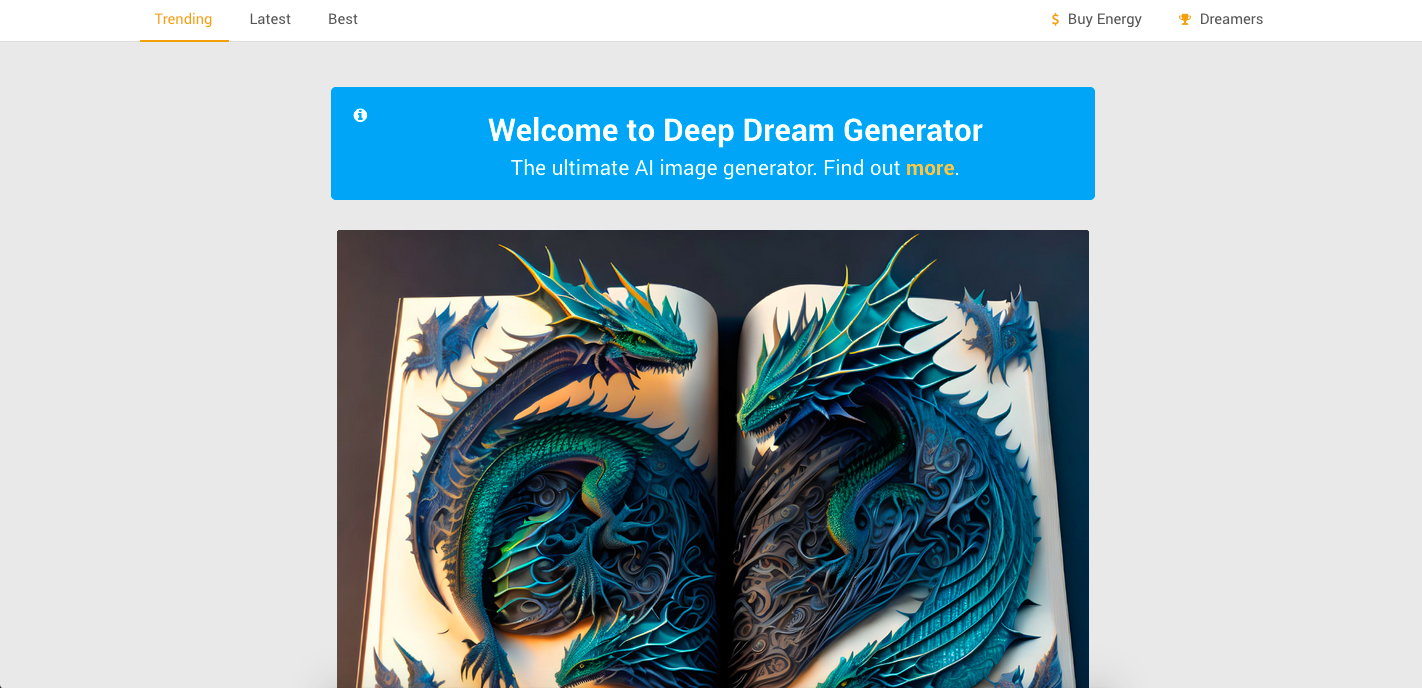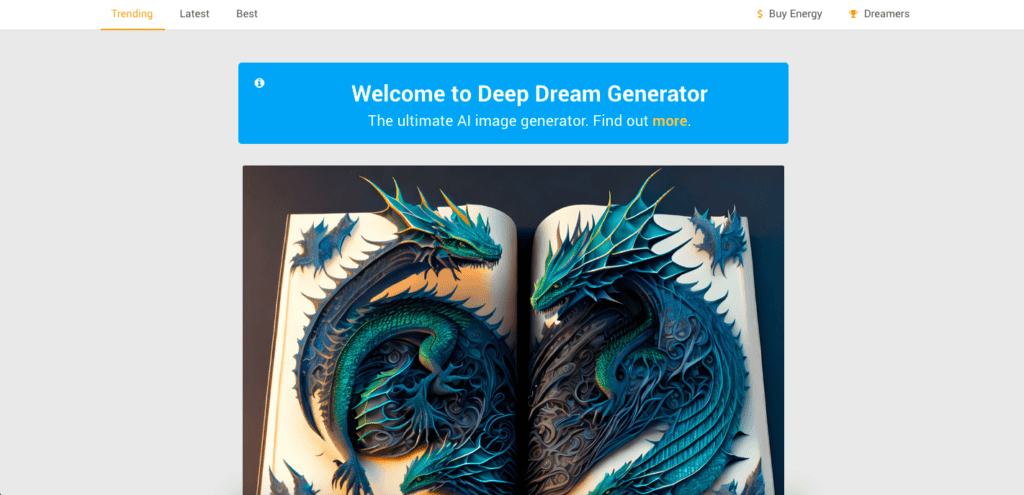 Deep Dream Generator, developed by Aifnet, is a renowned online tool that utilizes a neural network to elaborate mesmerizing, realistic images based on your inputs.
Rooted in Google's DeepDream algorithm, this AI art generator boasts an effortless user interface alongside advanced features and customization options.
Here's a comprehensive overview of Deep Dream Generator's primary attributes:
Easy-to-use web-based platform.
Utilizes a neural network trained on millions of images.
Offers three distinct styles.
Provides predefined categories like animals or landscapes for image generation.
Incorporates text-to-image algorithms like Stable Diffusion.
To start generating unique AI-based artwork with Deep Dream Generator, follow these steps:
Visit the Deep Dream Generator website.
Choose your preferred style and upload an image or enter text.
Adjust settings and customization options as needed.
Generate your distinctive, AI-driven artwork!
Whether you're looking to create visually-striking images for personal projects or professional endeavors, Deep Dream Generator holds the key to unlocking a treasure trove of artistic possibilities.
With its intuitive interface and advanced features, this tool has established itself as one of the leading AI art generators available online.
Best AI art generators: Key takeaways and top picks
In summary, these AI art generators provide a diverse range of features and capabilities that cater to different creative needs and preferences. Here's a quick recap of the top AI art generators we explored:
| | | |
| --- | --- | --- |
| Tool Name | Platform | Pricing |
| Nightcafe | Web | Free with credit system for premium attributes |
| Starry AI | Web, Android, iOS | Free with in-app purchases for additional credits |
| Craiyon | Web | Free with optional paid plan for faster processing and no watermarks ($6/month) |
| Dream by Wombo | Web, Android, iOS | Freemium pricing model with premium options at $9.99/month. |
| Pixray | Web | Free demo version available, pricing varies for API usage |
| DeepAI | Web | Free plan for casual users, starting from $5/month for premium attributes and additional images |
| Bing Image Creator | Web | Free to use (online) |