Complete SEO guide for plumbers
Are you a plumber wondering how to increase your online visibility? Do you question why your competitors rank at the top of search results, and not you? Fear not, you're not alone in asking these questions, and more importantly, there are solutions.
Even though the digital landscape might seem vast and complex (especially technically speaking), with the right information, you can truly stand out.
Debugbar is here to guide you step-by-step in crafting an effective SEO strategy for your plumbing business.
But before we begin, here are the key takeaways if you don't have time to read all the content:
SEO (Search Engine Optimization) is crucial for plumbers to increase online visibility and attract potential customers.
A strong online business profile, including Google Business Profile, is vital for local search rankings.
Website optimization involves creating relevant content, using the right keywords, and implementing on-page SEO techniques.
Building off-site visibility through link building and content marketing helps improve search rankings.
Measuring and tracking SEO performance using tools like Google Analytics and considering professional help when needed is essential.
Let's dive in!
Part I: SEO fundamentals for plumbers
Let's start simple by demystifying SEO. Understanding its basic elements can help you grasp how to tailor your online presence accordingly.
SEO basics
SEO, ever heard of it? If not, think again. It's that magic wand capable of turning around your online business.
What is SEO? SEO stands for Search Engine Optimization. It's the practice of using techniques to make your website more attractive to search engines such as Google. The goal? To get your site appearing on page one when people search for services you offer.
Why is it important for plumbers? In this digital age, customers find businesses online. A well-optimized website means more visibility, hence more customer leads. To be simple, it will increase your foot traffic and give you a chance to appear in these search results for free, unlike Pay-Per-Click (PPC) advertising.
What is the difference between organic SEO and PPC? Organic SEO implies efforts to naturally rank high in search results without paying, while Pay-Per-Click (PPC) involves purchasing ad space at the top of search results. Even though PPC can quickly drive traffic, organic SEO provides a better long-term strategy.
Part II: Create a solid business profile for your local SEO
Have you ever searched for a service provider in your local area on Google? You will likely have noticed the businesses listed right under the map in a box known as a "local pack".
As a plumber, that's exactly where you want to be!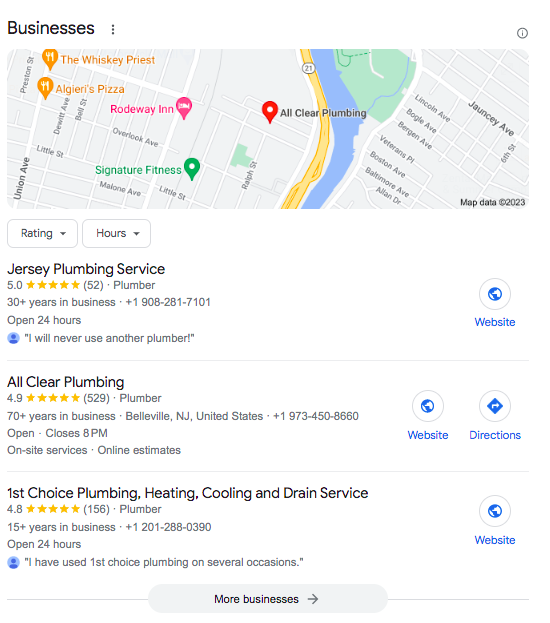 Remember, getting listed on the map pack means you can attract more local customers who are ready to avail your services right away. So, let's get rolling!
Zoom on local SEO
Being a plumber, your services are typically location-specific. Hence, showing up in location-specific searches is crucial. This means optimizing your website and Google Business Profile for local SEO.
What is local SEO? Local SEO is all about increasing search visibility for businesses serving their communities face-to-face.
Why it's crucial for plumbers: When a pipe bursts, individuals will search for plumbers 'near me' or 'in [location]'. Appearing at the top of these search results can translate directly into calls and business.
It allows people to easily find your business in Google Maps and local search results.
So as a plumber the first thing to do is create a google My Business listing. Let's see how to do that!
Create your Google Business Profile
A Google Business Profile is like your online storefront on Google. It's free, it gives you visibility, and it's essential for local SEO rankings.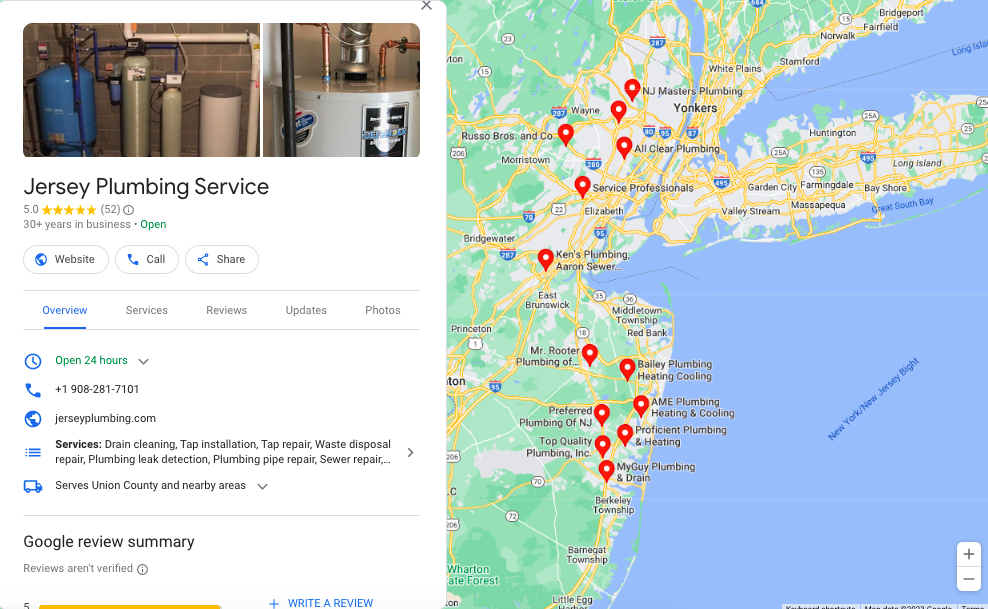 Here are the steps to create and optimize your profile:
Add or claim your business through Google Maps
Set your business category (e.g., plumber, gas installation service, etc.)
Define your service area within a reasonable driving distance
Add crucial information – opening hours, phone number, website address, services offered…
If you have multiple office locations, create an optimized Business Profile for each.
Get listed in directories
As seen before, Google My Business is not the only online directory. There are many others that you should use.
Consider online directories as the "Yellow Pages" of today. They provide valuable citations of your Name, Address, and Phone number (NAP citations) that are crucial for map pack rankings.
Here's a checklist to get you started:
Get listed with key data aggregators (e.g., Data Axle, Localeze, Foursquare)
Register in industry-specific directories using tools like Ahrefs' Link Intersect
Collect Reviews
Imagine a customer deciding between two plumbers. Wouldn't they be more inclined towards the one with excellent reviews? You bet!
Reviews are not only essential for earning customers' trust but also play a significant role in local SEO rankings.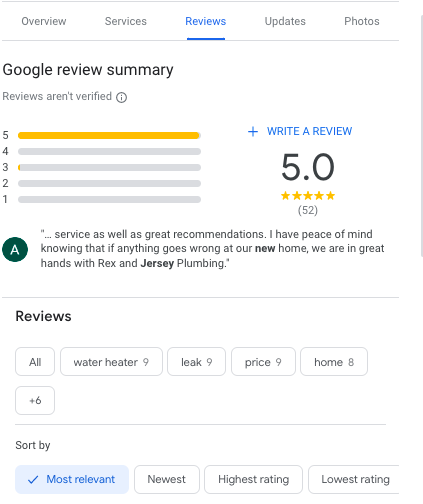 Here are some strategies to get more reviews:
Use Google's Business Profile Manager to create review links for satisfied customers
Make QR codes of the review link for your business cards
Ask past customers for reviews
Add a review link to your website
Just remember, genuine and positive reviews can significantly boost your online reputation and SEO ranking.
Once it's done you will have to take care of your website!
Part III: Website optimization
Still with us? Great! Now that we've covered the importance of a solid online business profile, let's move to the heart of your online presence – your website.
It's not enough to just have an aesthetic site; optimizing it for search engines is equally crucial. Let's break down this process step-by-step!
Creating relevant content
Let's hit the ground running with your website content. It's not just about loading it with keywords; relevance, clarity, and structured information also hold significant weight.
Service pages: Create dedicated web pages for each service you offer (leak repair, toilet repair, pipe cleaning, etc.). This gives each service its visibility in search results.
Location-specific information: Highlight the geographic areas you serve. You can include this on the homepage, service pages, and contact page. For multiple locations, consider creating a separate page listing all the areas you cover.
'About' page: Utilize this space to showcase your expertise, experience, and positive customer feedback. This boosts your credibility factor both for Google and potential customers.
Blog: Launch a plumbing blog to position yourself as an industry expert. Write informative posts answering common customer queries and dealing with plumbing-related topics.
Finding the right keywords
Keywords are your golden ticket to the realm of online visibility. They act as the bridge connecting your potential customers' search queries to your website.
Let's understand how to ace the keyword game!
What are keywords? Keywords are the terms or phrases potential customers use to search for your services online. eg. Plumber, pipe cleaning…
How to find the right keywords? Use a free online keyword research tool to discover suitable keywords.
This is your first step towards targeting specific services and sectors. While some people search for broad terms like 'plumber near me', others may use more specific ones like 'emergency plumbing' or 'drain unblocking'. You can also utilize Latent Semantic Indexing (LSI) terms like 'plumbing services' as synonyms for your main keywords.
Webpage optimization: Assign keywords to individual pages on your website, grouping similar services together.
For instance, terms like 'drain clearing near me', 'drain unblocking near me', and 'drain clearance near me' could all be on a single page.
Remember, using diverse and natural language wins over rigidly formulated content. So, sprinkle your keywords naturally within your content!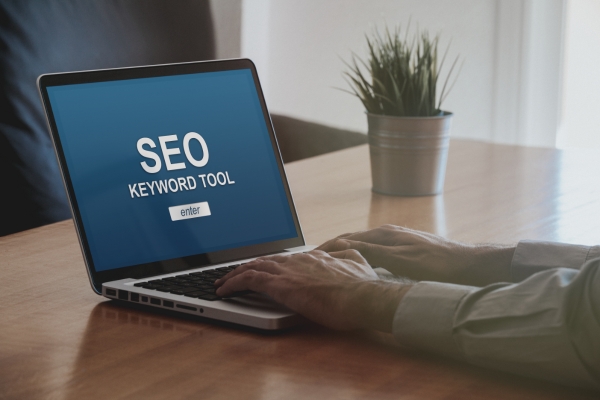 On-page SEO techniques
With relevant content and the right keywords set, it's time to dive into On-Page SEO – the practice of optimizing individual web pages for better search engine rankings and earned traffic.
Here's what needs attention:
Title tags and meta descriptions: These elements appear in search results, influencing click-through rates.
URL structure: Simple, clear URLs with targeted keywords are more user-friendly and SEO-effective.
Header tags: Use headers (H1, H2, H3…) to structure your content and include target keywords.
Remember, each of these elements play a crucial role in making your webpage more understandable and attractive to search engines.
Technical SEO
Now that we've covered content and on-page optimizations, let's look under the hood at Technical SEO.
This involves optimizing your website's backbone – its code and hosting environment – for search engine indexation and user experience.
Key areas to focus include:
Site structure: A well-structured site aids in easy navigation for users and smooth crawling for search bots.
HTTPS: Secure websites (HTTPS instead of HTTP) are trusted more by users and search engines alike.
Don't fret if these sound complex! With the right information and tools at disposal, you can significantly improve your site's technical SEO.
Part IV: Building off-site visibility
Let's now step outside your website border. You may wonder why? Because off-site factors like links from other websites (backlinks) play a significant role in determining your site's search rankings.
So, how do we get these valuable backlinks? Let's unfold the process step by step!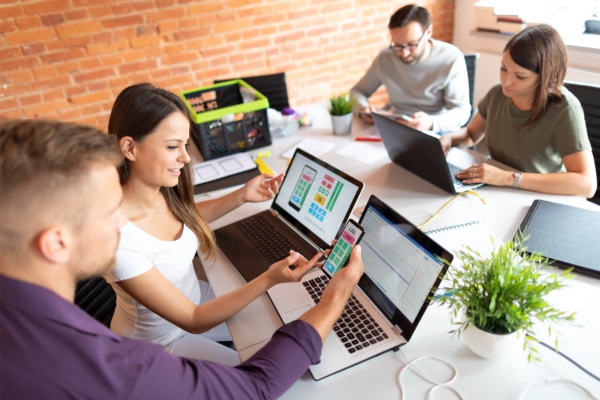 Link building strategies
So, you're ready to take on the world of link building? Excellent! But what is link building? It's the practice of getting other websites to link back to your website. Google considers them as votes of confidence and hence, they are important for higher search rankings.
Let's delve into effective strategies to acquire these valuable backlinks:
Guest blogging: Guest Blogging is when you write a blog post for another website. The main SEO benefit is the backlink you can include in your piece. This builds relationships, exposing your brand to another audience, and improves your site authority.
For example, a plumbing company writing an article for a DIY website and including a link back to their site.
Mimic competitors' links: Researching your competitors' backlinks may reveal potential opportunities for your business. Prioritize quality links over quantity to ensure effectiveness.
HARO (Help A Reporter Out): HARO is a free service that connects sources with journalists looking for their expertise. By registering as a source, you receive journalist requests via email. Responding to relevant ones may earn a backlink from reputable media sites.
Claim lost links: Websites often delete or move pages, resulting in lost backlinks. Keeping track of these lost links and redirecting them to new locations maintains your site's authority.
It's essential to remember that acquiring quality backlinks requires time, creativity, and concerted effort. Using tools like Ahrefs can simplify the process by identifying opportunities and monitoring lost or broken links.
SEO content marketing
While we're on the topic of creating engaging content and earning valuable backlinks let's dive into SEO content marketing.
Crafting relevant topics: What questions do your customers frequently ask? What plumbing issues commonly arise in your service area? Write on these topics, providing helpful and engaging content.
Promote your content: Utilize your social media channels to share your blog posts, encourage your followers to share them. The more eyes on your content, the better the chances of gaining backlinks.
Part V: Measuring and adjusting
And now we've arrived at the final stretch – tracking and adjusting. SEO isn't a one-off task but an ongoing process that requires consistent monitoring and adjustments.
Tracking and analyzing SEO performance
Implementing an SEO strategy for your plumbing company is only the beginning. You will need to track its performance regularly to know what's working and what needs improvement.
Key performance indicators such as:
Organic traffic,
Keyword rankings,
And backlink count will provide valuable insights.
Tools like Google Analytics, Google Search Console, and Ahrefs can help you collect and analyze this data.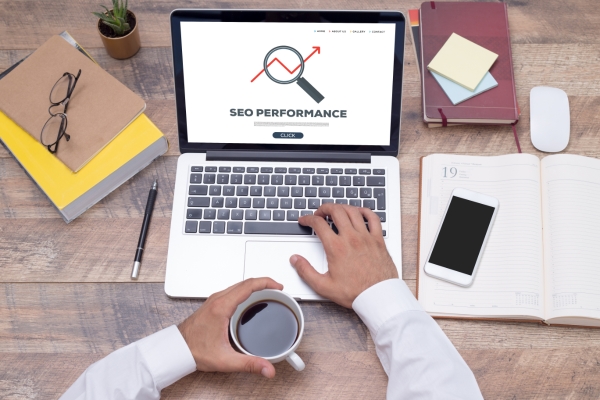 Engaging an SEO agency
Now, you might be thinking – this all sounds great, but it also sounds like a lot of work!
Yes, SEO can be complex and time-consuming. If you're finding it challenging to manage on your own, consider seeking the help of a professional SEO agency.
When choosing an agency, ask the right questions and avoid the common pitfalls.
Here are some key factors to consider while choosing an SEO Agency:
Experience: How long have they been in business? Do they have a proven track record of success?
Specialization: Can they provide tailored strategies for your specific plumbing company?
Transparency: Will they provide regular, transparent reports about their progress?
Remember, the best SEO agency for you is not about the cheapest price or the loudest sales pitch. It's about finding a reliable partner who understands your business and can help you achieve your SEO goals.
But it's not easy to find, especially if you're not in the business. So here are some of the best ones.
Some SEO agencies specializing in plumbing
Feeling swamped with SEO details and looking for a lifeline? Figuring out SEO all on your own can be demanding.
Don't fret! Here's a list of some leading agencies that specialize in SEO for plumbers. They know the industry, and they know what works!
Plumbing & HVAC SEO: Focused on transforming your online presence. The company provides a website revamp, lead tracking, and social media promotion. Their core SEO services include link and content development, website enhancements, automated review requests, and regular content posts.
Thrive Agency: Known for its client-centric approach to online marketing. They intelligently use Google Analytics to drive decision-making underpinned by comprehensive, tailored reporting. One of their unique offerings – no binding contracts! They also offer design services for websites and assign an exclusive SEO specialist to each client.
On the Map Marketing: Specializes in improving your visibility online. They offer enhanced Google rankings through keyphrase research; website redesigning services tailored to performance monitoring.
Housecall Pro: This company is an awesome choice if you're looking for operational features alongside digital marketing. They offer booking online services, invoicing & estimates handling, secure transactions along with SEO-compatible site creation and customized text alerts.
Plumbing SEO Company: A dedicated SEO service provider for plumbing companies. They focus on website fine-tuning and content development, coupled with expert local SEO strategies and tactics. They also administer Google My Business and help in building valuable links and managing customer reviews.
SEO for plumbers in a nutshell
In summary, effective SEO is an essential marketing strategy for plumbers in the digital age.
While it might seem complicated initially, understanding the basic principles can significantly enhance your online visibility.
The key elements include creating a solid online profile, implementing a local SEO strategy, optimizing your website with relevant content and keywords, building off-site visibility through link building and content marketing, and measuring performance while making necessary adjustments.
Key takeaways include:
Optimize your Google Business Profile for local searches.
Create relevant, keyword-rich content on your company's website.
Acquire quality backlinks to improve search rankings.
Utilize tools like Google Analytics and Ahrefs to track performance.
Consider engaging an SEO agency if managing on your own becomes overwhelming.
With this comprehensive guide, we hope you're now ready to dive into the world of Plumber SEO. So why wait? Start optimizing today and watch your plumbing business reach new heights!
Remember, Rome wasn't built in a day. SEO takes time, but the benefits are well worth the effort! Here's to your online success!