Kinsta: our complete review
Kinsta is a managed hosting provider that is quite popular among WordPress users.
You are looking for a hosting provider for your WordPress site? You want to know if Kinsta is a good solution? You'll find out by reading this article.
We have tested Kinsta for you and we are going to give you a complete review without concession. So, let's go and study all the aspects of this hosting provider.
Kinsta is known for its reliability.
The platform has its own CDN to ensure optimal loading speed time for your sites anywhere in the world.
The Kinsta solution uses Google Cloud Platform.
The major disadvantage of Kinsta's pricing is that it's quite expensive.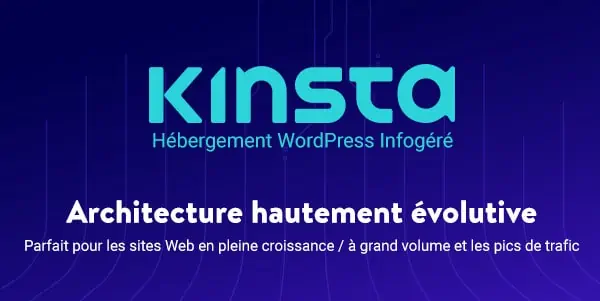 What is Kinsta?
Kinsta is a WordPress hosting solution. It is powerful, secure and easy to use and has gained a lot of popularity in the last few years.
This hosting provider is based on a very robust technological infrastructure, which includes Google Cloud.
By going through Kinsta you are therefore normally guaranteed that your sites will run reliably and quickly.
Kinsta is therefore an ideal choice for small and medium-sized businesses that need high-end performance.
But let's take a closer look at what Kinsta can offer you.
What are the main features offered by the Kinsta hosting company?
Kinsta offers a range of features that make it one of the best WordPress hosting solutions on the market. Among the most popular features of their customers are:
Automatic backups,
Demo site development service,
The use of Google Cloud,
CDN and DDOS protection.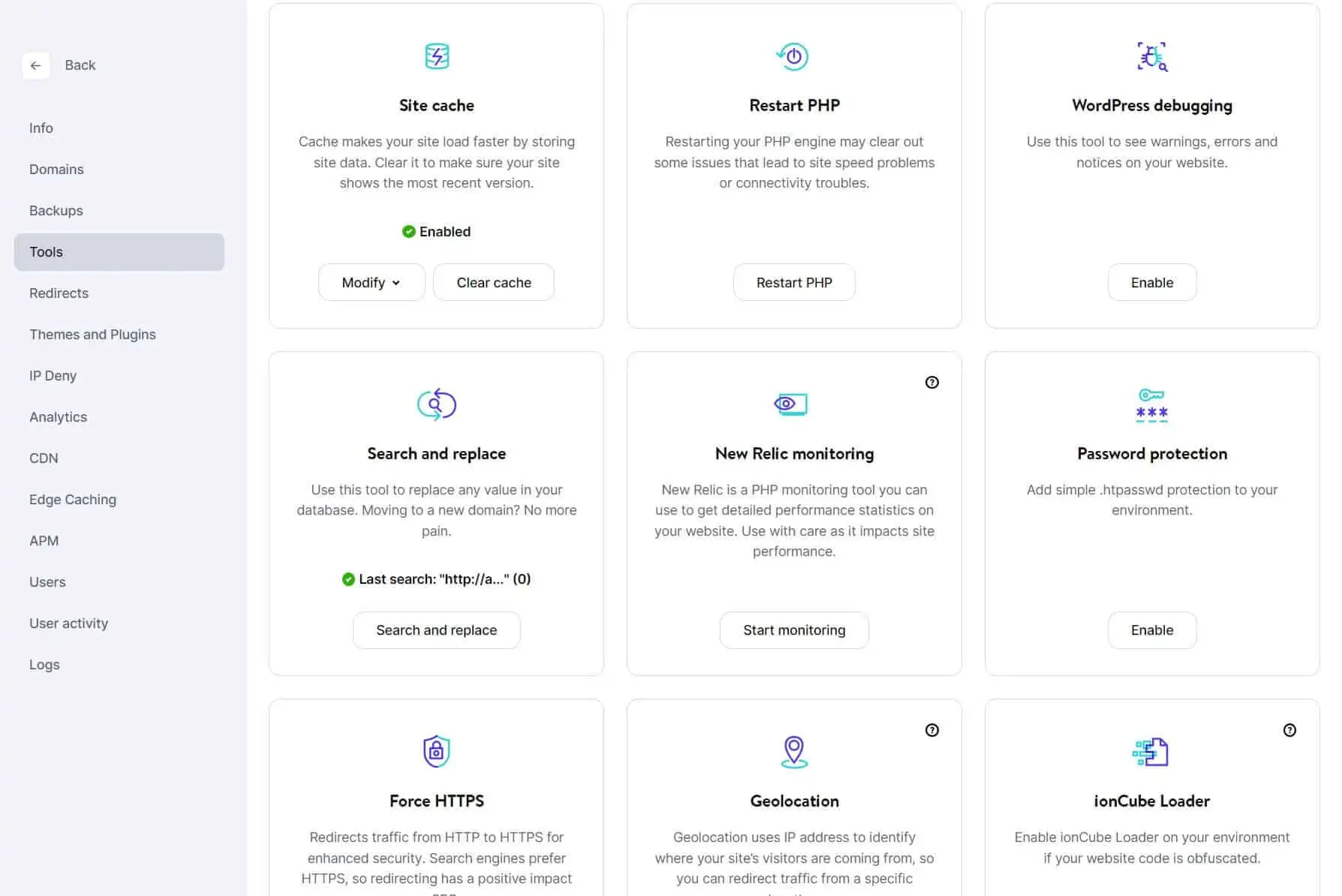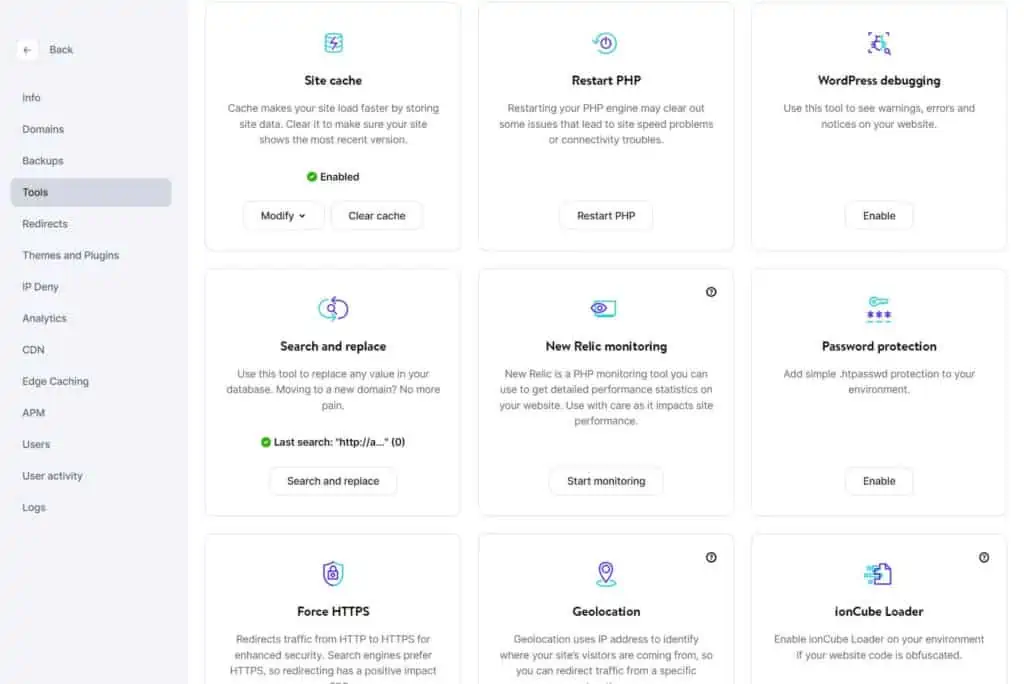 L'outil de redirection
Automatic backups
Losing key information is the nightmare of any website editor. The slightest problem could indeed seriously damage your site and erase entire hours of work.
That's why Kinsta performs regular backups of your WordPress sites in order to restore any lost information within minutes in case of a problem.
The demo site development service
Before modifying an existing site or putting a new one online, it is better to test it.
Thanks to the demo site development service, Kinsta allows you to create and test new sites in complete freedom, without affecting your existing website.
The use of the Google Cloud Platform
Kinsta uses the Google Cloud Platform to provide reliable and secure hosting for your WordPress sites.
It is one of the most powerful cloud infrastructures available. With it, Kinsta lets you choose the data center to provide your customers with a better experience. This makes Kinsta a great choice for businesses looking for ultra high-performance hosting.
CDN and DDOS protection
Kinsta has its own fast and secure CDN (Content Delivery Network). This simply ensures that your sites load as fast as possible, no matter where your visitors are.
In addition to the CDN, Kinsta also provides you with a DDOS protection, which allows you to protect your website against malicious attacks.
All in all, we can say that Kinsta is quite complete. And, of course, a hosting with so many interesting features has a lot of advantages to offer you.
What are the advantages of Kinsta?
If today Kinsta is among the best hosting solutions for WordPress sites, it is because of the many advantages it offers.
The main advantages of Kinsta are:
Its performance: Thanks to the advanced technologies used (Google Cloud Platform, LXD containers, PHP 7, etc.) Kinsta displays great performances which makes it one of the fastest and most reliable solutions on the market. To be noted, WPRocket is fully compatible with Kinsta.
Its security: Websites are often subject to hacking attempts and can be victims of malicious activities. That is why Kinsta makes every effort to develop a first-class security.
Customer support: It is not rare to face small technical problems with your website. And, when you are not a developer, it can quickly become complicated to manage.
Choosing Kinsta will allow you to be at ease on this point since it provides quality customer support. The Kinsta team is available 24 hours a day and 7 days a week to help you solve any problem you may encounter.
And what is really very appreciable is that the technical support is reachable by several means: online chat system or phone.
Flexible database hosting plans: When it comes to web hosting, not everyone has the same needs. Yes, a small business will probably not aim for the same performance as a large multinational. Kinsta offers flexible database hosting plans to meet the needs of different types of websites and budgets.
Well, we can see that Kinsta can offer you quite a few advantages. But to be totally complete in our review, we also have to talk about the disadvantages of this solution.
Kinsta: What are the disadvantages of this web host?
Despite the many advantages offered by Kinsta, this hosting solution has some disadvantages.
Cost: This is the main disadvantage of Kinsta. Their subscriptions can be relatively expensive compared to other hosting services. So, this can be a deterrent if you are on a budget.
No shared hosting options: Kinsta does not offer a shared hosting option, which means you will have to choose a more expensive plan if you want to host multiple websites.
Lack of website creation features: The last point that Kinsta can be criticized for is the lack of built-in functionality for website creation. So if you choose to go with one of their offerings you will also have to provide an external tool or service to create your sites.
That's it, we have a clearer idea of what you can expect by choosing Kinsta. But to really see if it is interesting, we have to talk about the price.
How much does Kinsta cost?
The price of the Kinsta offers depends on:
the number of websites,
the server locations,
and the amount of storage you need.
The first price starts at $35 per month for a single WordPress site with 10GB of SSD storage, while the more developed plans can go up to $900 per month or more.
| Plan | Pricing |
| --- | --- |
| Starter | 35 $ |
| Pro | 70 $ |
| Business 1 | 115 $ |
| Business 2 | 225 $ |
| Business 3 | 340 $ |
| Business 4 | 450 $ |
| Enterprise 1 | 675 $ |
| Enterprise 2 | 1 000 $ |
| Enterprise 3 | 1 350 $ |
| Enterprise 4 | 1 650 $ |
Note: You can get $20 free credit to try Kinsta at the beginning.
Kinsta vs. competition: how does the host defend itself?
Compared to other hosting providers such as Hostinger, Kinsta may seem expensive.
However, it offers better performance and security than many of its competitors, making it an ideal choice for businesses that need reliable and secure hosting solutions.
All in all, Kinsta may be worth the money for those who value performance over security. On the other hand, if your knowledge of web hosting is limited, Kinsta will prove to be an excellent solution because it will allow you to benefit from an ultra available customer support.
In summary: our opinion on Kinsta
To summarize: Overall, Kinsta is an excellent choice for businesses that are looking for reliable and secure hosting solutions and top-notch customer support.
Despite its relatively high cost compared to some other hosting providers, Kinsta's features and performance make it one of the best WordPress hosting providers available.
So don't waste time and make your own experience with Kinsta right now!
Pros
Disadvantages
✓ A very good loading speed thanks to the tools used (Google Cloud Platform, LXD containers, PHP, CSS, cloudflare, etc.)
✓ Possibility to choose the data center for the Cloud
✓ Optimal security
✓ A technical support team present for its customers
✓ A hosting offer with flexible rates
✓ $20 credit for a free trial
✓ Kinsta is expensive.
✓ There are no shared hosting options.