Local SEO for dentists: The secret key to unlock your practice's potential
Feeling overwhelmed with online visibility? Unsure how to get your dental practice noticed by local patients? Wondering if there's a strategy tailored just for you? (You're not alone in this quest!).
In an age where nearly everyone (notably on the local level) searches online before booking an appointment, staying invisible is no longer an option.
But no panic! There's hope. With the right information and guidance, the online realm can become your greatest ally.
You're in a hurry? Here are some points you have to know before you go:
Local SEO: Enhances online visibility for location-specific searches, guiding potential patients directly to your dental practice.
Importance for Dentists: Local SEO offers dentists targeted reach, faster outcomes, enhanced traffic, and a distinct edge over other local dental practices.
Strategies for local SEO: There are at least 7 strategies to skyrocket your local SEO.
Ready to boost your dental practice's local prominence and attract more patients? Let's roll!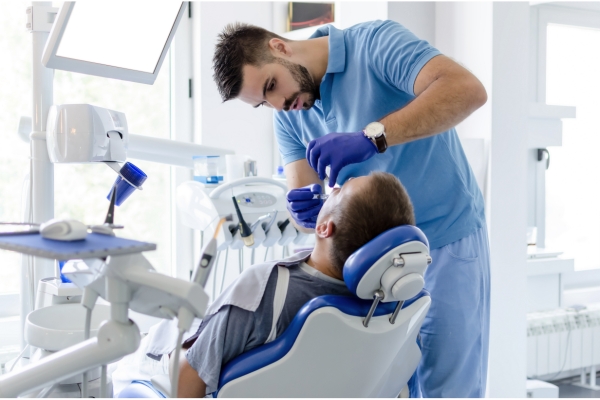 What is this 'Local SEO' you speak of?
The acronym SEO stands for Search Engine Optimization. It's all about enhancing your website's visibility for relevant searches. But when we talk about Local SEO, we add a geographical layer to the equation.
Local SEO is akin to placing a flashing neon sign on the crossroads of your digital and physical location. It screams: "We're right here!" to those in your vicinity seeking dental services.
How it works? Local SEO intensifies your online visibility for location-specific search results like "dentist near me" or "family dentist in [town name]". It's creating an online trail that leads right to your dental practice.
So, as you can imagine, it's really important to care about it.
Why should dentists care about local SEO?
If you're a dentist looking to attract more patients to your clinic, local SEO is your golden ticket. Why so?
Here's the breakdown:
Targeted reach: Local SEO targets potential patients in your specific geographical area. It funnels the 'near-me' searchers straight to your doorstep.
Speedy results: Limited geographical competition means your SEO efforts yield quicker results. It's easier to rank high locally than globally.
Increased foot traffic: A staggering 72% of consumers visit a business within a five-mile radius after performing a local search.
Stand out: Investing in local SEO will help you differentiate your dental practice from the local competitors. It's like flashing a high-beam spotlight on your business amidst a sea of similar entities.
Are you now convinced of the benefits of local SEO? Are you looking to implement an effective strategy for your dental practice? Then you will be interested in the following.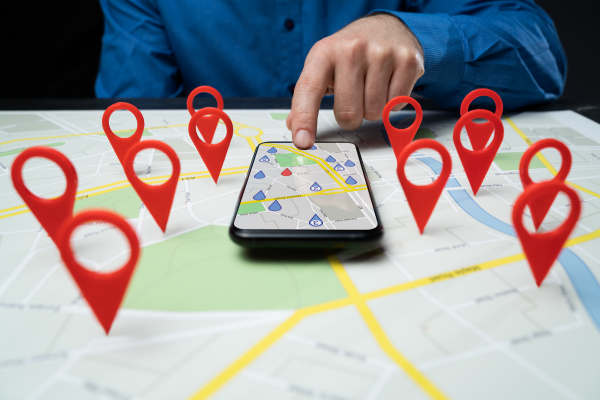 7 Rocket-fuel strategies to amplify your local SEO game
Ready to navigate the landscape of local SEO and rise above the local competition? Here are some strategic keys to unlock your success:
Use Google Business Profile.
Create localized content.
Secure other local listings.
Optimize user experience (UX).
Encourage people to leave reviews.
Use SEO tools to monitor your strategy.
Work on your content keywords.
Utilize Google Posts.
#1: Nail your Google Business Profile listing
Google Business Profile (GBP), previously known as Google My Business, is your digital front office.
It's the first point of contact for potential patients seeking information on Google. Ensuring it's well-optimized is the equivalent of having your best receptionist at the door, greeting new patients even before they step into your clinic.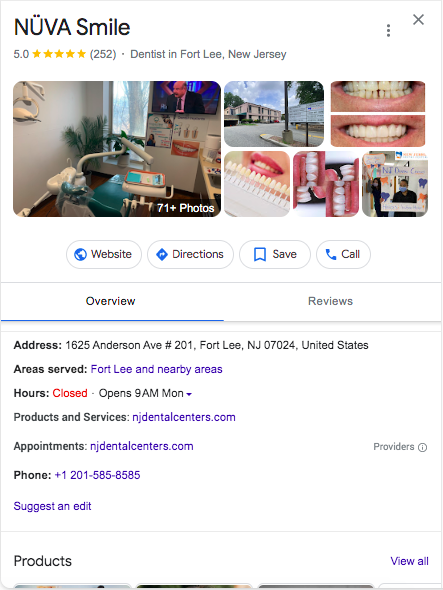 Wondering how to shape-up your GBP listing? Walk through these steps:
Create and verify: Start with setting up an accurate Google Business Profile and verify it. It's like owning a digital real estate.
Update NAP details: Ensure your Name, Address, and Phone number (NAP) are consistently listed across all platforms.
Highlight your services: Pick a primary business category that best represents you (e.g., Cosmetic Dentist) and list up to five secondary categories.
Add convenience: A booking link right on your GBP listing can lead to more appointments.
Sprinkle local keywords: Weave in localized keywords into your description for better relevance to local searches.
Keep it fresh: Regularly update hours of operation, special offers or blog posts. And yes! Others can suggest edits or updates so staying active is important.
Gather reviews: Happy with a recent patient visit? Encourage them to leave a review on GBP, it not only boosts credibility but also local SEO rankings.
Properly optimized GBP profile can push your dental practice into Google's local SEO 3-pack carousel – the top three search results for local searches.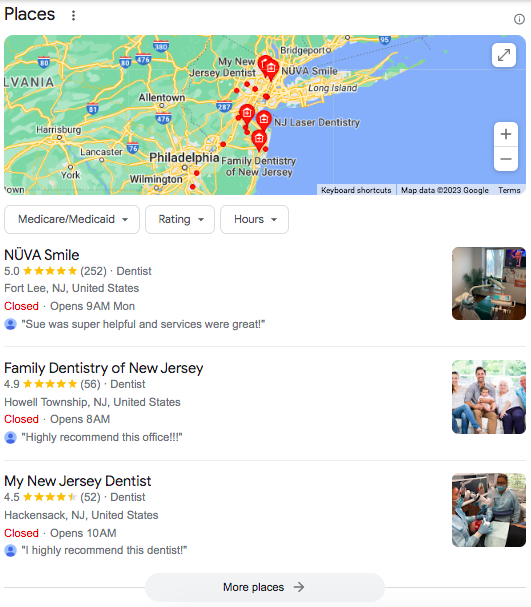 Imagine being among the first three dentists to pop up for any local search! Now that's visibility.
#2: Create localized content on your website
Don't underestimate the power of localizing your dental practice's content. Want to create content that resonates with your local patients on your website? Follow these suggestions:
City-specific landing pages: If you have multiple clinics, designate a landing page for each one with specific local information. It gives each location a distinct online presence.
Local blogs: Write about topics that are relevant to the local community. It can be on oral health issues affecting your city, or participation on local events – these naturally weave in local keywords and backlinks, making you more relevant in local searches.
Integrate Google Maps: Embed Google maps on your website – it's handy for locals to find your location and it pings Google about your geographical relevance.
NAP schema markup: Embed NAP data into your website's code using Schema Markup. This sends a signal to Google confirming your business's location.
Localized content helps your website rank better for local searches and encourages interaction with the local community.
#3: Secure other local listings
Google is not the only player in town. Extend your visibility by getting listed on other popular platforms like:
Bing Places,
Healthgrades,
Angi,
Yelp,
and Apple Business Connect.
Diverse listings not only expand your reach but also bolster your credibility in Google's eyes.
#4: Optimized user experience (UX) on your website
An easy-to-navigate, mobile-friendly website is no longer optional – it's essential!
Why? Majority of 'near-me' searches are done on a smartphone. Ensure a sleek mobile experience to keep the local traffic flowing.
#5: Online reviews and reputation management
In today's digital landscape, online reviews have become the modern word-of-mouth. Actively soliciting positive feedback and professionally addressing all reviews, including the negative ones, can elevate your reputation and enhance your local search rankings.
Thus, take the time to thoughtfully respond to the feedback left by your patients, even if it's negative. This demonstrates that you value your patients' opinions and are continually striving to better your services.
Google recognizes such efforts and will factor them into the ranking of your business.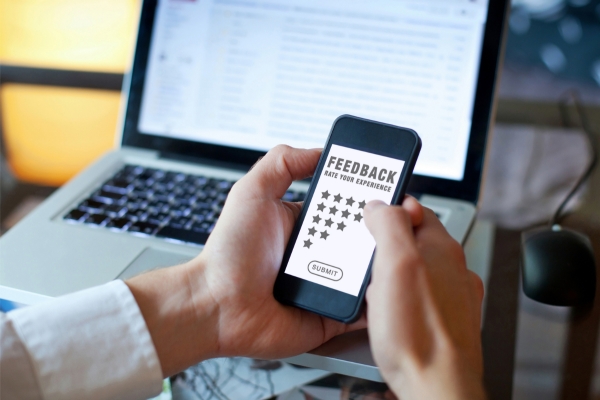 #6: Utilize Analytics and SEO Tools
Nail your local SEO strategy by consistently monitoring and adjusting based on data from:
Google Analytics,
Google Search Console,
and SEO & marketing tools like Semrush.
Understanding how your website is performing can help optimize your strategy and guide your efforts in the right direction.
#7: Work on your website's keywords
Knowing your keywords is like figuring out what your patients have in their minds when they search for dental services. Brownie points if you can echo that in your content. Let's break it down:
Start where you stand: Begin with identifying the keywords your site is already showing up for. It's a great starting point to refine and enhance.
Competitor analysis: Peek into the keywords that are working for other dental practices. No harm in learning from others, right?
Echo your patients: Step into your patients' shoes. What terms or phrases would they use while searching for the services you offer?
Google search bar and related searches: Google's search bar autofill suggestions, or the related searches at the bottom, can prompt more localized keyword ideas.
Keywords spectrum: Use a mix of general (eg: 'dentist'), long-tail (eg: 'best dentist for root canal therapy in [your town]'), local (eg: 'dentists near me'), and conversational (eg: 'where to get dental implants') keywords.
Freshen up: Regularly revisit your keyword strategy to align with shifting trends and competition.
SEO marketing tools: Platforms like Ahrefs, Google Keyword Planner, KWFinder, SEMrush, SpyFu and Wordtracker offer rich insights into popular keywords and competition.
Track & tweak: Implement, track and adjust your keyword strategy regularly for optimal results.
Remember, striking keyword balance between user intent and relevancy to your services will help your website to have a better ranking on local searches.
Local SEO for dentists: The bottom line
Local SEO is not just an added bonus; it's a necessity for dentists venturing into the digital realm.
A well-executed local SEO strategy can revolutionize your dental practice's online visibility, differentiate you from local competitors on search engines, and drive a steady stream of patients through your doors.
Embrace Google Business Profile: Your GBP listing is a free marketing tool that shapes the initial impression about your dental practice. Make sure to optimize it (Name, Address, Phone number, keywords, etc.).
Localize your content: Relevant content to local searches make you a preferred choice for 'near-me' searches.
Secure local listings: Additional listings bolster your relevancy and reach.
User experience matters: A slick user interface and good mobile experience can make or break a visit. Make sure to ace it.
Harvest reviews: Actively seek reviews and maintain online reputation management. It can work wonders for both your image and SEO ranking.
Track, analyze, improve: Utilize analytics and SEO marketing tools to improve your local SEO performance based on data-driven insights.
Work on your content keywords : Using the right keywords on your website will improve your ranking in search engines.
Ready to unlock the potential of your dental practice with Local SEO? Buckle up! It's time to take the digital highway for a joy ride to success.