Unlock the power of your business: the magic of CRM explained!
Diving right into the world of dynamic business strategies, have you ever stumbled upon the term CRM and wondered what it means? Today, Debugbar will unfold the realm of CRM, a tool that is revolutionizing businesses and pushing them towards escalating heights.
But before we get to the heart of the matter, let's take a look at the essential points you need to know before taking the plunge:
CRM (Customer Relationship Management) is an innovative technology designed to manage relationships and interactions with customers and leads.
This kind of software acts as the heart of your business, managing functions such as contact management, sales management, agent productivity, and more.
The primary purpose of CRM is to improve relationships with clients, increase loyalty and close rates, drive profits, and automate customer-related workflows.
While CRM tools have limitations such as data silos, data accuracy issues, user adoption challenges, high costs, and data security concerns, their benefits outweigh these drawbacks.
Choosing the right CRM system involves understanding user needs, evaluating budget, defining business goals, and identifying team requirements.
Buckle up, as we navigate through this intriguing concept!
What is a CRM?
CRM, short for Customer Relationship Management, is a software designed to manage and improve relationships and interactions with customers and potential customers.
Acting like your business's heart, it pumps life into various functions such as:
Contact management,
Sales management,
Agent productivity,
And more.
An interesting facet of CRM is that it oversees customer relationships across the entire lifecycle. From marketing to sales, digital commerce to customer service interactions, it embraces all.
So essentially, CRM is a multi-tool to catapult your business to new heights!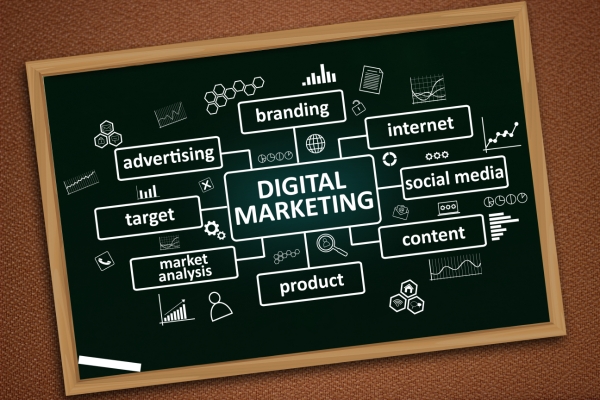 The purpose of CRM: A tool to multiply success
CRM tools are like master chefs at work, expertly stirring various business processes to whip up a delicious success recipe.
These systems help in keeping companies connected to their clientele, thus streamlining processes and driving up profitability. CRM tools go beyond just an initial introduction; they build relationships throughout the customer lifecycle.
This includes:
Nurturing marketing leads,
Converting sales opportunities,
Facilitating digital commerce transactions,
And ensuring top-notch customer service interactions.
In essence, CRM solutions are not just about managing a relationship but enhancing it at every possible touchpoint.
Who needs CRM?
A CRM system is like a swiss army knife; it's versatile, universal and nearly everyone can benefit from its many uses! Specifically:
Sales teams use CRM for organizing information, identifying fresh sales opportunities and recording service issues – all in one central location.
Customer service teams utilize CRM for easy access to customer communication history, purchases, payment information, and more – ensuring rapid, accurate responses and personalized support.
Business development teams leverage CRM to manage external relationships effectively. They can keep track of important contacts, follow up on leads, and stay centered on their targets.
Marketing teams benefit immensely from CRM systems to manage proactive marketing campaigns, create customer profiles for targeted marketing, and assess the effectiveness of different efforts.
Recruitment teams can finesse their hiring processes using CRM. It helps them track applicants, stay updated on hiring processes and maintain candidate relationships.
Now you're probably wondering, "But does my company size qualify?" Absolutely! CRM is a tremendous boon for companies of all sizes.
For small businesses, it's a catalyst accelerating business growth by enabling them to punch way above their weight. As they grow, scalable solutions with added functionalities can be implemented which pave
Unveiling the importance of CRM: The hidden treasure in your business
Why bother with CRM, you ask? Think about it as your personal goldmine, ready to add glittering value to your business operations.
Take a look at this: CRM isn't some new kid on the block. It's currently the largest and fastest-growing enterprise application software category.
In fact, global spending on CRM is set to hit dizzying heights of USD 114.4 billion by 2027.
So why is everyone after this golden goose? Well, businesses today need a customer-centric approach for the future, and that's exactly where CRM fits in perfectly.
It equips businesses with up-to-date, reliable data, making it easier to track progress.
Consider this: You're at a meeting, and you need a snapshot of your customers' activities, purchase history, or any complaints they've raised recently.
With a CRM system in place, all these details are just a click away! A customizable dashboard gives you a complete overview of all customer-related activities.
It's like having a personal genie! What's more, with CRM systems, improving campaign management, lead journeys and sales forecasting turns into a cakewalk.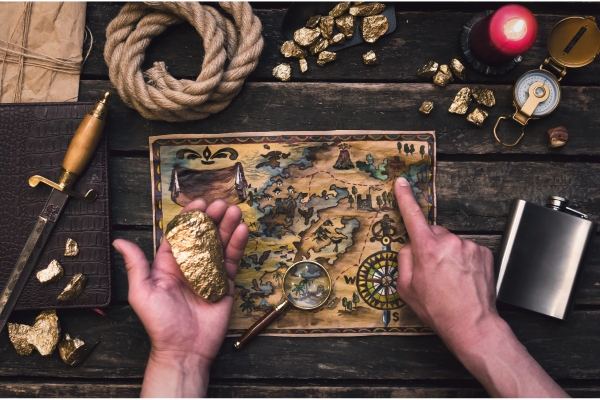 What are the essential features of a CRM software?
Let's understand the engine that powers CRM. Here are the key features that make a CRM system an absolute necessity:
Centralized Data Platform: Your contacts, leads, and customer information all lie in one accessible place.
Seamless Channel Integration: Connects all marketing channels for a uniform strategy.
Campaign Optimization: Ability to test, learn, and repeat successful campaigns.
Growth Tools: Harness the power of audience data to find potential clients and increase business turnover.
Customer Retention: By understanding customer behavior, loyalty is no longer a shot in the dark.
Budget Optimization: Make the best use of your marketing expenses by using audience insights.
Contact Collection: Gather customer contact details for more personalized communication.
Call & Sales Activity Tracking: Monitor phone calls and sales activities with ease.
Customer Satisfaction Measurement: Gauge how your customers feel about your services and products.
Trends & Preferences Identification: Spot audience preferences to deliver tailored offerings.
Personalized Communication: Craft custom messages for different customers based on their profile and preferences.
Effortless Reporting: CRM tools provide easy-to-use marketing reports and analysis.
Marketing Channel Efficacy: Evaluate which marketing channels work best for your business to allocate resources intelligently.
Audience Interaction Understanding: Understand how your audience interacts with different marketing efforts to optimize engagement.
Campaign Adjustment: Flexibly tweak your campaigns based on gathered info to drive effectiveness.
Targeted Outreach: Connect with the right people based on audience data maximizing conversion likelihood.
New Client Acquisition: Employ audience intel to attract potential customers and expand your clientele.
Loyal Customer Enhancement: Boost the loyalty of existing customers through a deeper understanding of their needs.
Budget Optimization: Make every penny count by targeting potential buyers with strategic marketing decisions.
It's clear that a well-designed CRM system boasts a constellation of features that can skyrocket your company.
CRM: A double-edged sword? Understanding the drawbacks
Just like any tool, CRM isn't without its shortcomings. Although the benefits far outweigh these, having a comprehensive understanding of its limitations will better equip you to make the most of your CRM system. Here are some potential pitfalls:
Data Silos: Despite centralizing customer data, CRMs can lead to data silos if not integrated properly with other systems used in the organization.
Data Accuracy: CRMs are only as effective as the data fed into them. Incorrect or outdated information can adversely impact the utility of the system.
User Adoption: Resistance to adopt a new system is a common issue. If your team members aren't adequately trained or don't see the value in using a CRM, they might not utilize it to its full potential.
High Costs: For small businesses or startups, the cost of implementing a robust CRM system could be restrictive. However, many affordable options and scalable solutions are available.
Data Security: Given that CRMs store sensitive customer data, any security breaches can lead to significant reputational damage and regulatory issues.
Understanding these limitations beforehand can help you strategize on how to overcome them, ensuring that you maximize the utility of your CRM system. For instance, to overcome the issue of data silos, ensure your CRM is well-integrated with existing systems used within your organization.
To combat data inaccuracies, regular audits and checks can be carried out.
To counter resistance from team members, adequate training sessions can be scheduled, and the benefits of using CRM clearly communicated across the organization.
As for the cost factor, you can opt for a CRM system that is cost-effective and caters to your specific needs.
Finally, to deal with data security issues, stringent measures must be in place, including server security checks, data encryption, and other essential safeguards.
In spite of these drawbacks, CRM continues to be an invaluable tool for businesses. It's all about finding the right balance and implementing strategies that make CRM work for you!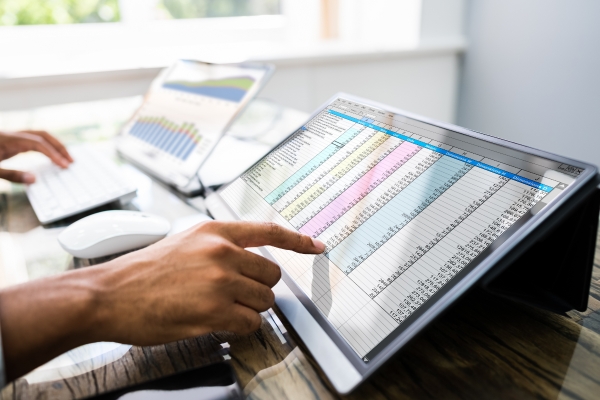 The 6 best CRMs on the market
You want to use a CRM software and want to know what are the best ones on the market? Then, let's find out what's best today for your needs…
Sellsy: All-in-one CRM solution
Sellsy is a robust and comprehensive CRM system cherished for its all-encompassing features and reliable customer support. If you're seeking an all-in-one solution, Sellsy might just be the treasure you've been hunting for!
| | |
| --- | --- |
| Rating | 4.4/5 |
| Pricing | €30 per month per user |
| Free trial | No |
| Main strengths | Comprehensive CRM features, robust customer support |
| Best suited for | Companies looking for a comprehensive CRM solution with reliable customer service. |
Pipedrive: The sales-focused software
Pipedrive, with an impressive rating of 4.9/5, is a cloud based CRM system designed to focus on sales in order to make your sales process smoother. With a user-friendly interface and beneficial integrations, Pipedrive is an excellent tool for managing leads effectively.
| | |
| --- | --- |
| Rating | 4.9/5 |
| Pricing | $14.90 per month per user |
| Free trial | Yes (14 days) |
| Main strengths | Simple lead management interface, useful integrations, visual sales pipeline and data visualization |
| Limitations | Limited number ofopen deals in pipelines |
| Best suited for | Organizations focused on improving their sales process and lead management. |
Monday: Collaborative and automated
Furnished with excellent project management features, Monday, also known as monday Sales CRM, promotes collaboration within teams and automates time-consuming tasks.
| | |
| --- | --- |
| Rating | 4.7/5 |
| Pricing | $8 per month per user |
| Free trial | No |
| Main strengths | Top-notch project and task management, shared workspace for collaboration, automated processes, 24/7 customer support. |
| Limitations | Limited automations per month. |
| Best suited for | Teams looking for a CRM solution that facilitates collaboration and automation. |
HubSpot: Advanced features for the win
HubSpot is a top contender in the CRM arena renowned for its advanced features and efficient customer support options. Hubspot is an excellent choice if you're all about going above and beyond!
| | |
| --- | --- |
| Rating | 4.5/5 |
| Pricing | $50 per month |
| Free trial | No |
| Main strengths | Vast array of advanced CRM features, efficient customer support options. |
| Best suited for | Businesses seeking comprehensive CRM features including social media engagement, email marketing, and lead generation. |
ZenDesk: Seamless communication
ZenDesk shines with its effective nurturing features and compatibility with popular platforms. If communication in your business is key, ZenDesk might just be the perfect fit!
| | |
| --- | --- |
| Rating | 4.7/5 |
| Pricing | $19 per month (Team Plan) |
| Free trial | Yes (14 days) |
| Main strengths | Effective communication nurturing features, compatibility with popular platforms |
| Best suited for | Companies prioritizing seamless communication and customer interactions. |
Salesforce: World's #1 Comprehensive CRM
Standing tall as the world's #1 CRM, Salesforce has been a trusted partner for businesses since 1999. Notably, its comprehensive product portfolio, Salesforce Customer 360, goes beyond traditional CRM to support every customer touchpoint.
| | |
| --- | --- |
| Rating | 4.2/5 |
| Pricing | Starts at $25 per month per user |
| Free trial | Yes |
| Main strengths | Extensive CRM product portfolio supporting all customer touchpoints, integrations with popular platforms like MuleSoft and Tableau, secure and adaptive platform. |
| Best suited for | Organizations across all industries seeking an integral solution to manage, track, and analyze every aspect of their customer relationships. |
While all of these CRM tools have unique features and benefits, the best software for you depends on your specific needs and goals. Assess the pros and cons, consider your budget, and identify which system aligns best with your requirements before making the final call!
CRM essentials: What should you remember?
So, we've reached the end of our CRM journey. Let's quickly recap the most important takeaways about this revolutionary tool:
CRM, Customer Relationship Management, is a technology designed to manage your company's relationships with potential and existing customers.
It serves as a strategy to improve business relationships, aiding in customer retention and driving growth.
CRM helps organize and manage all customer interaction data. This enables proactive response to their needs and cues up better marketing strategies.
Despite its minor challenges like potential data silos or user adoption issues, the benefits of a CRM system immensely outweigh these drawbacks.
Choosing the right CRM system involves factors like understanding who the users will be, evaluating your budget, defining your business goals, and identifying your team's requirements.
In a nutshell, grasping the many facets of CRM might seem daunting initially. However, once you understand the treasure trove of benefits it can unlock, there's no stopping your business juggernaut from achieving its true potential. Ready to embrace CRM and hit the fast track on the highway of business success?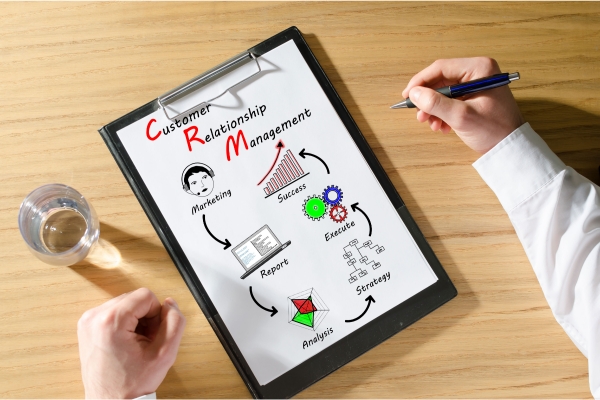 Customer Relationship Management: your questions, our answers
How does CRM work?
CRM systems centralize all customer information in one place and streamline various business processes. They help in nurturing marketing leads, converting sales opportunities, facilitating digital commerce transactions, and ensuring excellent customer service interactions.
Is CRM only for large businesses?
Absolutely not! CRM benefits companies of all sizes, from small businesses to large corporations. It aids small companies by accelerating their growth and provides scalable solutions for larger businesses. So whether you're a small business or a large corporation, you can use customer relationship management software.
How should a company choose the right CRM system?
Choosing the right CRM system involves understanding your specific needs and objectives, considering your budget, and evaluating which system best aligns with your requirements. So, take some time to assess each option before making a decision.