1Password: The ultimate password manager for securing your online life
Are you in search of the Holy Grail of password managers? Look no further! 1Password is probably the one you need.
In this article, Debugbar will provide you with a detailed overview of this essential companion for protecting your personal and professional data on the web. Whether you are an occasional internet user or a true geek, this formidable tool is likely to win you over.
What is 1Password?
1Password is a password manager and an online credentials manager known for its:
Ease of use
Innovative features
And its top priority given to security
Launched by the Canadian company AgileBits Inc. in 2016, it has already won over more than 100,000 companies, including IBM, Slack, and GitLab.
But rest assured: individuals have not been forgotten! Offers tailored to each are available to meet all your needs.
Also read : 1Password vs LastPass: the ultimate face-off for your online security
What are the main features of 1Password?
This password manager is an ultra-versatile tool. In addition to merely managing your passwords, it also offers:
Password Vault and PBKDF2-guarded Master Password
Password Generator Feature
Form-filling Identities
Password Sharing Options
Browser Extensions and Mobile Integration
256-bit AES Encryption
Watchtower Feature
Travel Mode
Security Audits
But let's have a closer look at each of these features.
1. Password Vault and PBKDF2-guarded Master Password
1Password offers two types of vaults to organize and manage your credentials:
Private Vault – For managing personal credentials and identities.
Shared Vault – Available with the Families plan, this vault allows for easy sharing of passwords and other sensitive information within the family.
Vaults offer a robust organizational structure compared to traditional folders used in other password managers.
Within each vault, you can store various items such as:
Logins
Secure notes
Credit card
Identities
And passwords
These categories will appear in the side menu once you add items to them.
In addition to these categories, 1Password also allows you to store sensitive personal information like:
Driver's license details
Passport information
etc.
The master password, which protects all your stored data, is guarded using PBKDF2, a reliable encryption algorithm ensuring the security of your vaults.
2. Password Generator Feature
The 1Password's password generator is highly efficient and effective on all platforms, providing you with options for creating strong passwords.
The key features of the password generator include:
Smart Password: A one-click option that generates 20-character long passwords containing numbers, letters, symbols, and mixed cases.
Random Password: This option allows users to create even longer passwords by selecting the desired length from the dropdown menu. By default, the password generator focuses on generating long and secure passwords.
Memorable Password: This option creates easy-to-remember passwords using English words separated by hyphens or other customizable separators. Users can create memorable passwords up to 15 words long, with various separators like spaces, periods, commas, underscores, numbers, and symbols.
PIN Generation: In addition to traditional passwords, 1Password also supports generating PINs up to 12 numbers in length for added security options.
The combination of these features ensures that users have access to robust and tailored password options to suit their specific needs and preferences.
3. Form-filling Identities
With 1Password, users have the ability to store personal information and create multiple identities for filling web forms.
These identities include:
Personal information
Address
And various internet contact details
When navigating to a web form, 1Password can automatically fill the fields of a form to streamline the process.
However, during tests using RoboForm's identity filling test, 1Password's performance was found to be average.
The icon for form-filling choices appeared inconsistently and required user approval through a browser pop-up notification – a feature that may not suit every user's preferences.
In comparison, other password managers like Keeper demonstrated more seamless form-filling capabilities using their apps or browser extensions.
4. Password Sharing Options
Password sharing is made simple with 1Password, enabling users to share login information with anyone, even those who don't use the software.
To share a password or other item from the vault, users can click the Share button in the options menu and generate a link.
This link can be set to expire after one view, one hour, one day, seven days, 14 days, or 30 days.
Additionally, users have the option to make the link available to anyone with it or restrict access to specific individuals by entering their passwords on the next screen.
However, it's important to note that 1Password lacks a built-in feature for password inheritance or passing on account access to heirs after the user's demise. In the Families plan, multiple family organizers can be designated for account recovery purposes, but this is not equivalent to a dedicated password inheritance feature.
Comparatively, competitors like LastPass and Keeper offer options to grant trusted heirs access to personal vaults in emergencies, providing added peace of mind for users.
5. Browser Extensions and Mobile Integration
In recent updates, 1Password has improved its mobile apps' look and functionality, providing full access to logins and other saved data on both Android and iPhone devices.
Alternative login options are supported, such as TouchID or FaceID on iOS and fingerprint authentication and PIN codes on Android.
Time-based one-time password authentication can be enabled using iOS or Android devices.
The home screens of the mobile apps have been redesigned and are customizable, allowing users to hide or reorder preferred credentials and pin items from the vault for quick access.
6. 256-bit AES encryption
To protect your information, 1Password uses 256-bit AES encryption, considered as one of the best current security standards. Moreover, it applies a zero-knowledge policy, ensuring that only you have access to your information.
7. Watchtower: the guardian of your cybersecurity
Imagine a superhero watching over you and alerting you whenever a threat endangers your online information. That's what Watchtower, a unique feature of 1Password, is.
This digital sentinel detects weak passwords, vulnerable, duplicated or compromised ones and informs you in real-time so that you can take immediate corrective measures.
8. Travel mode: discretion embodied
When you're on the move, especially abroad, it can be essential to protect your sensitive information from prying eyes. That's where 1Password's travel mode comes in.
This smart feature hides your passwords and other important information to ensure their safety during your travels.
Travel mode is a handy feature for hiding important passwords when traveling abroad. In case of customs control, for example, your sensitive info remains out of sight from prying eyes.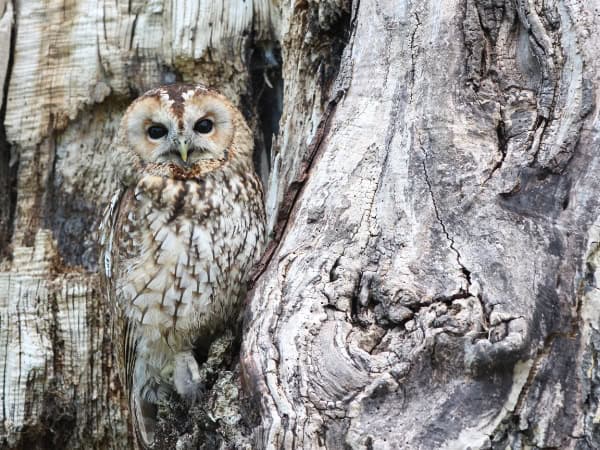 9. Security audits and recovery of deleted data
1Password also offers regular security audits to check the integrity of your digital vault. If you accidentally delete data, a trash can is provided for quick recovery.
Interested in taking advantage of these features? Then let's see how much it would cost you!
How much does 1Password cost?
1Password offers several subscription plans for individuals and businesses:
The Personal plan is priced from $7.99 US per month.
The Families plan allows a group of five people to use 1Password at a slightly higher monthly rate.
Specific plans are also available for small businesses, with decreasing rates depending on the number of users.
It should be noted that 1Password does not offer a free version, but a 14-day free trial allows you to test the tool before committing.
What are the main advantages and disadvantages of 1Password?
1Password has many advantages, but also some limitations. To help you make up your mind, here is a comparative table of the pros and cons of this password manager.
| | |
| --- | --- |
| Advantages | Disadvantages |
| Ease of use | No free version |
| User-friendly and intuitive interface | Adding/editing passwords less easy in the browser extension |
| 256-bit AES encryption and zero-knowledge policy | More secure password import options for mobiles to be improved |
| Advanced features (Watchtower, travel mode, security audits…) | |
| Available on multiple operating systems (Android,iOS, Linux) and devices (computer, Mac, smartphone…). | |
| Good customer support | |
| 14-day free trial | |
So, are you convinced that 1Password is the password management app you need? Then let's see how to install it.
How to install 1Password?
Installing 1Password is quite simple. Just:
Download the app corresponding to your operating system.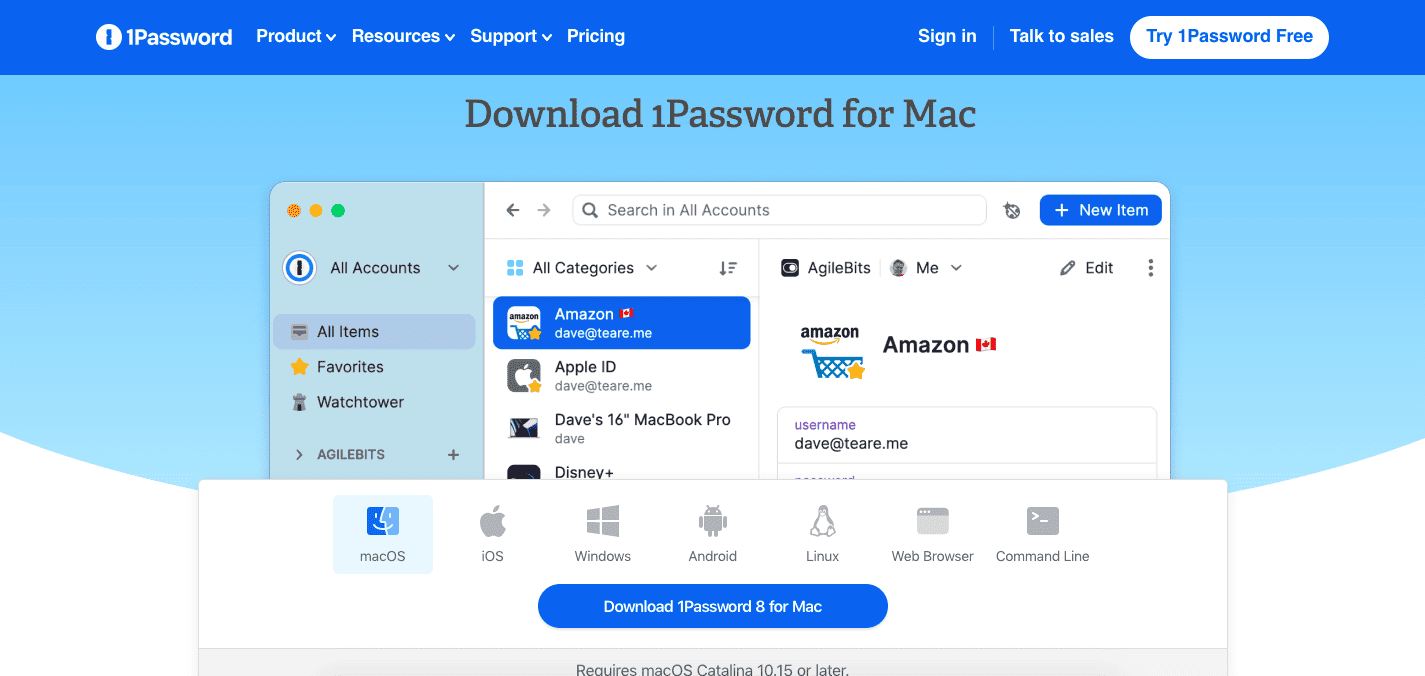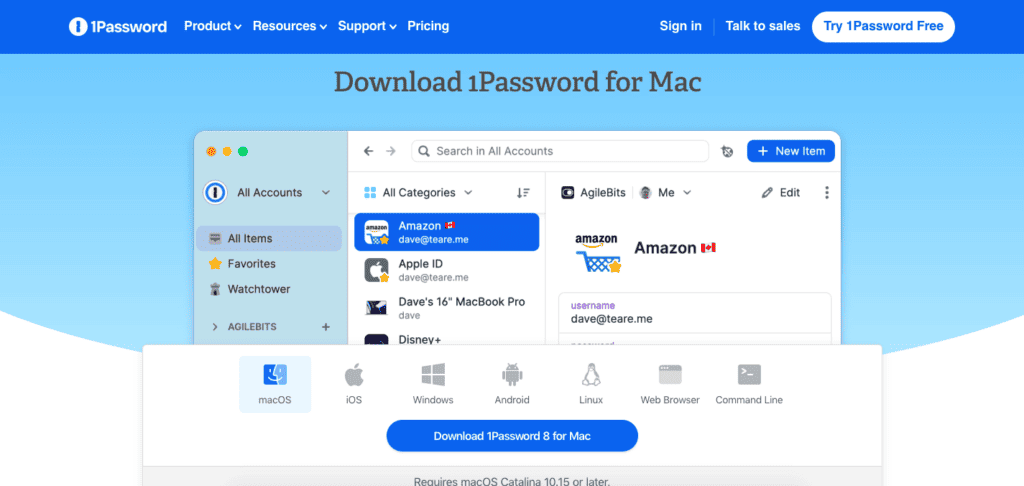 Once the download is complete, install the software following the instructions specific to your operating system.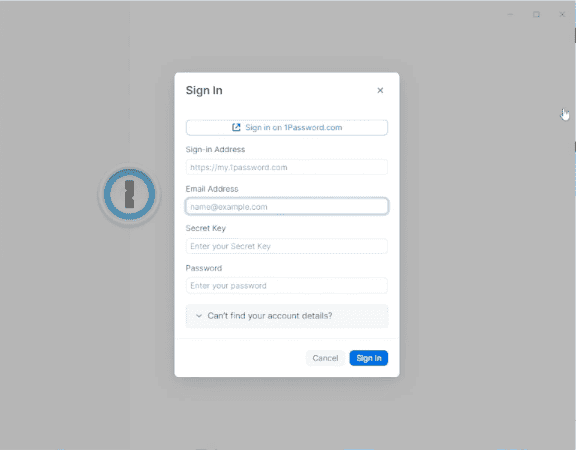 Open the 1Password app once the installation is complete.
In your browser, go to the 1Password.com site and log in to your account.

If you can't log into your account at 1Password.com, look for the "1Password.com" option under the "Have you used 1Password before?" and click on it.
Then select the "Scan your Setup Code" option and follow the on-screen instructions to continue. If you need help finding your Setup Code, you can get help on that.

In your account, click on your name at the top right of the screen and choose the "Get Apps" option.
Select the "Add your account directly" option and allow your browser to open 1Password. You will then see your login information displayed in the app.
Enter your master password in the 1Password application and click on "Login" to finalize the installation process.
1Password not to your liking? Want to compare before buying? Then here are the top 3 alternatives to this password manager!
What are the alternatives to 1Password?
Although 1Password is considered one of the best password management apps on the market, other managers exist.
Here is a comparative table of three alternatives that might also interest you.
| | | | |
| --- | --- | --- | --- |
| | LastPass | Dashlane | Bitwarden |
| Price | Free (limited version) / From $3 US per month (Premium) | $3.99 US per month (Premium) / $7.49 US per month (Family) | Free (limited version) / $10 US per year (Premium) / $3.33 US per month (Family) |
| Encryption | AES 256-bit | AES 256-bit and zero-knowledge | AES 256-bit and zero-knowledge |
| Multi-factor Authentication | Yes (including physical security keys) | Yes (excluding physical security keys) | Yes (including physical security keys) |
| Free Trial | Limited free version available | 30-day free trial | Limited free version available |
1Password: our final review on this password management software
In conclusion, 1Password is an excellent choice if you are looking for a robust, reliable, and well-designed password manager.
Its innovative features and great ease of use make it a quick tool to master, even for cybersecurity novices.
Although some improvements can still be made, particularly concerning the browser extension and password import on mobile, 1Password remains a top choice for protecting your online data.
| | |
| --- | --- |
| | 1Password |
| Price | From $7.99 US per month (Personal) / Decreasing rates for Families and Business plans |
| Encryption | AES 256-bit and zero-knowledge |
| Multi-factor Authentication | Yes (including physical security keys) |
| Compatible Operating Systems | Windows, Android, Mac, iOS, Linux |
| Free Trial | 14 days |
| Main Features | Password and Credential Management, Watchtower, Travel Mode, Security Audits, Deleted Data Recovery |
In short, 1Password is the ideal password management app for those who want to surf the Internet with peace of mind. Don't hesitate to take advantage of the 14-day free trial to see for yourself how effective and comfortable it is to use.
1Password is a reputable online password and credential manager.
It offers ease of use, innovative features, and top priority given to security.
It uses 256-bit AES encryption to protect your data.
It has features such as Watchtower for detecting weak or compromised passwords, and a travel mode for protecting your data while on the move.
1Password is used by more than 100,000 companies, including IBM, Slack, and GitLab.
It offers plans tailored for individuals and businesses, with prices starting at $7.99 US per month for the Personal plan.