ActiveCampaign: Full test and review
ActiveCampaign is an integrated marketing and CRM tool that allows companies and online sellers to automate their marketing processes and manage their customer relationships.
You want to find new leads? Want to increase your conversion rate? ActiveCampaign is a complete solution for all stages of the sales cycle that will surely interest you.
To help you find out we have tested it for you and will give you our opinion.
ActiveCampaign's emailing tools are powerful and allow you to create personalized email campaigns.
The CRM is complete and facilitates the management of contacts. It also allows you to keep a history of exchanges with your leads.
The integrations offered by ActiveCampaign are a real plus, they allow you to connect the tool to a large number of third-party software for an even more efficient use.
What exactly is ActiveCampaign?
Active Campaign is a marketing automation platform that allows companies to:
manage their email marketing,
automate sales processes,
manage customer and supplier contacts,
and optimize their marketing campaigns.
The tool also offers CRM features to help companies better understand and communicate with their customers.
In short, ActiveCampaign is a marketing automation/CRM platform designed to make life easier for small and medium-sized businesses and help them achieve the best possible marketing campaigns.
What are the key features of ActiveCampaign?
The tool offers several key features including:
Campaign automation: this feature allows you to create an automated campaign based on your prospects' actions, such as opening an email or visiting a web page.
SMS marketing: With this feature you can send SMS to your contacts to inform them about your offers, events or to encourage them to buy.
Chatbot marketing: With this option you can create chatbots to interact with your contacts in real time and automate the answers to frequently asked questions.
Numerous integrations: ActiveCampaign can be integrated with a large number of third-party applications, such as sales software, e-commerce platforms, social networks, etc.
Analytics: these software programs allow you to track campaign performance, understand your prospects' behaviors and optimize your efforts.
Email marketing: The platform offers tools for creating, sending and tracking email campaigns. It also allows you to segment prospects based on their interests and behavior for a personalized user experience (e.g. sending newsletters with personalized messages).
CRM: It allows you to keep control of customer relationships and manage contacts, companies and business opportunities. This tool also allows you to track interactions with leads and keep a history of interactions.
The drag & drop email templates: The software provides users with a variety of drag-and-drop email templates to create professional-looking emails quickly and easily. These templates are designed to be customizable and can be used for a variety of purposes, such as: newsletters, promotional emails, event invitations, and more.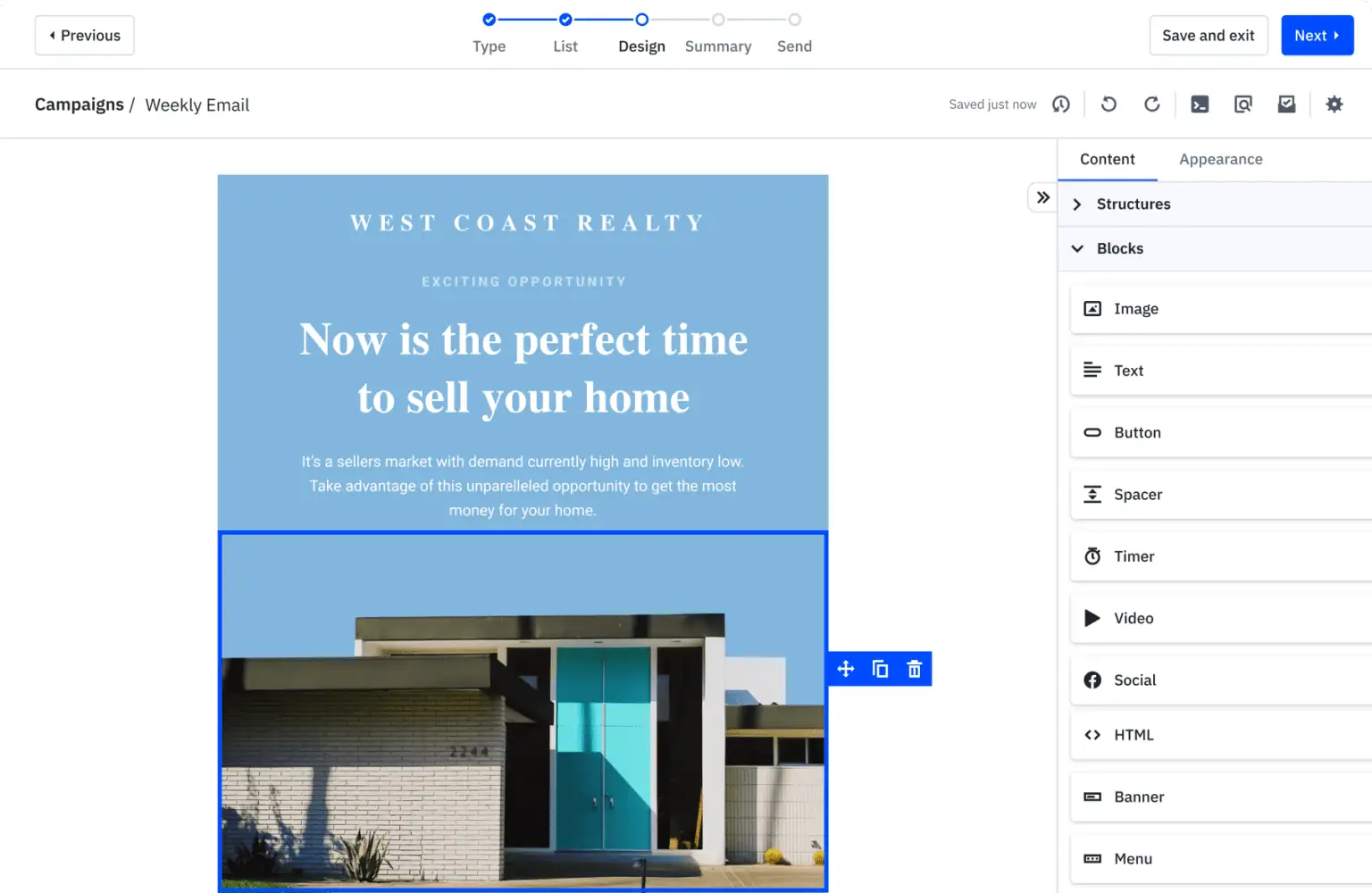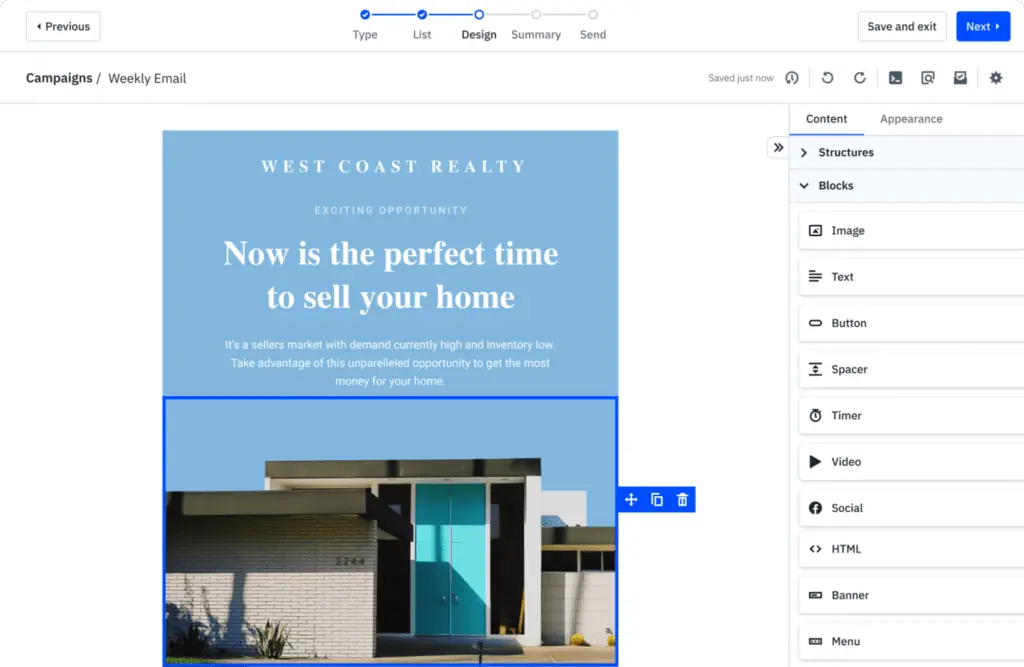 The landing page builder: ActiveCampaign's Landing Page Builder is a feature that allows users to create and design custom landing pages for their website. These landing pages can be used for a variety of purposes such as: promoting a product or service, capturing leads, or directing traffic to a specific page on a website.
Well, on paper it looks really good. But what is Active Campaign really worth when you use it? To find out, we tested it for you. And, Spoiler Alert, we really liked it!
ActiveCampaign: Test and use, what we liked
When we tested ActiveCampaign, we were impressed by:
The ergonomic interface,
The mail marketing solution,
The CRM.
The interface: it is ultra ergonomic and easy to understand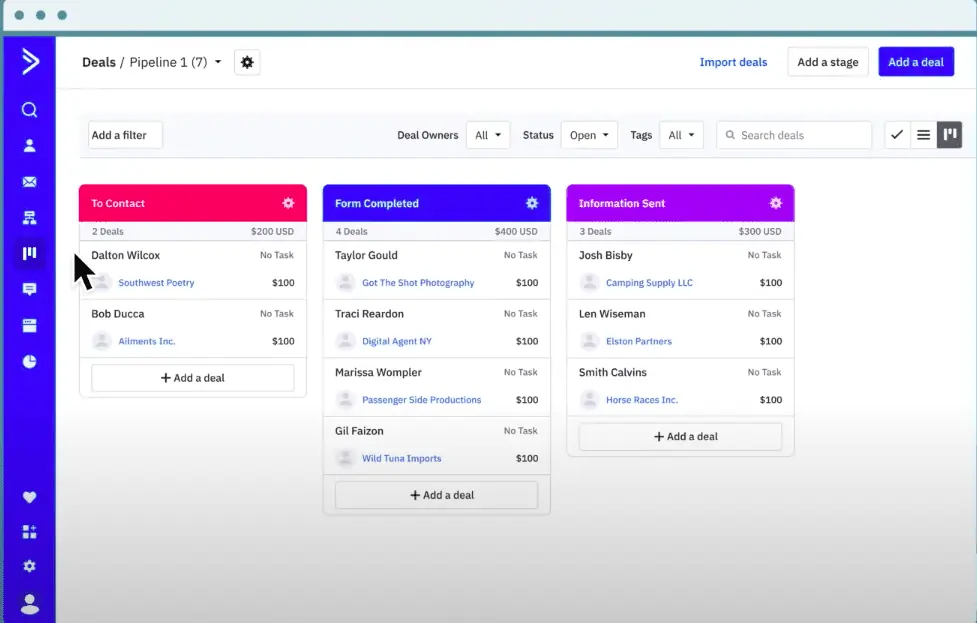 The navigation is intuitive and all features are easy to find. Once the initial configuration is done, ActiveCampaign is very easy to use.
You can create an automated campaign in a few minutes. The setup can be done with minimal effort and it is possible to easily integrate different third-party software into your workflow.
Emailing tools: they are particularly intuitive and useful
You can create customizable templates for your emails and track their performance in real time with the reports provided by ActiveCampaign.
It is also possible to segment your contact list according to their interests and behavior in order to offer them a customized customer experience (newsletters, coupon codes, personalized messages…).
CRM tools: easy to use and efficient
They are easy to use and offer a clear view on all customer data. These analysis tools allow you to analyze campaign performance, identify trends, and optimize your efforts to get the best possible results.
What are the advantages and disadvantages of ActiveCampaign?
At Debugbar we know that it can be difficult to make an opinion on long texts. So we made it easy for you and we made a table with the advantages and disadvantages of Active Campaign. It will allow you to make your mind up very quickly.
| | |
| --- | --- |
| Advantages | Disadvantages |
| Intuitive interface | High prices (limited offers) |
| Easy to use | Advanced features only available through third party integrations |
| Intuitive email marketing | |
| Powerful CRM software | |
| Powerful analytics software | |
After weighing the pros and cons you realize that ActiveCampaign is the right tool for you? You want to know how much it costs? Then let's take a look at it right now.
How much does ActiveCampaign cost?
ActiveCampaign offers 4 subscription plans, the prices of which you can find in the table below.
| | | | |
| --- | --- | --- | --- |
| Lite Plan | Plan Plus | Professional Plan | Entreprise Plan |
| 9$/mo | 49$/mo | 149$/mo | On Demand |
ActiveCampaign can be expensive, especially if you opt for the most complete packages. So it's important to evaluate your needs and make sure that the features offered match what you need for your business before you buy a subscription.
Active Campaign: in short
ActiveCampaign is an excellent tool that offers a full range of features:
email marketing automation,
SMS marketing automation,
marketing automation by chatbot,
marketing campaign automation,
complete CRM solution to manage all stages of the sales cycle.
If you're looking for a complete and easy-to-use solution for marketing automation and customer relationship management, ActiveCampaign is a great choice. It is intuitive, easy to configure and offers many analytical tools to improve the performance of your campaigns.