Appsumo: the solution to find the productivity tools that suit you
You are tired of wasting time trying different productivity tools without finding the one that perfectly suits your needs? Appsumo is the perfect solution for you!
This site offers you a great selection of quality productivity tools, all in one place to make your life easier. No more hours spent searching the web for the perfect software, Appsumo allows you to quickly and easily find the tool that best suits your work and your lifestyle.
So go ahead and discover how Appsumo can help you be more productive and reach your goals faster by reading this article!
AppSumo: the best SAAS software at discounted prices
Appsumo is an online platform that recommends the best productivity softwares at affordable prices.
Its mission is simply to help you find the tools that will help you to better manage your time and work in order to achieve your goals more easily.
But how exactly does AppSumo work? That's what we're going to see right now.
Appsumo: How does it work?
As you can see, Appsumo recommends the best products and softwares to boost your productivity.
To do so, it follows a very specific process:
Application selection: Appsumo teams carefully select the softwares they recommend based on:
their quality,
their usefulness,
and their popularity.
Negotiation of special offers: Appsumo then negotiates special offers with the developers to allow them to offer the best deal to their users. These special offers (lifetime license, discounted prices…) are only available through Appsumo. You will not be able to benefit from them anywhere else.
Product recommendation: once an application has been selected and special offers have been negotiated, Appsumo recommends it to its audience. Users can then read reviews and testimonials from other users, ask questions and decide whether or not to purchase the app.
Buying and downloading the application: Once a user has decided to buy an application, they can do so directly on Appsumo. As soon as the sale is completed, the user can download the application on his computer or smartphone and use it immediately.
So you can see that AppSumo is pretty easy to use. But that's not its only advantage.
Why choose Appsumo to find your productivity tools?
AppSumo is beneficial in many ways:
It allows you to discover lesser-known but equally effective solutions.
You have access to special offers and low prices on recommended products.
You have the opportunity to read reviews and testimonials from other users before making a decision.
Discover products that are less popular but just as effective as some of the market giants
Appsumo doesn't just recommend the most popular SAAS solutions. The platform also makes room for lesser-known software that has been tested and approved by their teams.
This gives you the opportunity to discover new apps that might be useful to you, but that you might not have found otherwise.
Get discounts
By using Appsumo you get access to special offers and great prices on some of the best softwares on the market.
You can take advantage of discounts on apps that you might have bought at a higher price elsewhere.
Take advantage of user feedback
Finally, by using Appsumo, you have the opportunity to read reviews and testimonials from other users before making a decision.
This allows you to get an idea of the efficiency of an application and to know if it is adapted to your needs.
You have a doubt about a product? You can also ask questions to people that actually tried it and get answers from them.
What types of software are offered on AppSumo?
Appsumo recommends a wide range of products but here are some examples of the main categories of software offered on the site:
Project Management: Appsumo recommends apps for project management, such as Asana, Trello, or Basecamp, which allow you to track the progress of your tasks and collaborate with your team in real time.

Time management: With Appsumo you have access to scheduling solutions, such as Toggl or RescueTime, which allow you to know how much time you spend on each task and to better manage your time.

Organization: By choosing AppSumo you get access to a wide range of organization tools, such as Evernote, Notion or OneNote, which allow you to take notes, store documents and manage your tasks.

Communication: You also have the possibility to download communication solutions, such as Slack, Zoom or Skype, which allow you to communicate with your team or your customers in an efficient way.

Marketing: Marketing is a very represented category on Appsumo. So it's no surprise that you have access to tools, like Hootsuite, Canva or Ahrefs, that allow you to manage your marketing campaigns, create visual content and track your performance.
Of course, this is only a glimpse of what you can find on Appsumo. If you look hard enough you will also find other categories, such as finance, personal development, design, etc.


As you can see, AppSumo is really very advantageous. However, the solution has its limits.
What are the drawbacks of Appsumo?
Among the main disadvantages of AppSumo we note:
A limited number of available products: Appsumo only recommends a few dozen apps, which means that you don't have access to all the productivity tools available on the market. So if you are looking for a very specific app that is not offered by Appsumo, you may have to look elsewhere.
Not always the best deals: although Appsumo negotiates special deals with developers, you may get better prices elsewhere, such as through referral programs, coupons, a personalized promo…
So it's important to compare prices before you buy.
No guarantee of quality: although Appsumo makes a rigorous selection of the solutions they recommend, they can't guarantee the quality of each of them. Therefore, it is important to read reviews and testimonials from other clients before you check out.
No technical support: Appsumo does not provide technical support for the products they recommend. If you have any problems with an application purchased through Appsumo, you will need to contact the application developer directly for assistance.
How much does Appsumo cost?
Appsumo is free. You don't have to pay to access product recommendations or to ask questions to users.
However, you do have to pay to buy the applications recommended by Appsumo. The price of each application varies depending on the application itself and any special offers from the developer.
However, there is 1 paid AppSumo program for frequent users.
Appsumo Plus
This is a premium program that offers additional benefits to users who subscribe. Here are some of the benefits of the Appsumo Plus subscription:
Access to exclusive deals: as an Appsumo Plus subscriber, you have access to some deals that are not available to non-subscribed users. These offers may include discounts on Appsumo recommended applications, lifetime access, free licenses or additional features.

Priority Support: As an Appsumo Plus subscriber, you receive priority support when you have questions or problems with the products you have downloaded. You can also access exclusive webinars and workshops to get help and advice from professionals.

Access to exclusive content: as an Appsumo Plus subscriber, you have access to exclusive content, such as guides, ebooks, and videos, that help you improve your productivity and make the most of Appsumo's recommended solutions.

The Appsumo Plus subscription is offered at a monthly or annual rate. The price depends on the length of the subscription and the benefits offered.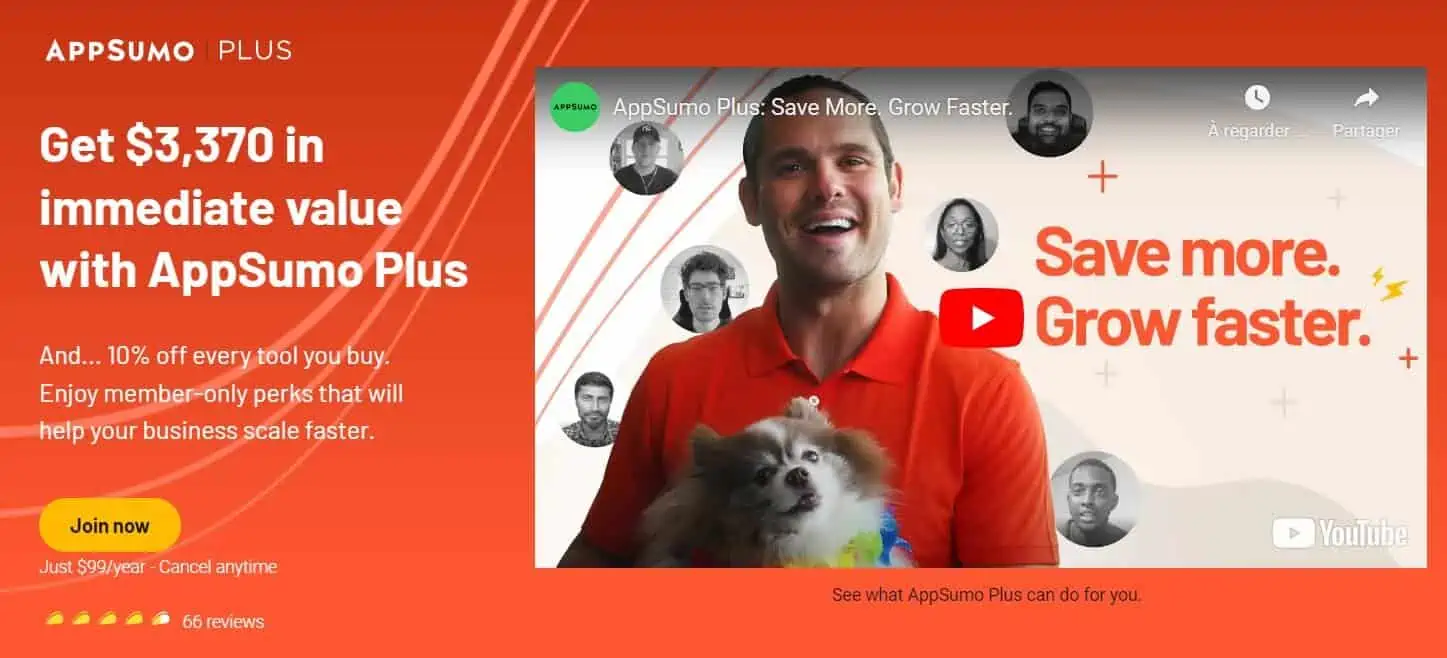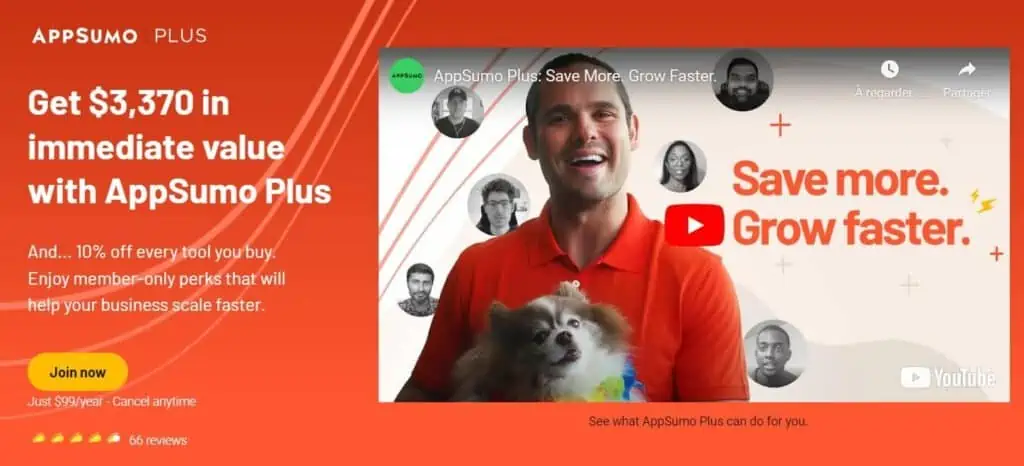 What you should remember about AppSumo
In short, Appsumo is the ideal solution for finding the right productivity tools for you. With their careful selection and special offers, you can be sure to find quality applications at great prices.
The solutions offered online by Appsumo are carefully selected.
Appsumo can be the solution when you can't find a promo code, discount coupon or a lifetime access for a particular SAAS tool.
This site is especially useful for businesses and freelancers looking for productivity tools.