Discover the secrets of viewing Instagram without an account
Curious about checking out Instagram profiles without signing up for an account? You're in the right place!
In this article, Debugbar will explore how to view Instagram content without signing in, and dive into the tools available to maintain your anonymity online while browsing your favorite social media platform.
#1: Unlock public profiles effortlessly with a simple URL trick 
Did you know that Instagram profiles can be easily accessed via a simple URL trick? To view public accounts on Instagram without creating an account, you just need to follow these easy steps:
Step 1: Open your favorite web browser (on mobile or PC).
Step 2: Type "instagram.com/[username]" into the address bar (replace [username] with the actual Instagram name of the profile you want to view).
Step 3: Press Enter and voila! You're now browsing an Instagram profile without an account.
But hélas this method is limited to public IG pages only and you won't be able to see all the posts and interact with other users.
However, it's a great start for those who want to maintain privacy or simply check out a profile without signing up.
But perhaps you'd like to see more posts, stories and reels from a specific user. Are there other options? Absolutely! Let's take a look at another solution.
#2: Explore Instagram in style using third-party viewer tools
Using Instagram viewer sites also allows you to explore profiles without an account. Among these, ImgInn and Dumpor stand out as user-friendly solutions.
ImgInn: A versatile Instagram viewer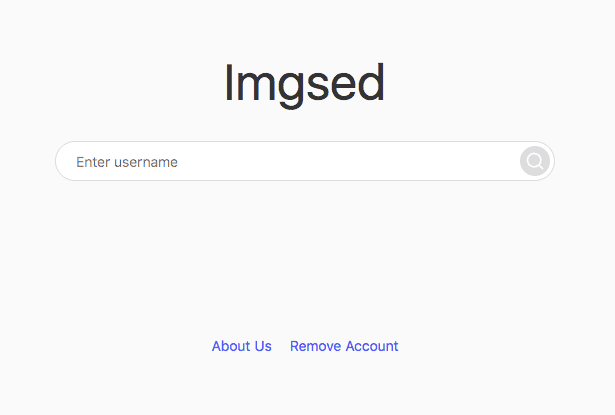 ImgInn is a free online tool that lets you browse Instagram without an account and even download photos, reels, and Stories.
Here's how to use it:
Visit the ImgInn website on your smartphone or PC.
Enter the person's name or their @username in the search bar and click the search icon.
Select the profile you want to view.
If you want to download a photo or reel, click "Download."
To view a reel, hit the play button.
Scroll down to the comments section if you want to read them.
Dumpor: Another hassle-free viewer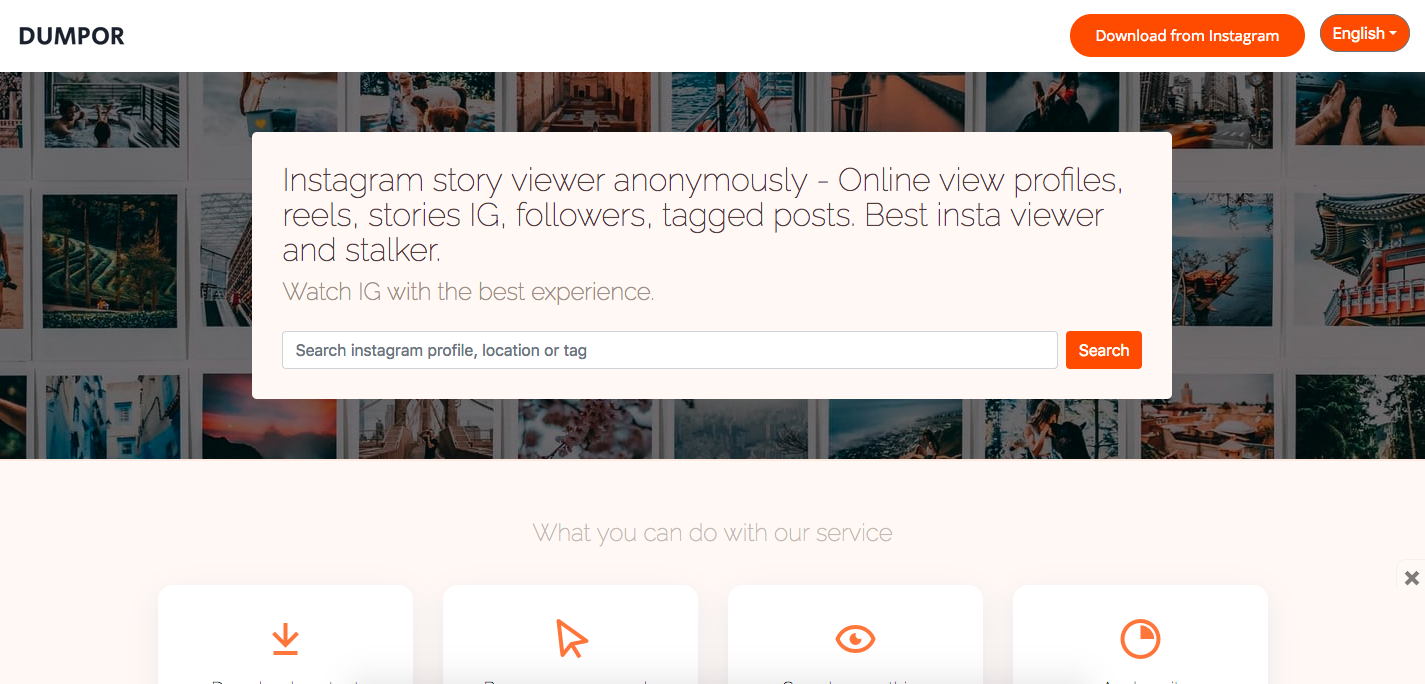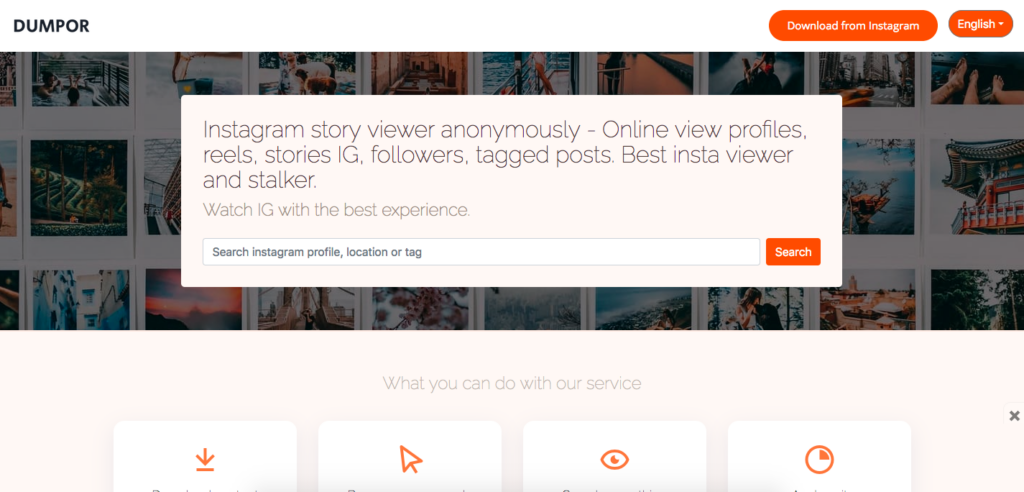 Dumpor is another free Instagram viewer that allows you to view profiles, reels, Stories, followers, following, and tagged posts without an account.
To use this tool, follow these steps:
Go to the tool website using your preferred web browser.
Type in the username, location, or hashtag you want to search for and click the search button.
Identify and click on the account you're interested in if it's available.
You can also use the Locations and Tags tabs for additional filtering options.
Click on a specific post (photo, reel, or Story).
Press "Download" to download the post.
Caution: Be wary of Instagram viewers that require personal information before allowing access without an account. Stick to viewer sites that prioritize privacy and user experience.
These sites let you view posts, reels, and stories, as well as download them directly to your device. However, captions for posts and reels might not be visible on these third-party platforms.
Want to discover more Instagram viewers tools? Here are the 5 best currently on the market.
Top Instagram viewer tools: Meet the fabulous five!
Here's a brief overview of the top 5 Instagram viewer tools:
ImgInn: Offers search options by name or username, allowing you to view and download posts, reels, and Stories.
Dumpor: Provides options to search by username, location, or hashtag and features filters for additional ease of use. Allows you to view followers and following lists.
Inflact: Streamlines browsing by collating profiles into a visually pleasing grid format.
Anon IG Viewer: Allows anonymous browsing for added privacy.
GreatFon: Offers an easy-to-use platform for viewing public accounts and downloading content.
As you might have gathered, it is possible to view certain profile pages without an account, but there are limitations. Let's explore what you can and can't do without an Instagram account.
Instagram without an account: What's possible and what's not? 
Without an Instagram account, you are still able to perform several actions on the platform, but certain limitations apply. Let's break down what's possible and what's not without an Instagram account:
What it's possible to do without an Instagram account:
View publicly available profile pages.
See the totals for posts, followers, and following.
Click on bio links.
View the first few comments on posts.
View and download posts, as well as play reels.
Access a limited content.
See related accounts.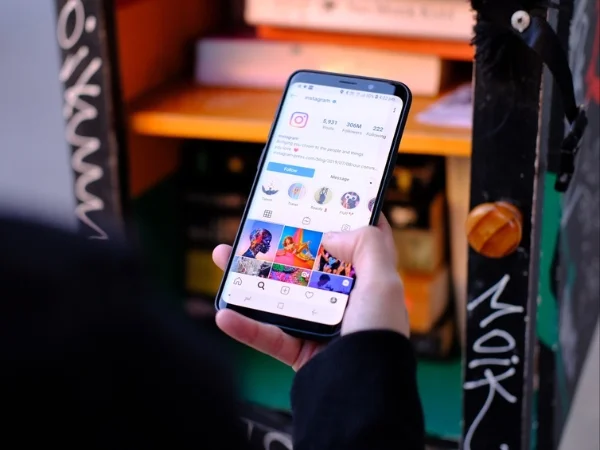 What it's not possible to do without an Instagram account:
Network with other Instagram users.
Like photos and videos.
Post comments.
Zoom in on photos.
Follow Instagram accounts.
View Highlights.
Post your own content.
Use camera effects and stickers.
Please note that even though you can perform certain actions without an account, Instagram encourages users to create a profile and log in to access the full range of features. Whenever you attempt to perform restricted actions, a prompt will appear, reminding you to sign in to use the platform.
Viewing Instagram without an account: Key takeaways
In summary, it is indeed possible to view Instagram without having an account, although with some limitations.
Here are the key points to remember:
It's possible to access public accounts via direct URLs or third-party tools.
You can perform limited actions such as viewing posts, reels, and a few comments without an account.
Creating an Instagram account gives you access to the full range of features and interaction possibilities.
Feeling curious about a specific profile or want to explore Instagram without committing to an account? Go ahead and try out these methods for viewing Instagram profiles anonymously!
Remember, you can always sign up later if you wish to delve deeper into the world of Instagram. Happy browsing!