Wpml : Transformer un site web en plateforme multilingue
Pour rendre le contenu des sites web wordpress accessibles à une plus large audience et dans diverses langues, il existe des extensions. Ces plugins wordpress permettent de transformer un site web en plateforme multilingue à travers la traduction de chaque page.
Au nombre des plugins multilingue se listent le plugin Polylang et le plugin WPML. Cette dernière extension (Wpml) reste le plus utilisé de tous les plugins de traduction de wordpress. Grand format sur cette extension.
Qu'est-ce que WPML ?

Comme indiqué ci-haut, WPML est un plugin dont la fonction principale est de rendre un site WordPress multilingue. Il permet d'effectuer la rédaction de contenu dans diverses langues. Il permet également de traduire du contenu existant d'une langue à une autre langue.
Lancé en 2007 par l'entreprise OnTheGoSystems, ce plugin intègre une interface dédiée à la traduction professionnelle. D'après ses statistiques, WPML compte aujourd'hui plus d'un million de sites web utilisateurs. Par conséquent, il devient le plugin le plus populaire de ce secteur.
Si WPML se trouve plébiscité par tous, c'est bien parce qu'il possède un certain nombre d'atouts :
il favorise la traduction de tout ce qui compose vos sites web (Pages, articles, widgets, contenu personnalisé, contenu de thème et extension, etc.) ;
WPML possède une excellente compatibilité avec un grand nombre de plugins et de thèmes (Woocommerce, Divi, Yoast SEO etc.) ;
Ce plugin constitue une aide précieuse pour l'optimisation de vos sites web en ce qui concerne leur référencement multilingue ;
excellent plugin pour traduire le contenu de boutique e-commerce construit à partir de Woocommerce ;
Support client disponible en français et très réactif.
Comment réaliser l'installation de WPML ?
Avant d'installer et d'activer le plugin de traduction WPML sur son site wordpress, il faut se rendre sur le site web du développeur et le télécharger. Sur sa page de téléchargement, WPML présente 14 extensions.
Vous aurez besoin de télécharger seulement 4 plugins. Il s'agit des plugins nécessaires à la traduction de contenu d'une langue à une autre sur un site web multilingue.
WPML Multilingual CMS et String Translation
C'est l'extension de base, autrement dit le noyau du plugin de traduction WPML. La seconde extension String Translation sert à traduire le contenu des sites web qui ne se trouve pas dans les pages, les publications, etc.
Il s'agit du contenu des titres de widgets, des slogans des sites web, etc. Ils sont désignés sous l'appellation chaines de traduction.
Translation Management et Media Translation
Translation Management représente le module de gestion de la traduction. C'est grâce à cette extension que vous pourrez gérer toutes vos traductions. C'est elle qui vous permet de collaborer avec des services de traduction ou un groupe de traducteurs.
Depuis octobre 2021 où la version 4.5 de WPML est sortie, le module de gestion de traduction a intégré le noyau du plugin WPML. Son activation n'est donc plus requise.
Quant au Media Translation, en français, il signifie traduction de médias. Il sert lors du choix des images et autres types de médias pour le contenu qui a été traduit.
Après avoir installé et activé les 4 extensions sur votre site web wordpress, il faut passer aux réglages. La configuration s'effectue en effet en 6 étapes. Pour commencer, faites un clic sur le bouton << Configurer WPML >>.
Étape 1 : Le choix des langues du site wordpress
Ici, l'assistant de configuration vous invite à sélectionner les langues dans lesquelles vous désirez traduire votre site web WordPress. Vous aurez aussi à choisir une langue par défaut pour le site WordPress.
Il vous est proposé de nombreuses langues pour traduire votre site WordPress, une soixantaine environ. WPML vous permet de revenir ajouter ou supprimer une langue à tout moment.
Étape 2 : Effectuer le choix du format d'URL
Pour le format d'URL, vous disposez de 3 options. La première consiste à un format avec des répertoires différents pour les langues. La seconde option donne lieu à un domaine différent par langue. La dernière option permet d'ajouter l'intitulé de la langue comme paramètre dans l'URL.
L'option à prendre dépendra de vos besoins, mais aussi de votre projet. Si vous optez pour le format <<langues différentes dans les répertoires>>, vous devrez effectuer certains réglages dans la rubrique permaliens. En effet, la structure des permaliens de votre site wordpress ne doit pas être la même que celle par défaut.
Étape 3 : Enregistrement de WPML
Ici, vous devez enregistrer votre clé de licence du plugin de traduction WPML. Cela est obligatoire si vous désirez recevoir les diverses mises à jour du plugin.
Étape 4 : Sélection d'un modèle de traduction
Cette étape permet de choisir la manière dont vous désirez traduire votre site WordPress. Vous pouvez choisir de traduire automatiquement tout le contenu de votre site web wordpress. Soit, vous choisissez une traduction de contenu au cas par cas.
Après, il vous faudra définir la personne ou l'équipe qui se chargera de traduire le contenu de votre site WordPress. Il peut s'agit de vous-même, d'un agent traducteur ou d'un service de traduction professionnel.
Les choix effectués peuvent toujours subir une modification plus tard. Pour ce faire, il suffit de revenir dans les réglages de WPML.
Étape 5 : Paramétrage de l'assistance technique de WPML
WPML vous propose ici son assistance technique. Pour en profiter, vous devez réaliser une liste de thèmes et de plugins que vous utilisez sur votre site web wordpress. Ce faisant, en cas de soucis de compatibilité, il vous aidera fortemment.
Vous êtes libre d'y adhérer ou non. Cela peut tout de même s'avérer utile.
Étape 6 : Activation des add-ons éventuels de WPML
Il s'agit de la dernière étape de la configuration du plugin de traduction multilingue. Il vous est proposé ici certains add-ons de WPML. En général, ses fonctionnalités supplémentaires permettent de réaliser des tâches comme :
traduire des chaines ;
traduire des textes d'administration ;
traduire des fichiers multimédias, etc.
À la fin, vous êtes redirigés vers l'interface d'administration de WordPress, plus précisément sur le menu de gestion des traductions. C'est là que vous pourrez effectuer vos travaux de traduction.
Réglages concernant les langues
Dans les réglages de WPML, vous pouvez non seulement ajouter ou supprimer une langue, mais aussi définir la façon dont elle est proposée aux utilisateurs de votre site web. En effet, vous êtes autorisé à ajouter un drapeau pour représenter une langue et modifier la manière dont le nom de la langue apparaît aux utilisateurs. Vous pouvez également modifier l'encodage des URL et plusieurs autres paramètres.
Vos utilisateurs peuvent eux même choisir de passer de la langue par défaut de votre site wordpress à leur langue. Pour ce faire, le plugin de traduction a prévu un sélecteur de langue.
Pour la rendre disponible sur votre page d'accueil, il suffit de l'ajouter depuis les réglages de langues du plugin. Dans le sous menu options du sélecteur de langue se fait la sélection de l'ordre de présentation des langues.
L'apparence du sélecteur de langue peut aussi subir des modifications. Pour vous acquitter de cette tâche, vous devez ajouter du code CSS.
Cependant, si vous ne maitrisez pas le CSS, le menu du sélecteur de langue vous permet de créer votre sélecteur personnalisé sans entrer de lignes de code. Les drapeaux représentant chaque langue sont aussi modifiables sans coder.
Sur votre site web WordPress, un sélecteur de langue se place à 4 emplacements différents. Vous pouvez disposer votre sélecteur de langue dans un menu, dans le pied de page, dans une zone de widget. Il se dispose également au-dessus ou en dessous d'une publication.
Le sélecteur de langue s'insère aussi dans un contenu de page ou d'article. Cela s'effectue grâce à un code court.
Quand vous n'utilisez pas une langue ou que vous n'avez pas fini de traduire vos pages en celle-ci, vous pouvez la masquer. Masquer une langue permet de la cacher aux utilisateurs du site web, mais aussi aux moteurs de recherche.
Comment traduire une page ou un article ?
Pour traduire, votre contenu, le plugin multilingue, vous propose diverses options.
Traduction manuelle
Ici, la traduction de pages ou d'articles s'effectue manuellement. Rendez-vous donc dans le menu Pages ou le menu Articles selon le besoin. Vous pouvez ainsi traduire des pages existantes ou en créer de nouvelles dans une langue et les traduire dans une autre en tapant la traduction vous-même.
Traduction automatique de tout le site WordPress
Avec sa dernière version, WPML propose une fonctionnalité du nom de TRANSLATE EVERYTHING. Elle rend disponibles deux options. La première consiste à traduire tout votre contenu actuel automatiquement ainsi que les nouveaux contenus au fur et à mesure de leur création.
La seconde option permet de traduire de façon automatique les nouveaux contenus uniquement. Pour profiter de ces options, vous devez posséder un compte de traduction automatique.
Avec TRANSLATE EVERYTHING, vous gardez tout de même la main sur le contenu que vous publiez sur vos pages. En effet, vous pouvez effectuer une vérification de la version traduite du contenu avant de passer à sa publication.
Vous vous trouvez également en mesure de publier et de procéder à la publication plus tard. Vous pouvez aussi choisir de publier sans vérifier.
Traduction automatique au cas par cas
Dans ce cas-ci, vous choisissez la page ou l'article que vous désirez traduire automatiquement. Pour le faire, il faut passer par le menu GESTION DE TRADUCTION.
Mais avant, activez le mode de traduction qui s'y prête. Il s'agit du mode TRANSLATE SOME. Il permet de traduire uniquement les éléments ciblés. Son activation s'effectue dans les paramètres de WPML.
Il faut noter que vous accédez au menu GESTION DE TRADUCTION uniquement avec les licences Agence Mutilingue et CMS Multilingue. Ce menu GESTION DE TRADUCTION permet d'atteindre un éditeur de traduction avancé qui favorise une traduction plus rapide et automatique.
Comment traduire les menus ?
Pour traduire un menu, il faut vous rendre dans l'onglet APPARENCE, ensuite dans MENUS. Si vous disposez de plusieurs menus sur votre site web wordpress, il faudra sélectionner le menu que vous désirez traduire.
À droite de l'écran, vous verrez le menu en passe de traduction accompagné de liens représentant les langues qui sont actives sur votre site web. En effectuant un clic sur un des liens, un nouveau menu se crée dans la langue correspondante.
Gardez à l'esprit que le nouveau menu doit contenir les mêmes éléments que le menu dans la langue par défaut de votre site web. Par ailleurs, une page ou un article non traduit ne peut apparaître dans le menu traduit que si elle a au préalable subi une traduction.
WPML propose en outre une option de synchronisation des menus. En effet, en activant l'option ''Synchroniser les menus WP'', tout changement dans le menu de la langue principale se répercute sur les menus traduits en d'autres langues.
En d'autres termes, quand des pages sont supprimées ou modifiées dans le menu de langue principale, une mise à jour s'effectue automatiquement au niveau des menus traduits. Une option très pratique, il faut le reconnaître.
Comment traduire les tags et les catégories ?
Le plugin multilingue WPML aide à traduire les tags, les catégories et tout type de taxonomie facilement. Pour traduire, rendez-vous dans TAXONOMY TRANSLATION.
Comment traduire thèmes et plugins ?
Le plugin WPML donne le choix entre utiliser les traductions officielles des plugins et des thèmes ou recourir à son traducteur de chaines de caractères. Pour effectuer la traduction, allez sur la page LOCALISATION DES THÈMES ET PLUGINS.
Sur cette page, la case intitulée ''Don't use string translation to translate the theme and plugins'' se trouve cochée par défaut. Non loin, vous verrez une seconde case. En la cochant, le fichier. mo du thème se chargera automatiquement.
En effet, cette case à cocher vérifie s'il existe des fichiers de traduction pour votre thème et les charge automatiquement. Il faut quand même savoir que cette option ne marche qu'avec des thèmes téléchargés depuis WordPress.org.
En outre, la traduction est généralement incomplète ou approximative avec ce procédé. Cela se justifie par le fait que tous les thèmes et plugins WordPress n'intègrent pas systématiquement des fichiers de traductions.
Comment traduire les widgets ?
Pour traduire un widget, il vous faut activer le module de traduction String Translation. Rendez-vous ensuite dans le menu traduction de chaînes de WPML. Sélectionnez le widget que vous désirez traduire. Ici, vous aurez à saisir vous-même le texte de traduction puisque l'opération est manuelle.
Comment traduire les médias ?
Pour traduire les logos, les images ou les illustrations, le module Media Translation doit être actif. Il est surtout très utile pour la traduction d'images contenant des textes. Rendez-vous donc dans le menu TRADUCTION DE MEDIA de WPML et choisissez l'image que vous désirez traduire.
Woocommerce et WPML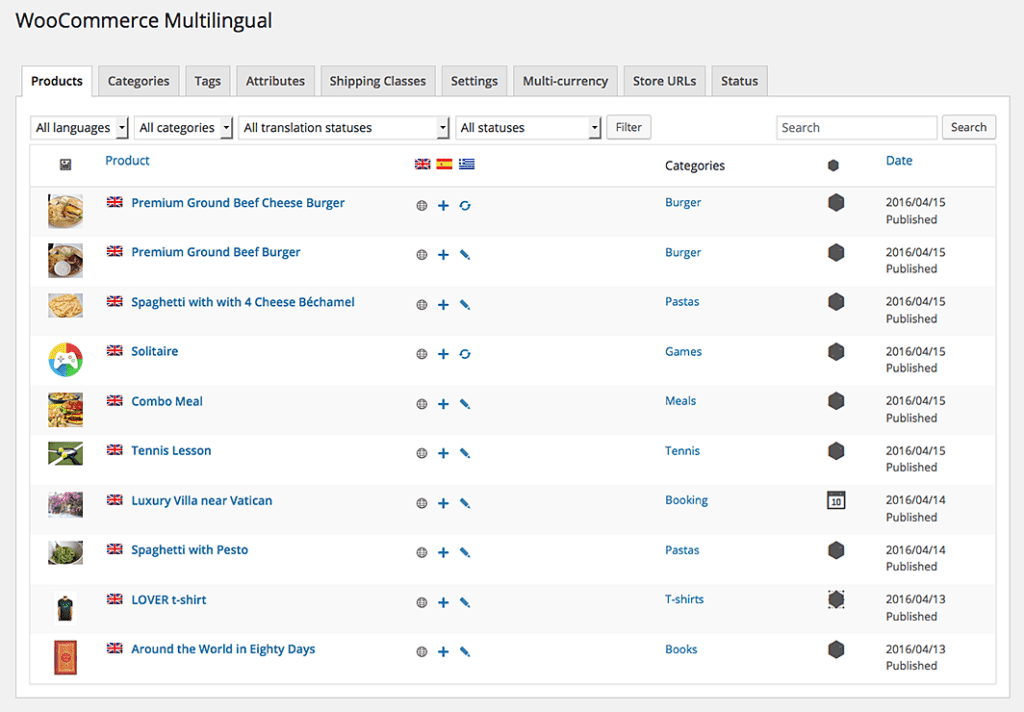 Avec WPML, vous pouvez transformer votre boutique Woocommerce en un magasin en ligne multilingue, mais aussi multidevise. Cela est possible grâce à l'extension spéciale de WPML, le Woocommerce Multiligual.
Vous accédez à cette extension dès lors que vous disposez de la licence Agence multilingue et CMS multilingue de WPML. Pour un fonctionnement optimal de l'extension Woocommerce Multilingual, il faut installer le plugin WPML de base.
Vous devez aussi installer certains add-ons. Il s'agit de Translation Management et de String Translation. Il vous faut également veiller à télécharger et activer une version récente de Woocomerce. Vous devez au moins installer une version au-dessus de la version 3.9 de Woocommerce.
Après avoir activé l'extension de traduction e-commerce, un assistant de configuration vous aidera dans les diverses tâches de traduction. Vous pourrez traduire les pages de la boutique, sélectionner les attributs traduisibles et déterminer si des devises multiples vous sont nécessaires.
Après la configuration, vous pourrez vous diriger vers les réglages de l'extension. C'est depuis cette page que les traductions se feront. Sur cette page, vous traduisez les produits de votre boutique.
Vous traduisez également les balises, les catégories, etc. Vous traduisez l'ensemble des chaines qu'utilise Woocommerce.
En outre, le plugin de traduction Woocommerce Multilingual aide à traduire les emails de Woocommerce. Vérifiez que les plugins et thèmes dont vous faites usage sont dans la langue par défaut de votre site. Quand c'est le cas, les pages PAIEMENT et PANIER de Woocommerce sont traduites systématiquement.
Mis à part Woocommerce, l'extension de traduction Woocommerce peut traduire plusieurs autres plugins célèbres. Avec WPML, vous pouvez traduire par exemple les plugins dédiés à la création de formulaires. Il s'agit entre autres de Contact Form 7, de WPForms, de Gravity Forms, de Ninja Forms, etc.
WPML est-il payant ?

Il n'existe pas de version gratuite de l'extension de traduction WPML. Le plugin n'existe qu'en version premium. Trois formules sont proposées à cet effet :
une licence Blog multilingue à 39 dollars l'année ;
une licence CMS multilingue à 99 dollars l'an ;
une licence Agence multilingue qui coûte 199 dollars par an.
Vous choisissez la formule qui vous convient selon vos besoins. Chacune des formules dispose bien évidemment de caractéristiques spécifiques.
La licence Blog multilingue est celle qui possède le moins d'options. Elle ne s'utilise que sur un seul site et ne permet pas de traduction automatique. Elle n'aide pas à traduire les boutiques e-commerce, ni les widgets, ni les plugins ni les thèmes.
Les deux dernières licences proposent toutes les fonctionnalités de WPML. Cependant, la licence CMS multilingue ne s'installe que sur 3 sites pendant que la dernière licence est à usage illimité.
Par ailleurs, l'acquisition d'une licence donne droit à des crédits de traduction automatique gratuits. La licence Blog multilingue donne droit à 2000 crédits, la licence CMS multilingue donne accès à 90 000 crédits. La dernière licence fait profiter de 180 000 crédits gratuits.
Puisque vous êtes ici, prenez le temps de regarder cette courte vidéo. C'est notre futur. Ca nous concerne tous.