GMB : All you need to know to rule the SEO of your Google Business Profile
For the good visibility of your company, it is necessary to optimize your online presence. This can be done through several means such as the use of Google free tools and natural referencing. It must be said that for some time, the algorithms of search engines have not stopped evolving. The habits of the Internet users have also considerably changed.
These different mutations have largely contributed to make local SEO an essential development tool on the web. In this wake, Google my business (GMB) is the perfect tool to optimize the visibility of its business. And it's free !
Here is everything you need to know about Google Business SEO.
Google Business profile SEO, what is it about ?
The local Google Business Profile SEO is a part of a digital marketing strategy that consists in optimizing its Google business profile page. This type of referencing allows obtaining greater local visibility for free.
This strategy helps to improve the local communication of an establishment. In addition, the company attracts potential new customers thanks to better local referencing.
This way of setting up its SEO allows it to appear in the first results of people's localized searches. This way, you can optimize the web presence of your establishment without spending a penny on advertising.
Factors to optimize the local SEO of your Google Business profile ?
To be on the first page of search results on Google, there are several criteria to respect. Among them, some have a considerable impact on the GMB page of a company. Discover them.
Have a Google business profile listing or create one for your establishment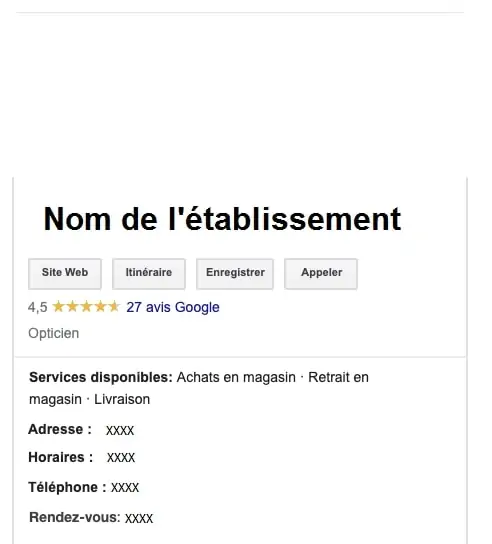 Claiming a GMB listing makes you its owner. However, you can only claim a business listing that exists. If you are new to the web and your business does not yet have a Google Business profile listing, you will have to create one.
It is important to remember that without this listing or without owning it, no improvement of your local referencing is possible. It should be noted that sometimes the Google listing of your company can be found on the web without you having created it.
Indeed, it happens that Google automatically creates listings for some businesses. This is why it is essential to verify before trying to create a new account.
In the case of an automatic creation of your company's listing by Google, you have the possibility to claim it. To do this, simply perform a search for your business and then click on the option "CLAIM YOUR BUSINESS".
If your establishment was in the name of someone else, the former owner for example, you can request the ownership of the record. You can contact them and ask them to grant you primary owner access.
Verification and claim of a Google Business Profile listing can also be done automatically with a software. Keep in mind that your business may not automatically show up on Google or Google Maps after your listing is created.
This is because Google sometimes takes longer to create listings for some businesses. You can contact GMB support to ask for some help if your card still does not appear after a week of waiting.
Avoid using keywords in the title of your business listing
You only have to write the name of your establishment in your Google Business profile listing title.
Don't try to optimize your SEO by including keywords in the title. You risk obtaining the opposite effect.
Indeed, Google perceives this as an overoptimization of your card. In fact, Google may suspend your page.
Choose a relevant category
The choice of category allows Google to know the sector in which your company operates. It goes without saying that this has an important impact on your local SEO.
Google my business (GMB) invites you to fill in your main category, but also secondary categories. To choose the ideal category for your local SEO, you need to do keyword research beforehand.
You need to verify the search volume on your keywords, the competition, etc. By doing this, you will know which keywords to place on.
After researching your keywords, do a Google search for the main keyword. If you can't find it and need help, the better way is to look at your competitors' Google Business profile listings in the results and see what their main category is.
The category that comes up most frequently is your main category. You can then consider the rest of the categories as secondary.
Your geographical location
Your ranking on Google and Google Maps also depends on the physical address you have listed on your business. For example, it would not be possible to be listed in New York when Newark is indicated as the physical location of your establishment.
In addition, for local SEO, Google and Google Maps prioritizes the proximity between the establishment and the user who performs the search.
Get Google reviews

To get a good reputation and attract more customers, you need to make sure that you get more reviews from your current customers. This is to say that Google reviews are essential to your local SEO and your ranking. Your overall rating on customer reviews is also important to the search engine.
As well as your potential customers, the search engine makes comparisons between various businesses. Between a company with 200 reviews and a score of 4.8 and a company with 1 review and a score of 3, the choice is quickly made.
So take the time to ask your customers for their opinions and questions on an article or service.
However, don't buy reviews, collect them naturally.
Be aware that beyond a certain number of daily reviews, the search engine will consider your reviews as unreliable. It will then proceed to delete them and could penalize your ranking.
Responses to reviews are also very important for local SEO. Whether it's a negative or positive review, you must respond.
Negative reviews from your customers show that your company offers a real service. However, they don't negatively impact your local SEO. Furthermore, it helps you to improve your business and anticipate the questions of your customers.
Use high quality photos
Your future customers will find your Google Business Profile listing attractive if you frequently post good quality photos. Your GMB should include at least 10 photos of your business.
You can post photos of the interior and exterior of your business. Take regular photos showing the name of your business. Take photos of your staff and products, etc.
When you post a photo keep in mind that you must respect some rules. The photos to be posted should not be large. They should be in PNG or JPEG format. The photos must not be retouched in any way.
Apart from photos, you can also post videos. They must also be of good quality. All of this helps to improve your local SEO.
Provide consistent information
All the information you provide on the web must be consistent. For example, your Google business listing cannot have a different name than your business name.
On your account, you must provide your company's contact information (phone number, email, address, etc.). Make sure you provide a permanent phone number. Changing your contact information regularly could result in a suspension.
As well as your contacts, make sure to provide your opening hours on your form. Be careful to not frustrate your customers by providing incorrect hours. Exceptional hours such as holidays must also be indicated.
Thanks to some features, such as the ADDITIONAL HOURS feature, Google my business allows you to indicate specific hours for certain products and supplies. If your company is not working, you can use the label TEMPORARILY CLOSED.
If you offer a specific service, there is a feature to indicate on your account that you book appointments online. Please note that all the information on your listing must be consistent with the information on your website or anywhere else.
The website and its lexical field
You must also add your website link to your Google my business listing. You should not indicate a yellow page or a Facebook page link as a website. The content of the website must be in line with what your listing describes.
Keep in mind that optimizing your website has a positive impact on the SEO of the latter.
The section where you enter your website address should not change too frequently. If it does, your page will be subject to suspension.
The posts
With the Google Posts feature, you can make posts, publish offers, news, etc. All your posts remain visible in search results for 7 days.
After that time, the post disappears from the search results.
Posts improve the visibility of your listing. To take better advantage of this, you can optimize them.
To do this, often create texts of at least 100 words and usually add an attractive image to your content. Encourage your future customers to take action with a CTA (call to action).
To know more about Google Business profile posts features you can click here.
Products and services
Depending on your business type, you can display the products and services of your company on your Google page. In the dashboard you will have a section dedicated to it.
You can add some photos of the products in this section. You can also add their prices and a quick description. Restaurant companies have a MENU section in their dashboard instead of the Products and Services section. This allows them to display their various food proposals.
Your products, services or menus displayed on your business listing don't directly impact your local SEO.