Proton VPN: our full review
Do you take your online privacy seriously? Then Proton VPN is the best way to protect you.
This VPN, developed by Proton Technologies AG, aims to provide users with a simple and secure way to protect their private data online.
In this article, we will review all the key features, installation and configuration process, performance as well as services offered by Proton VPN.
Proton VPN helps protect your online activity.
This VPN was developed by a Swiss company that specializes in IT and cybersecurity.
There is a free Proton VPN offer with reduced features.
Proton VPN: what is it?
Proton VPN is a Virtual Private Network (VPN) developed by Proton Technologies AG.
This Swiss company specializing in the development of security software and services was founded in 2013. Its goal is to provide Internet users around the world with a simple and secure way to protect their personal information and ensure their privacy online.
This is how Proton VPN came into being in 2016. Thanks to this software subscribers can therefore connect to VPN servers in different countries to mask their real IP address and access content that might be blocked in their region.
What are the main features of Proton VPN?
The VPN offered by Proton Technologies AG is really very complete and offers many interesting features among which are:
Encrypted connection: Proton VPN uses strong encryption protocols to secure data transmitted over the Internet, thus protecting users from online hackers and spies.
Worldwide VPN servers: Proton VPN has VPN servers in different countries to allow users to hide their real IP address and bypass geographical restrictions.
Kill Switch: The VPN includes a "kill switch" feature that will automatically cut off the internet connection if the VPN disconnects, to prevent information leakage.
No-log policy: The tool does not record user activity histories to ensure the anonymity of its subscribers.
Protocol support: The software supports a number of different protocols, such as OpenVPN, IKEv2/IPSec, and ProtonVPN's Secure Core, allowing users to select the protocol that best suits their needs.
Customer support: Customer support is good and available via the website and social networks.
Cross-platform support: The VPN is compatible with a variety of platforms such as Windows, MacOS, Linux, iOS and Android.
Responsive pricing: Proton VPN offers different subscriptions tailored to the needs of its users, ranging from simple to business use.
Free subscriptions don't offer all these features, but they do offer a secure connection and protect you from DNS leaks.
How to install and configure Proton VPN?
Installing and configuring Proton VPN is very simple. Just follow these steps:
Download the Proton VPN app from Google Play Store or Apple App Store from your mobile device or directly from the company's website for installation on a computer.
Once the app is installed, launch it and sign in to your account. If you don't have an account yet, you can sign up for one for free on the ProtonVPN website.
Click on the "Select Server" option in the application and choose the server you want to use.
Note: some servers may be reserved for subscribers with a specific option, so make sure you use a server that is compatible with your subscription.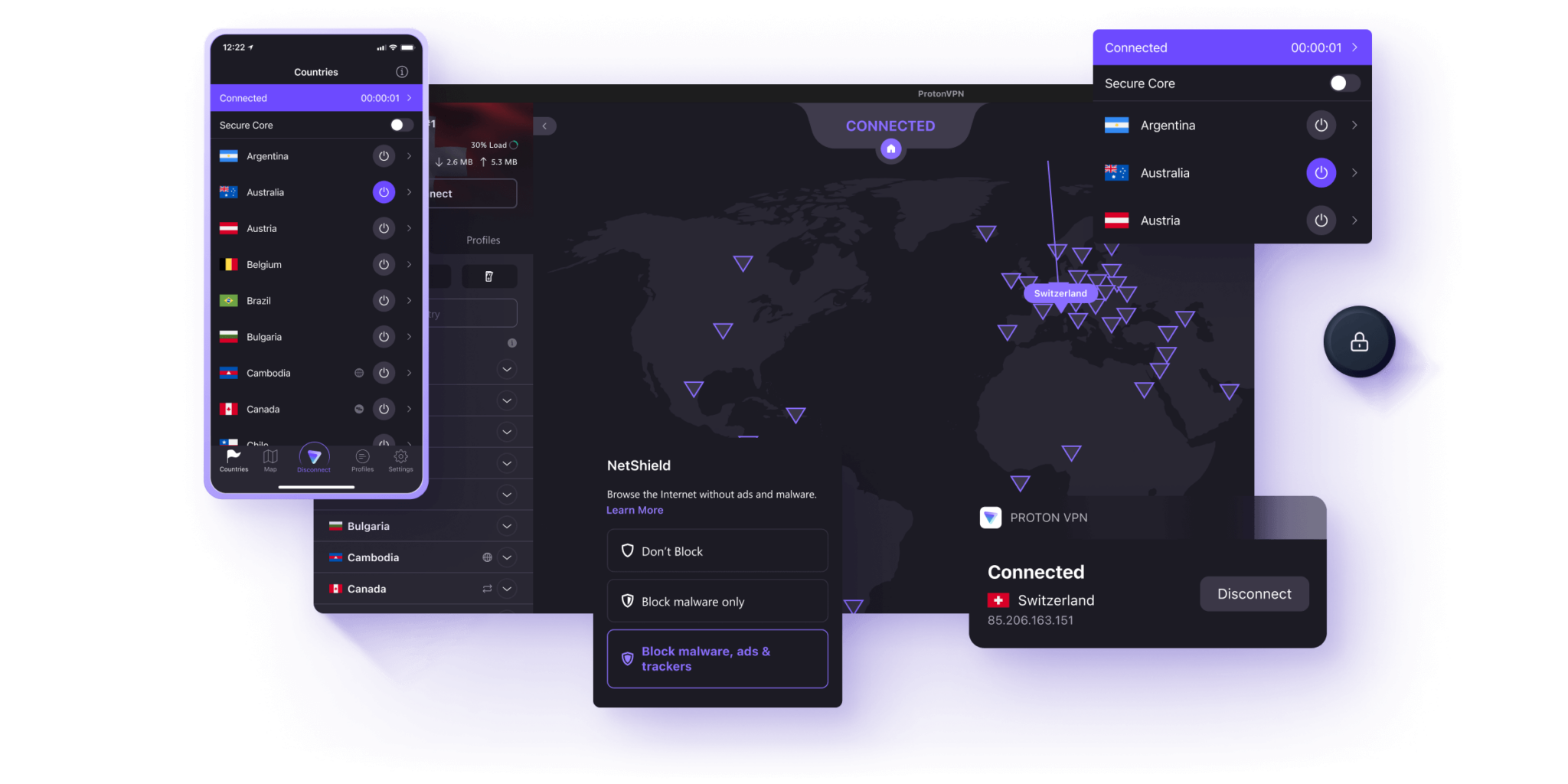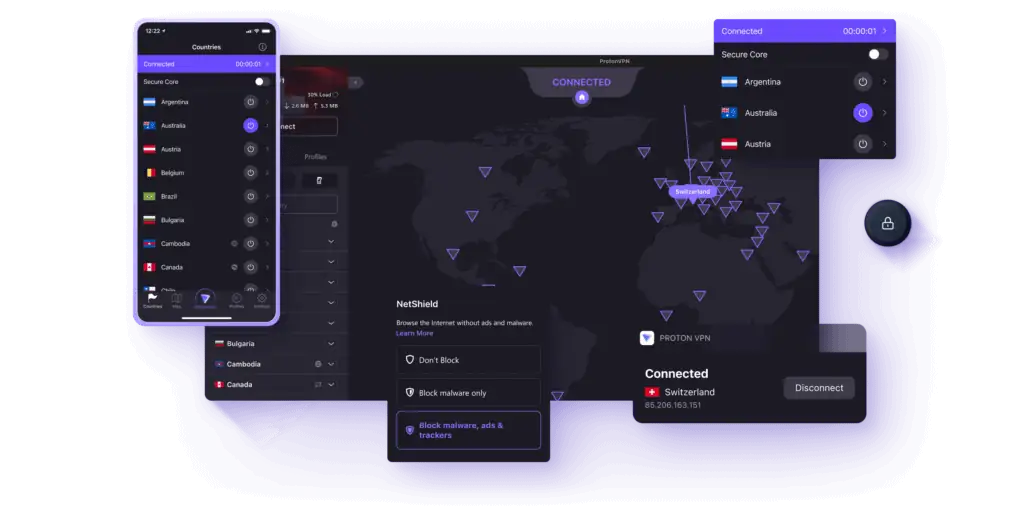 Click on "Connect". The application will tell you when the connection is established and you will be able to browse in complete privacy.
It is possible to customize the connection settings in the application options to adjust the security and protocol settings.
Finally, to ensure that your connection is secure, it is important to check that the connection status indicates "Connected" and that the connection button is grayed out.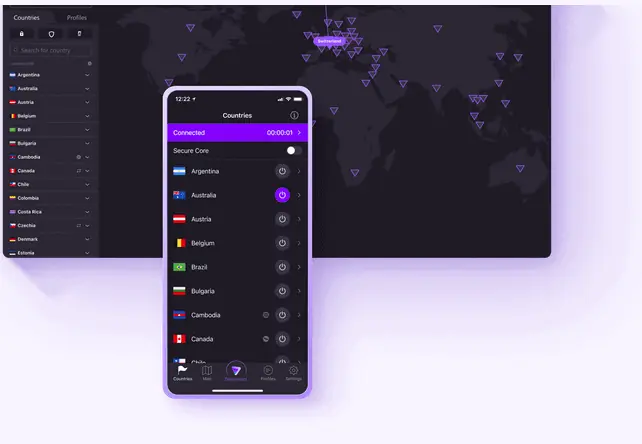 User Interface Overview
The Proton VPN user interface is very easy to understand and use. It is possible to customize it according to your preferences, choose the most appropriate server for your use, and choose a secure connection mode.
Once you have chosen a server and a connection mode, you can connect to the Internet and enjoy the benefits of Proton VPN.
Proton VPN performance and security: it rocks!
Proton VPN offers fast connection speeds and robust security protocols to protect your personal information.
It uses OpenVPN and IPsec protocols, which are among the most secure on the market today.
It also offers a Kill Switch feature to keep your data safe in case of unexpected connection failure.
It offers fast download speeds (Mbps) which is very useful for streaming.
It offers DNS leak protection to ensure that your online activity is not revealed. For this, Proton VPN has developed a system called Secure Core that provides additional protection against DNS attacks and leaks.
Additional features of Proton VPN
In addition to Proton VPN, Proton Technologies AG also offers other services to protect your online privacy.
ProtonMail: is an encrypted email service that offers greater privacy than traditional email services.
ProtonDrive: is a secure storage service that allows users to store their data safely and confidentially.
What is the price of Proton VPN?
The VPN is offered at different prices depending on the subscription plan chosen. You can find the prices of each plan in the table below.
| | | | |
| --- | --- | --- | --- |
| ProtonVPN Plans | Basic | Plus | Visionary |
| Monthly plan price | $5 | $10 | $30 |
| Annual plan price | $48 | $96 | $288 |
| VPN connections included | 2 | 5 | 10 |
| Number of available servers | 400 | 1,418 | 1,418 |
Our opinion: Proton VPN is not bad
Proton VPN is a secure and reliable virtual private network service that offers users greater security and privacy online.
The tool is very comprehensive and it offers DNS leak protection, tunneling protocol and automatic Kill Switch, which is really essential.
If you choose a paid subscription plan you will have access to a wider variety of features and greater security than free ones, as well as 24/7 customer support.
Proton VPN connects very quickly and uses ultra-reliable security protocols.
Proton offers additional services such as ProtonMail and ProtonDrive to further protect your online privacy.
You can get fast download speeds (up to Mbps) which is great to watch movies on your favorite streaming platform (Netflix, Amazon…).
Anyway… We tested ProtonVPN and we can say that it is a pretty reliable VPN. Their offer is very complete and their prices are affordable. Moreover, their customer service is very responsive and professional.
Finally, good news is that their free version is complete enough to satisfy most users.
So we recommend ProtonVPN with your eyes closed if you want to protect your data online and browse discreetly. So try it out and see for yourself.