Squarespace vs. WordPress: which one to choose in 2023!
Looking to create a website that scotches your prospects, customers and competitors? Then it's not surprising that you have to choose: Squarespace, WordPress, Wix, Shopify, Jimdo, Square… there are a plethora. Today we will focus on the behemoth WordPress and a rival that is on the rise, SquareSpace.
Squarespace is a website builder that comes with some of the best graphic templates on the market. It is easier to use than WordPress, and takes care of the technical aspects for you.
WordPress is a content management system that comes with tons of power and customization – if you don't mind getting your own web hosting and learning a little code and philosophy that goes along with it.
After more than a decade of using and comparing the best website building platforms, we know exactly what the differences are between Squarespace and WordPress. Read on for our full analysis and find out which of these two platforms is best for you!
Also read : Squarespace vs Wix : which one to choose for your website?
Who are Squarespace and WordPress for? Which one is right for you?
Squarespace is a website builder, while WordPress is a content management system (CMS). Here's what that means:
Website builders are all-in-one tools that include everything you need to create a website, from design templates to hosting. You don't have to know anything about code, and your entire site can be managed in one place. This makes Squarespace the most suitable platform for beginners.
Content management systems (CMS) are more advanced software designed to manage larger websites with lots of data. You can fully customize these sites, but only if you can code. You'll also have to find a hosting provider yourself, but you'll ultimately have more storage space and scalability. This makes WordPress the more powerful platform.
There are actually two versions of WordPress! In this comparison, we are talking about WordPress.org, which is an open source platform and what most people refer to when they say "WordPress". WordPress.org is different from WordPress.com, which is designed more as a website builder, but lacks power and resources.
When to use Squarespace instead of WordPress
When to use WordPress instead of Squarespace
✓ You want a stunning website without the hassle and fuss
✓ You need a site up and running fairly quickly
✓ You need a site that is easy to manage
✓ You want transparent and fixed prices
✓ You are not comfortable with code
✓ You want an all-in-one service
✓ You want to focus on your goals rather than maintenance.
✓ You like the security of dedicated support, 24/7
✓ You are building a fairly large website
✓ You want full customization
✓ You have a very hands-on approach to managing your site
✓ You're comfortable with coding, or willing to learn
✓ You want really powerful blogging features
✓ You don't need to get your site online very quickly
✓ You don't mind technical tasks like hosting, security or updates.
Which one is better for beginners?
Ease of use: Squarespace is better
With Squarespace, you can easily modify your design, whereas WordPress requires coding. This makes Squarespace much more beginner-friendly, as you can simply drag and drop elements onto your pages.
Squarespace: Easier but less flexible
Squarespace is easier to use than WordPress because:
It requires no coding skills.
You can preview changes in real time as you make them.
It has a drag and drop template editor
By "drag and drop", we mean that you can move different elements (like text boxes and images) around the page to customize the layout. Squarespace's editor works in sections, which allows you to move different elements within a block of the page.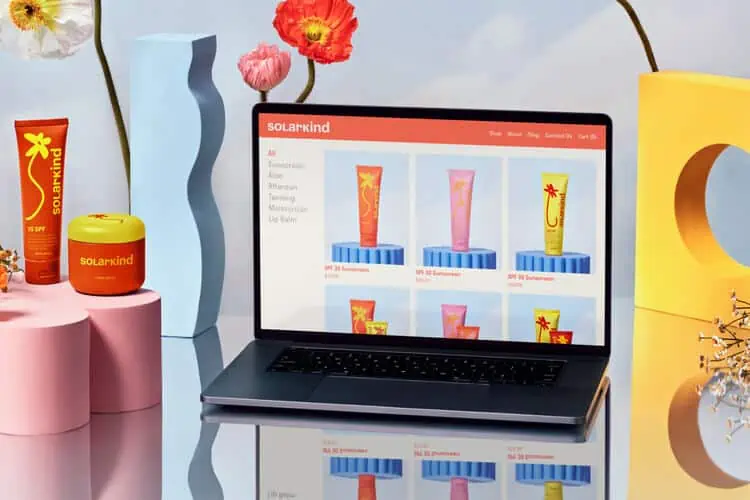 This is called WYSIWYG editing or "what you see is what you get". It's very easy to make changes because you see exactly what visitors will see once your site goes live.
Whenever we've used Squarespace in the past, we've been impressed with its elegant templates and quick setup.
Tip: Less flexibility isn't always a bad thing! Squarespace's section-based editor makes it nearly impossible to position your text or images at the wrong angle, and you'll have several color palettes to choose from that are preset to match your theme. In short, it's extremely difficult to make a design faux pas with Squarespace!
WordPress: More difficult but more customizable
WordPress is more difficult to use than Squarespace because :
Third-party code and plugins are often required to customize pages.
You make your changes in the backend, which means you can't see the changes you make.
Making changes in the backend is like flipping switches behind the scenes. You can go to the front to see the lights you've turned on, then go back behind the curtain to change those settings.
This can be very confusing for a beginner. But the good thing is that WordPress is very customizable, because changing the code on your site opens up a whole new world of possibilities – you won't have to stay within the confines of a pre-set template.
If you have money rather than coding skills, you can hire a developer to help you, starting at $55 per hour (integrator more than developer). This will increase the cost of your website, but reduce the amount of technology you have to manage yourself.
Design Which one has the best templates?
Design: Squarespace is better at first glance
Squarespace's templates are always of better quality than WordPress'. And while WordPress has tons of customization options, you'll need to be pretty comfortable with the code to really make a WordPress template shine.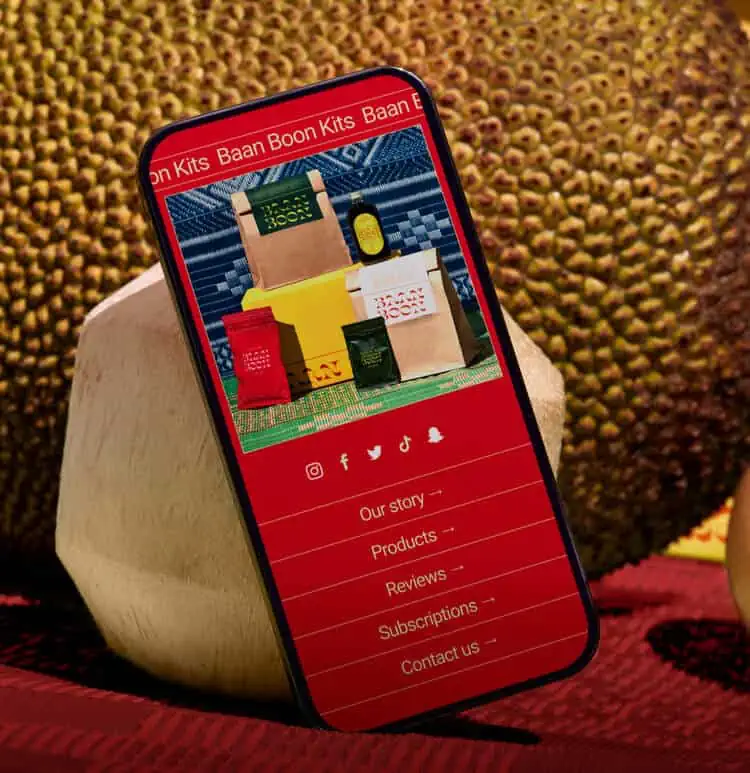 Choosing a template
If you want a website builder but don't want to compromise on design, don't worry – Squarespace offers the best design quality of any website builder on the market. Its design templates are clean, modern and professional. You can choose from 113 of them, covering a variety of categories from online stores to blogs.
WordPress has more themes than Squarespace – in fact, it has thousands – but not all of them are as well designed as Squarespace's. In other words, you'll often have to do a lot more work yourself to turn the theme into something amazing!
Tip: Anyone can create and download a WordPress theme, so it's better to be picky. It's even possible that you'll download a theme that contains malicious code (a theme you'd normally pay for and want to get for free), which would open your site up to security holes.
So beware of faulty WordPress themes, and make sure that the ones you download are safe, secure and reliable: for this, stick to known and recognized theme platforms such as WordPress.org, themeforest or templatemonster.
Customize your template
Squarespace's drag-and-drop editor allows you to easily add galleries, slideshows, video backgrounds and more with a few clicks. And if you're feeling a little more advanced, you can use the built-in custom CSS editor, which allows you to apply custom code to your template. With Squarespace, coding is an option, whereas it's almost mandatory with WordPress.
Of course, WordPress has rightly made a name for itself in this area, giving you ultimate control over your website. It may not be as easy as drag and drop, but there is no limit to what you can change in your template.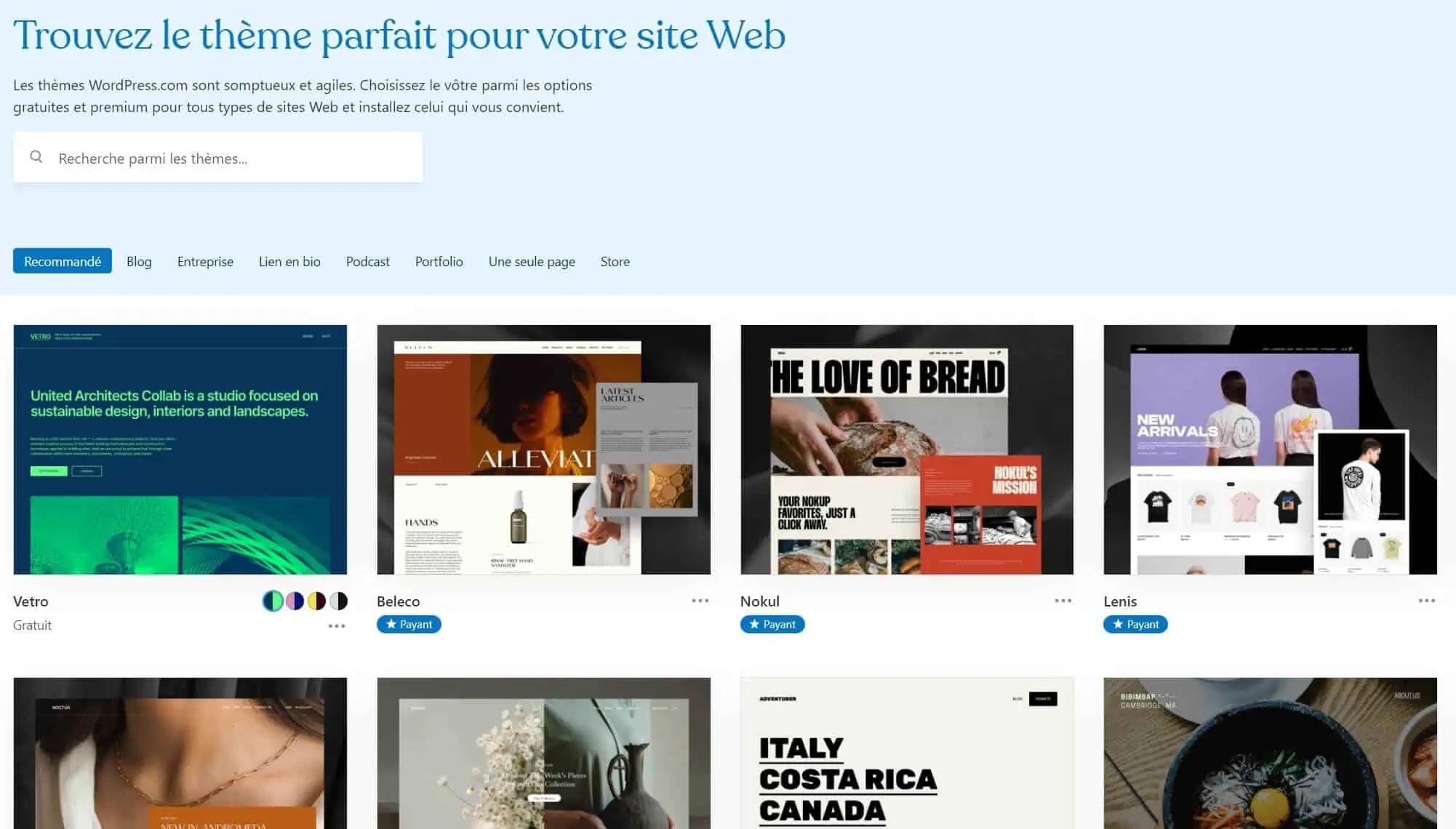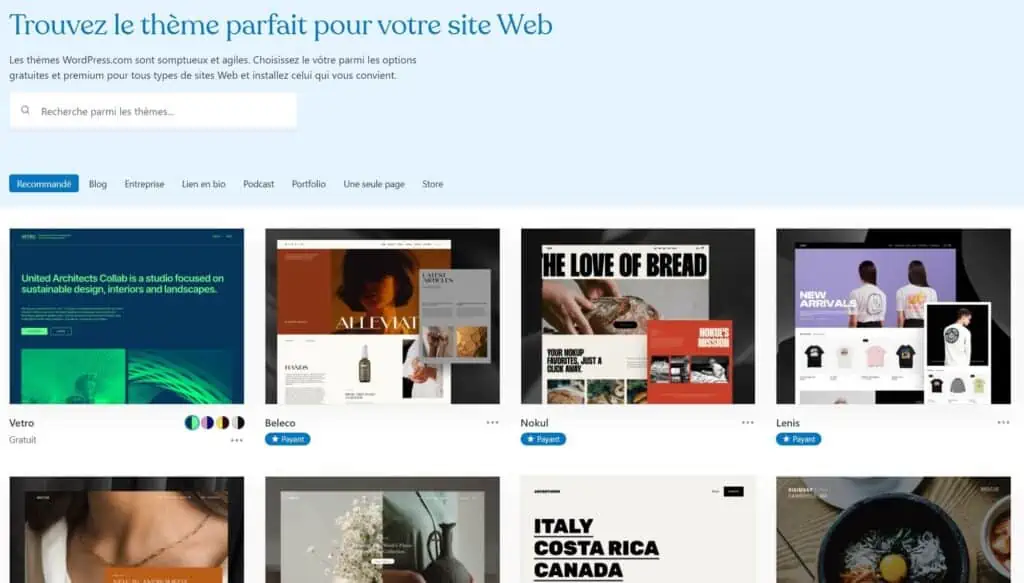 One of the most important aspects of choosing a template is making sure it fits perfectly on all devices. After putting so much effort into making it look great, you don't want your site to be the ugly duckling of the mobile world. Mobile responsive thems ensure that your website always looks great on, you guessed it, mobile devices.
All Squarespace templates are fully optimized for mobile. Each template automatically has a mobile view, which ensures that your website looks great on all devices. This also applies to the emails you send.
But let's be clear, while Squarespace's templates are beautiful, they all end up looking the same. I read everywhere on the web that they have crazy graphics, ultra varied….. yeah, let's stop talking nonsense right now,
the difference between the power rangers, apart from their color and their respective weapon, ahma, [clears throat and coughs]
WordPress is slightly different. Since there are so many themes, there are different levels of quality. Some themes are older than others, which means they may not be optimized for mobile. In a world where over 50% of traffic comes from mobile users, you'd be missing out by choosing an outdated theme.
One way to ensure a better experience for your mobile users is to enable AMP (Accelerated Mobile Pages). This is simply creating lightweight, streamlined versions of your pages, which means they load much faster on mobile devices. In addition, Google is working with AMP to prioritize these mobile-friendly pages in search results.
You can quickly and easily enable AMP on both Squarespace and WordPress. All Squarespace pages are automatically ready for you to activate AMP. With WordPress, all you need to do is install an AMP plugin, and you're good to go!
For the drag-and-drop part, WordPress, through the use of third-party plugins like Divi, WP Backery (Visual Composer) or Elementor allow you to do the same as with SquareSpace, maybe in a less intuitive way, but so much more advanced in terms of customization.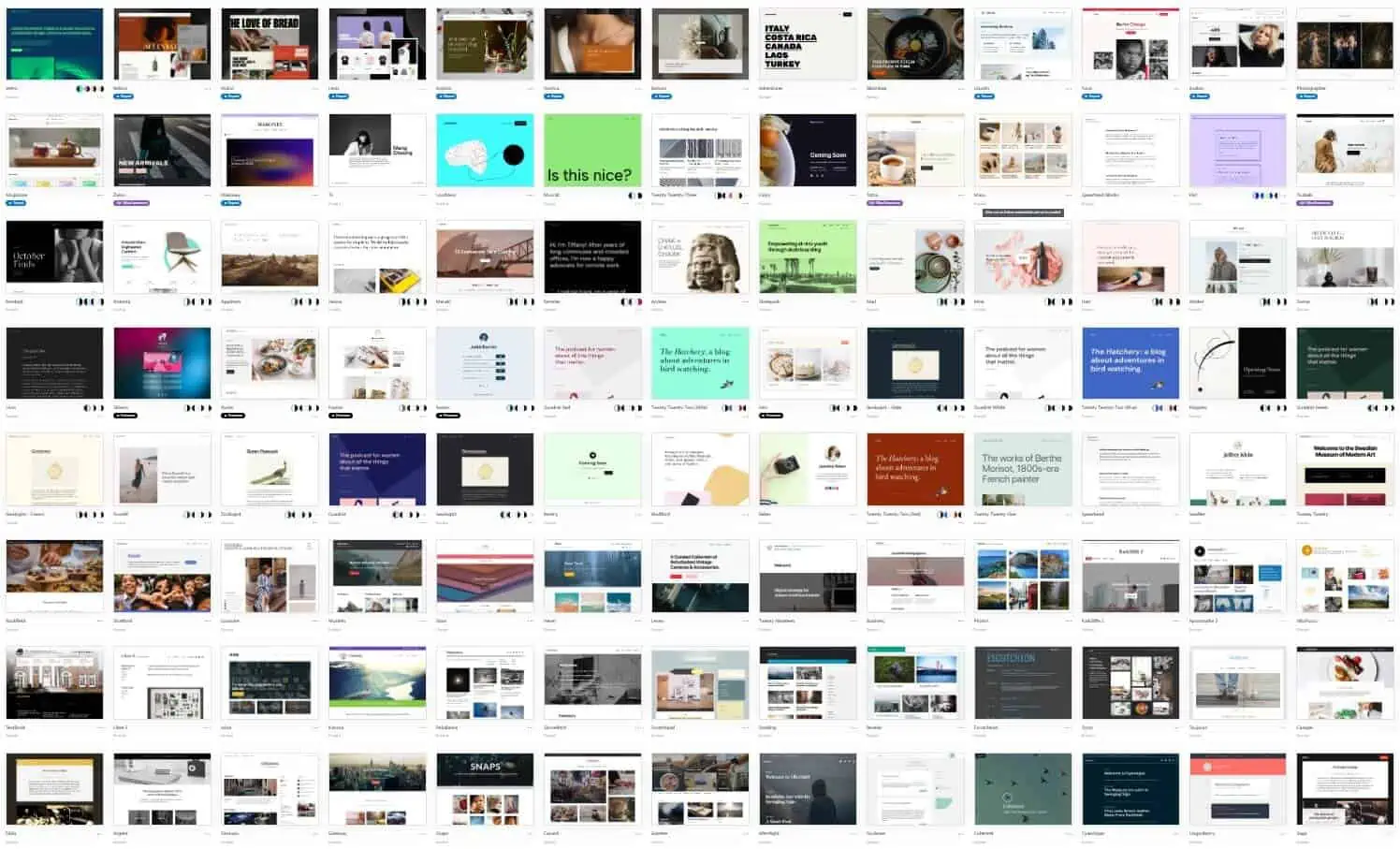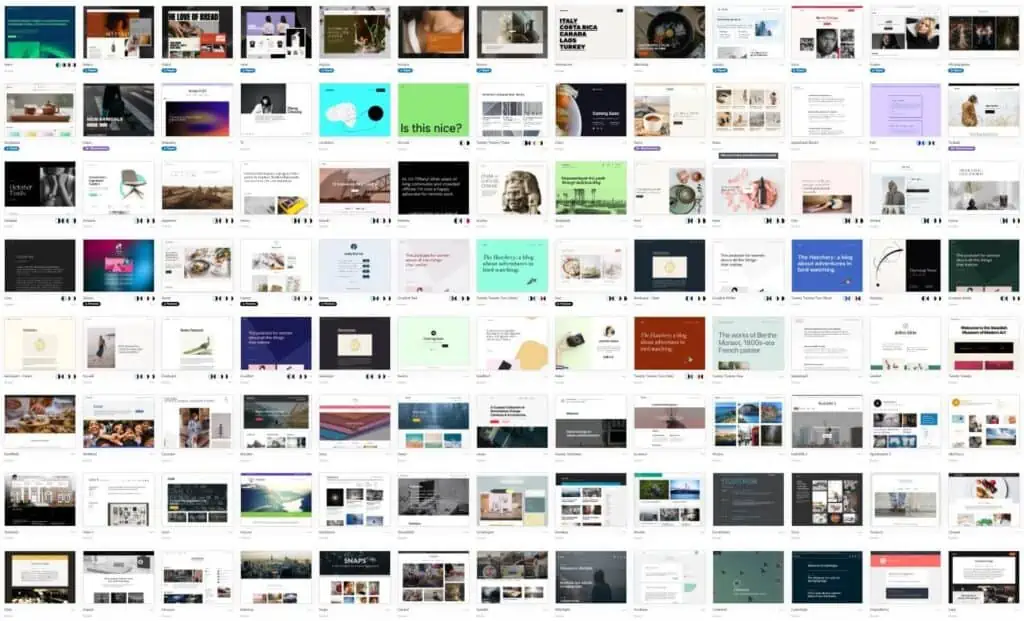 Squarespace pricing
Squarespace has 4 premium pricing plans, ranging from $12 to $40 per month (billed annually).
WordPress Pricing
WordPress is a free platform, but you will still need to pull out your wallet to help cover other aspects of your site. The biggest cost is hosting.
WordPress will require you to find your own hosting, which usually costs about $5 per month (or $60 before tax / $72 including tax per year) at a minimum.
Other common costs to consider when launching a WordPress site include
Themes: Although some themes are free, for optimal quality, it is better to invest in paid themes ($30 to $80 as the sales platforms are mostly from US sources).
Plugins: WordPress plugins can add all sorts of extra functionality to your website, from email marketing to e-commerce checkout tools ($15 to $50 up to $200).
Domain names: Squarespace offers you a free domain for the first year, but with WordPress, you'll need to buy your own domain name from a third-party registrar like ($10-12 per year), or choose a hosting provider that offers a free domain for the first year (like O2SWITCH).
ATTENTION however: after this first year, at SquareSpace, the domain name costs 20$ / year (twice the price at a registrar)
Developer costs: If you are building a large and/or complex website, you may even want to hire a developer, which can cost thousands of dollars.
Since a WordPress site has many moving parts, it's hard to give a definitive answer to its actual cost. The good news is that this model is very flexible, so you can choose cheaper themes and plugins to fit your budget.
SEO ensures you get found online
SEO: It's a tie!
SquareSpace natively allows you to manage your title, meta description and sitemap, period. So it's better than other builders that don't offer it.
WordPress, for example, does not offer it as standard, but the extensions that allow you to do so (SEOPRESS, Yoast) in their free version do.
You've perfected your great designs. Your website's features and applications are running like clockwork. All you need is an admiring audience to appreciate all that hard work. It's time to become an SEO pro!
SEO stands for Search Engine Optimization, and it's what gets you found in Google's search results. If your website has poor SEO, it could be stuck on the 100th page of results forever. With great SEO, you could reach the top spot.
But who wakes up one morning ready to become an SEO expert? That's where the builder of your choice can help.
Squarespace SEO
Squarespace has built-in SEO features, including:
Customizable titles and meta descriptions: This is the title and paragraph that describes a page in Google search results.
Customizable URLs: You can clean up your URLs to make them more readable to search engines (for example, squarespace.com/pricing is a simple and clear URL).
Image alt text: Alt text simply describes what an image shows, and it makes your website more accessible because anyone using a screen reader tool won't have to wonder what each image shows. Alt text also helps search engines understand the purpose and relevance of each image.
Page redirects: If you change the URL of a page and someone tries to visit the old one, Squarespace will automatically send them to the new one!
Automatic sitemaps: A sitemap is a list of the different pages on your site, designed to help search engines understand how they are all related. Squarespaces generates one automatically for you.
All these tools are fully integrated, which means you won't need to download any additional plugins to access them.
WordPress and SEO
WordPress websites come with some built-in SEO features, but most of the platform's impressive power comes from its arsenal of SEO plugins – which you'll have to install yourself.
BUT LET'S BE CLEAR: SEO is not limited to title/meta description and sitemap: if you still think that, you have not understood the essence of SEO, be it on Google or any other search engine.
Limiting SEO to title/meta description is like limiting the mason's job to "just" making cement.
Features Which one has more built-in tools?
Squarespace is better "by default"
Squarespace has some great features in its website editor. WordPress has some useful features built in, but to make the most of its (very impressive) potential, you'll need to install more third-party plugins yourself.
Squarespace Features
Squarespace has more built-in features than WordPress. Here are some of the ones we found most useful:
Analytics: Track site visits, traffic sources, visitor geography, etc.
Social Accounts: Import content to your site from social platforms like Instagram and Twitter.
Social feeds: Embed feeds from your social accounts directly into your site.
Podcasts: Host a podcast on your Squarespace site and publish it to Spotify or Apple Podcasts.
You don't need to install any additional apps or plugins for all these features – just select them from your dashboard!
WordPress Features
WordPress is known for its powerful tools. The only problem is that you have to install most of them yourself. Nevertheless, you will get some interesting options, such as:
Customizable designs,
Publishing tools, such as scheduling,
Password protected pages,
Multiple contributors,
Image editing tools,
Comment management,
Multilingual site options (over 70 languages).
On top of that, you'll want to check out the seemingly endless amount of WordPress plugins to add more functionality to your site.
It's not enough to have a lot of features – quality must be there, as well as quantity. Squarespace updates and introduces new features every few months. This prevents current ones from becoming obsolete and gives you new tools to play with as soon as they are released. Everything you need is at your fingertips.
WordPress is a little different. Since you manage your own site, you need to check for new versions and update your website to stay current. This is very important because an outdated site is more likely to be hacked. However, hosting providers like Bluehost perform automatic WordPress updates for you on their custom WordPress plans, which makes your life easier and keeps your website safe.
Applications and plugins: which ones have the most additional features?
Applications: WordPress is better
WordPress has a virtually unlimited selection of plugins. Squarespace's plugin options are higher quality, but there are fewer choices.
How do they compare?
Think of Squarespace as a restaurant. Your food is prepared and cooked on site. Your server knows the menu inside and out and is there to answer questions. You can choose whatever you want, but all the food comes from the Squarespace kitchen.
WordPress is more like a fancy buffet. There are dishes from different places and different cuisines. You don't know exactly where most of these dishes were made, and some are better than others.
With WordPress, you have to compose the dishes yourself. This is perfect if you know what flavors go best together, but the server can't answer all your questions because the food was prepared elsewhere.
Either way, you can end up with a delicious meal – it all depends on how you go about it!
WordPress Plugins
WordPress is an open-source platform, which means that its codes are open for anyone to use and customize. Developers or programmers can use WordPress to create their own tools (such as templates, themes, or plugins) to share for free or to sell to other WordPress users.
There are tons of WordPress plugins out there – 55,000 in total – covering just about every function you can imagine. You can add contact forms, open comment sections, improve your Google ranking with SEO plugins, or even use WooCommerce to sell on your WordPress site… the possibilities are endless. There are both free and paid plugins.
Little advice: read reviews before choosing a plugin. Since anyone can create plugins for WordPress, some will not be as good as others. Some less secure plugins can unintentionally make your site vulnerable to hackers, so it's good to know what other users have to say about a plugin before you download it!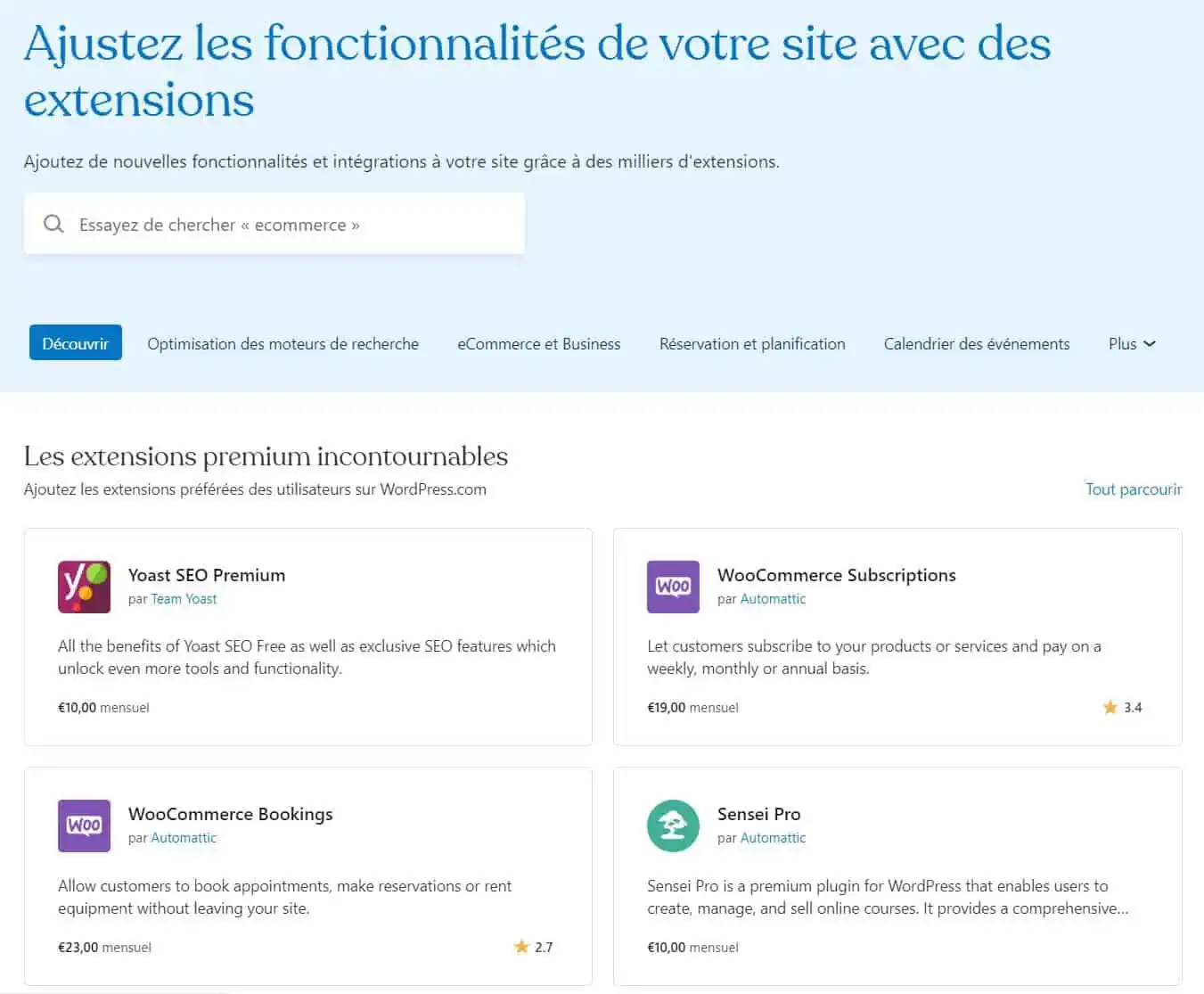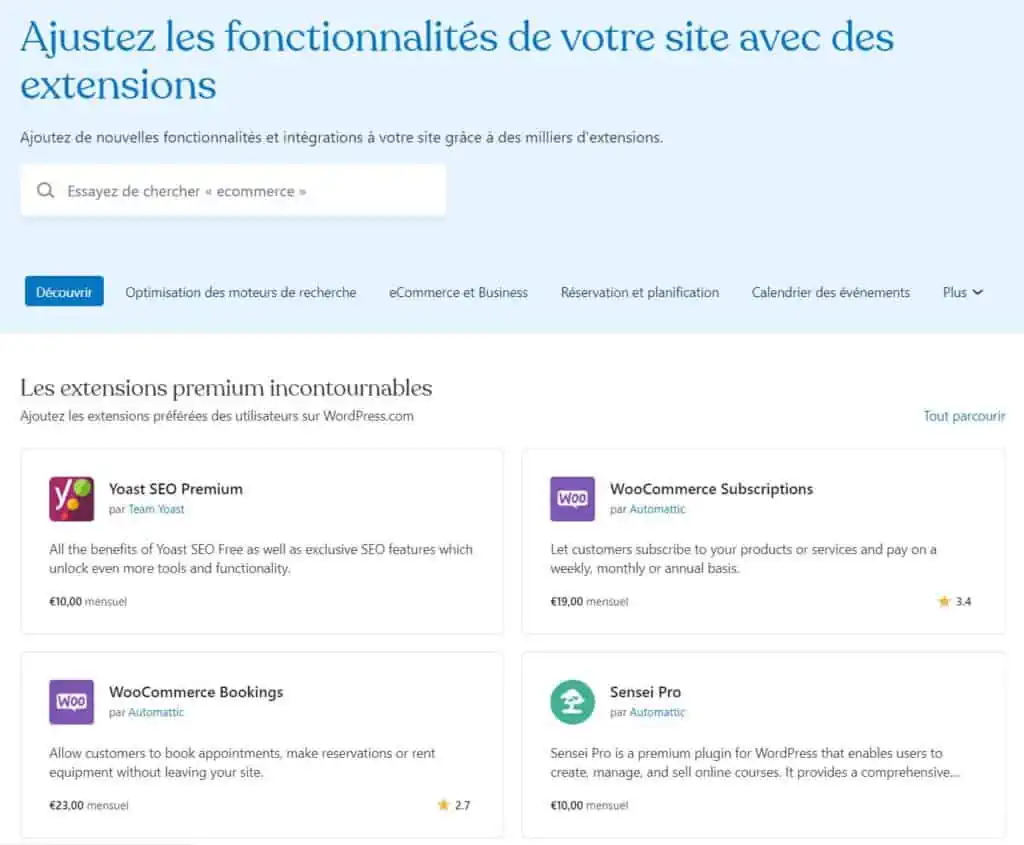 Squarespace Extensions
Squarespace comes with a good selection of applications already built into your site, including tools for blogging, performance tracking, and image display. In other words, no downloads or upgrades are required on your end.
And if you need additional functionality, Squarespace has a separate application marketplace called Squarespace Extensions. The third-party apps available there are high quality, but you only have 24 to choose from.
Ecommerce What is the best way to sell online?
Ecommerce: Squarespace is better
Squarespace's selling options are all built-in, so you'll be ready to start selling immediately on any of its ecommerce plans. With WordPress, you'll need to install a plugin before you can start selling, but it can give you a much more powerful and customizable store than Squarespace.
If you want to sell online, you can! Both Squarespace and WordPress have the tools you need to create a powerful online store. Squarespace allows you to create an all-in-one store, with all your selling tools at your fingertips. WordPress relies on plugins like Woo-Commerce to add e-commerce to your site.
Selling with Squarespace – All-in-One
Squarespace has everything you need to start selling online, provided you've chosen the Business plan or higher. All sales tools are fully integrated, which means your online store will look completely seamless and professional. For additional shipping and tax features, you can also check out the Squarespace Extensions marketplace.
Squarespace ecommerce
Squarespace offers all the ecommerce tools you need to make your store successful.
The Business plan is designed for small stores and charges a 3% transaction fee on each sale made. You can elaborate promotional pop-ups, sell an unlimited number of products and accept donations, have professional email, and more.
For serious sales, you'll need to upgrade to an e-commerce plan – you can choose between the $26/month basic plan and the $40/month advanced plan. With the latter, you unlock a whole host of advanced ecommerce features, including:
0% transaction fees
Inventory, orders, taxes and coupons
Label printing
Product listings on Instagram
Gift cards
Abandoned cart recovery
All of this is automatically included – you don't need to install, activate or upgrade anything to access these features. Just upgrade to the plan that's best for you and start selling!
Selling with WordPress – Plugins
You can design a really powerful online store on WordPress using the WooCommerce e-commerce plugin. WooCommerce is specifically designed for WordPress users to help them sell online!
woocommerce wordpress plugin
WooCommerce is an e-commerce plugin designed for WordPress, which gives you the tools you need to create a store that works for you.
Because it was designed for WordPress, you don't have to worry about WooCommerce being compatible with your website or plugins – it's easy to install, and free!
WooCommerce has all the features you need, making it a powerful way to launch your e-commerce business. Here are some of the features:
Digital and physical products
Payment and shipping options
Hundreds of themes
Inventory management
One of the main advantages of WooCommerce is that it is fully customizable, allowing you to align your branding, sell the products you want, and even integrate e-commerce with powerful blogging tools.
Of course, WooCommerce is not the only plugin out there, but it is the most popular and recommended one. But there are other plugins that can offer you a more customized service, for example if you need a membership service or if you only want to sell digital downloads.
These include Ecwid and Easy Digital Downloads. You can even use an ecommerce site builder like BigCommerce or Shopify to create your store, then easily integrate it with your WordPress site.
It's safe to say you're spoiled for choice!
Squarespace gives you all the features you need to successfully run a small to medium-sized store for a flat fee per month. Its high-quality designs are easy to customize, which is perfect for branding and showcasing your products. It's easy to set a budget and manage it on a daily basis.
WordPress has a range of options for creating an online store – the most recommended is the WooCommerce plugin. This is a fully customizable platform on which you can build your store, which is great because it means you can tailor it to your needs.
WooCommerce takes longer to build from scratch, unless you already have a WordPress site. It's also harder to budget for because of the range of additional features (such as hosting) that you have to factor in each month.
If you already have a WordPress site, WooCommerce is the best choice. If you're looking to set up an online store from scratch, Squarespace can provide you with a professional site in half the time.
What about offline sales?
Squarespace now offers integration with Square, which means you can sell products offline, accept card payments and sync everything with your online inventory. WooCommerce also allow integration with Square, so you have options with either platform – all you need is the Square card reader ($49) and relevant apps to get started!
Blogging Which is best for bloggers?
WordPress is the best
WordPress was designed with blogging in mind. Every WordPress site includes commenting features, as well as useful plugins that you can add later. Squarespace has some solid blogging tools built in, but it can't beat WordPress in this area.
A blog is a great way to communicate with your audience or simply document your work online. But not all websites are designed to post a regularly updated stream of articles. Squarespace and WordPress are both capable of supporting a quality blog, but they offer slightly different tools to help bloggers create a website.
Squarespace blogging tools
One of Squarespace's best blogging features is its free blogger templates. Users can choose from a variety of modern interfaces that display blog posts on the home page, either as a single reverse chronological feed or as a more compact magazine-style grid of blog posts. Many allow multiple authors to contribute, making it easy to run a blog with friends or colleagues.
In Squarespace, blog posts can be tagged, categorized and edited. They can also be excerpted, and a link to each new post can be automatically sent to social media feeds like Facebook and Twitter.
In other words, Squarespace allows you to perform all the basic tasks needed to easily manage an elegant blog.
WordPress blogging tools
Like Squarespace, WordPress comes with many free templates for bloggers. The service also has built-in features that include all the tagging and categorization capabilities a blogger needs, as well as a variety of plugins to help bloggers connect to social media.
For serious bloggers who want to create their own look, WordPress also allows users to access HTML directly, a feature that Squarespace does not offer. Granted, it's unlikely that you'll need to get into the code very often thanks to the plugins the website platform allows you to use, but it's there if you need it.
Another important differentiating factor is the blogging community that WordPress offers. Anyone with a WordPress account can comment on any other WordPress blog, as long as the blogger doesn't disable this ability. Since WordPress already powers nearly a third of the websites on the Internet, many WordPress accounts could stumble upon your blog and leave a comment without having to log into a new commenting account.
Ongoing Maintenance Do updates take a long time?
Maintenance: Squarespace is better
All Squarespace updates are handled for you, whereas WordPress updates must be done manually.
WordPress: Keep an eye out
One important thing to know is that WordPress continually updates its platform to fix bugs and improve security. This means that every time updates are made – which can be several times a year – you may also need to update your WordPress site.
This becomes a real headache, as not all plugin or theme developers will do you the favor of updating these tools for you. And without the required updates, these tools could potentially :
Hinder your site's performance
Conflict with the updated version of WordPress
Crash your site
Some reputable developers will take care of the updates for you, but you can't rely on that, and you'll have to use your own time to check if all your tools are actually up to date.
Basically, when you get a notification from WordPress asking you to update your version of the site, check for conflicts with other tools and themes first.
Squarespace: Sit Back and Relax
With Squarespace, ongoing maintenance is simple. All updates are tested and then automatically pushed to your website. Squarespace handles the process for you, so you can focus on designing your site.
Help and support How is the customer service?
Support: Squarespace is better
Squarespace's in-house support team is available via live chat and email. With WordPress, you'll have to rely much more on the community forum for help.
Squarespace Support
Unlike WordPress, Squarespace has a centralized support team available to help you via:
Live chat Monday through Friday
Email 24/7
Twitter 24/7
Squarespace Knowledge Base
Squarespace's Help Center is clearly organized to help you find answers quickly and easily. In addition to the search bar and category navigation, you can also choose from webinars, videos and email support.
This team has also developed a library of help guides, workshop videos and a community forum to help you build your website.
WordPress Support
Because WordPress is open source, there is no in-house team that you can contact for official support. Instead, you can browse the WordPress forums to see what other users and developers have written on various topics.
Squarespace vs WordPress help center
WordPress has a community forum with tons of useful information.
There are tens of thousands of articles, so you'll almost always find an article relevant to your questions. That said, some answers will be more helpful than others.
Squarespace vs. WordPress: Conclusion
Squarespace and WordPress are both design giants in the web design world. Either one will help you create a beautiful and powerful website. The final choice will be based on your expectations, your own expertise in the industry and whether or not you want to expand your knowledge of websites in general.