The top 10 alternatives to Google Optimize
If you're here, it's probably because you already know that Google Optimize is going to disappear on September 30th… So, you're probably wondering if there are effective alternatives to replace this incredibly useful tool?
Rest assured, you are far from being alone in asking this question. Debugbar has therefore created this little guide to introduce you to the 10 best alternatives to Google Optimize.
Here you will find solutions that will allow you to continue to optimize your websites and your marketing campaigns with the same, if not better, efficiency!
But before we begin, for those of you in a hurry, here's a preview of the solutions we'll be discussing:
| | | | |
| --- | --- | --- | --- |
| Alternative | Features | Price | Ideal For |
| Proof | Customization, integration with Google Analytics, audience segmentation, integrated editor | Starting at $599 per month, 14-day free trial | Companies looking to improve their conversion rates through personalization |
| AB Tasty | A/B testing, advanced personalization, segmentation, integrations, real-time reporting | Quotation-based | Companies new to conversion rate optimization (CRO) |
| Kameleoon | A/B testing, real-time personalization, artificial intelligence, segmentation. | Quotation-based | Companies serious about CRO. |
| Adobe Target | A/B testing, real-time personalization, artificial intelligence, dashboard | Quotation-based | Large companies seeking highly advanced personalization |
| Apptimize | A/B testing, funnel analysis, personalization, segmentation. | Quotation-based | Businesses with significant mobile apps |
| Optimizely | A/B testing, personalization, content management, integrations, analytics | Quotation-based | Large companies with high-traffic websites |
| A/B Smartly | Personalization, segmentation, support, training | Quotation-based | Product and data science teams seeking to educate themselves |
| Convert Experiences | A/B testing, personalization, segmentation, visual editor, integrations | From $99 to $1,599 per month, 15-day free trial | SMBs and large companies looking to optimize internally |
| VWO Testing | Test A/B, visual and code editors, integrations, data analysis | Free for up to 50,000 unique visitors per month, paid plans starting at €200 per month | Users of all technical levels |
| Zoho PageSense | Heatmaps, session recordings, A/B testing, personalization, analytics | From $12 to $780 per month. | Marketers seeking a comprehensive solution |
Google Optimize: Why is it over?
Given the utility of Optimize, it's hard to understand why Google has decided to end it. It seems, however, that this decision is a considered one on the part of the American giant. They are making a strategic choice to improve the user experience (UX).
Indeed, Optimize was seen as an aging product, no longer meeting the demands and needs of the majority of its users.
Rather than spend a lot of money to try to improve it, Google has decided to discontinue Optimize in order to prioritize stronger and more efficient third-party A/B testing integrations for GA4 (Google Analytics 4).
So while the disappearance of Google Optimize might seem baffling at first glance, in reality, it opens the door to more flexibility and variety for your A/B testing.
However, you will need to find a viable alternative for this to truly be a step forward for you…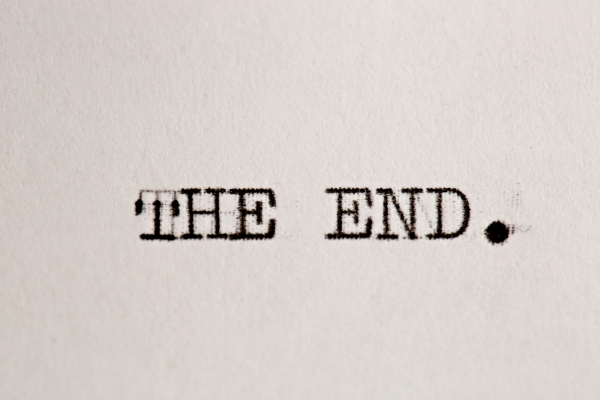 How to choose a good alternative?
Enough talk, let's get down to business. How do you choose a worthy alternative to Google Optimize? What criteria should be taken into account when choosing your next A/B Testing and personalization tool? We'll tell you everything!
To choose your tool wisely, you should consider:
Ease of use: A user-friendly tool will allow for quick uptake and efficient use.
Segmentation and targeting: The tool should allow you to segment your audiences and precisely target users.
Integrations: Make sure the tool integrates well with your other software solutions.
Security and privacy: Your tool should comply with data security and privacy standards.
Technical support: Responsive support can be a real asset when a problem arises.
Detailed reports: The tool should provide comprehensive reports to help you understand the performance of your tests.
Cost: Of course, the cost of the tool needs to be appropriate for your budget.
Scalability: Choose a tool capable of evolving with your needs. It would be a shame to have to change it too quickly.
Having said that, let's move on to presenting the ten best alternatives to Google Optimize!
The top 10 alternatives to Google Optimize
We'll introduce you to our favorite alternatives. Not all of them are necessarily as comprehensive as others, but they all have something special to offer. Let's get started!
1. Proof: Personalization for all
Proof is a platform that stands out for its ability to tailor your web page content according to the profile of each visitor.
With Proof, personalizing the UX becomes child's play, even for those who have no coding skills.
Here are some of its key features :
Compatible with Google Analytics for real-time analyses and reports.
Allows for the creation of audience segments for precise personalization.
Has an integrated editor handy for modifying page elements without having to touch the code.
Has an Experiences service that further simplifies page customization.
Pricing: Plans start at $599 per month. A 14-day free trial version is also available.
Ideal for: Businesses wishing to boost their conversion rates through a strategy of personalization and the use of social proof.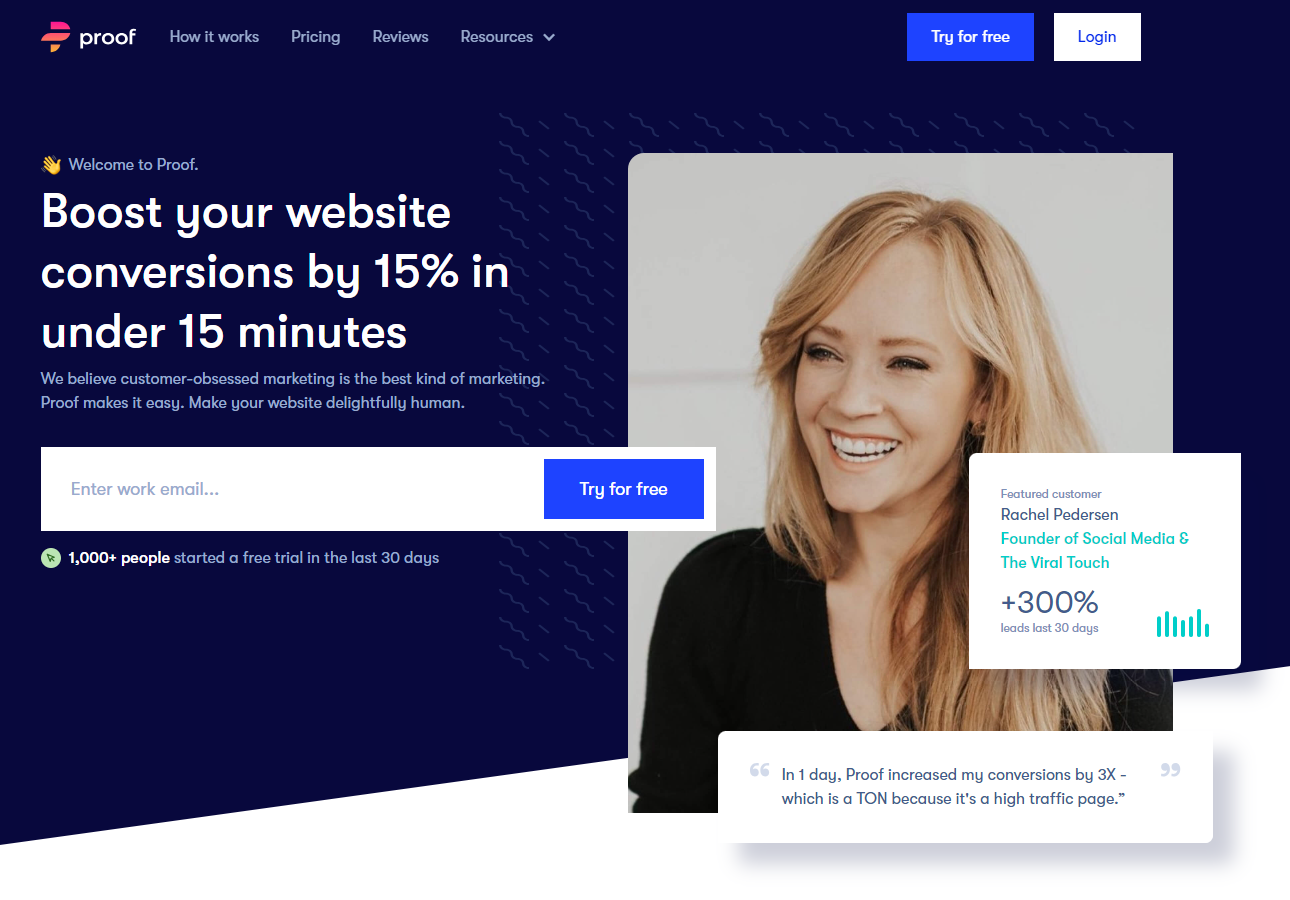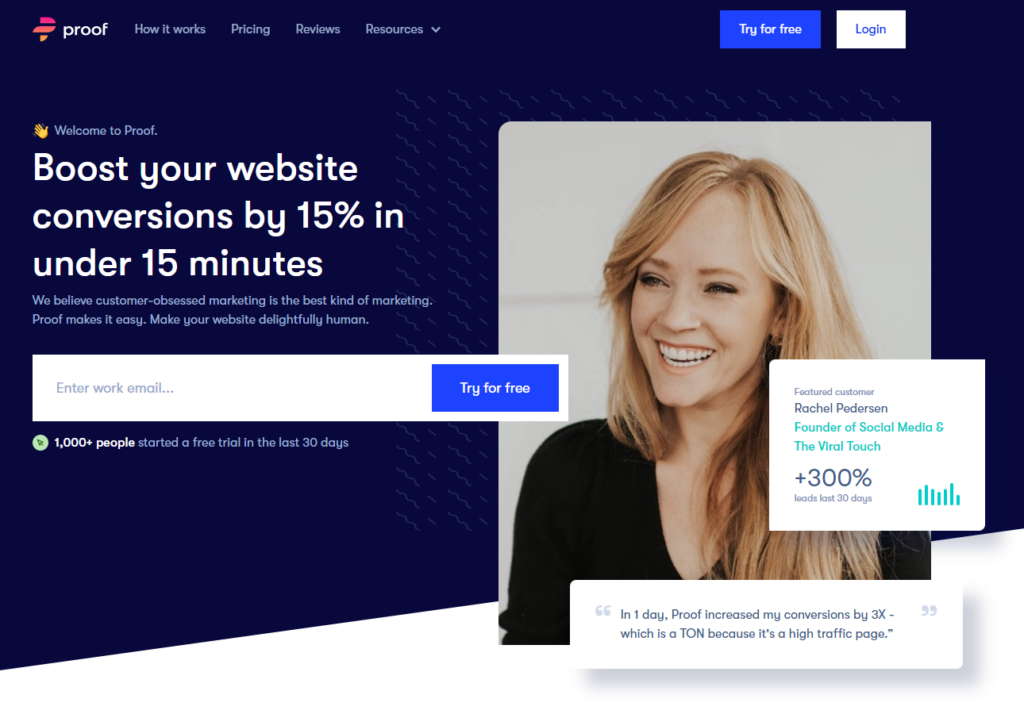 2. AB Tasty: French excellence
Hailing straight from France, AB Tasty is a platform offering a plethora of tests and customization possibilities.
Its intuitive interface allows even those without development skills to easily implement tests and optimize UX.
Among the key functions of AB Tasty, we notably find:
A/B test, multipage and multivariate tests: for quickly creating variants using a visual editor.
Personalization: thanks to a range of widgets to customize your website.
Partitioning: to accurately target audiences and send appropriate messages.
Integrations: can integrate with over 80 tools such as Tealium, Segment, Amplitude, Salesforce, and Mixpanel.
Real-time Reports: to monitor statistics from the moment a visitor arrives on your website.
Pricing: Rates are customizable according to your needs.
Ideal for: AB Tasty is particularly suitable for businesses wishing to optimize their conversion rates.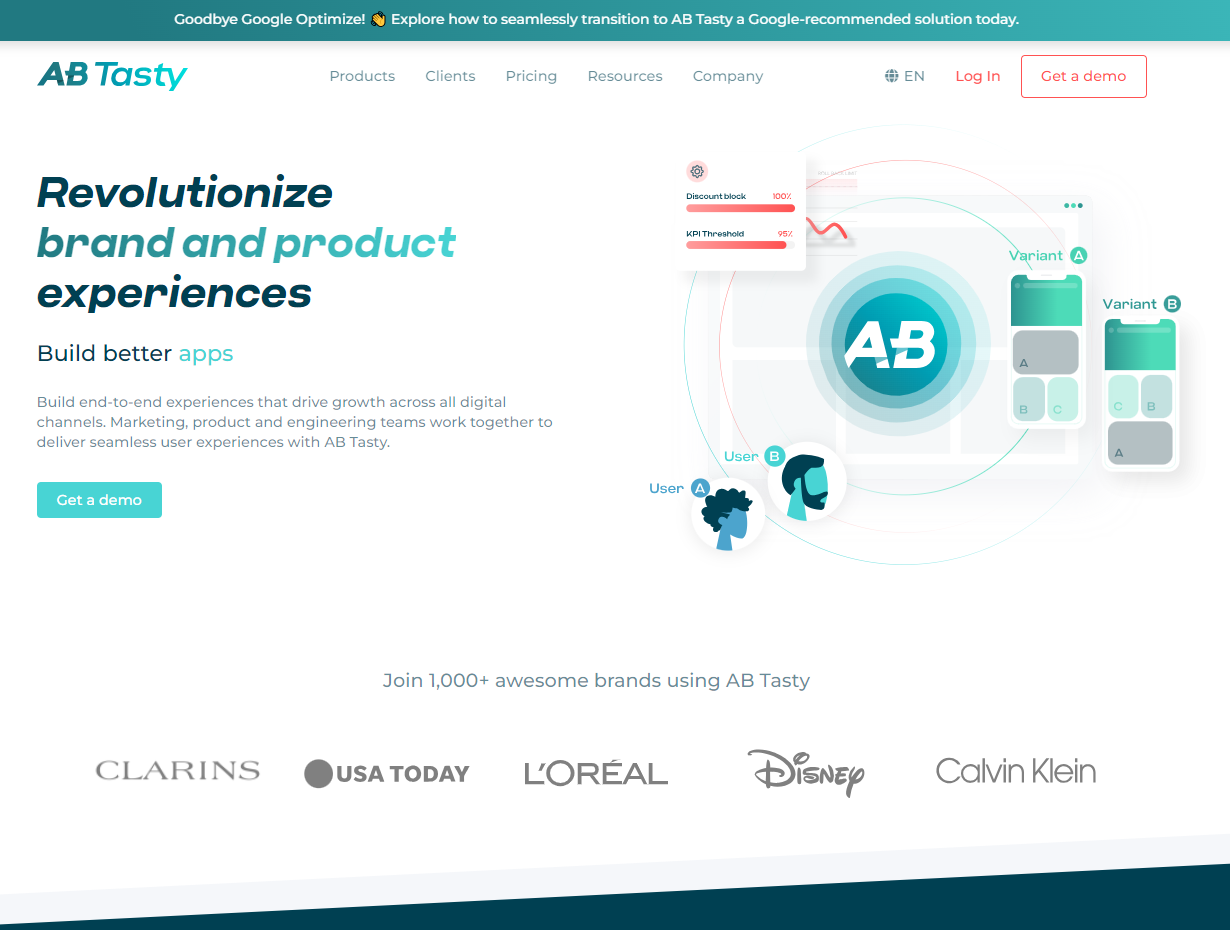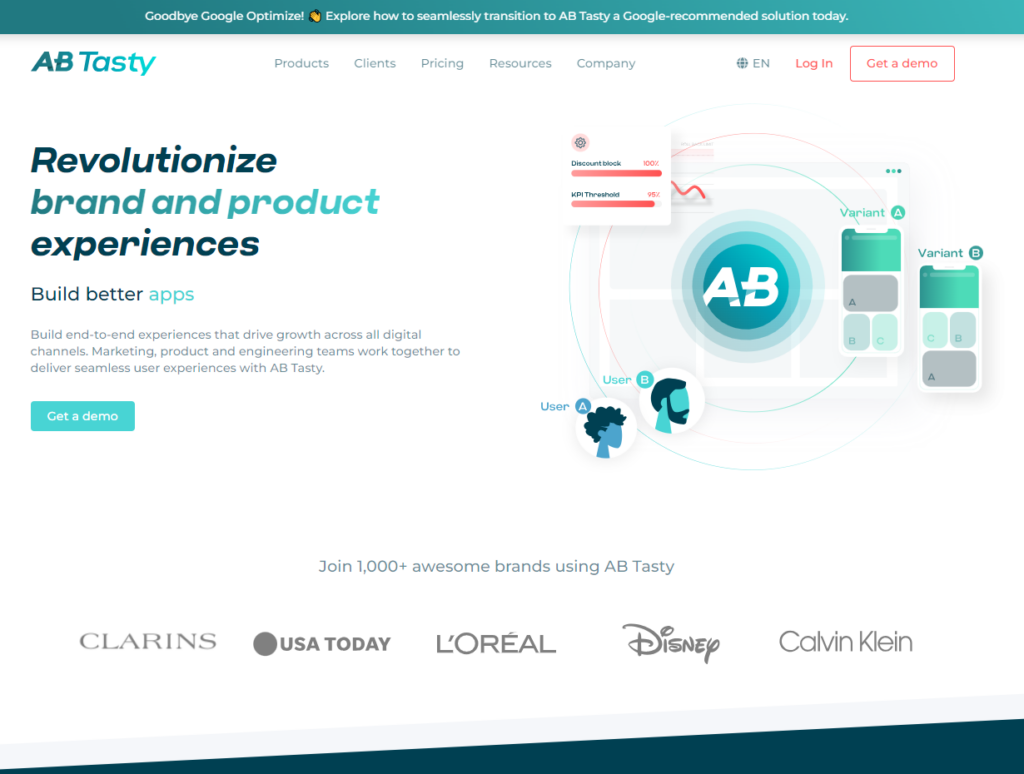 3. Kameleoon: The all-in-one tool
Kameleoon is an all-in-one tool for optimizing and personalizing websites. This platform specializes in CRO and UX personalization, offering a plethora of advanced features.
Here are some of Kameleoon's standout options :
A/B and multivariate testing: conduct A/B testing on different variables and segments, and compare the performance of two different page versions.
Personalization: adapt offers, messages, and content in real-time according to visitors' profiles and purchasing intentions.
Artificial Intelligence: use AI to predict conversions and adjust content accordingly.
Segmentation and targeting: create intelligent segments using more than 45 native segmentation criteria.
Analysis and tracking: leverage an intuitive statistical dashboard to monitor your test results.
Price: Prices are customized based on your needs. To get a quote, you can contact Kameleoon's sales team.
Ideal for: Kameleoon is especially recommended for businesses wishing to optimize their CRO and personalize their website's UX.
Thanks to its GDPR compliance, it is also suitable for e-commerce brands and businesses concerned about data protection.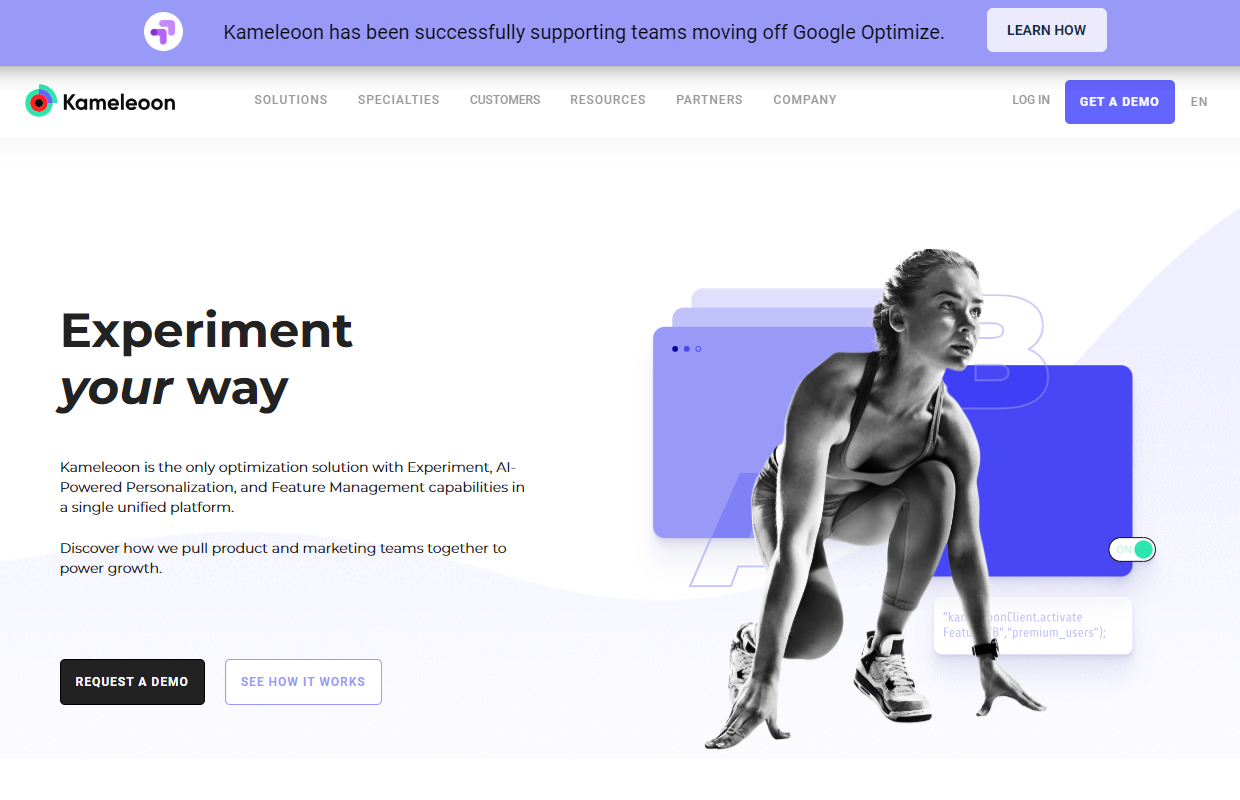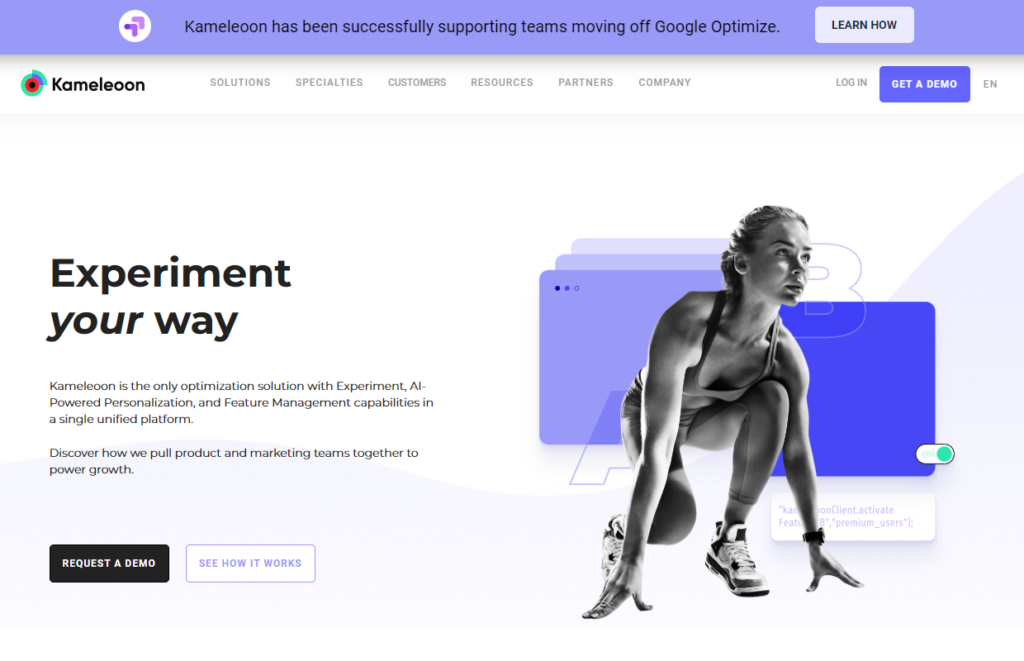 4. Adobe Target: The personalized marketing expert
Target focuses on optimizing and personalizing the online customer experience. This solution developed by Adobe offers a wide variety of tests to enable businesses to improve user experiences.
Here is what Target has to offer you :
A/B, multivariate, and experience testing: compare the performances of different content versions.
Personalization with real-time audience segmentation: to better tailor your messages and offers to your users.
Artificial Intelligence: improve automatic targeting to maximize your conversions and revenue.
Intuitive dashboard: monitor your experiments and tests' progress.
Pricing: The price varies according to the customer's needs. You can contact their sales team to get a customized quote.
Ideal for: Adobe Target is the ideal solution for large businesses wanting to create highly personalized user experiences across multiple digital channels.
It's also an appealing alternative for those already using other Adobe products, as it integrates easily with Adobe Analytics and Adobe Marketing Cloud.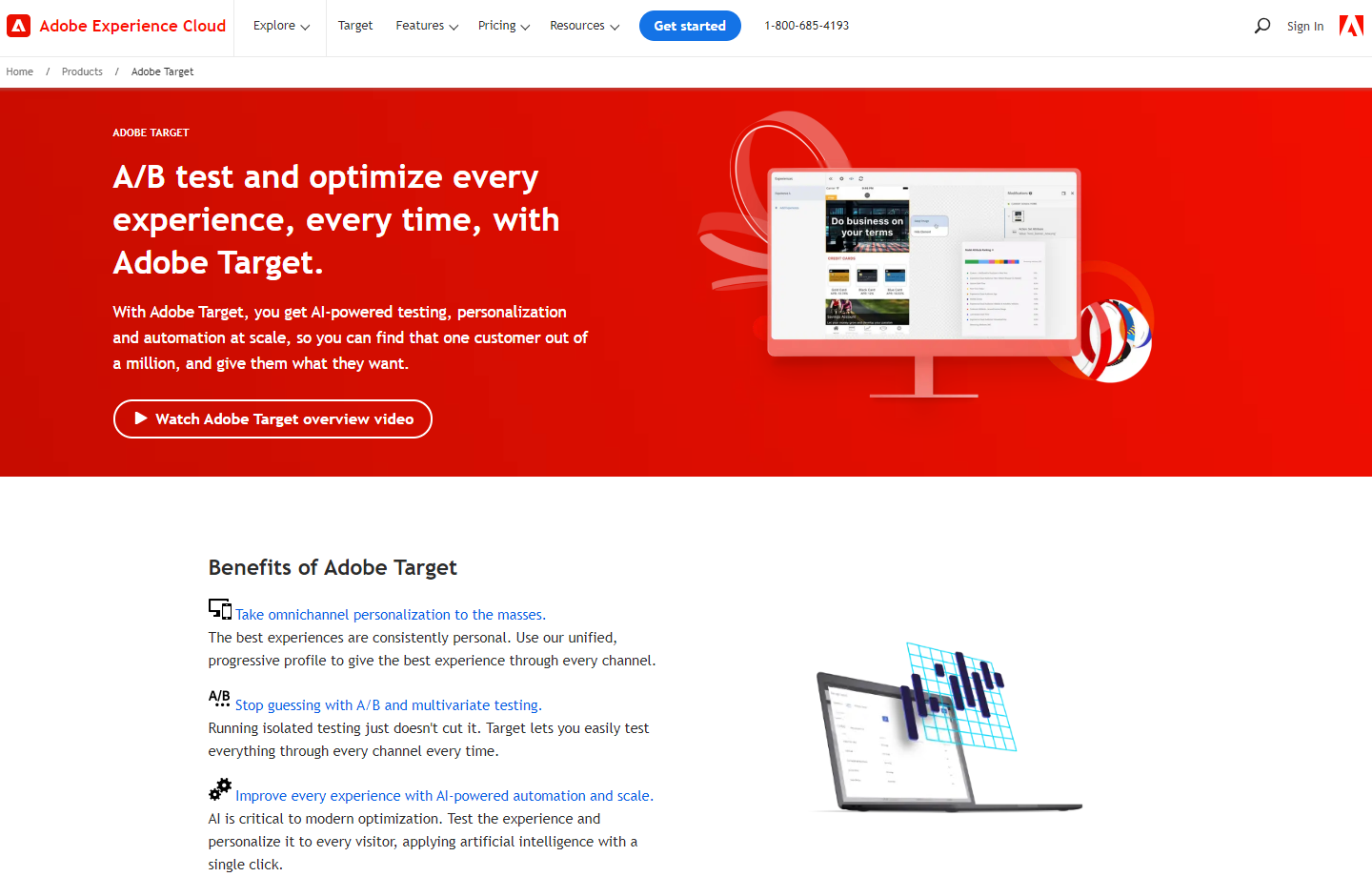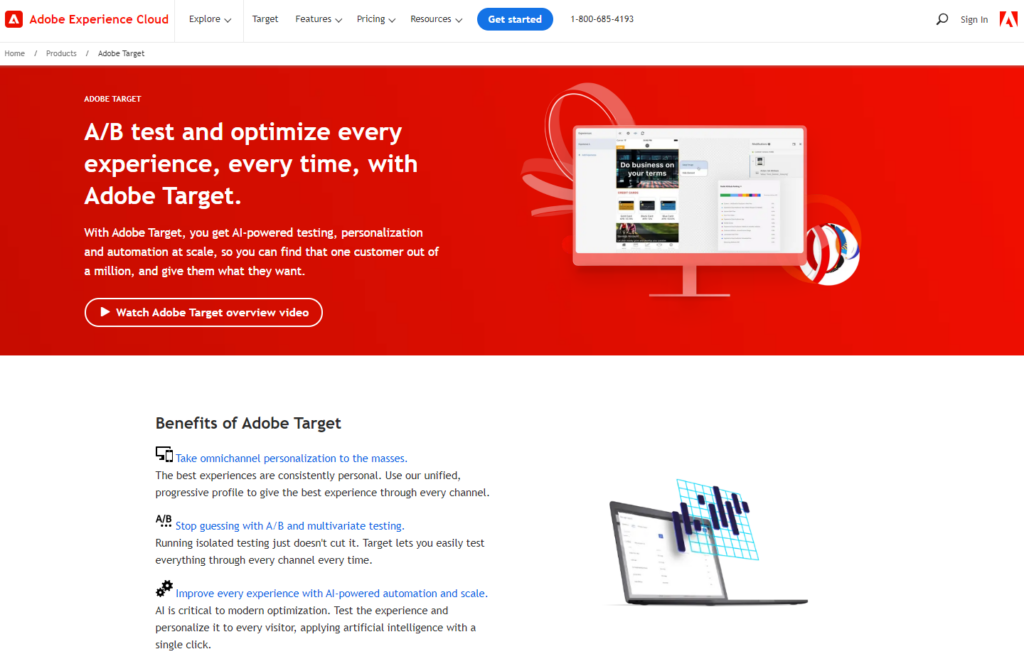 5. Apptimize: The champion of mobile optimization
Apptimize excels in mobile app optimization. It offers a multitude of features for testing, modifying, and personalizing apps with ease.
The tool's main features include:
A/B and multivariate tests: Compare different versions of your app to optimize the UX.
Funnel and regression testing: Evaluate the overall performance of the app through various scenarios.
Personalization: Create unique experiences for different user segments.
Segmentation: Precisely target your users for more relevant testing.
Intuitive user interface: Facilitates quick setup of tests and interpretation of results.
Pricing: Rates depend on the number of active devices. You can contact Apptimize's sales team for a personalized quote.
Best for: Apptimize is particularly suitable for companies whose mobile applications are at the heart of their business.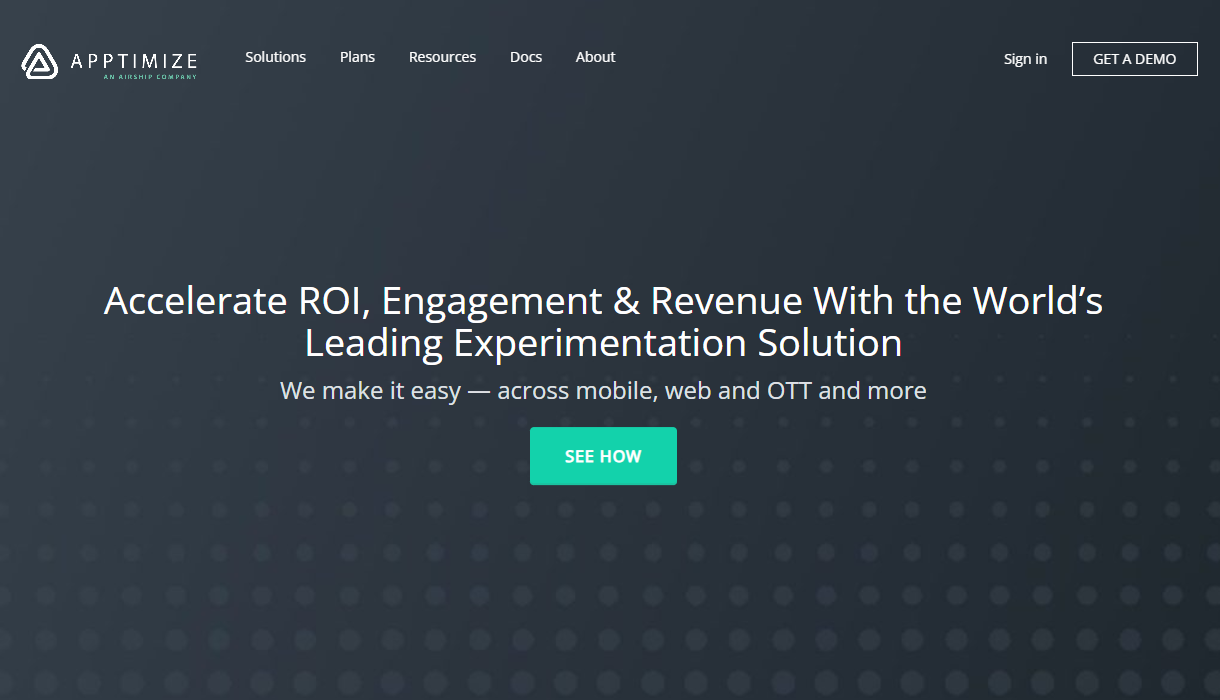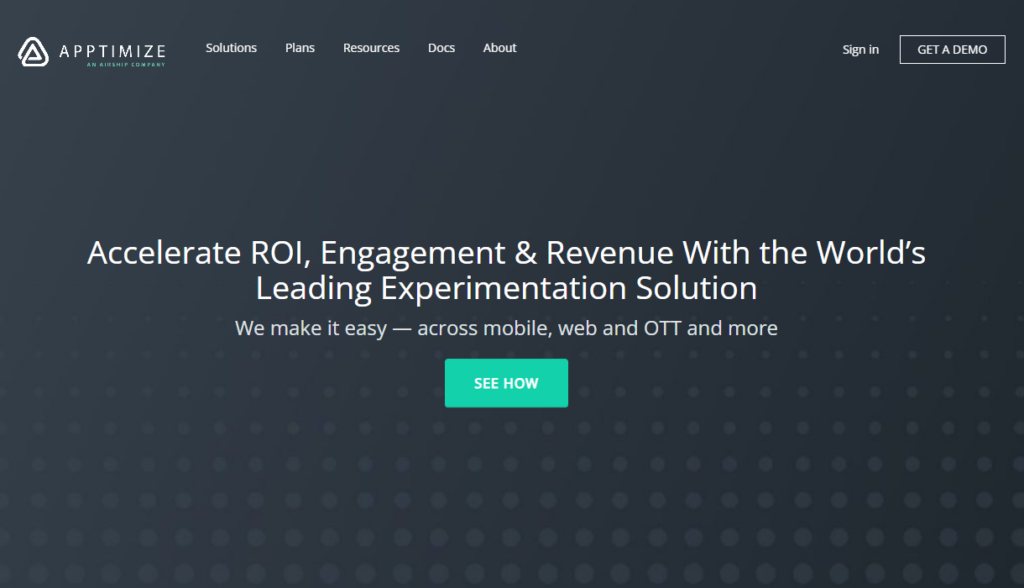 6. Optimizely: Multi-channel optimization
Optimizely, known as a major rival to Google Optimize, specializes in UX optimization across various digital channels. Founded in 2010, it mainly targets large-scale enterprises and those with high-traffic websites.
Here's what Optimizely offers:
A/B testing, customization, analysis: to improve companies' performance on their websites, mobile apps, and other digital channels.
Content management features, headless API, real-time segmentation, and rapid hypothesis validation.
Comprehensive experience lifecycle management features and a visual editor for quick team collaboration.
Integration with third-party tools and compatibility with all website platforms.
Reliable analytics, providing statistically valid results, with updates every 90 seconds.
Price: Upon personalized quote. If you are a small business this tool will probably be inaccessible, usually expect in the thousands or tens of thousands of dollars per year to enjoy it.
Best for: Optimizely is especially recommended for large companies looking for a comprehensive and advanced solution to improve UX across multiple platforms. However, it is difficult for beginners to grasp, and its price might be a bit high for some users.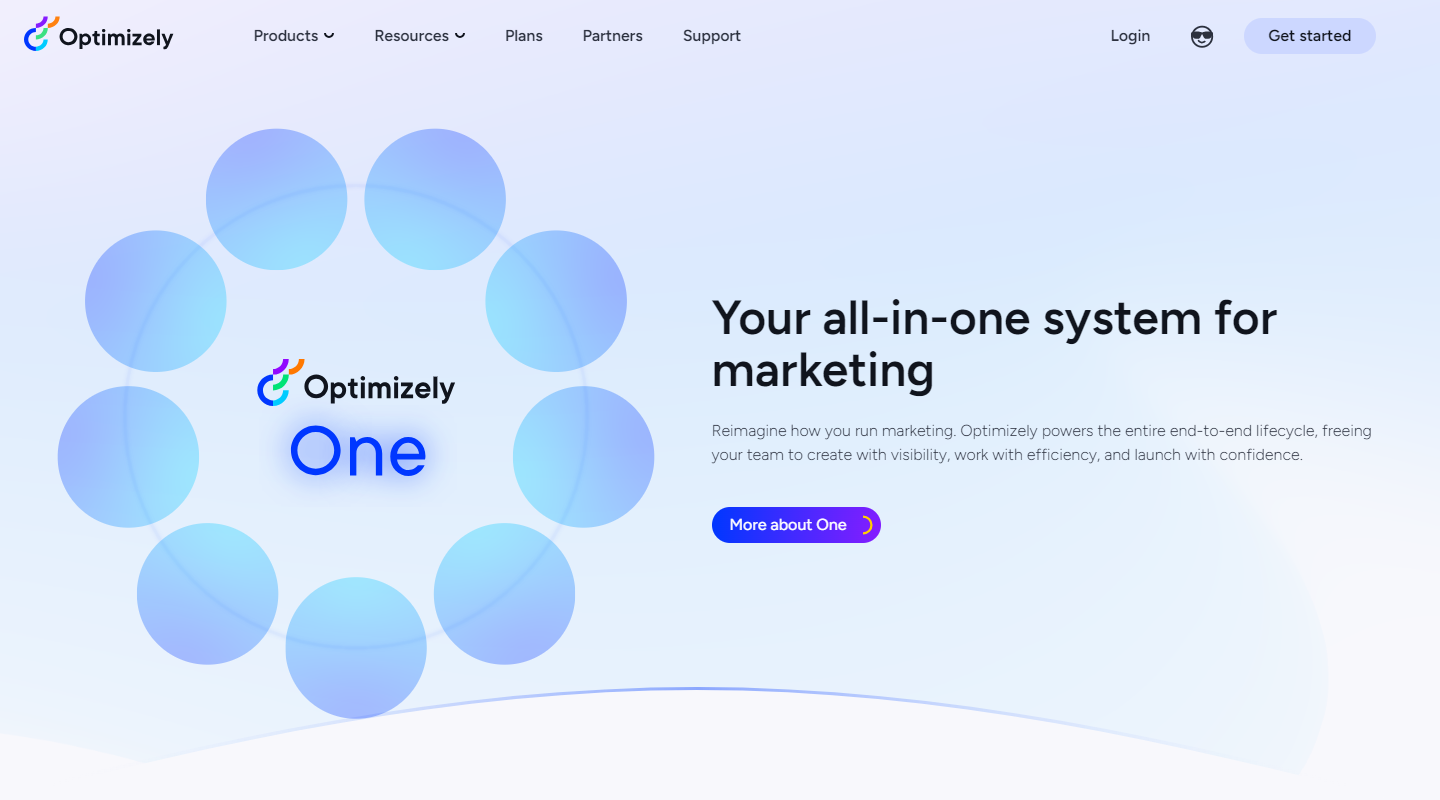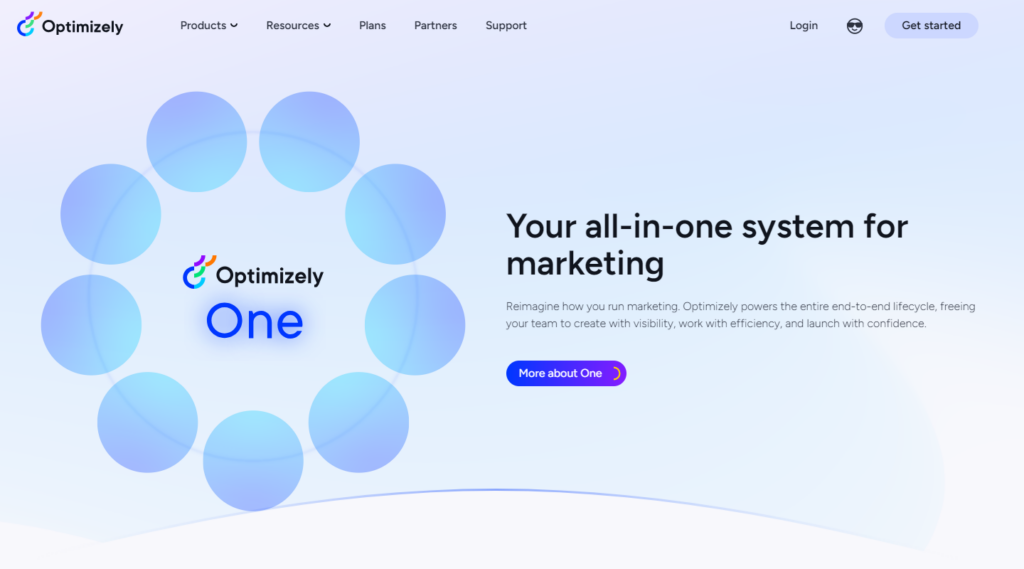 7. A/B Smartly: The educational approach
A/B Smartly is a platform developed by the team behind Booking.com's experimentation strategy. It offers an educational approach to testing by combining powerful software with robust support and high-level training.
Here are some of its key features:
Advanced customization and segmentation: Thanks to sophisticated features like sequential and multi-step testing.
Works across multiple platforms, including web, mobile, client-side, and server-side applications.
Unmatched support through Slack or video calls, supported by a team with over 10 years of experience in the field.
In-built training to help teams get the most out of their experiments and tests.
Price: Pricing is on request and varies according to the customer's needs.
Ideal for: Product and data science teams looking to enhance UX across their tech stack. With the provided training and support, it specifically targets those looking to educate themselves while optimizing conversions.


8. Convert Experiences: Ideal for tight budgets
Convert Experiences is a platform that offers an impressive range of options to help small and large businesses improve their conversion rate, revenue, and user engagement.
Here are some key features of Convert Experiences:
A/B testing, multivariate, personalization, and split URL testing: For UX improvement.
Advanced segmentation with over 40 filters: To target your audiences precisely.
Real-time reporting and deep insights: To monitor your experiments and test performances.
Visual editor and code editor: To facilitate test creation.
Over 90 integrations, including Google Analytics: To fit in with your existing tech stack.
Price: Prices range from $99 to $1,599 per month. A 15-day free trial is also available.
Ideal for: Convert Experiences is particularly suited for small and large businesses that do optimization in-house. It's also a perfect fit for those who value diversity, support charities and have environmental awareness.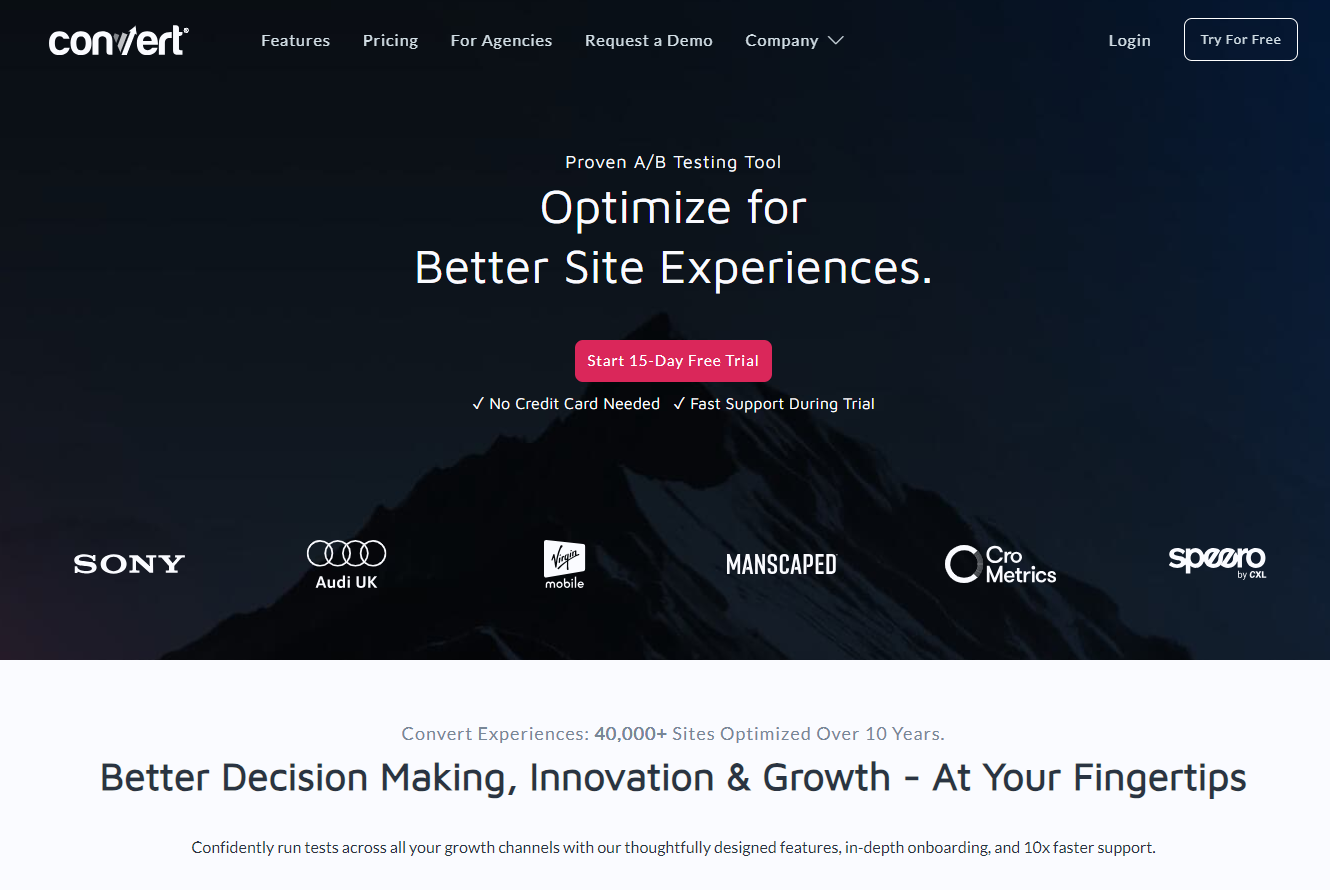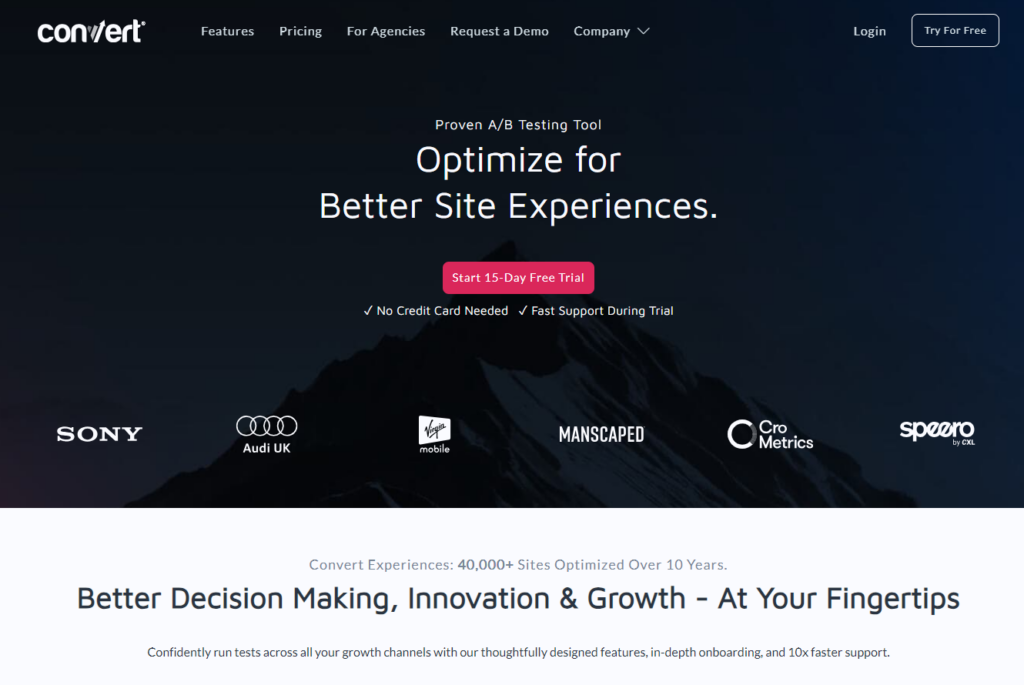 9. VWO Testing: For code-free experiences
VWO Testing, formerly known as Visual Website Optimizer, is a user-friendly web experimentation and A/B testing platform.
It enables easy creation and testing of user experiences regardless of your technical level.
Here's what you can count on with this tool:
Testing options: It offers A/B, multivariate, across device, and across page testing.
Editors: It provides a point-and-click visual editor for novices and a code editor for advanced users.
Multiple integrations: VWO Testing seamlessly integrates with many tools, including Google Analytics and Adobe Analytics.
Data analysis: It provides accurate statistics based on the Bayes theorem, with segmented results for better analysis.
Visualization tools: Heatmaps and session recordings are available to understand user behavior on your website.
Price: A free version is offered up to 50,000 unique visitors per month. Paid plans start from €200 per month. There are also Pro and Enterprise plans with the price available on request.
Ideal for: VWO Testing is the dream solution for those looking for a comprehensive alternative to Google Optimize. Its ease of use coupled with its advanced options makes it an interesting option for enhancing UX and optimizing conversions.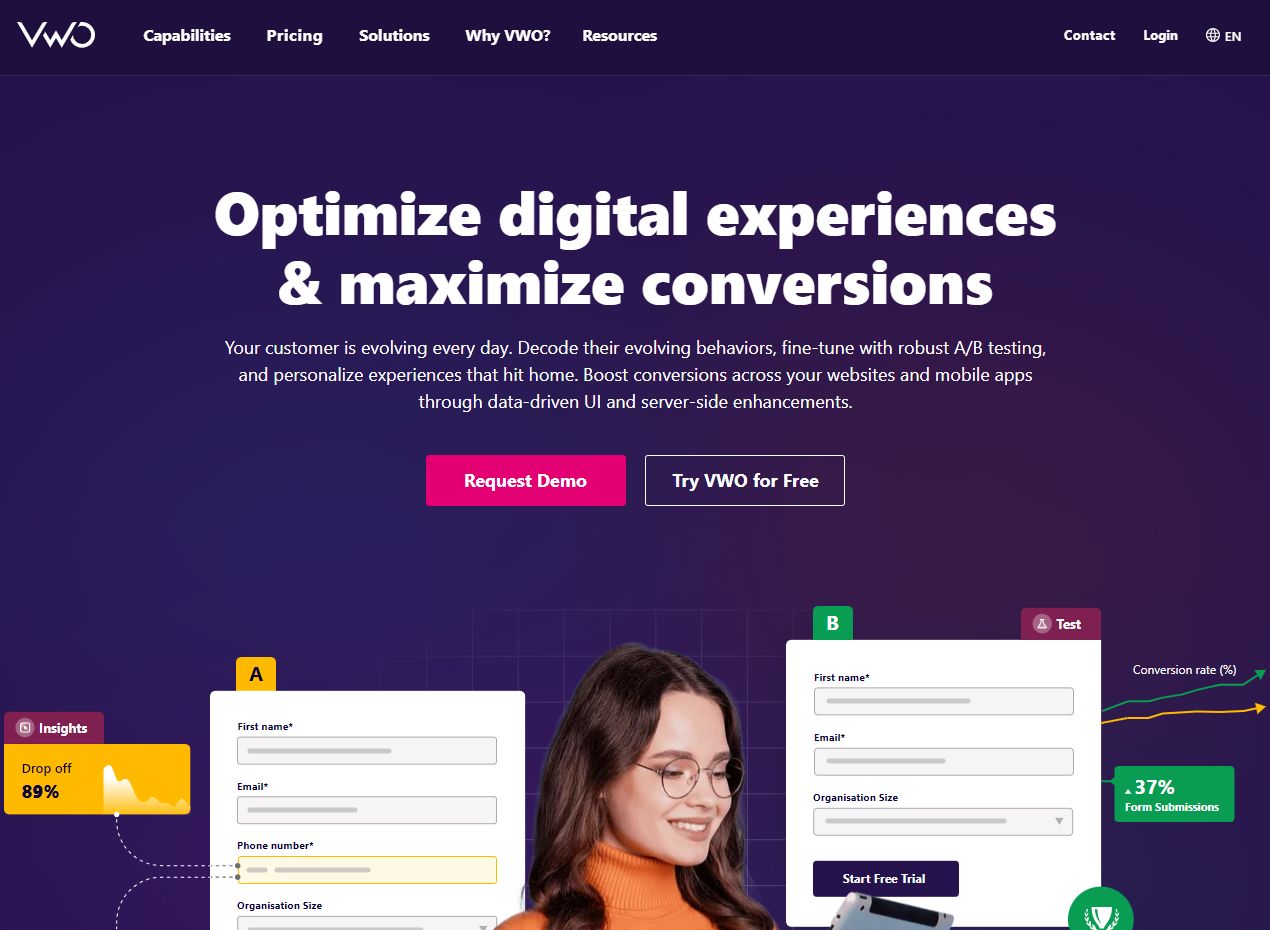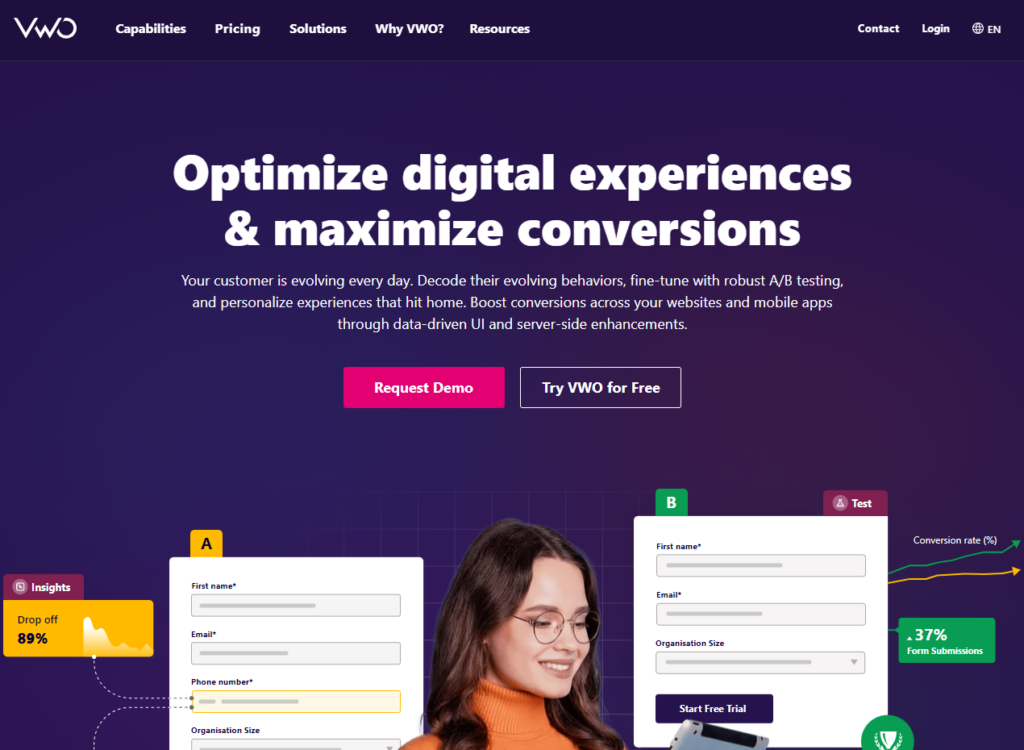 10. Zoho PageSense: The complete tool for marketers
Zoho PageSense is a comprehensive platform that provides tracking, analysis, optimization, and personalization tools. With it, you can monitor user journeys, analyze their behavior, test different variants of your web pages, and optimize the UX.
Here are some key features of Zoho PageSense:
Heatmaps, session recordings, and user journey tracking: To understand how visitors interact with your website.
A/B testing, multivariate testing, and split testing: To identify the best versions of your pages.
Personalization: To provide personalized experiences to your different user profiles.
In-built analytics: To track key data and make informed decisions.
Price: Prices range from $12 to $780 per month depending on the customer's choices.
Ideal for: Marketers looking for a one-stop tool for UX enhancement. It's also a great option if you already use other Zoho products due to its integration capability.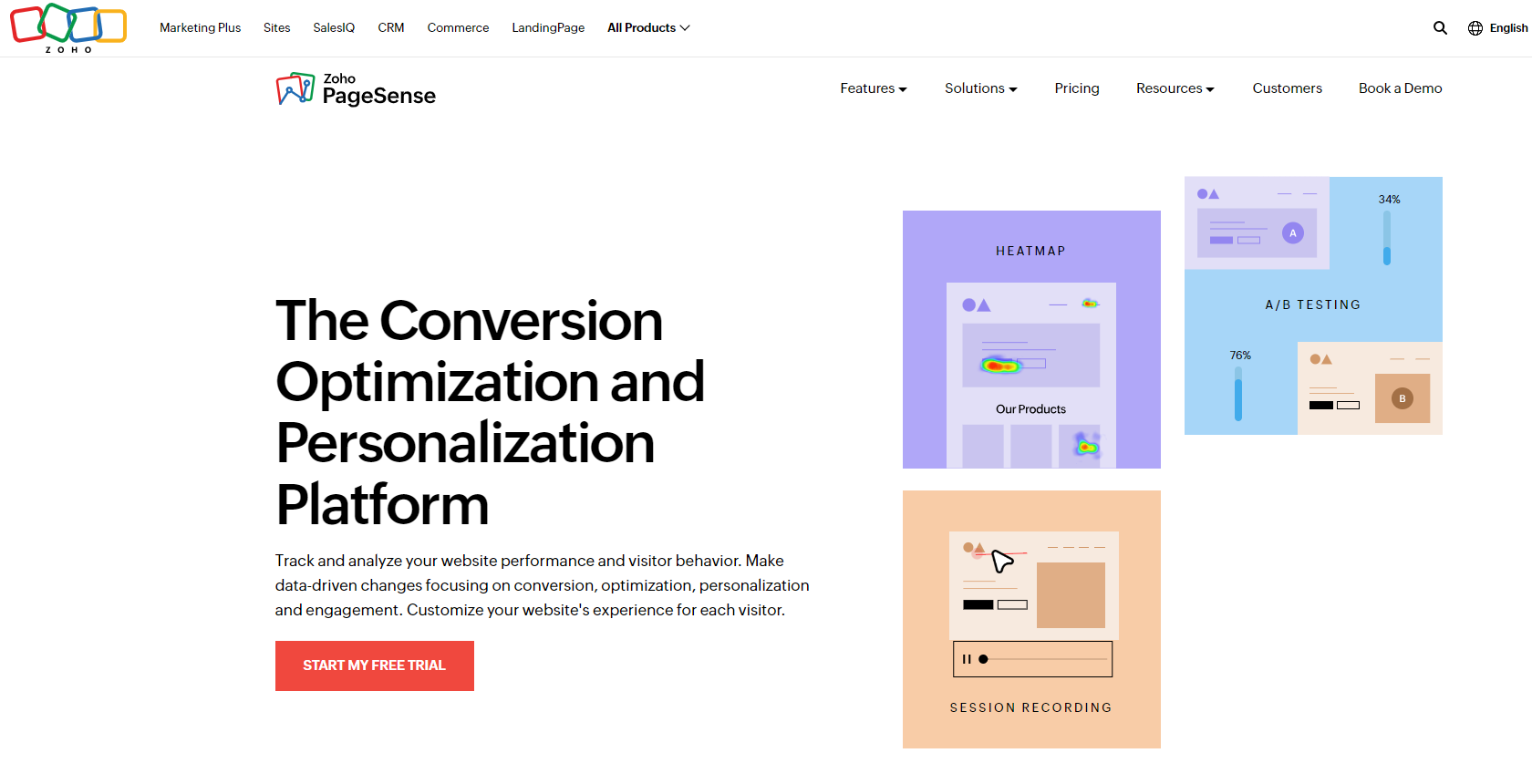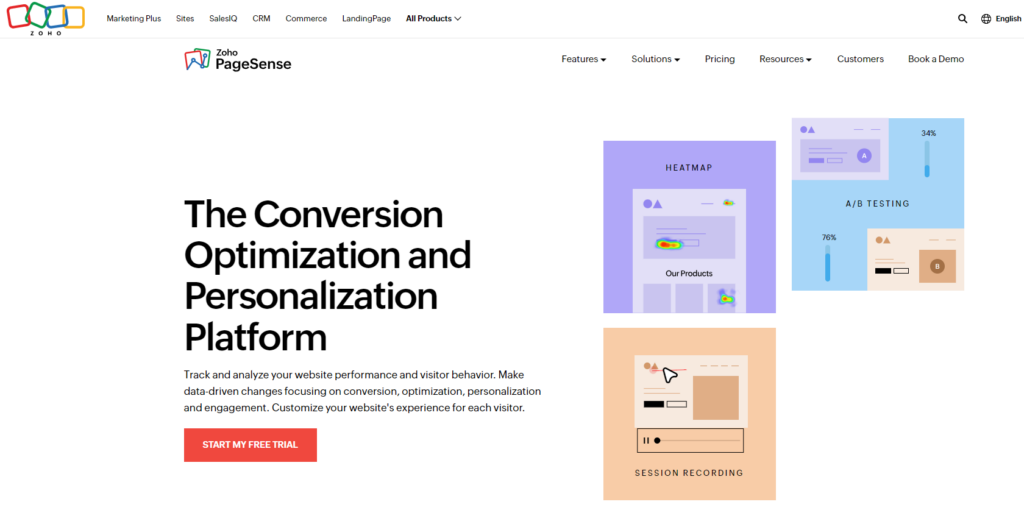 Alternatives to Google Optimize: The key takeaways
In summary, there are a multitude of tools available to optimize your website's performance.
Depending on your specific needs, your budget, and your level of technical skills, one or the other of these 10 alternatives to Google Optimize could be the perfect solution for you.
Here's what you need to remember:
From Proof to Zoho PageSense, these alternatives offer a wide range of features.
To choose your tool effectively you need to consider:

Ease of use,
Advanced segmentation,
Integrations with other tools,
Technical support,
Security and privacy,
Detailed reporting,
Cost,
And scalability.

Finally, remember that there's no such thing as the perfect tool. What really matters is how you use the tool at hand.
So are you ready to switch from Google Optimize to one of these tools offering optimal UX?