Tuxler VPN: A full review
Have you heard of Tuxler VPN? It's a small but remarkable player in the VPN services market. Here we sum up all of its pros and cons, plain and simple.
All for you to decide if you should trust it.
What is Tuxler VPN exactly?
It is a Virtual Private Network service. It belongs to the many commercial entities of this kind. Its main purposes are twofold. First, it boosts the subscribers' online security. Second, it opens up the freedom of the Internet.
The safety side of a VPN lies in the encrypted virtual tunnel it constructs. This connection covers all the connections to and from a given device. It directs them straight to the remote VPN server and then, to the real destinations. Thus, the VPN provider acts as a gateway to the rest of the Internet.
The point of this procedure is the encryption the tunnel provides. It constitutes an impenetrable shield around all the transferred data that reaches all the way from the end user's device to the server. Thus, anything you browse, download or post online as a VPN subscriber is kept secret from your ISP or any nearby hackers.
In order for all of this to work, you need to make your device a VPN endpoint. Here we get back to Tuxler VPN and its app.
Also read : KeepSolid VPN: comprehensive test and review for secure browsing
Tuxler VPN – the app
One word describes this application: user-friendly. Installation is as easy as with any simple program and shouldn't take more than a few minutes, including downloading. To make things even simpler, the app conveniently hides in the system tray most of the time. After all, VPN is a convenience, tailored to serve you from the background.
At first, the interface contains just the menu and an ON-OFF switch to get started with the connection. Afterward, more options appear. You can opt for the residential VPN (we'll cover this feature later) and choose the server location, by country and city. You can also buy the premium version, but it's thanks to a simple interface element, not irritating pop-ups obstructing your work.
Tuxler VPN's main features
Let's now list the most important traits of the service.
Encryption. Tuxler VPN doesn't state this clearly, but a little research proves that it uses AES-256 and RSA-2048 for symmetric and asymmetric cryptography, respectively. Those standards are unbreakable by any technology in the foreseeable future.
Servers. As the website states, Tuxler VPN offers 3000 servers in 92 countries. These numbers are of the same order as other VPN services. However, Tuxler also provides refreshing of the IP addresses. It means they're harder to track.
Protocol. Again, the website doesn't reveal what VPN protocol is applied. A little digging showed that it's SOCKS5, which technically makes it a proxy, not a VPN. However, the security measures are maintained. A possible explanation is the residential VPN feature, which needs to run on a regular desktop. Proxy is typically less demanding.
Platform support. There are four editions of Tuxler VPN: for Windows, macOS, and two browser extensions, Chrome and Firefox.
Simplicity. Last but not least, it is apparent that the interface aims to be as simple and friendly as possible. Sadly, it may lack features for the more demanding and advanced users.
Tuxler VPN – residential mode
As mentioned, one click can switch the service from data center to residential. The latter option is different from most regular VPNs. It relies on the pool of real IP addresses of regular users.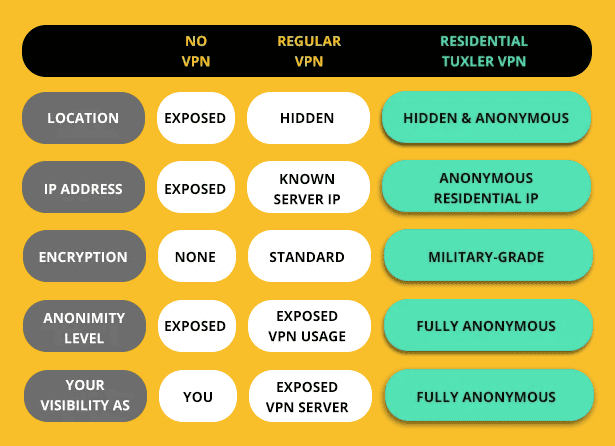 The switch means you agree to participate in this pool, which means you'll get assigned someone else's IP. Yours shall be used by another person.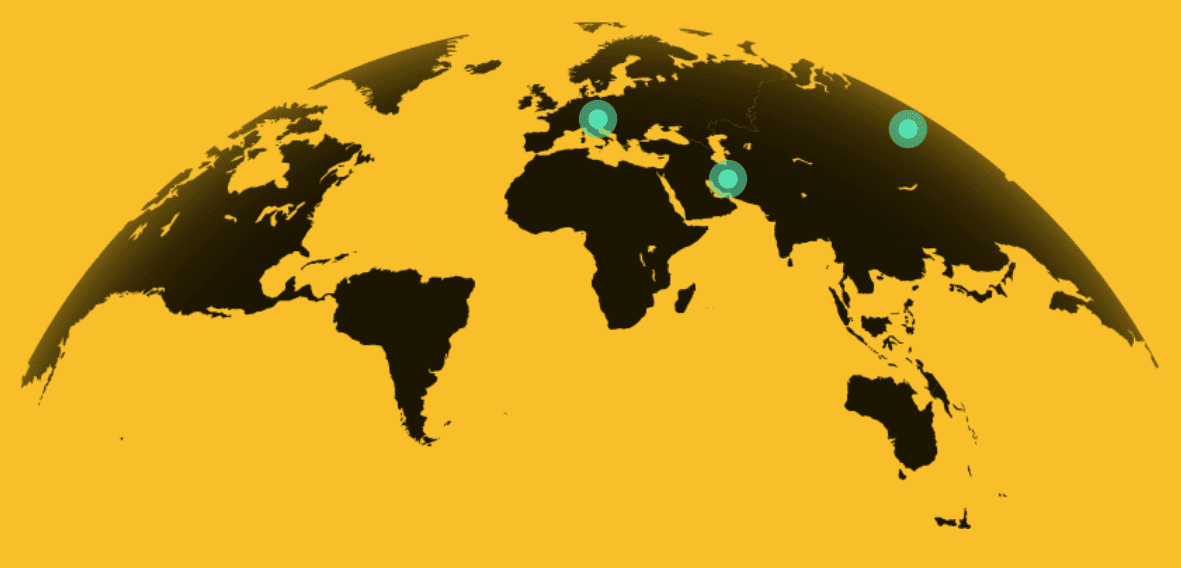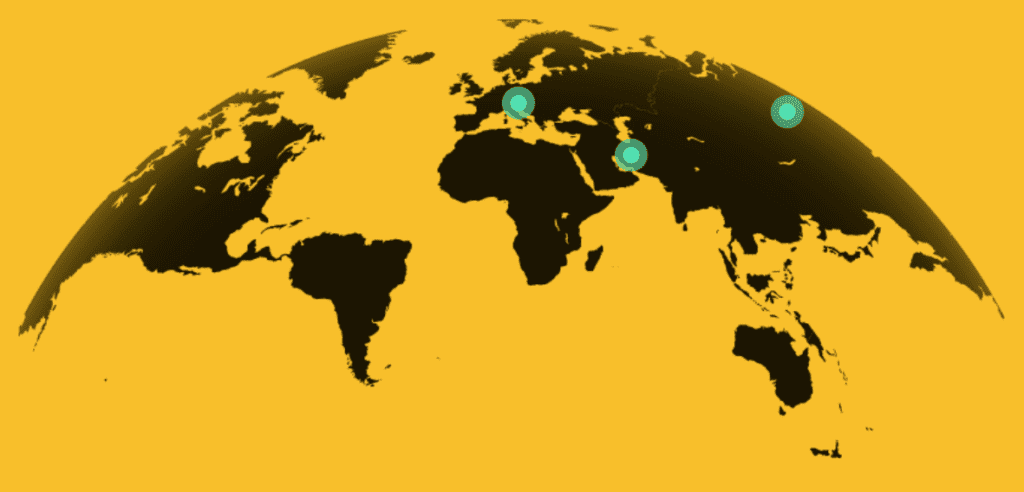 This enormously increases the number of available locations. It's also harder to recognize as a VPN by the online entities.
Pricing of Tuxler VPN – comparison
There are two options here, free and premium. Both operate on the same app. Neither has any data limits. The difference lies in speed and location availability. The premium is claimed to be 4x faster, but there is no specific data to back this up.
Speeds of any VPN can vary anyway because they depend on how far the server is from you. The free version has a limited choice of locations and changes of locations. That's actually great for a costless VPN, as those can have limits both on connection time and data used.
The premium costs $7,99, billed monthly. This puts it in the cheaper part of all the VPN providers, but not the cheapest possible – unless you count the free edition. There are no discounts for a longer subscription. Supported payments are PayPal and CoinPayments.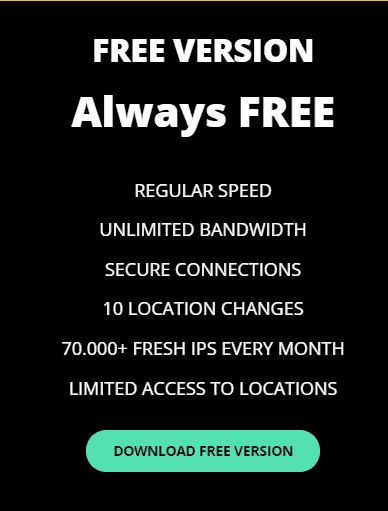 The latter allows paying without revealing your name, which might be important if you're truly after online anonymity.
Final thoughts about Tuxler VPN
Tuxler VPN is one of the less famous services of its kind. Let's sum up the review:
Main assets: a very decent free version and app interface simplicity.
The producer is scant on details about the underlying technologies, but the crucial encryption security appears firm.
A great number of available locations.
Inexpensive premium version, but only one payment plan.
The most popular platforms are supported.
Optional residential VPN multiplies the number of available locations by 100.
All in all, you need to get Tuxler VPN yourself to test if it suits your needs. Check what the speeds are and what geo-blocked content it can unblock for you.