What is ecommerce marketing ?
It's not a secret that online shopping has risen. It's becoming a trend that overshadows traditional stores. Consumers choose the comfort of buying from their sofa, in just a few clicks. It's easy and fast, sometimes even cheaper. It's an opportunity for both users and businesses.
To take full advantage of your ecommerce potential, you need the right marketing and creative strategy in play. Your success depends on an organized plan, with every detail thought-out.
What is ecommerce?
Simply put, it's online shopping. Any digital transaction that requires an exchange of money is e-commerce. Businesses can sell services as well as products. People shop online to find the best deals and the less time-consuming sites.
The numbers of ecommerce
Since Amazon took over online shopping, this new way of purchasing goods and services has grown. With the pandemic taking over people's lives and many business' doors closed, it's time to step up the game of your digital store.
Here's the statistics to convince you to take the leap and create your ecommerce marketing.
• So far, 70 percent of American consumers have shopped online
• The market is predicted to reach $4 trillion by mid 2021
• Most online shoppers are female, 72 percent of them
• Tho men shop online too, 68 percent of them
• In 2019, ecommerce accounted for over 14 percent of retail purchase
• 67 percent of mobile users like to window shop on their device
• 70 percent of consumers revist the online store within one hour to make a purchase
• By 2021, predictions say that ecommerce will amount to 54 percent of sales
• In 2020, there were 2.05 billion online shoppers
• 75 percent of users shop online monthly
What do these numbers mean?
• The numbers are rising exponentially. From the 14 percent of 2019 to the predicted 54 of 2021
• Shoppers divide almost evenly between gender
• Online shoppers make purchase decisions quickly, so their time is important
• It's important to optimize a business' shop for mobile, for example with the incorporation of social media
• The reach for your brand is exponential
• Shoppers go online with the intent to purchase from the business
Finally, the trend is expected to grow and then grow some more. With the best SEO strategies and a touch of style for your content, shoppers will flock to your business and media channels. Time to get on the winning horse for your company.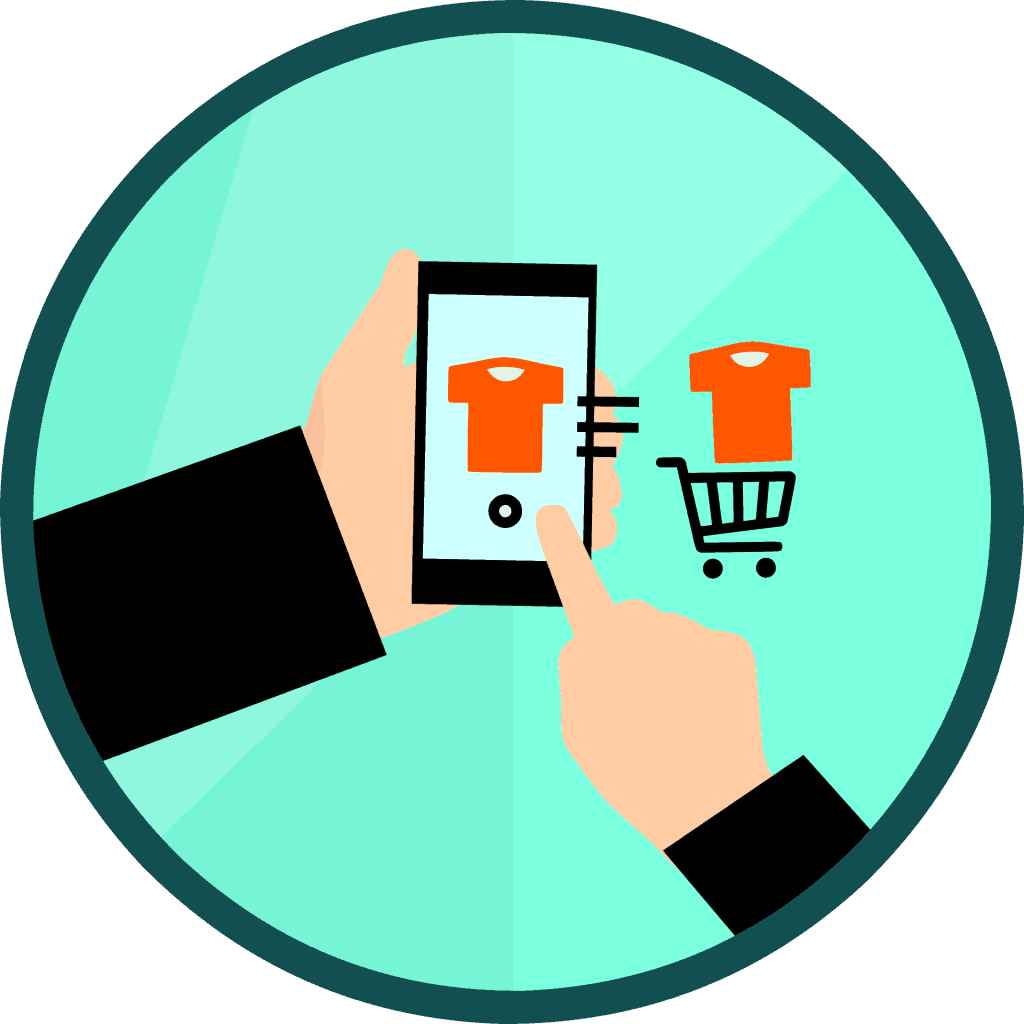 Tips to create a successful ecommerce marketing
Setting up an online store might not be complicated but making it successful is. With so many options for your target audience, the style and navigation of your shop are crucial to achieve your business goals.
Focus on the appearance.
Your online store should look as tidy and organized as a traditional store. Don't overwhelm your virtual shelves with products and services. Instead, pick a style for your ecommerce website and keep it consistent. Every page should look the same, so customers don't feel confused.
Focus on the visual.
High quality images attract visitors. They should have a neutral background so the attention of your company's customers can focus on your product and services themselves. Add light to your pictures so they won't be difficult to understand.
For some of your business' products, think about adding interesting details. You can create a staged, glamorous image. Use your brand's imagination to design a nice layout to portray your values and fantasy. Create pictures that are eye-catching, not just informative. Your best product should be underlined and easy to search.
Make it easy to navigate.
If customers have a hard time finding what they are looking for, they will leave your ecommerce page. You should have a dedicated page on your business' website and it should be easy to find. Your goal is to sell more, so link your online store to all your pages.
Add tags and categories.
These hacks will help the visitors find what they need. The categories are the big umbrellas of your product, while the tags are the tinier niches. Make sure you have a tag and category list at the top (or side) of your digital website. This way, customers will know how to sort through your virtual catalog. And it's a great SEO plan.
Make your products' descriptions clear and organized.
They don't need to be brief; they need to be informative. You can choose a few parameters that fit all. For example, adding dimensions if you sell paintings or adding weight if you sell vases. Whatever your company is focused on, it's important that the description of your product helps the customers.
Optimize for user experience.
An easy navigation means that visitors won't leave your website frustrated. The more lists and details you can add, the more people will enjoy their online shopping experience. This applies to payments as well. The shoppers need to search and find what they want.
Make it SEO-friendly.
You need to make sure that your online shop is easy to search and find, even through social media. The best strategies include focusing on keywords, tags, and structures. Shoppers need to be able to find your site and drive traffic to it. Your content is just as important as your products and paying attention to both will attract your target audience.
Add the payment instructions.
Even if your methods are easy to understand, add the instructions. Keep in mind that some people have never shopped online or some of them might not be familiar with the process. Add a brief and descriptive explanation to make sure customers are clear.
Add a FAQ section about shipping, returns, and possible refunds.
These details should be in your online store because visitors need to know your company's rules. You don't need a whole page of FAQ, just a small section in your ecommerce website will do. Make sure you add straightforward questions and easy, direct answers. Add a contact form or your email in case people have doubts.
Link your store.
Include links to your emails, your online platforms, and your social media. You need to make sure that shoppers can find and search your ecommerce. This is an SEO strategy as well because users might not be able to find your store on their one. Make the links easy to search and to point out. This way, you will increase traffic to your digital store.
Create an email list.
Push shoppers to give your company their contact. This way, you can always reach them. You can send customers your best offers, products, and online services. Newsletters maximize your reach and users can search easily for your brand's options. Create a glamorous and tidy email: it's one of the best strategies to target online shoppers.
Take your time with it.
To create the best online store, you need time and patience. Your business needs to be easy to search, find, and navigate. Make it SEO-friendly and social. Your e-commerce should be interactive and it should attract customers. With so many variables and features, taking time with it is key.
Having an online shop is crucial.
People buy online, now more than ever. They search for the best products, the best options, and prices. Customers are looking for a friendly experience. And for catchy, understandable content.
The most popular platforms for ecommerce marketing
These tools and softwares can help your business create a professional and clear ecommerce website.
Klaviyo.
This company's software stores your customers data and it lets your business build experiences across email and owned channels. With Klaviyo, you can measure the results in revenue, and not just opens or clicks. It offers your brand the technology and the guidance you need to start your ecommerce website.
Shopify.
This is one of the most popular options out there. This platform is ideal for both startups and older companies. Aside from the features that Shopify has, the business is also sustainable, so you are making a green choice. As the platform writes on its site, "from 2016 to 2019, businesses on Shopify contributed $319 billion in economic activity worldwide."
Sellbrite.
A bit of a different option. This is ideal if you are looking to sync your pages in a neat and tidy platform. It helps you manage your inventory and orders. Sellbrite allows your brand to integrate all your channels and so you will "fulfill orders all from a single, intuitive interface."
Etsy.
This is a separate ecommerce website that focuses on artisans and homemade products. You can create your catalog divided by categories and create an interactive and colorful online store. Keep in mind that you can only add a link to your Etsy store.
OpenCart.
This platform features over 13000 modules and themes for your company's ecommerce marketing. This is the marketplace where you can incorporate all your stores and products. As OpenCart writes on its website it has features for every, "sector, service integrations, payment providers, shipping methods, social media, accounting, reporting, and sales."
Omnisend.
This platform doesn't just help your brand with ecommerce marketing. It assists your company with email marketing, SMS, and automation. With Omnisend, you can expand your newsletters and boost sales. It features pre-built automations for cart abandonment, welcome series, transactional emails and more.
Choosing a platform or software to help with your ecommerce marketing ensures a professional-looking result. Since the look and style of your online store is key, these tools can assist you in creating the best ecommerce marketing strategy.
Incorporate social media in your ecommerce marketing
You can create an online store on your social media networks, so why not do it? The reach of these platforms is exponential, so it's time to take advantage of it. The best options are: Facebook, Instagram, and Pinterest.
Facebook
It's called Facebook Shops and you can create it through your business page. It's free and easy, although it's better to have everything ready beforehand. From the professional pictures to the descriptions of your products. As the media network writer, "your business can choose from your catalog and then customize the look and feel of your shop." You can add a cover image, colors, and styles that reflect your brand. Treat it as a piece of SEO content.
Instagram
Since Facebook and Instagram are connected, creating an ecommerce store in one of them links to the other. It's Instagram shopping and it allows you to create posts with direct links to your catalog and with payments. You can add tags on your images and videos, so customers will always find your company. With one click from your Instagtam posts, users can shop your ecommerce.
Pinterest
This social media network has a Shop Tab to help users with their virtual experience. The app pulls from your Product Pin features and it links your company's pins directly to the check out page of the ecommerce marketing. You gain exposure for your products and new customers discover your brand. With the right ecommerce marketing plan, you can reach people who have the intent of purchase and the spending power.
Linking the platforms is a good strategy for your ecommerce marketing. Your target customers have a profile on social media channels. Implementing your online store into your networks means that you will maximize the potential reach of your company. Time to strategize.
The payment methods for your ecommerce marketing
Once again, it's important that your online shop is organized and clear. This rule applies to your payment methods too. You can't add endless options for your customers. Instead, add a few tools, easy to navigate and perfect for your business' needs.
Here are the most popular ones for your customers :
• Credit cards or prepaid cards
• PayPal
• Bank transfers
• E-Wallets, for example ApplePay, Google Wallet, and Samsung Pay
• Cryptocurrencies, for example Bitcoin and Dash
These are some platforms and softwares to help your management. You can incorporate them in your ecommerce for a better user experience.
PayPal.
Since these accounts are separate from your bank ones, transactions are easier and safer. It's a more trustworthy payment method for your customers.
Square.
It accepts payments methods such as Google Pay, Apple Pay, and Masterclass. The check out is easy and your company's customer can set up a profile.
2Checkout.
As the description says, this is "an electronic payment service that allows merchants to accept online credit card payments from customers in their home country and abroad."
There are more platforms that can help your business with the creation of effective ecommerce marketing. Having easy and secure payment methods shows your audience that your brand is safe.
The strategy of your ecommerce marketing should be:
• Effective
• Organized
• Clear
Of course, a touch of style and glamour doesn't hurt. The best strategies include both imagination and practical details. To drive traffic to your digital store, you need to create compelling content and an effective e-commerce strategy.
One you are building your online store, keep in mind that you are doing it for your customer. Look at your website through the eyes of the final user. If something isn't straightforward or easy to understand, then it's time to change it.