What Is Video Hosting and Why It's Important
Video content has become a fundamental part of our online experience, making it one of the most potent marketing materials.
Without a platform to host your videos, potential customers will never have the chance to be exposed to them, rendering all of your hard work useless. That is why investing in a video hosting solution is essential for success.
This article talks about what this service is and the options you have, including free video hosting. This way, you can use the medium to grow your brand or business.
What Is Video Hosting?
If you want to upload, manage, and share videos online, then video hosting is the perfect solution. Popular services like YouTube, Vimeo, Wistia, and Brightcove make this possible with intuitive user interfaces that help users access high-quality content quickly and easily.
Regardless of their name, they work similarly:
A video file is uploaded to a video hosting platform and stored on a server.
After creating the video, the platform produces a specialized link that can be shared and embedded across numerous websites and social media networks.
When a user clicks the link, the video is immediately pulled off the server, converted into an appropriate format, and then streamed directly to their device.
They also share several features and benefits. These include:
Responsive video hosting can make embedding videos into websites or social media hubs effortless. You can switch up the shape and size of these players based on your desired requirements for the platform.
Access to analytical data and insights can tell you a lot about how well your content is doing. You'll know which videos are the fan favorites, as well as who is watching them—all of this information helps businesses understand their customer base and make informed marketing decisions that truly reflect what resonates with their target audience.
Monetization tools empower creators to generate income from their content through ads or subscriptions, opening up many opportunities.
With the help of video editing features, such as trimming, cropping, and adding effects, creators can customize their videos to make them more attractive. These tools allow users to create stunning visuals that will capture the audience's attention.
Kinds of Video Hosting Platforms
While you can find various hosting platforms, they usually fall into two categories: free and paid.
Let's talk about each here.
Free Video Hosting
Free video hosting platforms are a great option for those who need to host videos on a budget. These services allow you to upload and share videos without paying any fees. Further, they come with features like analytics, so you can track user engagement.
Some of the best free services include monetization options, so you can earn money from your videos and editing features.
However, they come with a few downsides. The most significant is that these services generally have limited storage space. They also require you to include ads with your videos.
Finally, the quality of uploaded videos may suffer because of compression algorithms for reducing file size and ensuring quick loading times.
Paid Video Hosting
Paid video hosting platforms are more reliable and feature-rich than free services. They usually offer higher storage limits, better streaming quality, and advanced features like editing tools, branding options, captions, and subtitles.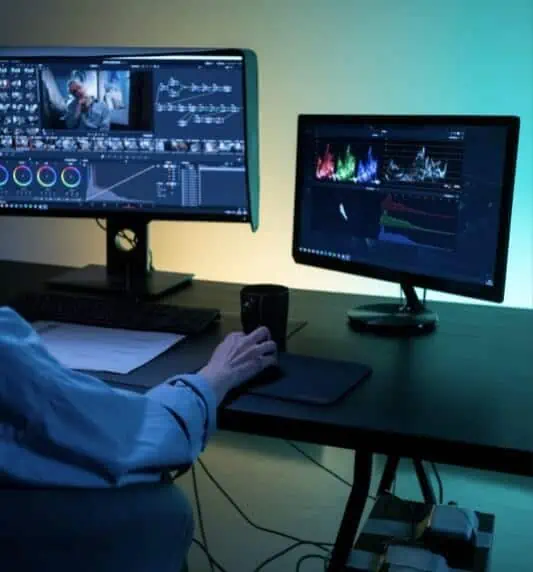 Plus, paid hosting services have greater control over monetization, so you can choose how to generate revenue from your videos. They are also more secure and come with fewer restrictions on content distribution.
Nonetheless, these services demand a subscription charge for access. Moreover, some may necessitate extra expenditures on features such as streaming or transcoding.
Conclusion
Videos are indispensable for connecting with your audience, but they aren't living up to their potential if you can't easily share and access them.
With video hosting platforms, you can easily get your videos in front of the right audience without breaking the bank.
By utilizing these offerings, you can conveniently upload videos to diverse social media outlets with a single step and monitor user engagement. Even better? You can generate profits from your content!
And with a broad spectrum of free and cost-effective options, everyone can easily find the right solution.