Edge Secure Network: Microsoft Edge amplifies integrated VPN capability
Zipping through the tech world, comes a significant upgrade for Microsoft Edge users. The tech giant has now supercharged its Edge Browser's VPN functionality, offering a substantial quota increase from 1GB to 5GB.
This is promising news for all users craving for better security and a buffer-free browsing experience.
Also read : VPN and split tunneling: Power up your performance and security
Edge Secure Network takes security to the next level
The 'Edge Secure Network' from Microsoft Edge brings an additional layer of internet connection encryption, shielding data from online threats. The catch here is that users need to log in with their Microsoft account to wield the 'Edge Secure Network' and keep tabs on their monthly data consumption.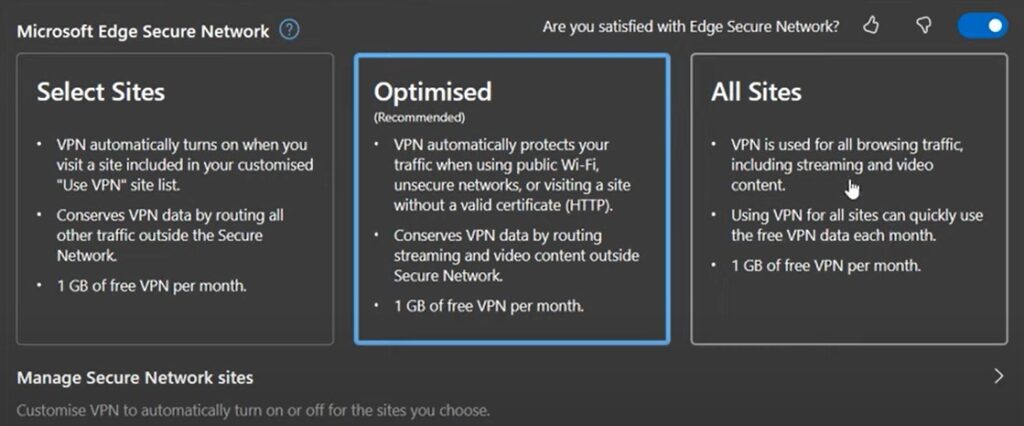 Apart from this, Microsoft ensures that the user's Microsoft account identity remains concealed from Cloudflare during a 'Secure Network' connection. Thus, facilitating an encrypted navigation experience without compromising on user identity.
Smoother navigation across different Edge versions
When logging in to Microsoft Edge with a Microsoft account, it kicks off the synchronization, making browsing data accessible across all versions of Edge where the user is connected. This feature is a bonanza for those who navigate across different devices, providing a seamless browsing experience everywhere.
Emerging secure connection thwarting attackers
'Edge Secure Network' establishes a secure connection by routing traffic through an encrypted tunnel, making it arduous for attackers to access your browsing data.
While it can't substitute all VPN functionalities, it unlocks access to torrent sites blocked by the Internet Service Providers.
Providing a smoother and safer browsing experience
The objective of this upliftment is to deliver users a smoother and more secure browsing experience inside the Microsoft Edge browser. The surge in the data limit lets users securely roam the internet and explore a broader range of online content without fretting over draining their data allowance.
Fulfilling Microsoft's promise of an enhanced user experience
This enhancement certainly underlines Microsoft's commitment to boosting the capabilities and user experience of its Edge browser. With an in-built VPN powered by Cloudflare, Microsoft Edge now offers 5GB of free data, an impressive rise compared to the previous 1GB limit.
The optimum solution for casual users, yet not for all
Though synchronization is activated with a Microsoft account, making the browsing data accessible across all versions of Microsoft Edge where the user is connected, it may not be the ultimate solution for everyone. The Edge VPN is primarily designed as an extra security measure to visit non-secure HTTP websites or connect to open Wi-Fi networks.
However, for users demanding unlimited traffic or a VPN for specific streaming services or locations, a dedicated VPN service is suggested over the Edge VPN. This goes on to explain that while Edge VPN has made strides in its offerings, a dedicated VPN might still hold the upper hand for specific uses.