FastestVPN: We tested it for you!
In search of online security? Looking for a VPN that combines speed, data protection, and anonymity? Then you're in the right place!
Debugbar tests the main VPNs available on the market for you, and in this article, our attention is focused on FastestVPN.
This virtual private network provider promises us a secure and fast browsing experience. So we tested it from A to Z to see if it lives up to its promises.
Ready to discover everything FastestVPN has to offer? Let's go, we'll give you a complete review in this article!
What is FastestVPN?
FastestVPN is a VPN service based in the Cayman Islands. It was designed to offer secure and anonymous browsing to its users.
With 14 servers spread across several countries, including France and Canada, FastestVPN focuses on speed and security to meet its clients' data protection needs.
Main features of FastestVPN
When choosing a VPN, it's important to first look at the features it offers.
So, the first thing we did was look at those offered by FastestVPN. And we admit that we were (positively) surprised by the multitude of features available to ensure secure and anonymous browsing.
We particularly appreciated:
Compatibility with many devices
Smart tunneling
The possibility of having up to 10 simultaneous connections
The kill switch
The ad blocker
The NAT firewall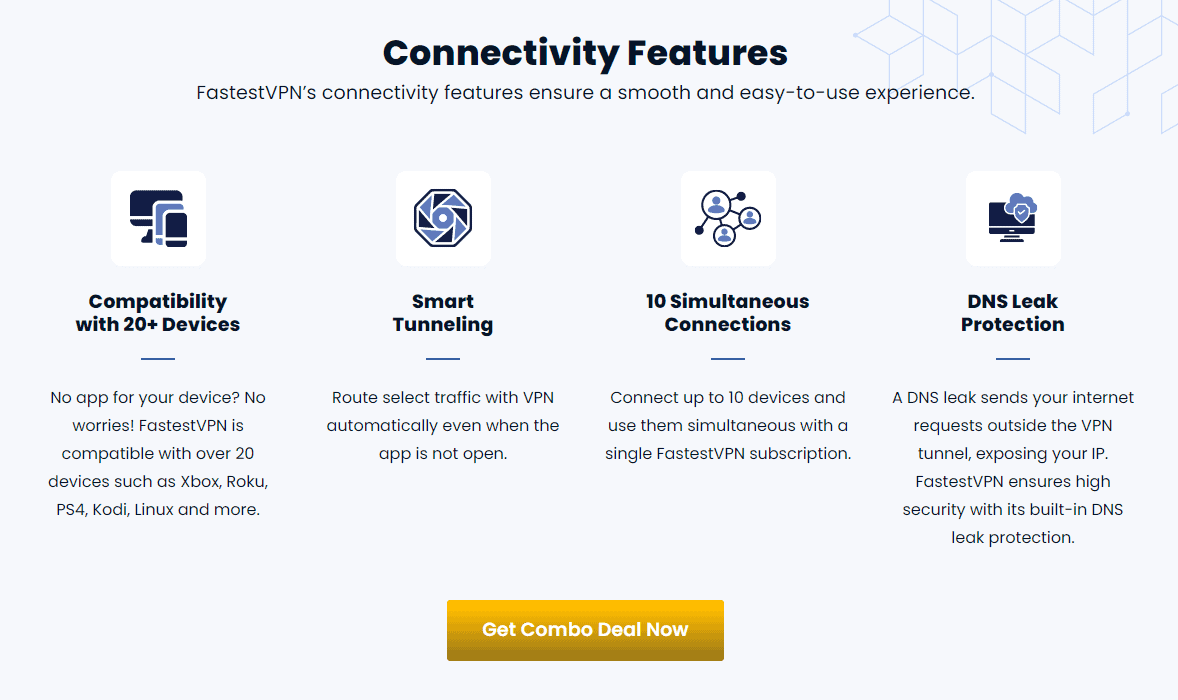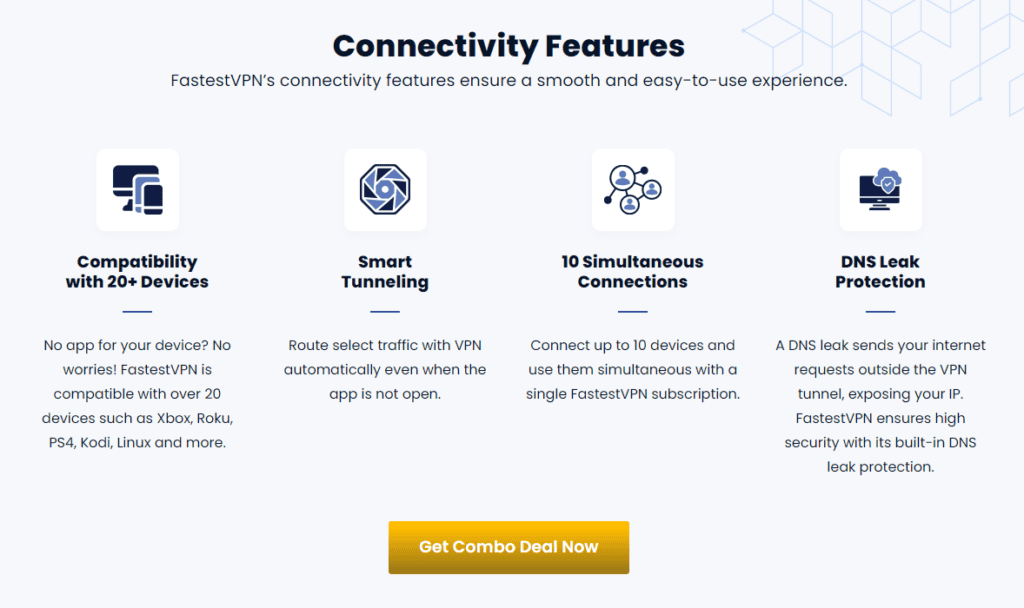 But, said like that, when you're not specifically an expert, some terms might seem abstract… So let's take a closer look at all of this.
Compatibility with many devices
When we think of VPNs, we think of computers or smartphones. However, in reality, there are many devices in our homes that are connected to the internet. So it's important to protect them as well.
FastestVPN stands out on this point with its extensive compatibility with over 20 types of devices. You can use it on:
Gaming consoles such as Xbox, PS4
Streaming devices like Roku, Kodi
As well as operating systems like Linux
In short, you will have a choice between many devices.
Smart Tunneling
This feature allows the automatic routing of the user's internet traffic through the VPN only for certain specific apps or websites, while allowing others to directly go to the Internet without using the VPN.
This can be useful, for example, to use a service that is available only in certain countries while browsing other sites in your home country.
But above all, it guarantees constant data protection and secure browsing in all circumstances.
10 simultaneous connections
FastestVPN allows you to connect up to 10 devices at the same time with a single subscription. This makes it an ideal solution for protecting all your devices and those of your family without having to subscribe to multiple offers.
Kill Switch
In case of loss of connection to the VPN server, the kill switch function terminates the Internet connection to prevent identity leaks. An additional guarantee of security for your data.
Ad-Blocker
No more unwanted ads and malicious ad links thanks to FastestVPN's integrated ad blocker. Your browsing is thus more secure and enjoyable.
NAT Firewall
This feature provides an additional layer of security by blocking unsolicited incoming traffic. You are thus better protected against potential attacks.
Well, on paper, all this seems interesting. But we'll still check to make sure FastestVPN is really effective.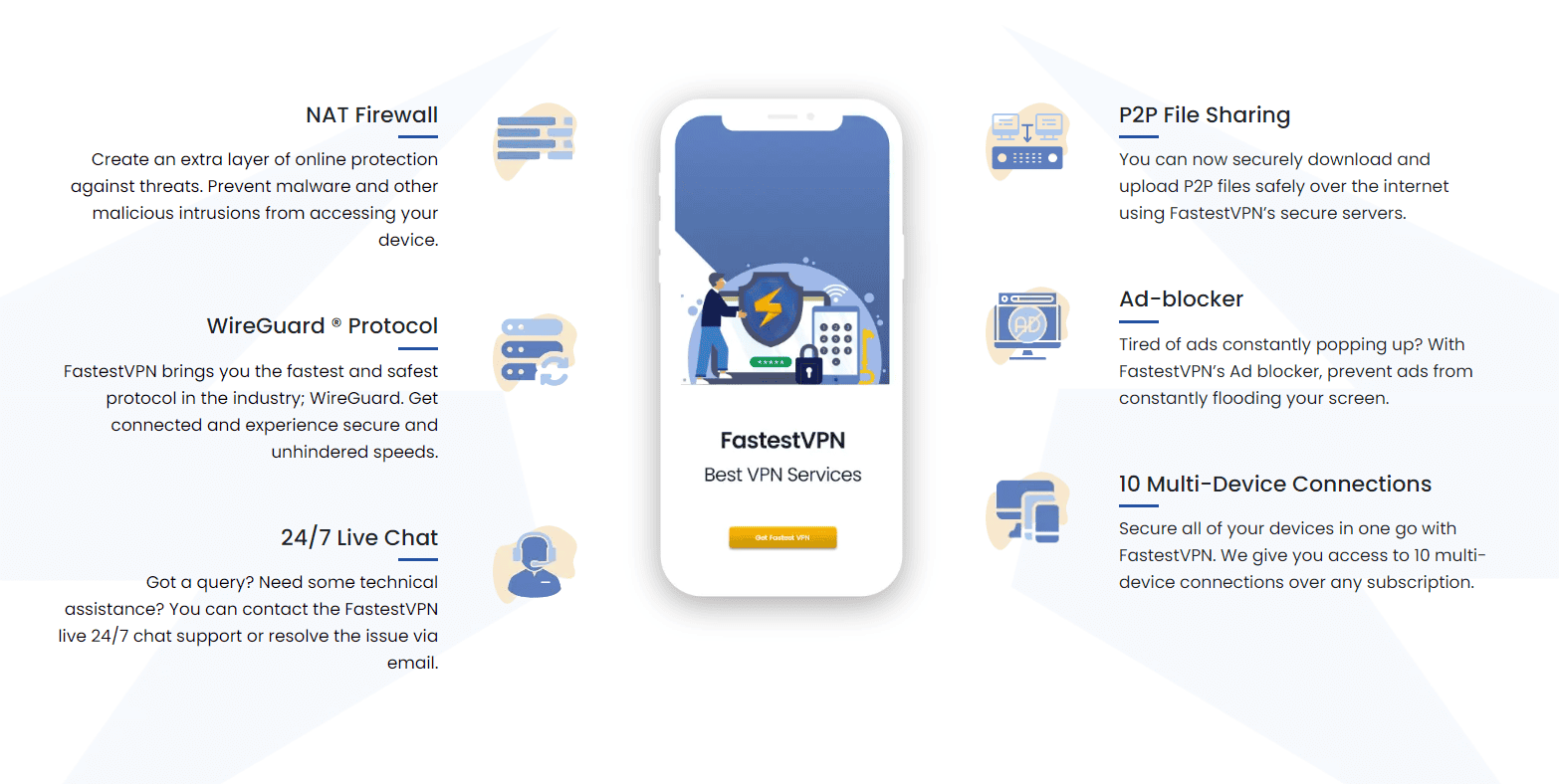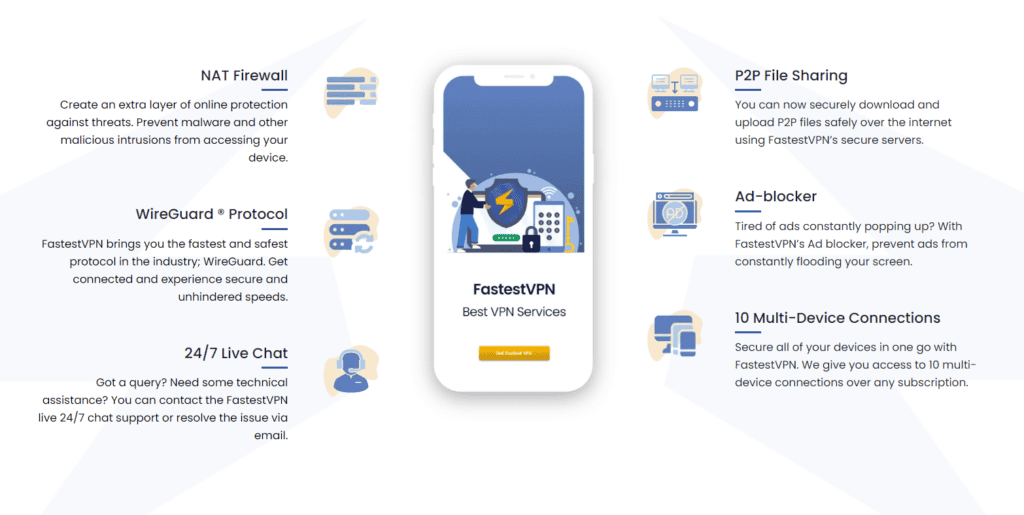 FastestVPN: our complete point-by-point review
To give you a precise idea of ​​what FastestVPN is worth, we tested it in depth to analyze its performance on different essential criteria:
Security
Speed
Streaming and torrenting
Privacy
And customer service
Here are the results of our tests.
Security: FastestVPN keeps its promises
As security is one of FastestVPN's main selling points, we carefully examined the various measures in place to protect its users.
Our verdict: FastestVPN keeps its promises in terms of security and privacy.
Firstly, the IP masking offered by FastestVPN makes users completely anonymous when connecting to a server. This means your real IP address remains hidden and your online activities are safe from prying eyes.
Secondly, FastestVPN positions itself as a no-log VPN, guaranteeing excellent privacy. The company does not keep any information regarding browsing or user connections, making its services untraceable.
Moreover, the AES 256-bit encryption used by FastestVPN is considered the most effective for a VPN. It strengthens data protection and ensures your information remains confidential, even in case of interception.
Lastly, FastestVPN offers malware protection integrated into the software. This feature works like antivirus software, although it does not completely replace the use of another antivirus. However, it provides a very appreciable additional layer of security.
In short, FastestVPN effectively protects its users.
Speed: satisfactory results
Speed ​​is an essential criterion in choosing a VPN, to guarantee a pleasant and fluid browsing experience. That's why we analyzed in depth the performance of FastestVPN in terms of speed.
It is important to emphasize that the speed of VPN services varies depending on the server used and the distance between your geographical location and that of the server.
Our tests showed that the speeds were exceptional in the United States and the United Kingdom.
As expected, download speeds decreased for long distance connections, but they remained acceptable.
In summary, as its name suggests, FastestVPN offers quite correct speeds for a VPN provider in this price range. If speed is an important criterion for you, FastestVPN could be an interesting option to consider.
Streaming and torrenting: FastestVPN is a good choice
One of the main uses of a VPN is to unlock access to georestricted content on VOD platforms and facilitate the secure downloading of files.
FastestVPN seems up to this task. Indeed, the VPN is compatible with Netflix and other major platforms.
With its network of servers in different countries, you can access content specific to each region.
Not only does FastestVPN work perfectly with Netflix, but it is also compatible with other video-on-demand (VOD) platforms such as Hulu and Amazon Prime.
It also allows access to foreign television channels or French channels from abroad.
In terms of torrent downloading, FastestVPN guarantees complete anonymity for the user.
It allows you to download torrents without your IP address being visible, making your computer untraceable on the web and ensuring the confidentiality of your activities.
In summary, FastestVPN proves to be an excellent choice for unlocking access to georestricted content on streaming platforms and facilitating secure torrent downloads.
Whether you are a fan of series and movies on Netflix or a fan of P2P file sharing, FastestVPN will meet your expectations in terms of streaming and downloading.
Also read : Unlock the world of Amazon Prime streaming with a compelling VPN
Privacy policy: they apparently don't keep any information about you
The privacy policy is a crucial element for any self-respecting VPN.
Fastest VPN is no exception, and we have thus carefully examined the privacy measures put in place by the service.
For encryption, FastestVPN supports several protocols, including:
AES 256-bit protocol
OpenVPN
IKEv2
IPSec protocol
OpenConnect
And L2TP
The use of these protocols guarantees increased protection of your data and prevents DNS leaks outside the VPN tunnel.
Fastest VPN's headquarters are located in the Cayman Islands, a territory free from data retention laws and not part of any intelligence-sharing alliance.
This means that FastestVPN is not legally obliged to retain browsing records or communicate user data to third parties.
The VPN provider claims to keep no activity logs, including original IP addresses, bandwidth usage, or selected server locations. The only information kept by FastestVPN is the user's email address, which is deleted when the account is deactivated.
However, we regret that the privacy policy is not as simple as we would like.
Indeed, the provider has not undergone an external security audit to verify their claims regarding the non-retention of logs.
In summary, FastestVPN excels in terms of privacy and provides solid security for its online users.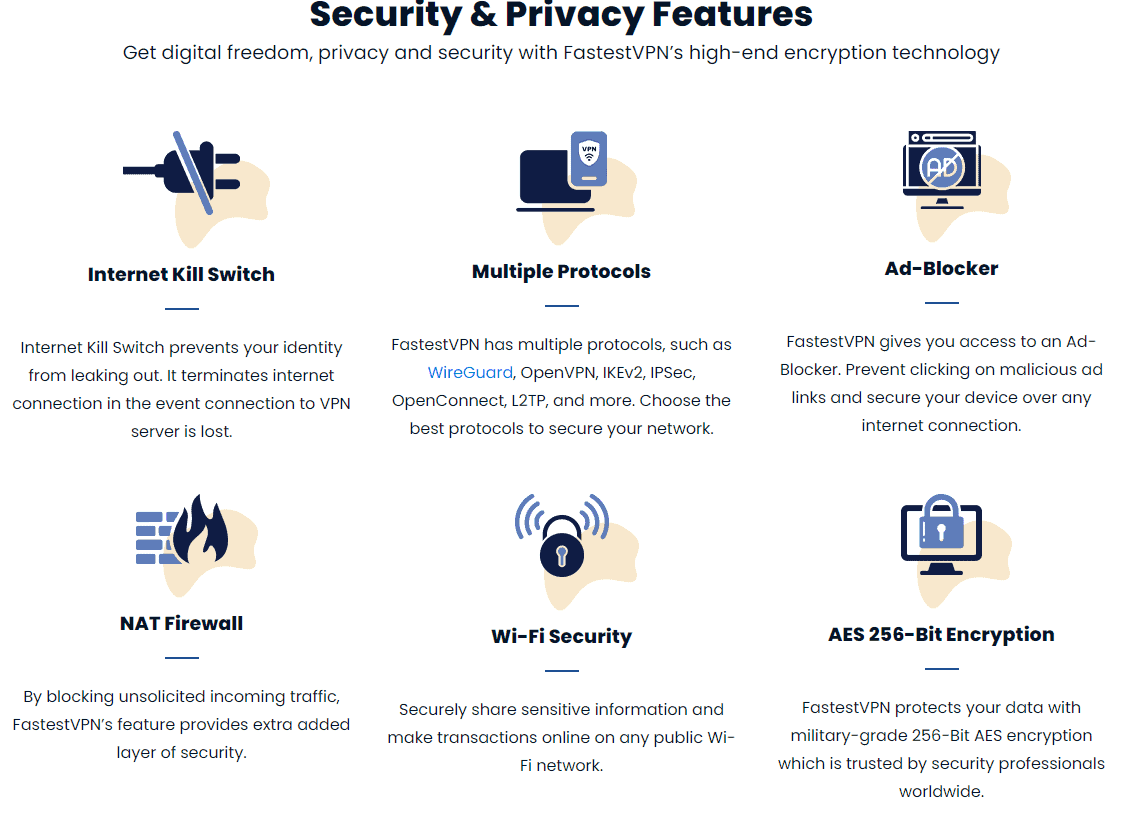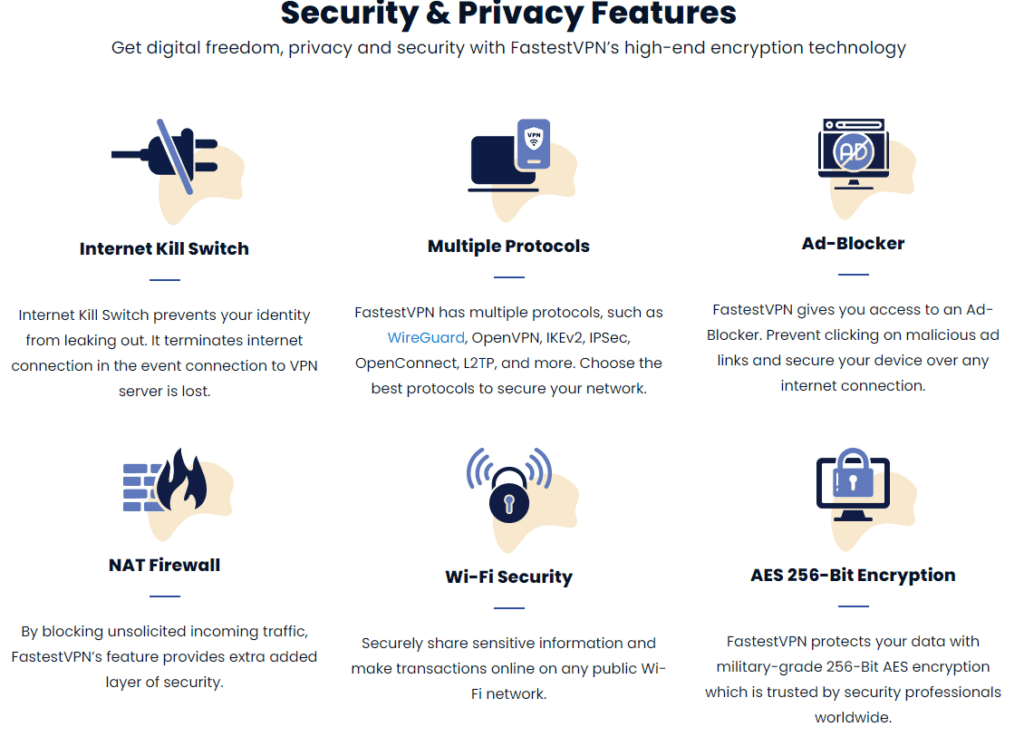 Customer service
Customer support is a crucial aspect of any VPN service, as it allows users to receive quick and effective help in case of a problem or question.
FastestVPN stands out in this area by offering a customer support that is among the best currently on the market.
To begin with, FastestVPN's customer support is available 7 days a week and 24 hours a day, allowing you to contact an advisor at any time.
Whether you need help solving a technical issue or getting information about the VPN features, you can count on the support team to assist you quickly.
Users can contact customer support via live chat offered on FastestVPN's website.
According to customer reviews, FastestVPN's support is very responsive and provides quick and clear answers to all problems encountered. The advisors are well informed and competent in resolving the difficulties you may encounter while using the service.
In addition to live chat, FastestVPN also offers the option to contact customer support by email.
Although this option is generally slower than live chat, it can be useful if you prefer to detail your request in writing or if you need more in-depth follow-up.

In summary, FastestVPN offers excellent customer service that will meet your needs and solve your problems quickly and efficiently.
How much does FastestVPN cost?
FastestVPN stands out from the competition by offering several flexible subscription options to meet the needs and budget of each user.
All plans include the same comprehensive suite of features, ensuring a consistent VPN experience for all clients.
| | | |
| --- | --- | --- |
| Plan | Price | Equivalent monthly cost |
| Monthly plan | $10 / month | $10 |
| Annual plan | $29.95 / year | $2.49 |
| Triennial plan | $39.95 / year | ~$1.11 |
In summary, FastestVPN stands out for its attractive prices and flexible subscription options, which will suit a wide range of users and budgets.
We've seen quite a few things and there's a lot of information to remember. So let's synthesize all this so you can get a clear and precise opinion on this software.
What are the advantages and disadvantages of FastestVPN?
To provide you with an overview of FastestVPN's strengths and weaknesses, here is a summary table of its main advantages and disadvantages:
| | |
| --- | --- |
| Advantages | Disadvantages |
| Secures your Wi-Fi network | No security audit |
| Very economical complete 5-year contract | Limited configuration options |
| Unblocks Netflix from the US | Limited split tunneling |
| Can be used from up to ten different devices with the same account | Unable to unblock Amazon Prime or BBC iPlayer |
| Adblock and firewall included | Website in English only |
| Servers available in over 35 regions and over 31 countries | Does not work in China |
| No international surveillance | |
| No-log policy | |
| Unblocks Netflix US | |
Are you now convinced that FastestVPN is the VPN for you? Let's see how to install it.
How to install FastestVPN?
Installing FastestVPN is fairly easy and quick. This detailed tutorial will help you easily install the software on the device of your choice:
Go to the official FastestVPN website and download the software suitable for your platform (Windows, macOS, Android, iOS, etc.).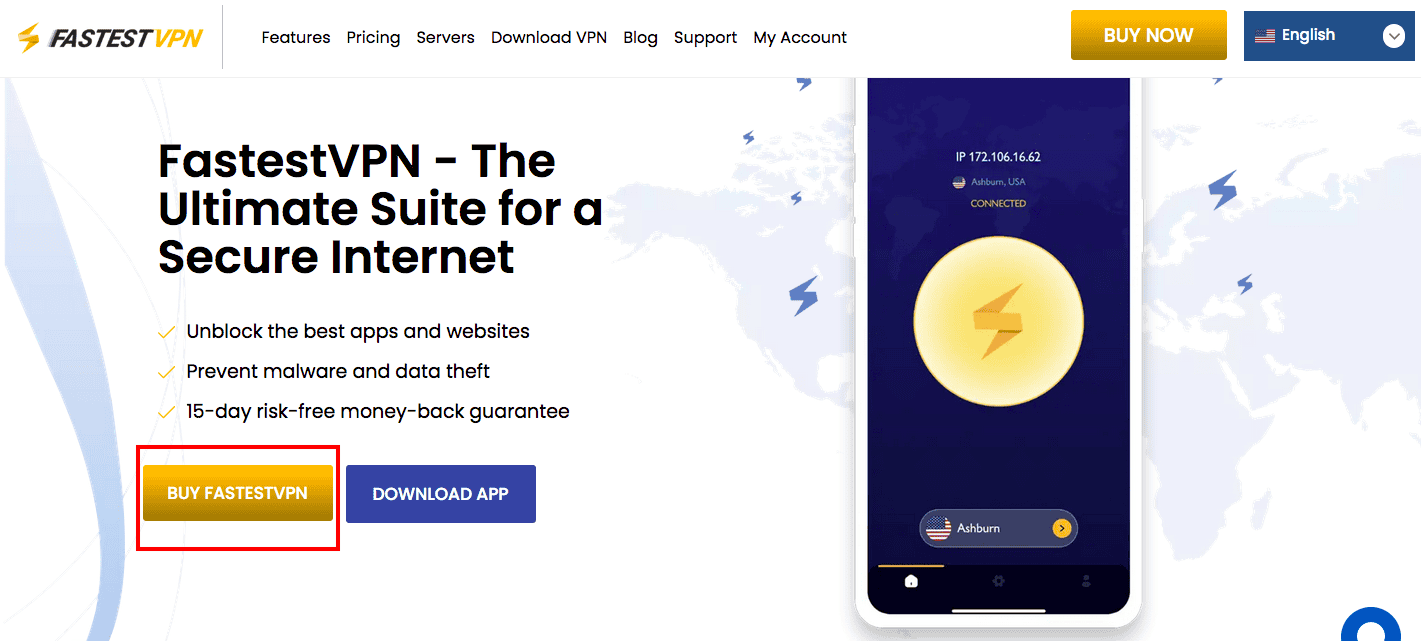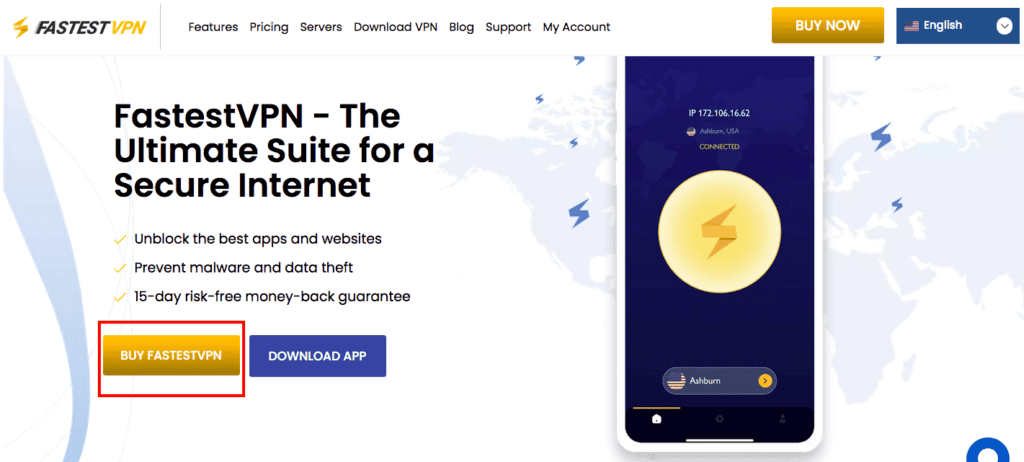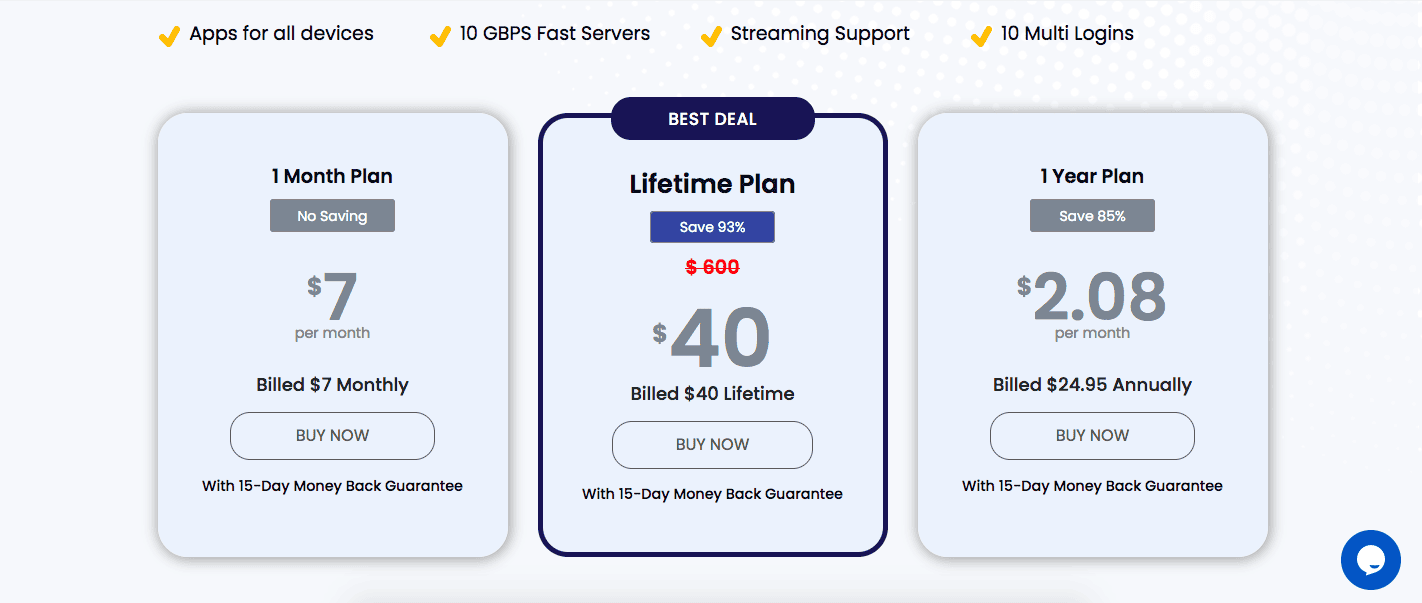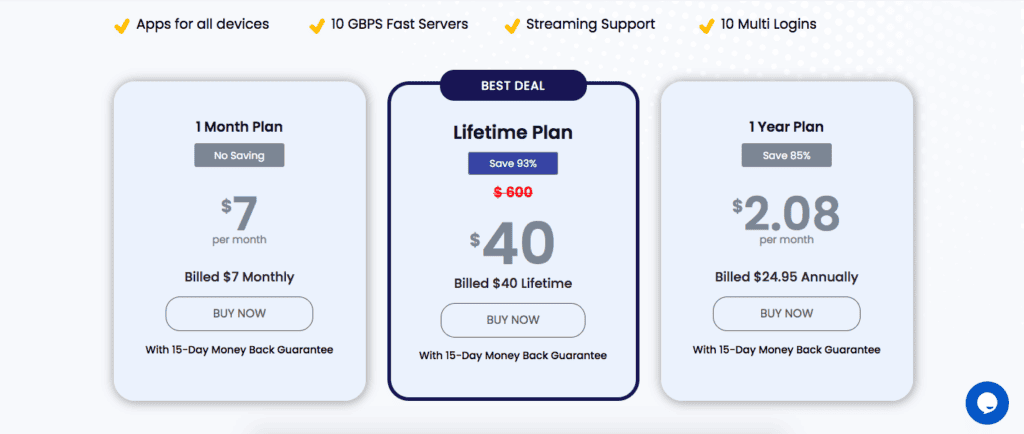 Locate the downloaded file on your device, usually in the "Downloads" folder.
Double-click on the file to start the installation. A window appears, presenting you with the terms and conditions of use of FastestVPN. Read and accept them by checking the corresponding box to continue.
During installation, you may be prompted to install the TAP driver. This driver is necessary for the proper functioning of the VPN. Click "OK" or "Install" to continue.
Follow the various steps on the screen to complete the installation of the software. This usually involves choosing a destination folder for installation files and selecting additional options if necessary.
Once the installation is complete, launch FastestVPN by double-clicking its icon, which is usually located on your desktop or in the list of installed apps.
And there you have it! FastestVPN is installed. Now all that's left is to configure it for secure browsing.
How to use Fastest VPN?
This VPN is quite easy to use.
Open the FastestVPN app that you previously installed on your device.
Log in using your username and password provided when creating your account.
Once logged in, you will access the main interface of the app, which allows you to choose the server you want to connect to from the list of available locations. You can select a specific server based on your needs or preferences.
Click on the "Connect" button. You will then see the connection status switch to "connected" when the connection is established.
If you prefer an optimal automatic connection, use the "Smart Connect" button. The app will then select the best server for you based on various factors such as location or server load.
Once connected to the VPN server, you can safely and anonymously browse the web knowing that your data is protected and your identity is hidden.
To change the app settings or access advanced options, click on the gear icon located at the top right corner of the screen. You can customize your experience according to your needs and preferences.
By following these simple steps, you can fully benefit from the advantages offered by Fastest VPN to protect your privacy and secure your online data.
Fastest VPN vs. other VPNs software
To better understand how FastestVPN compares to its competitors, we compared its features with those of three major other VPNs.
Here's a clear and detailed comparison table that will allow you to visualize the strengths and weaknesses of each solution:
| | | | | |
| --- | --- | --- | --- | --- |
| | FastestVPN | IPVanish | ExpressVPN | CyberGhost |
| Servers | 14+ | 2 000+ | 3 000+ | 9 000+ |
| Countries | 31+ | 75+ | 94 | 91 |
| Protocol | WireGuard, OpenVPN, IKEv2, etc. | WireGuard, OpenVPN, IKEv2 | OpenVPN, IKEv2, L2TP/IPsec, PPTP | OpenVPN, IKEv2, WireGuard, L2TP/IPsec |
| Money-back guarantee / free access | 7 days | 30 days | 30 days | 45 days |
| Simultaneous connections | 10 | Unlimited | 5 | 7 |
| Streaming compatibility | Netflix US (partially) | Netflix US (partially) | All major platforms | All major platforms |
As you can see, each VPN has its strengths and weaknesses, so it's important to choose the one that best suits your needs and expectations.
Also read : 6 pro tips to get rid of the Google Captcha issue with ExpressVPN
FastestVPN: our final review in a few words
In conclusion, FastestVPN is a really good VPN. It's fast and focuses on security, data protection, and anonymity of its users.
It offers extensive compatibility with various devices and systems (Windows, Linux…), varied security protocols, and a strict privacy policy.
Although it does not unblock all streaming platforms, it is able to partially unlock American Netflix content.
Fastest VPN is particularly suitable for internet users concerned about their online privacy and those looking for a VPN offering good value for money.
However, it's important to note that FastestVPN might not be the best option for people looking to unblock the French Netflix catalog or access certain platforms like Amazon Prime Video or BBC iPlayer.
| | |
| --- | --- |
| Features | FastestVPN |
| Servers | 14+ |
| Countries | 31+ |
| Protocols | WireGuard, OpenVPN, IKEv2, etc. |
| Money-back guarantee | 7 days |
| Simultaneous connections | 10 |
| Streaming compatibility | Netflix US (partially) |
| System compatibility | Windows, macOS, Android, iOS |
In the end, we recommend trying FastestVPN if you place great importance on protecting your privacy and P2P downloads.
Nevertheless, for full access to streaming platforms and a more complete experience, it might be wise to explore other VPN apps, such as ExpressVPN or CyberGhost.