Email finder: We tested flyder.io for you!
Email is a key element of business communication. It allows you to directly reach your target and develop a successful marketing strategy. But if you don't know the recipient's email address it can be complicated… Fortunately, there are solutions.
Looking for someone's email? You want to get a list of emails to expand your prospect base? Then an email finder could be very useful. And we have tested one for you!
An email finder allows you to easily find someone's email.
This type of tool is very useful to communicate effectively.
Despite its young age Flyder.io is one of the best email finders on the market.
Let's go and discover flyder.io.
Also read : How to Create a vCard in Outlook?
What is an email finder?
An email finder is simply a tool that allows you to find a person's email address.
This kind of software usually takes the form of a search engine or an extension for Google chrome or Firefox.
The operation of this kind of tool is quite simple. You just have to enter the name of a person and his company in the search engine. The tool will then search the internet (Google, Linkedin, company's website and other media) to find the list of addresses you need.
Basically, an email finder allows you to find anyone's email. This means that you can potentially communicate with people you thought to be totally unreachable.
What is the purpose of an email finder?
As you can see, such a tool can be useful in many ways. In particular, it can allow you to :
Find qualified leads.
Develop a targeted marketing strategy.
Increase your sales.
Extend your prospect base
Develop your business by directly addressing investors and other stakeholders.
Find the address of potential future collaborators.
…
In short, the possibilities are almost infinite and this tool will be useful to you whether you are :
Salesman
Entrepreneur
Marketing team
Recruiter
Freelance
…
But to really take advantage of the possibilities offered by the email finder you have to find the right one among all those that exist. And we have found a really good one. Let's take a closer look at its main features.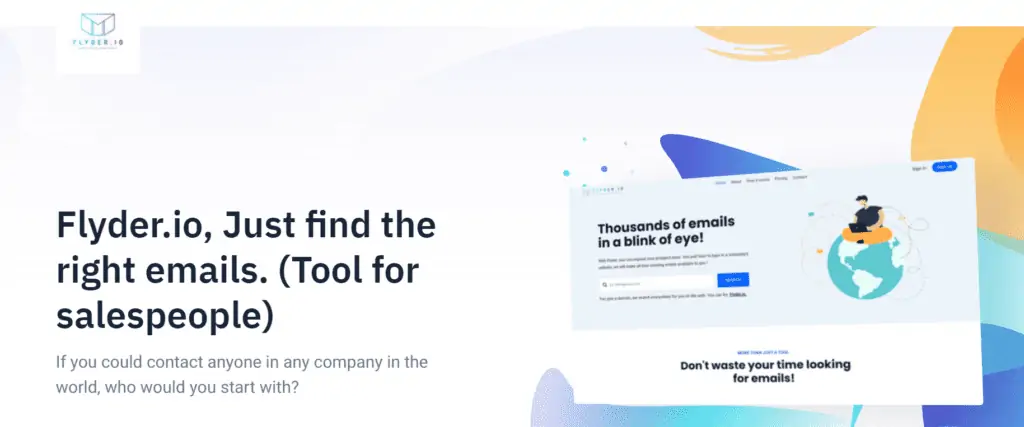 The key features of Flyder.io
Flyder.io is a newcomer to the email finder market but it already has some very interesting features. Among those that caught our attention is :
Searching for emails from a domain name or a company name.
Bulk address search.
Verification of found emails.
Domain name or company based email searches
This search feature allows you to easily find the email address of a company's employees. Simply enter the domain name or the company's name and Flyder does the rest.
Bulk email address search
You want to find several email addresses? You're looking for the email list of employees of several companies? Searching for the emails of each employee of each company you are interested in is a tedious and time-consuming task…
But that was before. With Flyder's bulk search feature, you can find lists of hundreds of emails in one go without any effort.
Verification score for emails
Having a tool to find emails is good, having a tool to find emails that really work is better. Many email finders find email addresses that don't work. And you know better than anyone, there is nothing worse than an email that does not reach its recipient.
So to give you the best chance to reach your target and avoid hard bounce, Flyder has developed an essential feature. In fact, the tool assigns an accuracy score to the emails it finds. This way you know which ones to favor for your strategy.
What are the advantages of Flyder.io?
Thanks to its key features, Flyder allows you to:
Save time.
Set up an effective strategy.
Easily find all the addresses you need.
You save time
To find an email address, you can use the good old Google method and type in the search engine :
Name of the person + "email"
Name of the personne + "contact details" (if you also want to have his phone number)
But if you have already tried it you have surely realized that this method takes a lot of time and that the results are not always there…
The big advantage of the solution created by Flyder is that you save a lot of time. You only need to type your query to get all the email addresses you are looking for. This way you can spend your time implementing your strategy and developing your business instead of searching for email addresses.
You can implement an effective strategy
The second advantage of the email finder created by Flyder is that you address directly the right person. You can therefore implement an ultra-targeted strategy that directly addresses the right person and converts.
Indeed, when you don't have the direct email address of a person, you are often forced to go through an intermediary (secretary, employee…). And generally you do not get any answer…
By addressing the person directly you increase your chances of reaching the target.
You find all the addresses that you want without any effort
People think that you have to know how to code and be a great computer scientist to be able to find mass email addresses. It is true that with computer skills and coding you can do a lot of things.
But the problem is that not everyone has these skills. Fortunately, with Flyder it's ultra simple. The tool takes care of everything. You just have to launch the search and wait.
Flyder.io pricing
Flyder offers 3 types of pro subscription plans. The pricing of each one has not yet been communicated to us. However, we already know that there'll be a free version including 50 searches. It's a good way to discover the tool and to go further with it if it suits you.
Our opinion on Flyder.io email finder
In a nutshell, Flyder is a tool that allows you to easily find anyone's email address. It is true that the solution may seem a bit limited on some aspects but other features will be added as time goes by. So we can say that despite its young age Flyder is already very promising.
Email finders are tools that allow you to find any email address.
Some email finders can take the form of an extension for Google chrome or Firefox.
This kind of solution is very useful to develop your business.
Thanks to this tool you can address directly to the right people.
You enter the name of the person you are looking for + his/her company and Flyder will search on the internet (Google, Linkedin, company website…) to find them.
The free version of the software allows you to perform 50 free searches.
There are 3 pro subscription plans for Flyder.