Google My Business : le Guide Complet
Selon SEO Expert Brad, 46% des recherches Google sont destinées à trouver une entreprise locale.
La recherche géolocalisée prend de plus en plus de place et la tendance n'est pas près de s'arrêter.
La visibilité en ligne d'un établissement local passe désormais obligatoirement par Google My Business.
Cet outil gratuit de référencement local offre une multitude d'options pour gérer votre présence digitale et surtout il permet d'apparaître dans les résultats de recherche sous la forme d'une fiche.
Comment réussir votre stratégie Google My Business ? C'est ce que nous allons voir dans ce guide complet.
Qu'est-ce que Google My Business ?
Créé en 2014, Google My Business est un service gratuit proposé à toute entreprise locale souhaitant être visible dans les résultats de recherche de Google.
Concrètement, cela prend la forme d'une fiche (la "fiche GMB") qui réunit plusieurs informations relatives à un établissement : horaires d'ouverture, adresse, coordonnées de contact, avis clients…
Lors d'une recherche locale, la fiche est affichée :
Soit seule sous forme de Knowledge graph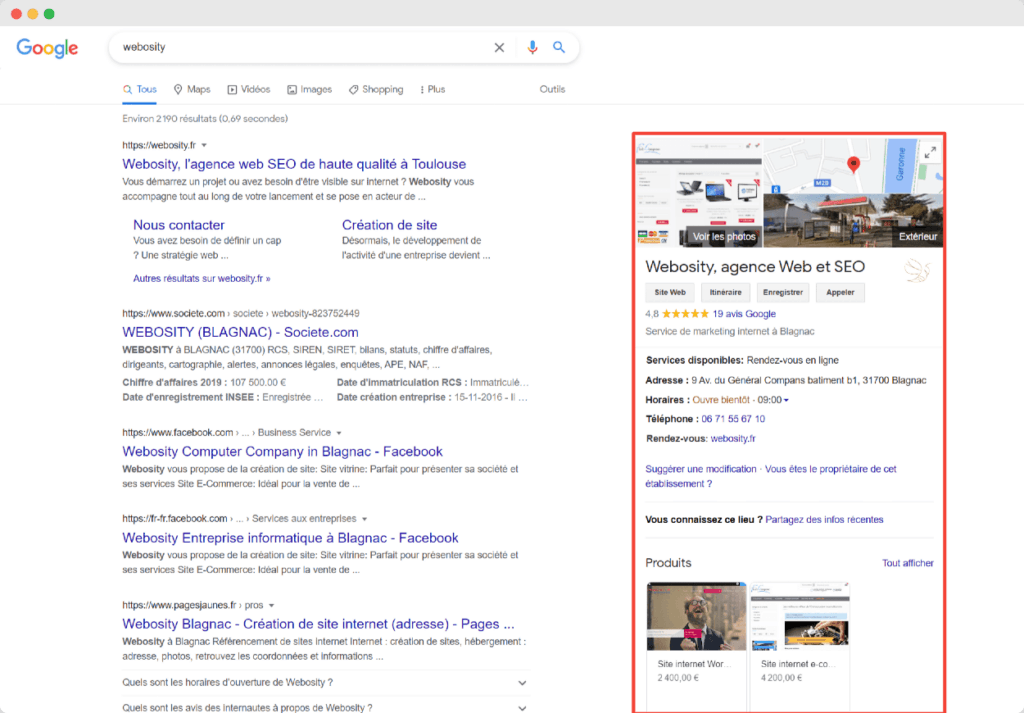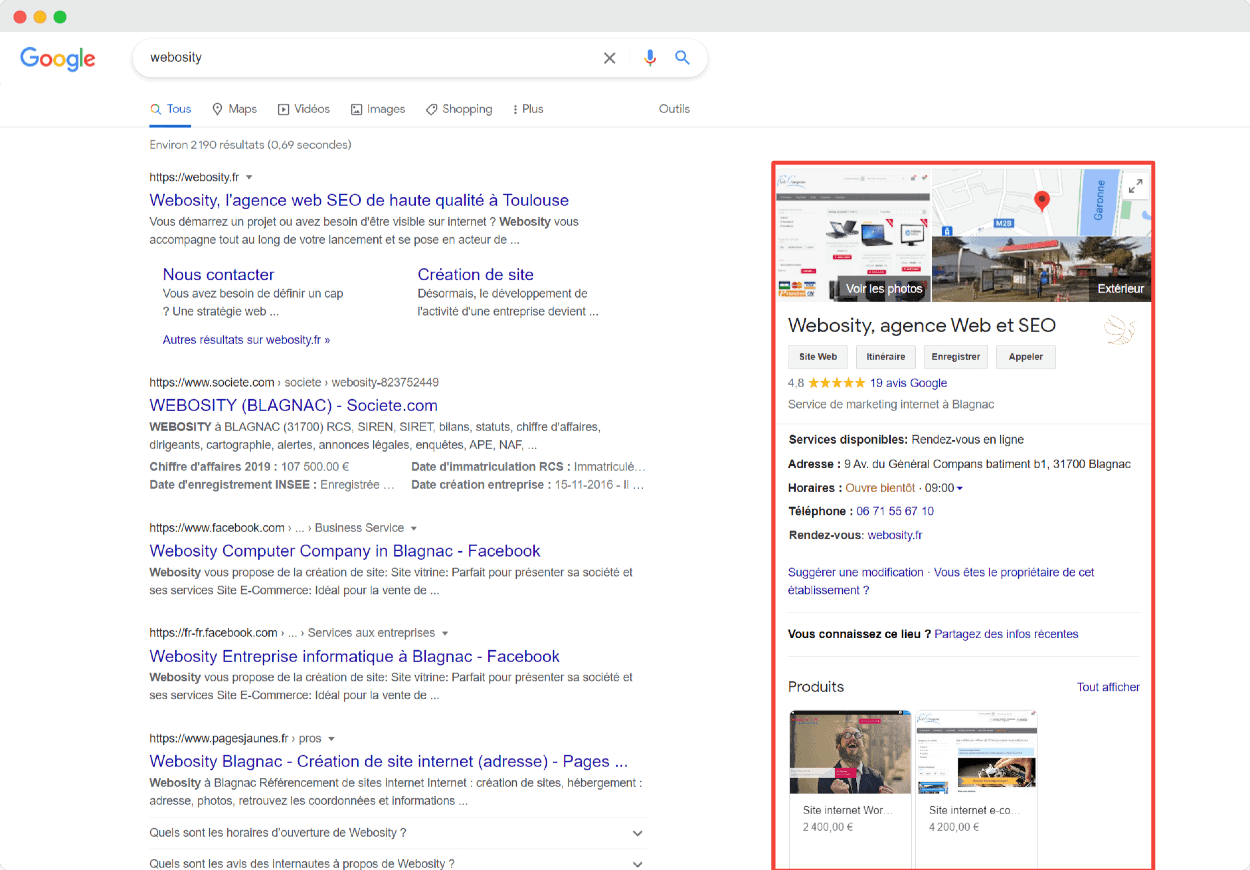 soit accompagné d'autres fiches
dans la recherche standard Google avec le "local pack" :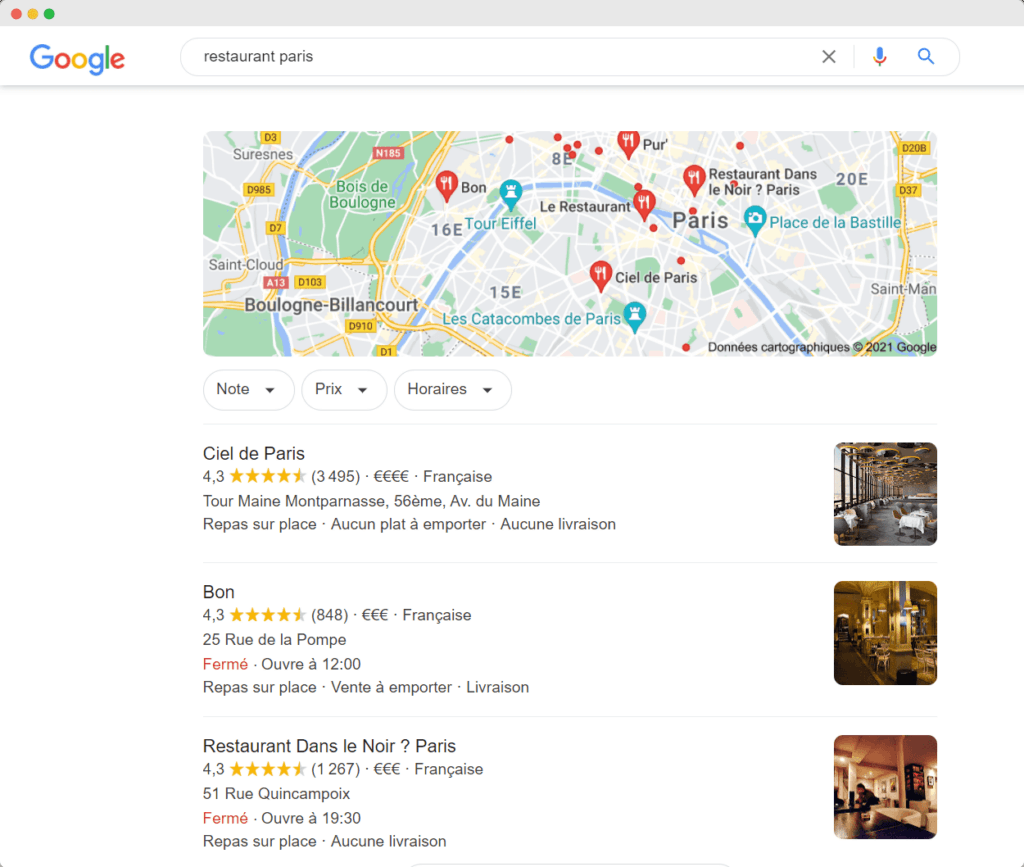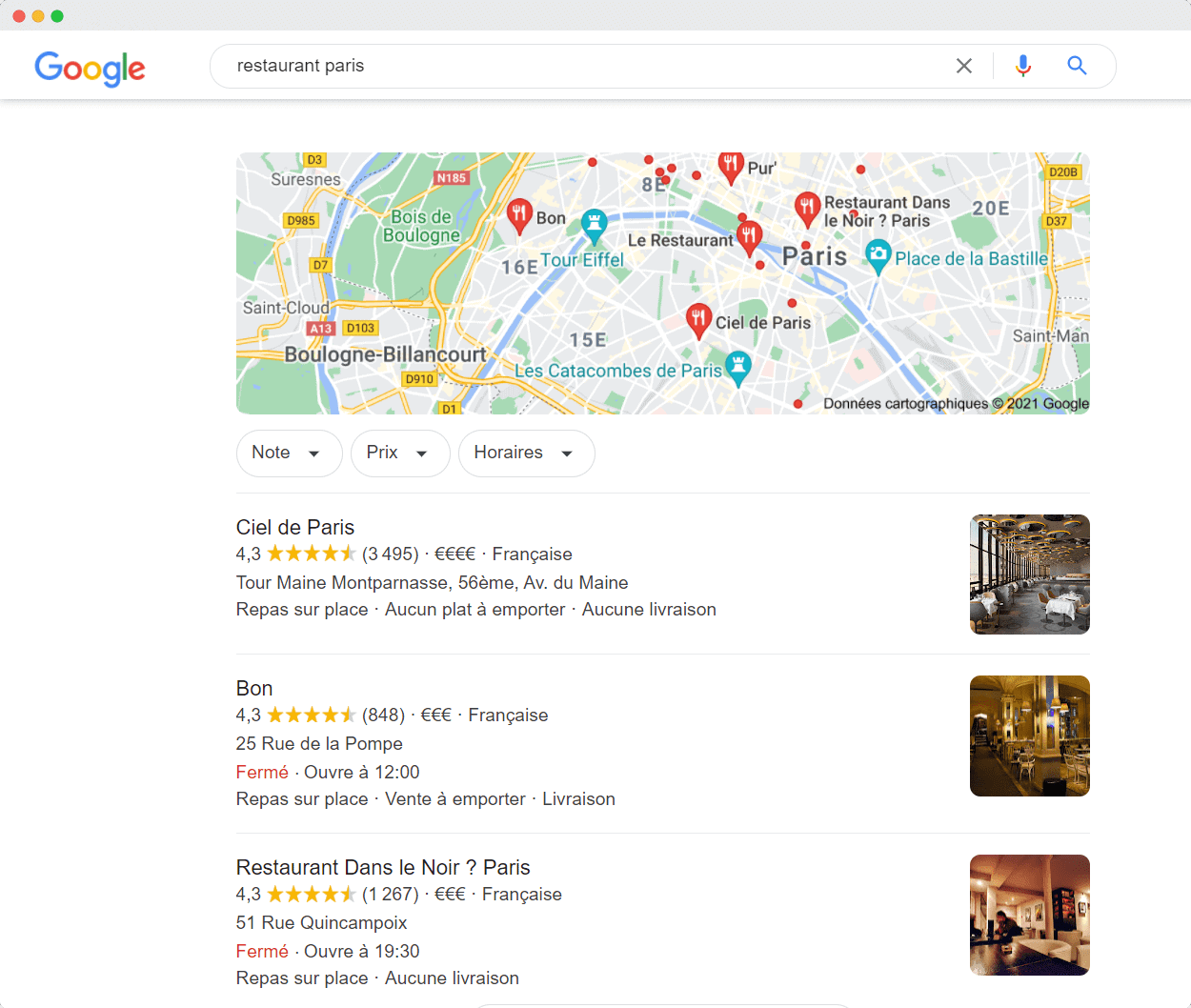 ou dans Google Maps, via navigateur ou via l'application: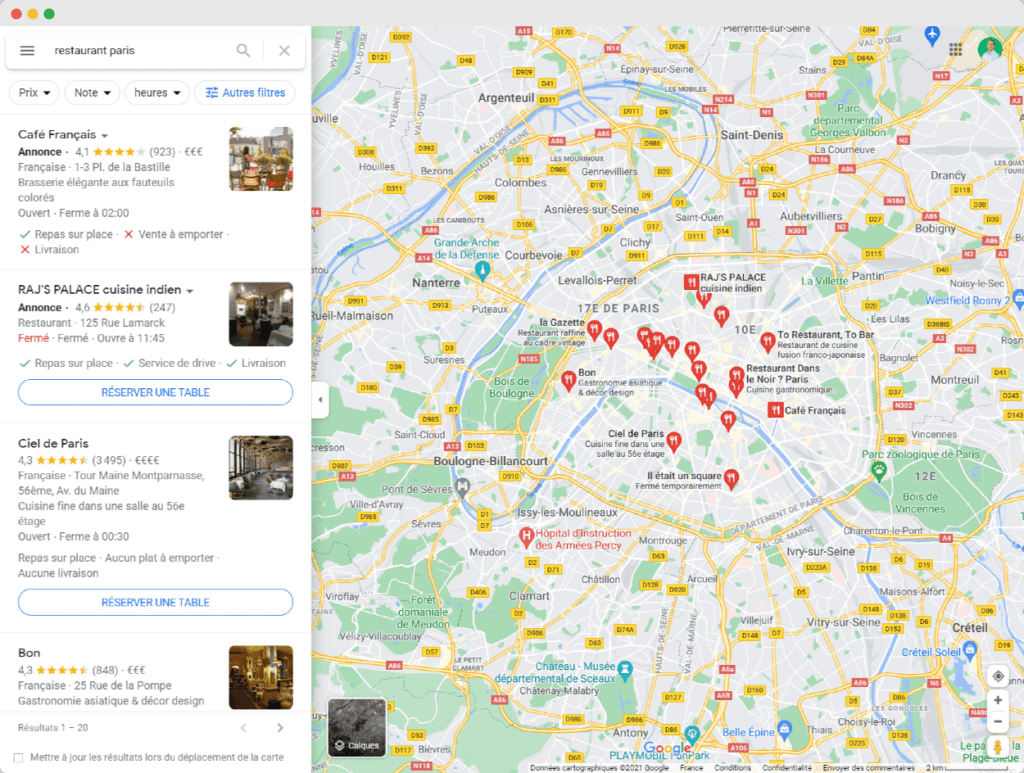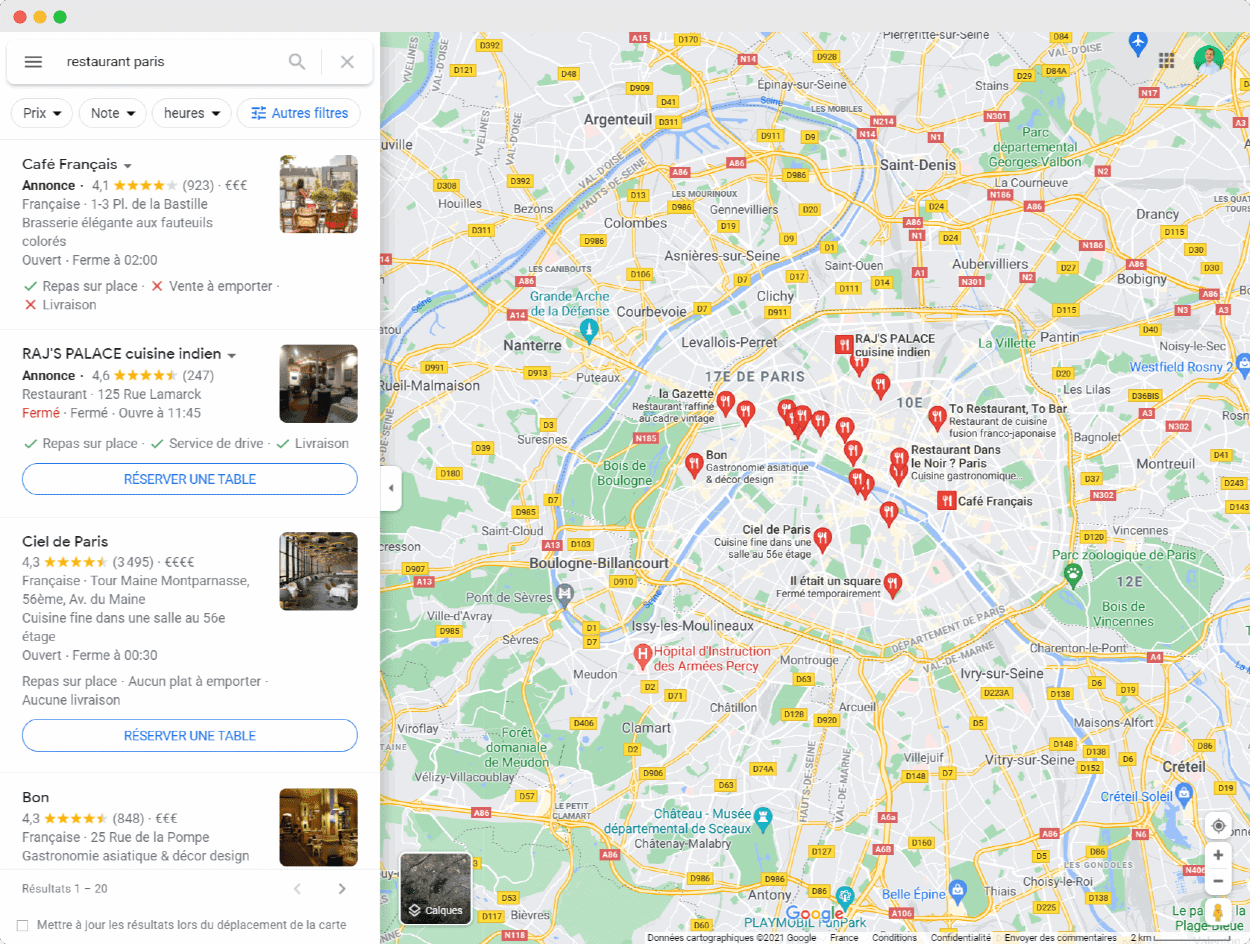 Ainsi Google My Business a différents affichages et est visible sur différents supports. Pour les commerces locaux, il permet d'augmenter leur notoriété locale et pour les internautes, c'est un moyen simple de consulter des informations pratiques.
La force du service est que les consommateurs peuvent interagir avec l'entreprise en laissant des avis et en posant des questions.
Google My Business est 100% gratuit ouvert à toute entreprise, peu importe le secteur d'activité.
Pourquoi créer une fiche GMB pour votre établissement ?
Utiliser une fiche GMB est essentiel pour 4 raisons :
Améliorer votre référencement local
Google utilise votre position géographique (via les données de votre appareil mobile) pour vous proposer des résultats personnalisés et géolocalisés. Ainsi, même une requête générique comme "garage" peut donner lieu à des résultats locaux :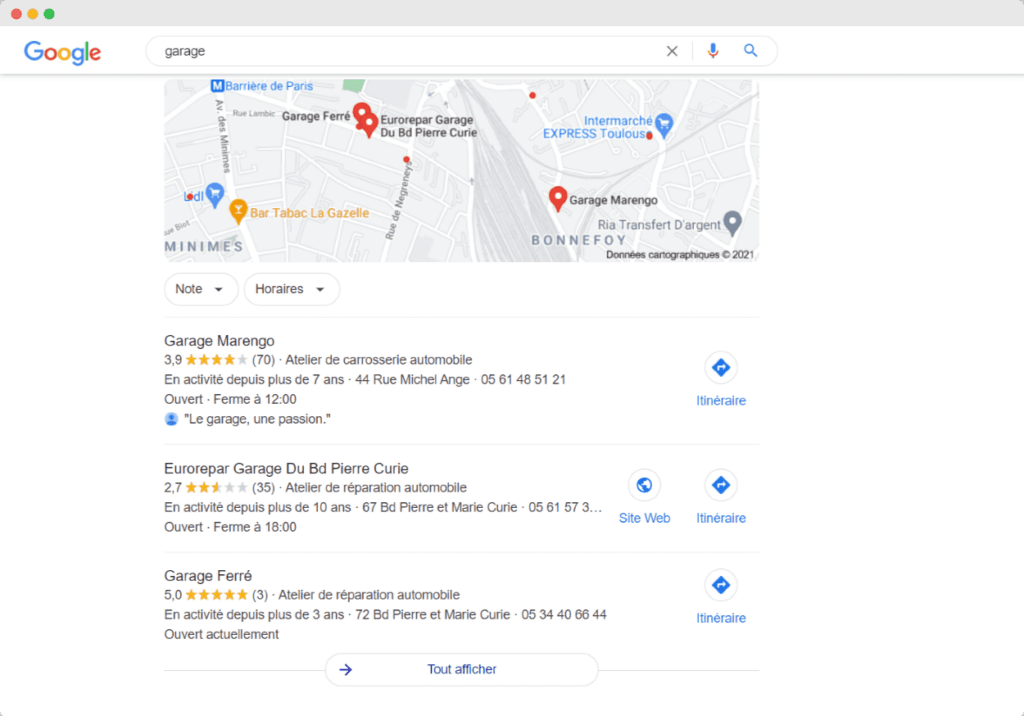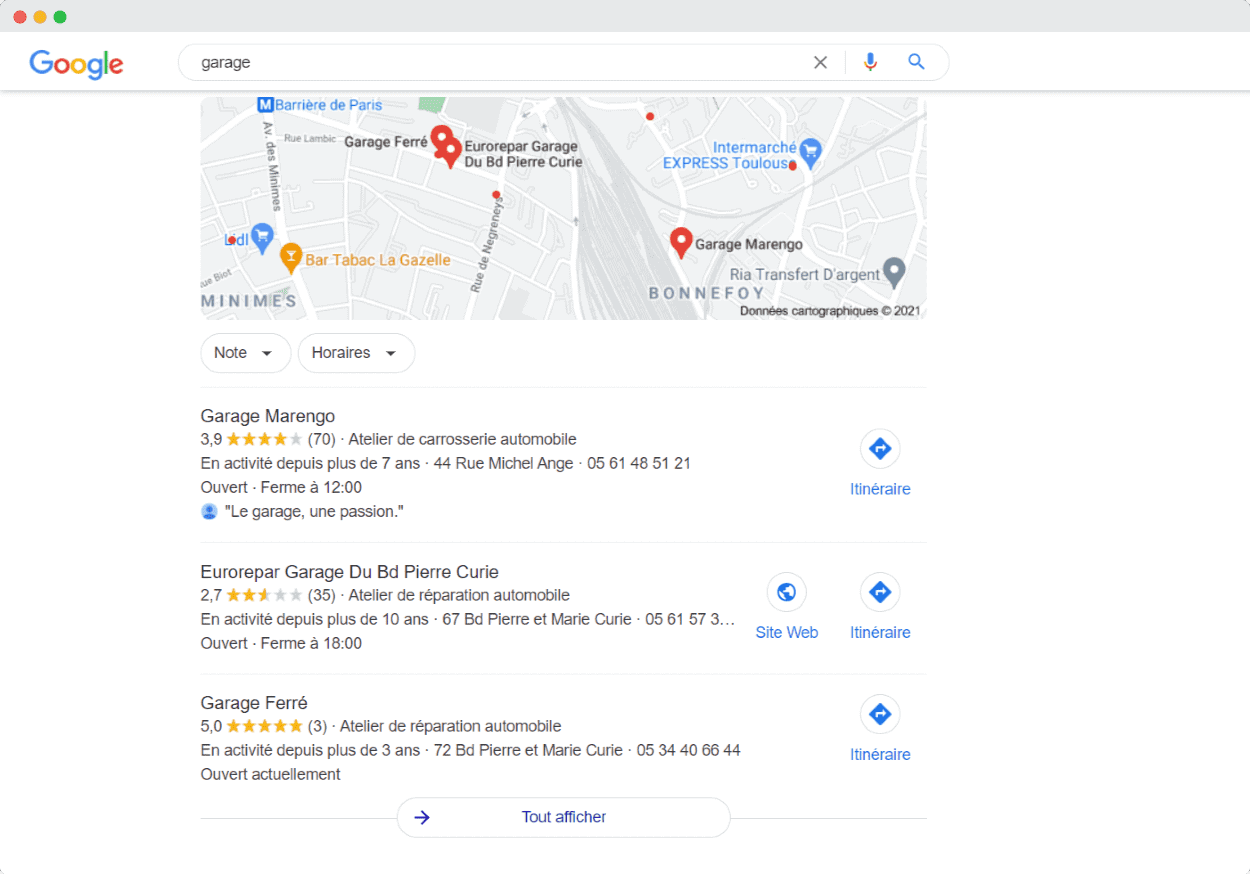 Le moteur de recherche se base principalement sur la fiche GMB pour afficher les résultats notamment sur Google Maps :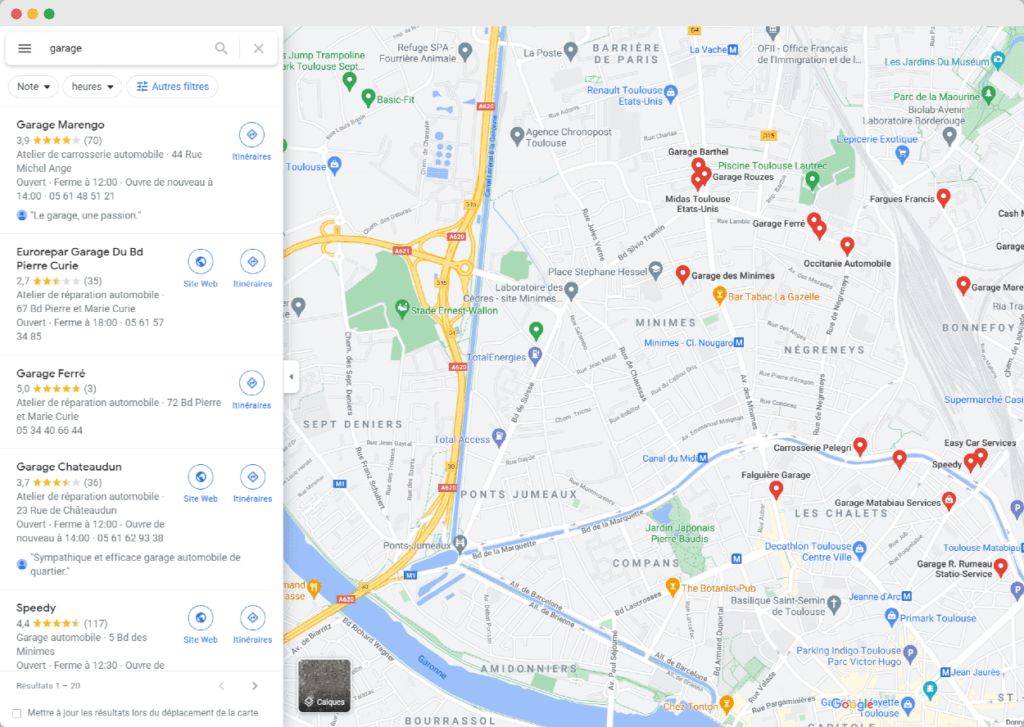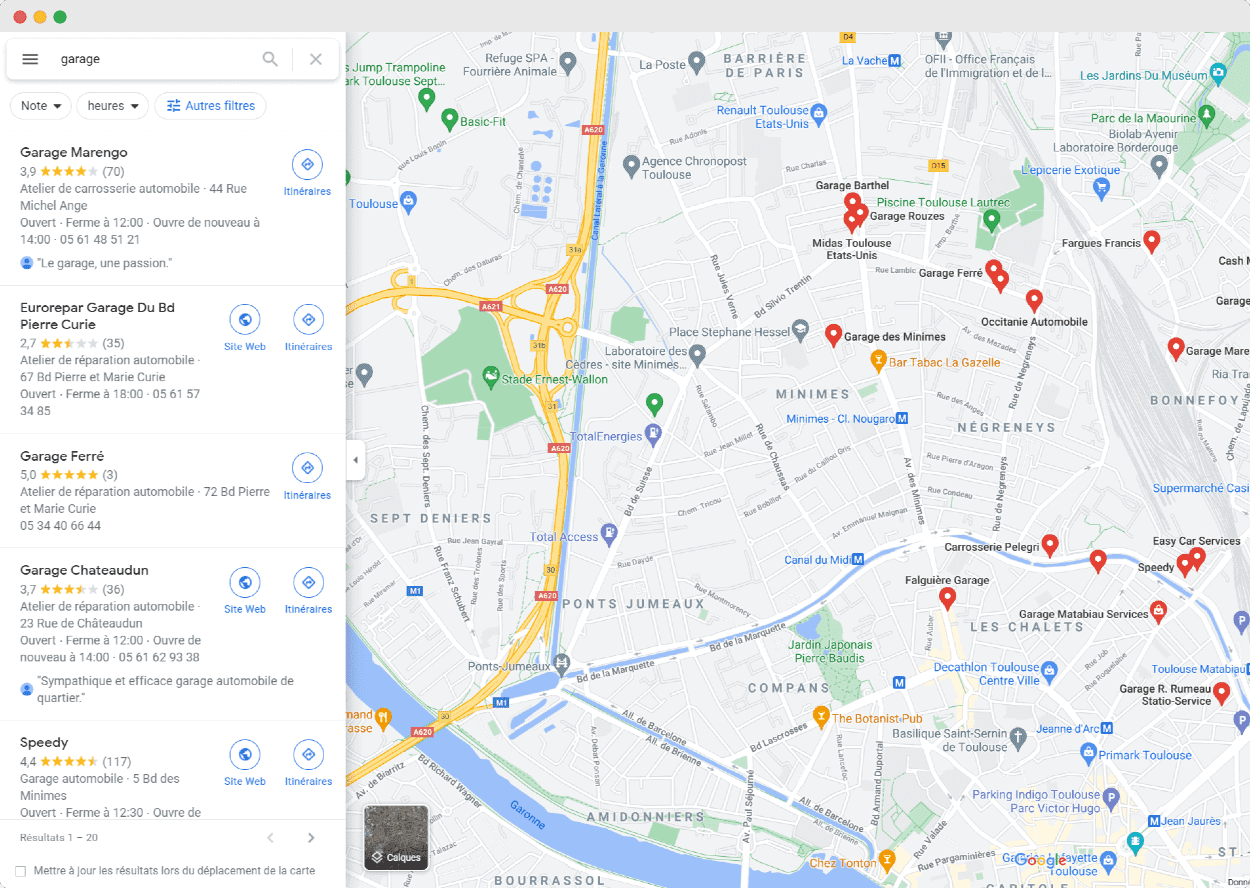 Une fiche complète et à jour vous permet de booster la visibilité de votre business, améliorer votre référencement local et par extension votre chiffre d'affaires.
Par ailleurs, la présence du lien vers votre site web va certainement augmenter votre trafic vers celui-ci.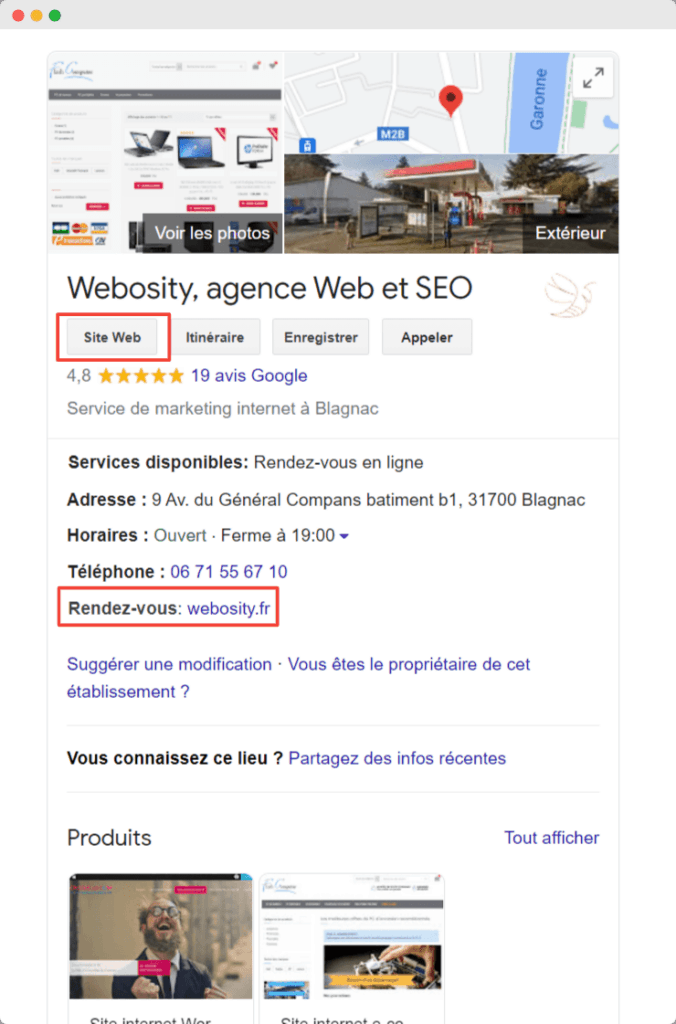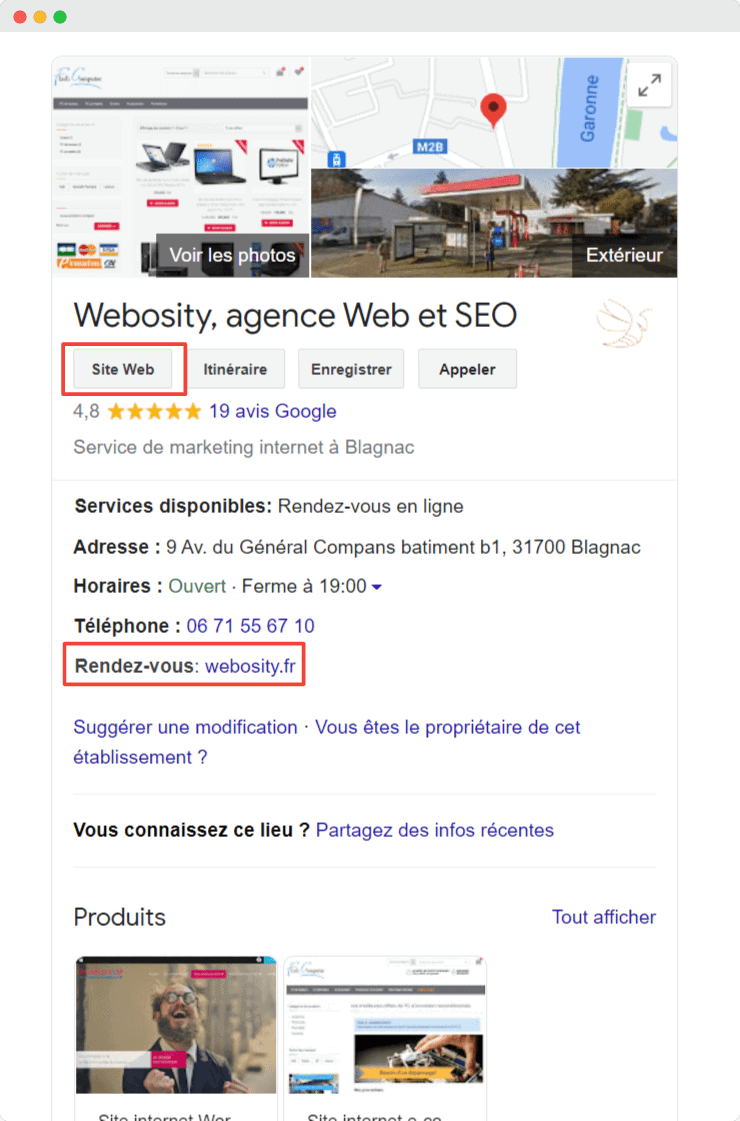 Afficher une bonne image de marque
L'e-réputation est un facteur déterminant pour réussir sur le web.
Une fiche GMB vous donne la possibilité de mettre en valeur votre entreprise à travers:
Des avis clients
Des photos
Des visites virtuelles
Une description claire de votre offre
Un levier efficace pour mettre en place une stratégie web to store
Selon Google, 76 % des internautes ayant effectué une recherche locale visitent les locaux de l'entreprise trouvée dans la journée.
Le Web to Store est désormais entré dans les habitudes des consommateurs actuels. La fiche Google My Business est le premier point de contact avec votre établissement. Un maximum d'informations pratiques ainsi que des avis clients positifs seront très efficaces pour attirer de la clientèle.
Un moyen d'amélioration continue
Vos clients peuvent laisser des avis et poser des questions. Ces informations sont très pratiques pour évaluer la "santé" de votre business.
Que disent les avis négatifs ? Quelles questions reviennent le plus souvent ? Quels sont les points de satisfaction ? Autant d'éléments qui vous permettront d'améliorer votre offre en permanence.
Comment créer une fiche Google My Business ?
La création d'une fiche Google My Business se fait en quelques étapes simples.
Voici comment vous inscrire au service :
Rendez-vous sur la page d'accueil puis cliquez sur "Gérer mon profil"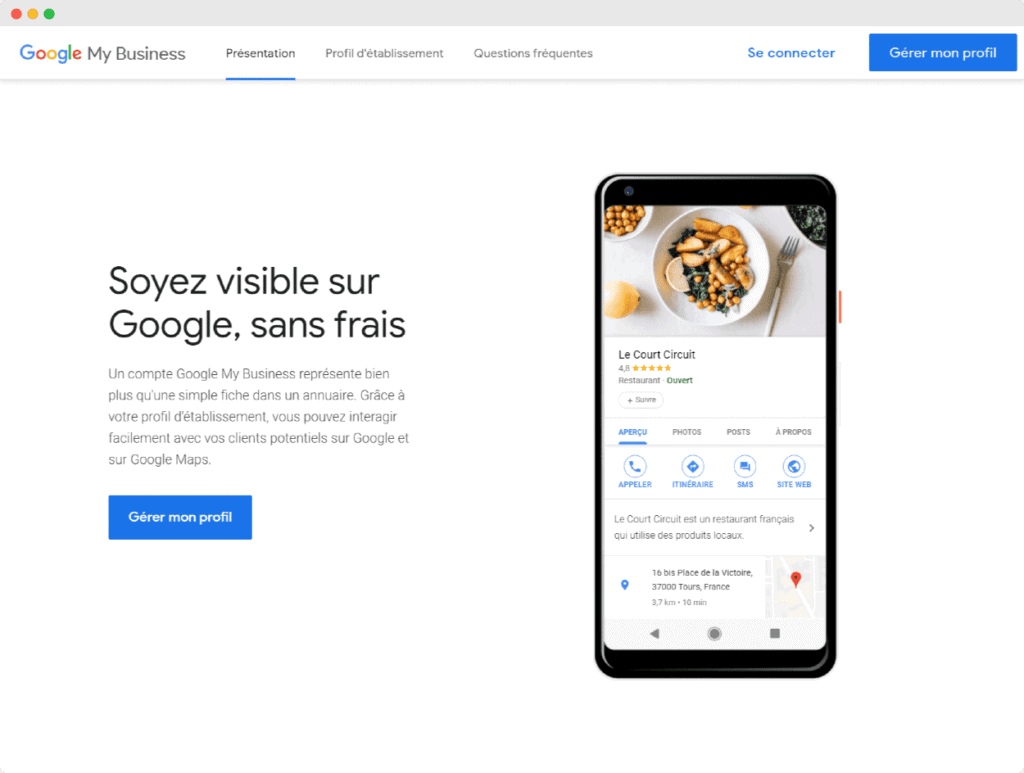 2. Rentrez ensuite votre adresse Gmail ou créez votre compte si vous n'en avez pas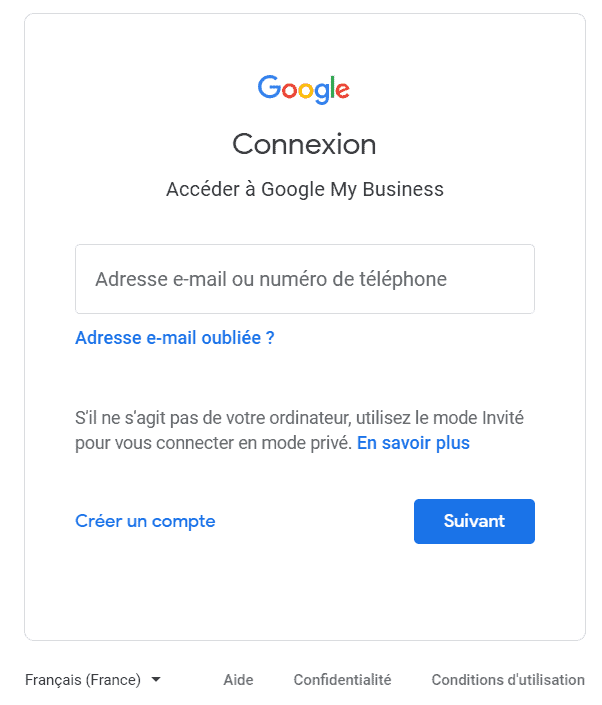 3. Pour finir, remplissez toutes les informations demandées : nom de votre entreprise, horaires, adresse…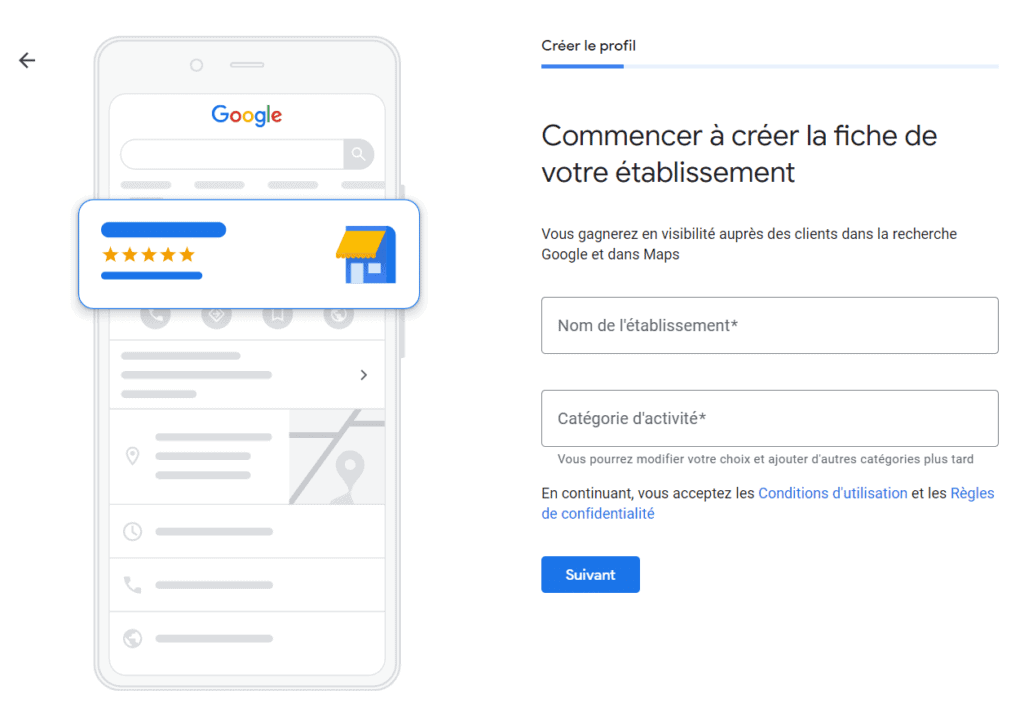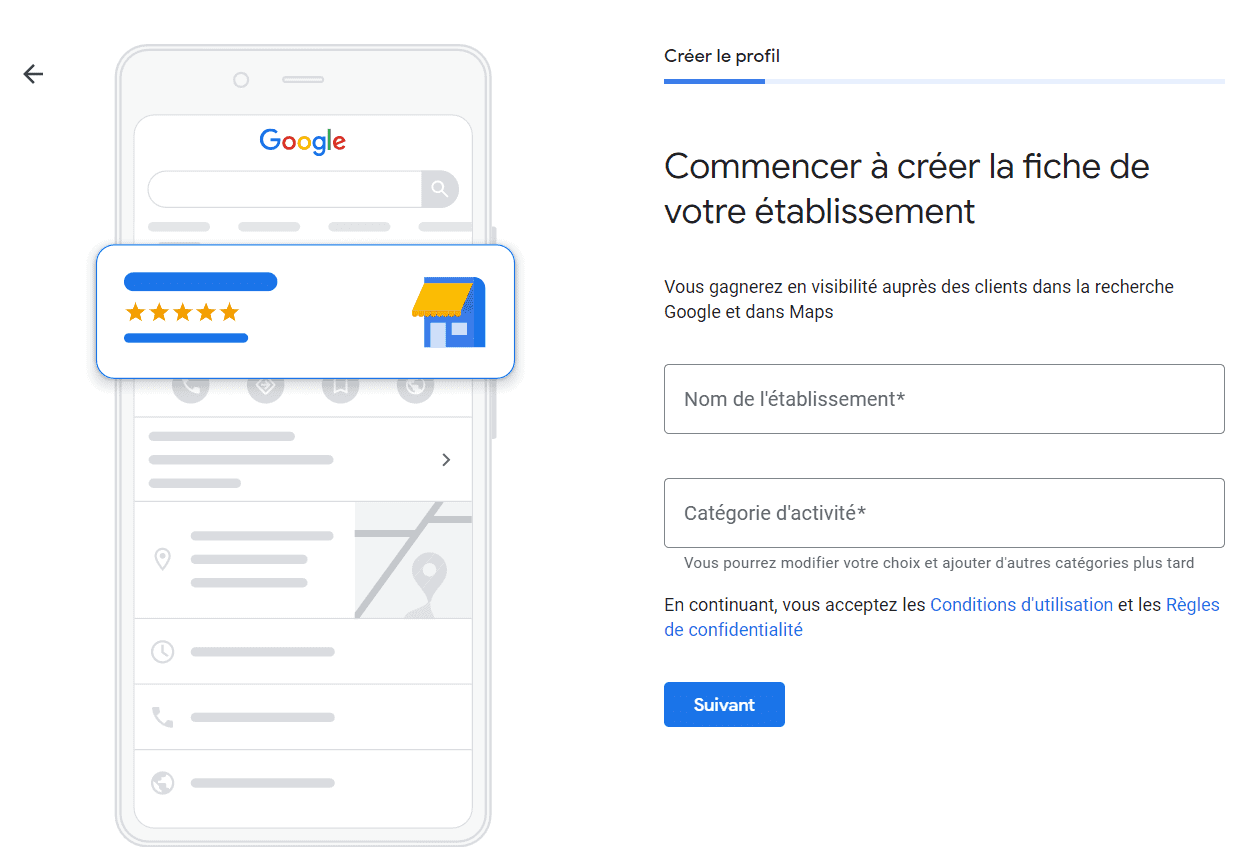 En cas de difficulté, vous pouvez consulter cette page d'aide de Google.
Le choix de la catégorie : précisions
Le choix de la catégorie est un point particulièrement important et peut être pénalisant pour votre référencement en cas d'erreur.
Vous devez tout d'abord choisir une catégorie principale qui doit être votre activité première. Si vous pratiquez plusieurs métiers (par exemple, un pompier chauffagiste), choisissez celui que vous exercez le plus.
En cas de doute, vous pouvez vérifier les catégories principales de vos principaux concurrents :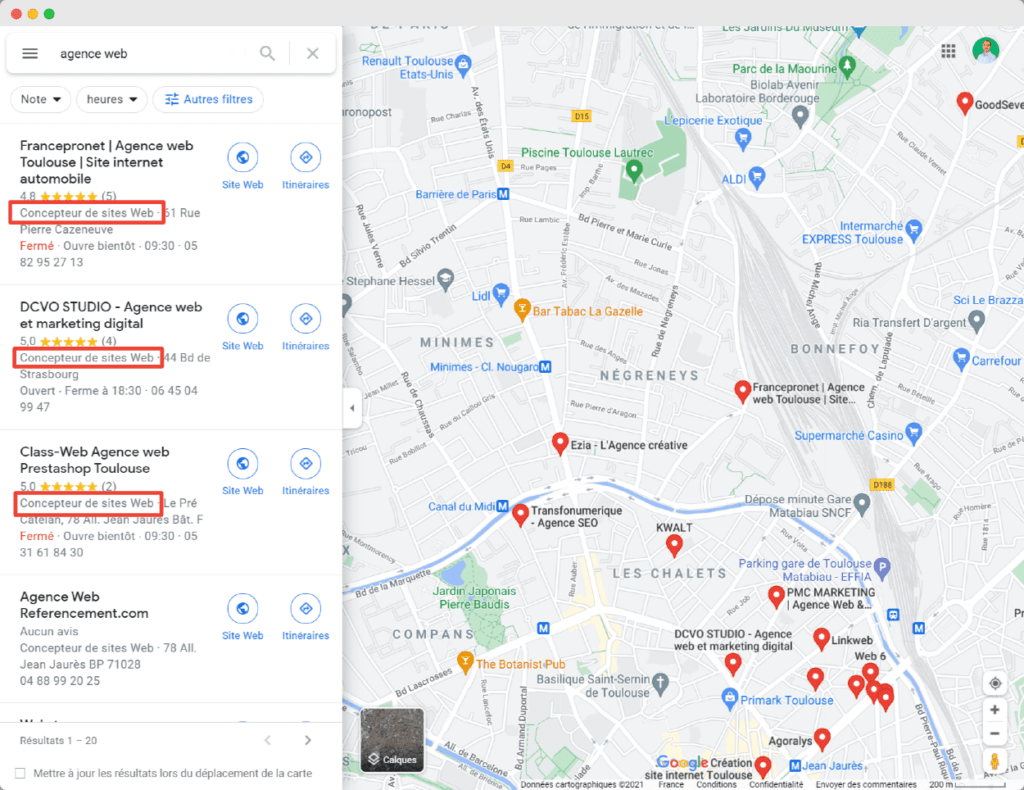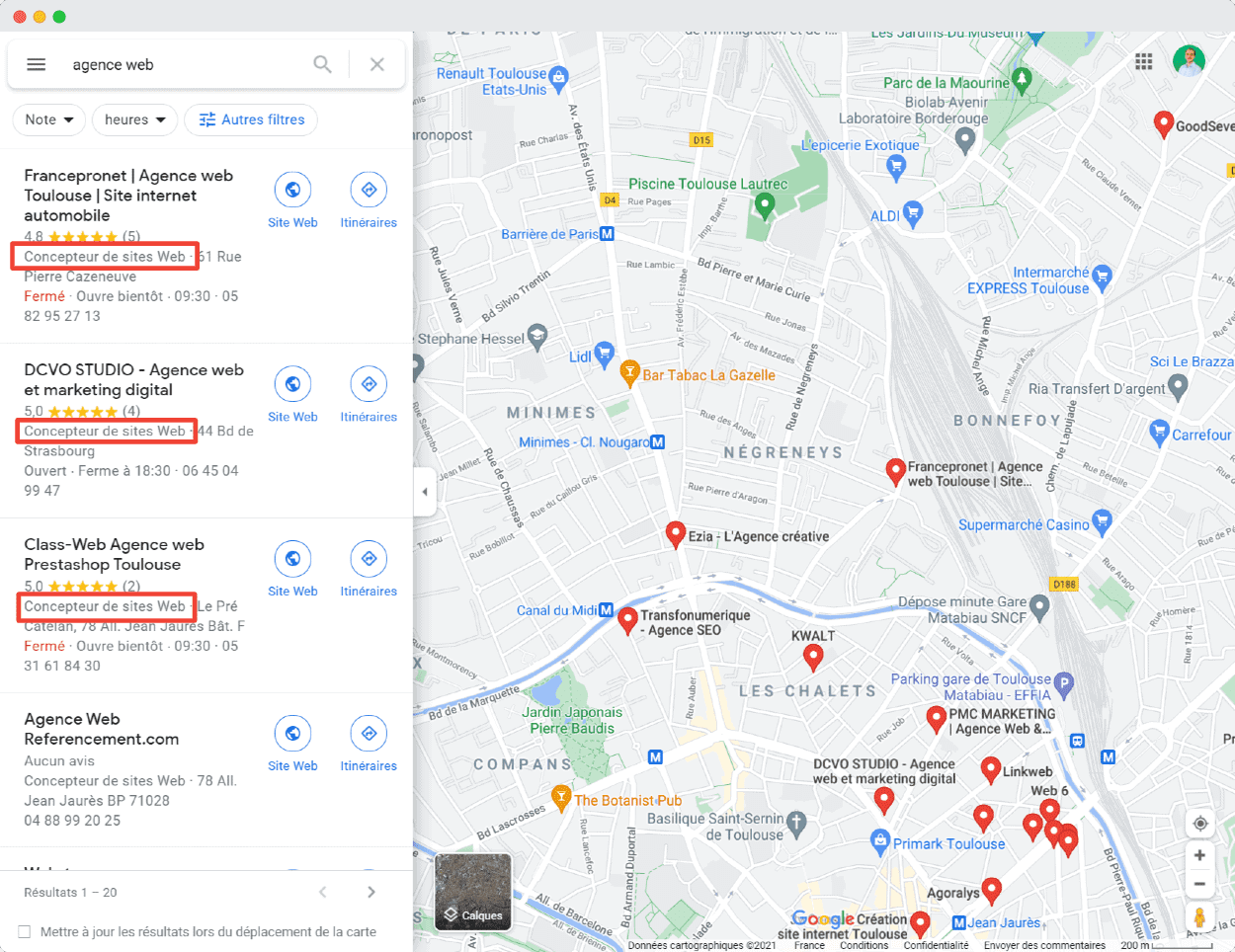 Il est également très conseillé d'indiquer des catégories secondaires (jusqu'à 9 choix possibles)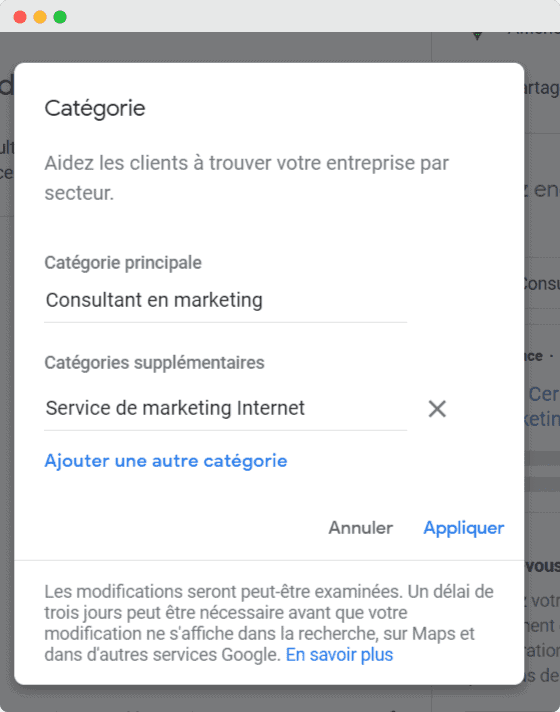 Les principales fonctionnalités de Google My Business
Google Post
Le post Google est une fonctionnalité qui permet à la manière d'un poste de réseau social de communiquer sur l'actualité de votre entreprise. Annonce d'un événement, promotion, nouveautés… différents types d'annonces sont possibles.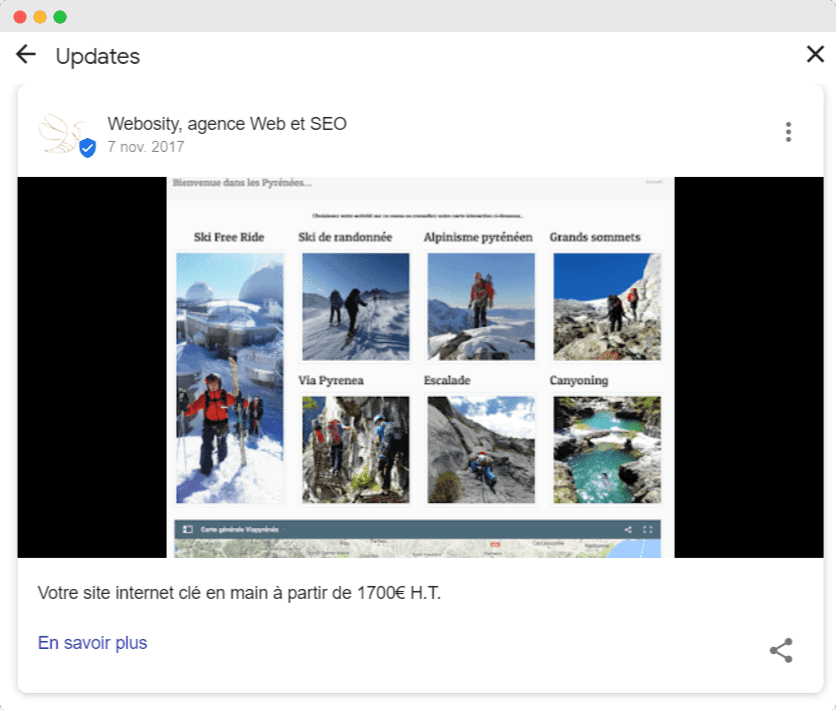 Publier des posts a des avantages notables :
Vous suscitez l'intérêt de vos clients potentiels
Vous envoyez un très bon signe à Google qui vous donnera un bonus de référencement
Vous utilisez un canal gratuit et peu concurrentiel pour promouvoir vos offres
Vous pouvez créer un post depuis votre espace professionnel depuis l'onglet "Posts"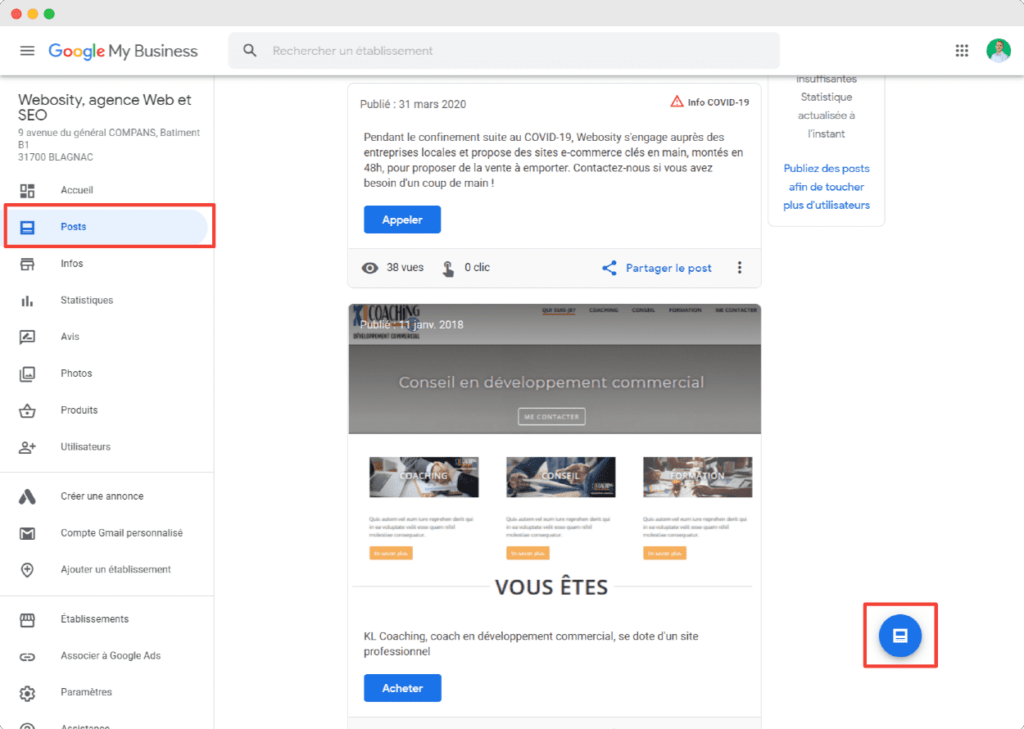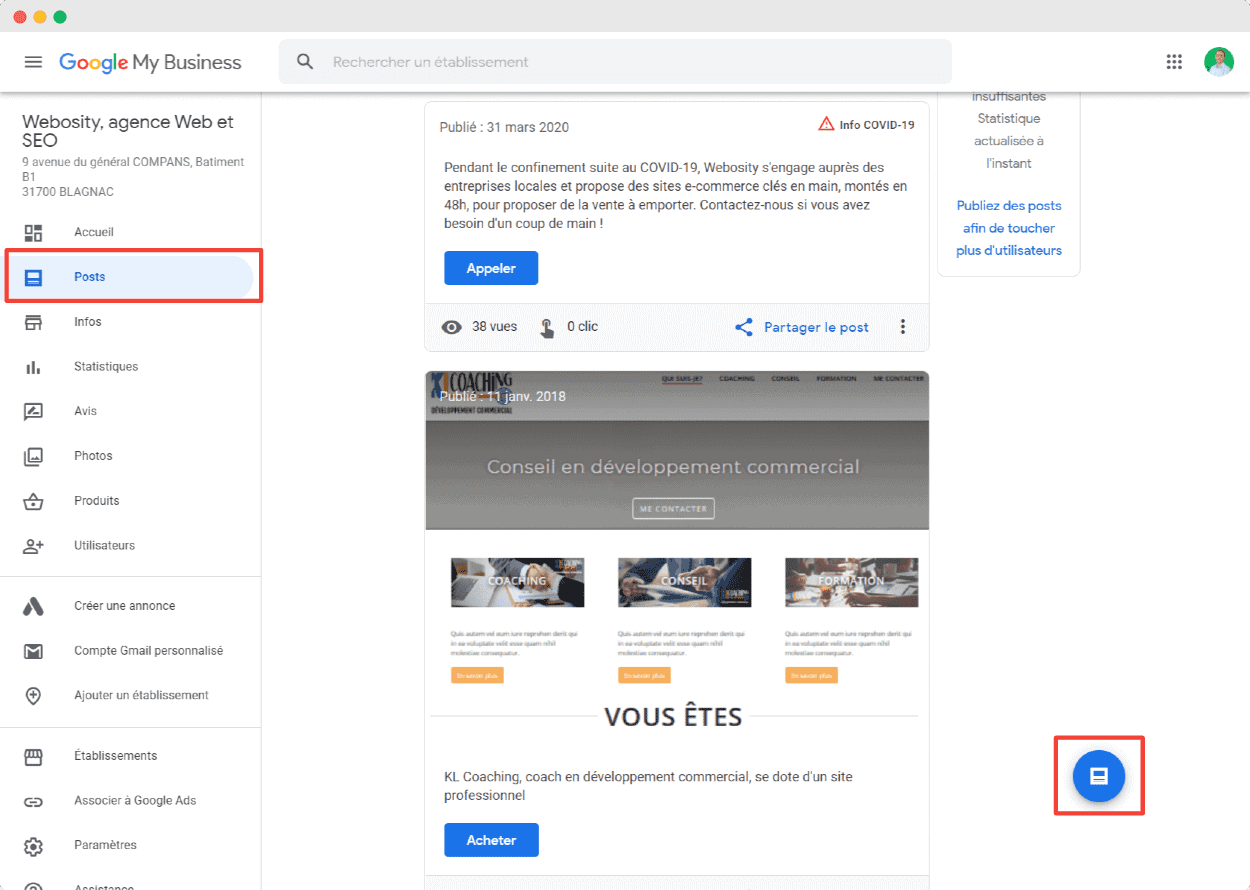 Onglet infos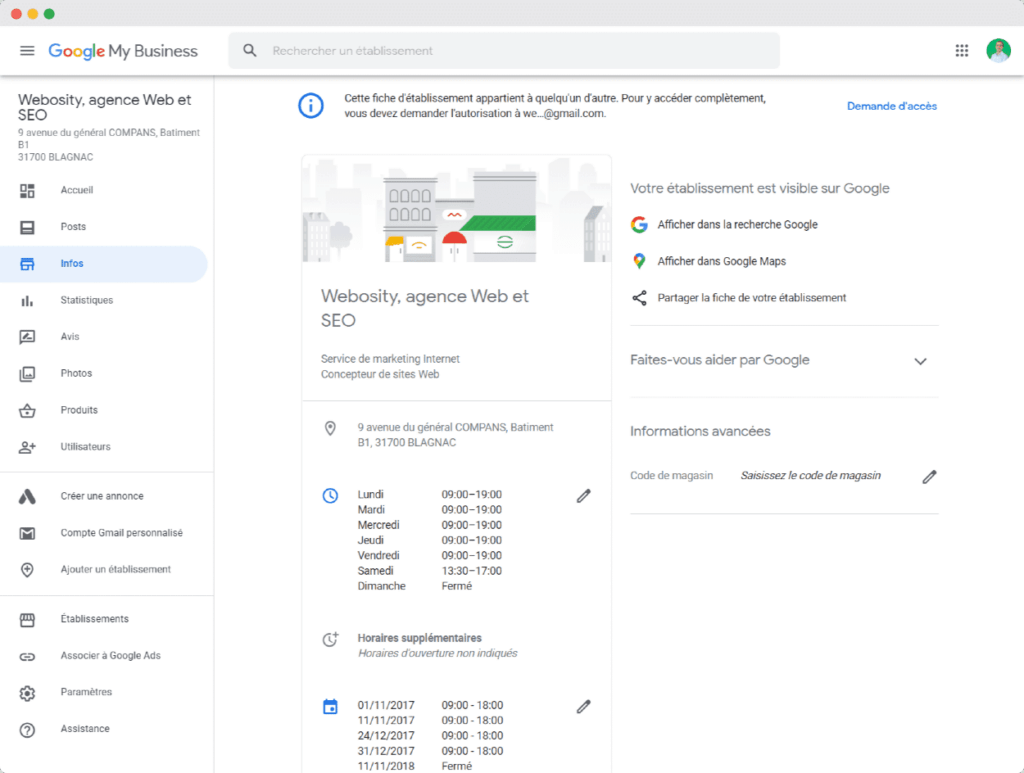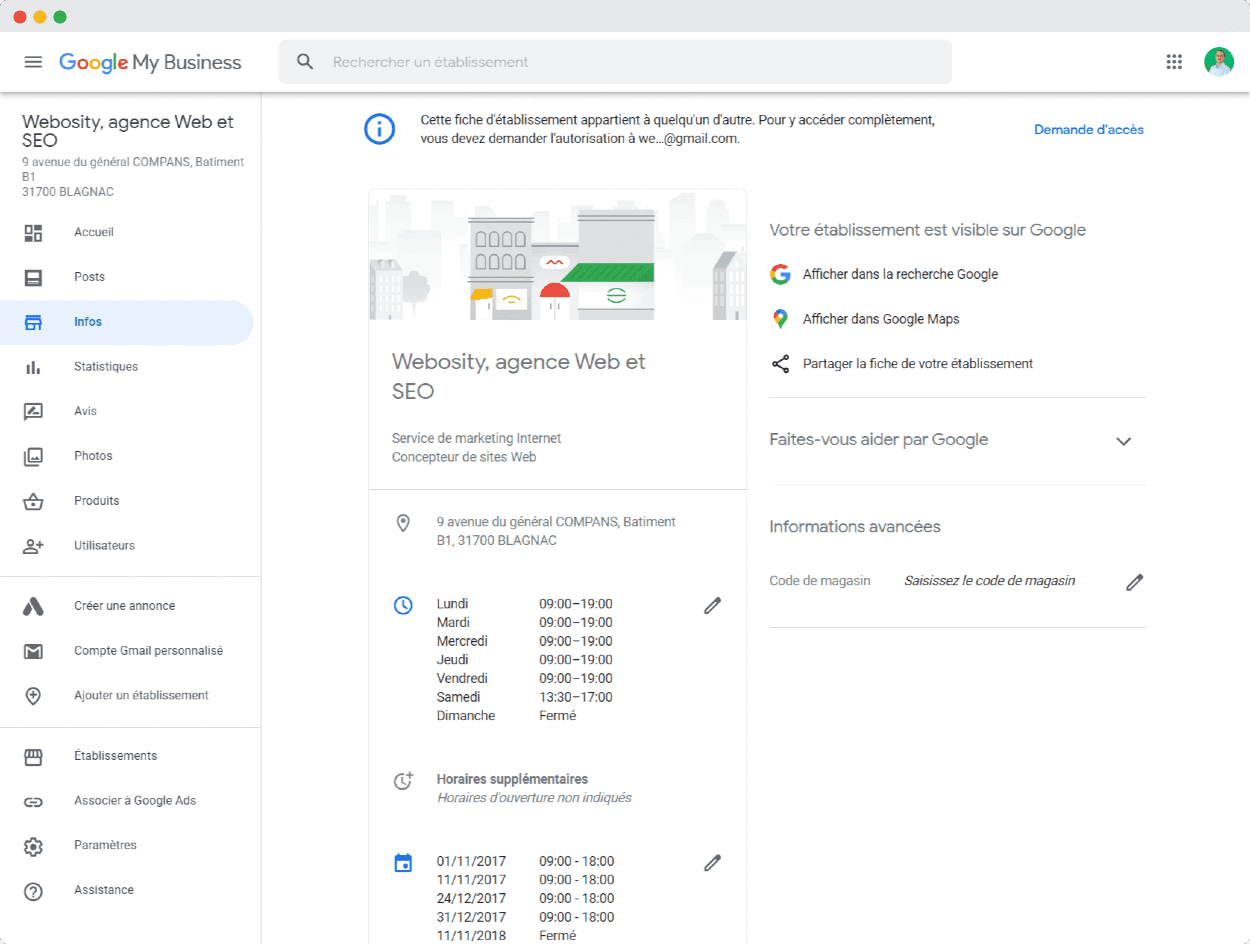 C'est ici que vous pouvez remplir les informations essentielles relatives à votre établissement :
Adresse
Horaires
Identifiant
Site internet
Téléphone
Description de l'entreprise
Services fournis
Il est très important de remplir l'intégralité des informations demandées.
Onglet statistiques
Vous pouvez consulter ici de nombreuses données très utiles pour comprendre comment vos clients vous trouvent et interagissent avec votre fiche.
Vous pouvez ainsi analyser les modes de recherche :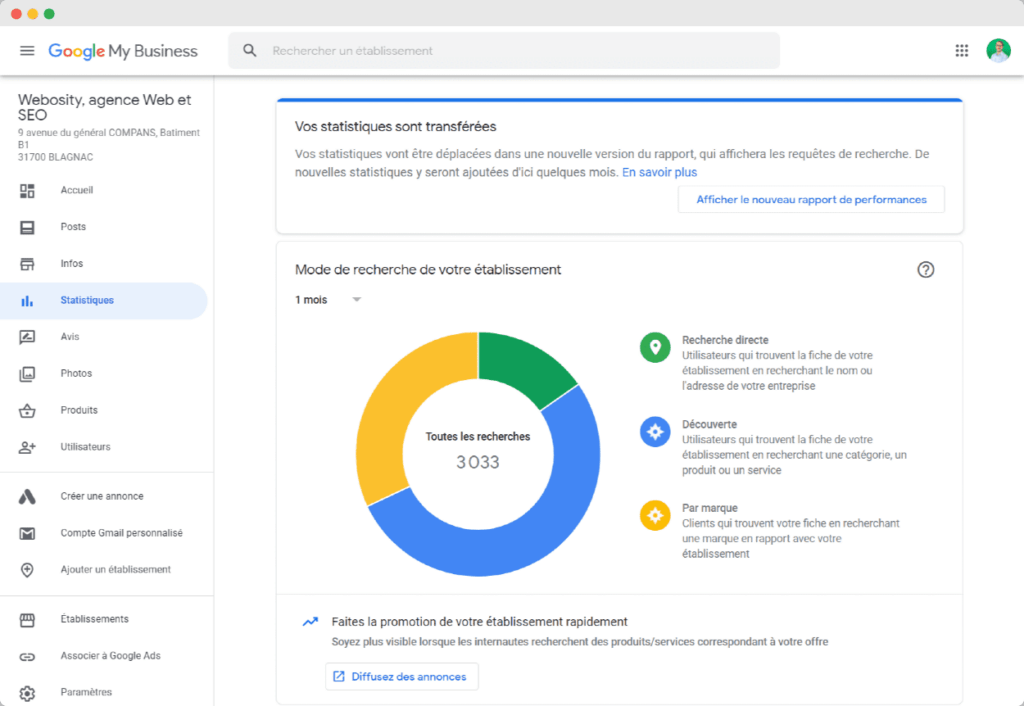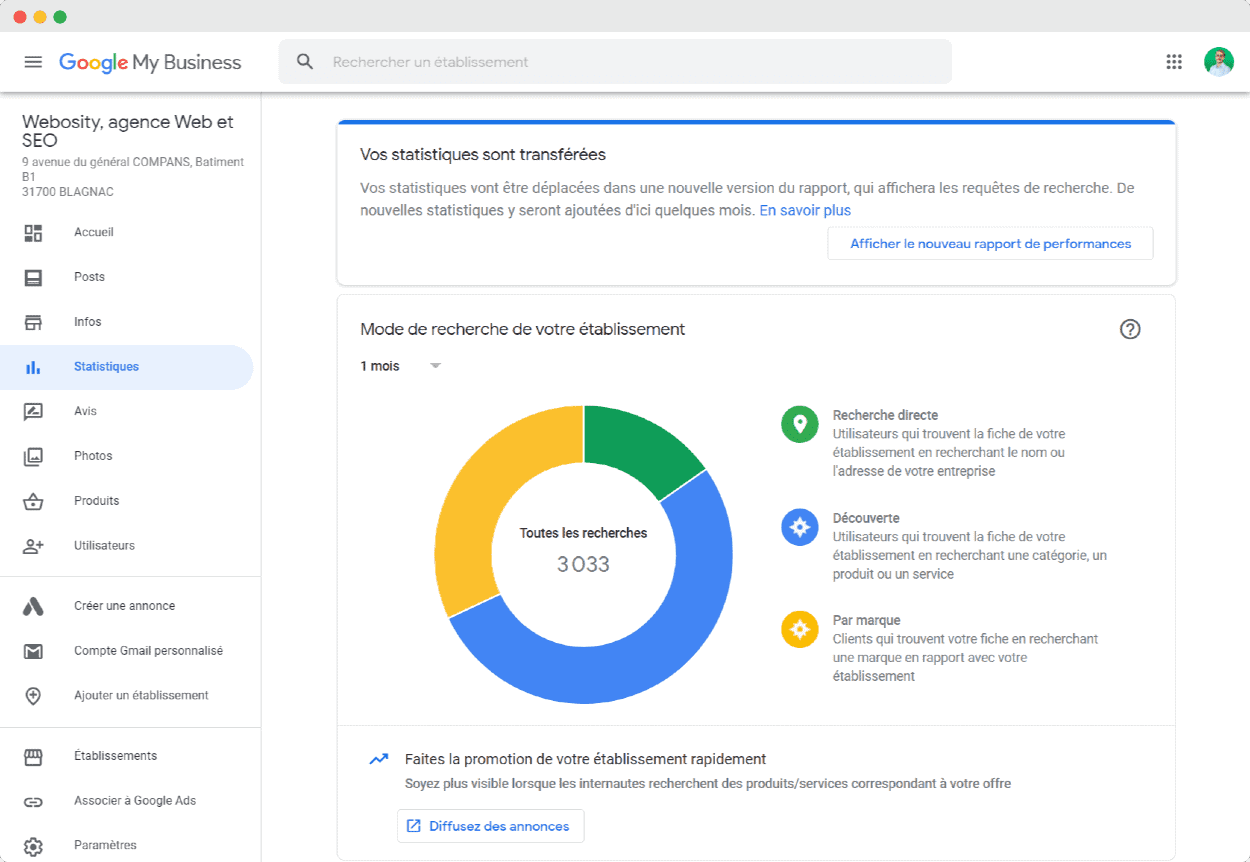 Où est affichée votre fiche :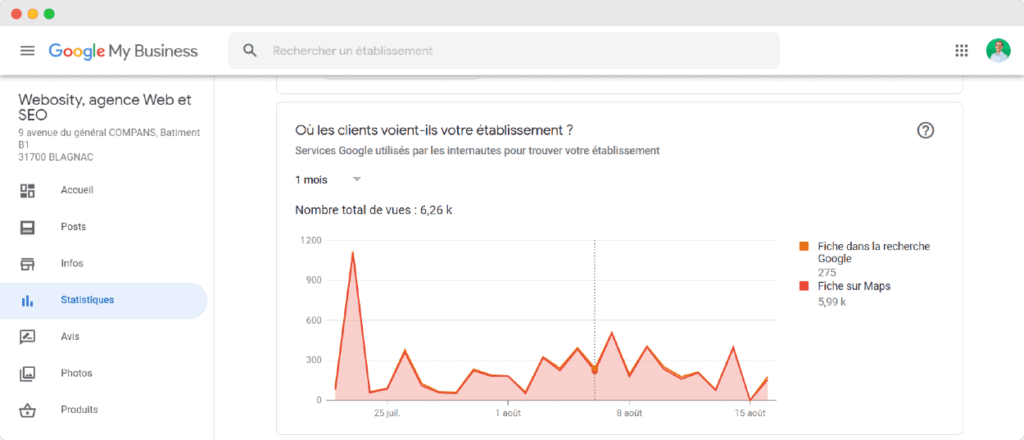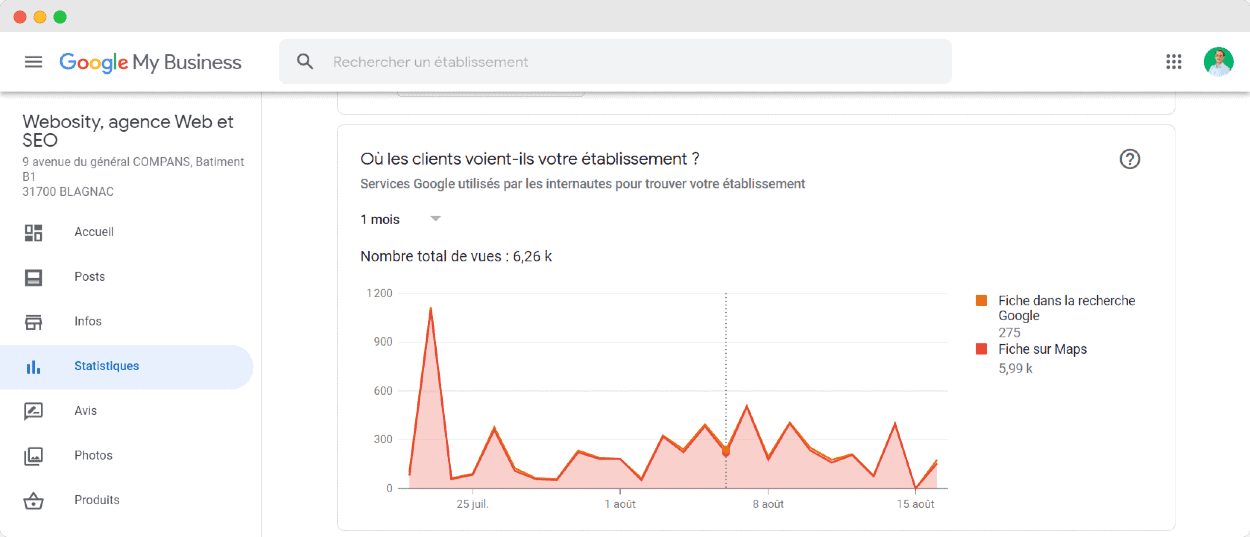 Comment vos clients ont interagi avec votre établissement :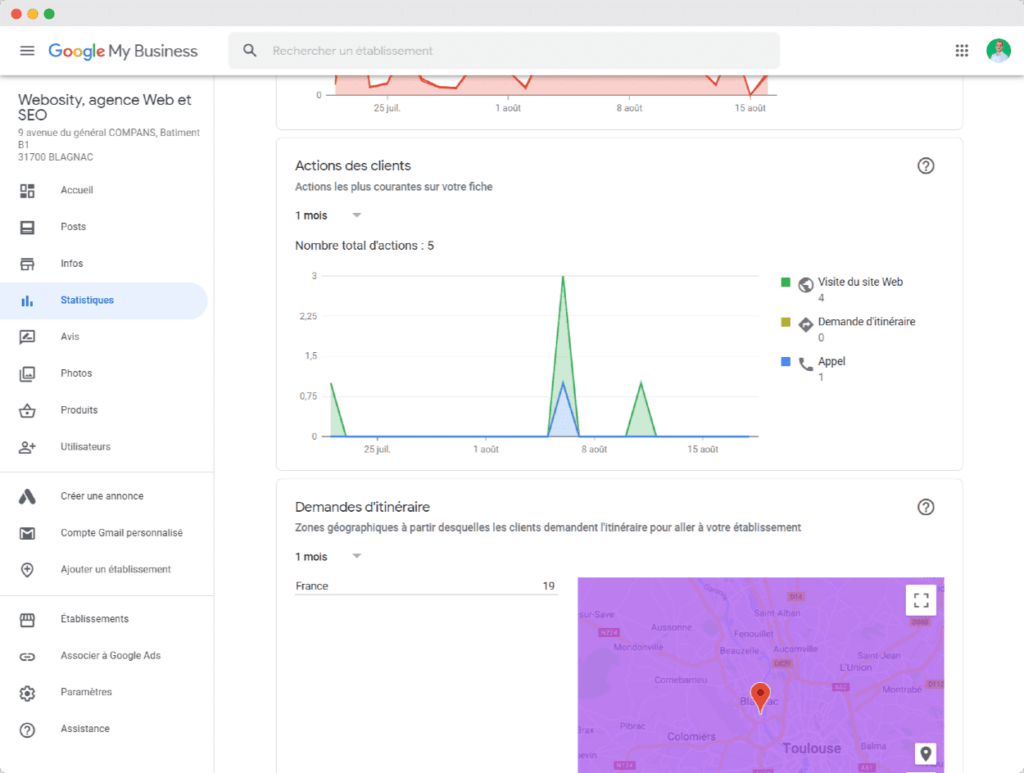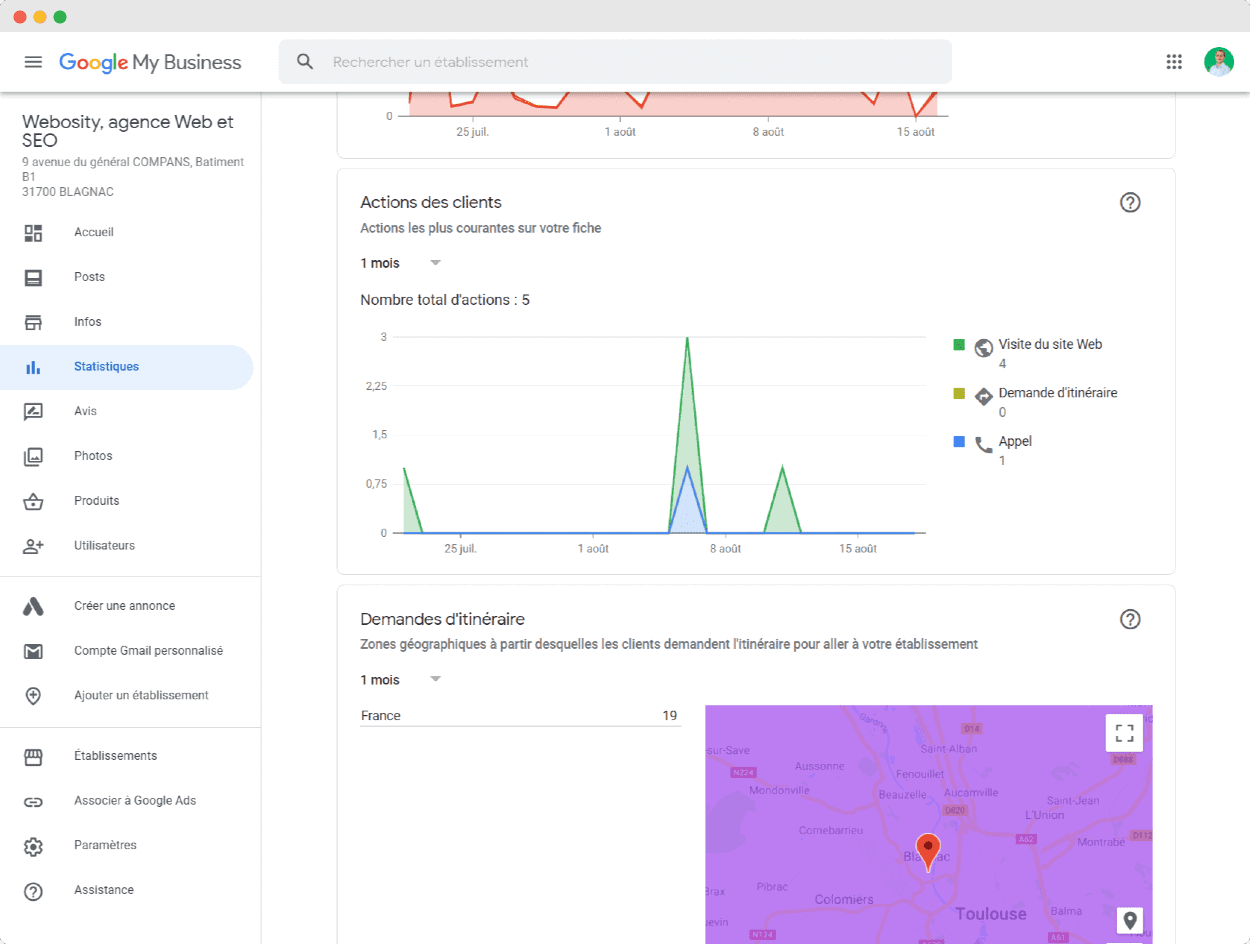 Et des statistiques sur vos photos :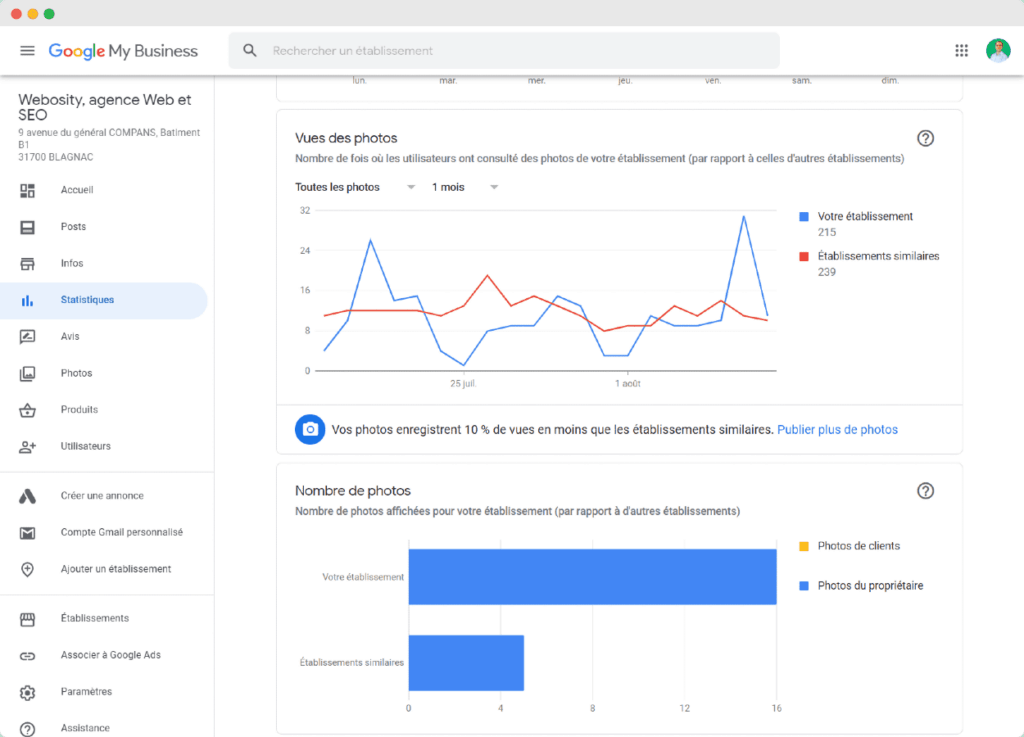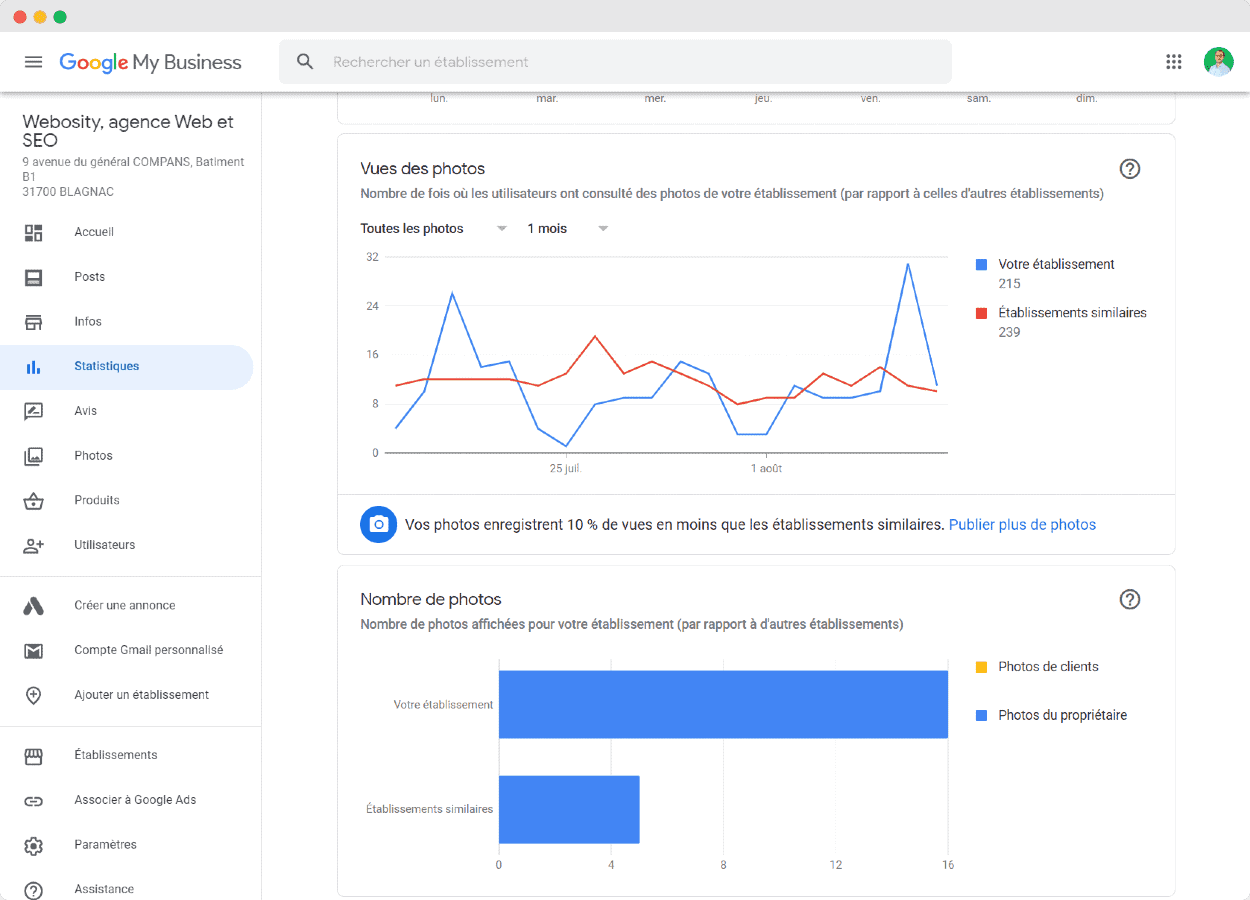 Avis clients
Cet onglet regroupe tous les avis que vous avez reçus.
Vous pouvez trier par dates, notes décroissantes ou croissantes :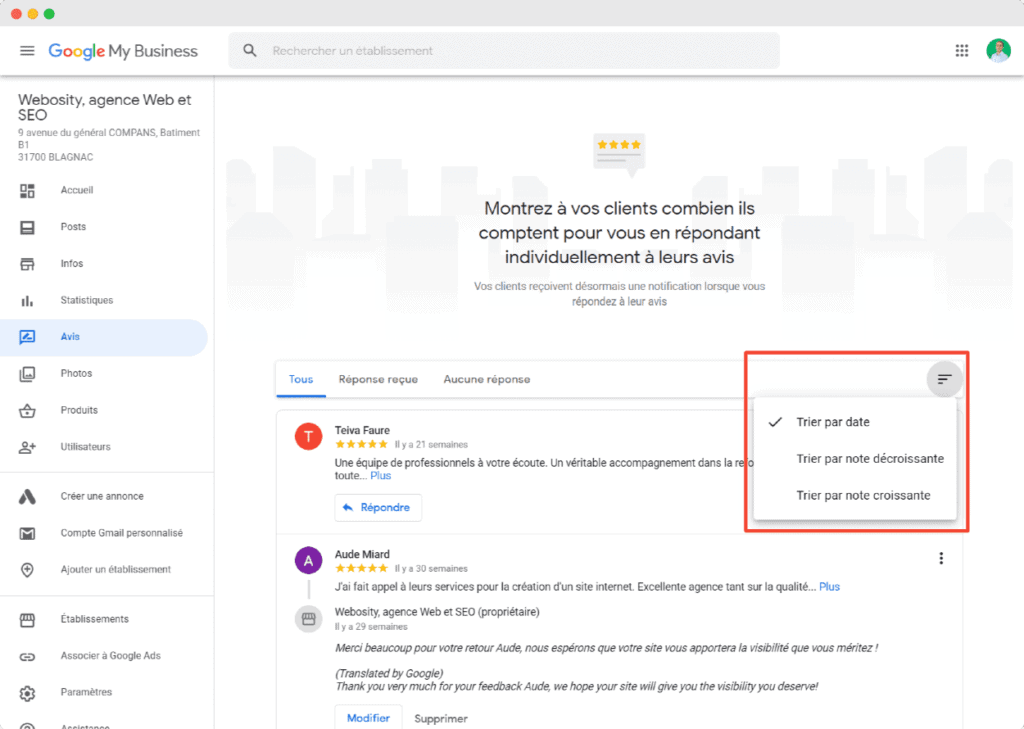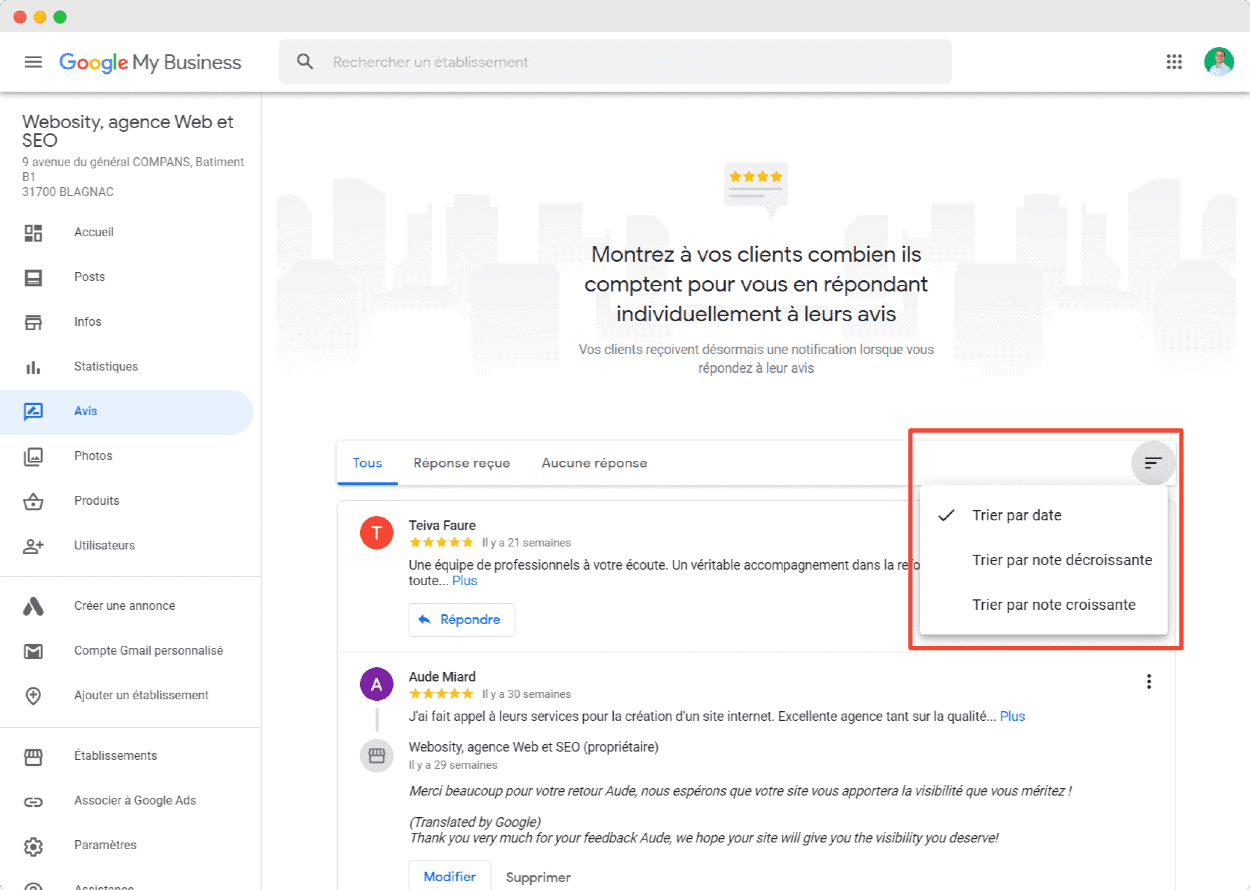 Photos
Vous pouvez ajouter de nombreuses photos et vidéos pour mettre en valeur vos locaux.
Il est possible de télécharger votre logo ainsi qu'une image de couverture.
Voici les recommandations de Google quant aux formats des photos :
Format : JPG ou PNG.
Taille : entre 10 ko et 5 Mo.
Résolution recommandée : hauteur de 720 pixels et largeur de 720 pixels.
Résolution minimale : hauteur de 250 pixels et largeur de 250 pixels.
Pour les vidéos :
Durée : Jusqu'à 30 secondes
Taille du fichier : Jusqu'à 75 Mo
Résolution : 720p ou plus
Nous vous conseillons de varier vos visuels et d'intégrer des photos d'extérieur, d'intérieur et de votre équipe.
Produits
Vous pouvez ajouter votre liste de produits ou services à cet endroit. C'est un très bon moyen de décrire votre offre.
Pensez à bien compléter toutes les informations demandées :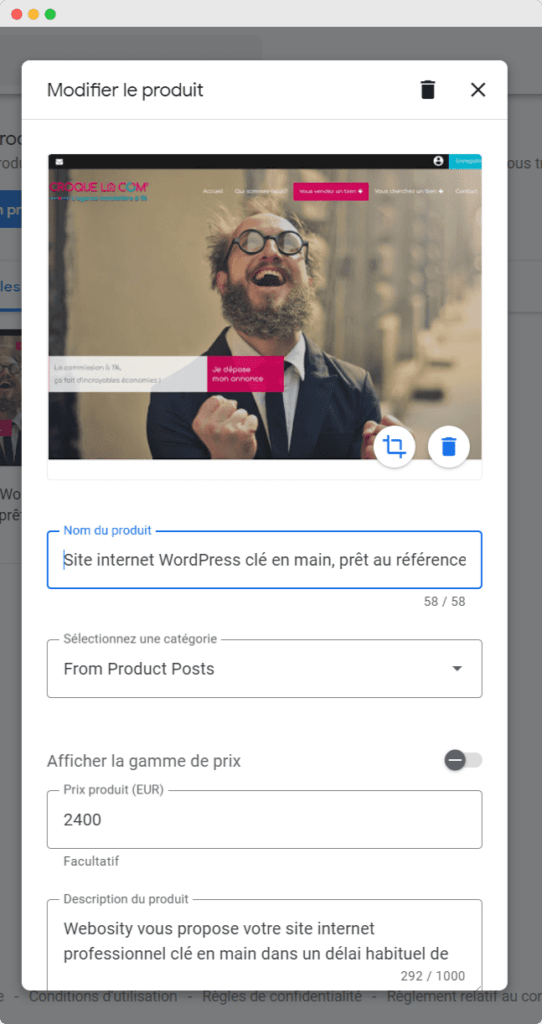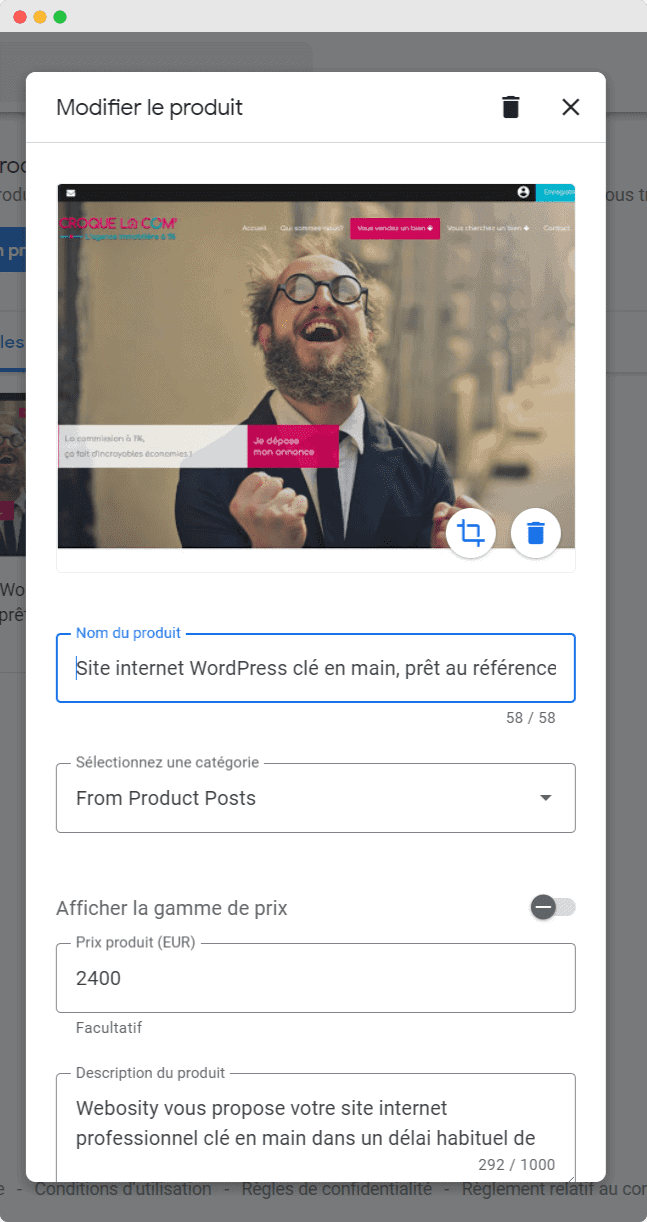 Focus sur les avis clients
Selon un sondage mené par l'IFOP, 88% des consommateurs consultent des avis en ligne avant de passer à l'acte d'achat.
Obtenir suffisamment d'avis et une bonne note peut vous apporter de nombreux clients et inversement.
Comment obtenir des avis clients Google ? Vous avez 2 possibilités :
En ligne
Si vous avez la possibilité d'obtenir l'email de vos clients, le moyen traditionnel d'obtenir le précieux sésame est d'envoyer une demande après l'achat.
Pour ce faire, vous pouvez partager à vos clients un lien pour qu'ils déposent leurs avis.
Rendez-vous dans votre espace personnel Google My Business dans l'onglet "Accueil":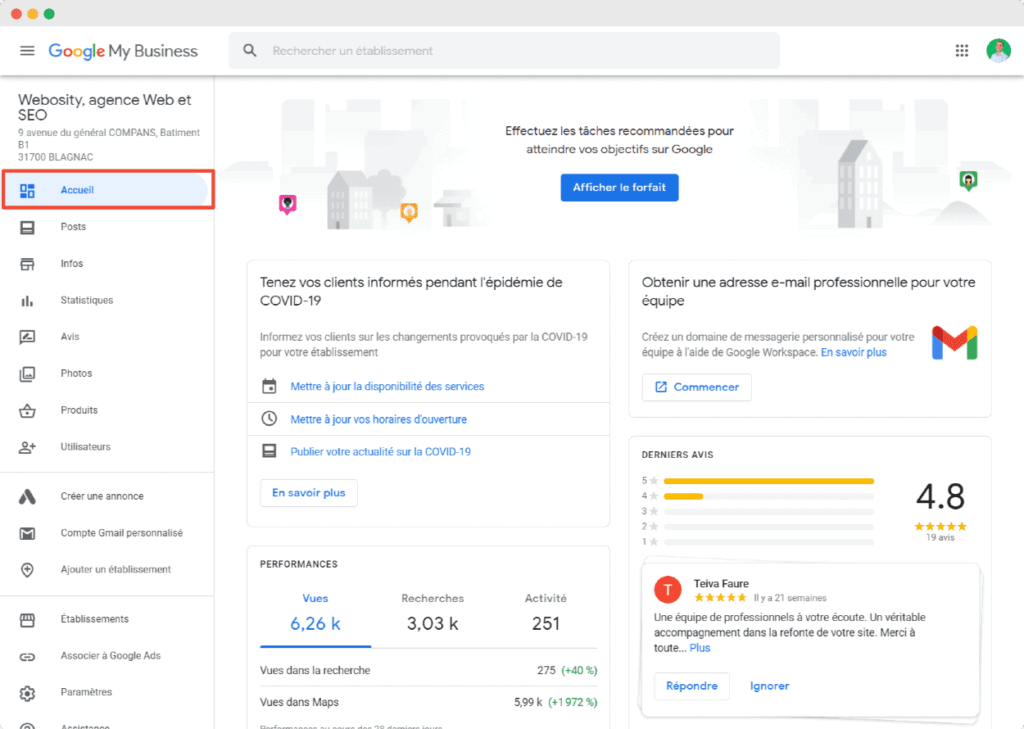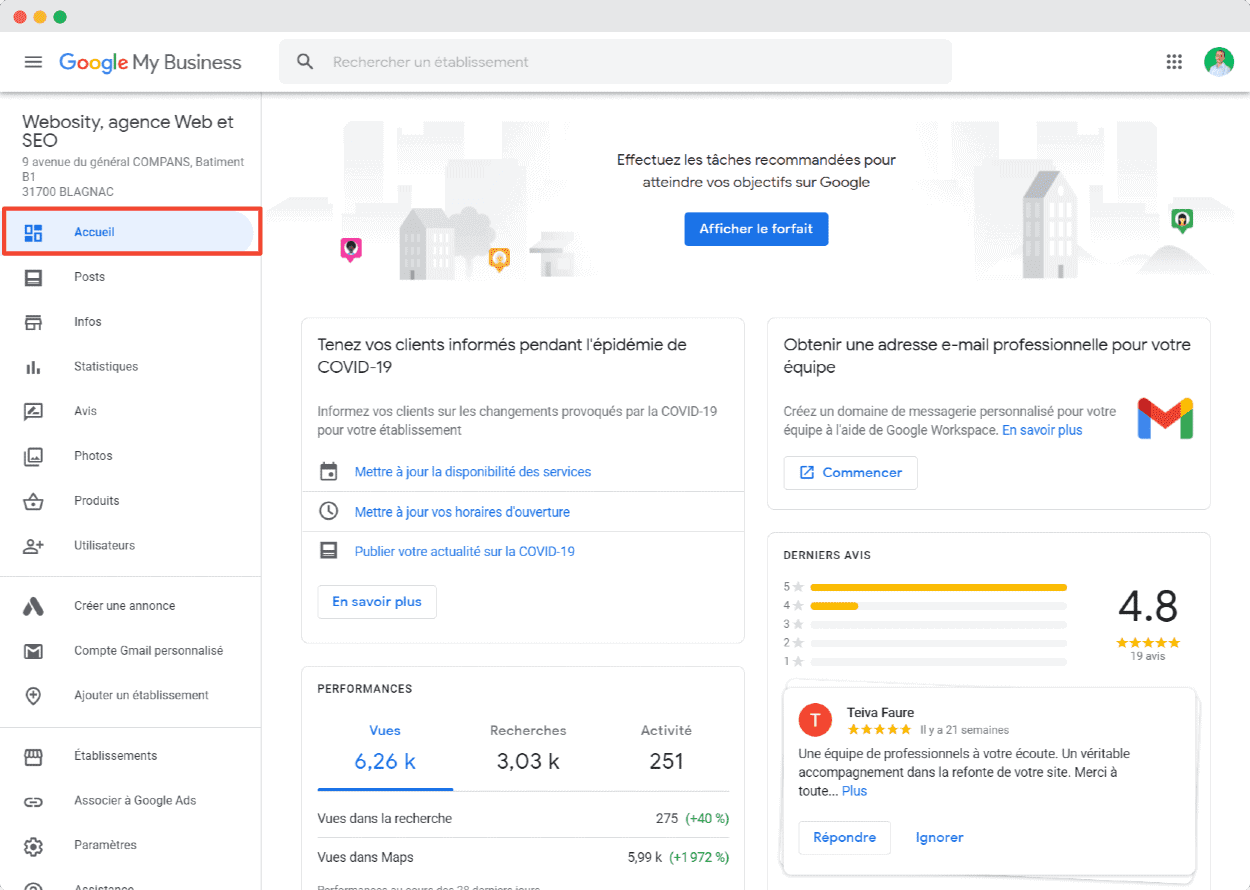 Descendez jusqu'à la partie "Recevoir d'autres avis" et cliquez sur "Partager formulaire" :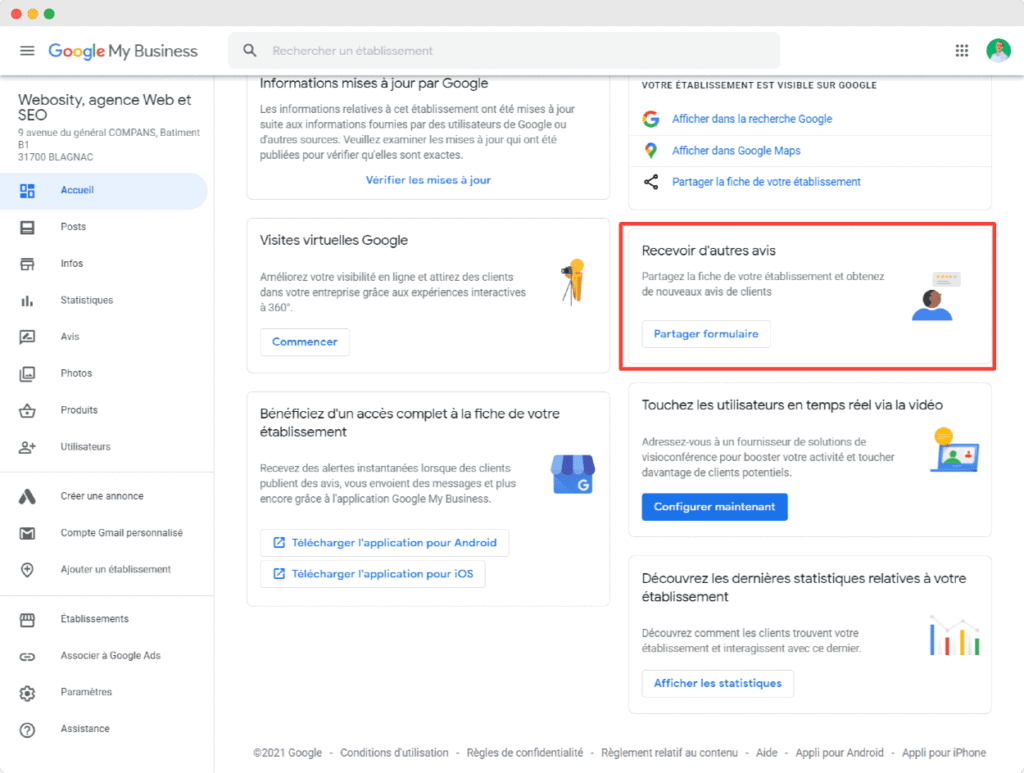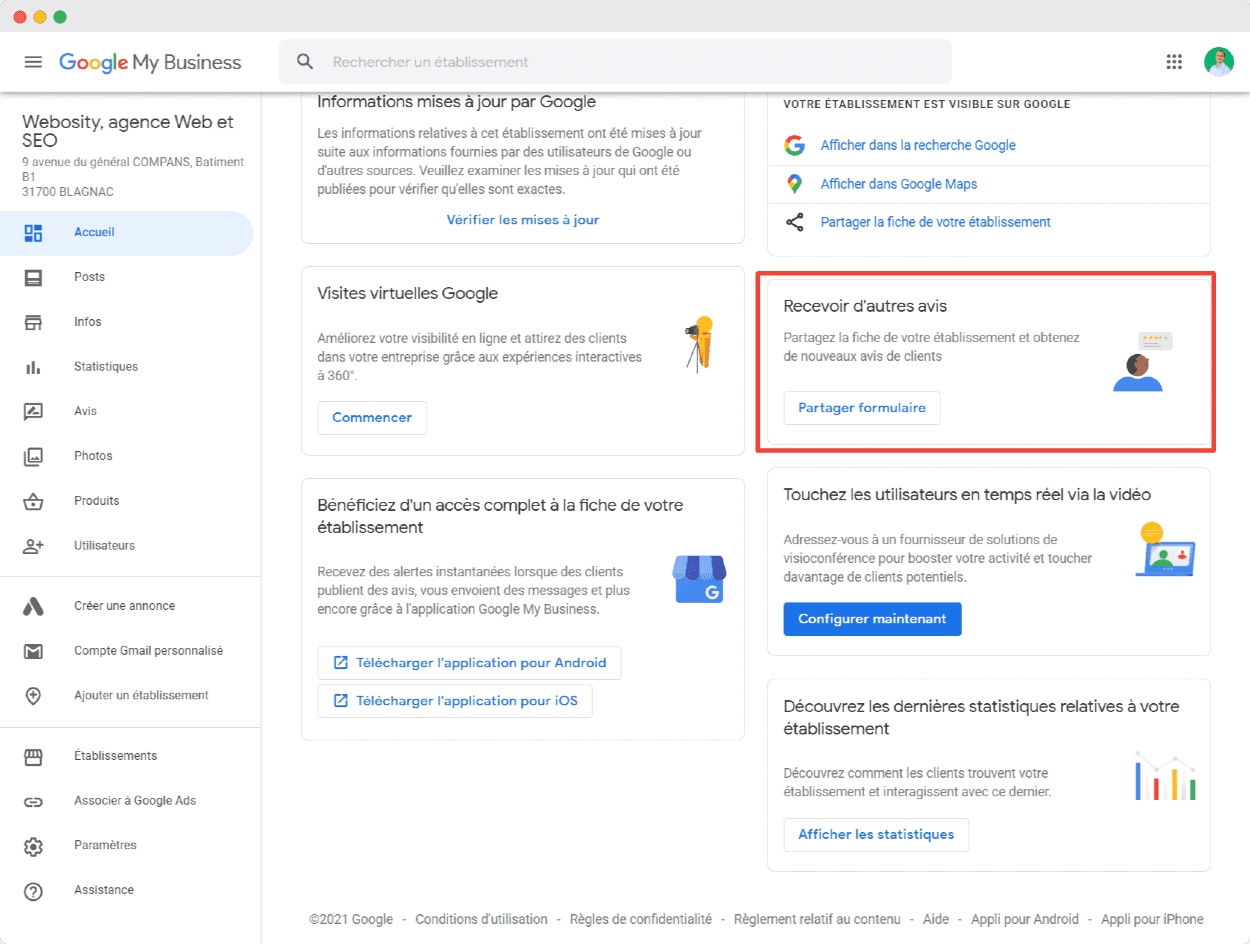 Copiez le lien puis intégrez-le dans votre email de demande d'avis :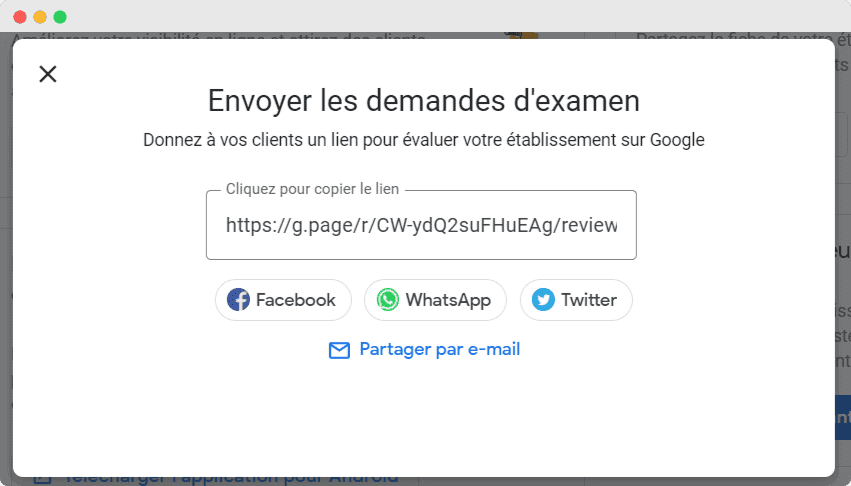 Pro tip : afin d'augmenter votre taux de réponse, prévoyez un email de relance.
Directement au sein de votre établissement
Peu de gérants sont au courant, mais Google propose gratuitement un kit marketing qui comprend des affiches, des visuels pour vos réseaux sociaux et surtout une carte de visite avec un QR code pour déposer un avis :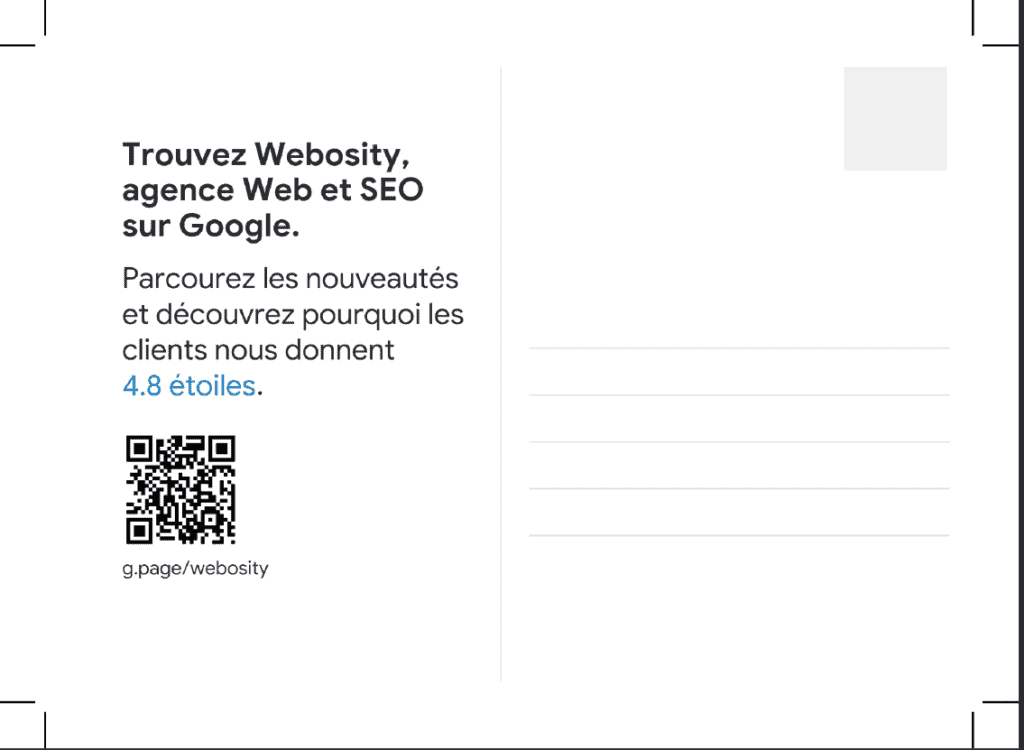 C'est un moyen très efficace de solliciter des avis auprès de votre clientèle.
Pour obtenir ce kit :
1) Rendez-vous sur https://marketingkit.withgoogle.com/intl/fr-FR/r/FR et tapez le nom de votre entreprise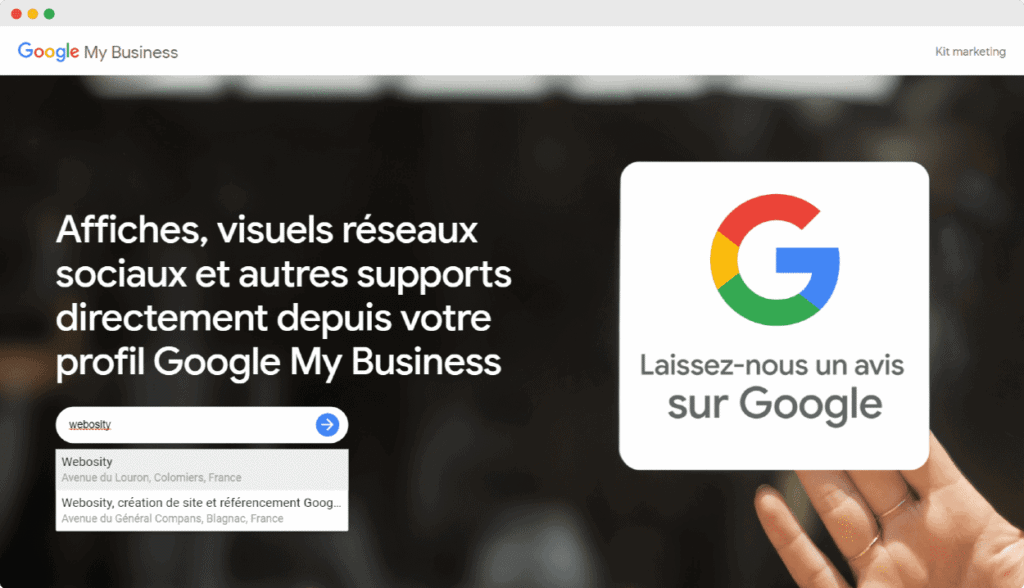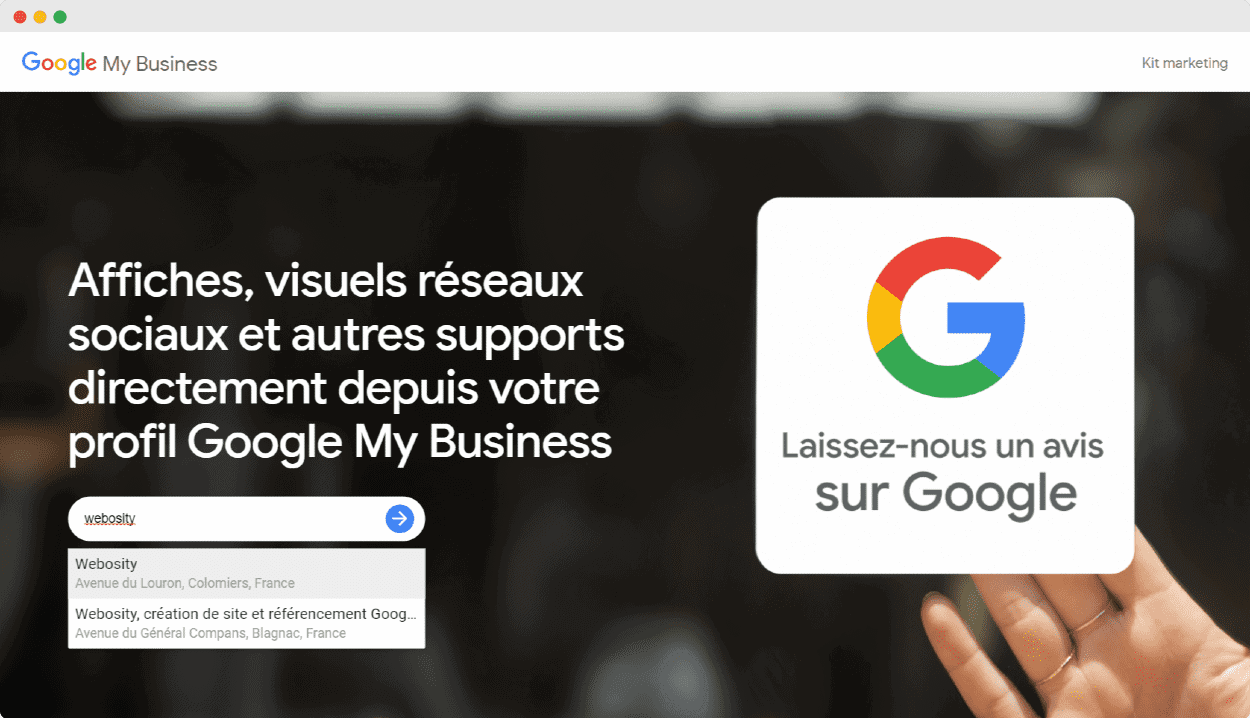 2) Descendez jusqu'à la partie "Mettez en avant les points forts de votre établissement" et cliquez sur "tout télécharger"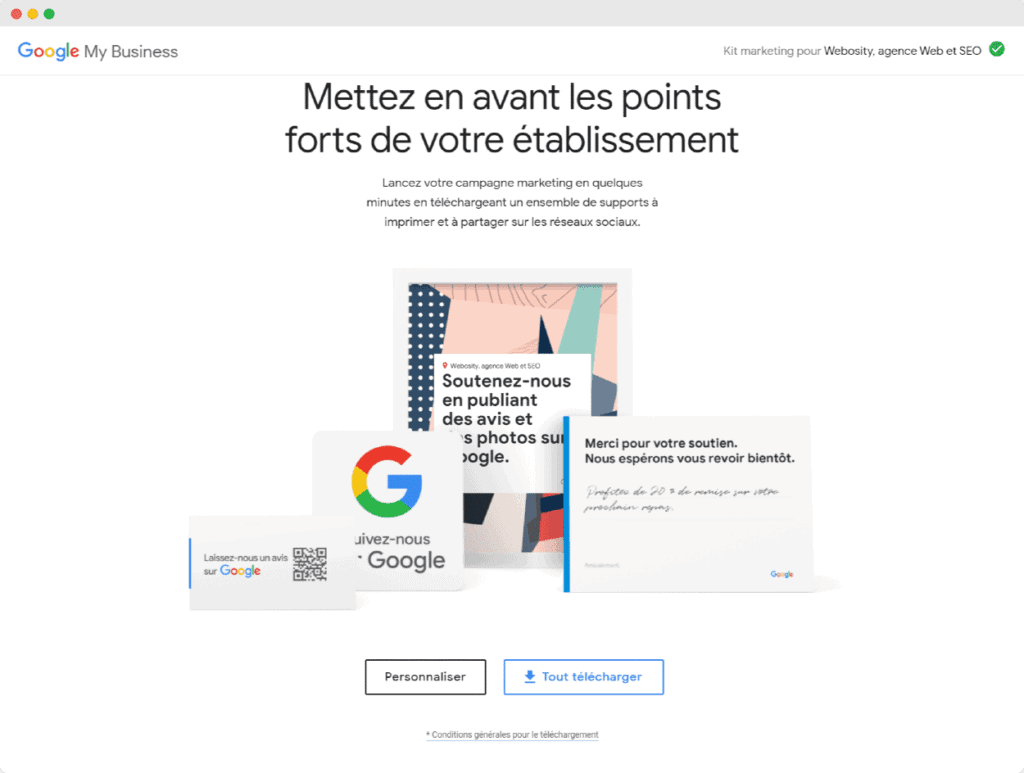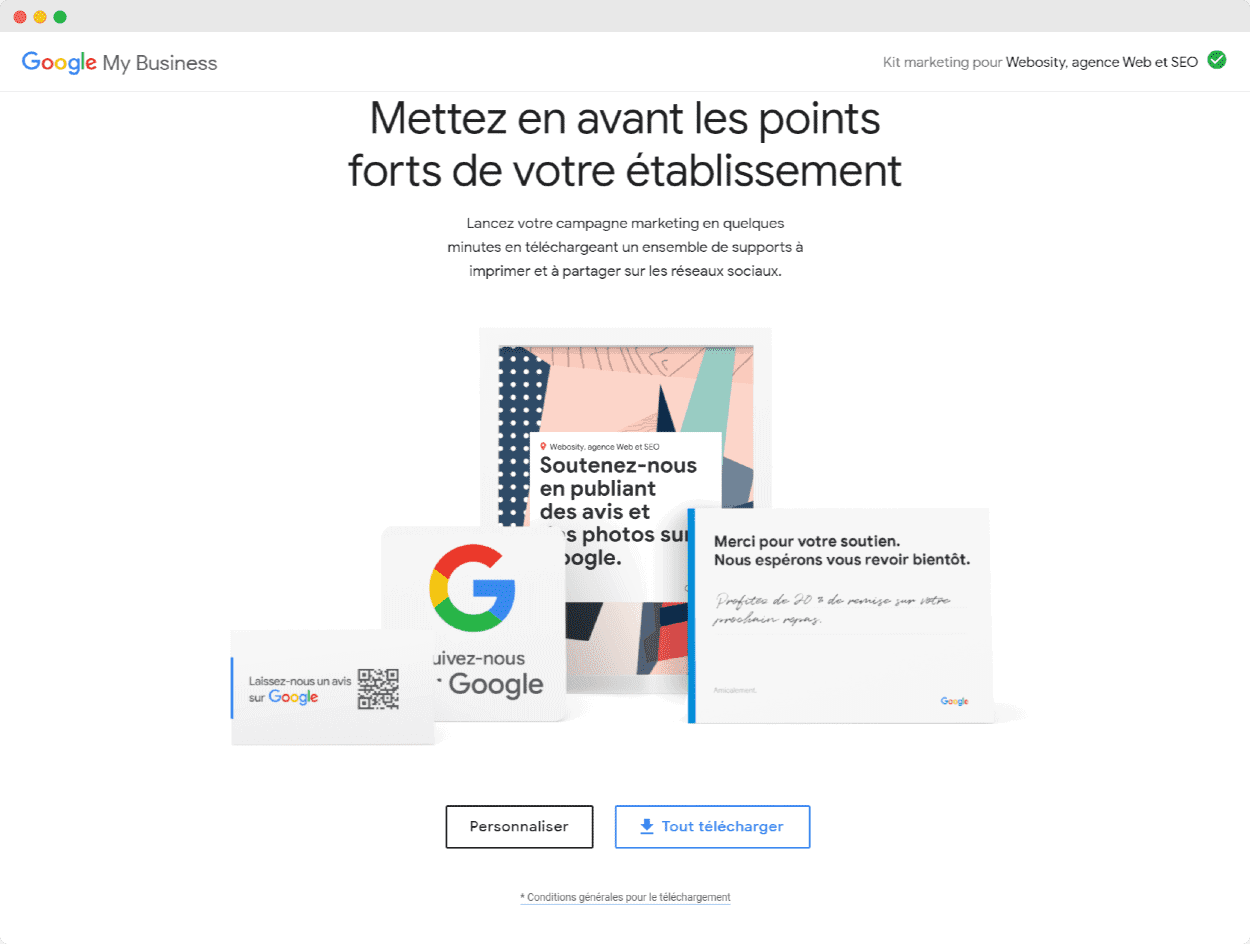 L'application mobile Google My Business
Vous pouvez gérer votre établissement directement depuis votre mobile grâce à l'application Google My Business disponible sur IOS et Android.
Vous retrouvez sur cette version mobile toutes les fonctionnalités de la version desktop :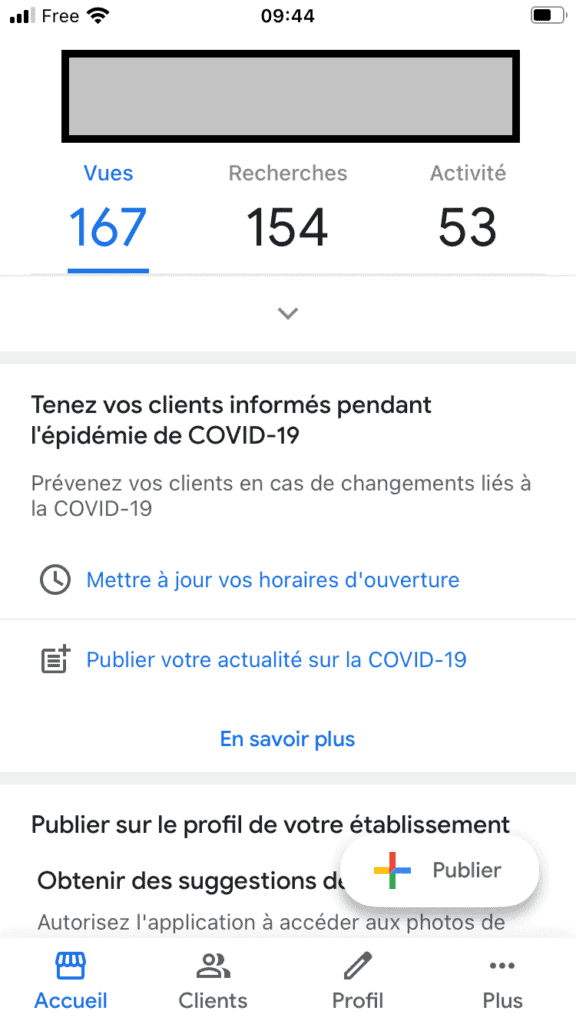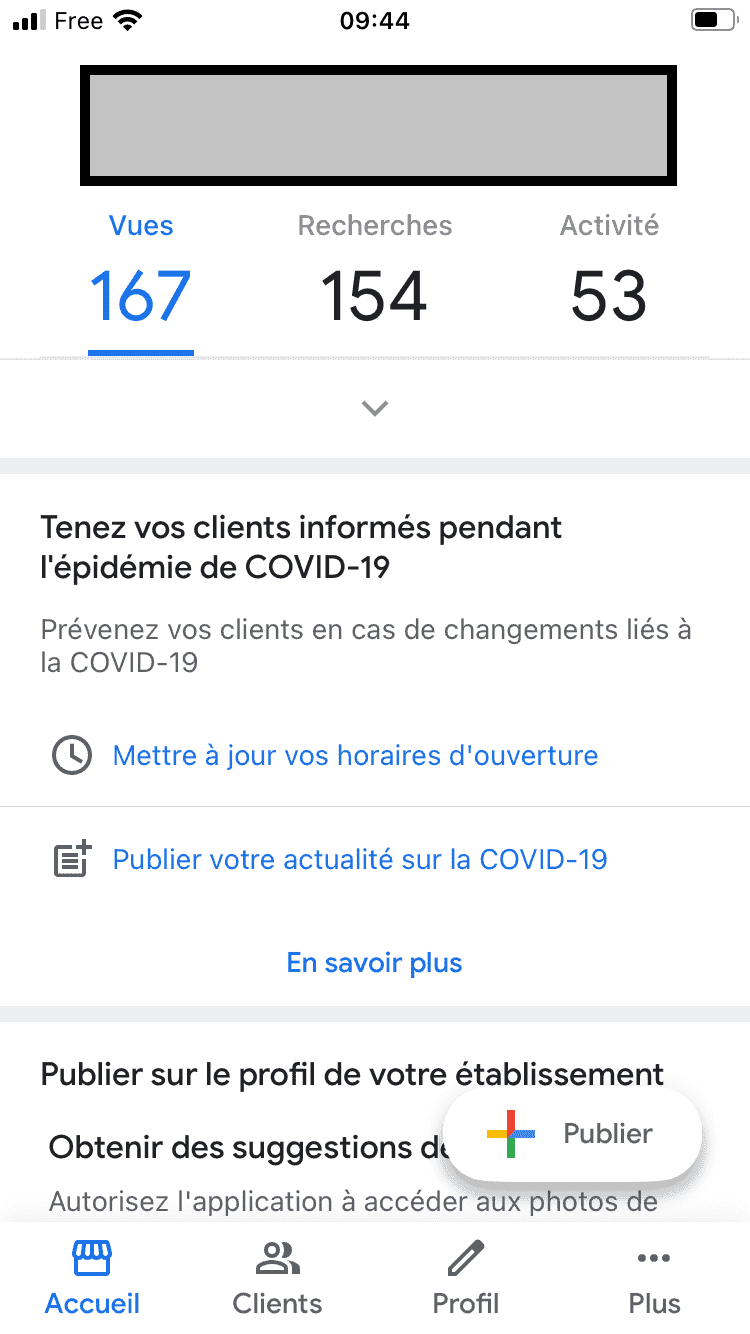 Vous pouvez également recevoir des notifications, par exemple lorsque vous recevez un avis ou un message. N'oubliez pas d'activer vos notifications dans vos paramètres :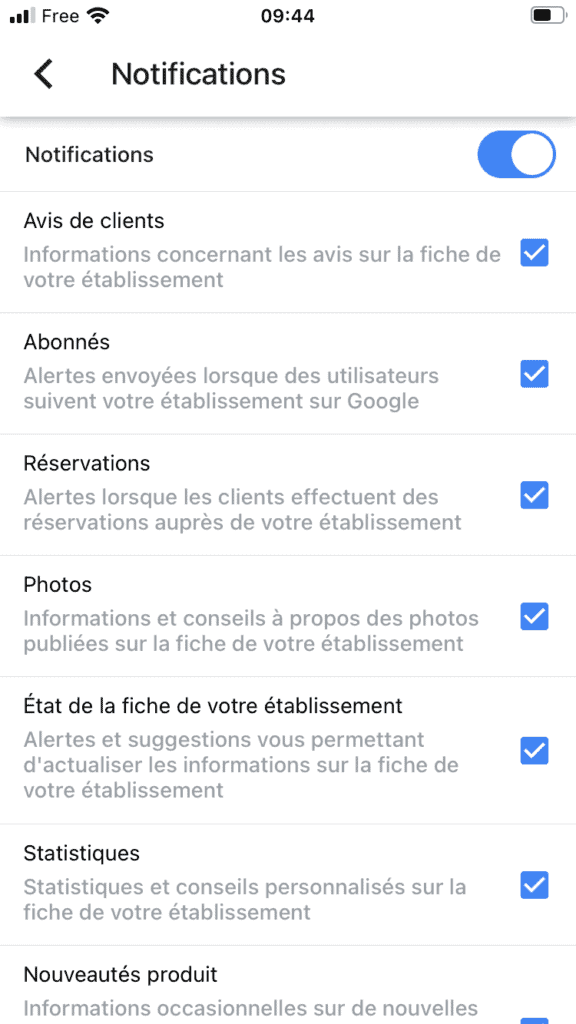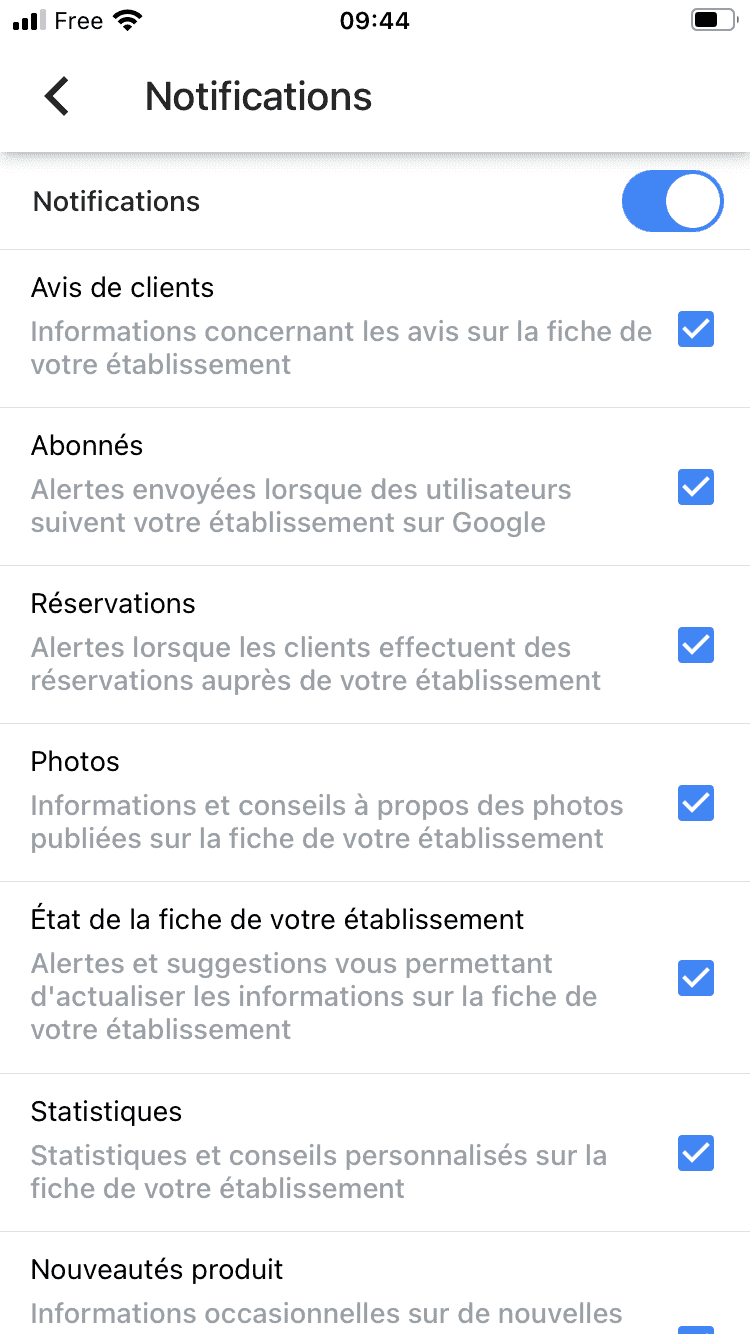 L'application mobile permet également d'activer une option très intéressante : "Activer l'option message":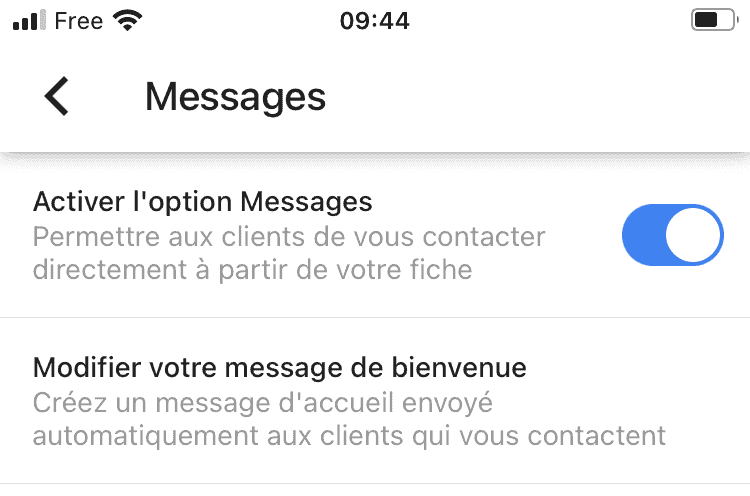 Une fois activée, vos clients peuvent vous contacter directement à partir de votre fiche GMB. Vous pouvez même configurer un message de réponse automatique :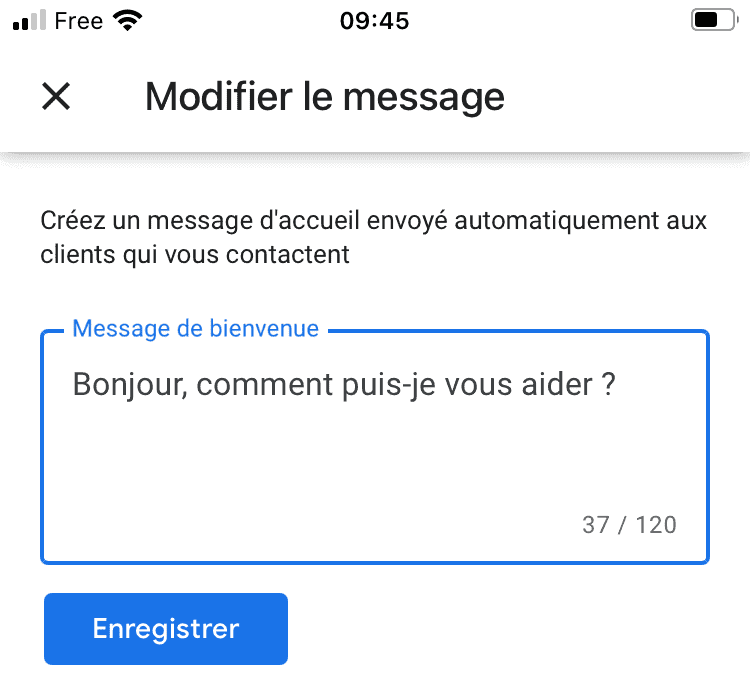 Quelle est la différence entre Google my Business et Google Maps ?
Google My Business permet de gérer une fiche établissement et Google Maps est une application de cartographie qui est également très utilisée.
Afin d'apparaître sur Google Maps, il est impératif de créer une fiche GMB. Cette création permet en effet d'être automatiquement référencé sur le service de cartographie.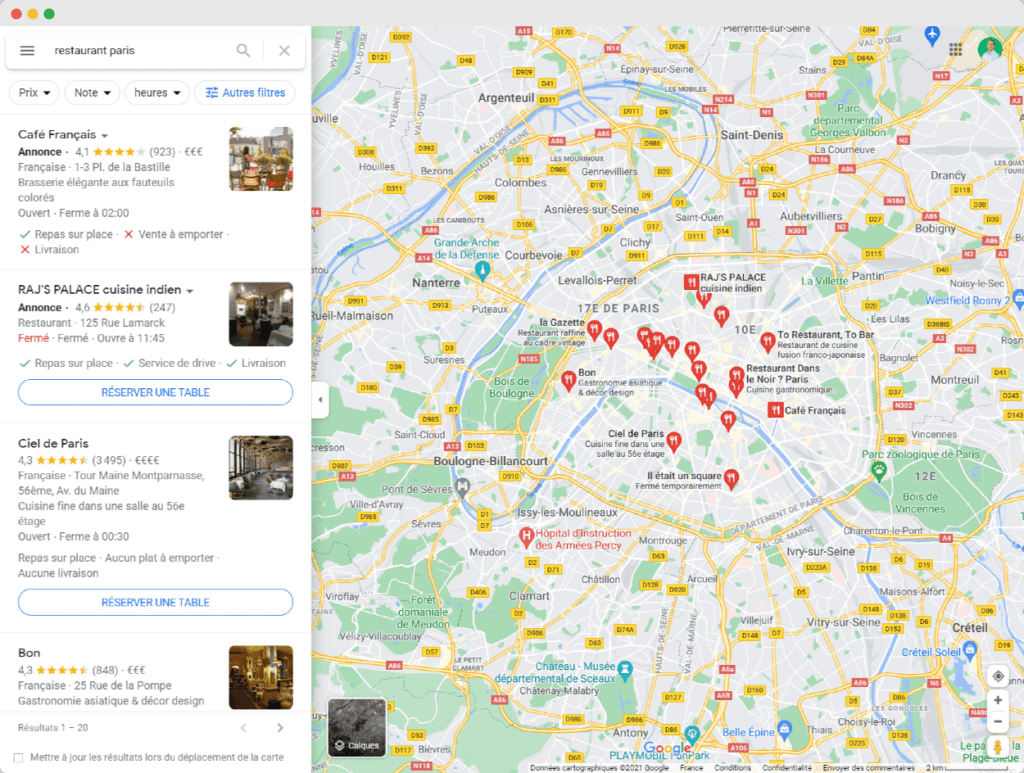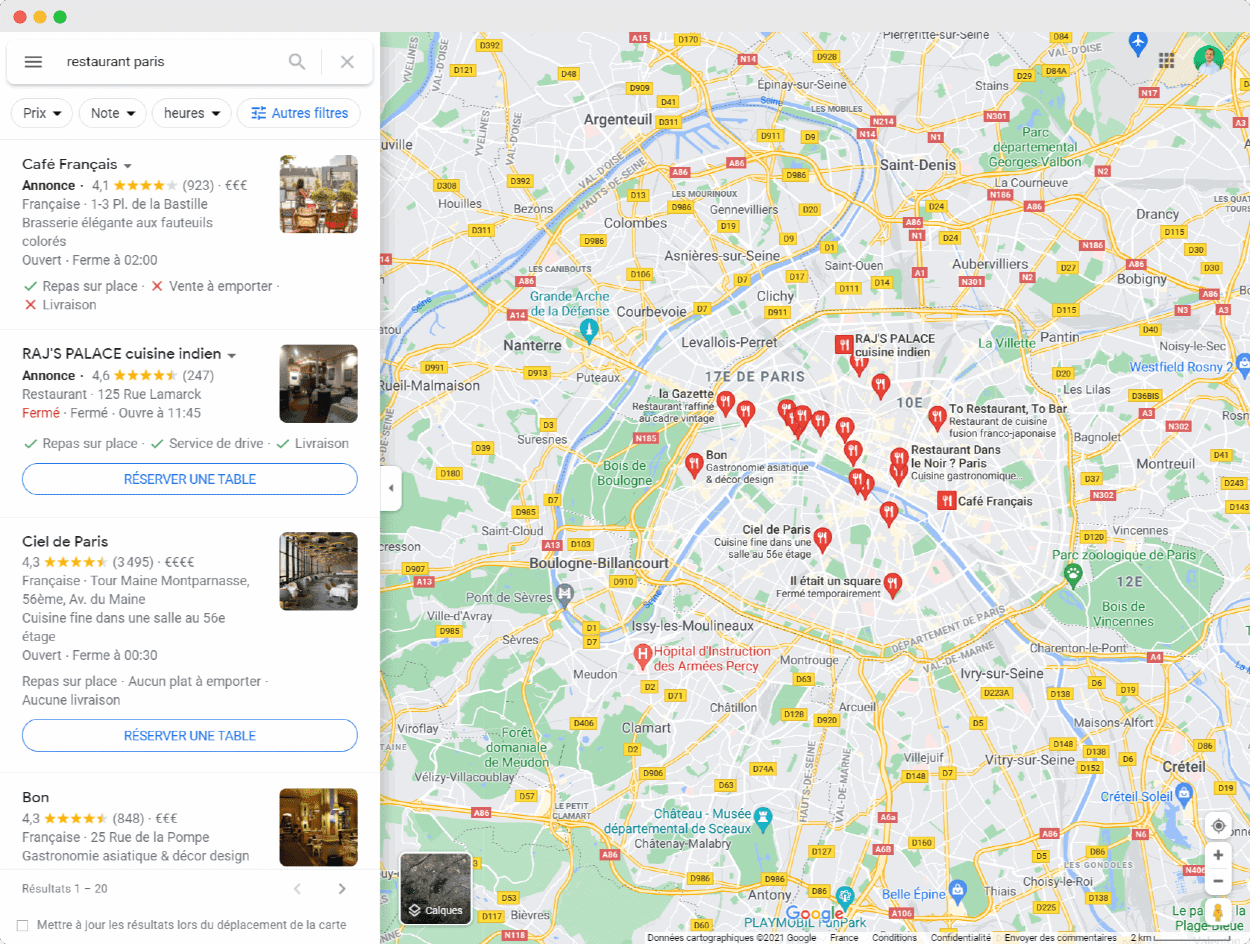 Il est très important de remplir au maximum votre fiche GMB afin d'optimiser votre présence sur Google Maps.
4 conseils pour optimiser votre fiche GMB
Répondez à tous vos avis aussi bons que mauvais
En répondant aux avis, vous augmentez la satisfaction de vos clients et enrichissez sémantiquement votre page GMB. Un excellent signe pour Google !
Créez régulièrement des posts
La firme de Mountain View apprécie les profils "actifs".
Utilisez les mêmes informations de contact partout
Si vous êtes inscrits sur d'autres annuaires locaux comme Yelp ou Les Pages Jaunes, vérifiez bien que vos coordonnées de contact soient identiques.
Soignez votre SEO traditionnel
Une fiche GMB bien remplie ne vous dispense pas de travailler le référencement naturel de votre site. Pour rappel, le SEO repose sur 3 piliers : un site propre techniquement, un contenu suffisant de qualité et des liens.
Puisque vous êtes ici, prenez le temps de regarder cette courte vidéo. C'est notre futur. Ca nous concerne tous.