All you got to know about GMB (Google Business profile)
According to SEO Expert Brad, 46% of Google searches are for a local business.
Location-based search is becoming more and more important and the trend is not going to stop.
The online visibility of a local business now goes through Google Business profile (formerly Google My Business).
This free local referencing service offers a multitude of options to manage your digital presence and, above all, it allows you to appear in search results in the form of a listing.
How to succeed in your Google Business profile marketing strategy ? That's what we will see in this complete guide.
What is a Google Business profile ?
Created in 2014, Google My Business is a free service offered to any local business that wants to be visible in Google search results.
In concrete terms, it takes the form of a card (the "GMB listing") that brings together several pieces of information about an establishment : opening hours, phone number, store location…
During a local search, the listing is displayed :
Either alone in the form of a knowledge graph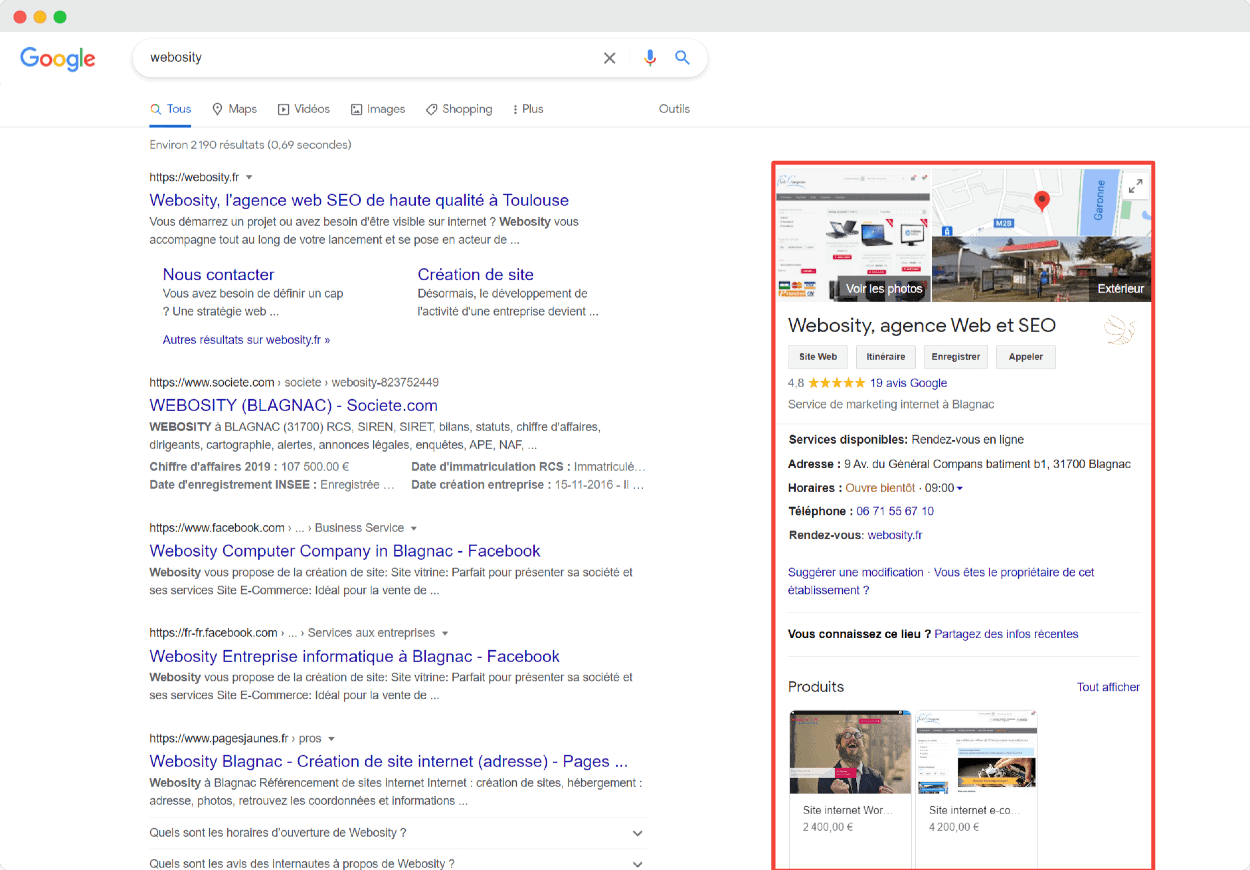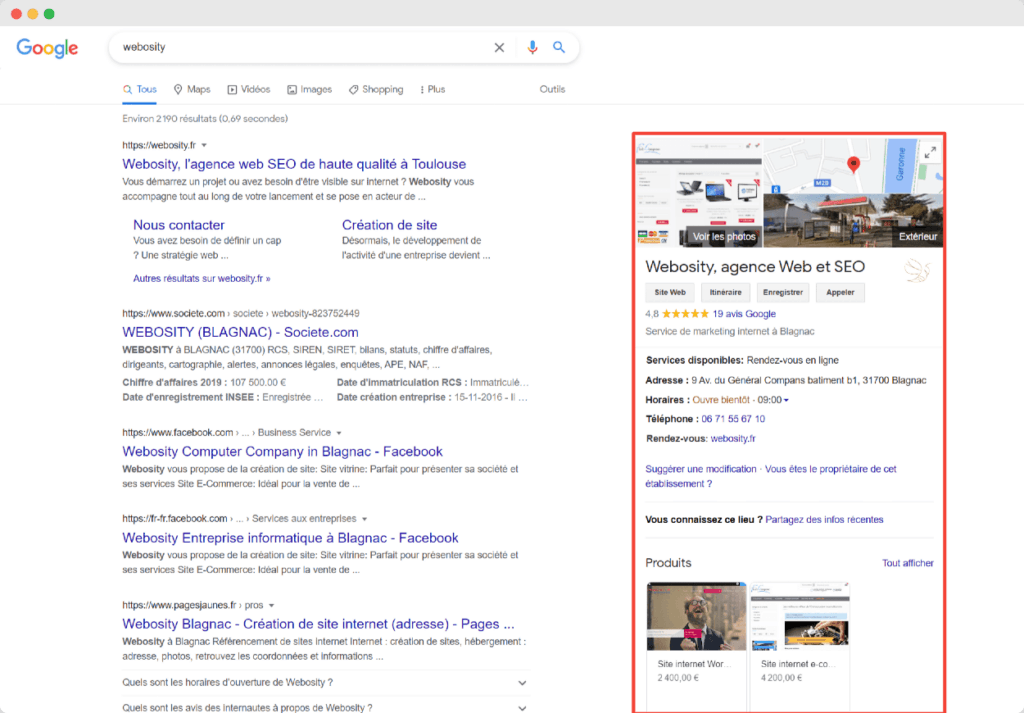 in the standard Google search with the "local pack":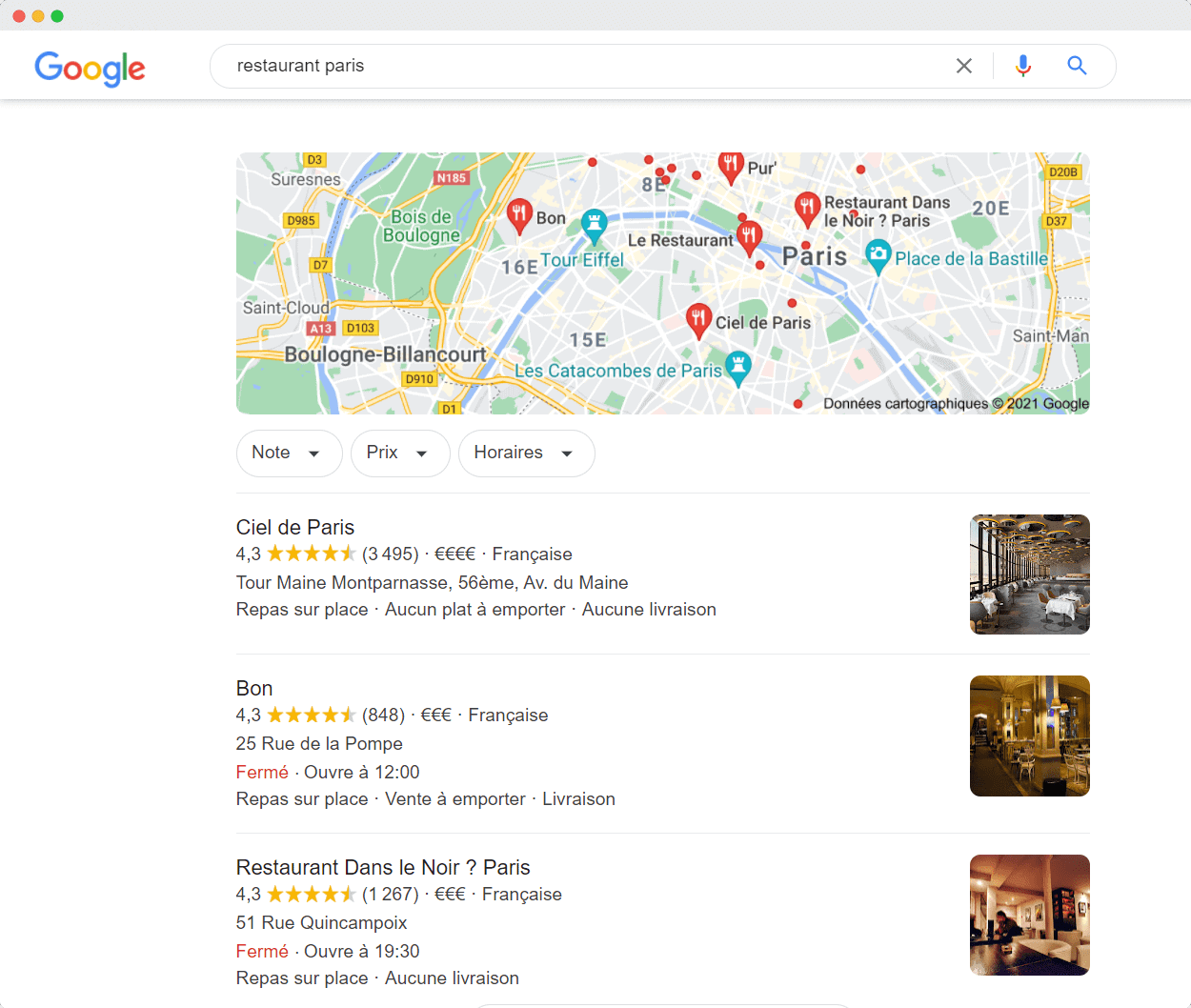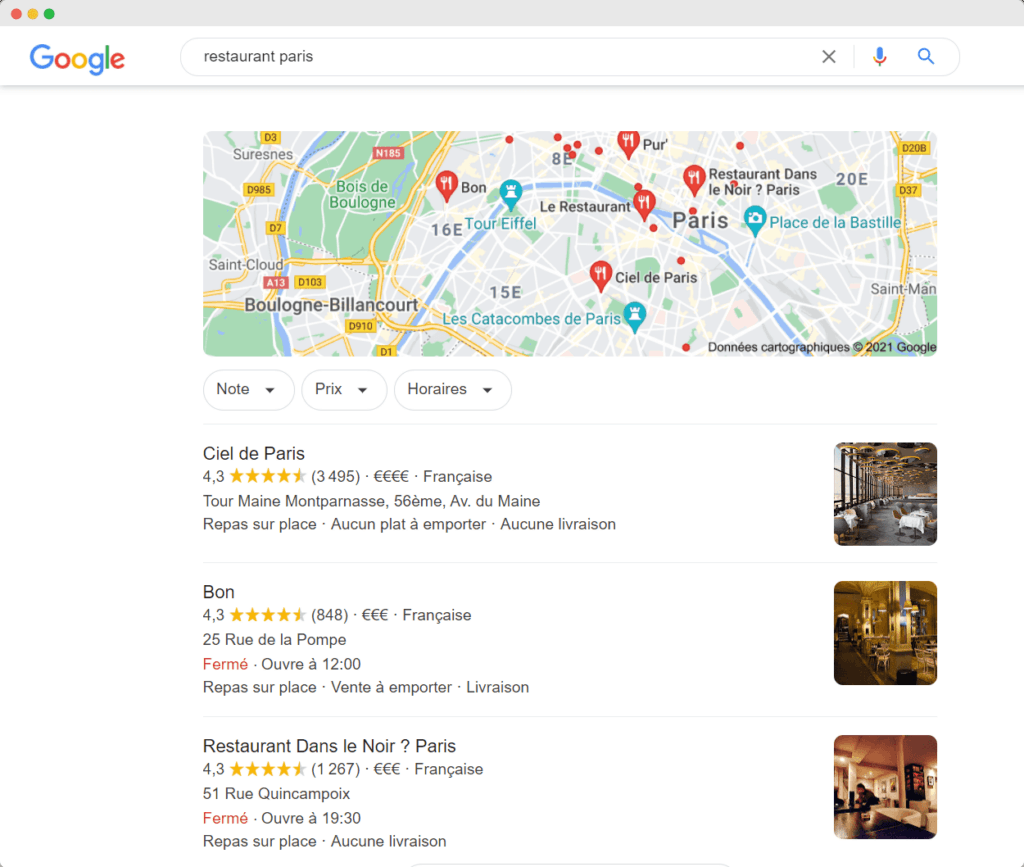 or in Google Maps, via browser or via the application :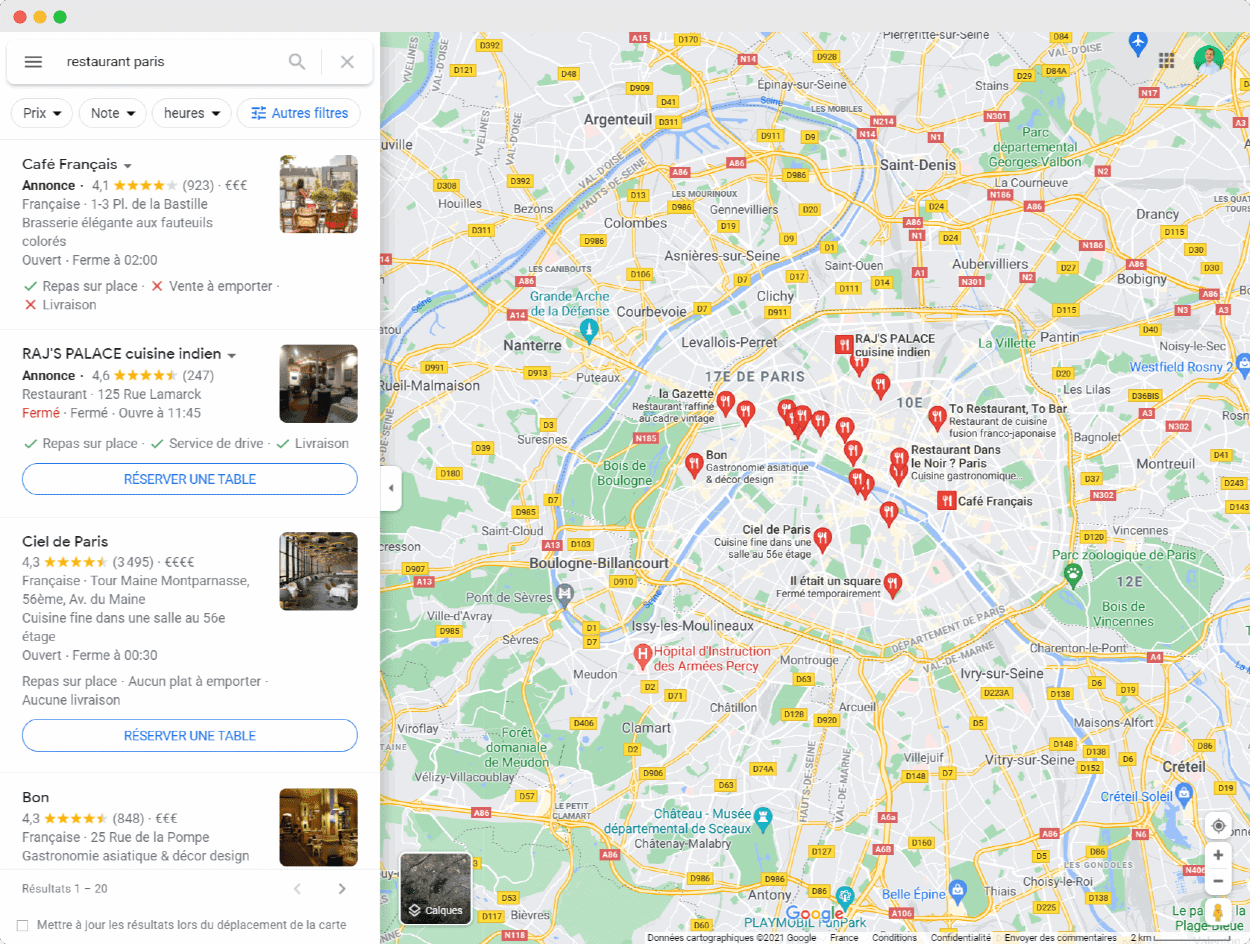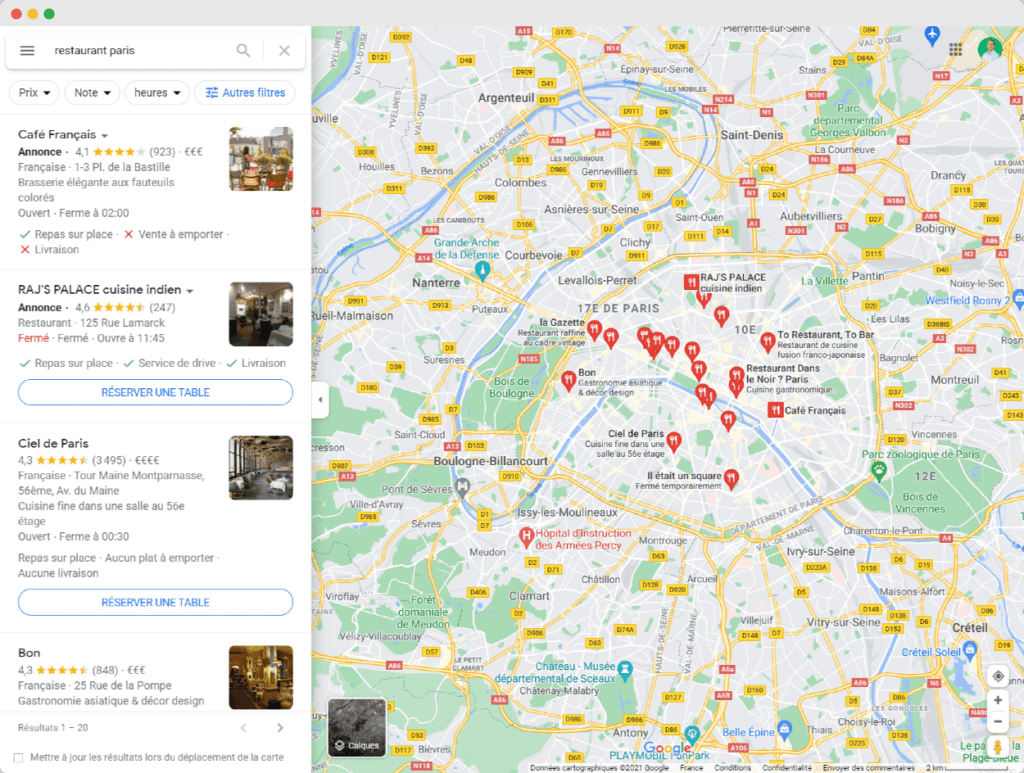 Thus Google Business profile has different displays and is visible on different media. For local businesses, it increases their local awareness and for Internet users, it is a simple way to find practical information.
The strength of Google business profile is that consumers can interact with the business by leaving reviews and asking questions.
Google Business profile is 100% free and open to any business, regardless of the industry.
Why is it important to create a Google Business profile listing for your company ?
Using a Google Business profile listing is essential for 4 reasons:
Improve your local SEO
Google uses your geographical location (via your mobile device data) to offer you personalized and geolocalized searches results. So even a generic query like "garage" can yield local results :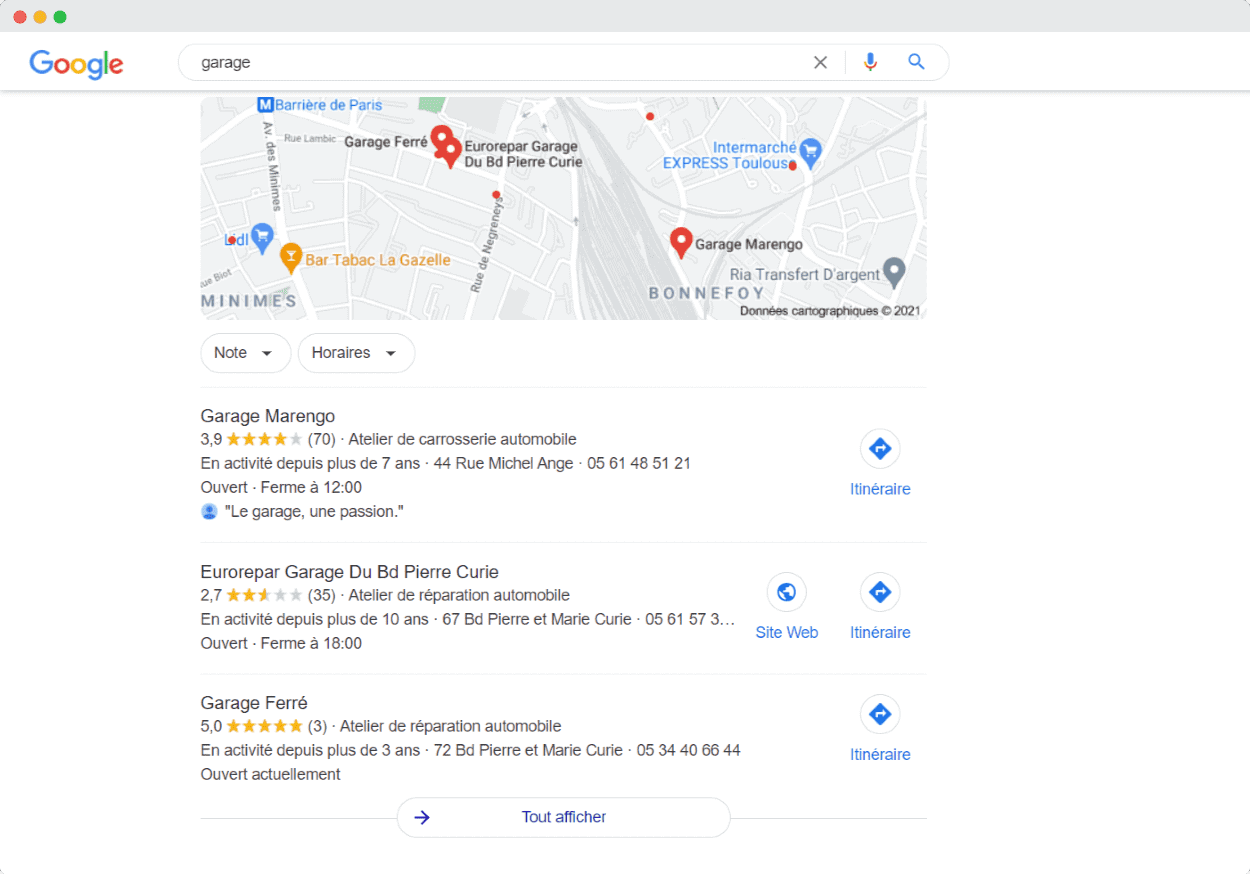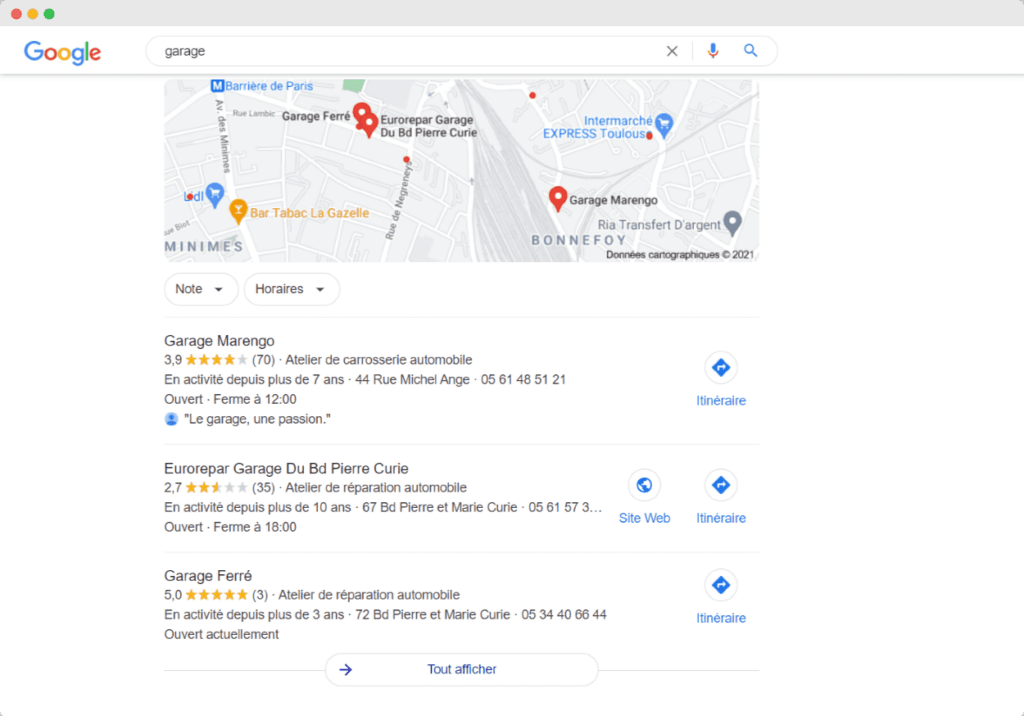 The search engine relies primarily on the Google Business profile record to display results including on Google Maps :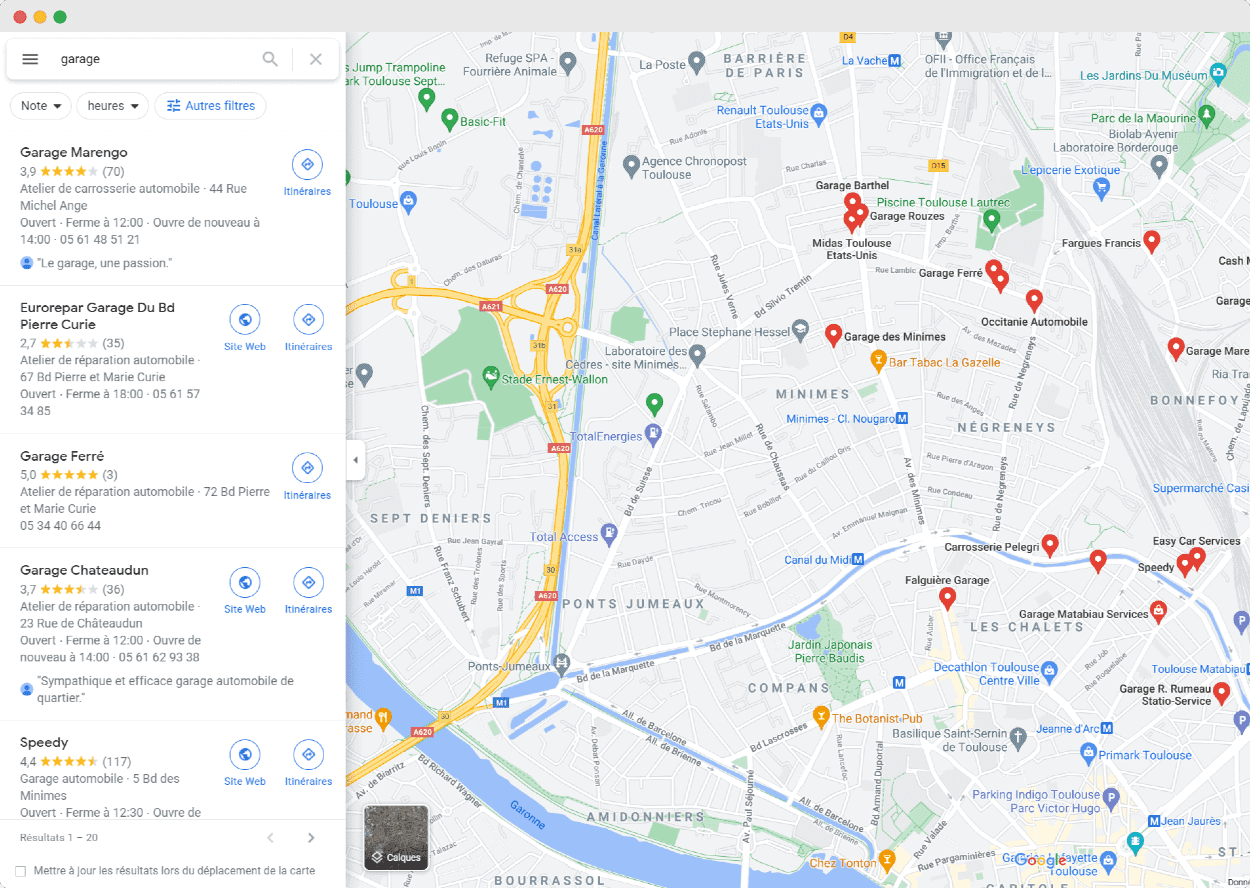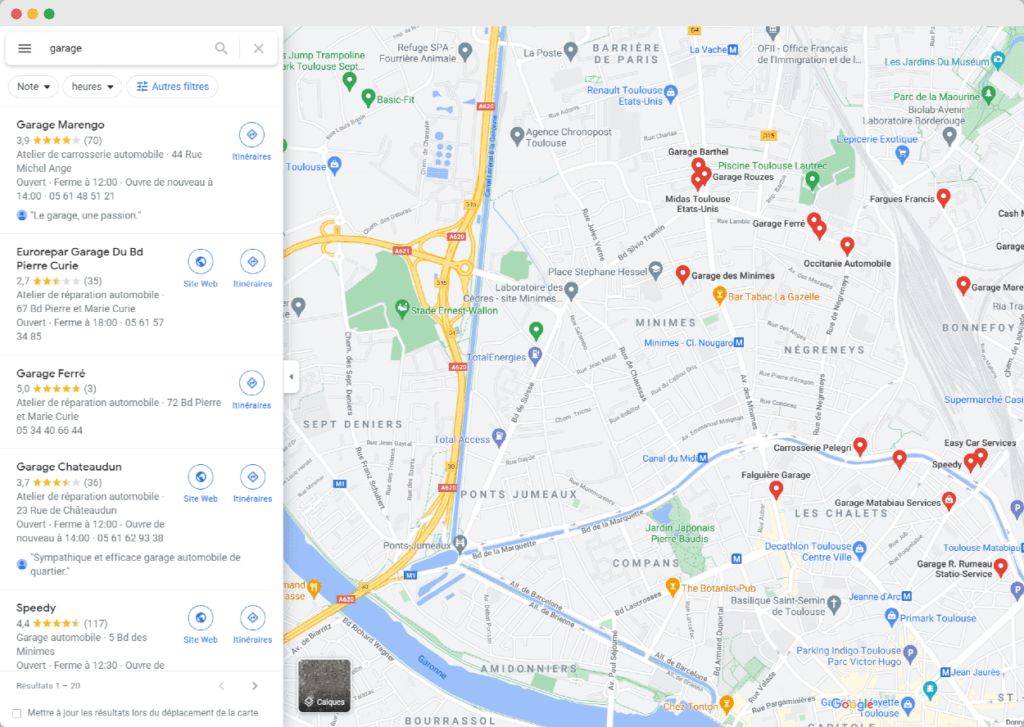 A complete and updated listing allows you to boost the visibility of your business, optimize your local referencing and by extension your turnover.
In addition, the presence of the link to your website will certainly increase your traffic to it.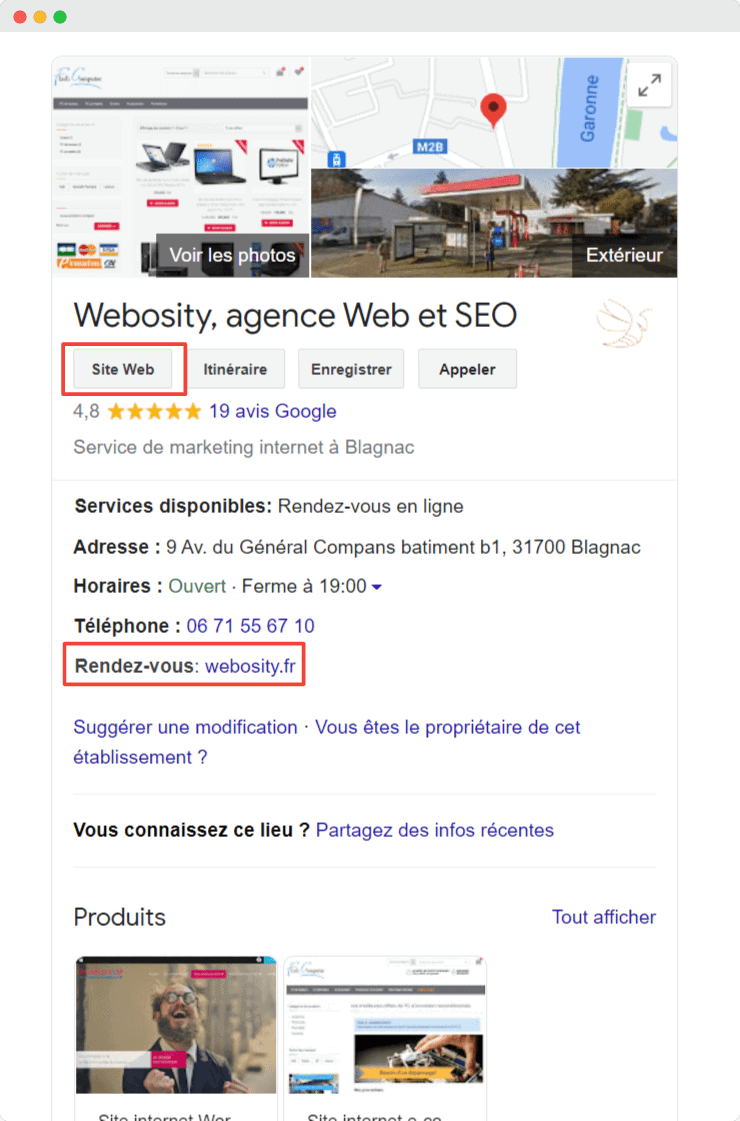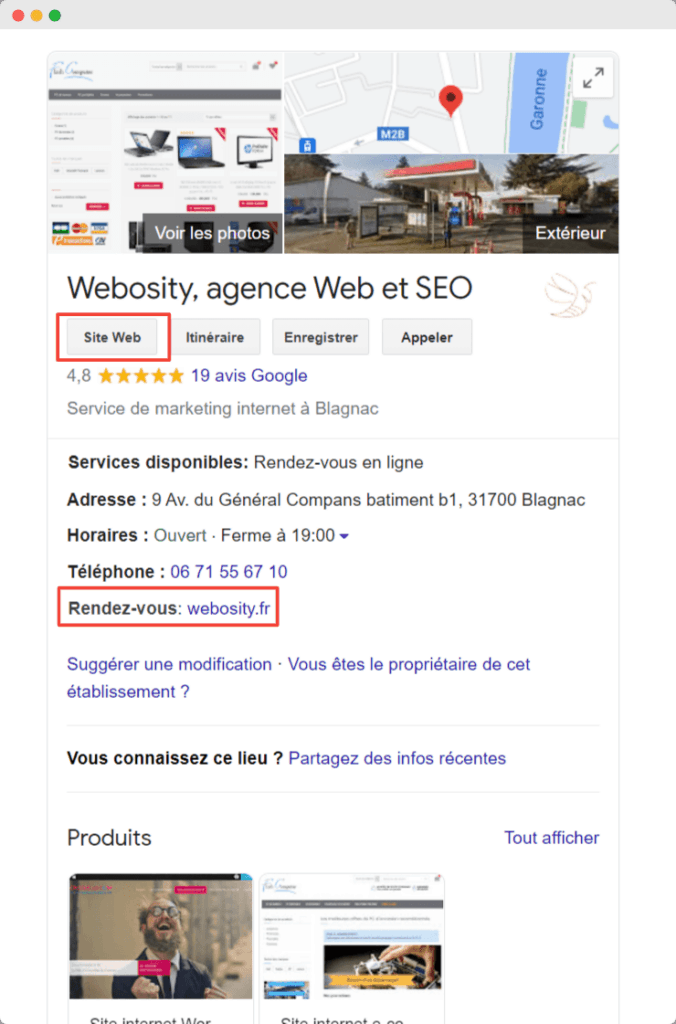 Display a good brand image
The e-reputation is a determining factor to succeed on the web.
A GMB listing gives you the opportunity to showcase your business through
Customer reviews
Photos
Virtual tours
A clear description of your offer
An effective lever to implement a "web to store" strategy
According to Google, 76% of people who have performed a local search visit the premises of the company they found within the day.
Web to Store is now part of today's consumer habits. The Google Business profile listing is the first point of contact with your establishment. A maximum of practical information and positive customer reviews will be very effective in attracting customers.
A mean of continuous improvement
Your customers can leave reviews and ask questions. This information is very useful to evaluate the "health" of your business.
What do the negative reviews say ? What questions come up most often ? What are the satisfaction points ? These are all elements that will allow you to constantly improve your offer.
How to create a Google Business profile listing?
Creating a Google Business profile account is very easy. It can be done in a few simple steps.
Here is how to register for the service:
Step 1. Go to the home page and click on "Manage my profile".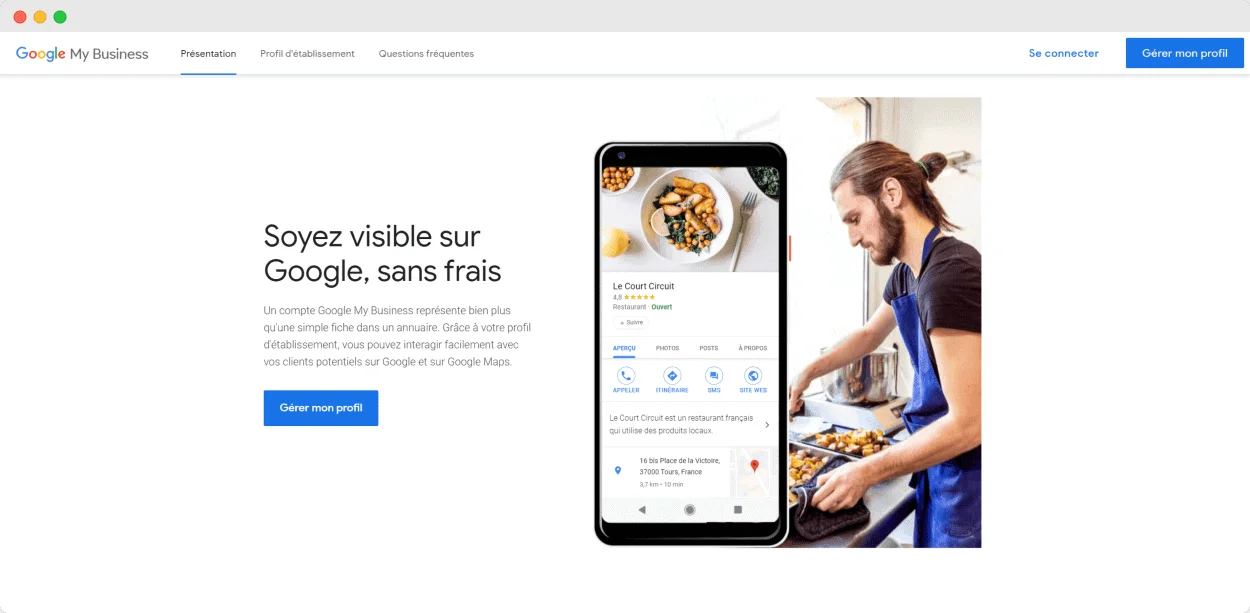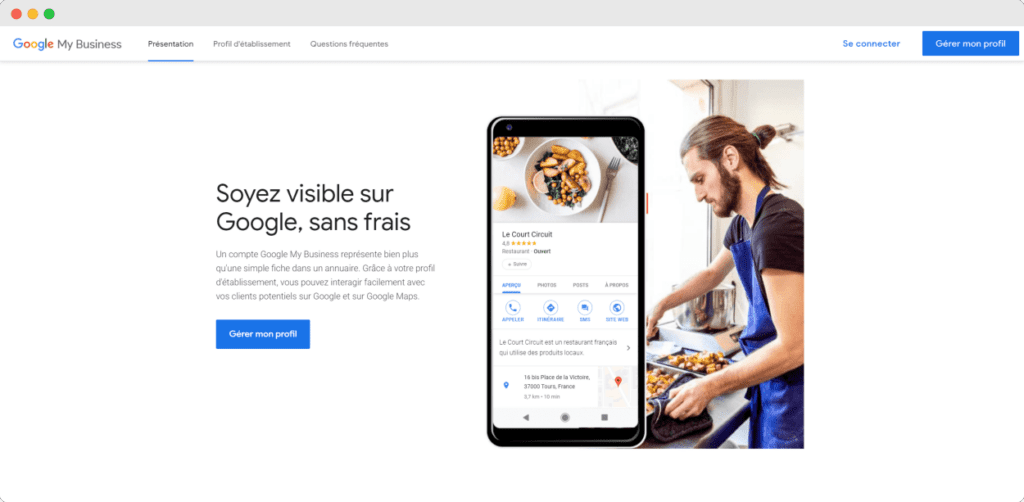 Step 2. Enter your Gmail address or create your account if you don't have one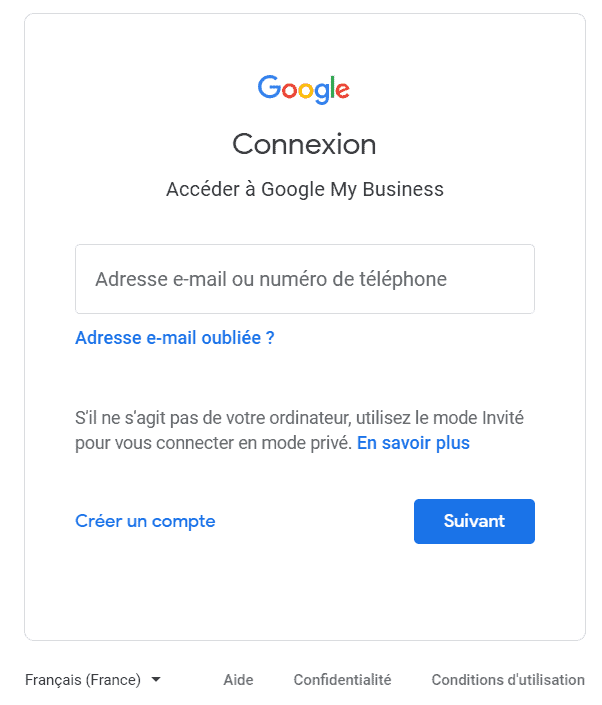 Step 3. Finally, fill in all the requested information : your company name, hours, phone number, address…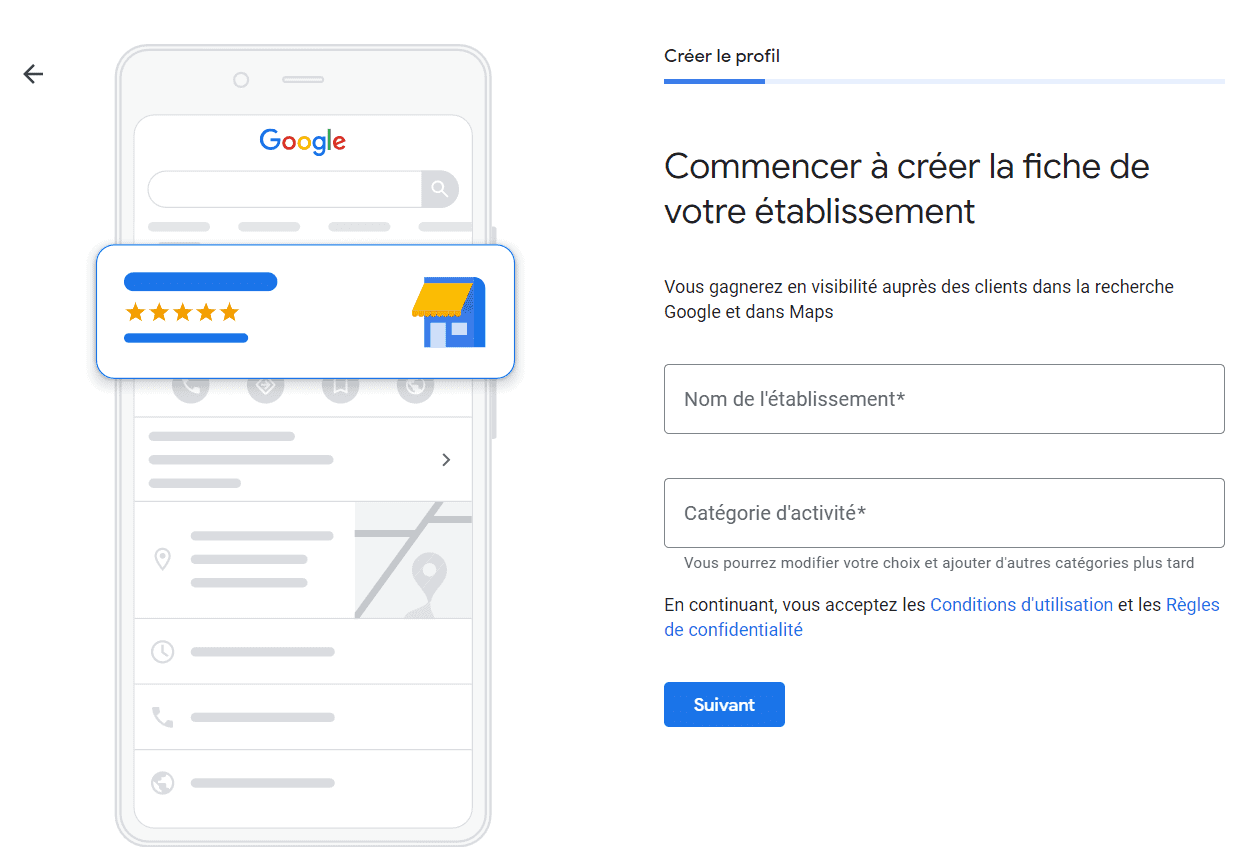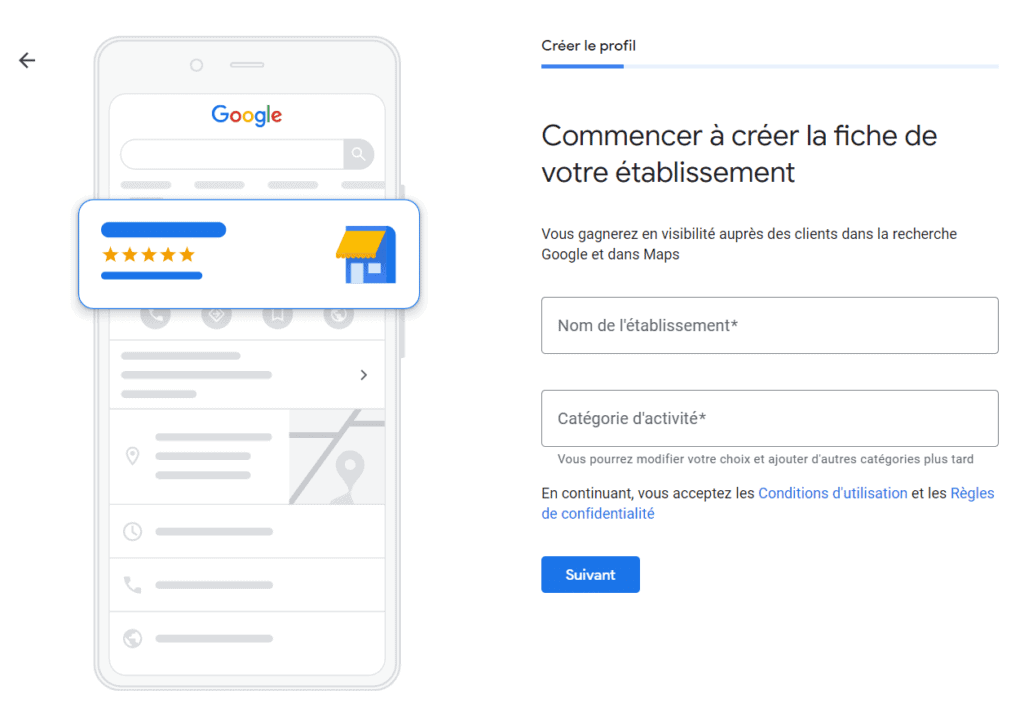 If you have some difficulties in creating your account, you can click on this Google help page.
The choice of the category : precisions
Make sure to choose the right category. The slightest error could penalize your referencing.
You must first choose a main category which must be your primary activity. If you practice several professions (for example, a firefighter and heating engineer), choose the one you practice the most.
If you hesitate, you can verify the main categories of your main competitors: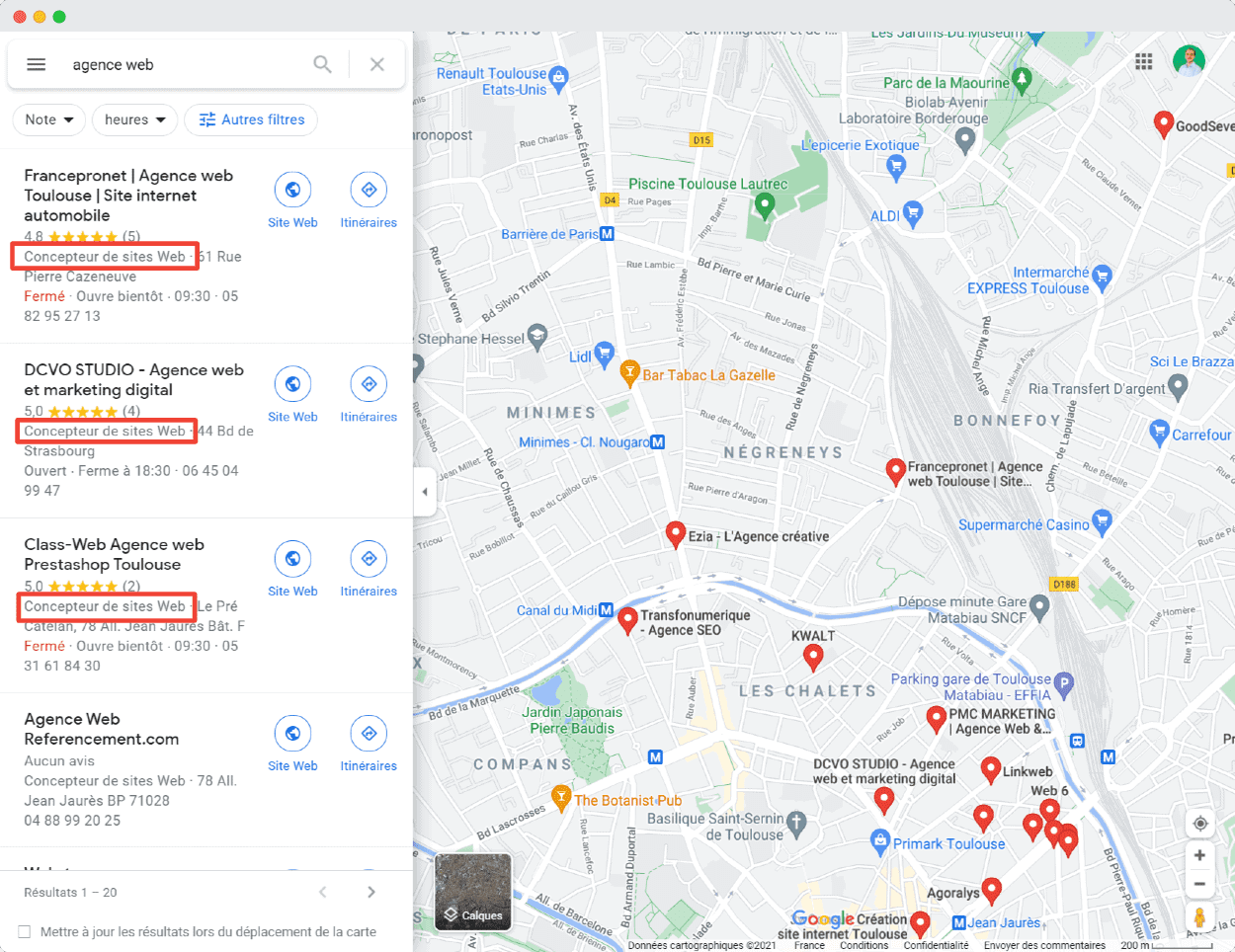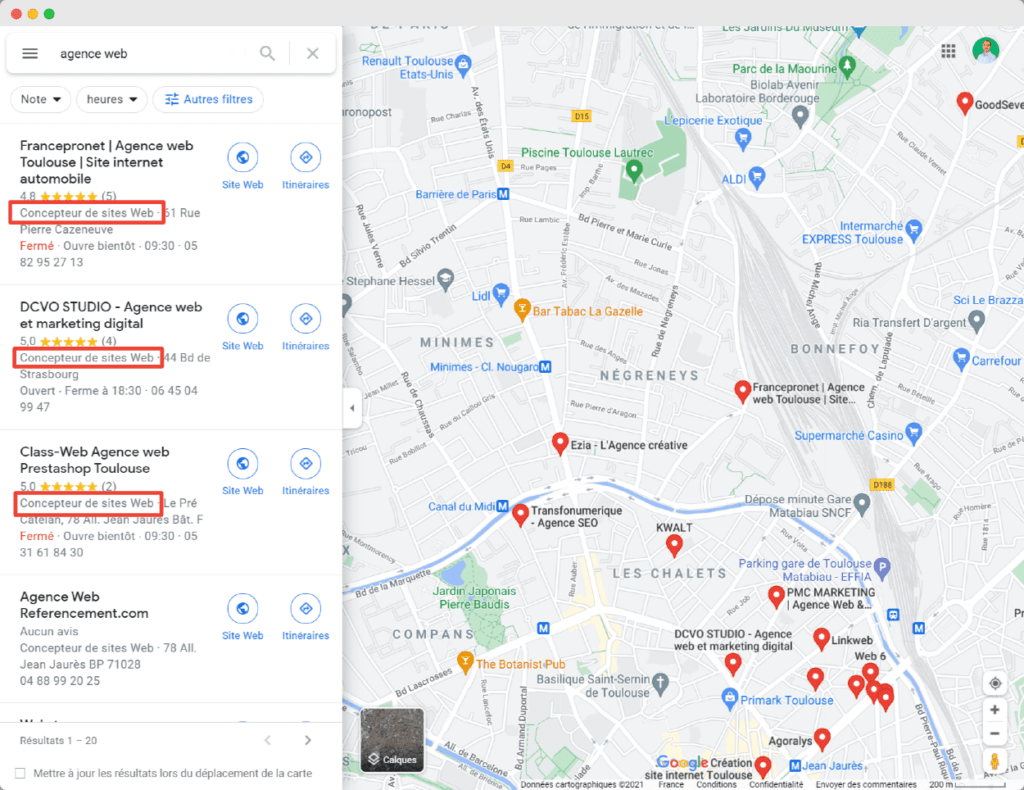 It is also very advisable to indicate secondary categories (up to 9 possible choices)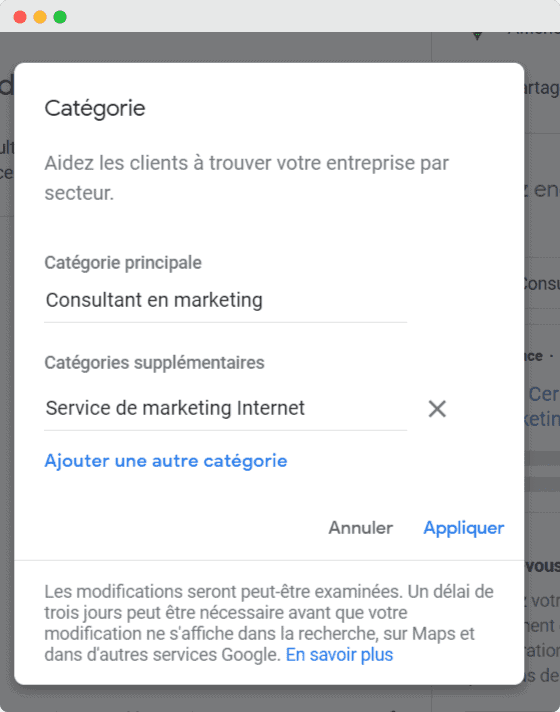 The main features of Google Business profile
Google Post
The Google Post is a feature that allows you to communicate about your company's news in the same way as a social network post. Announcement of an event, promotion, news… different types of announcements are possible.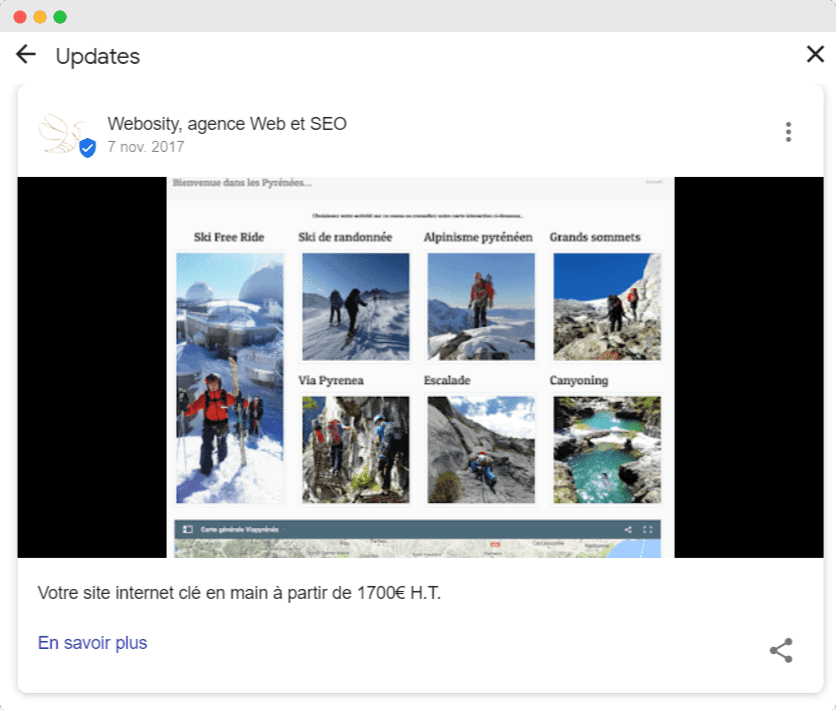 Publishing posts has notable advantages :
You raise the interest of potential consumers
You send a very good sign to Google which will give you a referencing bonus
You use a free and low competition channel to promote your offers
You can edit a post from your professional space from the "Posts" tab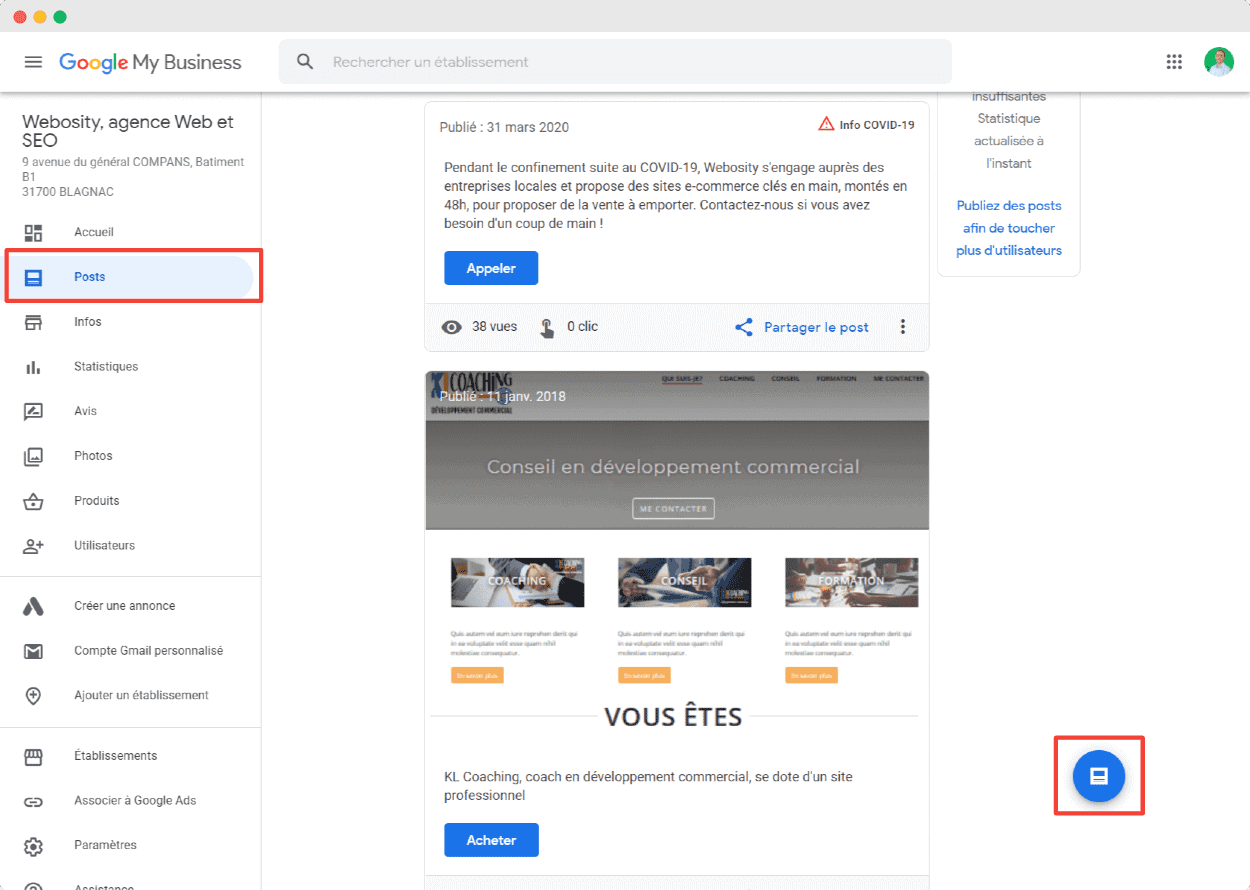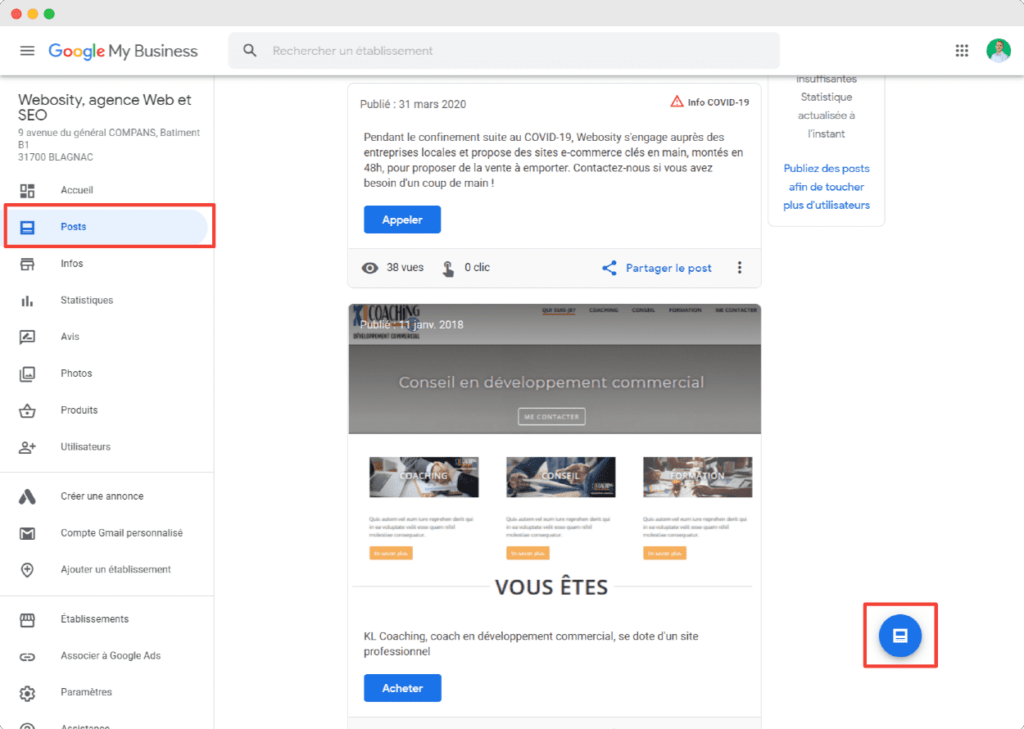 Info tab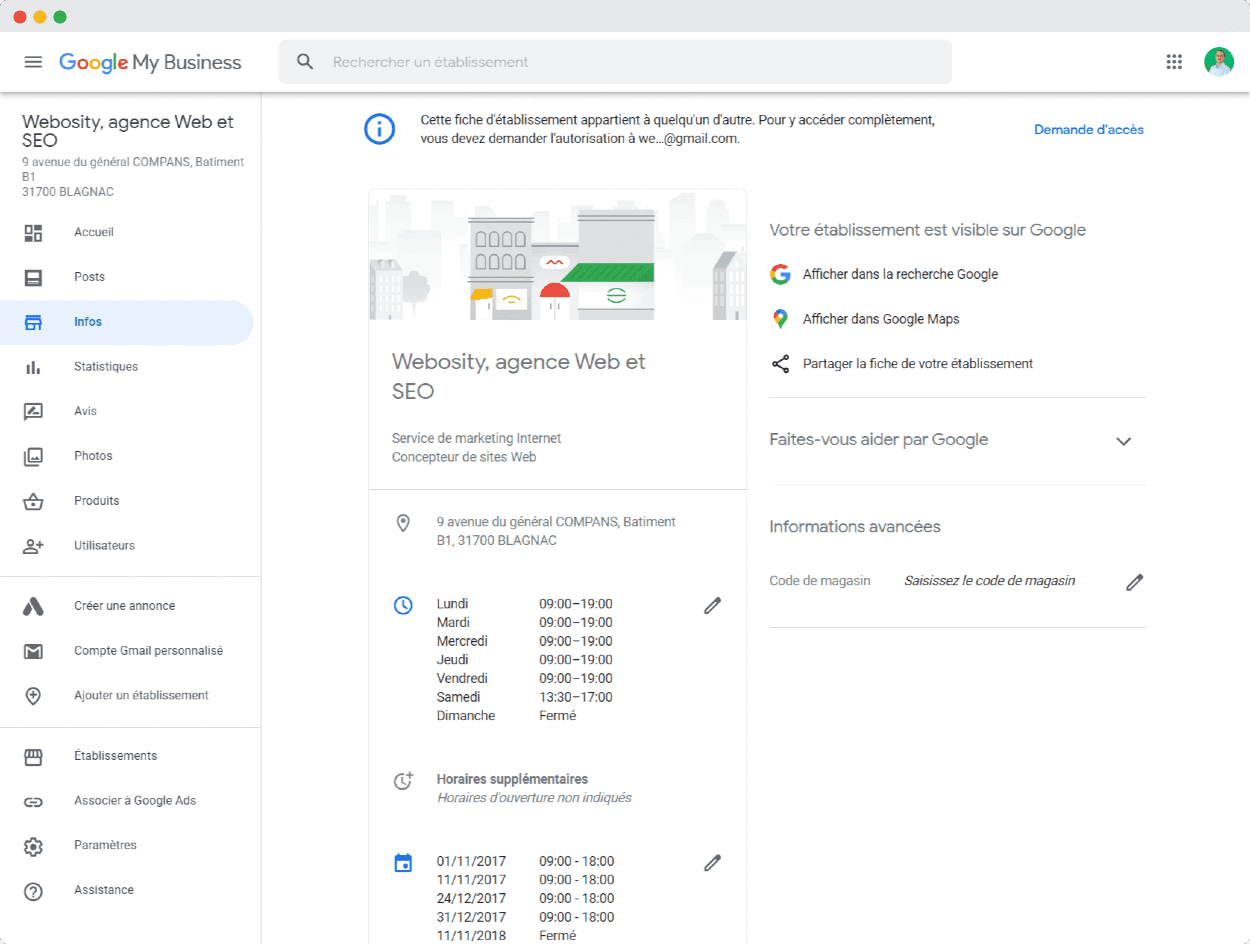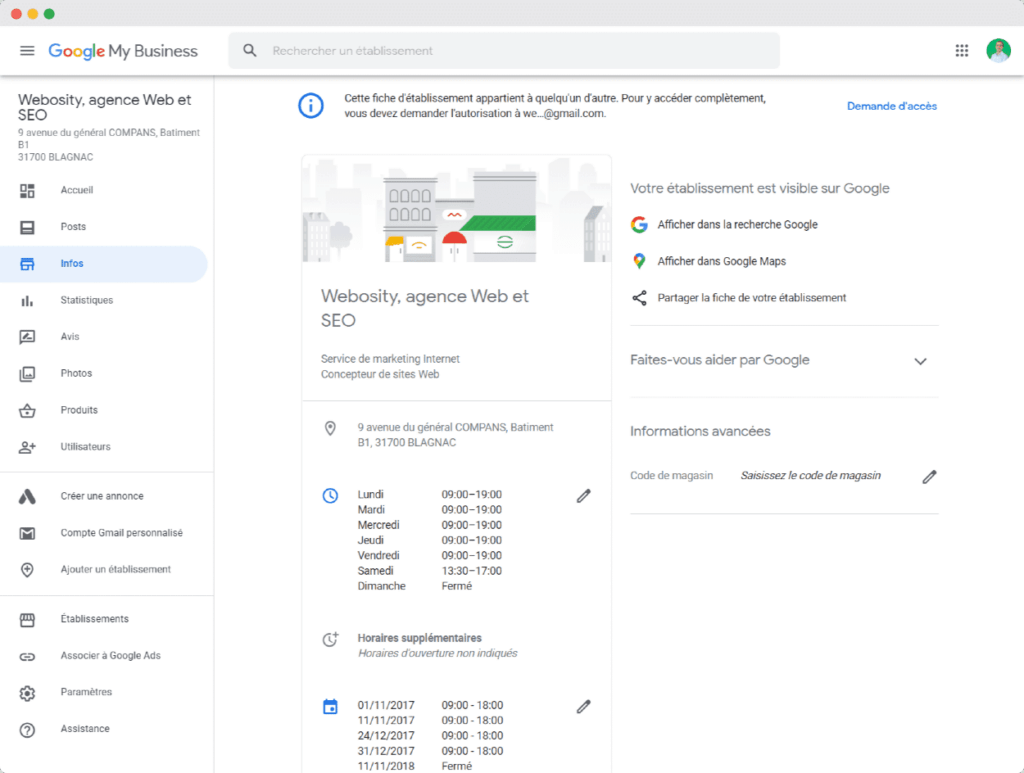 This is where you can provide the essential information about your business :
Address
Opening hours
Identifier
Website
Phone number
Description of the company
Provided services
It is very important to provide all the requested information.
Statistics tab
Here you can see a lot of useful insights to understand how your customers find you and interact with your business profile listing.
You can analyze the search modes :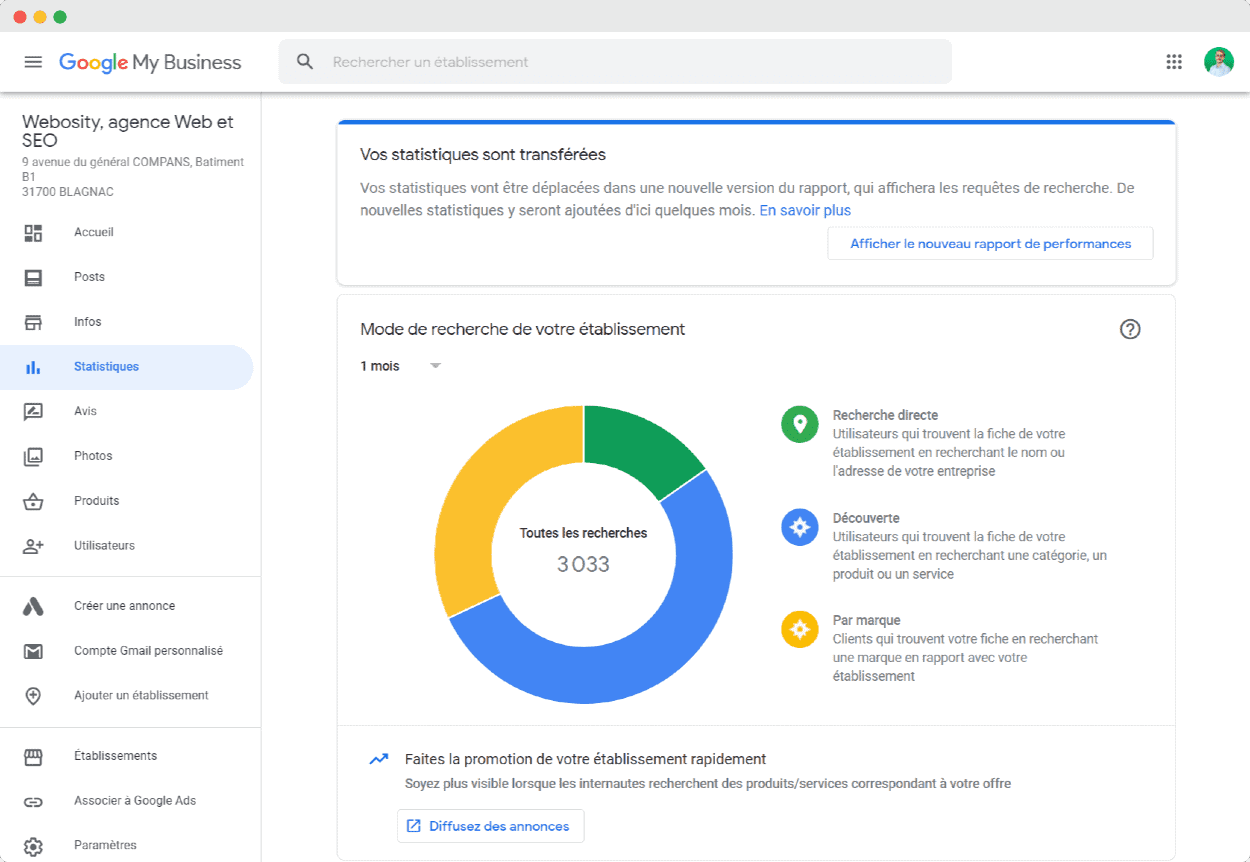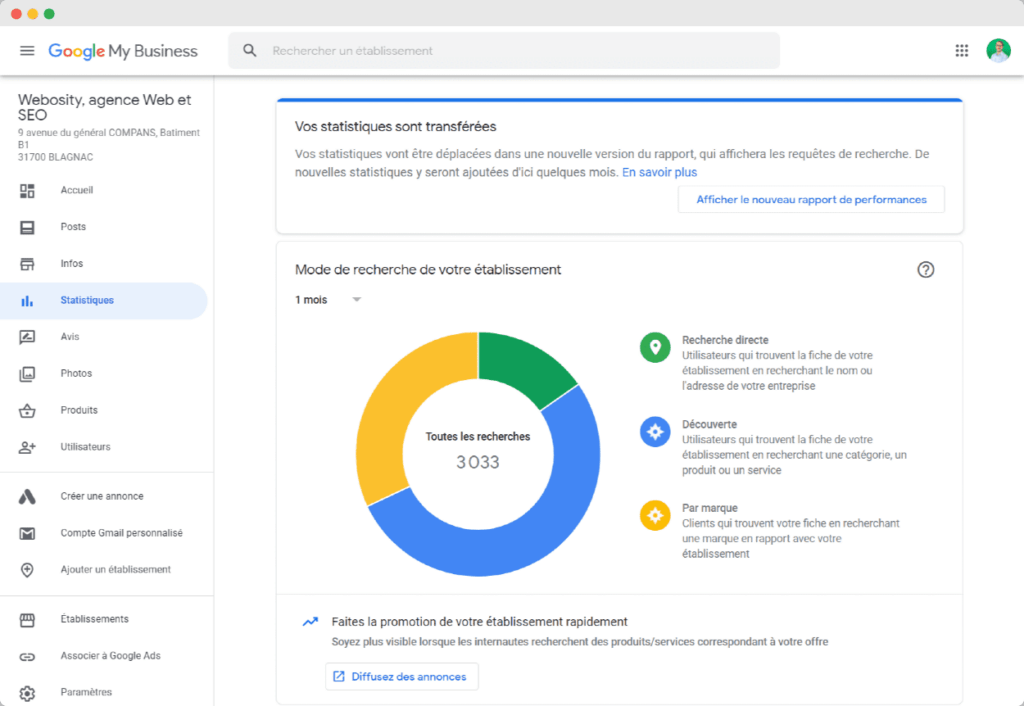 Where your listing is displayed :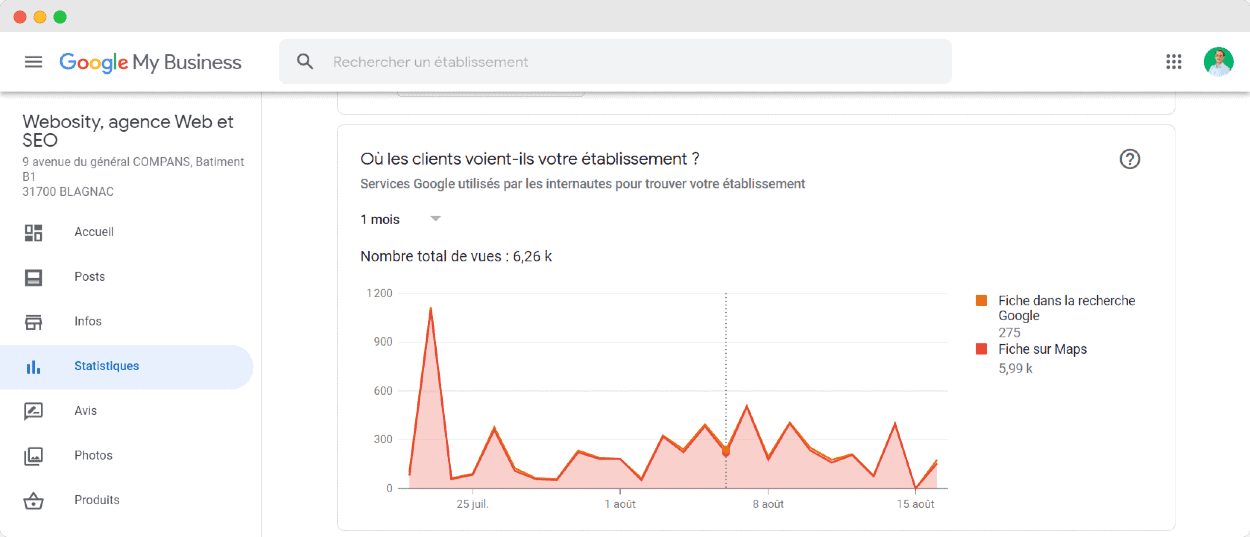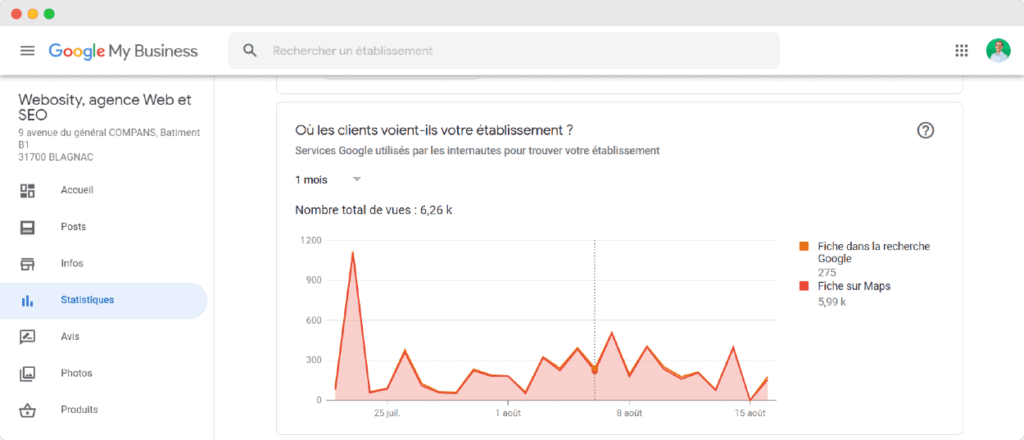 How your customers interacted with your establishment :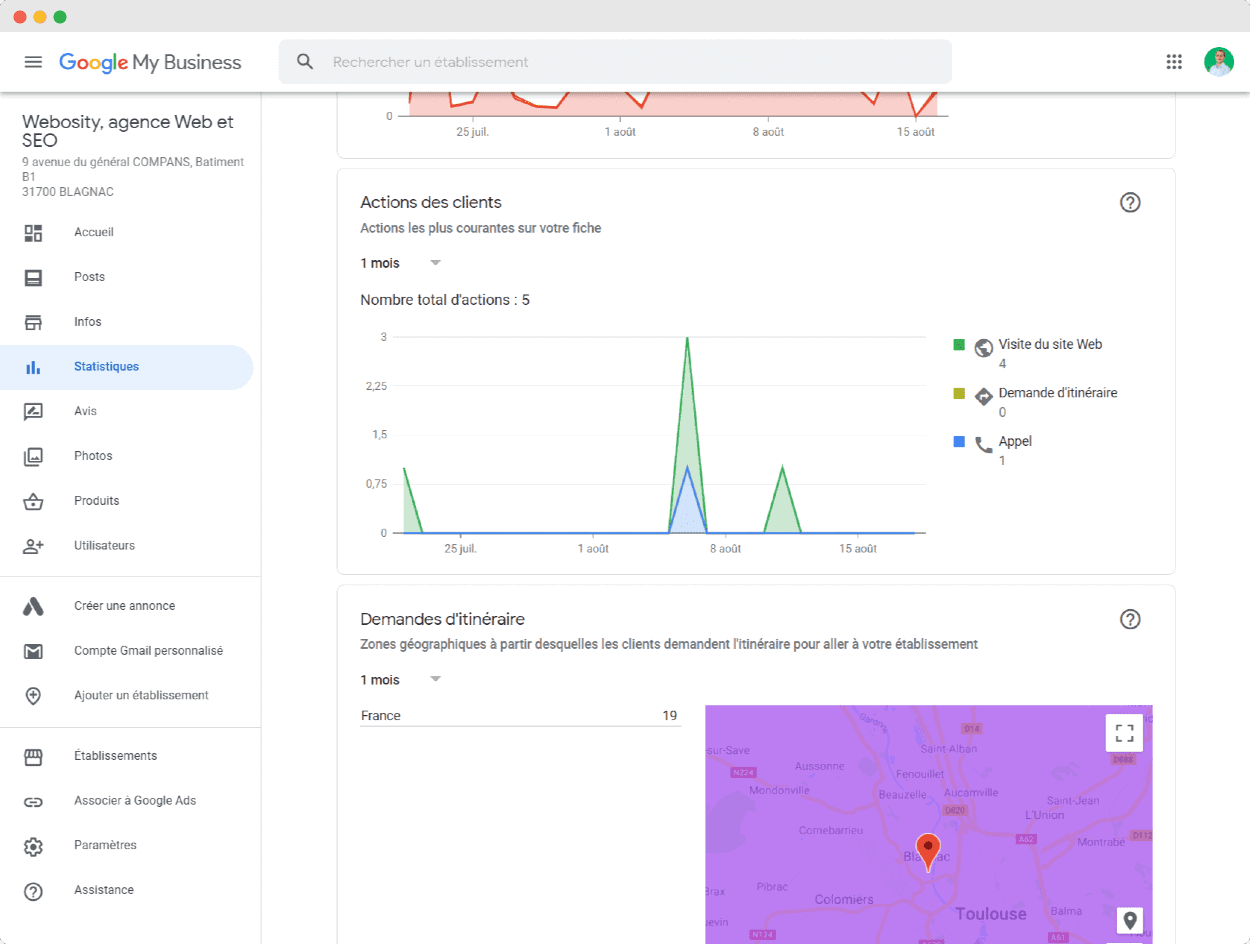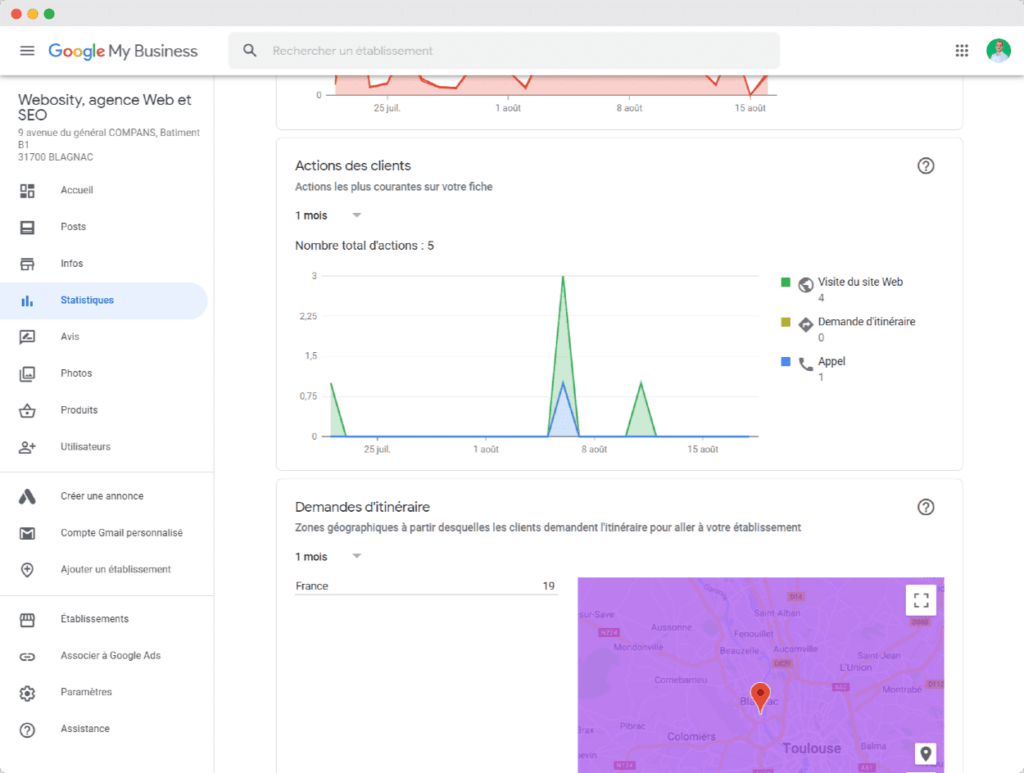 And statistics on your photos :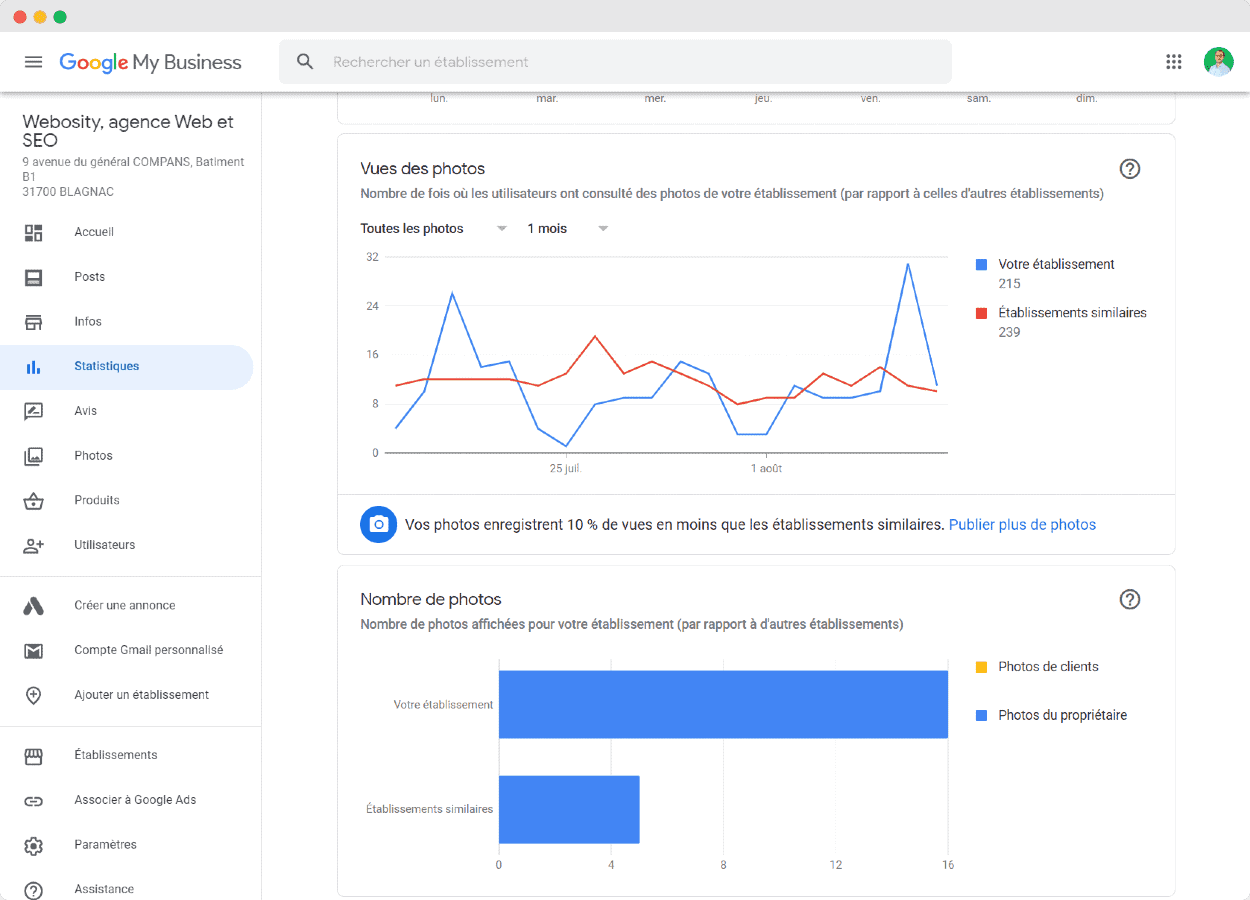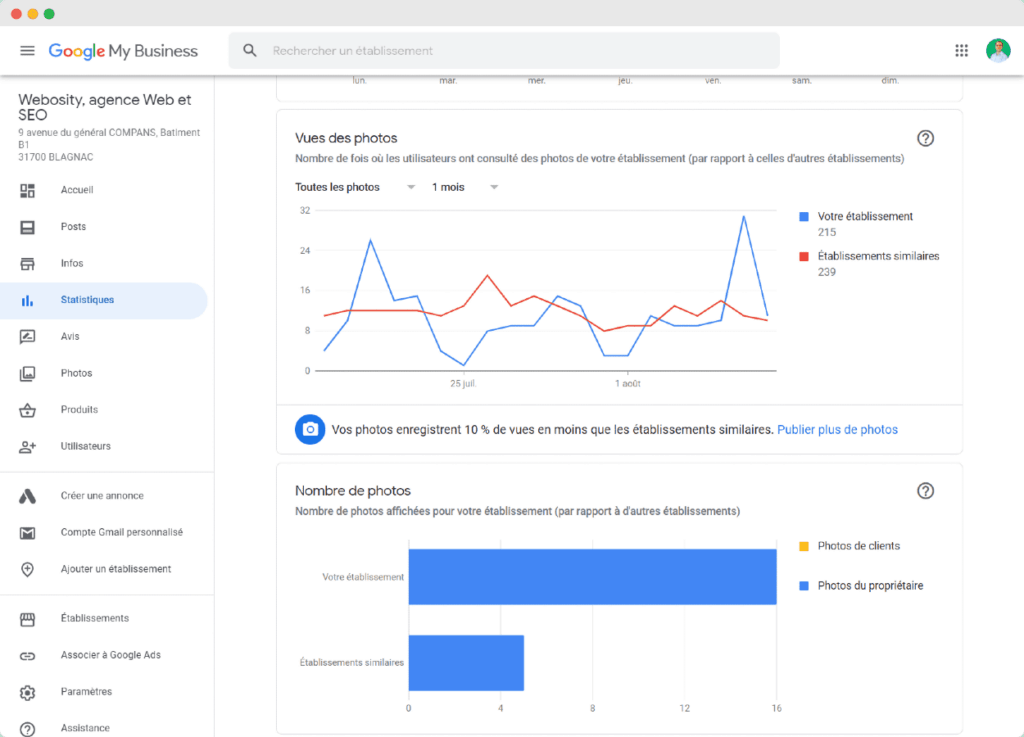 Customer reviews
This tab gathers all the customer reviews you have received.
You can sort by date, descending or ascending notes: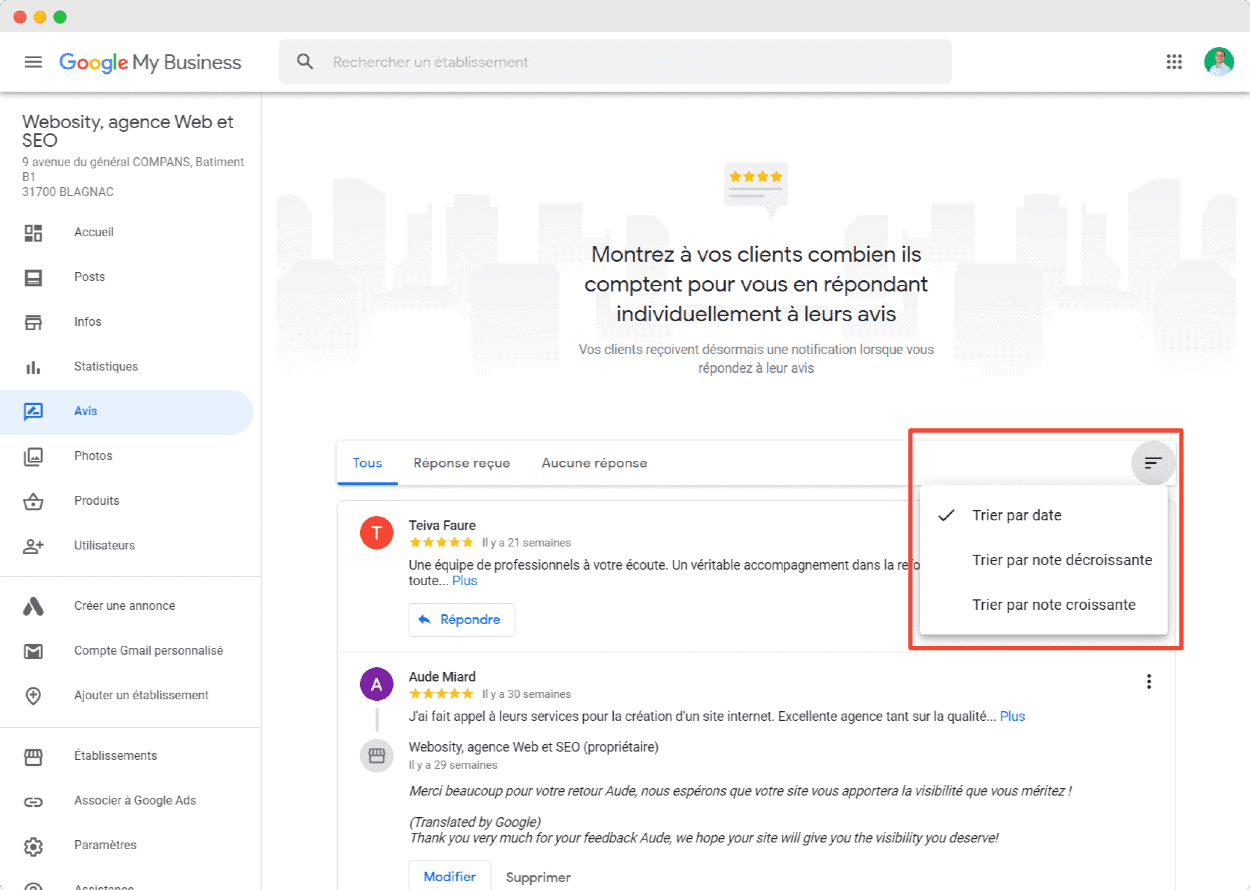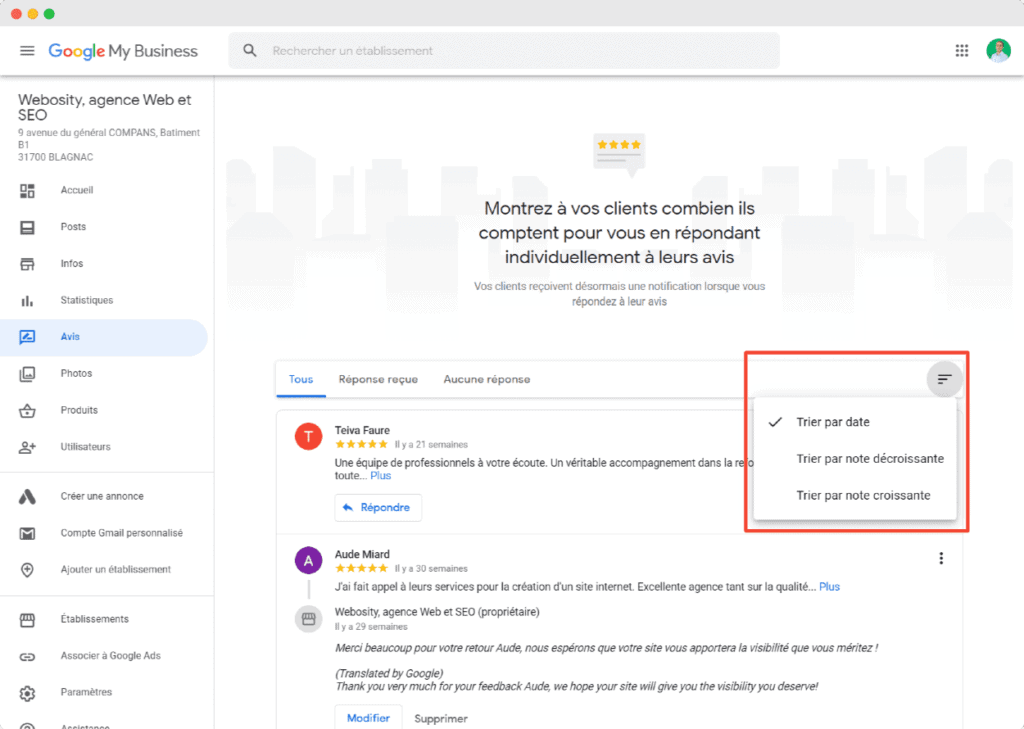 Photos
You can add many photos and videos to highlight your premises.
It is even possible to add your logo and a cover photo.
Here are Google's recommendations for photo formats:
Format : JPG or PNG.
Size : between 10 kb and 5 Mb.
Recommended resolution : 720 pixels high and 720 pixels wide.
Minimum resolution : height of 250 pixels and width of 250 pixels.
For videos:
Length : Up to 30 seconds
File size : Up to 75 MB
Resolution : 720p or higher
Make sure to vary your visuals, to integrate outdoor and indoor pictures and a team photo.
Products
You can add your list of products or services here. This is a very good way to describe your offer.
Don't forget to provide all the requested information :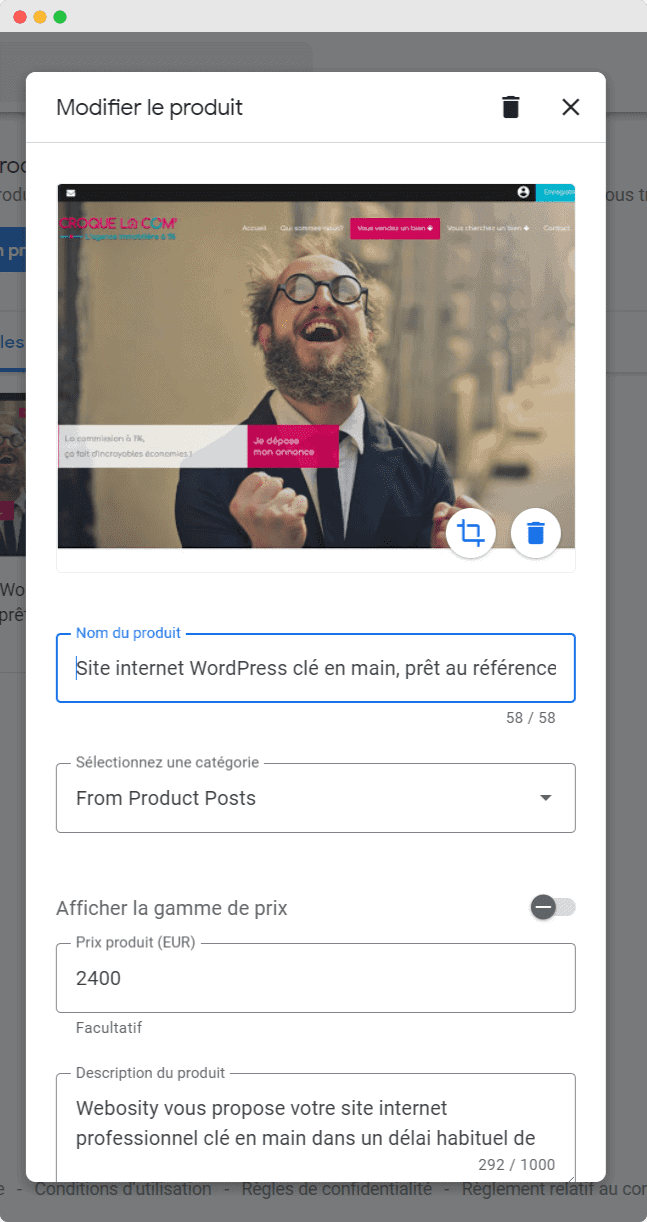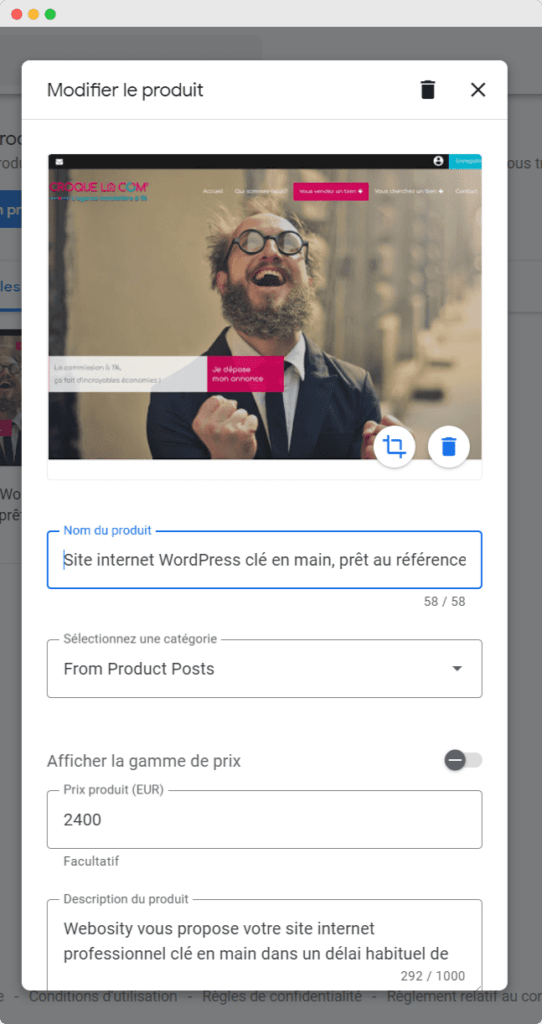 Focus on customer reviews
According to a survey conducted by IFOP, 88% of people consult online reviews before making a purchase.
Getting enough reviews and a good rating is a powerful marketing argument. It can bring you many customers and vice versa.
How to get Google customer reviews ? You have 2 possibilities:
Online
If you have the possibility to get the email of your customers, the traditional way to get the precious sesame is to send a request after the purchase.
To do this, you can share a link with your customers so that they can edit their reviews.
Go to your personal Google My Business space and click on the "Home" tab: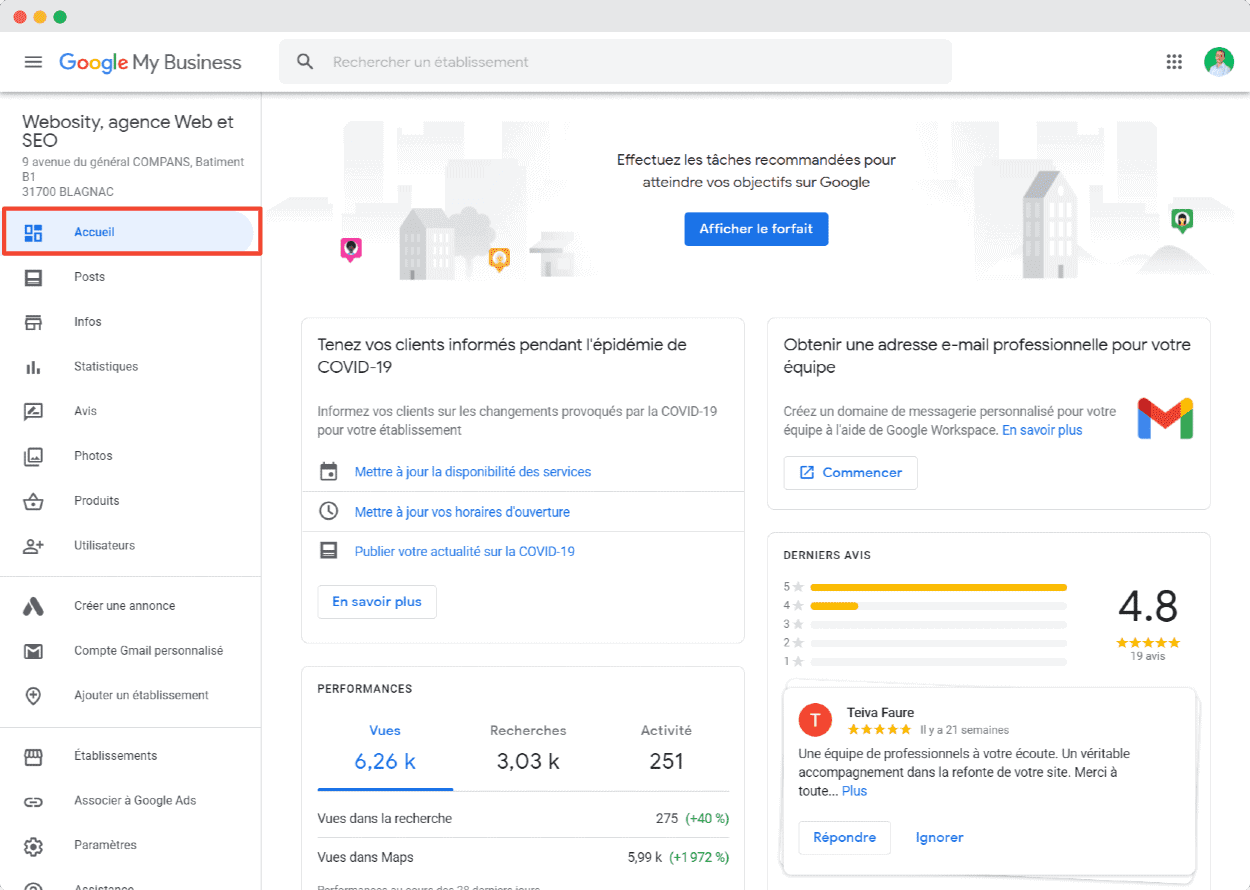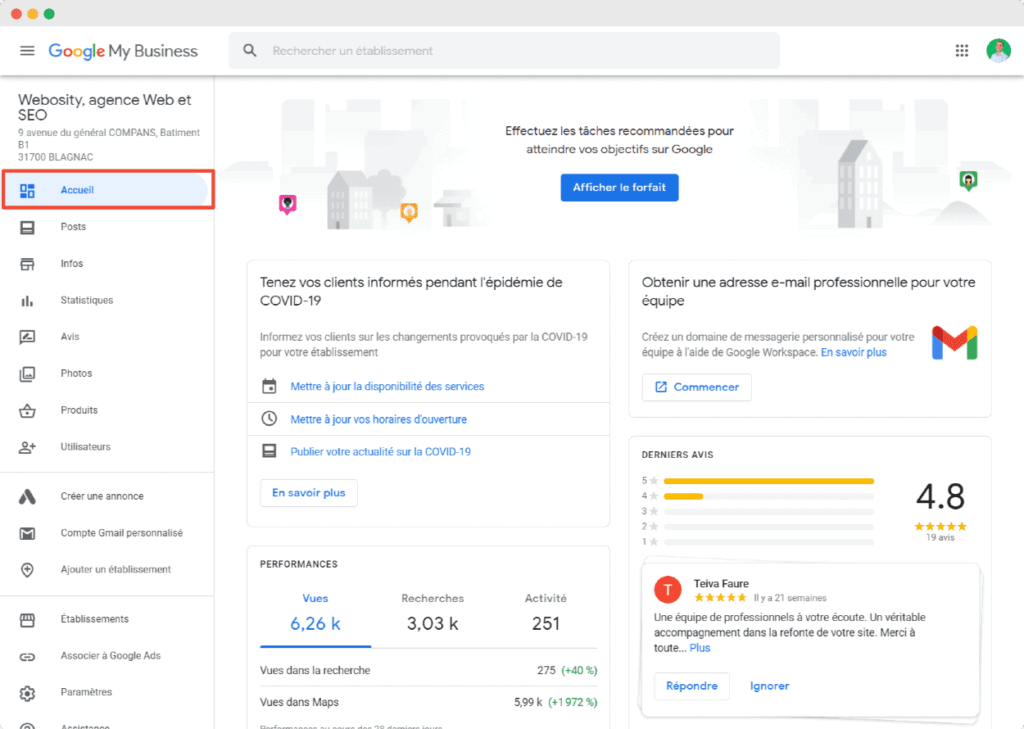 Scroll down to the "Get more reviews" section and click on "Share form" :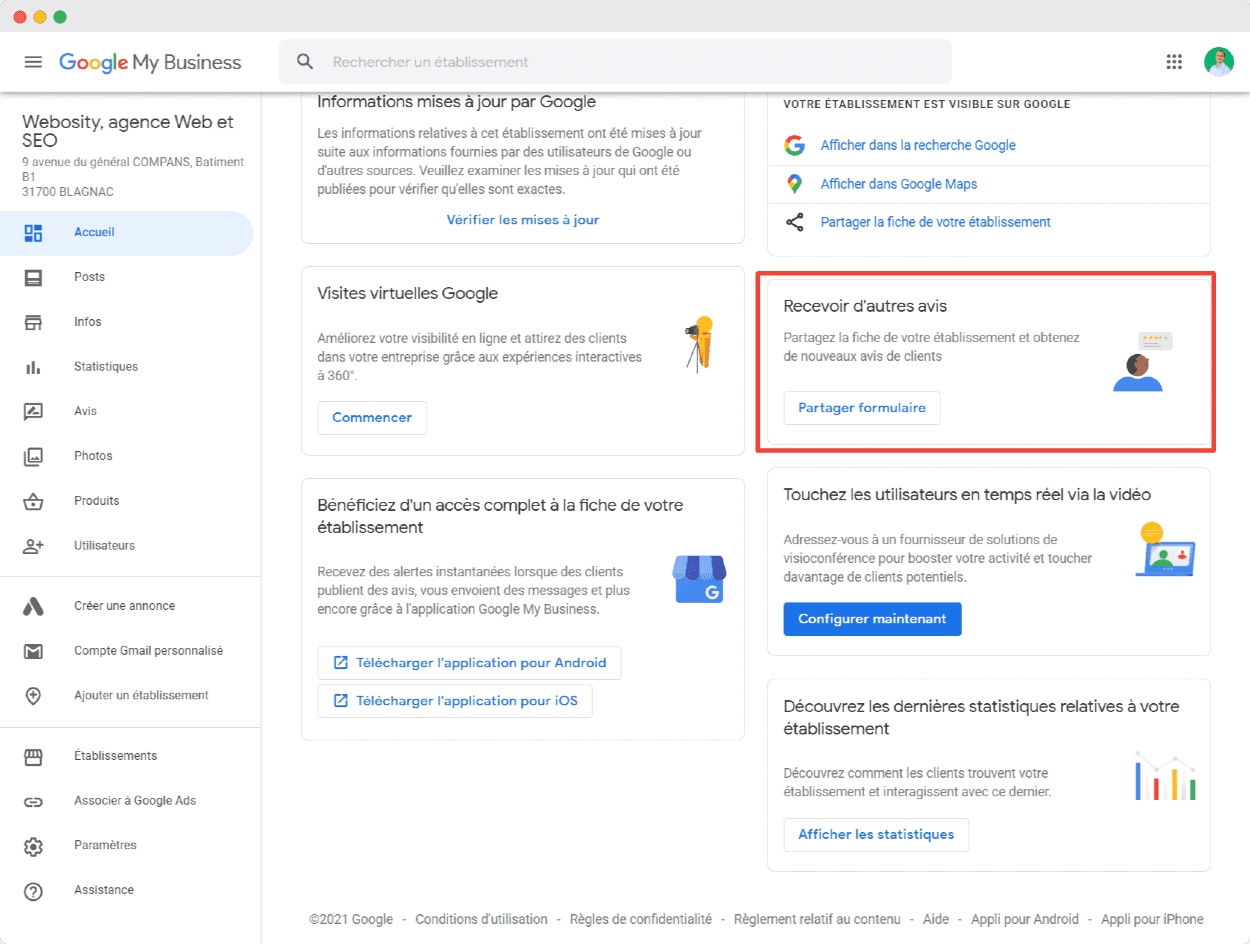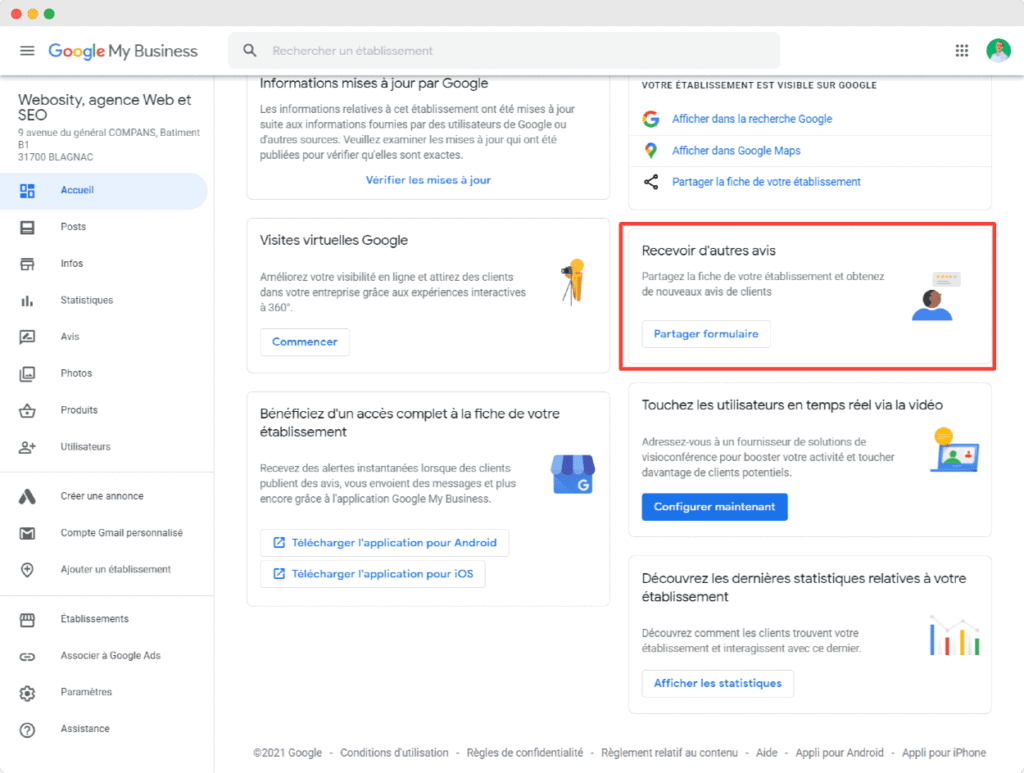 Copy the link then embed it in your review request email :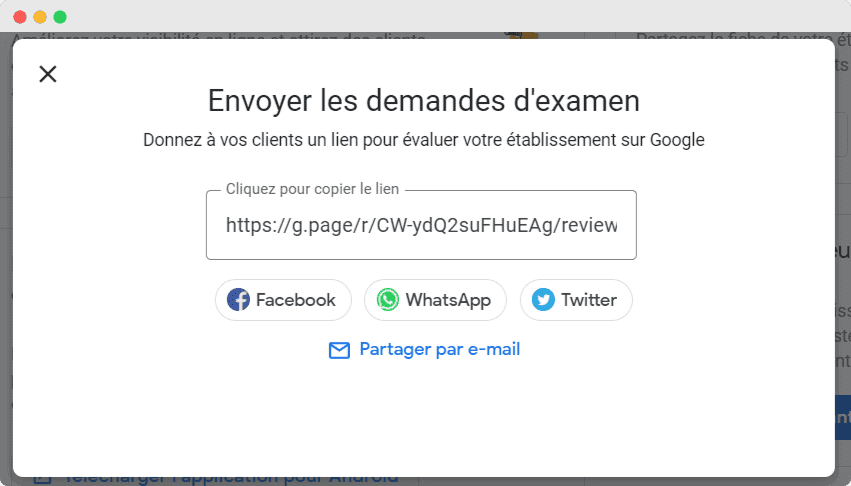 Pro tip : In order to increase your response rate, schedule a follow-up email.
Directly in your establishment
Few managers are aware of this, but Google offers a free marketing kit that includes posters, visuals for your social networks and, above all, a business card with a QR code to submit a review: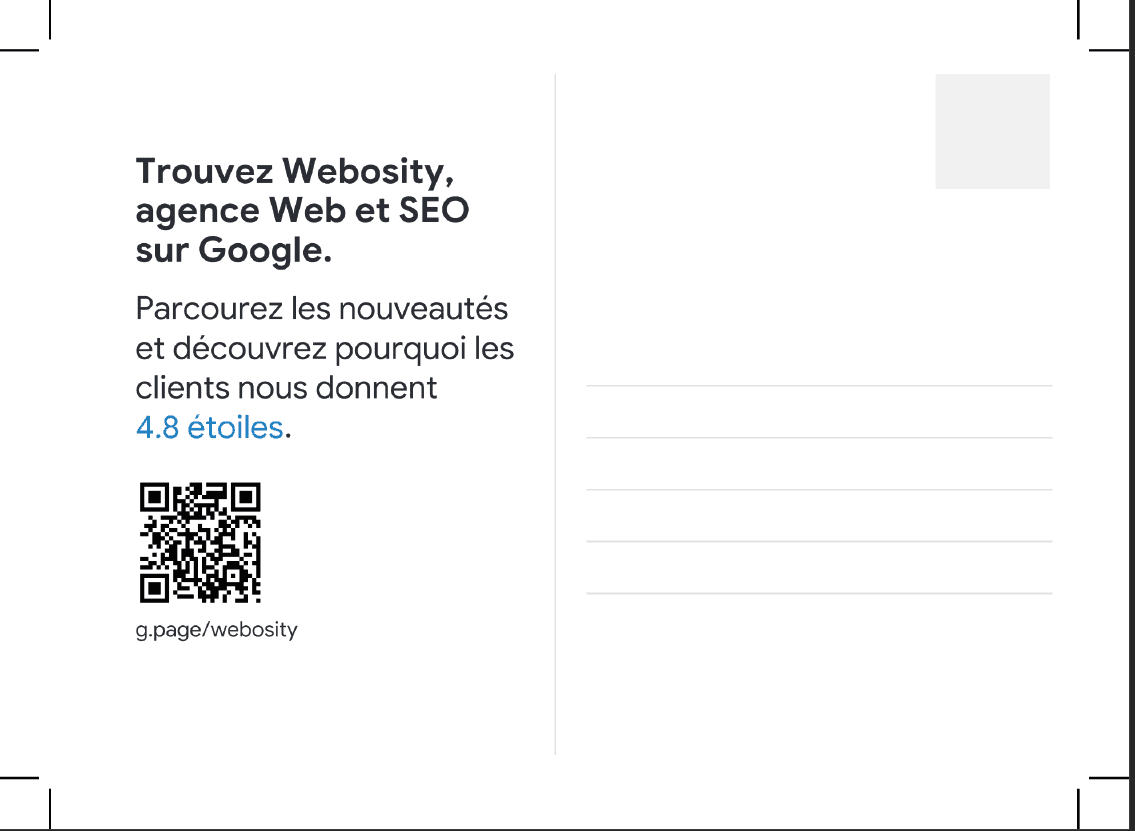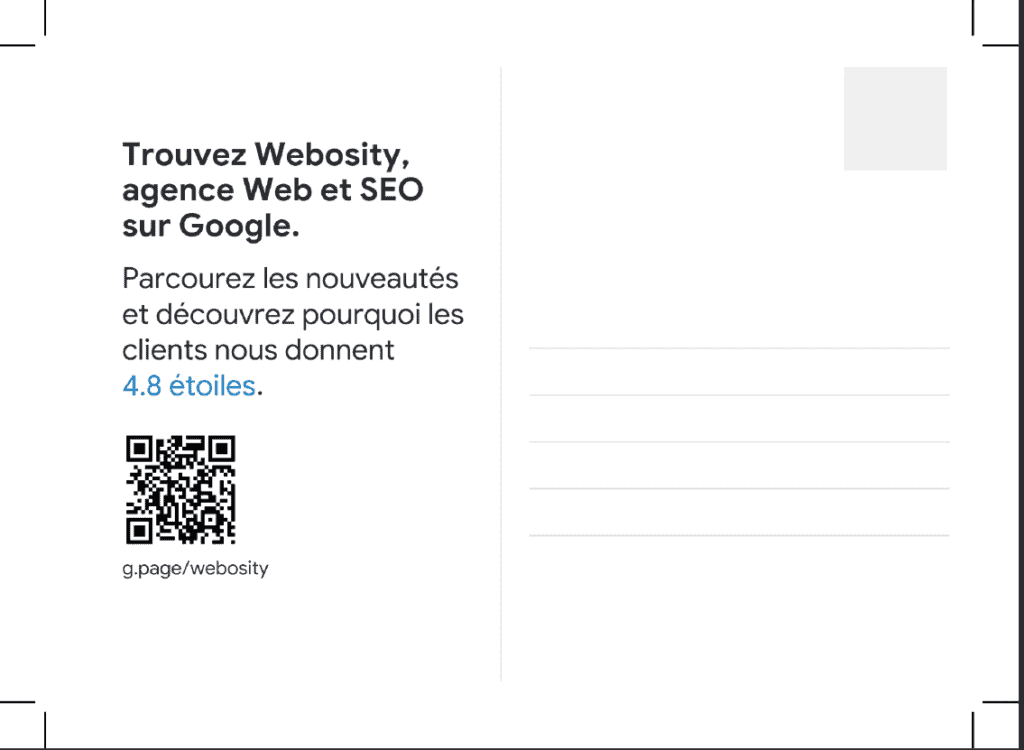 This is a very effective way to solicit reviews from consumers.
To get this marketing kit :
Step 1 : Go to https://marketingkit.withgoogle.com/intl/fr-FR/r/FR and type in your company name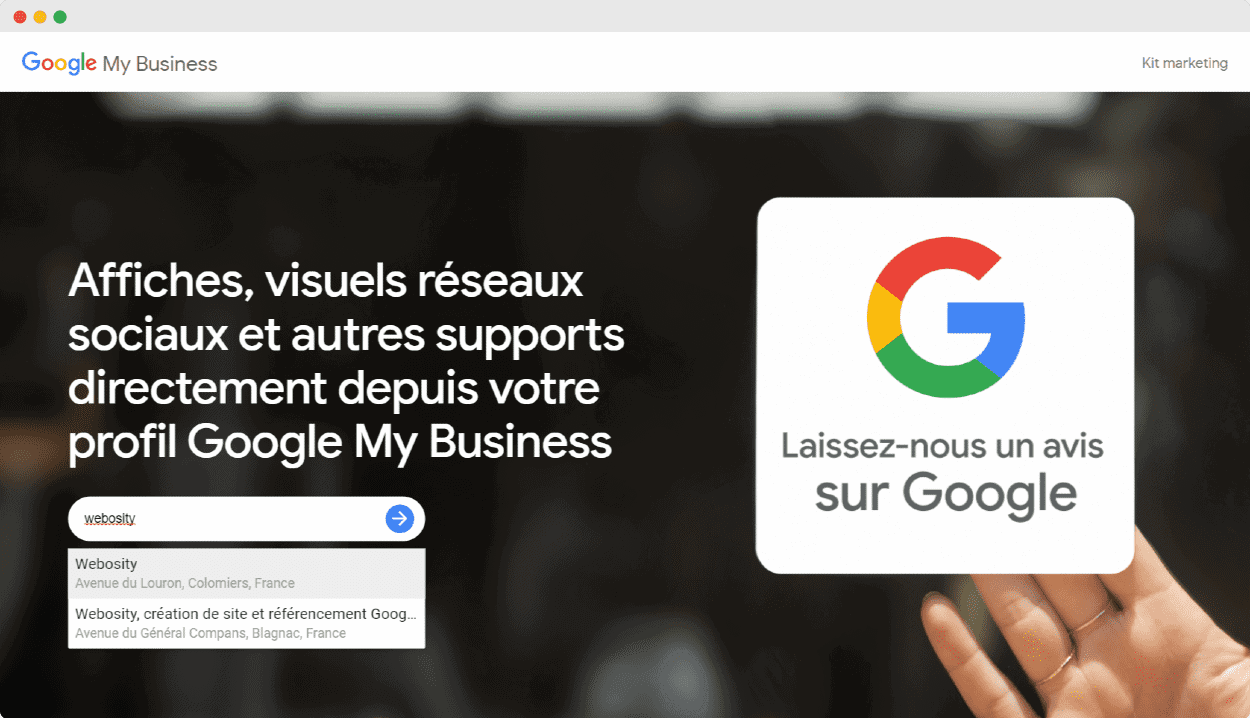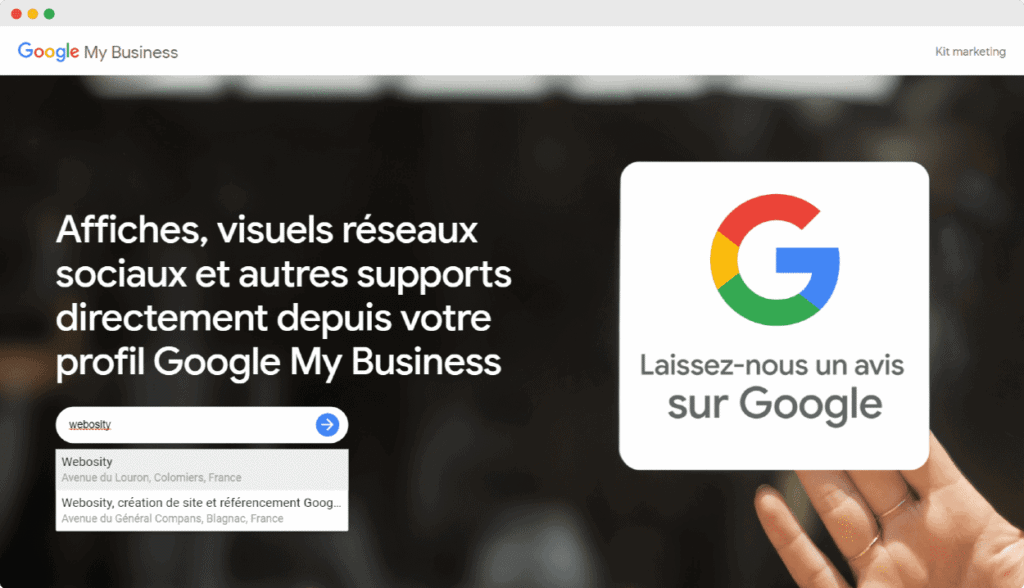 Step 2 : Scroll down to the "Showcase your business' strengths" section and click on "download all"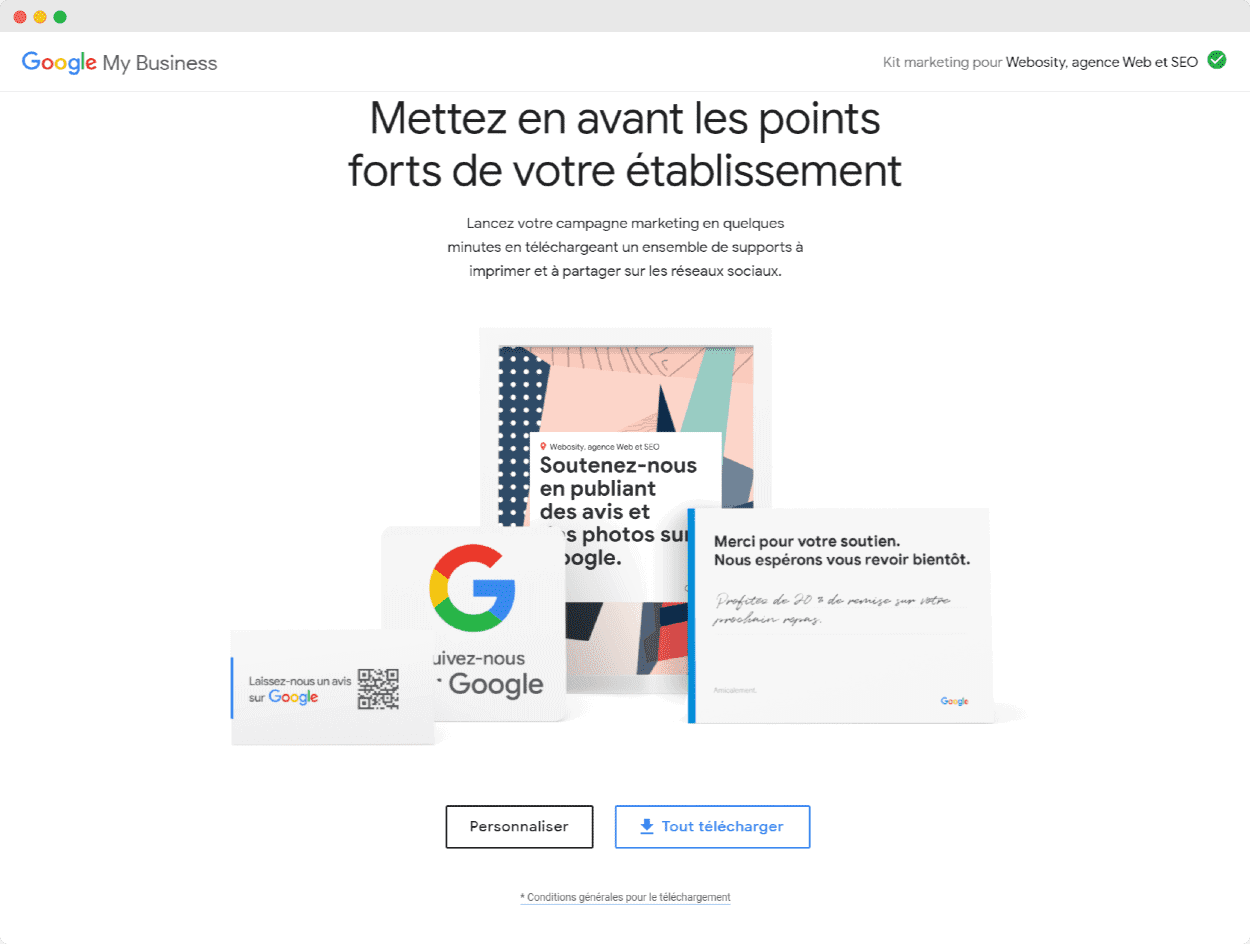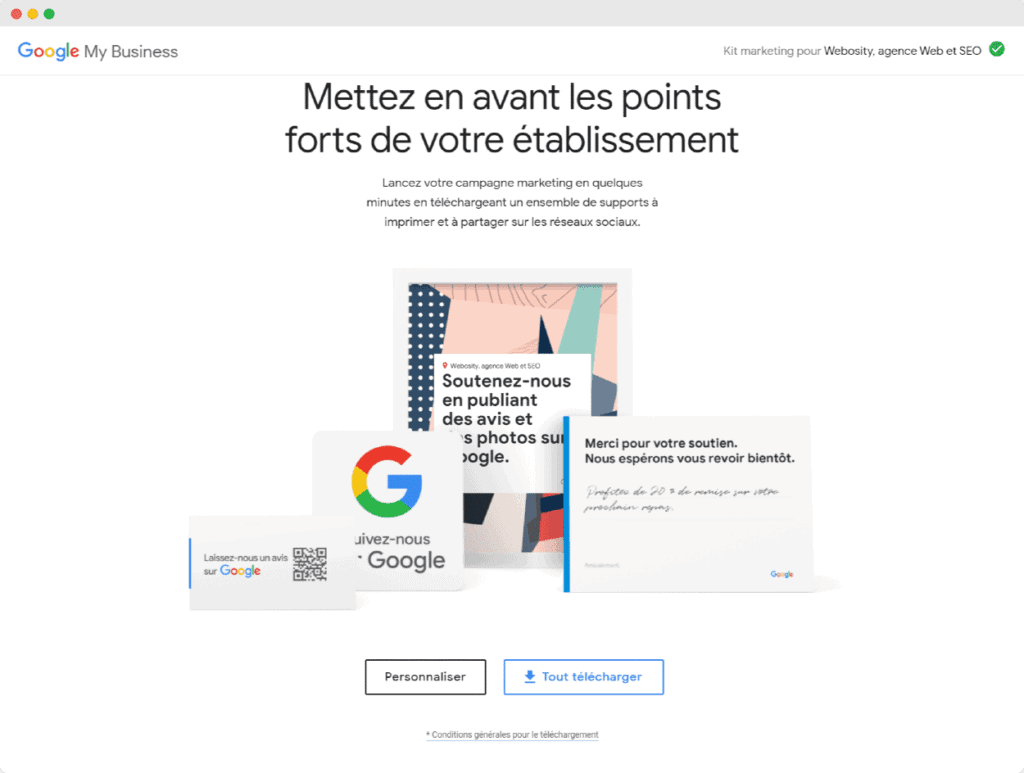 The Google Business profile mobile application
You can manage your business directly from your cell phone with the Google My Business application available on IOS and Android.
You will find on this mobile version all the features of the desktop version :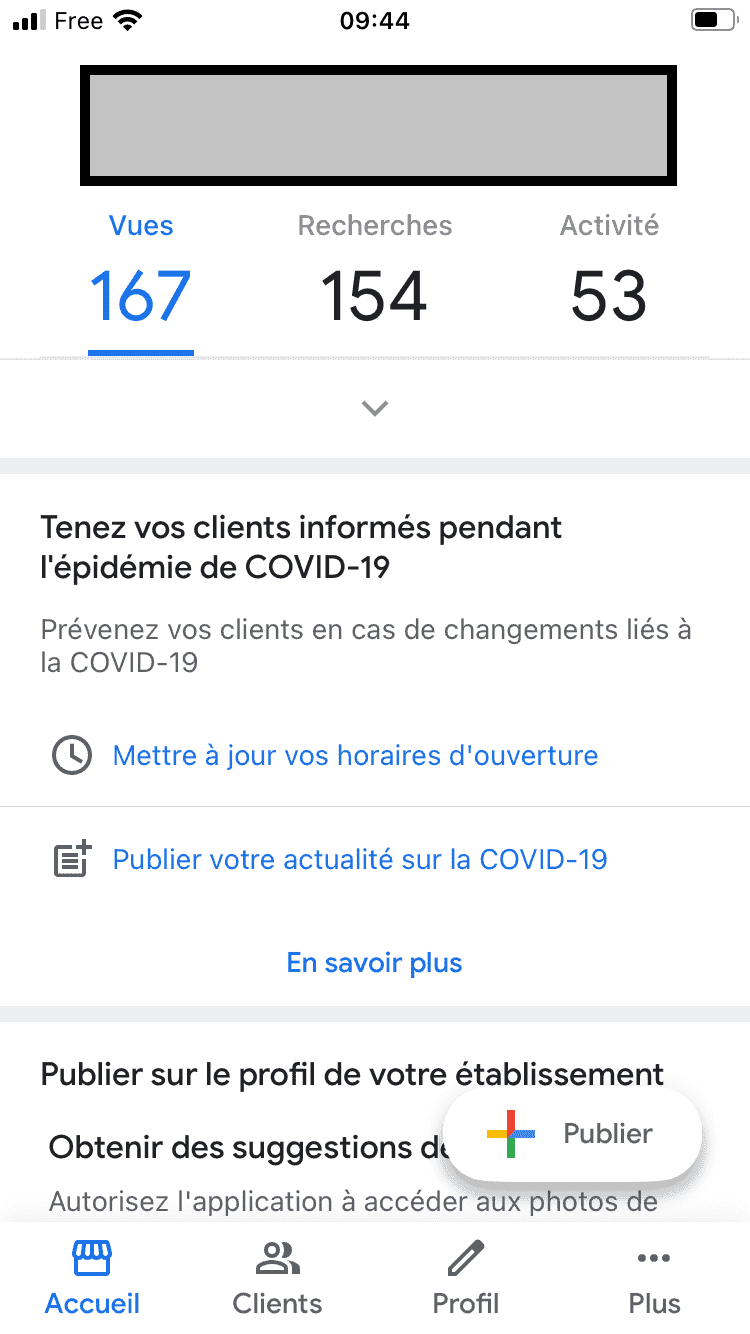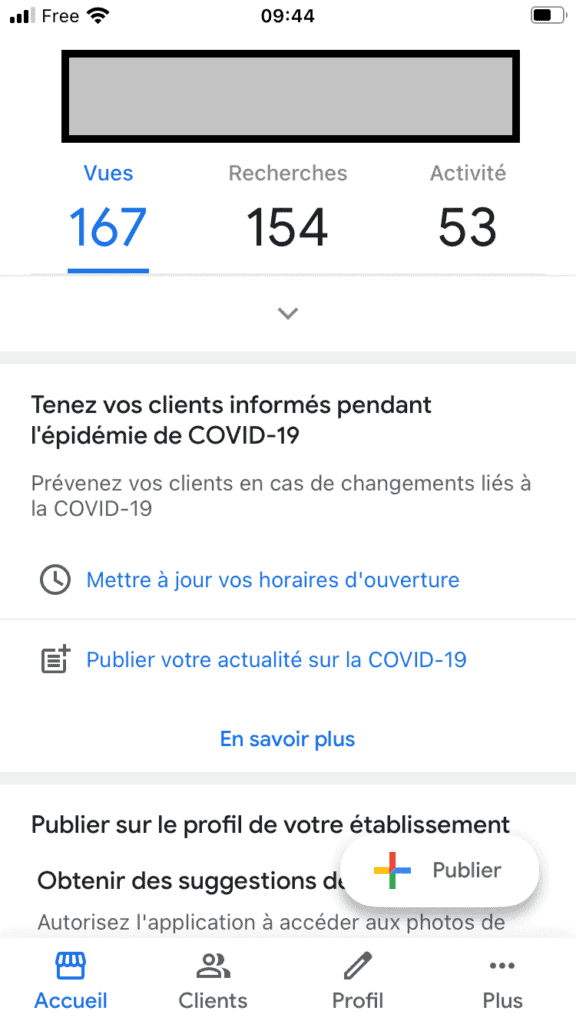 You can also receive notifications, for example when you receive a review or a message. Don't forget to activate your notifications in your settings :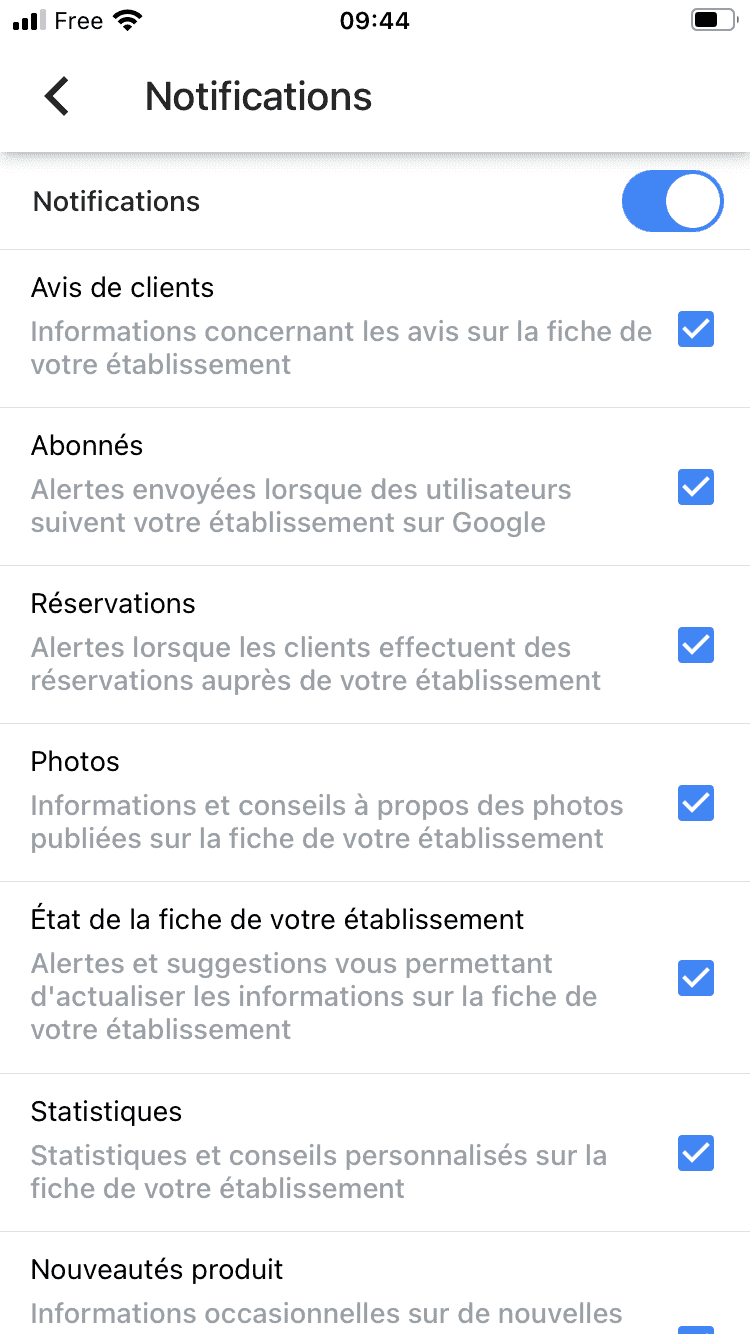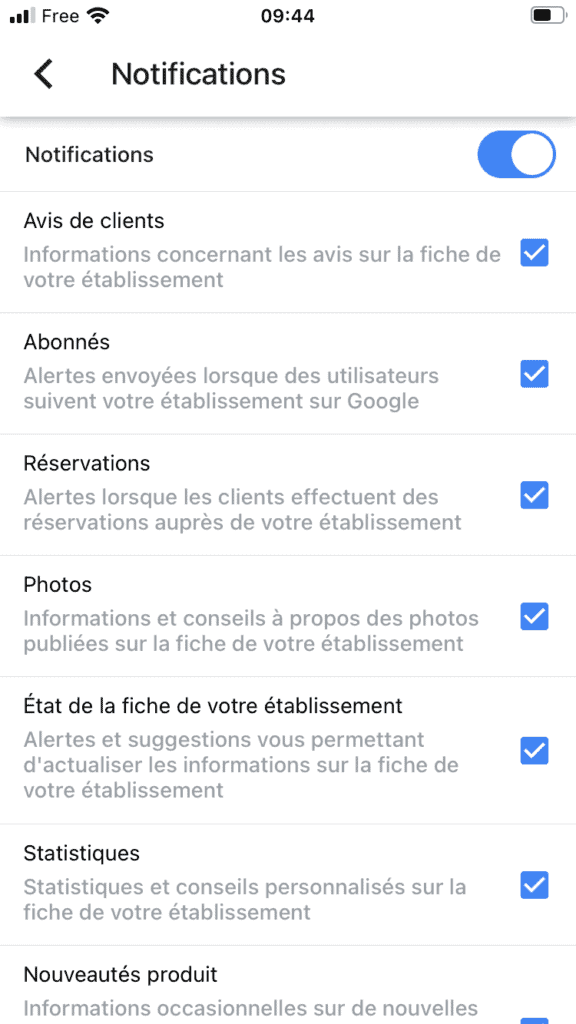 The mobile application also allows you to activate a very interesting option: "Enable message option" :
Once activated, your customers can contact you directly from your GMB listing. You can even set an automatic response message :
What is the difference between Google Business profile and Google Maps ?
Google My Business allows you to manage a business listing and Google Maps is a mapping application that is also widely used.
In order to appear on Google Maps, it is imperative to create a GMB account. This creation allows you to be automatically referenced on the mapping service.
It is very important to fill out your GMB listing as much as possible in order to optimize your presence on Google Maps.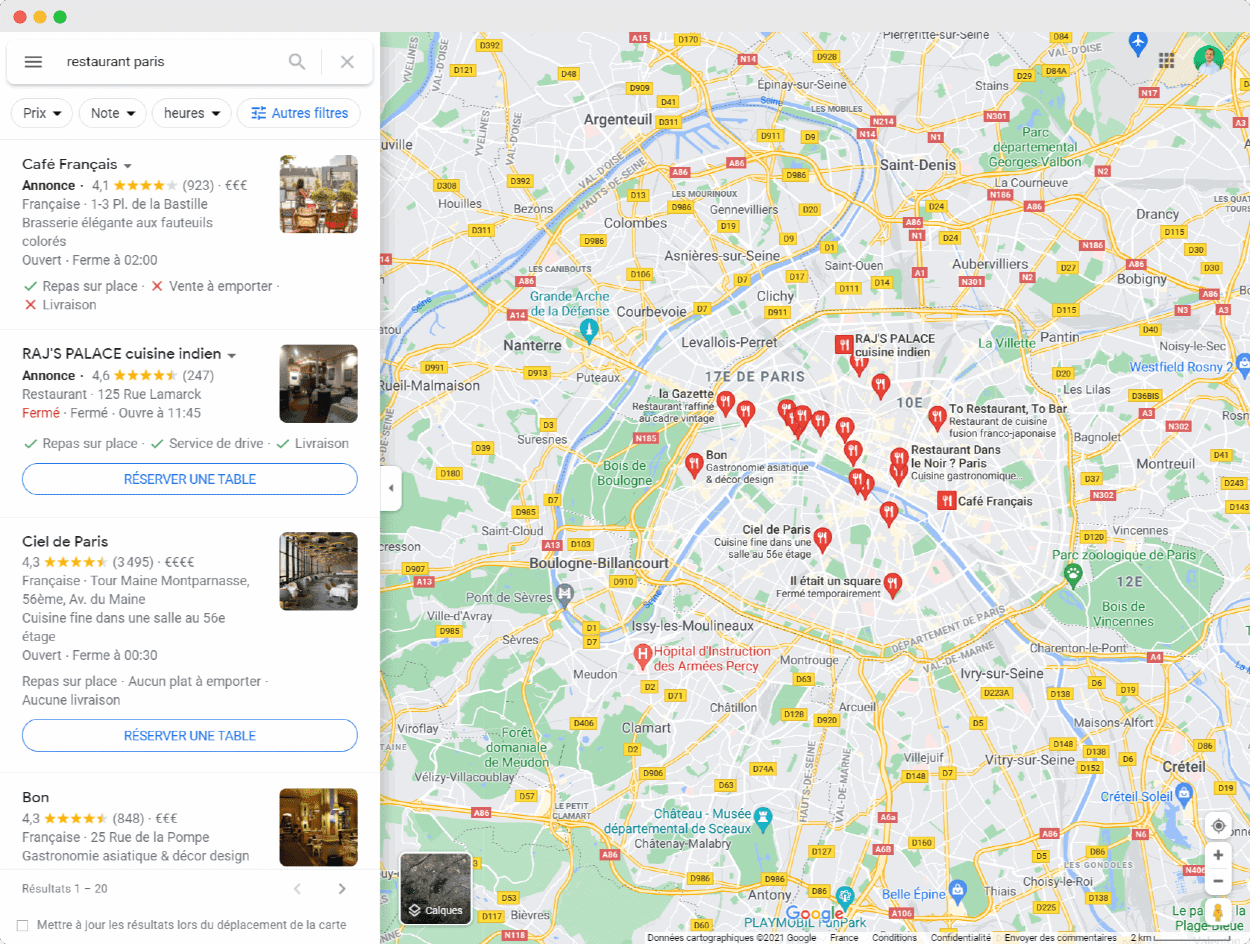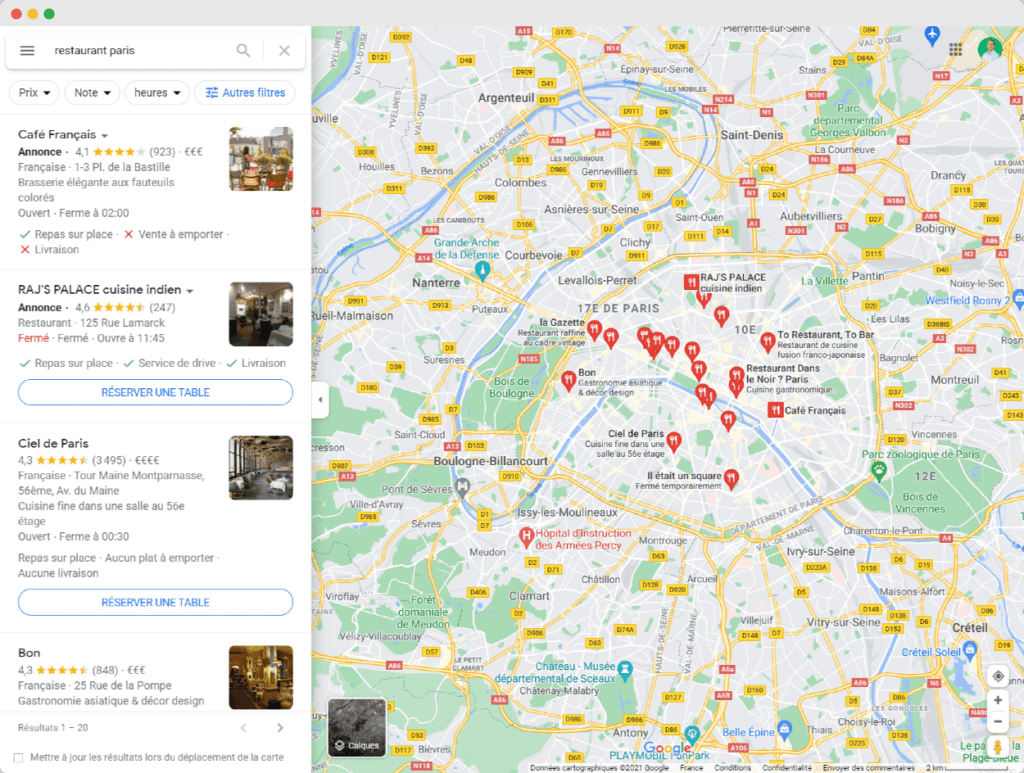 4 tips to optimize your Google Business profile listing
Answer all your reviews, good or bad
By replying to reviews, you increase your customers' satisfaction and enrich your GMB page semantically. An excellent sign for Google!
Create regular posts
The Mountain View company likes businesses with "active" profiles.
Use the same contact information everywhere
If you are listed on other local directories like Yelp or Yellow Pages, make sure your contact information (phone number, location…) are the same.
Take care of your traditional SEO
A well-filled GMB form does not exempt you from working on the natural referencing of your website. As a reminder, a great SEO strategy is based on 3 pillars :
a technically clean website
sufficient quality content
links.