Hotjar : the marketing tool to understand your visitors
Hotjar is a marketing tool that allows you to analyze the behavior of visitors to a website through a set of advanced features.
Do you want to know what points on your website catch your visitors' attention? Do you want to improve your conversion rate? Hotjar is a complete analytics software that has made its mark in the marketing world with a set of useful features that give you a clear and unambiguous view of what's holding your customers' attention, what's keeping them from taking action, and pinpointing areas for improvement. Let's discover together the marketing software that will allow you to get inside your customers' heads.
What is Hotjar?
Designed in 2014 Hotjar is a behavioral analytics solution with features that will highlight your website's strengths and those that can/should be improved.
This ultra-comprehensive software allows you to collect data about your website's user behavior and track each session down to the second. While Google Analytics just feeds you numbers, which are sometimes difficult to understand, Hotjar allows you to track your visitors' journey to get a clear visual explanation of the data provided by Google's analytics tool, making it an excellent complement to it.
Hotjar offers 4 must-have options that are its strength and make it stand out from the competition.
The 4 must-have features of Hotjar
If Hotjar has managed to make a name for itself so quickly it's partly because of the complementary features it offers. The 4 most useful are:
The Heatmaps
Device type identification
Recordings or recordings
The feedbacks, polls and surveys
The Heatmaps
Don't understand why your site users aren't taking action on your site? Want to know which part of a page is being viewed the most? The heatmap or "heatmap" highlights the hot spots on your site, the ones your visitors are focusing their attention on. This feature is very handy because it makes you aware of which areas of a site are interesting to the visitor and which ones they are not interested in. Hotjar offers 3 types of heatmaps:
The heatmap of the links that got the most clicks: This map allows you to see the top user clicks to see if the path they are taking is the right one and if the call to actions are working.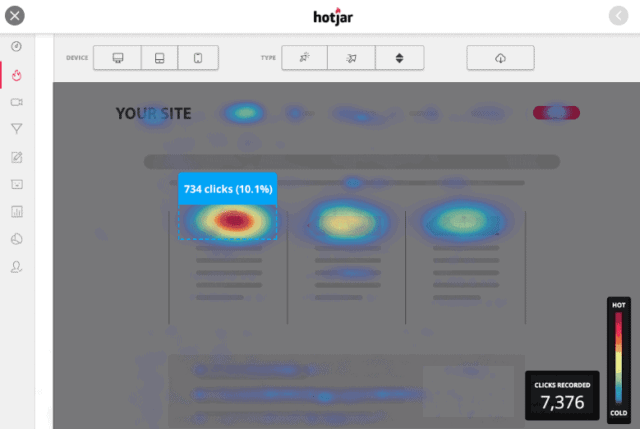 The heatmap of the most viewed places: It is based on the movement of the mouse and allows you to identify the areas on which your users linger, those on which they pass without clicking or those that they fly over without stopping.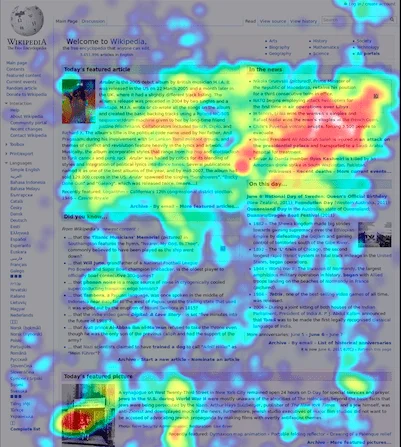 The scroll heatmap: It allows you to see how far visitors go down a page and to identify the parts that are not looked at.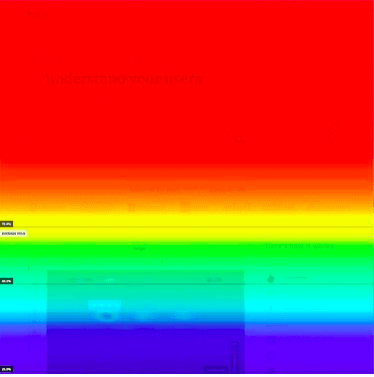 This feature is the best known and probably the most interesting of the tool because it allows you to know what catches the eye and what works (and it's not necessarily the elements you were initially banking on that work best…). So it allows you to rearrange and optimize your page for more readability and appeal, for example by moving a paragraph or call-to-action button so users stay on your site and click.
Device type identification

Similar to Google Analytics, this feature allows you to identify the type of device with which visitors connect to your site and analyze their behavior on each type of device (mobile, pc, tablet, etc…). So you can see which marketing channels work best and adapt your strategy and interface accordingly.
Recordings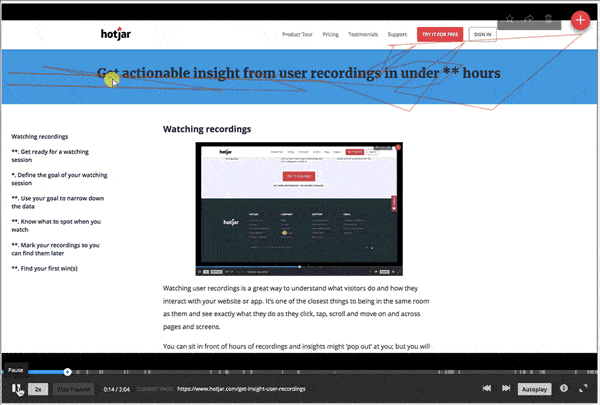 Do you find it difficult to understand the numbers provided by analytics tools? Want to put yourself in the shoes of the web user? This ultra-innovative feature allows you to view the movie of each session that took place on your site. You will be able to follow second by second the user's navigation on the page (mouse path, stopping place, clicks, etc…) in order to understand their journey as if you were in their shoes.
Then you can better understand what exactly he was looking for when he came to your site.
Reviews, comments and polls
Want to know what your customers think? What they like? Why not ask them directly? Trying to understand what a visitor is looking for by analyzing their behavior is good, but asking them directly is better! And that, Hotjar has understood it well. That's why it offers you a Feedback feature and a Polls and Surveys feature that allow you to directly ask your visitors for feedback through:
Click on an emoji
Rating by number of stars
Commenting
Polls
In-depth surveys
This way you'll know exactly what your site visitors think and your analysis will no longer rely solely on guesswork. The best way to know what a customer is looking for is to ask them directly.
Hotjar is therefore a very interesting solution that fulfills two main objectives:
Improve UX
Improve conversion rate
Hotjar's 2 main goals
Having a clear view of each user's journey through your site allows you to identify which pages caught their attention and which pages they were not interested in or did not access. This data will therefore allow you to improve the UX, adapt your marketing strategy and therefore, improve your conversion rate.
Improving the user experience (UX)
Click analytics, scroll or even clickstream recording features will allow you to simply understand the interface points or aspects that didn't convince the user of your site or the points that didn't work when they passed through and made them leave or slowed down their move to action.
In possession of this data you will therefore easily be able to modify your site's pages accordingly to make them more attractive (replace a call to action button, move a paragraph up or down, adapt the interface to the type of device that connects most often, etc…).
Improve conversion rate
By changing the placement of certain elements and improving the user's experience while browsing you increase your chances of having that visitor linger on the information that matters to them and click on the links that matter to you and thus improve your conversion rate and thus your revenue.
Hotjar's 5 strong points
Cost-effective, site-popular offers
The main advantage of Hotjar is that it combines a set of complementary tools into a single piece of software where before, several (usually paid) were needed. This makes it a very interesting solution economically.
Hotjar offers a range of progressive offers that depend on the number of daily views of the site and that adapt to the client (individual, company or agency). Therefore, you can benefit from several types of subscriptions:
Basic: limited to 2,000 views but very comprehensive offer, ideal for small sites
Plus: $39/month, this offering is ideal for low-traffic sites or startups just getting started
Business: $99 to $289/month for 500 to 2,500 sessions
Scale: 4,000 to 40,000+ sessions.
Easy to use
The second advantage of this software is its simplicity of use and the ease of interpretation of the data it collects. At the same time, it would have been a stretch for a tool that's supposed to help you improve your site's UX to be complicated to pick up…
Available customer service
This is an important element to emphasize because too many overpriced tools fail to deliver when it comes to providing help to its customers. So the high availability of Hotjar customer service (regardless of subscription) is very much appreciated.
Compatibility with WordPress and other CRMs
The majority of sites are hosted on WordPress or on a CRM, so it is necessary for a tool to offer a plugin or integration compatible with a CRM and especially the most important of them, WordPress. It is therefore logical that hotjar integrates with the latter, and rather easily moreover.
Easy installation
It's not enough to offer compatibility, it's also important that installation is not difficult. Here too Hotjar asserts its simplicity of use since, on WordPress as elsewhere, installation is done in just a few minutes thanks to the tracking code that just needs to be installed on the pages that need to be monitored.

In conclusion: Hotjar is a software that improves your marketing strategy and, thanks to many features, helps you understand users behavior on your site to adapt the UX accordingly and improve the conversion rate. With Hotjar you no longer have to interpret numbers, you juste clearly understand your users.