How to Improve Your SEO with SE Ranking: Tips and Strategies
Looking to boost your website's SEO to generate more organic traffic and attract new customers? You've come to the right place!
In this article, Debugbar will introduce you to SE Ranking, an all-in-one platform that will help elevate your SEO game.
So, are you ready to find out how SE Ranking can help you improve your online visibility and get your site to the top of the search results? Let's get started!
SE Ranking is an all-in-one SEO platform offering more than 35 tools for optimization.
Major brands such as Zapier or even Trustpilot use it.
The main features include keyword ranking tracking, competitive analysis, and keyword research.
With SE Ranking, you can track your keyword rankings on Google, Bing, Yahoo, and YouTube.
What is SE Ranking?
SE Ranking is an all-in-one SEO platform that combines more than 35 tools to help you optimize your SEO on a daily basis.
You'll see, the platform contains a lot of advanced tools that will allow you to set up a great SEO strategy. So, without further ado, let's take a look at the main features of SE Ranking.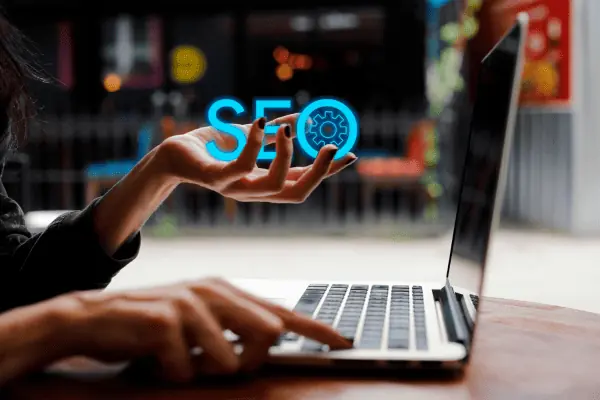 The 11 Must-Have Features of SE Ranking
SE Ranking offers a full range of features to help you improve your SEO. Here are some of the main ones:
Projects
Keyword ranking tracking
Competitive analysis tool
Keyword research tool
Website Audit
Backlink Analysis Tools
On-page SEO checker
Web Page Monitoring
Social Media Management
SEO Reporting Tools
White label options
Lead Generator
The Projects functionality in SE Ranking
The Projects functionality provided by SE Ranking offers a streamlined solution for businesses and digital agencies to efficiently manage numerous websites while keeping them organized within a single platform.
This adaptable feature is ideal for users handling various websites or clients.
To get started with Projects, simply log in and click the green "Create Project" button. This allows you to store all relevant data in one central location.
Project settings can be configured according to your needs:
General information: Provide the website URL, project name, group name, and any other required data.
Keywords: Track ranking positions by adding keywords manually, importing them from Google Analytics, or uploading a CSV/XLS file.
Search engines: Select the search engine, country, location, keyword language and optionally include Google Maps results and Google Ad rankings.
Competitors: Monitor up to 5 competitors per project and track their ranking changes compared to your website using selected keywords. Add competitors manually or through auto-suggest.
Keyword Ranking Tracking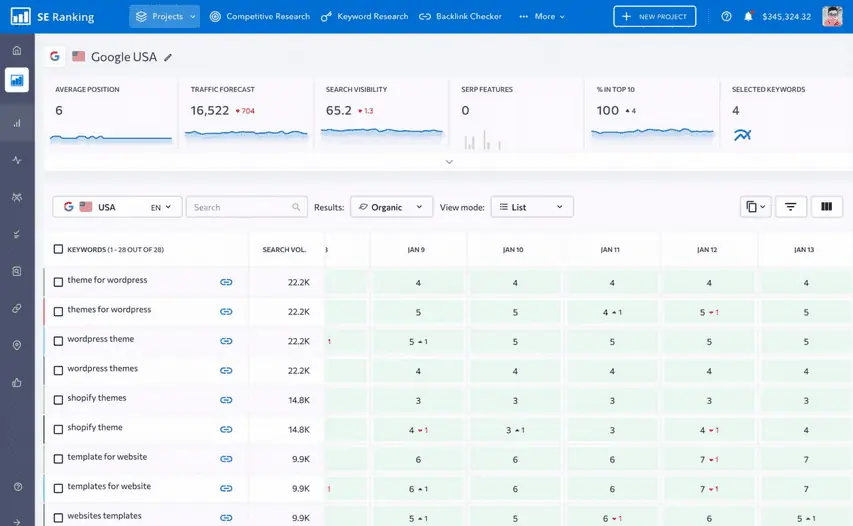 Keyword Rank Tracker is a powerful tool from SE Ranking that monitors the real-time ranking positions of selected keywords on popular search engines like:
Google,
Bing,
Yahoo,
YouTube,
and Yandex,
for both desktop and mobile devices.
The tool also offers location tracking, enabling you to monitor keyword rankings on different levels such as country, region, city, or postcode, as well as Google Maps rankings.
With the Rankings Dashboard Insights, you can access useful data like:
Average position,
Search visibility,
or traffic forecast.
This makes it easy to monitor your website's performance and optimize your SEO strategy accordingly.
Competitive Analysis Tool
SE Ranking's SEO/PPC Competitive Research tool allows you to uncover your competitors' organic and paid marketing campaigns strategies by analyzing their keywords and ads.
This insight helps you make informed decisions regarding your own marketing campaigns and discover new opportunities for growth.
Keyword Research Tool
The Keyword Research tool in SE Ranking helps you assess:
keyword difficulty,
search volume,
and cost per click, while also discovering related keywords.
This information enables you to target high-performing keywords for your content, in order to drive more traffic to your website and improve your overall SEO strategy.
Website Audit
The Website Audit tool by SE Ranking evaluates a website's optimization for search engines and identifies errors that need fixing. This is crucial for maintaining a healthy website before promoting content and attracting backlinks.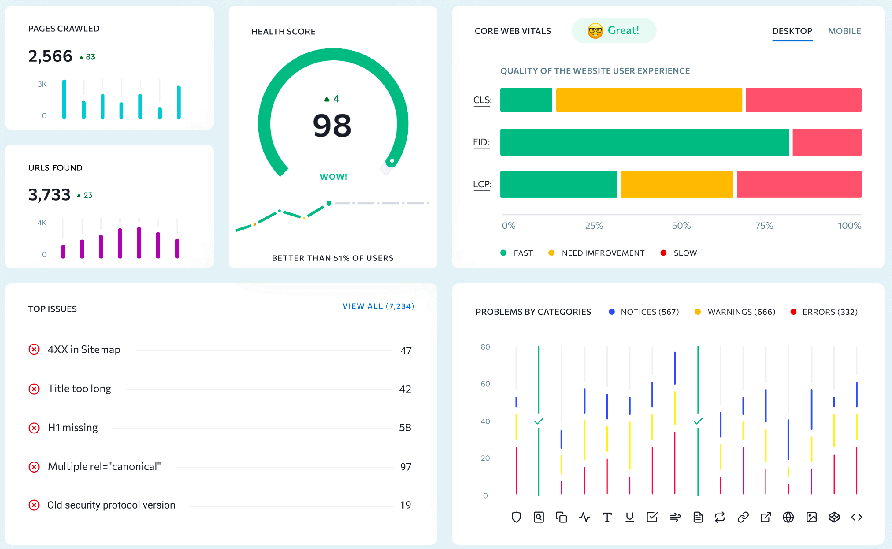 The tool performs an in-depth analysis, assessing the site against numerous ranking factors and providing actionable recommendations in a comprehensive report.
The audit report includes information on 70+ checked website parameters, color-coded by issue severity (green/tick, red/cross, orange/exclamation) for easy reference.
The report is divided into sections like Page Analysis and Meta Analysis for simple assessment and action planning.
For example, the audit might identify duplicate titles on pages, then list all affected pages for export and action plan creation.
Users can run a website audit manually or schedule regular audits (weekly or monthly) to track progress and maintain a healthy site.
Overall, the Website Audit tool from SE Ranking simplifies the process of identifying and fixing optimization issues to improve your website's performance in search engines.
Backlink Management
SE Ranking offers two tools for backlink analysis: Backlink Monitoring and Backlink Checker.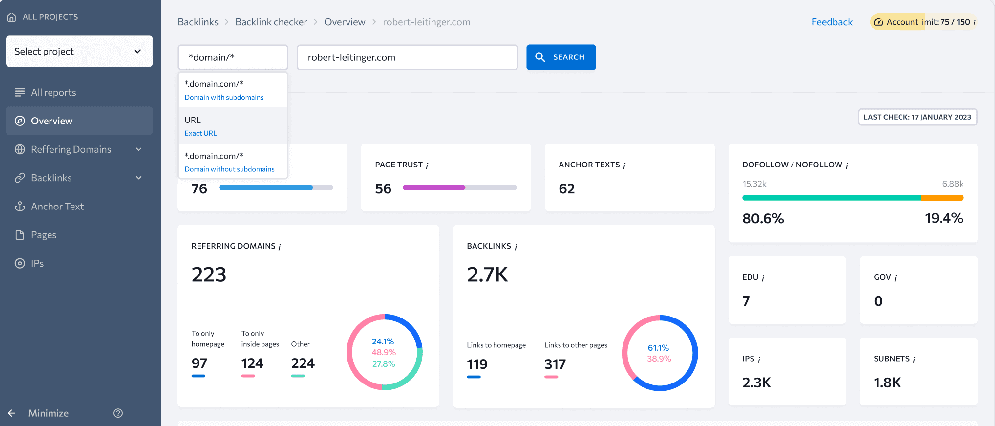 These tools allow you to discover, monitor, and control all of your backlinks while also analyzing your competitors' backlink profiles.
By keeping an eye on the quality and quantity of backlinks pointing to your site, you can improve your website's authority and search engine rankings.
On-Page SEO Checker


The On-Page SEO Checker provided by SE Ranking enables users to quickly analyze the presence of important SEO elements, such as:
META tags (title and description),
H1/H2/H3 tags,
internal and external links,
and more on any web page.
This feature helps you optimize your on-page SEO to attract more organic traffic.
Web Page Monitoring
With SE Ranking's Web Page Monitoring feature, you can monitor any changes made to your web pages and receive detailed reports on a regular basis.
This helps you track overall performance and stay informed about modifications that may impact your website's rankings.
Social Media Management
SE Ranking includes an integrated module for social media management, enabling users to view and compare Facebook group and page analytics, as well as Twitter analytics.
This feature helps you monitor your social media presence and optimize your content for maximum engagement.
White Label Options
The platform also offers white-label reporting options that can be customized with your own logo, company name, and colors to maintain brand consistency.
This is particularly useful for digital agencies that want to provide their clients with professional reports without revealing the use of a third-party tool.
Lead Generator
SE Ranking's integrated lead generator helps you quickly find potential leads by searching for a given website owner, business type, and associated email.
The results are displayed as a list with detailed information about each website, making it easier for you to identify and target high-quality prospects.
In conclusion, SE Ranking is a comprehensive and valuable SEO tool that offers a wide range of features to help you:
improve your website's search engine rankings,
drive more organic traffic,
and stay ahead of the competition.
With its user-friendly interface and extensive functionality, it's a powerful solution for businesses of all sizes looking to enhance their online presence.
As you can see, SE Ranking is a very complete and useful tool. But to see what it is worth and make an informed choice, let's look at its advantages and disadvantages.
What are the pros and cons of SE Ranking?
While SE Ranking offers many advantages, it also has some disadvantages that are important to know before using it. This little chart will help you better understand them.
Pros
Cons
– It offers a wide range of features for tracking keyword positions, competitor analysis, backlink tracking, keyword research, page quality check, etc.
– It generates customizable reports and dashboards to track your website performance.
– It is easy to use and offers an intuitive user interface.
– It also offers great customer support with live chat and email support, as well as an online help center.
– SE Ranking is paid, which can be a significant cost for small businesses and website owners.
– Some advanced features, such as website auditing, are only available in the higher subscription levels.
– The number of keywords and pages that can be tracked depends on the subscription chosen, which may be limiting for some users.
– The tool can be complex to learn for novice users who have no experience in SEO.
How Much Does SE Ranking Cost?
Prices differ depending on the number of keywords tracked and the number of pages analyzed for the website audit.
The most affordable package starts at $31 per month and there is also a free trial (without credit card). This allows you to try all the features for 14 days before purchasing the software.
| | | | | | | | |
| --- | --- | --- | --- | --- | --- | --- | --- |
| Plan | Monthly price | Number of keywords | Number of audited pages | Number of monitored backlinks | Page checker | White label reports | API access |
| Optimum Plan | $31 | 250 | 25,000 | 5,000 | 150 | Not included | Not included |
| Plus plan | $71 | Unlimited | 150,000 | 25,000 | 450 | Included | Not included |
| Enterprise plan | $151 | Unlimited | 250,000 | 75,000 | 750 | Included | Included |
What are the Possible Alternatives to SE Ranking?
There are several other SEO tools available on the market that can be considered as alternatives to SE Ranking. The main alternatives are:
SEMrush,
Ahrefs,
Moz Pro,
KWFinder,
Yoast SEO,
and Rank Math.
Each of these solutions offers a different set of tools, and it is important that you choose the one that best suits your needs.
SE Ranking in a Nutshell…
As you can see, SE Ranking is a complete SEO platform that combines over 35 tools to help you optimize your SEO on a daily basis. The platform is easy to use and intuitive thanks to its well-designed user interface and offers several pricing options to fit any budget.
The platform enables you to analyze your competitors' organic and paid campaigns for better insights.
SE Ranking provides a comprehensive website audit to identify areas for SEO improvement.
The on-page SEO checker helps users analyze META tags, H1/H2/H3 tags, and internal and external links.
Backlink analysis tools within SE Ranking allow for effective monitoring and management of backlinks.
Some advantages of SE Ranking include a wide range of features, customizable reports, an intuitive user interface, and excellent customer support.
Disadvantages to consider include the paid service, limitations on advanced features, and potential complexity for novice users.
Pricing for SE Ranking starts at $31 per month, and a free 14-day trial is available.
Possible alternatives to SE Ranking include SEMrush, Ahrefs, Moz Pro, KWFinder, Yoast SEO, and Rank Math.