What Is Local SEO and How to Improve Your Local Ranking?
Local Search Engine Optimization is a branch of SEO that focuses on optimizing the visibility of a website in local search results.
It's a way for businesses to make sure their websites appear in the top search results when someone searches for local businesses or services related to their product or service.
It is therefore important not to neglect your local SEO if you want to increase your online presence and reach local customers.
Want to attract more local customers to your store? Do you want to increase your local visibility? Then you need to develop a solid local SEO strategy.
Debugbar explains how to do it in this article.
Local SEO can help your business stand out among competitors.
With a good local SEO strategy you can draw more traffic to your website.
Taking care of your local SEO is generally a great way to have more leads and increase your sales.
Also read : The 10 must-have SEO rank tracking tools of 2023
What is Local SEO and why is it important?
Local search engine optimization is an effective way for businesses to reach potential customers in their area.
It's especially important for small businesses who do not have a large budget for advertising and marketing. It helps them compete with larger competitors by appearing higher in the search engine results page (SERP) and on the map pack.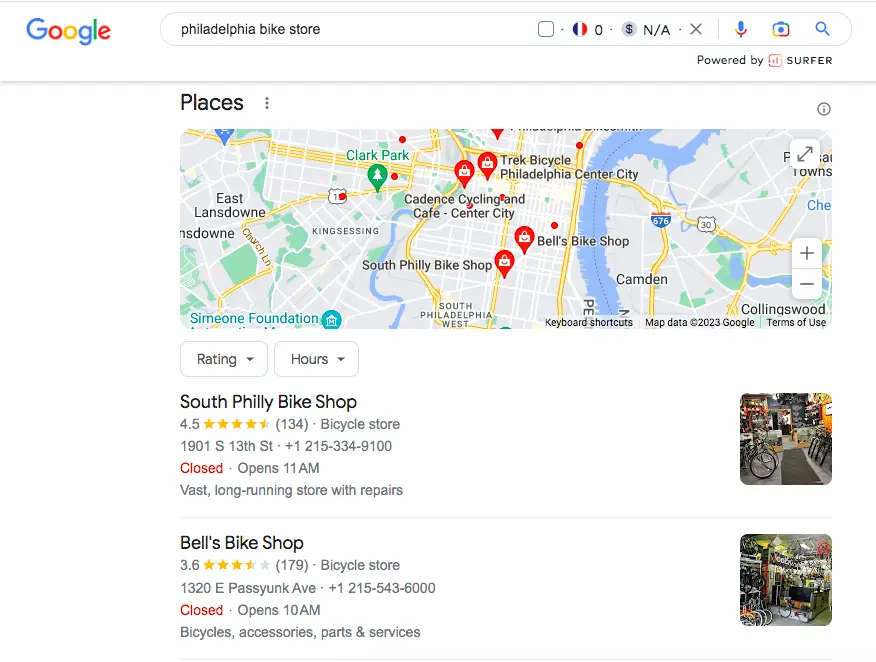 How does local SEO work?
Local SEO works by optimizing your website and online presence to increase your visibility for search engine users in a specific geographic location.
To achieve this, search engines like Google consider various factors such as:
the location information or NAP of your business: NAP means Name, address and phone number. The idea is to be easily found by customers.
the relevance of your web site and its content to the local market: this criteria refers to the keywords associated with the business.
the distance: distance refers to how far away from the searcher's location the business is located.
and prominence: this last criteria refers to how well-known or established the business is in its industry or geographic area
Note: it's important to remember that Local SEO works hand-in-hand with organic SEO efforts. Strategies such as creating quality content that includes targeted keywords relevant to your location will help improve both organic and Local SEO efforts simultaneously.
You want to improve your local SEO ranking? So, let's see how to do it!
How To Improve Your Local SEO Ranking?
Now that we know what Local SEO is and how it works, let's discuss how you can optimize your ranking on Google Local Search results pages (SERPs). Here are some tips from professionals on how best to optimize your site for higher rankings:
Optimize your Google My Business Listing (GMB).
Checking your contact data consistency.
Building local citations and backlinks.
Utilizing local keywords in your content.
Encouraging customer reviews.
Creating local specific content.
Optimizing Your Google My Business Profile
The first step in improving your Local SEO ranking is optimizing your Google My Business Profile. Google My Business (GMB, now Google Business Profile) is an important tool when it comes to optimizing for local search engine rankings.
Indeed it allows you to add information about your business such as:
location (or locations if you have several physical stores),
hours of operation,
contact information,
photos,
customer comments,
and even website links.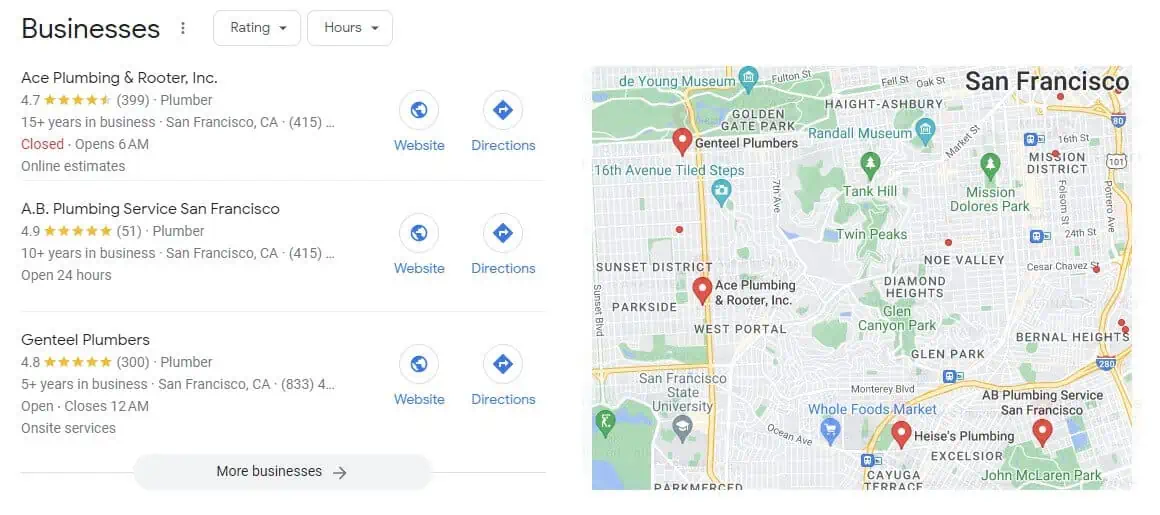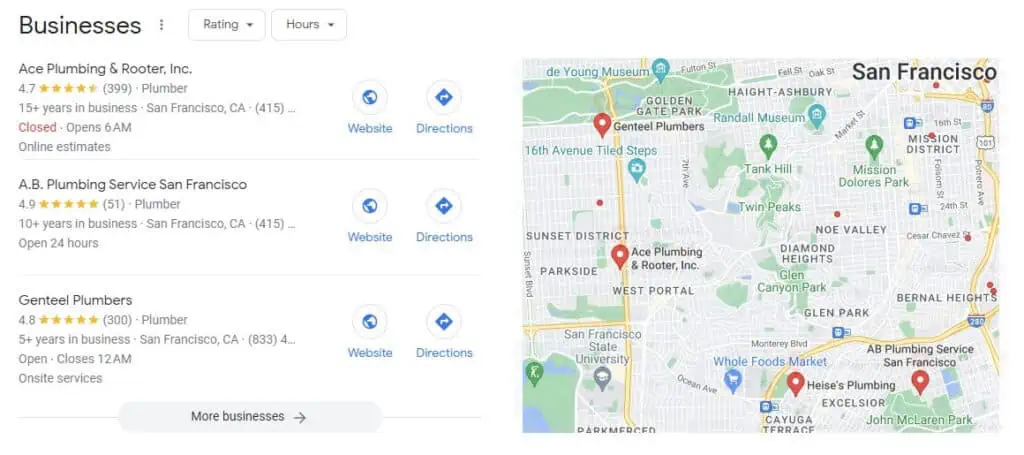 This helps Google better understand your business which can increase your visibility in search engine results pages (SERPs).
Checking your NAP data consistency
Another important element of local SEO is NAP (Name, Address, Phone number) consistency across all platforms where you list your business information.
If information doesn't match up exactly between different websites or directories it can cause confusion for potential customers as well as Google algorithms which may lead to lower rankings in SERPs.
Building Local Citations And Backlinks
Citations are simply references or mentions of a business' name, address and phone number (NAP) elsewhere on the internet — usually on other websites like Yellowpages or Yelp — regardless if there's a link back or not.
Having quality citations from other websites helps Google recognize that a business is reputable which can boost its rankings in SERPs as well as helping potential customers find out more about a company before engaging with them.
Backlinks are another important factor when it comes to improving website rankings in general but they are particularly important when it comes specifically to Local SEO tactics because they help show relevance between two webpages: yours and whoever linked back from somewhere else on the web.
Quality external links from authoritative sources signal trustworthiness and relevancy which can go along way towards boosting rankings both locally and globally!
Utilizing Local Keywords In Your Content
When creating content for your website pay special attention to using targeted or "local" keywords related specifically to where you are located.
For example: if you're an SEO company in Philadelphia you will have to use a keyword like : Philadelphia SEO.
This helps search engines understand that your site is relevant for someone looking for SEO services in Philadelphia and can boost your rankings in SERPs.
Note: You can easily find a local keyword by using some specific tools. For example, you can use Google Ads Keyword Planner or SEMrush.
Encouraging Customer Reviews

Encouraging customers to leave reviews after a purchase or visit is an important part of Local SEO.
Reviews are seen as a form of social proof and allow you to build trust with potential customers. They also give Google algorithms an idea of how popular or reputable a business is which could potentially lead to rank higher in SERPs!
Creating Local-Specific Content
Content is king when it comes to optimizing for both organic and Local SEO. Creating content specifically related to where you are located — such as local events, news, or attractions — will help improve your visibility in SERPs because it shows that your website is relevant for what people are searching for locally.
How to measure your local SEO success?
Now that we know what Local SEO is and how to improve our local ranking, let's discuss how to measure our success with these tactics.
Understanding different metrics and tracking your efforts will help you determine which strategies are working best for you and where you need improvement.
The most common metrics used to measure the success of Local SEO efforts include:
Ranking Position (where you appear on SERP),
Impressions (how many times your website appears on SERP),
Clicks (how many people click through from SERP to your website),
Bounce Rate (the percentage of visitors who come to your site but leave without taking any action),
and Conversion Rate (the percentage of visitors who take a desired action such as making a purchase).
There are also several tools available that can help you track the performance of your local SEO efforts such as Google Analytics, Moz Local, BrightLocal, Yext and more. These tools can provide insight into metrics such as rankings, citations, external links, reviews and more so you can easily track the progress of your local SEO campaign.
Local SEO: in a few words
In conclusion, Local SEO is an essential strategy for businesses who want to increase their reach locally and attract more customers online.
Optimizing your Google Business Profile (GBP) listing, building local citations and backlinks, utilizing local keywords in content, encouraging customer reviews, and creating localized content can help you to rank higher on SERPs. Furthermore your business can appear on the Map Pack which could lead to more leads, visits to your physical store and sales.
Finally, understanding different metrics related to local search engine optimization will help track progress towards success which can be done using various tools available online.