How to respond to a suspension of your Google My Business Profile?
Just logged into your Google My Business (now Google Business Profile) and found it "suspended"? Now you're asking the daunting question that every owner of a Google My Business file has faced: "Is this serious and can I recover from it?".
Don't worry, you're not alone in this situation. Many business owners have dealt with a file suspension and successfully resolved it.
So take a deep breath, Debugbar will explain how to handle this delicate situation!
Understanding the suspension: There are 2 possible suspensions – Soft (the file remains visible but is no longer manageable) or hard (the file is completely removed from Google).
Possible reasons for a suspended profile: Breach of Google's rules, incorrect information, frequent data changes, duplicate files, or reporting by a user.
Restoring a partially suspended file: Create a new Google account and attempt to claim the file.
Facing a hard suspension: Provide proof of business legitimacy (photos, videos, official documents) and correct the errors on the file.
Making a recovery request: Fill out the recovery request form providing complete and honest responses, add documents or photos proving the company's existence.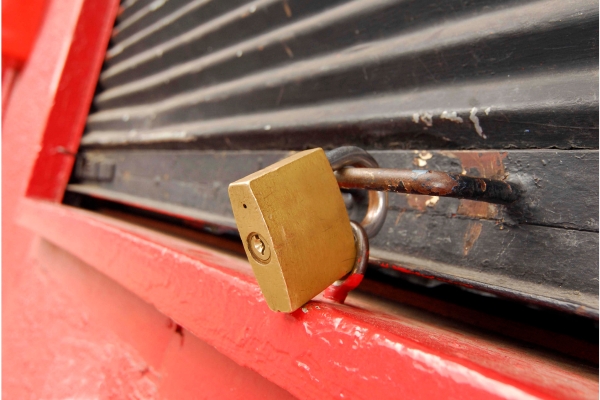 Suspension of my Google Business Profile: what does it mean?
A Google My Business (GMB) suspension means that Google has disabled your access and prevents you from modifying or managing your business account. In reality, it is an action that Google takes to preserve the integrity of its online information.
Google distinguishes two types of suspensions:
Soft: Your listing remains visible online and on Google Maps, but you can no longer manage or update it.
Hard: Your profile is totally removed from Google and Google Maps. Your GBP profile then becomes inaccessible.
Regardless of the type of suspension imposed on you, it's rather unpleasant… So action has to be taken. And the first thing to do is understand why your file was suspended.
Why has my Profile been suspended?
One day, you open your account and BAM! Your Google Business Profile has been suspended. You're probably wondering: "Why me?". There can be several reasons why Google decides to suspend your account… Let's see what they are!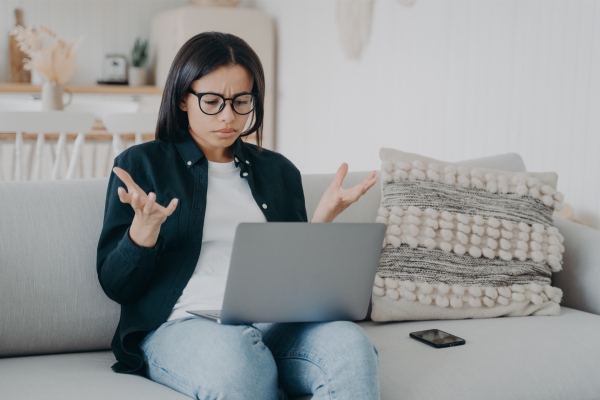 You're violating Google's guidelines
Google has established a number of rules for Google Business Listings. Respecting them is paramount to avoid your profile being suspended. For example:
Your business name must be exactly the same as the one known to your customers. Adding keywords to your business name, for example, is a mistake.
Only the URL of your official website should be in the "site" field of your profile.
The address given must be accurate and real. A postal address or a co-working address is not accepted for professional activity.
The content you publish must not promote hate, be obscene, promote terrorism, or be illegal in any way.
Your establishment is not eligible
Google My Business is a tool designed for local SEO (local search engine optimization). Simply put, it aims to help local businesses reach their audience. If your company does not serve customers at a specific location or in a defined service area, it may not be eligible.
For example, companies that operate exclusively on the web without a physical location, or an individual vacation rental such as a house or apartment, might not be allowed.
Your listing does not accurately represent your business' activity
It is essential that your Google My Business info reflects exactly what your company does.
This includes everything from its name and its website address to its location, to its hours and company description.
Any discrepancy between your GMB listing and the reality of your business can lead to suspension.
You're using content prohibited by Google
Dodging content that infringes Google's rules is another crucial aspect to keep in mind to avoid suspension.
This might include the content you publish on your Google Business Profile, just as the name you chose for your company.
Here are a few things to remember:
Avoid publishing hate-inciting content, of an obscene nature, promoting terrorist activities or any other illegal content.
Be aware that Google does not allow the addition of extra information, such as keywords or phone numbers, in your business name.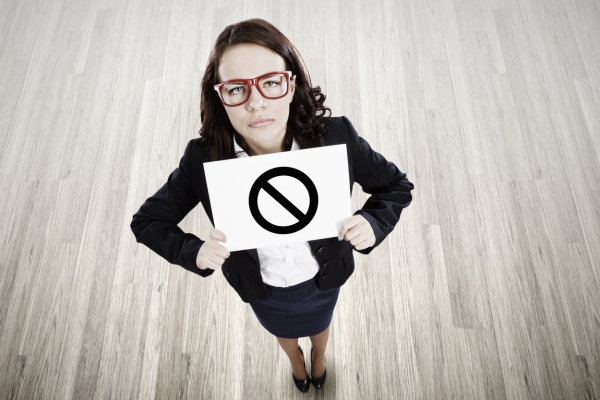 You have made too many changes in a short amount of time
Yes indeed, search engines do not like frequent changes. If you often modify the essential information of your profile, Google might think you are trying to game its system. To prevent a suspension, make sure to:
Not change key business information on your profile too frequently.
Only make modifications when absolutely necessary and be sure to only make a small number of modifications at a time.
Your profile has been flagged as a duplicate
Having more than one listing for the same business can cause confusion for Google and your customers. Google might even see this as an attempt to manipulate its system to improve your business ranking, which can lead to a suspension.
Here are some tips to avoid this:
Ensure you do not have multiple profiles for the same activity. For example, do not create a new profile each time you move or open a new location. Instead, update the location on your existing listing.
Ensure all aspects of your listing are unique to your business.
Your listing has been reported by an user
Yes, if someone clicks the "Report an issue" button on your listing, you risk suspension. So how can you avoid this?
Ensure all information on your profile is accurate and up-to-date. This will reduce the likelihood that someone reports an issue with your listing.
Maintain a good online reputation by responding quickly and professionally to negative reviews and thanking customers for their positive reviews.
Now that you know why your listing may be suspended, let's see how you can restore it.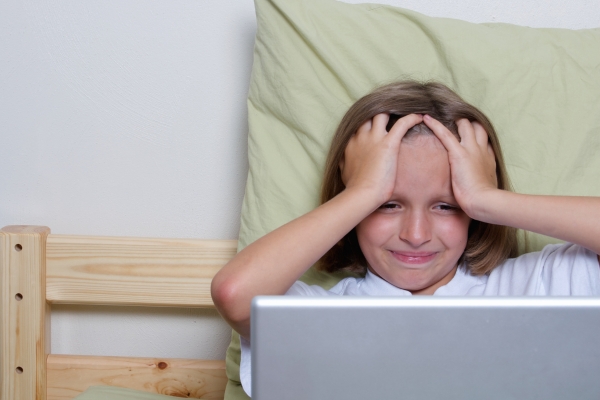 How can I restore my Google My Business listing after a suspension?
The first thing to do when your listing is suspended is to determine the type of suspension.
On the interface of your listing, you will see an indication such as "suspended", "disabled" or "duplicate establishment". Based on this, you can take the following steps:
Manage soft suspensions
If your listing has been partially suspended, create a new Google account and try to claim your listing with this account. This should allow you to regain control of the listing.
Deal with a hard suspension
In the case of such a suspension, improve your profile by correcting errors and demonstrating to Google that your company is legitimate. This could involve providing supplementary documents such as:
Photos of your storefront
Office tour videos
Official documents like a K bis extract or a craftsman's card
Optimize your listing
Once you've dealt with the suspension, it's time to optimize your listing to avoid further issues. Here are some actions to take:
Delete unnecessary content, such as keywords or emojis in your business name.
Review every field in the "Info" section of your listing and make sure they're in line with Google's guidelines.
Avoid using special characters in the establishment's name.
Handle potential issues
You may encounter some issues along the way. Don't panic, there are solutions to overcome them:
If the reason for the suspension is not specified, don't get discouraged. Contact Google's support directly for clarification.
If Google specifies the reason for the suspension, follow the instructions provided. Correct the errors and request restoration of your listing via Google My Business support.
If no solution seems to work, consider starting from scratch while closely following Google's rules. Be careful though, do not create a new Google Profile in case of suspension, as this could worsen the situation.
Submit a reinstatement request
Once you've rectified all potential problems, it's time to request reinstatement of your listing. Before you submit the request, make sure there are no other duplicate profiles for your business.
Next, proceed as follows:
Go to Google My Business help page and look for "Request reinstatement". Click on the button and follow the instructions provided.
Fill out the reinstatement request form by providing complete and truthful answers to each question.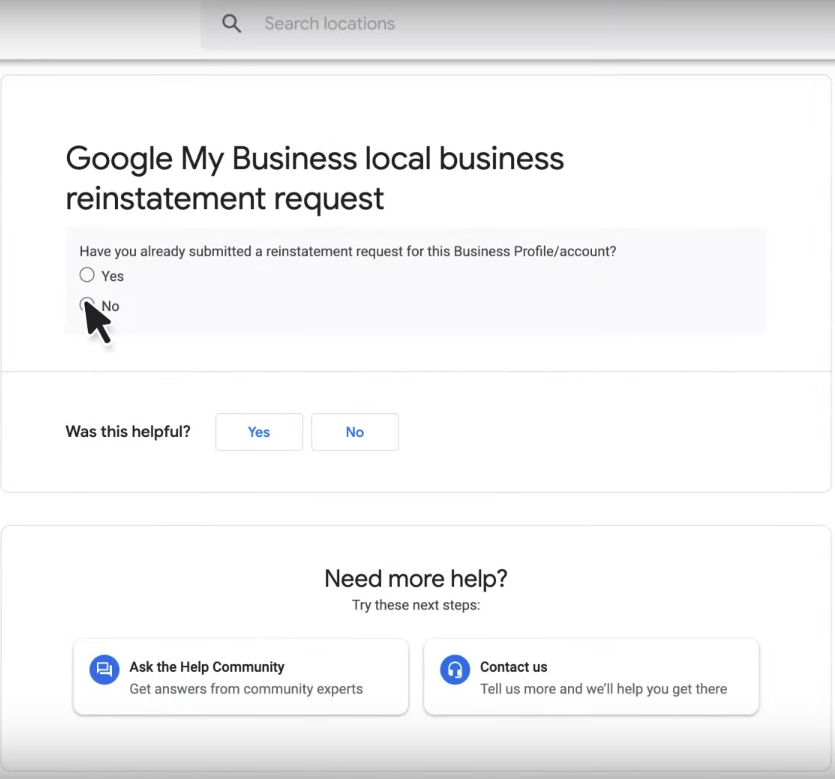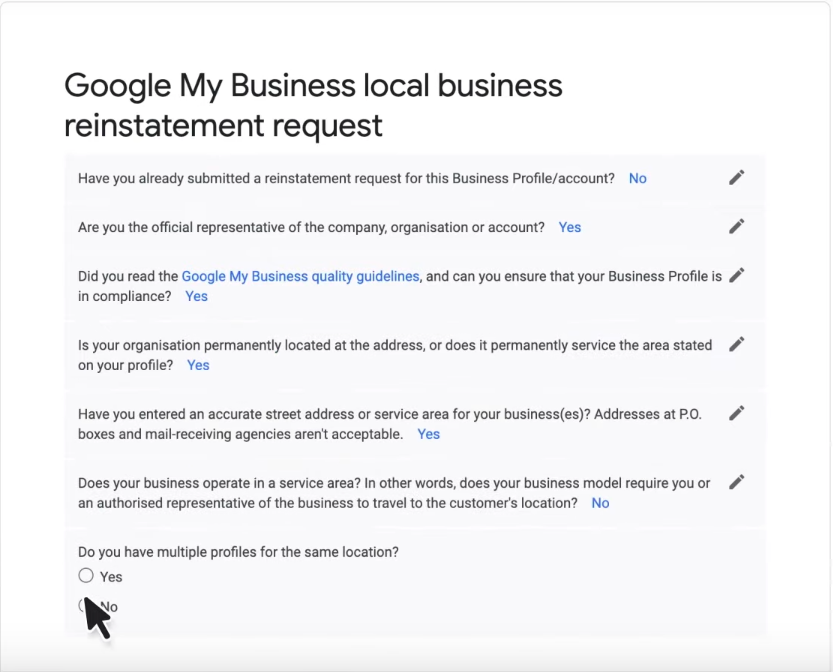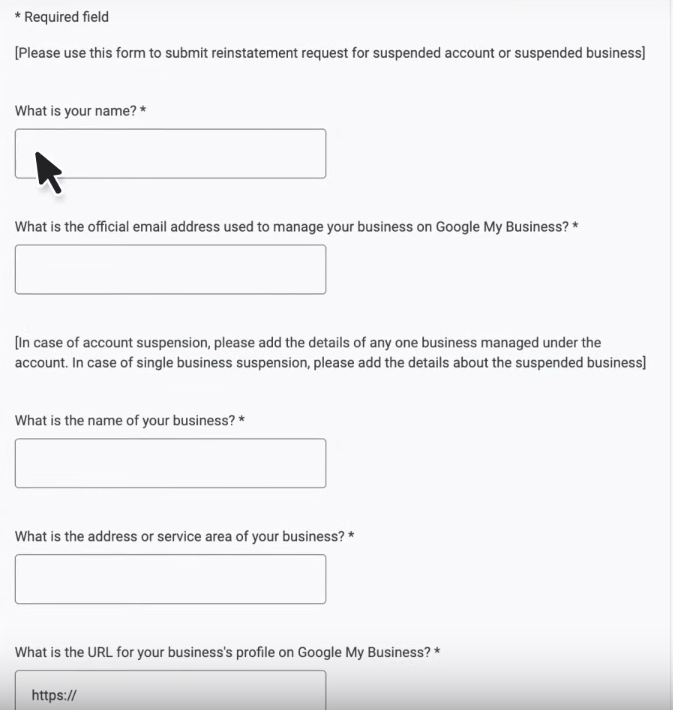 Add documents or photos proving the existence of your business.
Click on "Submit".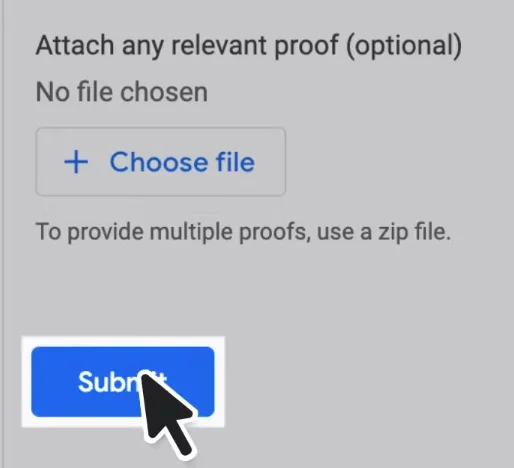 After the request
After submitting your request, you must be patient. Indeed, verifying your profile by Google teams will probably take a few days.
If you do not receive a response after 3 working days, don't hesitate to follow up by responding to the confirmation email of the form submission.
Also, consider using a Google Business Profile reinstatement service to recover your listing quicker and for free.
What solutions if Google refuses to lift the suspension?
If, despite all your efforts, Google refuses to lift your listing's suspension, do not lose hope. There are always measures you can take to rectify the situation.
Reply to the notification email refusal: This is your chance to provide additional evidential elements demonstrating your business's legitimacy.
Appeal by providing additional proof: Photos of your storefront, craftsman card, K bis extract… Any document attesting to the existence and legitimacy of your business is good to take.
How to avoid a new suspension?
Once you have successfully reinstated your listing, you certainly wouldn't want to go through this experience again. So, how can you avoid a new suspension? Here are some tips:
Adhere to Google's guidelines: This is the most important thing. Google provides a comprehensive list of its rules and guidelines that apply to all listings and that each business owner should know by heart.
Provide correct and precise information: Ensure that all information on your GMB listing is accurate and up-to-date.
Avoid inappropriate content: Do not add content that could violate Google's rules, such as obscene images or hate-inciting text.
Avoid excessive modifications: Frequently alternating between different information on your listing can be perceived as suspicious behavior by Google.
Now, you know everything there is to know about the suspension of your GMB listing and how to avoid it.
Suspended Google Business Profile: let's summarize…
The suspension of your Google Business Profile (GBP) is a serious issue, but it's not the end of the world. Here's what you need to remember :
There are 2 suspensions – partial or hard, with different consequences for each case.
There are several reasons why your listing may be suspended, including non-compliance with Google's rules, existence of prohibited content and excessive changes on your listing.
If your listing is suspended, first review Google's rules, then correct errors in your profile. File a reinstatement request by providing documents proving your business exists.
If Google refuses your reinstatement request, you can appeal by providing more evidence, or consider creating a new Google account.
To avoid a new suspension, always comply with Google's rules, ensure all your information is accurate and avoid excessive modifications.