PureVPN: our full review of this VPN
With the rise of Internet use and the development of new technologies, online security and privacy have become a crucial issue.
Virtual Private Networks (VPNs) apps have therefore naturally developed to allow Internet users to surf the web in complete security. And if these small software can be very useful, it is sometimes difficult to choose the right one among all those available on the market…
Are you looking for an efficient VPN app to surf the Internet safely? You have heard about PureVPN and want to know what this VPN is worth? Well, Debugbar has tried it for you.
In this article, we'll take a closer look at the key features and performance of the service to give you our opinion on PureVPN.
What are the main features of PureVPN?
PureVPN offers a full range of VPN features to keep you thoroughly protected when you're online.
In addition to being compatible with Windows, MacOS, iOS and Android as well as all major operating systems PureVPN has a bunch of super interesting features.
Among the main ones are:
Encryption of sensitive data: With PureVPN your data is encrypted at 256 bits via the OpenVPN protocol (UDP/TCP). The app can also be manually configured to use SSTP, IKEv2 or PPTP protocols.
Servers available worldwide: With more than 2000 servers in 140 different countries, PureVPN offers a wide global coverage.
Kill switch: In case of VPN connection loss, PureVPN's Kill Switch feature instantly shuts down any Internet connection to prevent data leakage.
Split Tunneling: The split tunneling feature allows the user to choose which programs and apps should go through the VPN tunnel and which can use the normal Internet connection.
Access to geo-restricted content: PureVPN allows users to bypass geographic restrictions and connect to VPN servers in specific countries to access geo-restricted content.
Customer support: The VPN is associated with a 24/7 customer support service available via online chat, email and phone support to help its users resolve their issues quickly.
So, of course, PureVPN offers much more than that. There are also some additional options such as built-in anti-malware protection and an automatic switch between different servers to ensure uninterrupted traffic.
However, it is important to note that not all of these features are available with the free version of the service.
Well, now we're starting to see what PureVPN has to offer. But let's get to the heart of the matter and test it in detail.
Our complete test of PureVPN
For this test we focused on several aspects of the VPN:
The user interface
Security and privacy
Performance and speed
Compatibility with streaming (Netflix, Amazon Prime, BBC…)
and the quality of customer service.
So here we go, let's start by judging the user interface.
The user interface: intuitive but can do better
PureVPN's user interface is quite intuitive and simple to use, but there are still elements in English that may be difficult to understand for non-English speakers.
The app offers quick access to all features and easy navigation between the different servers. VPN configuration is very simple and does not require advanced computer skills.
Security and privacy: a question mark…
PureVPN claims that security and privacy are at the core of its service and that users can browse safely thanks to 256-bit AES protocols.
The privacy policy clearly states that no personal data of users is collected or stored by PureVPN.
However, this point should still be approached with caution… The company has indeed been involved in cases involving privacy violations of its users in the past. This naturally raises questions about its ability to protect your personal data.
Performance and speed: generally satisfactory
When testing a VPN service, it's crucial to analyze the quality and speed of performance provided.
We ran several tests without VPN and then with PureVPN on a server located in France and then on one located in the United States to get an overall picture of the performance offered by the service.
We found that the performance was good for torrenting but that the throughput tended to decrease when activating the "Optimal" mode (highest level of encryption).
The results obtained are not exceptional but remain satisfactory considering the low cost of the VPN service.
Streaming: PureVPN is a good solution (but probably not the best)
Want to access Netflix US or Amazon from a country where access is blocked? Some VPNs can't allow you to access the US version of Netflix if you're not in the US. But on this point, PureVPN seems like a good option for streaming. The provider has the ability to unblock streaming sites, foreign TV channels, sports channels, content and movies.
Moreover, it has been tested for US channels from abroad, and the results were quite satisfactory.
As far as torrenting P2P files is concerned, it has also shown itself to be rather advantageous.
However, we noticed some speed problems during our test, which could be a drawback for some users.
All in all, PureVPN seems to be an acceptable choice for streaming and downloading P2P torrent files, but it can lag at times.
The customer service: it is very available
To complete our review of PureVPN, we need to look at the quality of customer support offered by the company.
Customer service can be contacted via a 24/7 live chat or via email if you prefer to communicate in writing instead.
There is also a wide range of articles and guides aimed at answering frequently asked questions by customers regarding the installation or use of the VPN software.
Overall, we can say that the support is satisfactory and there are enough useful resources to meet the needs of users.
How much does PureVPN cost?
PureVPN offers three different pricing plans, depending on the length of the commitment: 1 month, 1 year and 2 years. Prices range from $10.95 per month for the 1 month plan to $2.29 per month for the 2 year plan.
| | |
| --- | --- |
| Length of commitment | Monthly rate |
| 1 month plan | $10,95 |
| 1 year | $3,32 |
| 2 years | $2.29 |
These prices are comparable to those of other VPNs apps on the market, but it is possible to benefit from a significant discount by opting for a longer subscription plan.
Good to know: PureVPN offers a 31-day money back guarantee to allow you to test the service before making a long-term commitment.
What are the advantages and disadvantages of PureVPN?
Like any IT solution, PureVPN has its advantages and disadvantages. Let's take a closer look at each one.
The advantages of PureVPN
Among the advantages of PureVPN we can mention :
The large number of servers: PureVPN has over 6,500 servers in more than 140 countries, offering a wide variety of choices to users.
Connection speed: PureVPN offers fast connection speeds that allow you to stream content, download files quickly and browse the Internet without interruption.
Privacy: PureVPN offers strong privacy protection with end-to-end encryption, a strict no-logging policy and kill switch functionality.
Geo-restriction bypass: PureVPN allows users to bypass geographic restrictions and access geo-restricted content by connecting to VPN servers in specific countries.
Cross-platform: PureVPN is compatible with a wide variety of platforms, including Windows, Mac, Android, iOS and Linux.
Affordable pricing: PureVPN offers affordable pricing plans for its users.
The disadvantages of PureVPN
Variable connection speed: Although PureVPN offers fast connection speeds, some users have reported a drop in speed when connecting to remote servers.
Incompatibility with some services: PureVPN may not work with some services due to VPN blocking restrictions.
Have you thoroughly researched the pros and cons of PureVPN? Are you convinced that this is the VPN for you? Then let's see how to install it right away.
How to install PureVPN?
Installing PureVPN is quite simple. You just have to follow this little tutorial:
Go to the official PureVPN website.
Then click on "Buy Now" to choose your desired plan.
Once your account is created, go to "Manage" and then click on "Install".
Once the app is installed on your computer, open it.
Login to your PureVPN account.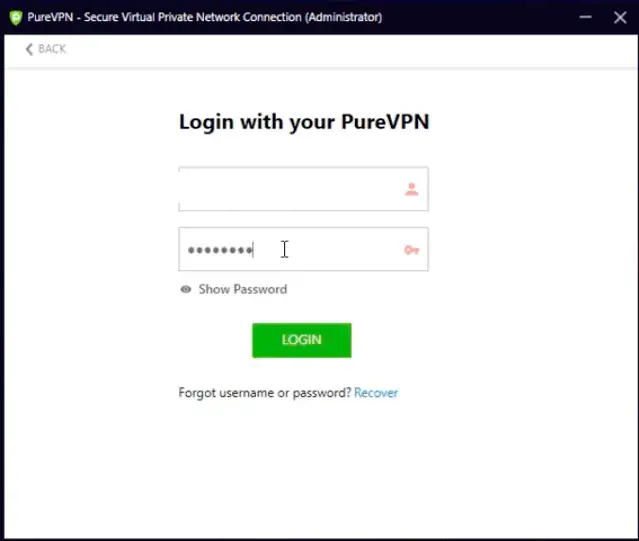 You will see a big green "Connect" button. Choose a server and click on it to activate your VPN connection.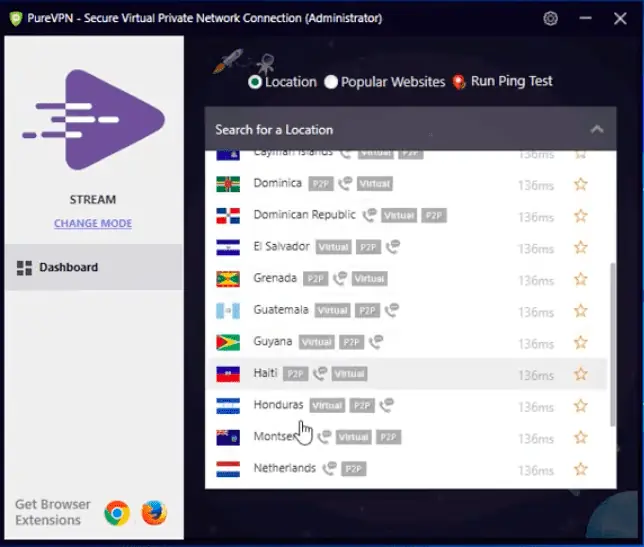 That's it, your setup is complete and your VPN is active! You can now take full advantage of PureVPN and browse the web safely.
Our final review on PureVPN
During our test, we found that PureVPN is a versatile VPN service that offers good security and satisfactory speed.
The interface is intuitive and easy to use and the rates are relatively reasonable.
In addition, the built-in anti-malware protection and Kill Switch offer an extra layer of protection for users.
However, some aspects could be strengthened. But the best way to make your own opinion is to try it!
PureVPN is not for you? Nevermind there are many other existing VPNs (NordVPN, ExpressVPN…).
| | |
| --- | --- |
| Features | PureVPN |
| Encryption and security | OpenVPN protocol (UDP/TCP)256-bit AES encryptionSSTP, IKEv2, PPTP |
| Available servers | 2000+ in 140 countries |
| Kill switch | Yes |
| Split Tunneling | Yes |
| Additional security features | Two-factor authentication, malware and ad blocker protection |
| Access to geo-restricted content | Yes |
| Cross-platform | Windows, MacOS, iOS, Android, Linux, Chrome and Firefox |
| Customer Support | Online chat, email, 24/7 phone support |
| Subscription price | $10,95 for 1 month$3,32/month for 1 year$2,29/month for 2 years |
| Trial period | 31 days money back guarantee |