SpyFu: improve your marketing strategy and get ahead of your competitors in no time!
Do you want to improve your marketing strategy and get ahead of your competitors? Then look no further than SpyFu!
This keyword research and competition analysis tool will allow you to :
discover the SEO secrets of your competitors,
optimize your content for search engines,
create more effective and better targeted ads.
follow the evolution of your positioning on search engines and exploit the weak points of your competitors to gain market share.
In this article, Debugbar will introduce you to the main features of SpyFu and explain how you can use them to outperform your competitors in no time.
Ready to enter the exciting world of digital marketing? Then follow us throughout this complete review!
What is SpyFu?
SpyFu is a keyword research and competitive analysis software for marketers and businesses.
It uses a massive amount of data from the major search engines (Google and Bing) and allows users to study their SEO (Search Engine Optimization) and PPC (Pay Per Click) data so they can improve their SEO.
With this software, companies can quickly find essential information about their competitors – such as:
keywords used,
inbound links to their website,
or the estimated advertising budget.
In short, SpyFu gives you access to valuable data that you can use to improve your SEO strategy.
Another valuable tool to improve your marketing strategy is Google Trends. By studying trending search queries related to your business niche, you can capitalize on hot topics and rapidly changing search behavior. Google Trends data can be used to identify seasonality in your industry, optimize your content for trending keywords, and spot opportunities for targeted advertising. It can even be useful to compare your brand's online interest with competitors'. Paired with the in-depth analysis from SpyFu, Google Trends can help you better understand your audience, anticipate their needs, and adapt your marketing strategy accordingly.
Also read : Link Whisper: The SEO tool that allows you to dominate your market


What are the main features of Spyfu?
This software offers several useful tools:
Keyword analysis,
Backlink management,
SERP ranking tracking
Page grader,
Competitive analysis,
Site audit,
Local & global SEO,
Multi domain support an integrations,
SEO campaign management,
Domain search,
Ad tracking.
But let's look at each of these features in more detail.
Keyword analysis: find your goldmine of keywords
One of the core strengths of SpyFu lies in its keyword analysis feature. This powerful tool analyzes your website's content and discovers the right keywords that can drive traffic and boost rankings.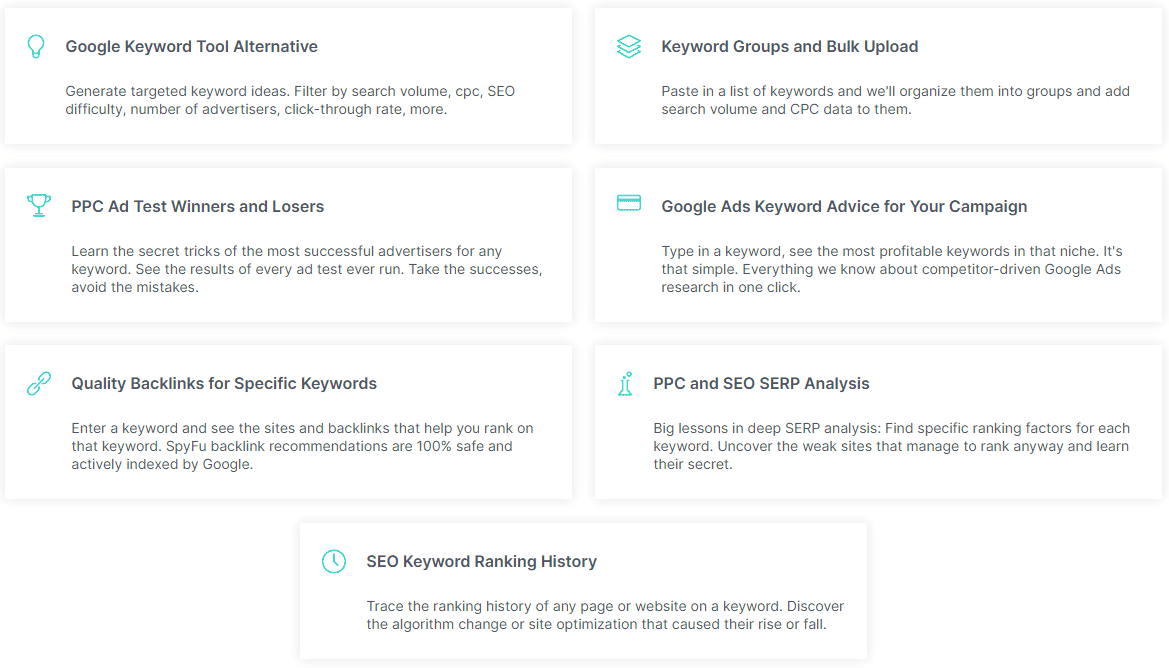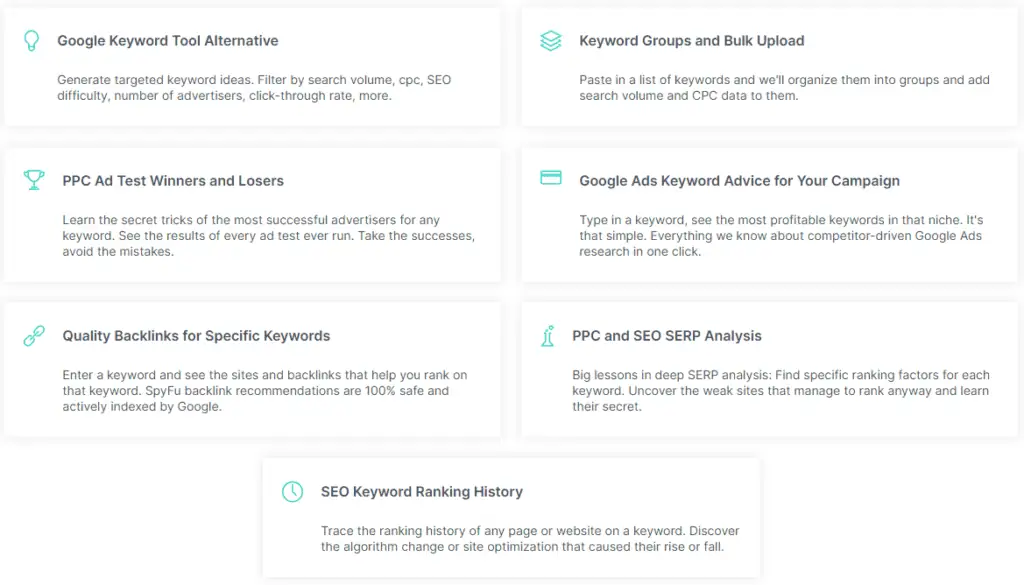 For instance, let's say you have a blog about gardening tips. SpyFu will analyze your content, find relevant and high-traffic keywords such as:
"best gardening tools,"
"how to grow tomatoes,"
and "organic pest control."
These keywords can be further used to optimize your content and bring in more visitors.
SpyFu's dashboard is well-organized with tabs for:
SEO Research,
PPC Research,
Keyword Research,
Backlinks,
List Builder,
Tracking,
and Reports.
In addition to ad hoc keyword research capabilities, SpyFu offers keyword management throughout its platform with the Keyword Groups feature in each of its three main research tabs (SEO, PPC, and Keyword).
This allows you to easily manage and track your keywords, enabling you to make data-driven decisions for your website's growth.
Backlink management: Building a strong BL profile
Backlinks are an essential aspect of SEO as they help establish your website's authority and credibility.
SpyFu's backlink management feature:
tracks existing BLs,
measures their impact on search rankings,
alerts you of new BLs,
and suggests potential backlink opportunities.
For example, if you've recently published a guest post on another gardening blog that generates a backlink to your site, SpyFu will notify you of this valuable new link and analyze its impact on your search rankings.
In addition to individual BLs, the Backlink Research feature provides information on the backlink profile of any website, including:
referring domain strength,
monthly traffic,
and backlinking website type.
This insight helps you understand the quality of your backlinks and identify areas where you can improve or acquire new high-quality links.
SERP ranking tracking: keep an eye on your progress
Monitoring your website's position in search engine results pages (SERPs) for various keywords is essential to gauge your SEO efforts' success.
With SpyFu's SERP ranking tracking feature, you can track your site's ranking for specific keywords over time. If you see a significant improvement in your rankings for a particular keyword, you can double down on your efforts for that keyword and analyze what strategies are working.
The Tracking tab lets you take identified keywords and start ongoing monitoring that reports back with weekly domain rankings and keyword position changes.
By staying updated on these changes, you can quickly adapt your SEO strategy to maintain or improve your site's rankings for targeted keywords.
Page Grader: Scoring Your Website for SEO Success
SpyFu's page grader tool gives each page of your website an SEO score, assessing factors like keyword usage, backlinks, and user experience.
This feature makes it easy to identify your site's strengths and weaknesses, allowing you to focus on areas that need improvement.
For instance, if one of your articles has a low score due to lack of keyword optimization or poor user engagement, you can take appropriate steps to enhance its performance.
Competitive Analysis: Stay Ahead of the Game
In SEO, it is crucial to know where you stand compared to your competition. That's where SpyFu's competitive analysis feature comes into play.
By analyzing your website's position in comparison to other websites in areas such as:
backlinks,
SERP position,
and more,
you gain valuable insights into what they are doing right and where you need to improve.
SpyFu's competitive analysis tool, Kombat, shows where a website's top keywords overlap with competitors.
This helps you identify common keywords and keyword gaps that you can capitalize on to outrank your competition.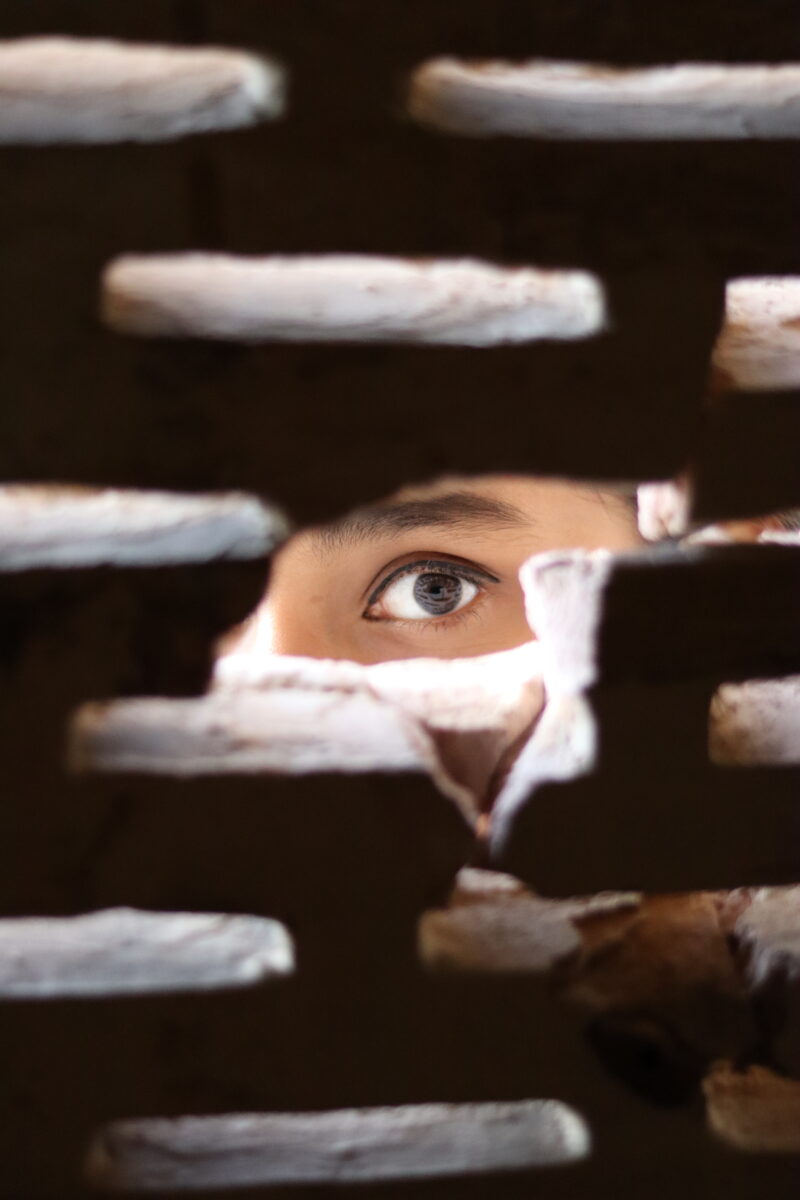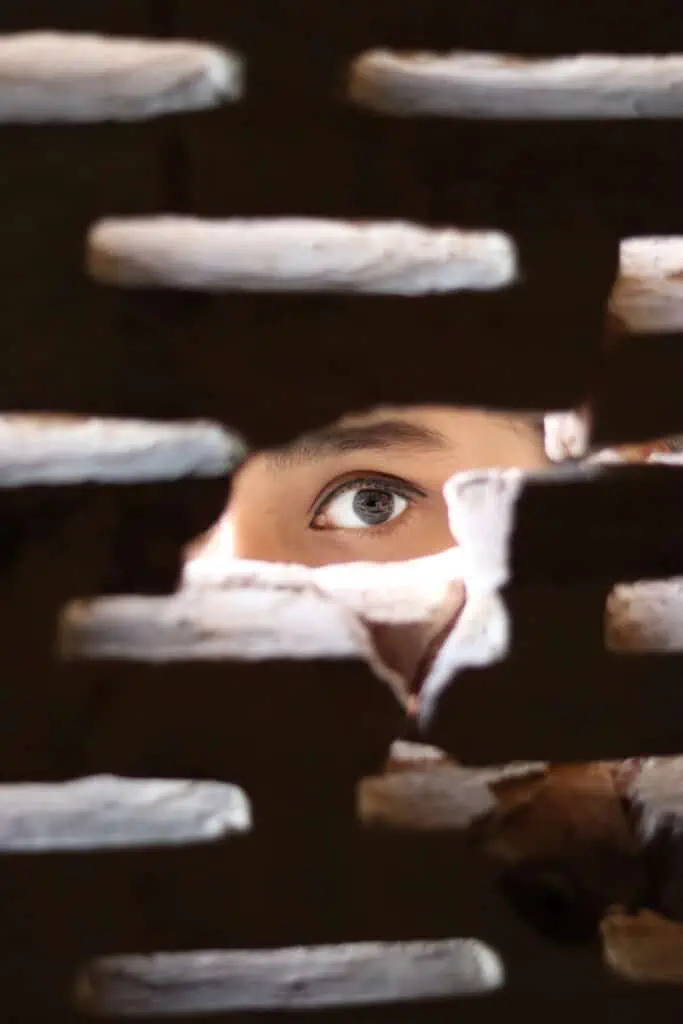 Moreover, SpyFu allows you to spy on competitors' online marketing tactics and identify top organic and paid search competitors for a comprehensive understanding of your competitive landscape.
Site audit / Diagnostics: uncover hidden weaknesses
With SpyFu's site audit/diagnostics tool, you can crawl your website's pages and discover potential issues search engine crawlers might have with your site.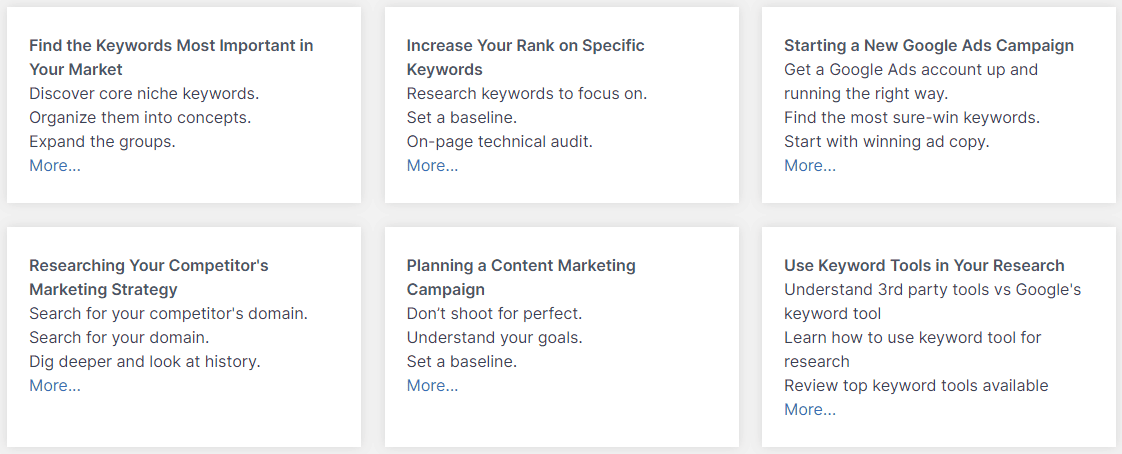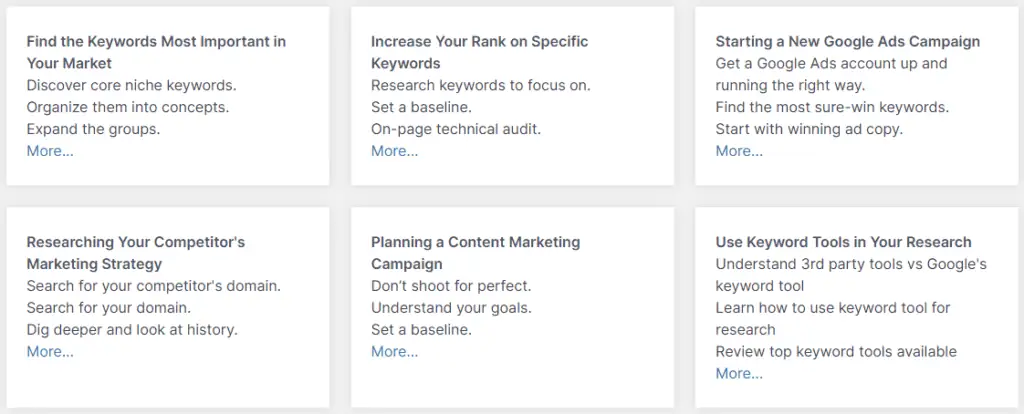 By addressing these issues, such as broken links or slow-loading images, you can ensure that search engines can easily index and rank your content.
Local SEO & global SEO: optimize for your target audience
SpyFu also offers features tailored to specific types of SEO.
For local businesses targeting a specific geographic area, SpyFu's local SEO tool helps optimize your website for local searches.
On the other hand, if you're targeting a global audience, the global SEO feature integrates with non-U.S.-based search engines and works in multiple languages, ensuring your site is optimized for various regions and languages.
Multi-domain support & integrations: streamline your workflow
For SEO agencies or businesses with multiple domains, SpyFu's multi-domain support feature allows users to track all domains within the same tool.
Furthermore, SpyFu integrates with popular web analytics tools like Google Analytics and Adobe Analytics, making it easy to monitor your website's performance and SEO progress in one place.
SpyFu's List Builder and Tracking tabs are where its keyword management capabilities really shine, with the ability to export leads to a CRM or lead management system. This ensures that you can efficiently manage and monitor your SEO efforts across multiple domains without switching between tools.
SEO campaign management: boost your success with "My SpyFu project manager"
SpyFu offers deeper SEO campaign management with its My SpyFu Project Manager tool, which allows you to oversee integrated keyword research and rank tracking within a campaign.
This cohesive approach to managing your SEO strategy not only saves time but also ensures that you make well-informed decisions for your site's growth.
My SpyFu Project Manager allows you to create and manage individual projects for each domain or campaign, enabling you to track progress, analyze results, and optimize your strategies accordingly.
By staying organized and monitoring your campaigns' performance, you can ensure continuous improvement in your site's rankings and traffic.
In a nutshell: Whether you're a novice or an experienced SEO professional, SpyFu offers the tools and resources to help you succeed in today's competitive online landscape.
By leveraging the features mentioned in this guide, you can rank higher in SERPs, outperform your competition, and ultimately drive more traffic to your website.
What are the pros & cons of Spyfu ?
As you may have noticed, SPyfu is a really complete tool that has a lot of advantages to offer. However, it has some limitations. This small table will allow you to quickly see what are the main advantages and disadvantages of the tool
| | |
| --- | --- |
| Pros | Cons |
| Comprehensive tool for discovering new keywords for paid and organic search campaigns. | Keyword research tool may not provide as much information as pricier alternatives like SEMrush. |
| Easy-to-use competitive analysis tool for identifying top online competitors. | Basic keyword rank tracking capabilities. |
| Extensive database with over 13 years of Google data. | Not the best option for backlink analysis or site audits. |
| Provides a broad array of keyword search and management tools at an affordable price. | Lacks web-wide crawling feature. |
| Interactive reporting and in-depth PPC/CPC and paid advertising metrics. | Ad metrics might be complex for SEO beginners. |
| Backlink tracking and ongoing site monitoring with unlimited search results. | |
How much does SpyFu cost?
SpyFu offers packages to suit all budgets, from the most modest to the most expensive. The basic package allows users to access the main features of the software.
The packages are based on a monthly fee and include additional features such as access to advanced tools, more detailed and updated real-time data, and customer support.
The exact price will depend on the size of your business and your needs.
| | | |
| --- | --- | --- |
| Plans | Price per month | Ideal for |
| Basic plan | 39 $ | People who do not require API access |
| Professional Plan | 78 $ | Companies following 15,000 keywords or requiring API access |
| Team Plan | 299 $ | Teams requiring 5 user accounts |
What are the alternatives to SpyFu?
Semrush, AhRefs… There are plenty of alternative tools and all of them have their advantages and disadvantages. Here is a comparison table with the main competitors of Spyfu that might help you make your choice.
| | | |
| --- | --- | --- |
| Competitor | Main features | Plan price |
| SpyFu | Study your competitors' keywords | Starting at $39 per month |
| Semrush | Keyword research, social network research and social network advertising | Starting at $119.95 per month |
| Ahrefs | In-depth backlink study | Starting at $99 per month |
| Moz Pro | Keyword and backlink research | Starting at $99 per month |
Overall, SpyFu is an affordable and effective tool for businesses looking to improve their SEO strategy by analyzing their competitors' keywords.
However, if you need additional features such as social network analysis or more detailed backlinks, it may be worth considering other tools like Semrush, Ahrefs or Moz Pro.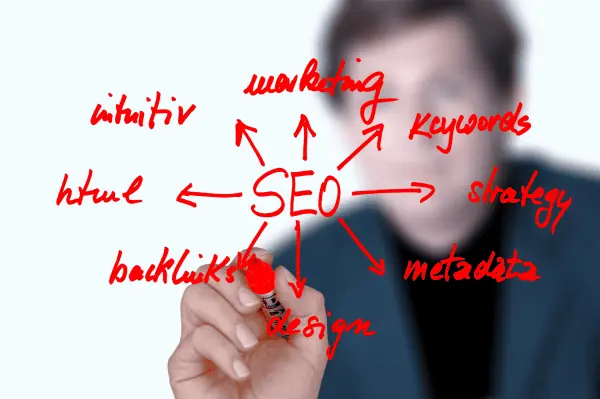 Spyfu in conclusion…
In summary, SpyFu is an SEO (Search Engine Optimization) and PPC (Pay Per Click) tool that offers companies an analysis platform to :
discover the secrets of their competitors' strategies,
optimize their content for search engines,
create more effective and better targeted ads,
and track the evolution of their search engine rankings.
By using SpyFu's various features, businesses can improve their SEO and outperform their competitors in no time. If you are ready to enter the exciting world of digital marketing, SpyFu is the tool for you!