Surfshark: Our Complete Test and Review of this VPN!
Looking for a high-performance, secure, and easy-to-use VPN? Look no further! We've tested Surfshark for you, a VPN recognized and appreciated by many users worldwide.
Why are people so enthusiastic about it? Is it the best VPN of its kind? That's what we're going to find out in this article!
What is Surfshark?
Surfshark is a VPN service, which means a Virtual Private Network, that allows you to surf the Internet securely and anonymously.
By creating an encrypted "tunnel" between your device and the VPN server, Surfshark protects your data and ensures your online privacy.
In short, thanks to this software, say goodbye to intrusive ads, malware, and espionage risks!
To fully understand how Surfshark achieves all this, we need to explore its main features. So let's do it right now!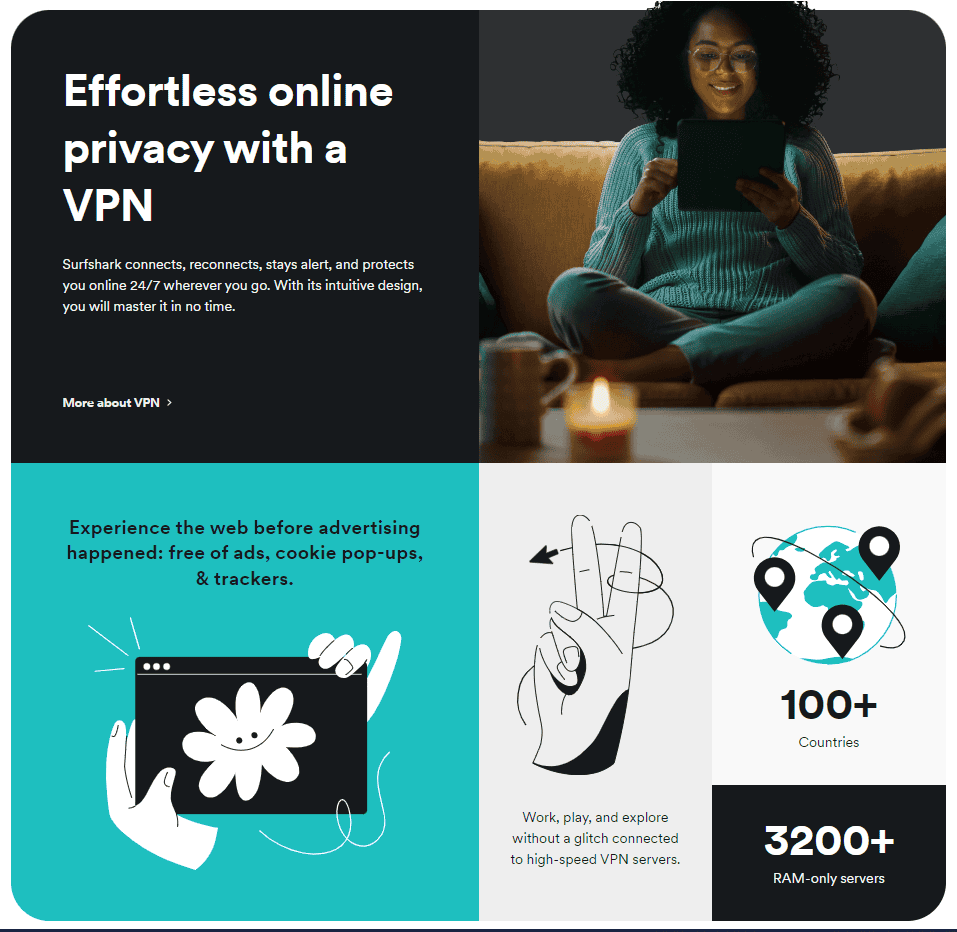 What are the main features of Surfshark?
To better understand what Surfshark can offer you, take a look at its main features. We'll discuss our favorites:
Unlimited simultaneous connections on multiple devices.
An impressive number of servers worldwide.
Multi-hop and split tunneling.
Bypassing geo-restrictions for streaming.
WireGuard protocol for lightning-fast downloads.
Kill switch and dynamic IP.
Unlimited Simultaneous Connections
One of Surfshark's major strengths is the ability to use the VPN on an unlimited number of devices simultaneously.
This means you can protect all your devices with a single subscription, making it an appealing option for families and groups of friends.
Servers Around the World
Surfshark has over 3200 servers in 65 countries. As you can imagine, this provides plenty of choices and guarantees a fast connection wherever you are.
Multi-hop and Split Tunneling
The VPN offers advanced features such as:
multi-hop (double VPN) for an extra layer of security.
bypasser function (split tunneling), which allows you to whitelist specific apps and websites that don't need to go through the VPN.
In practical terms, this means that, with Surfshark, your data is theoretically well protected.
Unblocking Major Streaming Platforms
Surfshark enables efficient unblocking of streaming services such as:
Netflix,
BBC iPlayer,
Amazon Prime Video,
and Disney+ by bypassing geographic restrictions.
You can access a vast array of exclusive content from anywhere in the world.
WireGuard Protocol for Fast Download Speeds
The VPN supports the WireGuard protocol, which enables fast and optimal download speeds.
Kill Switch and Dynamic IP
To ensure continuous protection, Surfshark has a Kill Switch feature that automatically cuts off your Internet connection if the VPN is disrupted.
Moreover, dynamic IP allows you to automatically change your IP address while maintaining the same VPN location.
You can thus browse the internet with complete anonymity.
Overall, Surfshark seems quite appealing. But how does it perform in reality? Let's find out right away.
Surfshark: The Complete and Uncompromising Test
Are you intrigued and want to know the real value of this VPN? Well, we've thoroughly analyzed all aspects of Surfshark to provide you with as complete a test as possible.
We looked at:
The interface,
Security,
Speed,
Streaming and downloading,
Privacy policy,
and customer service.
And here's what we found.
Interface: Simplicity and Efficiency
At first glance, Surfshark's interface may seem a bit messy and lack consistency between different platforms (Windows, mobile, Mac, Linux, smart TV).
However, upon closer inspection, we find interesting features and appreciable ease of use.
The desktop (Windows and Mac) and mobile (iOS and Android) applications have a similar interface with:
a quick connect button,
tabs for choosing a server location,
basic and advanced settings options.
Despite a design that could be improved and an initially confusing ergonomics, everyday use is pleasant and efficient.
However, Surfshark uses its own vocabulary for some features common to all VPNs, such as "Bypasser" for split tunneling or "MultiHop" for connecting through multiple servers.
While this may initially be confusing, one quickly gets used to it.
The Windows application is the most feature-rich. It offers:
speed tests to measure connection speed,
a dark mode to relieve your eyes during prolonged use,
an integrated adblocker called CleanWeb and the choice of connection protocol among several options.
The mobile application complements the desktop app with specific features such as GPS location spoofing.
Finally, a significant advantage is that the interface is available in multiple languages, including French.
In summary: Surfshark offers an intuitive and user-friendly interface, despite some potential improvements in terms of consistency and design. Ease of use is a strong point of Surfshark, allowing anyone to enjoy a secure and anonymous browsing experience.
Security: Optimal Protection
With Surfshark, the security of your personal data is a top priority. How does it achieve this? Let's explore the various elements that contribute to ensuring the protection of your online privacy.
Firstly, Surfshark uses strong and efficient encryption algorithms, including AES-256-GCM, known to be faster than traditional AES-256-CBC. This level of encryption is very difficult, if not impossible, to decrypt even by the most powerful supercomputers.
Surfshark tests show that there are no DNS/WebRTC/IPv6 leaks, highlighting the VPN's reliability in protecting your online data. Moreover, Surfshark includes DNS, WebRTC, and IPv6 leak protection.
In terms of security protocols, Surfshark offers OpenVPN, IKEv2/IPsec, WireGuard, and Shadowsocks (only on Windows and Android). This choice ensures flexibility and adaptation to the specific needs of each customer.
Lastly, Surfshark provides numerous additional security features such as:

Bypasser (split tunneling),
Camouflage and NoBorders modes for enhanced anonymity,
MultiHop for even more secure connections through multiple servers,
CleanWeb for blocking ads and malware, an IP rotator for regularly changing your IP address,
and the option to obtain static and dedicated IP addresses.
In short: Surfshark relies on an effective combination of protocols, features, and security measures to protect your data and ensure your online anonymity.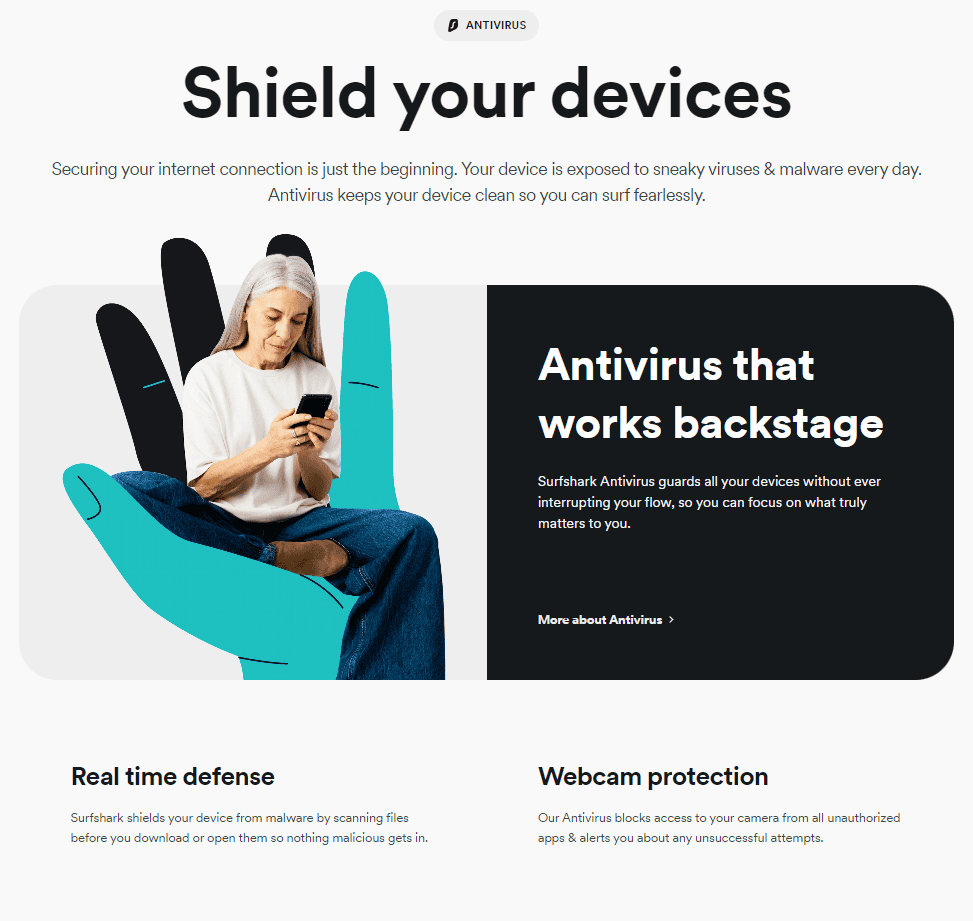 Speed: Surfshark, the Fast and Performant VPN
An efficient VPN must be fast, reliable, and ensure a stable connection. How does Surfshark fare in this regard? Here's an overview of its performance concerning speed.
To start, Surfshark offers more than 3200 servers across over 100 countries. This provides extensive geographic coverage and good speed for users worldwide.
Speed tests show that Surfshark's performance is solid, with high speeds. Although the rates may vary depending on geographic distances, they generally remain adequate and satisfactory.
In essence, Surfshark is quite fast, which allows you to watch high-definition streaming videos or download large files without issue.
While the connection experience may be slightly slower with Surfshark compared to some competitors, it remains overall acceptable and satisfying for the vast majority of users.
In conclusion: Surfshark VPN positions itself as an interesting choice if you're looking for a fast and reliable VPN.
Streaming: A Quality Experience with Surfshark
Let's explore how Surfshark performs in streaming. Does it live up to its promise?
Well, yes! The VPN is very effective at bypassing geographical blocks, making it an excellent choice for video streaming. It unblocks several streaming platforms such as:
Netflix (with access to 15 different regional libraries),
Amazon Prime Video,
Hulu,
and many others.
Plus, as we saw earlier, Surfshark offers speeds more than adequate for enjoying high-definition streaming without buffering.
You can therefore watch your favorite shows and movies without any interruption.
To conclude: Surfshark VPN is an ideal choice for downloading torrents and securely streaming videos. It offers a smooth experience, good speeds, strong security features, and broad compatibility with popular platforms.
Surfshark's Privacy Policy: Optimal Protection for Users
A VPN's privacy policy is crucial for ensuring user anonymity and security. How does Surfshark's policy measure up? Let's analyze the components together.
The first positive aspect is that Surfshark is registered in the British Virgin Islands, a territory with no legal obligation regarding data retention.
This allows the VPN to apply a strict "no-log" policy without retaining connection logs and activity records.
Additionally, the company is transparent about its privacy policy. It only collects essential information for creating a user account, such as:
the email address,
and the encrypted password,
as well as some billing information.
Surfshark also collects technical information related to VPN usage to improve its performance.
However, this information is not linked to your account and does not compromise your privacy.
Furthermore, Surfshark's servers use RAM disks, ensuring that no data persists after a server restart. This approach enhances user privacy.
The VPN service has also been audited by a German cybersecurity firm that confirmed its security and respect for user privacy.
In short: Surfshark's privacy policy is a guarantee of trust for its users. Thanks to its various measures and features aimed at protecting privacy and ensuring anonymity, this VPN ranks among the safest on the market.
Surfshark customer service: fast and efficient assistance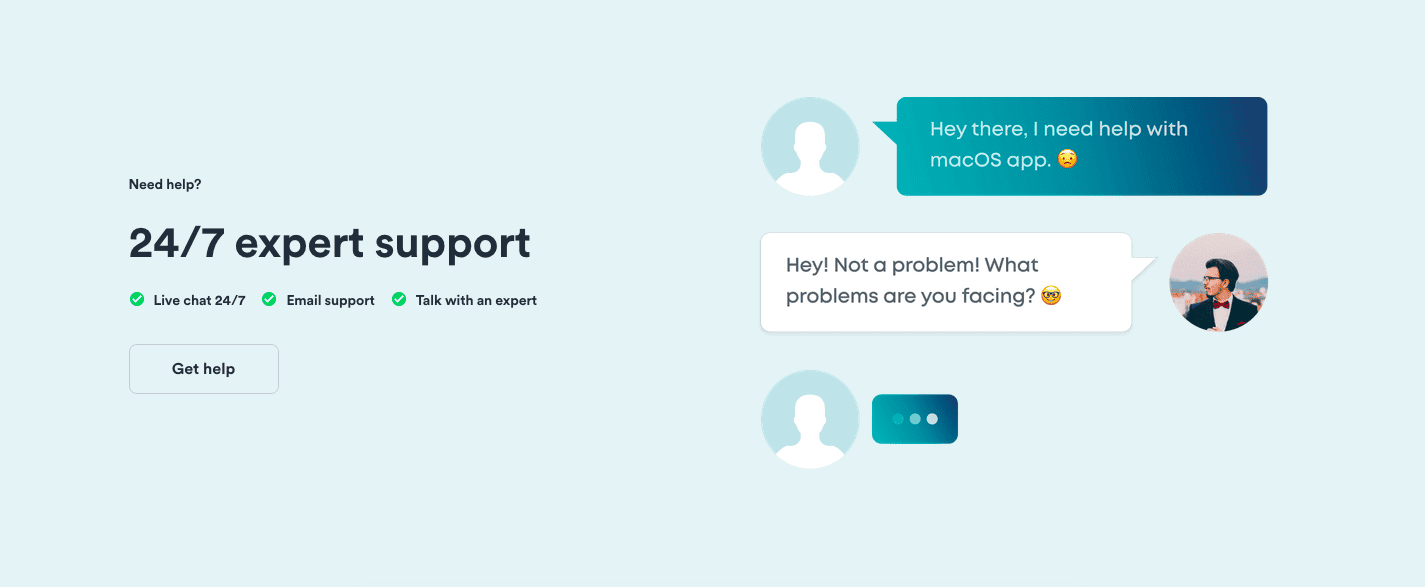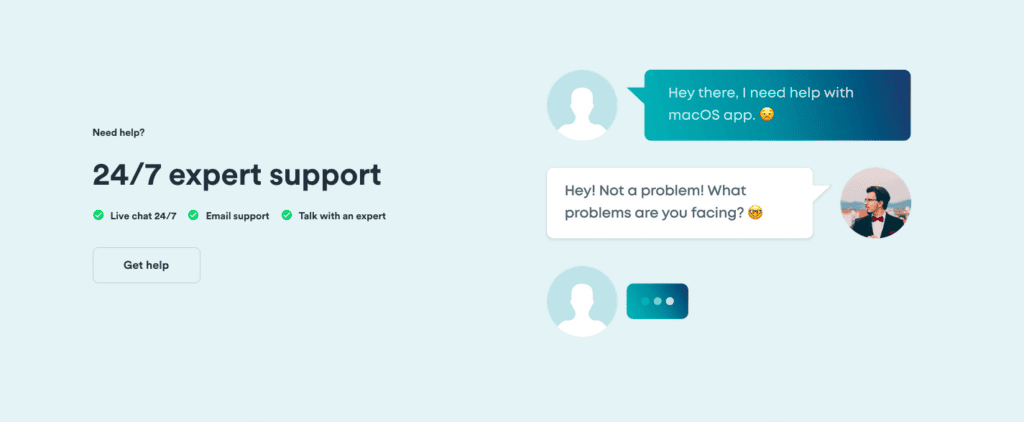 Customer service is an essential aspect to consider when choosing a VPN. For Surfshark, user help and support are provided by a competent team available 24/7.
Let's explore together the various assistance options offered by this VPN.
Surfshark offers live chat support, accessible directly from its website. This allows you to benefit from rapid and real-time assistance to resolve any issues or answer any questions related to the use of the VPN.
In addition to live chat, Surfshark provides numerous resources on its website to assist its users: installation instructions, FAQ articles, technical guides, thematic blogs. Although these resources are regularly updated and enriched, it is possible that some information is still being improved.
If you prefer a more traditional contact with customer service, you can fill out an online form available on Surfshark's website. Responses are generally sent within 3 hours of the request.
You can also send an email directly to [email protected] to keep a record of your exchanges with the support team.
However, please note that requests must be made in English, which may be a disadvantage for those who do not speak the language.
Nevertheless, the responsiveness and expertise of the customer service generally allow for quick resolution of technical issues or answers to user inquiries.
In summary: Surfshark's customer service stands out for its availability and the quality of its assistance.
Surfshark: how much does it cost?
Wondering how much it costs to use Surfshark? Rest assured, this VPN offers excellent value for money, with competitive prices and comprehensive features.
To give you a clearer view of the different options available, here is a summary table of Surfshark's prices.
| | | | |
| --- | --- | --- | --- |
| Subscription | Monthly rate | Total cost | Savings |
| Monthly plan | $12.95 / month | $12.95 | None |
| Annual plan | $3.99 / month | $47.88 (one-time payment) | 69% |
| 24 months + 2 months free plan | $2.39 / month | $59.76 (one-time payment) | 82% |
The prices above include all Surfshark features with unlimited simultaneous connections.
In addition to the offers presented, the VPN regularly offers promotions and additional discounts for students.
As for payment methods, Surfshark accepts:
credit cards,
PayPal,
Google Pay,
Amazon Pay,
and even cryptocurrencies for those who want anonymous payment.
Still hesitating to take the plunge? Then know that Surfshark offers a 30-day money-back guarantee. This way, you can try the service with peace of mind and get a full refund if you're not satisfied.
What are the pros and cons of Surfshark?
Surfshark is highly appreciated for its many features and attractive value for money.
However, like any product, it also has some disadvantages.
To help you weigh the pros and cons, we have compiled a list of Surfshark's advantages and disadvantages so that you can make an informed decision.
| | |
| --- | --- |
| Advantages | Disadvantages |
| Secure access to Netflix, Amazon Prime Video, and BBC iPlayer | Room for improvement in customer service |
| Kill switch on all apps | Occasionally need to solve captchas on mobile |
| Excellent speeds | |
| 24/7 live chat support | |
| Works in China | |
| No connection logs recorded | |
| Unlimited devices | |
| P2P allowed (peer-to-peer file sharing) | |
Are you now convinced that Surfshark is the VPN for you? Do you want to download and install it? Then let's see how to do it.
How to install Surfshark?
Surfshark is a VPN that is easy to install and configure, whether on your computer, smartphone, or even directly in your browser.
The guide below will help you install Surfshark in just a few simple steps.
Step 1: Download the application
Go to the Surfshark VPN website and go to the "Apps" tab. Choose your device and where you want to download the app:
for Windows, download from the website;
for Android, use the Google Play store;
and for iOS, opt for the App Store.
On the "Apps" page, you will also find a Linux application and browser extensions for Chrome and Firefox.
Step 2: Sign up and pay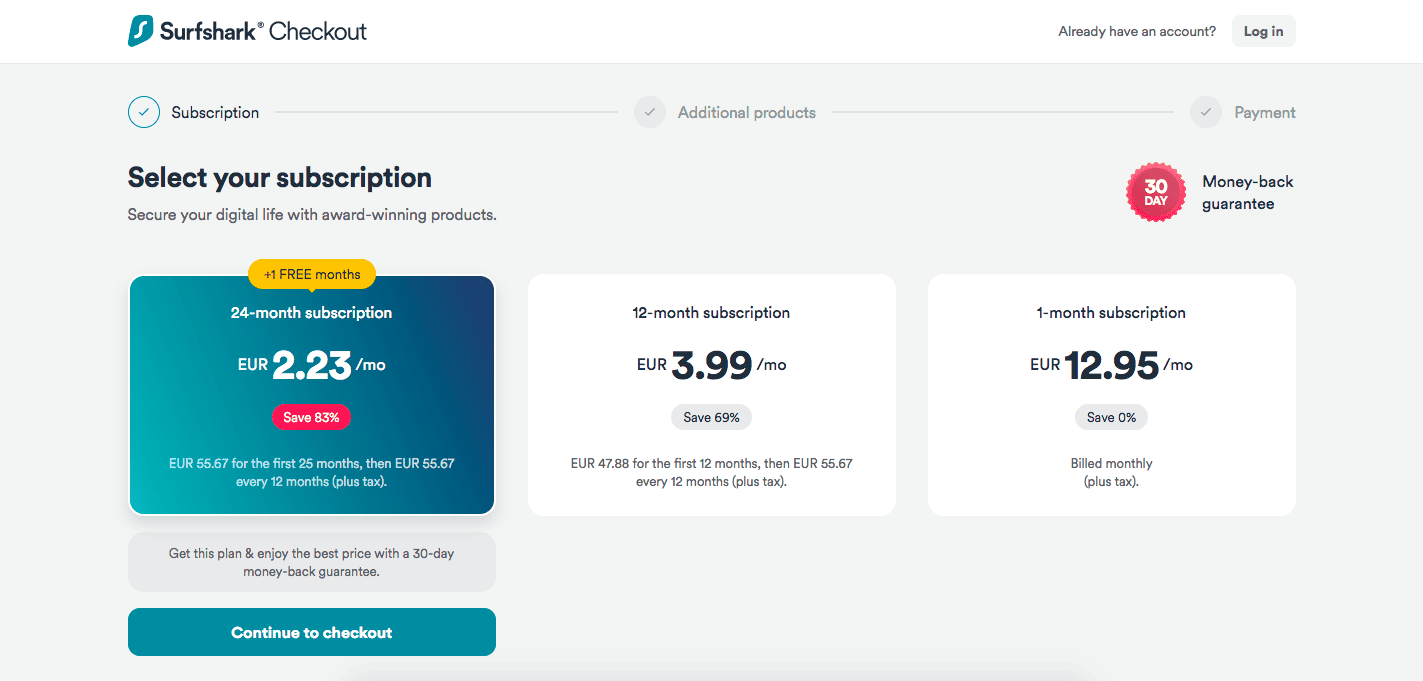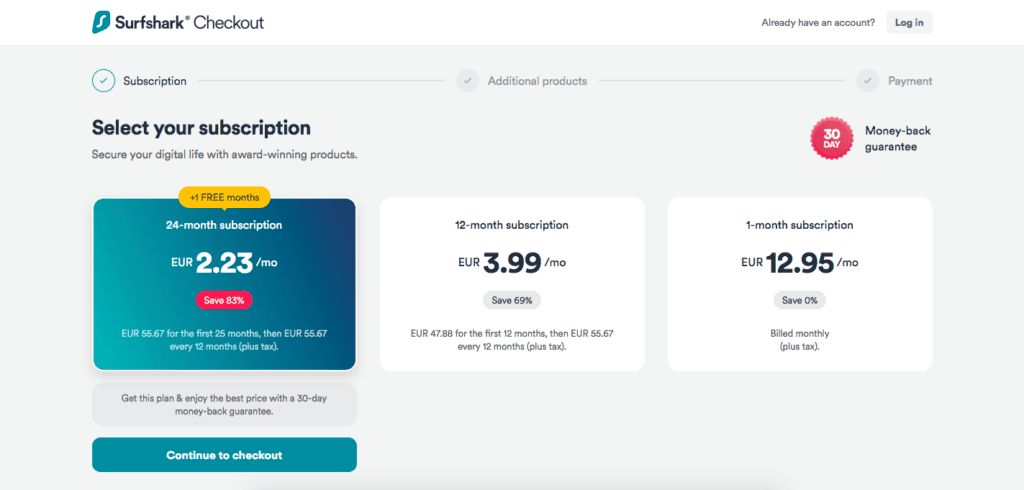 Before using Surfshark VPN, sign up and make a payment. Choose a subscription, use an email address to create your account, and decide on the payment method.
Step 3: Install Surfshark
On Windows and macOS:
For Windows, locate the downloaded installation file and double-click to start the installation.
For macOS, mount the disk image, drag the icon into the "Applications" folder to install it.
Launch the application, enter your email address and password, then click "Log in".
On Chrome and Firefox:
Go to the Chrome Web Store for Chrome or the Firefox Add-ons Store for Firefox.
Search for "Surfshark" and install the extension.
Click on the Surfshark icon in the toolbar, log in with your email address and password.
Select a server and click "Connect".
And there you have it, Surfshark is installed! Now all that's left is to configure it for use.
In the end, you didn't like Surfshark as much as you thought? You need comparison points before making a decision? Don't worry, there are quite a few alternatives.
What are the alternatives to Surfshark?
Are you wondering if other options might better suit your needs? We present here three other VPNs that have also proven themselves in the VPN market:
NordVPN,
ExpressVPN,
CyberGhost.
Let's discover together the features of each of these solutions.
NordVPN: a benchmark in terms of security and performance
Considered as one of the best VPNs on the market, NordVPN stands out for its network of more than 5,500 servers all around the world.
Security is at the heart of its offer, particularly thanks to the Double VPN technology and WireGuard protocol.
NordVPN also appeals for its ability to effectively unblock numerous streaming platforms, including Netflix US, Prime Video, and BBC iPlayer.
ExpressVPN: remarkable speed and ease of use
With ExpressVPN, you benefit from a network of more than 3,000 servers in 94 countries. The AES 256-bit encryption, kill switch, and various available protocols (OpenVPN, IKEv2, L2TP/IPsec, PPTP) ensure the security of your connection.
ExpressVPN also stands out for its speed and ability to unblock a large number of streaming services.
CyberGhost: a high-performance and easy-to-use VPN
CyberGhost is another serious player in the VPN market. Its network consists of more than 9,000 servers in 91 countries.
The OpenVPN, IKEv2, WireGuard, and L2TP/IPsec protocols are available, as well as AES 256-bit encryption and a kill switch.
CyberGhost supports many streaming platforms (Netflix, Hulu, Amazon Prime Video, etc.) and offers a 45-day money-back guarantee.
This table will help you easily get an idea of each solution's features.
| | | | | |
| --- | --- | --- | --- | --- |
| Features | Surfshark | NordVPN | ExpressVPN | CyberGhost |
| Number of servers | 5500+ | 3000+ | 9000+ | 3200+ |
| Number of countries covered | 65+ | 60+ | 94+ | 91+ |
| VPN Protocols | WireGuard, OpenVPN, IKEv2 | WireGuard, OpenVPN, IKEv2, Double VPN | OpenVPN, IKEv2, L2TP/IPsec, PPTP | OpenVPN, IKEv2, WireGuard, L2TP/IPsec |
| Money-back guarantee duration | 30 days | 30 days | 30 days | 45 days |
| Simultaneous connections | Unlimited | 6 | 5 | 7 |
| Streaming compatibility | Netflix , iPlayer , Amazon Prime , Disney + | Netflix US , Prime Video , Hulu , BBC iPlayer | All major platforms ( Netflix , Hulu , Amazon Prime Video , etc.) | All major platforms (Netflix , Hulu , Amazon Prime Video , etc.) |
In conclusion, Surfshark is a more than serious option among the VPNs available on the market.
However, depending on your needs in terms of performance, security, and support for streaming platforms, NordVPN, ExpressVPN, and CyberGhost can also prove to be interesting alternatives to consider.
Our final review on Surfshark: what do we think?
After analyzing in detail the VPN solution offered by Surfshark, it's time to take stock and highlight its strengths and weaknesses.
| | |
| --- | --- |
| | Surfshark VPN |
| Unlimited simultaneous connections | ✓ |
| Number of servers | +3,200 in 100 countries |
| Anonymous registration | ✓ |
| Zero-logs policy | ✓ |
| Cryptocurrency payments | ✓ |
| Performances and enjoyable experience with the app | ✓ |
| Attractive pricing | Starting from 2$ per month |
| Money-back guarantee | 30 days |
In summary, Surfshark is a serious VPN offering a high level of protection and online privacy.
Its strengths lie in:
its zero-logs policy,
its unlimited simultaneous connections,
and its global presence in 100 countries.
The service provides an enjoyable experience thanks to top-notch performances and a user-friendly app.
Surfshark's pricing is very attractive, with offers starting at 2$ per month, making it more affordable than some competitors such as ExpressVPN or CyberGhost.
Finally, the 30-day money-back guarantee allows hesitant users to test the service without risk.
All in all, considering these factors, we recommend Surfshark as one of the best VPN options in 2023, offering excellent value for money and reliable protection for online users concerned about their security.