WooCommerce Stripe: The Key to Streamlined Payment Management
Are you an e-commerce business owner looking for a fast, reliable, and secure payment processing solution? Look no further than WooCommerce Stripe!
With its powerful integration with WooCommerce, Stripe offers a seamless and hassle-free payment management experience for online businesses of all sizes.
Whether you're a small startup or an established enterprise, Stripe's advanced features and robust security measures make it the ultimate choice for streamlining your payment processing operations.
In this article, Debugbar will take with you a closer look at WooCommerce Stripe and how it can revolutionize the way you do business online.
Get ready to unlock the key to streamlined payment management with WooCommerce Stripe!
Also read : Shopify vs WooCommerce : Which platform to choose for your business ?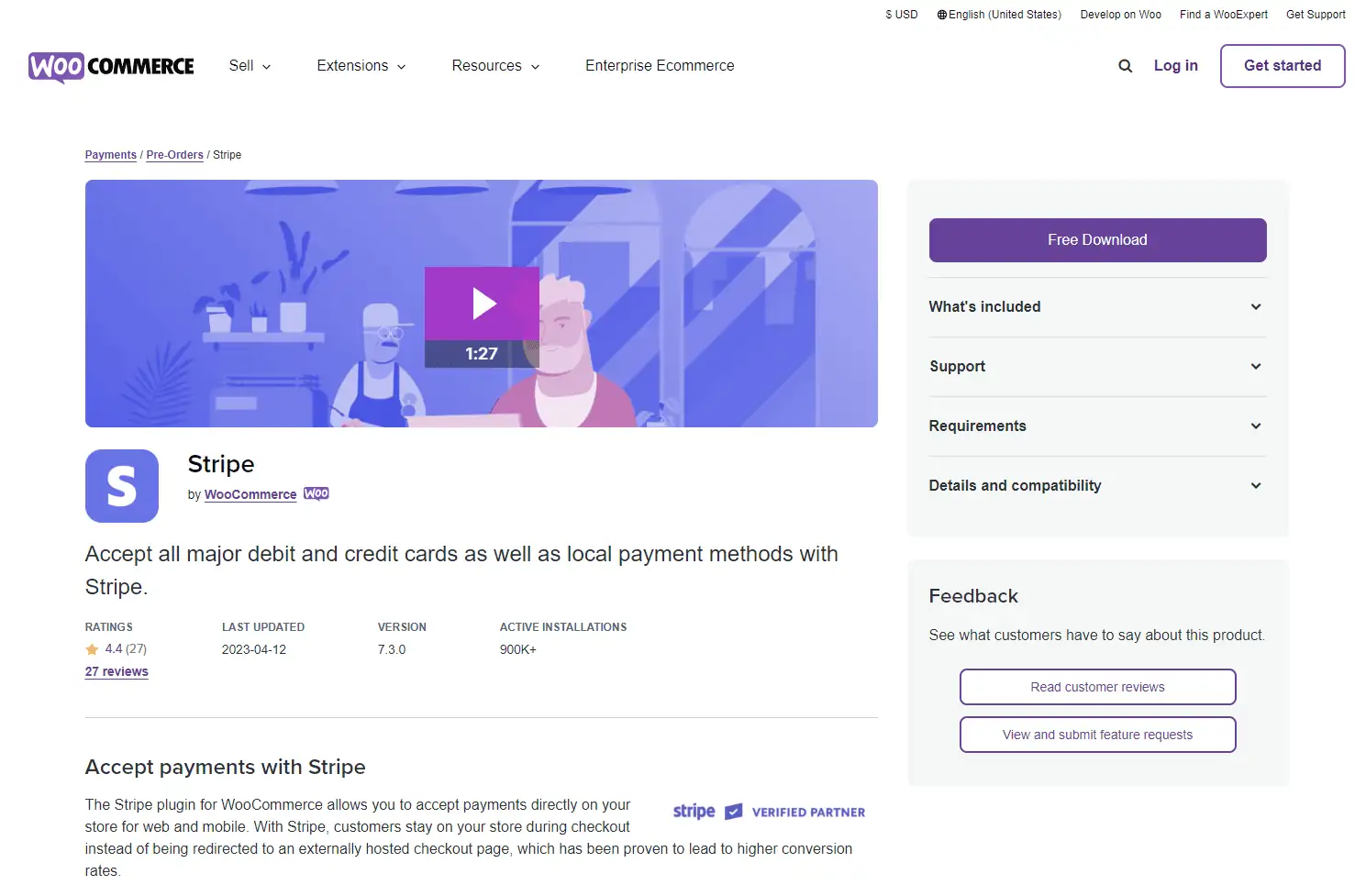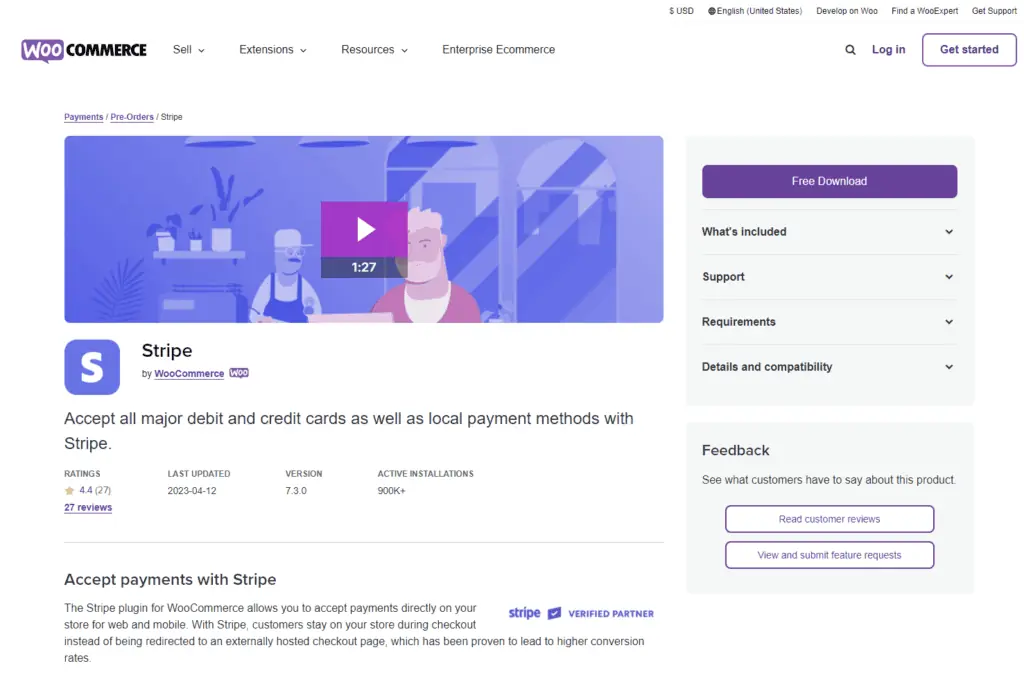 What is WooCommerce Stripe?
WooCommerce Stripe is an official plugin developed by Automattic (the people behind WordPress), which allows you to integrate the Stripe payment processor into your WooCommerce store.
This plugin integrates seamlessly with your WooCommerce store, allowing you to quickly set up a secure payment system for your customers.
It also supports different currencies and multiple payment methods, including credit card and digital wallets such as Apple Pay and Google Pay.
How does Stripe work with WooCommerce?
With the help of this payment gateway plugin, you can accept payments from visitors without having them leave your website or app.
It works as follows:
Customer places an order: A customer visits your WooCommerce store and selects the items they want to purchase. They then proceed to the checkout page to complete their purchase.
Payment information is collected: On the checkout page, the customer enters their payment information, such as credit card details, billing address, and shipping address.
Payment data is sent to Stripe: When the customer clicks the "Place Order" button, the payment data is securely transmitted to Stripe for processing.
Stripe processes the payment: Stripe verifies the payment information and checks for any potential fraud. If the payment is valid, Stripe charges the customer's credit card and transfers the funds to your business's bank account.
Order is completed: The customer receives a confirmation of their purchase, and the order is completed.
Quite simple isn't it? So now that you know how it works let's see what are the main features of this plugin.
What are the main features of WooCommerce Stripe?
WooCommerce Stripe is a really complete plugin that offers many interesting features such as:
Secure payment processing: Stripe uses advanced fraud detection and security measures to ensure that all payments are processed securely and reliably.
Multiple payment methods: With Stripe, your buyers can pay using a wide range of payment methods, including credit and debit cards, Apple Pay, Google Pay, and more.
Easy setup: Setting up the plugin is quick and easy, with no additional fees or complicated configuration required.
Customizable checkout experience: Stripe allows businesses to customize the checkout experience to match their branding and customer preferences.
Real-time reporting: the plugin provides real-time reporting and analytics, allowing businesses to track sales, refunds, and other payment-related data.
Subscription support: Stripe supports recurring payments and subscriptions, making it ideal for businesses that offer subscription-based services or products.
As you can see, WooCommerce Stripe is a truly comprehensive solution to streamline payment on your eCommerce store. As such, it has many benefits to offer.
Also read : Why include digital flyer in your promotion?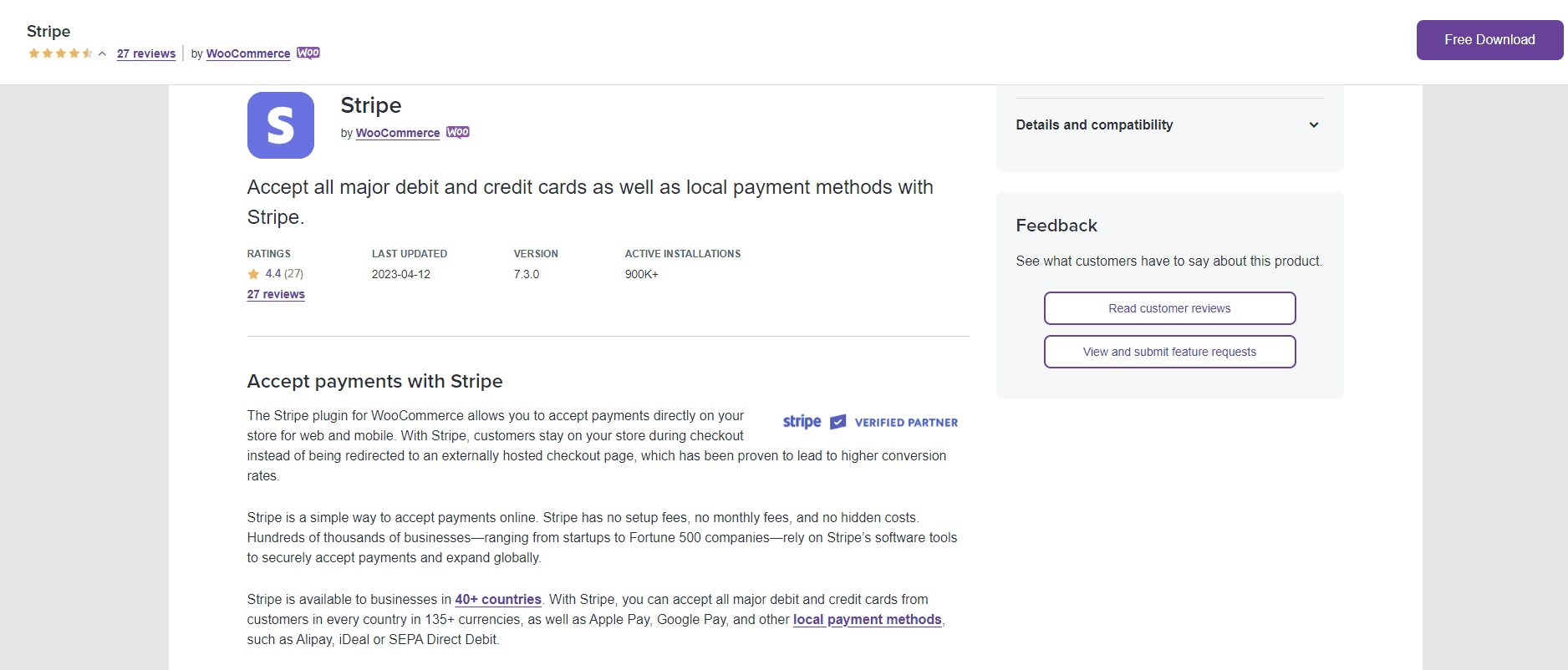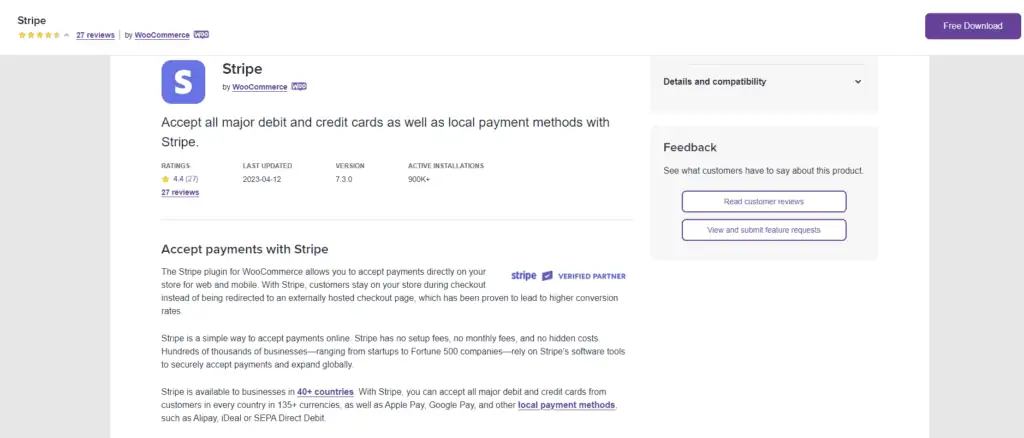 The 5 Benefits of Using Woocommerce Stripe
Using WooCommerce Stripe provides businesses with the following benefits:
Security
Reliability
Flexibility
Support for multiple currencies
Seamless integration with WordPress
Security
Stripe's infrastructure is designed to keep your customer data secure. It uses tokenization and encryption technology to store and process payments, as well as fraud prevention tools such as machine learning algorithms to detect fraudulent activities.
The solution is also PCI compliant, which means it meets the highest industry standards for payments security.
Reliability
The Stripe payment system is fast and reliable, ensuring that customers can successfully complete their transactions in a matter of seconds. Stripe also offers excellent customer support with dedicated staff who are available 24/7 to help with any issues or queries.
Flexibility
WooCommerce Stripe supports multiple payment methods, from credit cards to digital wallets such as Apple Pay and Google Pay.
This allows businesses to offer customers more options when it comes to making payments, increasing the chances of successful purchases.
Support for multiple currencies
Stripe supports over 135 different currencies, so businesses can easily accept payments from customers all over the world. This is particularly useful for businesses that sell products and services internationally.
Seamless integration with WordPress
WooCommerce Stripe can be easily integrated with WordPress websites, allowing businesses to quickly set up a secure payment system within their e-commerce store.
You must imagine that with so many advantages WooCommerce Stripe must be expensive? Well, not so much…
How much does WooCommerce Stripe cost?
The cost of using WooCommerce Stripe varies depending on the payment plan you choose. Here's a breakdown of the pricing options:
Pay as you go: With this plan, you'll pay a flat rate of 2.9% + 30¢ per successful transaction.
Stripe custom pricing: For businesses that process high volumes of transactions or have specific needs, Stripe offers custom pricing plans that are tailored to your unique requirements. To get custom pricing, you'll need to contact Stripe directly.
In addition to transaction fees, there are no additional setup fees, monthly fees, or hidden charges associated with using WooCommerce Stripe. This makes it an affordable and transparent payment processing solution for businesses of all sizes.
Are you interested? Then let's see how to use WooCommerce Stripe!
How to set up WooCommerce Stripe?
Setting up WooCommerce Stripe requires just a few steps:
Log in to your WordPress dashboard.
Go to Plugins tab

Click on Add New


Search for 'WooCommerce stripe payment gateway' > install & activate the plugin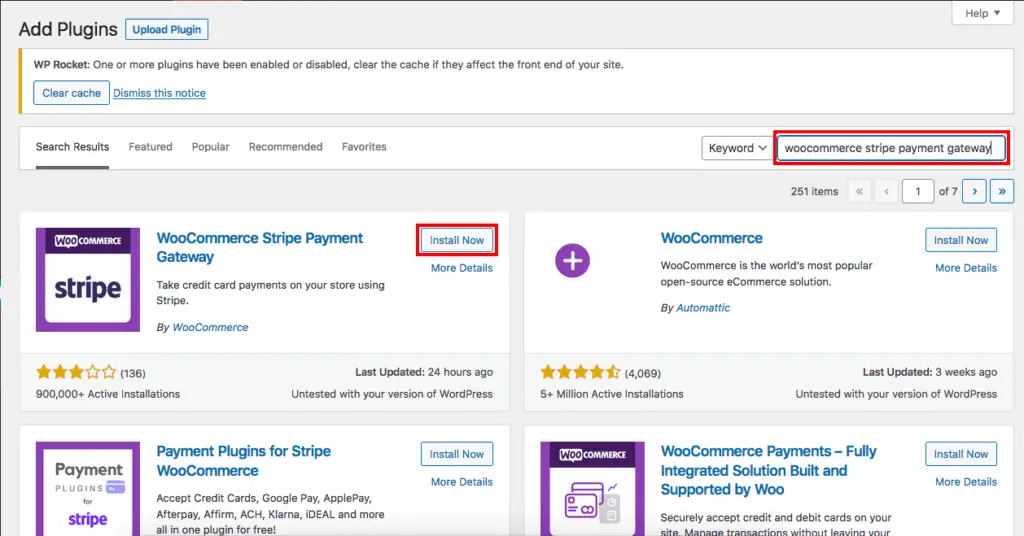 Go to Settings > Payments tab > Click Add New under Payment Methods
Select the 'Stripe' option from the drop-down menu.
Enter your API keys (available at stripe's dashboard)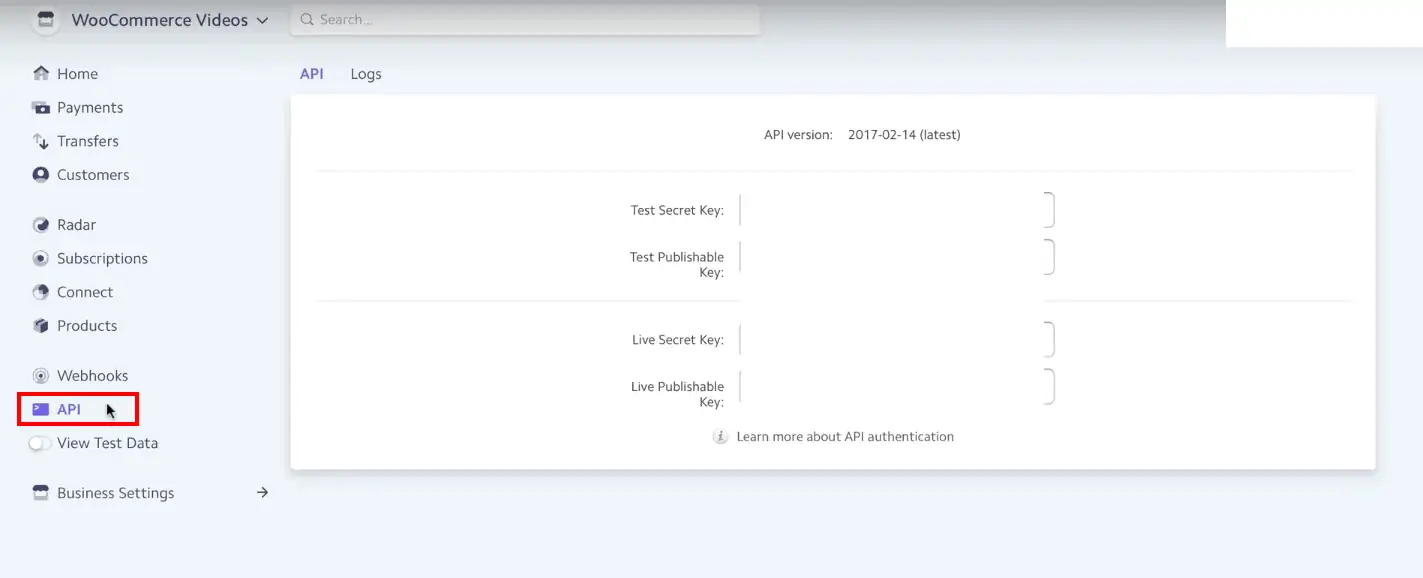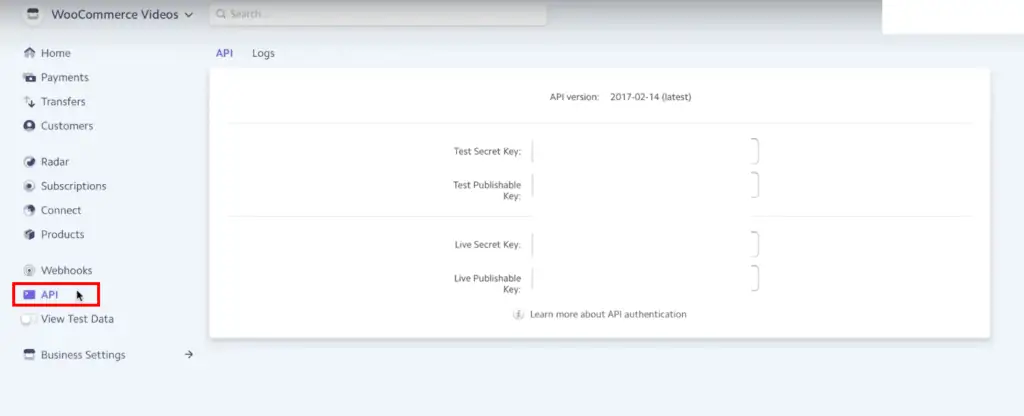 Enable Test mode if you wish so you can test out orders before going live
Configure other settings such as billing address details collection
Click Save changes and you're good to go!
It's that simple! You're now ready to start accepting payments using Woocommerce stripe!
Our Best Practices for Using WooCommerce Stripe
To get the most out of using this WordPress plugin, here are some tips and best practices you should consider:
Make sure that all your contact information is correct and up-to-date so customers can reach you if they have any questions or concerns about their orders.
Offer multiple payment options such as credit cards and digital wallets to make it easier for customers to complete their transactions.
Showcase your security credentials prominently on your website to reassure customers that their data is safe when they make payments on your website/app.
Make sure you follow all PCI compliance regulations when processing payments. This will help protect you from any potential legal issues related to customer data protection in the future.
Take advantage of features such as subscription management tools, support for multiple currencies, etc., to make it easier for customers to purchase products from your store.
Always provide excellent customer service and support to ensure a smooth experience for customers when making payments on your website/app.
WooCommerce Stripe payment gateway in a few words
For e-commerce businesses looking for an easy way to manage their payments securely and conveniently, WooCommerce Stripe integration is the perfect solution!
It offers:
Quick setup time,
Multiple payment methods support,
Fraud prevention capabilities,
Subscription management tools,
And much more.
Ensuring that customers have a seamless checkout experience every time they shop at your online store!