Canva: create stunning designs in minutes
Canva is an online graphic design tool that allows you to create professional-looking designs in just minutes.
Want to conceive a logo, brochure or visual? Don't want to hire a professional designer? Then Canva is the tool for you.
With Canva, you can quickly and efficiently create logos, brochures, posters and other visual content without needing extensive knowledge of graphic design.
Canva's intuitive interface allows anyone to produce professional results with minimal effort.
Canva caters to both businesses and individuals who want to add a creative touch to their projects.
Basically, Canva has everything you need! You'll really see it when you read this article.
What is Canva?
Canva is an online graphic design platform (which also exists as an app) that allow you to easily make amazing visual content such as:
logos,
brochures,
posters,
and other documents.
With its intuitive interface and wide range of built-in tools, Canva allows users of all levels to edit and customize their designs for maximum impact.
Is Canva right for you?
There's a good chance the answer is yes, since Canva is accessible to everyone.
In fact, its many options make it useful for anyone who wants to easily produce professional-looking documents. It will therefore be useful to:
individuals,
businesses,
and creative people.
Whether you're a business looking to improve your promotional material or an individual looking to add a creative touch to your projects, Canva has something to offer!
Why use Canva?
Canva offers many advantages to those who choose to use it. But there are 3 in particular that are particularly valuable:
It's easy to use,
It offers a wide selection of templates and design elements.
It allows you to stand out from the competition.
But let's expand on each of these benefits to really get a feel for what the tool has to offer.
Canva is easy to use
Canva has an intuitive interface that allows users of any level to quickly access the tools they need.
This is a real advantage since everyone will be able to use the tool's capabilities according to their abilities.
Novice designers will be able to make use of the basic functions, but experienced designers will really be able to implement all their creative ideas with the platform's advanced features and tools.
It offers a wide selection of templates and design elements
From logos to brochures, Canva provides users with an extensive library of templates and design elements, allowing them to conceive visually appealing documents in minutes
Stand out from the competition
Canva's unique designs allow you to create documents that stand out from the crowd. With Canva, you can easily elaborate designs that will make an impact and help you stand out from the competition
So, you can see that Canva can offer you quite a few benefits but to take full advantage of it you need to know the main options of the tool.
The 5 best features of the tool
Among the many features that Canva offers to its users, there are 5 that are particularly unavoidable. These are:
Online printing.
The template library.
The video editor.
The photo editor.
Collaboration options.
1. Online printing
This feature makes your life easier as it allows you to easily print your documents online and have them delivered directly to you.
To use this feature, simply:
Create a document in Canva,
Click on "print" and choose the type of media and printing options you want.
Select the delivery address and the desired payment method.
Confirm the order and wait for the delivery of your printed documents.
You can choose between different print quality and finishing options, as well as different prices depending on the type of media and specifications chosen.
Once you've placed your order, Canva takes care of printing and shipping the product directly to your address.
This is a great feature for printing professional quality documents without having to go to a print shop or buy expensive printing equipment.
2. Template Library
This is a selection of templates and design elements (images, icons, illustrations, etc.) that Canva makes available to its users.
This library gives you the possibility to set up visuals from a pre-existing base to save time. Those who want to can also start from scratch or from a document they want to customize.
3. The video editor
This editor allows you to create videos from predefined templates or to do it from scratch.
With this editor, it is possible to:
Add text, images and design elements to your videos.
Change the duration of each element of a video.
Add transitions between different parts of the video.
Apply effects such as filters or animations.
Add music or record your own voice.
Export the video in the desired format (MP4, GIF, etc.).
In a nutshell, this editor will be useful for anyone who wants to produce high quality videos even without having a deep knowledge of video editing.
4. Photo Editor
This feature allows you to edit and customize photos. If you want to improve the appearance of your images or adapt them to a specific use, for example for publication on social networks or for professional use, you absolutely need to know this feature.
This editor allows you to:
Resize, crop or rotate a picture.
Apply filters or effects to change the appearance of the image (colors, brightness, contrast, etc.).
Add icons, illustrations, and many other elements to the photo.
Create collages from several photos.
Export the picture in the desired format (JPG, PNG, etc.).
Canva's photo editor is easy to use and accessible even to novice users. It offers great flexibility to customize photos and adapt to different uses.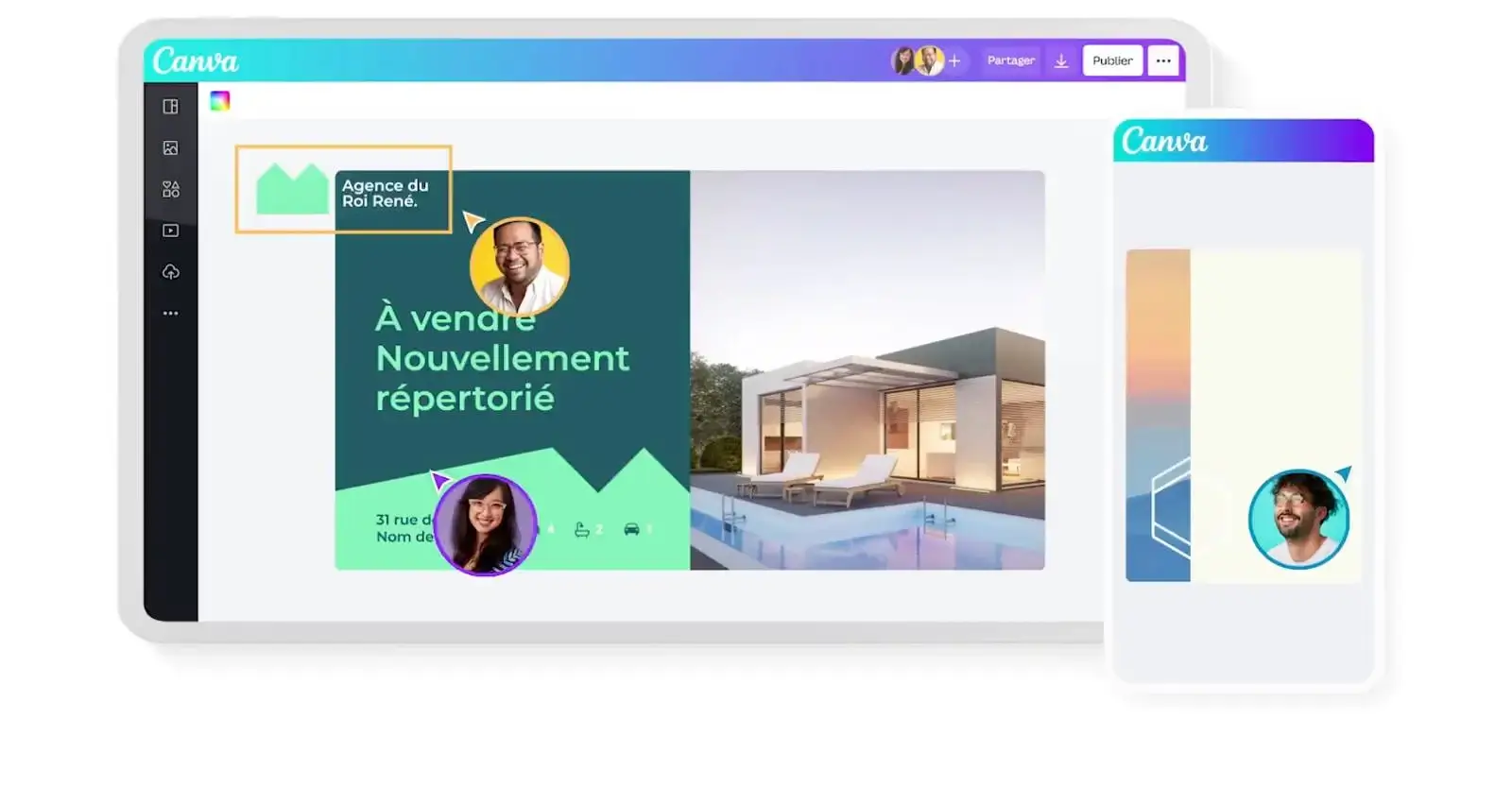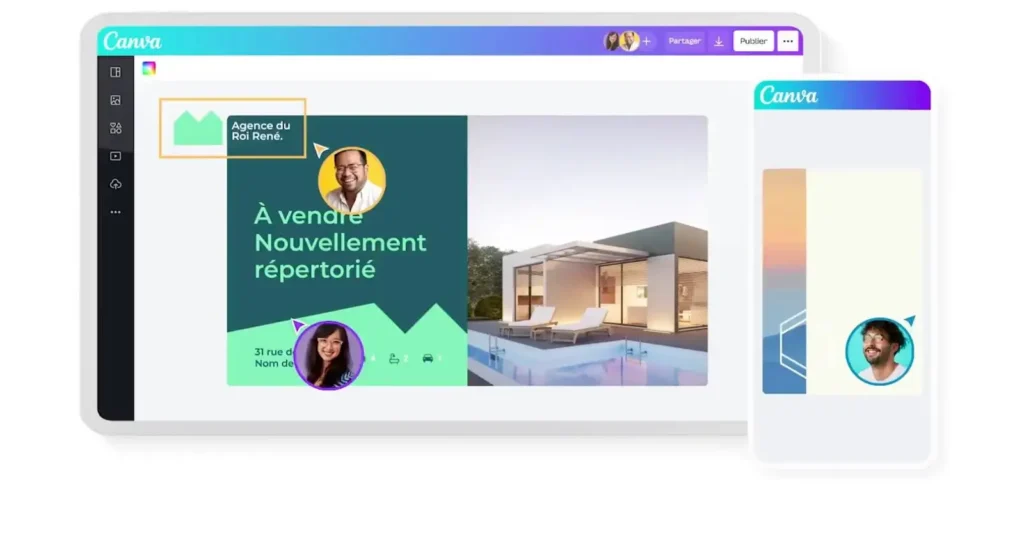 5. Collaboration options
Collaboration options allow multiple people to work together on the same project.
Here are some examples of interesting collaboration options:
Invite collaborators: you can invite others to take part on your design by giving them access as an editor or as a commentator.
Comment and discuss: you can add comments on the design or discuss with other collaborators directly on the platform.
Track changes: Canva keeps track of the history of design changes, so you can see who did what and go back if necessary.
Work in real time: multiple people can collaborate on the same design at the same time and in order to more efficiently.
These options are especially useful for team design projects because they allow all members to collaborate together while staying organized.
How much does Canva cost?
Canva offers three different subscription plans:
Canva Free,
Canva Pro
and Canva Team.
Canva Free
As the name implies, this subscription plan is free. This version includes access to:
the template library,
design elements,
Canva's photo archives,
basic photo editing tools.
However, the free version of Canva does not include collaboration options or advanced editing options.
Canva Pro
The pro version costs $109.99/year and includes all the Canva Free options plus additional collaboration ones.
You'll also get:
More design elements.
Access to high-resolution photos.
A range of advanced editing tools, such as cropping and resizing images, adding text effects, and more (Don't forget tu use a tool like TinyPNG to compress images).
Unlimited storage of Canva files.
Advanced collaboration options.
Analysis and reporting tools.
Canva team
Canva team subscriptions start at $139.90/year for 5 members.
If you're not sure if Canva is right for you, you can try it for free during a 30-day trial. This trial version will give you access to all of Canva Pro's tools without having to pay anything up front.
You think that Canva is too expensive? Not complete enough? Don't worry, there are alternatives.
What are the possible alternatives to Canva?
There are 3 particularly interesting alternatives to Canva:
Adobe creative cloud,
GIMP,
Inskape.
Adobe Creative Cloud
Adobe is one of the main competitors of Canva. Unlike the latter, Creative Cloud requires some knowledge of programs such as Photoshop and Illustrator.
However, Adobe Creative Cloud has more advanced options than Canva, such as:
3D modeling tools,
professional typography options,
etc.
GIMP
GIMP is a free, open-source image editor that offers approximately the same options as Canva. It also supports advanced editing techniques such as layers and masks.
The tool may not be suitable for beginners, however, as it is complex to get to grips with.
Inskape
Another alternative to Canva is Inkscape. The latter has its own advantages and disadvantages, so be sure to research each one thoroughly before making a decision.
Canva in a nutshell…
In conclusion, Canva is a great solution for creating stunning visuals in minutes.
If despite its many advantages the platform doesn't suit you, rest assured there are other alternatives.
Canva is an online graphic creation tool that exists in web version or as an app.
You can access Canva for free but you have to pay to enjoy the full range of options.
Paid subscriptions start at 109,99 €/year.