Find the best private browser to protect your activity online
For most people the best private browser is the one that doesn't watch your activity online and doesn't collect your data in order to use or sell it. And you're right to ask for privacy because you're not a product and your data are not for sale !
You're tired of targeted advertising ? You don't want your data to be collected ? When you're online with a non private browser every click, every minute you spend online and even the websites you're visiting are analyzed by your browser who uses it in order to establish your user profile and sell those informations to third parties. So basically you and your data are considered as products to be sold. But that's not what we expect from an internet browser… What do we expect when we talk about a privacy web browser ?
Privacy : Protection of all our data (browsing history, password, IP address, etc…) and protection against tracking (fingerprinting and third party cookies)
Security : Safeguard against malicious web pages
So it's important to keep your data secured and protected because you're not a product!
In order to take care of your privacy we looked at several browsers to find the best for your privacy.
Top 3 of browsers
| | |
| --- | --- |
| Tor | Anonymity and slowness |
| Firefox | The best among the giants |
| Waterfox | Better than firefox (except on security) |
The 5 good ones
| | |
| --- | --- |
| Brave | The complete but hazy one |
| Epic | The illusion of ultra privacy |
| DuckDuckgo | The promising one |
| Vivaldi | Customizable |
| Safari | Not bad at first sight |
The 3 Browsers to avoid
| | |
| --- | --- |
| Chrome | Very convenient but not private at all |
| Opera | The Devil in disguise |
| Microsoft Edge | Microsoft way privacy |
The top 3 of private web browsers
If you're looking for privacy you'll find what you want among these 3 browsers !
1) Tor : Private but slow

| | |
| --- | --- |
| + | – |
| Encrypted connection | Slow |
| Internet everywhere | Difficult to manage |
| Absolute anonymity | Can't read some scripts |
Tor is the most known private web browser, especially among dark web users. Thanks to its encrypted connection this browser ensures you a complete anonymous and untraceable online activity. These features allow you to connect to the internet everywhere and to have access to websites that you can't access in your country. This is probably the best solution to protect your data and browse freely.
This privacy has however some inconveniences as the slowness due to encryption or the blocking of some scripts that impeach the proper performance of some websites. Finally Tor is very effective but requires some technical abilities to be managed.
In a nutshell, Tor is awesome to navigate in a completely anonymous way but you should not be in a hurry when you use it.
2) Firefox : The best once customized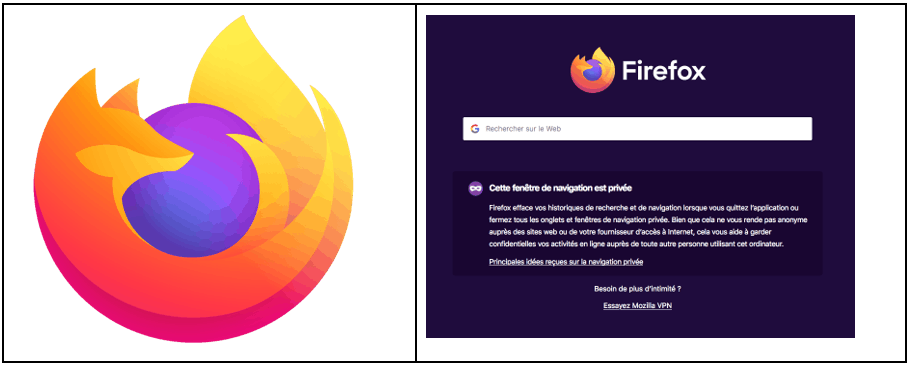 | | |
| --- | --- |
| + | – |
| Private mode | Some contentious addons |
| Anti tracking | |
| Anti phishing | |
| Ad blocker | |
| Customizable | |
| Frequent updates | |
Mozilla Firefox is without any doubt the best private browser among the giant ones. Easy to use and customizable with a multitude of addons it offers the possibility to have a very convenient online privacy and security. These numerous features as the incognito mode, the anti phishing, the tracker blocking (including the Facebook ones) or its frequent updates made him one of the safest and private for now.
In its default mode Firefox doesn't offer maximal privacy but it's quite easy to improve its lacks thanks to many availables addons. You'll have to configure it well to be sure your privacy is respected by deactivating some litigious extensions such as Pocket or Telemetry.
In a nutshell, Mozilla Firefox in its initial version is not the best private browser but it's easy to upgrade it as a real fortified castle thanks to many extensions available.
3) Waterfox : A more private version of Firefox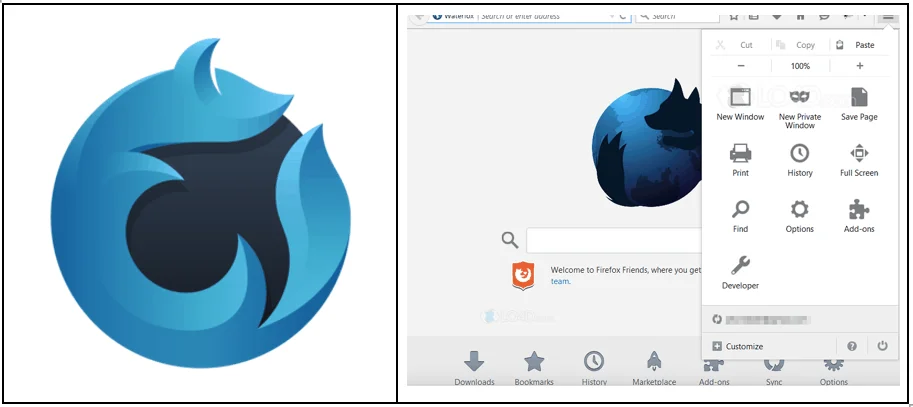 | | |
| --- | --- |
| + | – |
| Anti tracking | Based on old Firefox version |
| Suitable with Firefox addons | |
| Fast | |
| Ad blocker | |
| Private tab | |
Waterfox is based on the Firefox open source and offers better privacy than Mozilla. In addition to the usual protections against tracking, it is suitable with a great number of Firefox extensions. It even takes the lead on Firefox thanks to its ability to erase all your browsing data without any extension and without being equipped with some litigious extensions of Firefox such as Pocket or Telemetry.
It's only one inconvenience is that it's based on a quite old version of Firefox which is a bit of a concern regarding the security.
In a nutshell, it looks like Firefox but in a better way regarding your privacy although it can raise some concern about your online security.
The good ones for your data protection
The 5 following browsers are not so bad for your privacy and you could be satisfied with it !
The 5 good web browsers for privacy
1) Brave : Complete but…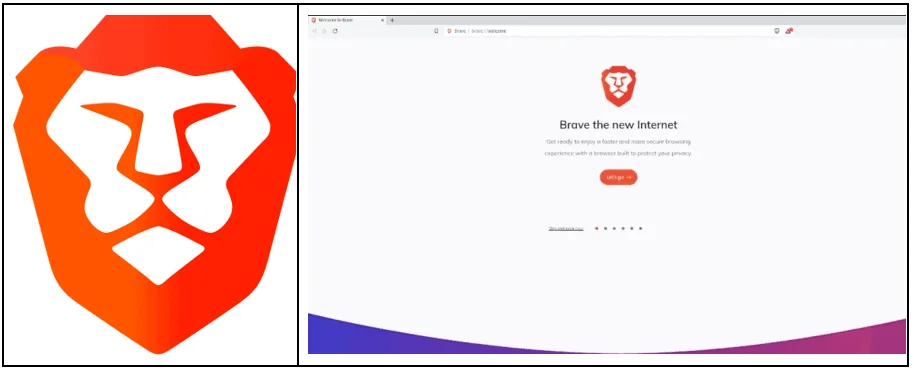 | | |
| --- | --- |
| + | – |
| Trackers and ads blocking | Chromium |
| Easy to manage | Questionnable ads system |
| Doesn't collect your data | |
| Built-in HTTPS Everywhere | |
| Fast | |
| Compatible with chrome's extensions | |
Brave is considered as one of the best private web browsers on the market thanks to its numerous features and its speed. Besides its tracker blocking, its HTTPS everywhere and its shield against malicious websites Brave is above all easy to manage. Based on Chrome's open source (chromium) its interface won't disturb google usual users. Furthermore Brave offers an interesting system that allows users to give a reward to the good websites.
Very few external plugins are accepted by this browser but it's not so upsetting because the browser is very complete. As satisfying as it is Brave has two major negative points that the most attentive users will notice.
Firstly it's chromium based and even if chromium is called "degooglised" it remains a suspicion concerning its code and some suspects him to be tied to google and to use your information as google does.
The second point is quite more concerning and raises real questions concerning privacy. Indeed Brave replaces tracked ads by ads from its "associates". This point invites really to think about the private dimension and the protection of your data to the extent that one of the main options that you expect from a private browser is a safeguard against ads.
In a nutshell, Brave is very complete and seems respectful of your privacy but some points could incite the most cautious users to go for another browser.
2) Epic : Looks highly private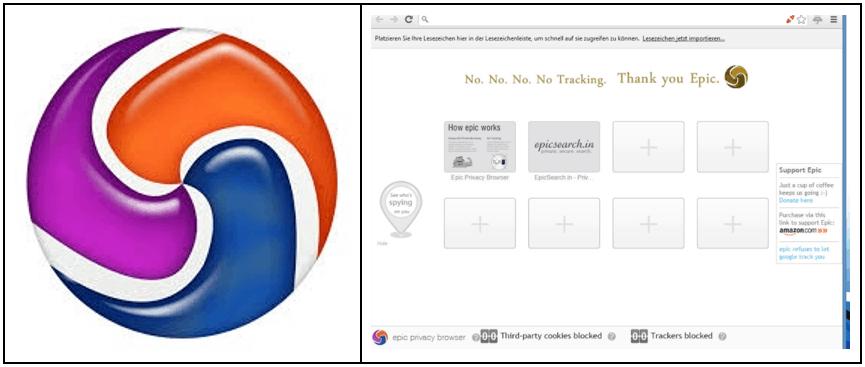 | | |
| --- | --- |
| + | – |
| Third party cookies blocker | Too few plugins |
| No tracking | Not easy to manage |
| No data shared | VPN |
Epic crows about protecting your privacy and your browsing data. That's why as soon as it's installed all privacy settings are switched on. This browser blocks third party cookies, doesn't track and doesn't share your data and uses DuckDuckGo as a search engine.
Epic allegedly has a free built-in VPN which is a good thing since it's supposed to keep your IP secret and make your browsing almost untrackable. However the reality seems to be quite different since the "VPN" is only a transfer of your activity through a non US host (which is a real concern regarding the protection of your data).
Due to its extreme privacy settings Epic won't offer you features that could threaten your privacy as automatic spelling, password manager or even a lot of extensions.
At last it's quite difficult to manage if you're not familiar with technology and since it's based on chromium the question of google independance stays raised.
In a nutshell, Epic has a maximal default private settings but raises some questions regarding its VPN and chromium.
3) Duckduckgo : Very promising

| | |
| --- | --- |
| + | – |
| Trackers blocking | No desktop version |
| Give a privacy grade to websites | |
| Fast | |
| Easy to erase all your data | |
| HTTPS Everywhere | |
DuckDuckGo is a fast and interesting browser regarding privacy and offers some exciting features such as the reliability grade given to websites or the erasing of all your data in one click. We will also note its ability to block ads and other trackers as well as the HTTPS everywhere feature.
The major inconvenience of DuckDuckGo is that it's only available on mobile and there is no desktop version. Besides some people will note that its ads blocker is not as efficient as it says.
In a nutshell, DuckDuckGo is very interesting and offers many exciting features but it's not complete enough and doesn't exist in the desktop version.
4) Vivaldi : Not bad once customized

| | |
| --- | --- |
| + | – |
| Customizable | No mobile version |
| Privacy addons | Chromium |
Vivaldi can be interesting for privacy when it's well configured. Its numerous available extensions make it really customizable and allow it to become a good privacy browser. Furthermore it's based on chromium so it won't destabilise you if you're a Google user.
The inconvenience of Vivaldi is that it's not available on mobile and for the more suspicious it is always still the chromium question.
In a nutshell, an highly customizable browser that offers security and privacy if it's well configured but there's no mobile version.
5) Safari : Not so private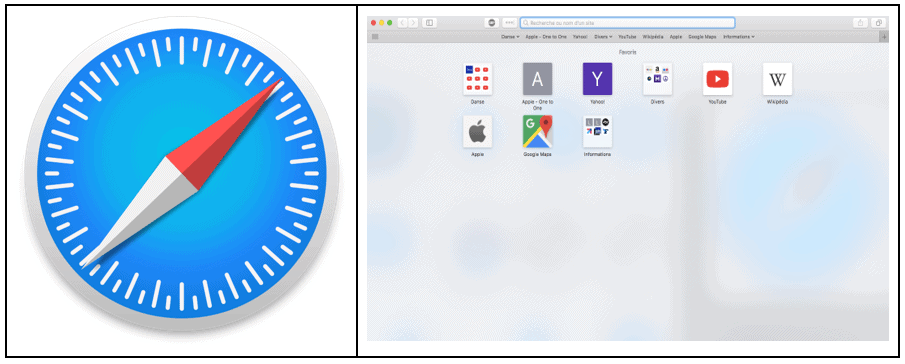 | | |
| --- | --- |
| + | – |
| Pop-up blocker | Only for iOS users |
| Shield against bad websites | Doesn't stop trackers |
| Interesting plugins | NSA Prism |
| Protect your device | |
Safari is the default browser on all apple devices. It has some interesting options as its popup blocker or its effective shield against malicious websites. Furthermore it opens each website in a "sandbox" that protects your device from external attacks. Finally it offers many convenient extensions.
The main inconvenience of Safari is that it's only available on iOS equipped devices. In addition, some people raise questions concerning the private aspect of this browser because Apple agreed to the NSA Prism program and is suspected to save your browsing data and your browsing history even after you deleted it.
In a nutshell, Safari is very convenient and secure but raises some concerns regarding the respect of its users' privacy.
The 3 browsers to avoid to keep your privacy
If you care for your privacy online you must avoid these 3 browsers !
1) Google chrome : Convenient but no privacy at all

| | |
| --- | --- |
| + | – |
| Very secure | Collect and sell your data |
| Many plugins | Tracks your browsing history |
| Easy to manage | Business model on advertising |
| Very convenient | |
Google chrome is very (like very) convenient and offers many extensions and features that allows you to make it very secure to use. It looks like the perfect browser but under the perfection some big lacks are hidden.
You're not ignoring that Chrome is the Google browser and that the american firm business model stands on advertising. So basically Google tracks all your datas (browsing history, time spent online, IP address, etc…) to establish your habits and to sell those datas to advertising companies.
In a nutshell, Google is the most convenient browser but probably one of the worst regarding privacy.
2) Microsoft Edge : Microsoft way privacy

| | |
| --- | --- |
| + | – |
| Ad blocking | Tells anything you do to microsoft |
| Shield against malicious websites | |
| Can hide your location | |
Microsoft Edge is the upgraded version of Internet Explorer. With this browser Microsoft came back in the game with a powerful and interesting browser that offers many interesting features as its shield against malicious websites, the protection of your IP address or an ad blocker. But, as Chrome, Microsoft is not known for the respect of its users' privacy.
The main disadvantage of Edge is that it's owned by Microsoft and as such shares all your information with Microsoft.
In a nutshell, as Google Chrome, Microsoft Edge is very convenient and offers you a great protection but your data is certainly not safe.
3) Opera : A privacy lookalike without the privacy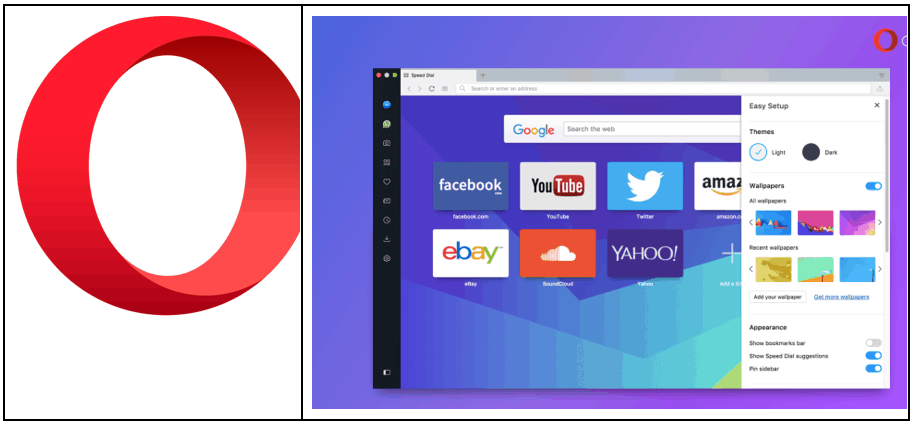 | | |
| --- | --- |
| + | – |
| Script blocking | Probably collects data |
| Malware protection | VPN |
| Ad blocking | |
At the beginning Opera was a very secure and respectful browser but that quality has declined with time.
Opera seems to be secure and respectful of your privacy among other things thanks to its free "VPN" that promises you to protect your IP and keep all your data secrets. Furthemore it offers some good features for your security as a malware protection, a script blocker or an ad blocker.
However all the features that look great on Opera are questionable (including the "VPN" which is a real joke) because the Browser belongs to a company based in a country which is not known for being respectful of privacy. In addition the browser communicates with some websites that obviously don't respect privacy.
In a nutshell, Opera seems to be perfect but it's the devil in disguise and your privacy won't be respected.
In conclusion, if you care about your privacy it's better to avoid using these 3 browsers :
Google Chrome : Convenient but not private at all
Microsoft Edge : Quite good but not private
Opera : The devil in disguise
Despite some interesting and convenient features, these 3 are raising some well known privacy issues. It's better to go with more transparent and respectful browsers like these 3 ones :
Tor : Best for privacy but slow
Firefox : The best among the giants
Waterfox : Better than Firefox regarding privacy but less efficient for security
But if you want to try something else you can also go with :
Brave : Very complete but raises some questions
Safari : Interesting security features but not so private
Epic : High privacy but some concerns
DuckDuckgo : Interesting but can be better
Vivaldi : Very customizable to offer a maximum privacy but no mobile version