Google Guaranteed: eligibility, benefits and how to get listed
Google Guaranteed is a program by Google that verifies the reputation and background of local businesses in order to provide assurance to customers that they are doing business with a trustworthy company.
You want an increased visibility on Google? You want to reassure your potential customers? Then you have to get Google Guaranteed!
In this article, we'll go over everything you need to know about Google Guaranteed, from eligibility requirements to potential benefits.
Google Guaranteed program ensures internet users that your business provides quality services.
To guarantee a business, Google checks the detailed background of the company and the owner.
You must have an LSA account to be guaranteed by Google.
Being Google Guaranteed improves your local SEO.
Google Guaranteed: what is it?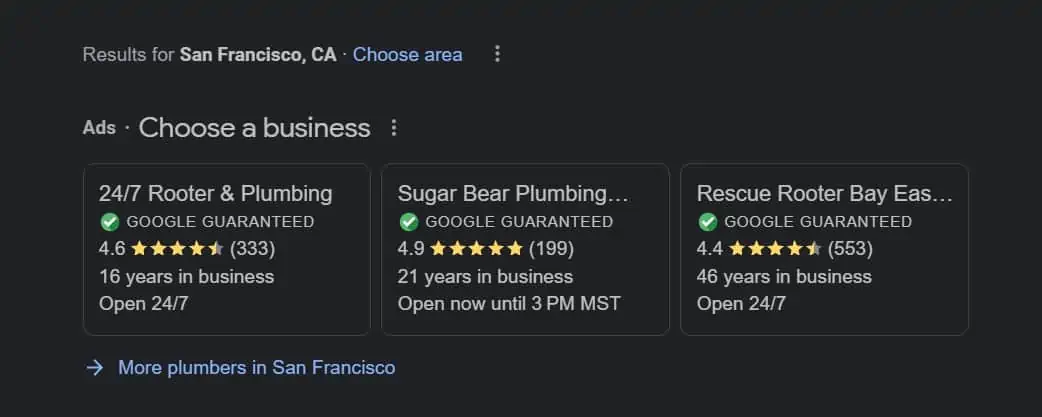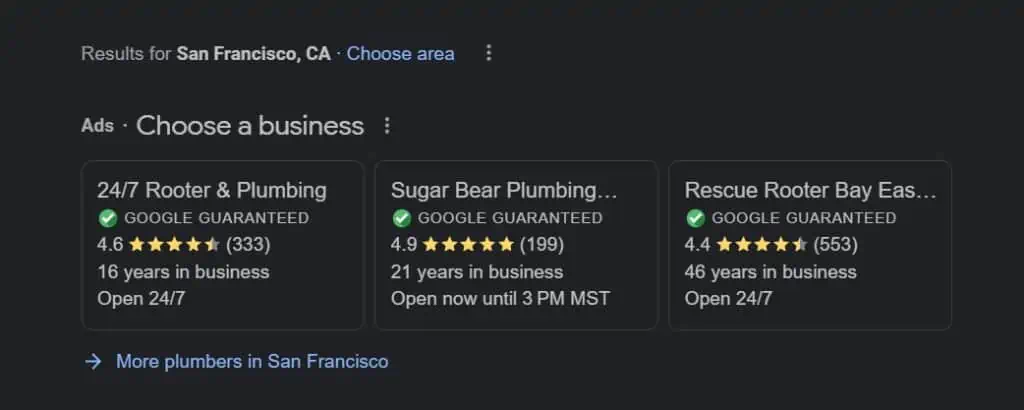 Google Guaranteed verifies the reputation of businesses before they are listed in Google's Local Services Ads (LSAs).
It looks into a business's background to make sure they have a track record of providing quality services.
Companies who achieve the screening will be marked with the Google Guaranteed badge, allowing internet users to easily identify businesses that meet Google's strict standards.
How does the Google Guarantee process work?
Google utilizes its advanced algorithms to verify businesses' reputation and background before they are given Google Guaranteed status. This includes detailed checks of:
the business' owners,
employees,
and service providers as well as an assessment of the customer reviews.
Once Google is satisfied that a business meets all of its criteria, it will issue the Google Guarantee badge which will be displayed on the company's LSA ad.
This badge acts as an assurance for customers that Google has verified the business and is willing to back it up if something goes wrong with the services provided.
As you can understand there are some eligibility requirements to be Google Guaranteed. Let's see what they are.
What are the eligibility Requirements for the Google Guaranteed program?
The Google Guarantee program has certain requirements for businesses looking to get listed. These criteria include:
Having an active LSA account.
Passing Google's screening (checking).
Having general liability insurance.
Possessing a valid business license and the necessary state licenses for all service professionals listed in the account.
What businesses are eligible to the Google Guaranteed program?
This program is currently available to businesses as:
HVAC companies.
Electrical contractors.
Plumbers.
Home and personal security services.
Interior designers.
Handymen.
Locksmith.
Carpenter.
Window cleaning.
Solar panel installers.
Tree trimmers and removal.
Appliance repair.
Furniture assembly.
Landscaping services.
House cleaners.
Siding contractors.
Countertop services.
Dance instruction.
and much more…
Google is constantly expanding its program, so it's possible more businesses will be added to the list of eligible companies in the near future. If your business falls into one of these categories, make sure to take advantage of Google Guaranteed!
What are the Benefits of Google Guarantee for your business?
The Google Guaranteed program can provide many benefits to businesses looking to get an edge over their competition. Indeed, this program offers you:
Increased visibility in Google's local search results.
More qualified leads as only reputable businesses are listed.
Increased consumer trust and confidence, as Google Guaranteed companies are verified by Google.
Google's backing in the event of any disputes with clients.
Potential discounts on Google Ads campaigns.
But let's see each point more in detail…
Increased visibility in Google's local search results
By obtaining Google Guaranteed status, businesses can be featured more prominently in Google's localized search results. This means that customers looking for services like yours will be more likely to find your business first before others.
In a nutshell, it will improve your local SEO in a spectacular way.
More qualified leads
Google Guaranteed businesses are only listed after Google has thoroughly vetted them, ensuring they meet the highest standards of quality and trustworthiness. As a result, clients who come across Google Guaranteed companies are more likely to trust them over other non-guaranteed competitors.
Increased consumer trust and confidence
Google's seal of approval offers customers peace of mind when it comes to doing business with a particular company. With Google Guaranteed, customers know they can trust the company that Google has verified and are more likely to become paying clients.
Google's backing
Google will provide up to $2,000 in reimbursement for approved claims related to Google Guaranteed services. This means that if a customer experiences any issues with a Google Guaranteed service, Google is willing to step in and help resolve the issue.
Potential discounts on Google Ads campaigns
Google offers exclusive discounts and promotions on Google Ads campaigns for businesses with Google Guarantee status. These types of discounts can help businesses gain more visibility online while saving money at the same time.
How do I get listed in Google Guaranteed?
In order to get listed in Google Guaranteed, businesses must meet all of Google's eligibility requirements and pass the background check.
Here, Google will screen your business and review:
the license and insurance of the business,
the identity of each owner or service provider listed in the Google My Business profile.
customer reviews and ratings, as well as Google Maps listings to ensure the business meets Google's standards for Google Guaranteed status.
Once your business has been screened, it will be marked with the Google Guarantee badge and you'll be ready to start receiving bookings from customers who trust Google-verified companies.
Google Guaranteed in a few words…
In conclusion, Google Guaranteed is an excellent way to showcase your business and provide customers with the assurance that Google has verified your reputation and is willing to back it up if something goes wrong with the service you've provided.
Google will check (screen) the history of your business before guaranteeing you.
Once your business has been screened you obtain a badge.
The Google Guaranteed badge reassures customers.
You can have discounts on Google Ads Campaigns when you are Google Guaranteed.