How to get famous on TikTok: The ultimate guide!
Since its inception in 2016, TikTok has attracted over 1 billion people and is now one of the most popular social networks on the planet.
With such a large number of users worldwide, the platform is therefore a very effective tool for businesses and individuals to promote their products or services.
It's no wonder that many people have turned to Tik Tok to find fame and exposure.
You want to take advantage of the potential TikTok offers to become a famous influencer? You want your videos to be seen by a maximum of persons to increase your number of followers? Then this guide is for you!
In this article, you will find all the keys to get famous on TikTok and become a real influencer.
Let's go, take your first step towards fame right now!
Step 1: Identify your target audience
The first step is to identify your target audience. Knowing exactly who you are going to address is the key to knowing what type of content to produce.
That's right, if you don't know what type of content to create and how to generate engagement between your brand and users, it will be difficult to reach a meaningful audience.
Basically, you won't speak to teenagers the same way you would to 30-somethings… That's why you need to:
Identify your niche.
Study the top trends.
Understand your future followers and what they expect from you.
Identify your niche
To find your niche on TikTok, you'll need to think about what your content can offer that's original.
The goal will be to offer things that are not already offered by other creators or brands.
Once you've identified a specific niche and target user group, you can start planning the type of content you want to create and post on the platform.
Study popular trends on TikTok and elsewhere
Another way to find out what users want is to study what's currently popular on TikTok.
Closely follow everything from hashtags to music styles to visual and other special effects used by the biggest influencers or popular content creators on the Chinese social media.
Also try to understand how the algorithmic system works so that your posts appear in the feed of users interested in your content!
Learn to understand users' preferences
You want to attract users' attention? You want to generate as many views and get as many likes as possible? Then always try to understand what your subscribers might like and what they are looking for on TikTok:
What kind of videos do they like?
What kind of music do they like?
What is their cultural sensitivity?
Take all this data into account before publishing content so that it is relevant to them! Once all this preparatory work is done you can then create engaging videos on Tik Tok.
Step 2: Create a creative and engaging content
Once you have found your target audience and understood what they are looking for, it's time to start making content!
But beware, the quality of the content plays a major role in the popularity that your publications can achieve because it will determine whether or not they are viewed by your target audience.
So you need to take care of them so that they are perfect. For that you can:
Use all the features offered by TikTok.
Add music and effects to your videos.
Use relevant and trending hashtags.
Use the features available on TikTok
TikTok offers various intuitive tools to bring your vision to reality:
visual filters,
free music (to accompany certain scenes),
sound effects (to give more intensity to a video),
transitions (to move easily from one video to another),
etc…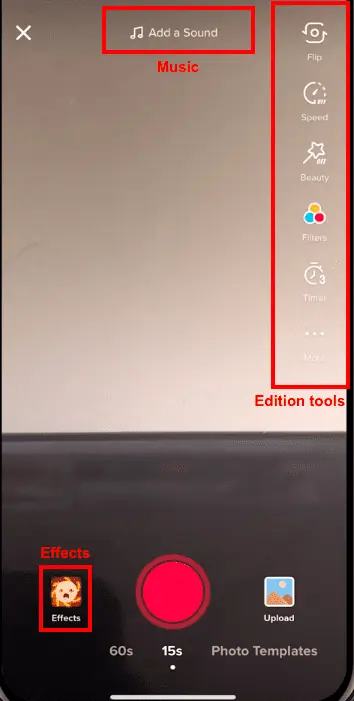 Use all available options to be creative and make your publications more attractive!
Add music and effects to your video
Music is a great way to share your mood of the moment, bring people together and boost their engagement on Tik Tok. Similarly, using sound effects can add dynamism to a video and make it more interesting.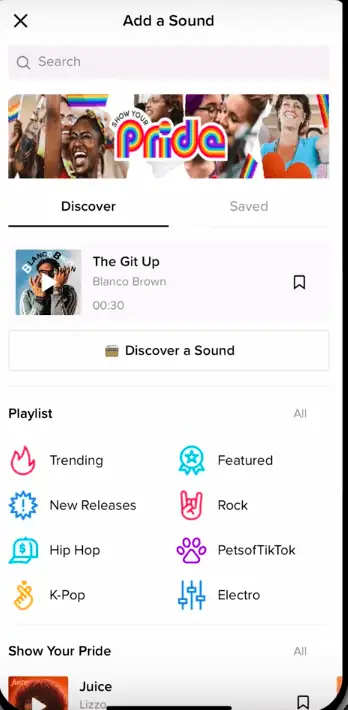 So don't neglect music in your TikTok videos!
Use relevant and trending hashtags
Hashtags are one of the most effective tools for getting your content noticed on TikTok.
They make it easy for users to find your page and discover your content.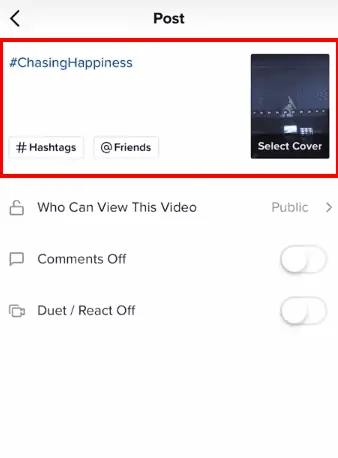 You can choose relevant or trending hashtags that match your content or create your own unique hashtags to accompany your posts!
This can be especially useful for getting extra visibility and reaching a wider audience on TikTok.
Interact with other TikTokers
Once you've started posting content on TikTok, it's time to engage the community by responding to posts and comments. This is the best way to build a strong and lasting relationship with them!
Respond to comments and share content with your followers
A simple but effective way to interact with your followers is to use the "Comments" feature built into the application.
This tool allows you to reply to comments posted by users on their posts or those of others. This will show that you care about what they have to say and will encourage more people to subscribe to your account!
Do collaborations with popular tiktokers
Collaborations with influencers are a great way to gain visibility. This type of operation can offer you additional exposure thanks to the large number of followers these influencers have on their accounts.
Collaborations can take many forms, from making a viral video together to sharing your page with others to promote each other's posts and accounts!
Participate in popular challenges
Challenges are a great way to actively engage users, especially those looking for fun and interactive ways to engage with the TikTok community.
These challenges encourage people to create original and viral videos (that spread quickly on the platform), which also allows your brand or product to get great exposure!
Use the promotional tools
The social media provides you with a lot of promotional tools. Use them to increase your presence on TikTok:
ads,
performance analysis,
email marketing,
etc…
All of this can be very beneficial to reach a new target audience and strengthen your presence on the platform!
Use ads on TikTok
TikTok offers an intuitive advertising system to promote your brand or product by specifically targeting certain types of people based on:
their interests,
their location,
etc.
Ads are the best way to quickly drive traffic to your profile because they can be delivered to a large audience!
Use performance analysis
When you run an ad or post content, it is important to carefully analyze its performance so you can understand what is working well and what is not…
Use performance analysis to get practical data such as:
total number of views,
engagement rate,
etc.
These can be very useful to improve your future content!
Use marketing tools
There are various marketing tools (such as MailChimp). They can be very useful to directly reach a targeted audience via emailing by leveraging the data collected via performance analysis!
These marketing tools allow brands and companies to personalize their marketing campaigns even more so that they are more engaging for their target audience!
TikTok: fame is not far away…
By following all these tips, you should be able to not only increase your popularity on Tik Tok, but also turn it into constructive engagement around your brand or product!
So, if you want to become a famous TikTok Influencer you have to:
Identify your target audience,
create engaging and original content,
interact with your followers and other persons of the social media,
and use various promotional tools.
This is the secret recipe for becoming famous on TikTok!