How to verify your Google Business Profile (formerly Google My Business)?
Having a Google My Business (GMB) listing allows your establishment to benefit from a better local referencing. But before you can optimize your business listing and benefit from a good referencing, you must go through the validation step.
Validating your business listing allows you to modify the information that appears on Google about your business. Here are the different steps to follow in order to successfully verify your business.
Preparing the validation of your establishment
Before any validation of a business listing, it must first be added. If it already exists and nobody owns it, you will have to claim it.
Add your business from Google Maps
To add your business listing to Google Business Profile, go to Google Maps. Here you have three alternatives:
The first is to enter your business address in the search bar. Then, on the left side of the screen, in your business profile, go to ADD YOUR BUSINESS.
The second way is to right click on any location on the map and select ADD YOUR FACILITY.
The last option is from the Google Maps menu. This is located at the top left of your screen. Look for and tap on ADD YOUR INSTITUTION. Finally, follow the instructions to complete the process of adding your school listing.
Claim your school listing
Log into Google Maps, type your business name in the search bar. From the suggestions provided, select the one that matches your business.
Click on REPLY THIS FACILITY and then on MANAGE NOW. If you wish to select another establishment, use the I AM THE OWNER OR MANAGER OF ANOTHER ESTABLISHMENT option.
After adding or claiming your business record, you must validate it. There are several options for this. You can decide to verify by mail, telephone or email.
You can also decide to have your business listing verified by video recording or from Google Search Console.
Validate your listing by mail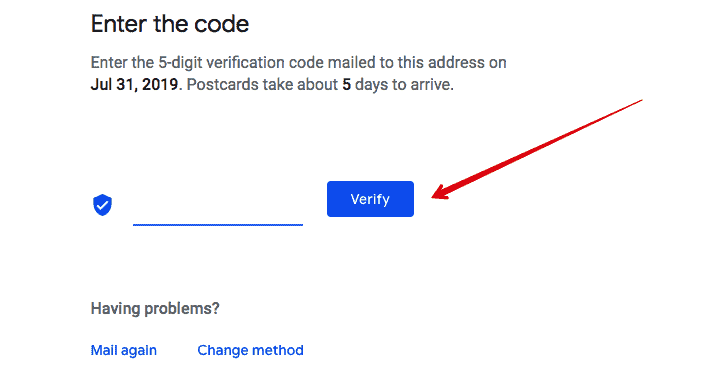 If you decide to verify your business listing by mail, GMB sends you a postcard. On the card, you will find your verification code. Here are the steps for a validation by mail.
Request a validation card by mail
Log into your Google Business Profile dashboard from your computer. Select the business you're considering for validation. Then click on the VALIDATE. Check that the address you entered for your business is correct. Finally, request the postcard.
Cards normally arrive at their destination within 14 days.
While you are waiting for the verification code, do not change the name of your company. Don't change the category of business or the address.
Changing the information on your company form or requesting a new code will cancel the previous code. A second one is then sent. This helps protect the integrity of your business listing on Google Business Profile.
Enter the verification code
As soon as you receive the code to validate your GMB listing, connect to your account on your computer. Choose the business you want to verify.
In the Google My Business menu, tap on VALIDATE YOUR BUSINESS or simply VALIDATE. Enter the five-digit code that was sent to you in the dedicated field. Then click on SEND CODE.
Please note that each GMB verification code expires after 30 days.
Even the people or third party agencies that help you manage your Google My Business page must not know it.
Verify your establishment on Google My Business by phone
The verification by phone is reserved for certain types of businesses. It is mainly for local service businesses.
In this type of establishment, the owners don't generally welcome customers in their premises. Instead, they go to their clients' homes to perform their services.
Some of these establishments don't have a physical address. In this case, the owner is not obliged to enter the address of his premises in the information of his Google My Business page.
Verification by phone, email, etc. is also available to mixed businesses. This type of establishment has a room where customers are received. However, the owner or agents of the company also travel to the customers.
Examples of mixed establishments are restaurants. Those who serve in their premises, but also make deliveries to the homes of customers.
To validate your Google My Business page by telephone the process is as follows:
go to the management page of your Google My Business page;
choose the establishment you want to validate;
tap on VALIDATE YOUR PHONE NUMBER;
Check that your company's telephone number is reachable;
a code will be sent to you by SMS, enter it in the field dedicated to it.
Validate your Google My Business page by email
Connect to your Google My Business page with a computer;
Choose the establishment to validate;
Tap on VALIDATE;
Now select SEND AN E-MAIL;
you will receive in your mailbox, a validation email;
Follow the instructions in the email to complete the verification process.
Use a video recording to validate your company's file
The verification process with a video recording is done from a mobile device (phone, tablet, etc.). So open the Google Business Profile app from your mobile device.
Add the video
Click on the VALIDATE option, then on RECORD VIDEO, and then on START RECORDING. The filming takes place in different video sequences in a single continuous recording.
First, you need to show your current position. To do this, film the sign indicating the name of your street, the establishments near your premises. Film any sign that can prove your address.
Confirm that your business premises are really at the address indicated by filming your equipment or your establishment. Record yourself while you are doing operations such as selling items or others. Film your materials, the various marketing materials, the equipment you use to satisfy customers.
You must then provide proof that you are actually working in the business. To do this, film yourself while accessing areas or equipment reserved exclusively for employees.
Alternatively, film yourself while you open the company's front door with your keys. At the end of this sequence, tap on STOP RECORDING and IMPORT VIDEO. You should notice that the VALIDATE button disappears.
Video review
After the video has been added, it is carefully reviewed by Google. After five business days, you should already receive feedback. You'll receive a notification if your validation is successful.
If not, the VALIDATE option will be active again. You can then use another option to validate your record.
Deleting the video
This time, you must use a computer. Go to your Google My Business page. In the VIDEO VALIDATIONS IMPORT section, click on the DELETE VIDEO option.
Automatic validation
You can validate your Google Business Profile instantly. However, this option is not available for all establishments. In addition, you must first validate your business website in Google Search Console.
Only then, you can claim an automatic validation of your listing. If you are one of the establishments eligible for this option, proceed as follows:
Log in to the account used for the Google Search Console validation of your website;
Go to the administration page of your listing and follow the instructions to validate your GMB.
Group validation
If you are a business with 10 or more locations, you can perform a bulk validation.
Log in to your Google Business Profile dashboard;
Click on the Validate option and then on CHAIN ;
Fill in the required information in the validation form and follow the instructions to complete.
Note that you can validate all your establishments automatically. But first, you must be eligible for automatic validation.
Some problems you may encounter during the Google My Business validation process
We must admit that the validation process can sometimes be fraught with difficulties. Here are a few of them and some solutions.
No feedback after requesting a code to validate Google My Business
Some users request a validation code, but do not receive a postcard.
If you are in the same situation, the best thing is to wait for at least 2 weeks. If nothing changes during that period, check if the address provided for your establishment is correct.
Then, contact Google through the form dedicated to it in the help center. Explain your problem. They will investigate the situation and if necessary, you will receive a new postcard to replace the first one.
Reviewing time is too long
Some validation requests can take too long.
The institutions concerned are waiting for a long time for validation. This is due to the fact that some checks in some cases are done manually.
The review therefore takes longer than usual. The only way out is to be patient and check that you comply with all the rules set by Google.