Is Google Business Profile Free (formerly Google My Business) ?
Google My Business or Google Business Profile is a service that Google offers to businesses. Having a Google My Business profile allows :
to geolocalize your business ;
to improve its local referencing;
to appear in local search results;
to get more customers.
This tool is free and should remain so. There are also some paid options like Google Guaranteed or Google ads. You want to have more information? You are at the right place!
Google Business Profile is free and should stay free.
Why have a Google Business Profile?
If you own a business whose development depends on its catchment area, a Google Business Profile will be useful. This listing is the showcase of your business on the web.
Potential customers who hear about your business can find this profile in the local search and contact you. The Google My Business profile helps to improve your local marketing and SEO.
Creating this business listing is quick. However, before creating one, you should check that it does not already exist. By doing so, you will avoid duplicates and your listing will not be suspended.
To create a company record, you must fill in the information concerning your establishment:
name of the establishment;
company address;
telephone number;
hours of operation;
website;
your business category.
Businesses that go to their customers' homes should mention this.
You should also upload photos of your business, your team, your business equipment, etc.
Filling out your profile 100% helps your search engine rankings.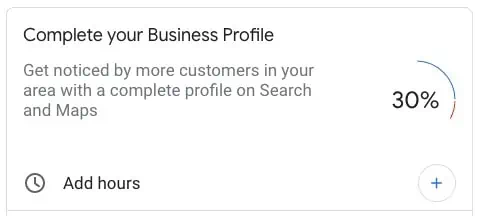 You will need to validate your listing to have your information appear on Google Maps and on the search results page.
To validate a listing, Google offers several ways: by mail, by video, by phone or by email.
How to successfully optimize your Google my business listing?
After the creation and validation of the Google My Business (GMB) page, you need to optimize it to improve the local referencing of your page, i.e. to make sure that your company is better positioned on the Google search results page.
Optimizing your business page on Google business profile is one of the techniques of local SEO. Some "best practices" can help you to get there quickly.
Fill in the information of your establishment
To hope to benefit from a good local referencing, the first step is to fill in your profile well. You must indicate precisely the information related to your establishment.
Do not forget to specify the areas served by your company. All this information allows Internet users and search engines to understand your establishment.
Upload photos
A better referencing also requires quality photos. So the second step is to add photos that showcase your business on your Google business profile page.
These photos can show the interior and/or exterior of the establishment. The important thing is that your potential customers can get an idea of how it looks.
Customer reviews
On the web, people rely on comments and client reviews to make up their minds. The third step to attract more customers is to get customer reviews on your Google page.
An establishment that has about sixty client reviews on its page will be more attractive than a company that has only one or two.
Since nothing can be right for everyone, you should expect to receive both positive and negative reviews. In any case, it is important that you respond courteously to all of your reviews.
Post frequently
You must be active on your Google business profile page. Indeed, Google has implemented the Google Posts, which are used to display the news of a company on its GMB page.
With this feature, it will be easy for you to communicate with your customers about your offers, promotions and news. Google posts remain visible for 7 days. These publications make your page more attractive to potential customers.
Is Google Business Profile (My Business) free?
Google my business or Business Profile is free for all businesses. To register, you only need to have an establishment registered in the commercial register.
The creation of the GMB file, the customer reviews and the Google posts are all free features. Your company can then improve its referencing without having to pay a single cent.
In which cases Google my business becomes paying?
Google my business can be paid for if you want additional features, such as Google guaranteed and Google ads.
Google guaranteed
Since 2020, Google is testing a premium version of the local SEO tool Google my business in the United States. With this paid version, your business can get a "GOOGLE GUARANTEED" badge that is visible in search results.
To display this "GUARANTEED BY GOOGLE" badge on their GMB listing, businesses must pay $50 per month. This badge can help a business increase its credibility and generate more leads.

For the moment, there are no statistics to verify the effectiveness of the implementation of the badge. However, the company that displays the mention "GUARANTEED BY GOOGLE" will attract more Internet users than an establishment that does not have it.
This badge could therefore allow you to increase your engagement and conversion rates. Apart from the badge, Google my business premium could offer you new interesting options. You could benefit from :
Verified reviews;
automatic responses to customer reviews;
a summary of several reviews;
a better positioning of your listing in search results;
promotion of your establishment on Google Maps;
No advertising on your GMB pages;
customer support;
the possibility to add a video to your GMB profile.
Nevertheless, Google my business premium will not be available to all businesses. To benefit from it, you will first have to pass several levels of verification.
Background check
Google performs a background check for certain industries. The geographical location of the business is also taken into account.
The check is performed on the business owner, employees, outside contractors, etc. and includes criminal records, identities, and possible litigation of the business.
Licenses and registrations
Here, Google checks the business registration credentials. It checks their certificate and their registration number. It also checks each of the licenses that allow them to operate in their sector of activity.
Insurance certificates
Companies operating in sectors requiring liability insurance must provide their insurance certificate. The certificate must show the name and address of the establishment (or the name of the owner).
The amount of coverage must also appear on the certificate of insurance. The purpose of this whole eligibility process is to limit access to advertising to fraudulent companies.
Google ads
With Google ads (Google adwords), you can run paid advertisements. These ads immediately improve the local visibility of a company. This service positions you above other local businesses in the search results.
You can access it from your Google my business interface. To create a local ad, your GMB and Google adwords accounts must be identical.