iTop: our complete review of this rising VPN
Are you looking for an effective and free VPN? Then, the combination of speed, features, and flexibility of iTop VPN should be appealing to you.
Launched in 2016, this free VPN quickly won over more than 10 million users thanks to its ability to bypass geographic restrictions and offer fast connections. And while it's true that, on paper, the tool has everything going for it, it probably isn't without its drawbacks either…
We therefore wanted to form an opinion on this software and tested it for you! Intrigued? Come on, let's discover iTop together!
But before we start, if you're in a hurry, here are the main things to know about iTop:
Feature
Description
Name
iTop VPN
Launch Year
2016
User Count
Over 10 million
Company Location
Hong Kong
Number of Simultaneous Connections
5
Security
AES-256 encryption, TCP, UDP and HTTPS protocols, kill switch, DNS protection, ad-blocker, anti-trackers and anti-malware, browser history cleaning.
Performance
Over 1800 global servers, lifts geographical restrictions on streaming services, optimized servers.
Speeds
Variable speeds, ranging from 6 Mbps to 26 Mbps.
Streaming
Effective on the majority of platforms but can't unlock all. For example, it can't unlock Netflix US, Netflix UK, Disney+, and HBO Max.
User Interface
User-friendly interface with a central button to enable/disable protection, easy access to options and servers.
Compatibility
Apps for Windows, macOS and iOS, lack of applications for Linux, Android, Smart TV and connected boxes.
Customer Support
No live chat, support via help center, ticket form, and Facebook Messenger.
Price
From $0 to $9.99/month.
Pros
AES-256 encryption and security protocols.
Specialized servers for streaming and torrenting.
Worldwide network of over 1800 servers.
Affordable prices and flexible plans.
Cons
Variable speeds.
Lack of live chat for support.
Lack of transparency on some security protocols.
Bulky applications and presence of ads.
Limitations on compatible devices.
Average Rating
4/5
iTop VPN: An overview
Since its creation in 2016, iTop VPN has been making waves in the VPN market. Based in Hong Kong, this mid-range VPN offers an excellent compromise between performance, flexibility, and security.
Designed to guarantee safe and secure use of the Internet, iTop VPN emphasizes user security. Its "strict" log retention policy is undeniable proof.
But that's not all, here are a few other key features that allow iTop to stand out from its competitors:
An integrated ad-blocker for uninterrupted browsing,
The Split tunneling function, which allows you to send a portion of your Internet traffic through the VPN while the other part uses a direct connection,
A tracker and malware blocking tool, to protect against spyware and other malicious attacks,
An option to clean your browser history to erase your tracks after each session.
A global network of more than 1800 servers for smooth, uninterrupted connection,
The ability to lift geographic restrictions on streaming services like Netflix and Hulu,
That's pretty tempting, isn't it? But let's be real, we know we can't believe everything we read, so we wanted to try it out to see what it really has to offer.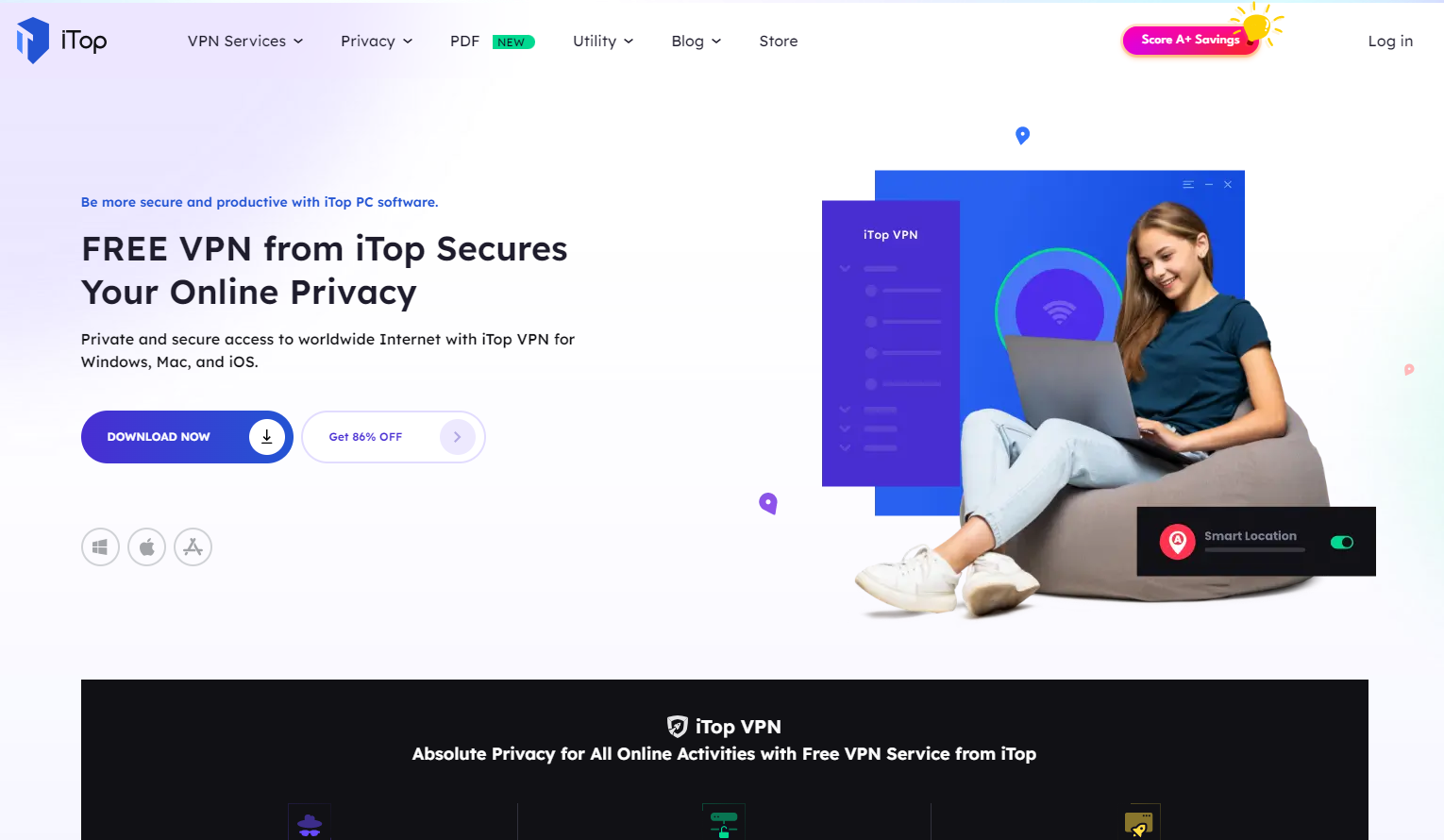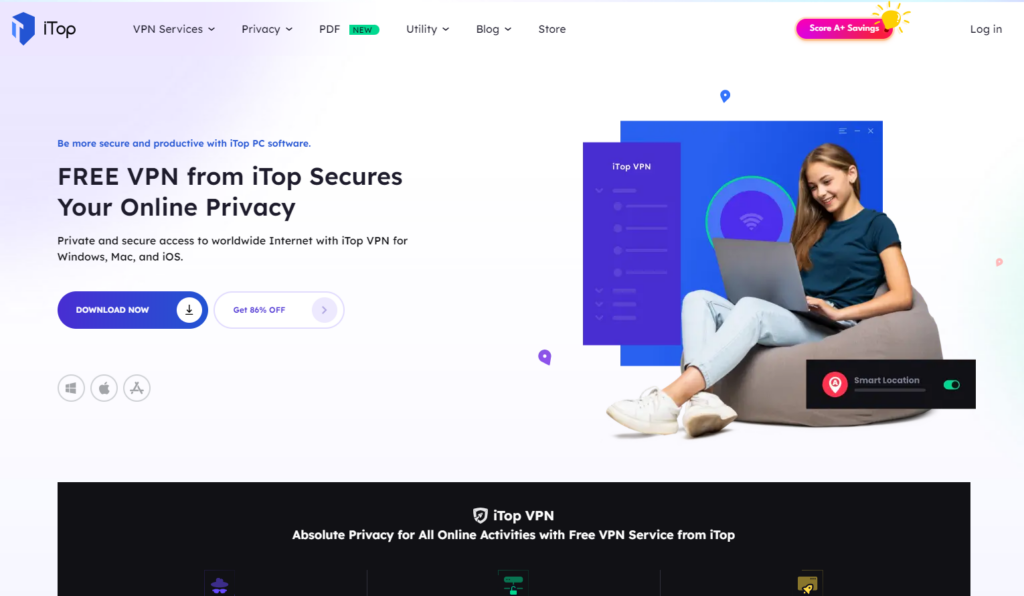 Our comprehensive test of iTop VPN
The best way to judge a VPN's effectiveness is to put it to the test, agreed? And that's exactly what we did. We focused on the key points, namely:
The interface and handling
The speed
The security and privacy
The streaming, torrenting and gaming
The server network
The customer service
All right then, let's start our test with the handling of the software.
User interface and handling: a piece of cake
To start with iTop VPN, you first need to install it. And right off the bat, we were pleasantly surprised by the simplicity of the operation compared to other VPNs on the market.
You simply:
Visit the company's official website,
Download the app corresponding to your device and voila!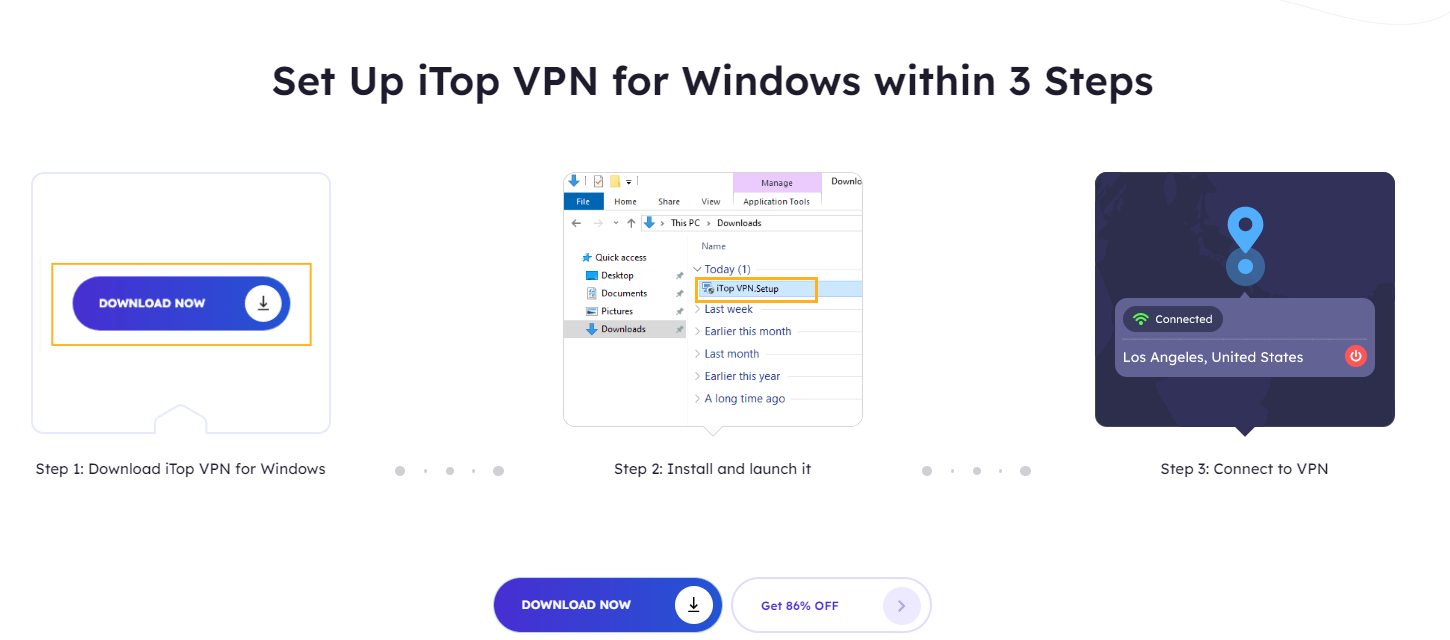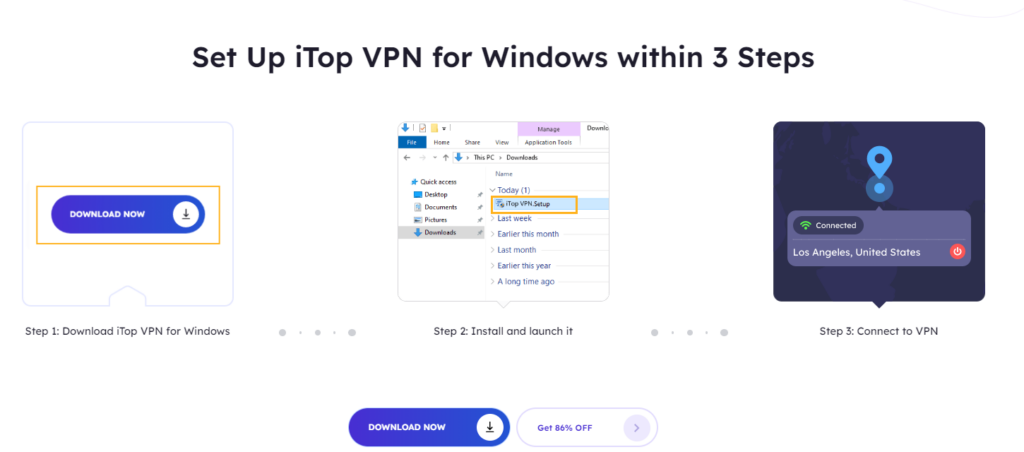 You'll see, installation is quick and effortless. In just a few clicks, you're ready for secure browsing.
However, we're not going to lie to you – in terms of compatibility, we were a little disappointed. While iTop VPN offers applications for Windows, macOS and iOS it is not yet available for Linux or Android.
In addition, no mention is made of possible compatibility with Smart TVs or connected boxes. Users of these systems will have to look for another solution.
If you're lucky enough to have compatible devices, you can then start using iTop. And here again – it's a breeze. The pleasant and friendly design of the interface greatly facilitates handling.
A central button allows you to activate protection,
A red button disables it,
The options and servers are accessible on the left.
This intuitive format is perfect for beginners who can navigate easily.
Although appealing and relatively easy to use, iTop's Windows interface could do with some improvement. It does offer interesting functions but lacks basic design elements and emphasis on logical layout.
For example:
Servers are not arranged alphabetically or based on latency,
There are no favorite or recent tabs.
The search bar is present, but its use is not very intuitive.
In short: iTop provides a pleasant user experience with a user-friendly interface suitable even for novice VPN users. Its hassle-free setup and server classification by use facilitate selection.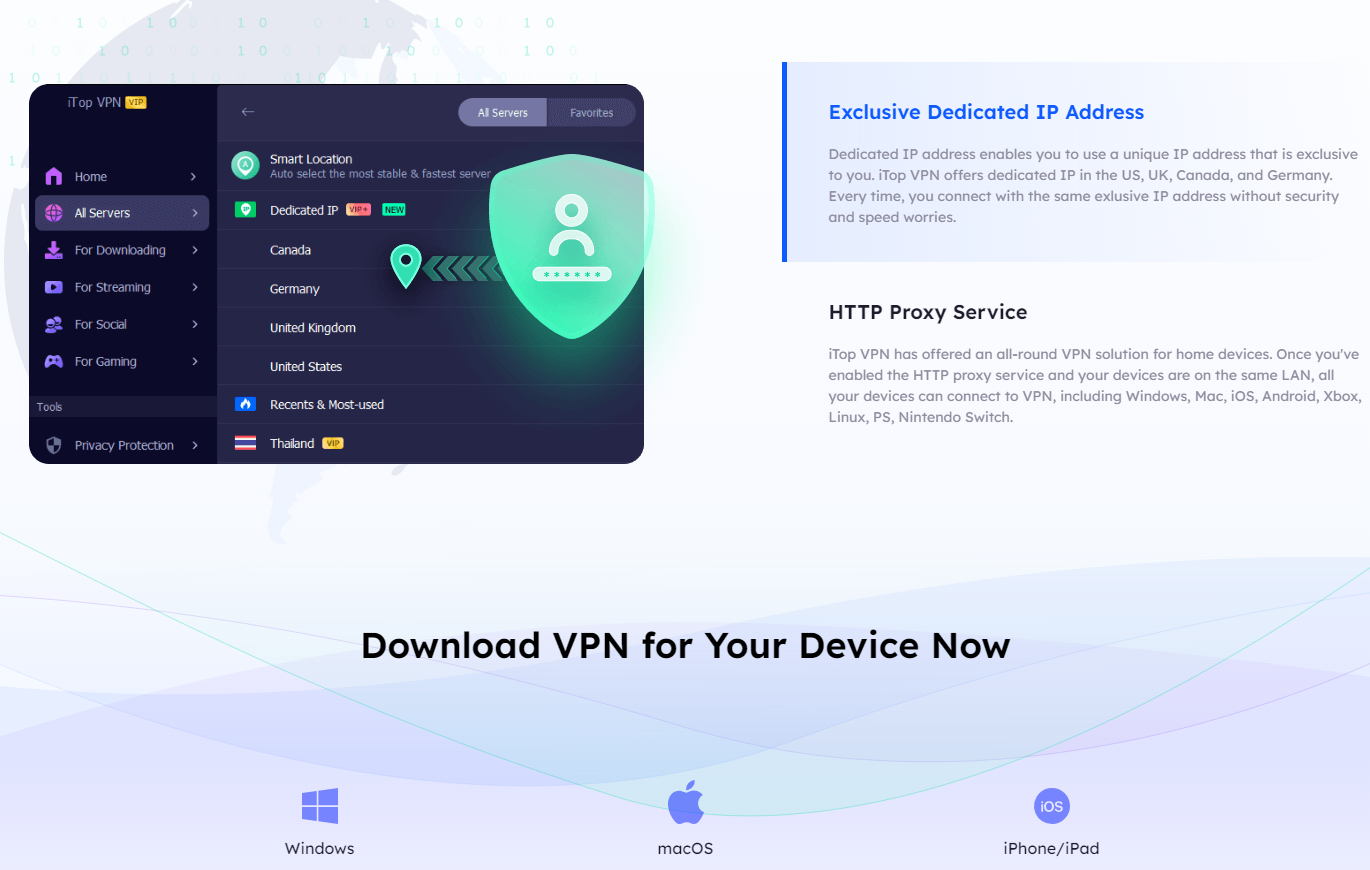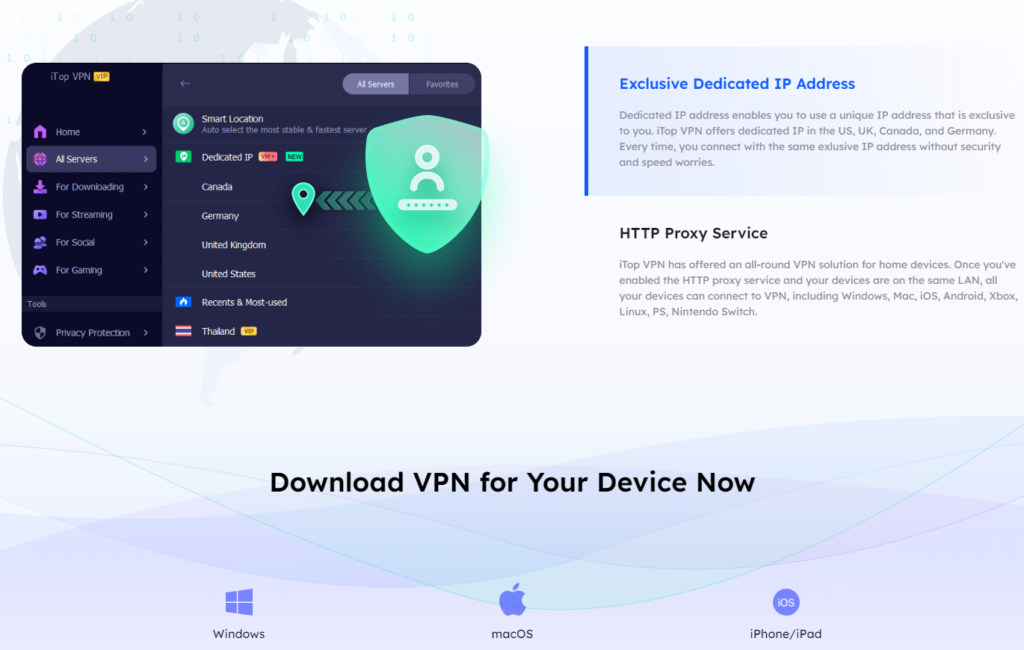 A closer look at iTop VPN speed: highs and lows revealed in testing
An essential criterion when talking about VPNs is speed. On this count, it must be said that iTop's results are mixed.
We noted significant disparities depending on the servers tested (from 6 Mbps to 26 Mbps).
To give you an approximate idea of the speed losses involved, we went from 23 Mbps without a VPN down to 5 Mbps with the VPN.
Naturally, performance can vary depending on your location, chosen server and time when you carry out your tests. But overall we were rather left wanting…
In addition, we found that sometimes Smart Connect – iTop's automated system for selecting the best server – didn't always provide the optimal server which can impact performance.
In general though, iTop stands its ground quite well against competition with satisfactory performances on servers near the UK and France for instance. However, it lags slightly behind VPNs using faster protocols like WireGuard.
In short: iTop could clearly do better and could disappoint you – especially if you're an avid gamer…
iTop VPN Security & Privacy: lacking some clarity
Security and privacy are among the first things considered when choosing a VPN. After all, if we download a VPN it's for peace of mind while surfing the web.
To keep things short with iTop you get several interesting security features but privacy raises some concerns.
Security features:
Encryption: iTop boasts "military-grade" encryption, likely AES-256 type. This ensures that your data is secure and virtually unbreakable. However, more details would've been appreciated…
Protocols: The VPN uses TCP UDP & HTTPS protocols. The standard secure OpenVPN protocol is available in UDP & TCP modes. However absence of WireGuard and IKEv2 protocols which are newer and generally offer better performance is regrettable.
Kill switch: This very useful feature automatically cuts your internet connection if your VPN suddenly disconnects. This is to prevent any accidental leaks of your data.
DNS Protection: iTop provides protection against malicious DNS changes. Very useful to avoid redirection of your browser for malicious purposes. But we remain quite skeptical on this point because even though iTop claims to offer solid protection against IP and DNS leaks, some tests have revealed DNS leaks.
Ad blocker: For uninterrupted browsing iTop includes an adblocker that filters unwanted ads across the web.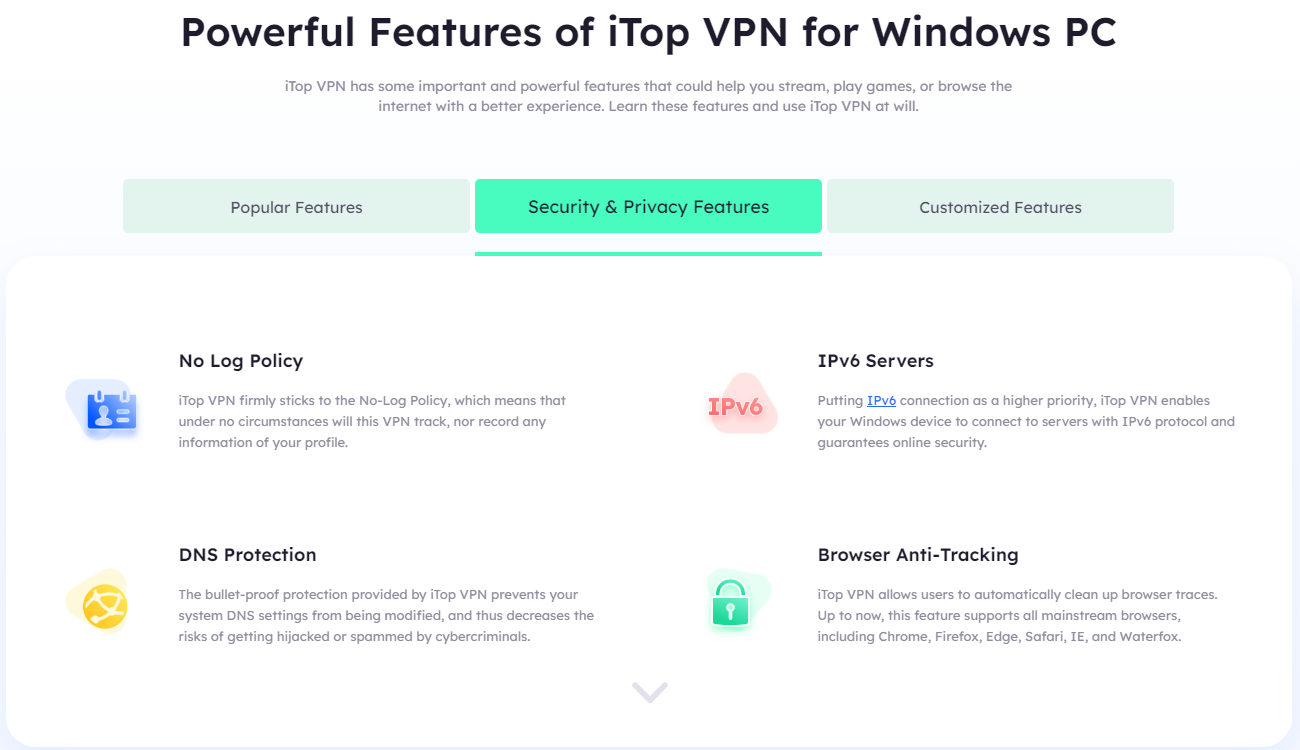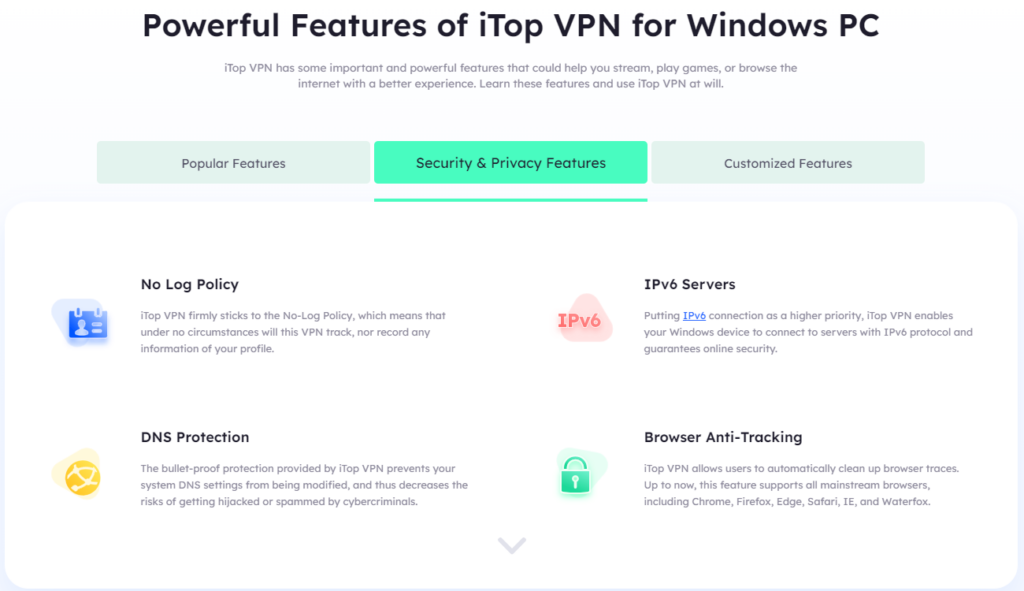 Privacy policy:
Based in Hong Kong, iTop VPN could be influenced by Chinese laws. So, even though the company claims not to keep logs, it's good to note that it does collect certain information, namely:
Cookies,
Payment information,
Customer-service data,
Non-personal information such as IP addresses, browser details and personal information.
Furthermore, privacy rules vary depending on users' location and those based in the United States are subject to American legislation which can raise privacy issues.
In short: If iTop VPN offers a certain level of security with interesting features, its lack of clarity on its privacy policy and lack of independent audit raise questions.
Streaming, torrenting and gaming: what is iTop VPN really worth?
When talking about VPNs three criteria are ultra important:
The ability to unlock streaming services,
The ability to download P2P,
Gaming experience.
Let's see how iTop VPN fares.
Streaming:
With iTop VPN you'll be able to unlock several streaming platforms but not all. Here is the summary:
| | |
| --- | --- |
| Service | Access |
| Netflix South Korea | YES |
| Amazon Prime Video | YES |
| BBC iPlayer | YES |
| Hulu | YES |
| YouTube | YES |
| Disney+ (locations in New York and Los Angeles) | YES |
| Netflix US | NO |
| Netflix UK | NO |
| Disney+ | NO |
| HBO Max | NO |
| Amazon Prime Video (US and UK) | NO – The service detects the use of VPN. |
As you can see, it's already not bad, but there are some major catalogs that you won't be able to access…

Torrenting and P2P:
iTop VPN supports torrenting and P2P traffic on specific servers. Here's everything you need to know:
iTop offers P2P servers in 5 countries: Netherlands, Romania, Spain, Switzerland, and Germany,
Servers optimized for torrents allow fast downloading,
Privacy is guaranteed through a strict no-logs policy,
The inclusion of a kill switch ensures anonymity even in the event of an unexpected VPN disconnection.
Gaming:
For gamers, iTop provides a satisfactory experience:
Stable connection speed (although a bit low),
Ping ranging from 46 to 89 ms on optimized nearby servers,
Servers optimized for various games including Lost Ark, Minecraft, PUBG, Roblox, COD Warzone and many more.

In short: In general, iTop holds up quite well in the field of streaming and gaming. However, there are more reliable alternatives like CyberGhost that offer a better experience for these specific uses.
The server network of iTop: Pretty good
With over 1800 servers across more than 100 countries, iTop VPN offers a broad geographic coverage that meets most users' needs. Let's review the main characteristics of this network.
Number of servers and locations:
Over 1800 servers
Presence in more than 30 countries and about 100 different locations
Coverage in the Americas, Europe, Asia, Oceania, and Africa
As you see, the geographic distribution of the servers is quite balanced. There is a strong presence in North America and Europe. Compared to other VPN providers, iTop's geographic coverage is quite adequate.
Organization and accessibility of servers:
Servers are categorized for easy selection: gaming, social networks or all servers,
Premium users have access to all servers, while free users on Windows can access 12 servers and those on Android to 40 servers,
Most specialized servers require a premium account.
Here we see that the organization of the servers is well thought out and allows for quick and efficient selection based on needs. However, this requires having a subscription to the premium version to access all servers.
Server performance and features:
"Smart Location" tool for choosing the optimal server,
Possibility to quickly switch between servers without disconnecting,
Latency and load indicators for each server,
Option to create a list of favorite servers,
Performance icon next to each server indicating real-time status,
Colored indicators to quickly identify fast and slow servers.
These features considerably increase the ease of use of iTop VPN. They allow users to optimize their connection and benefit from a tailor-made service. The "Smart Location" system is particularly interesting for selecting the best server based on needs.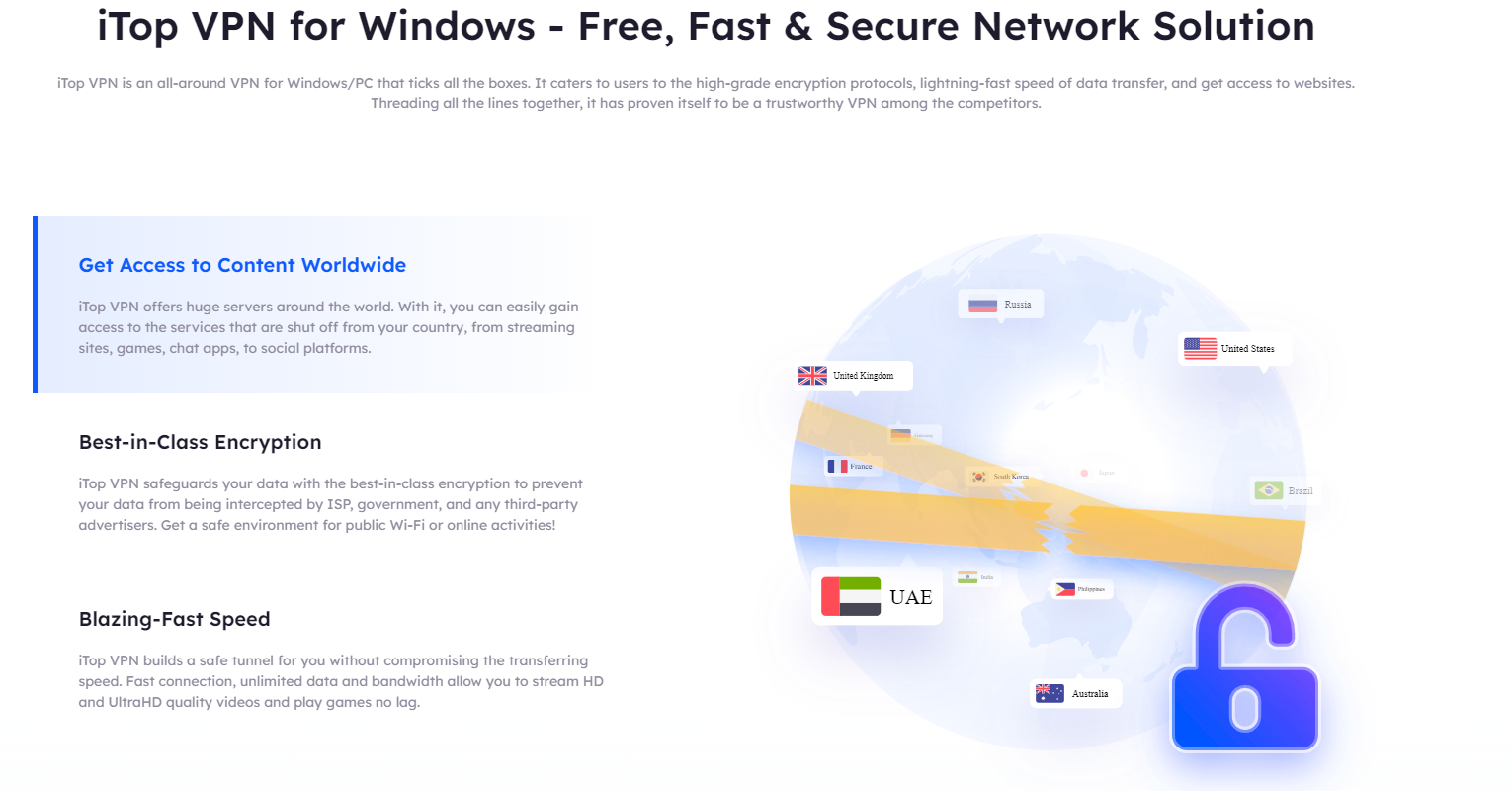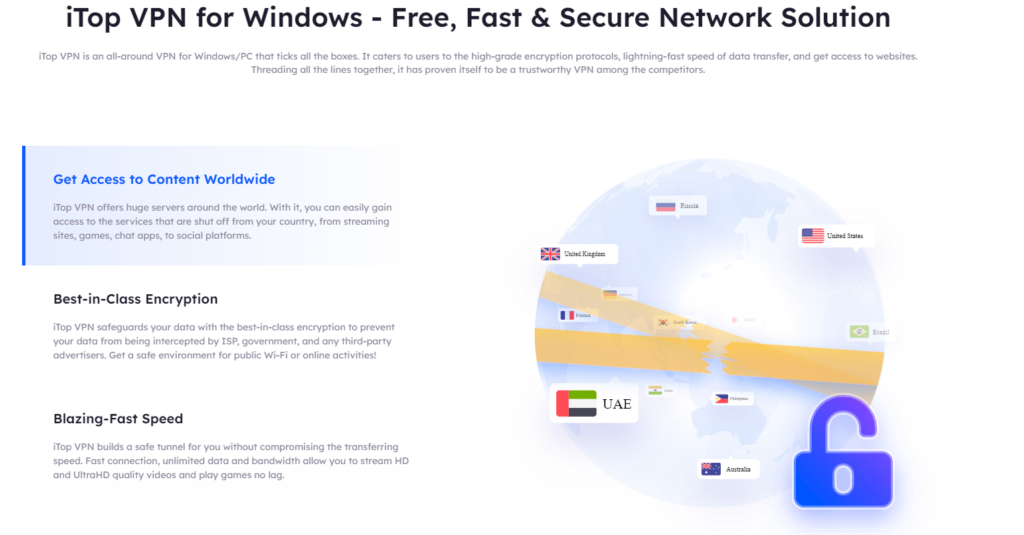 Comparison with other VPNs:
iTop VPN is average in terms of geographic coverage and number of servers compared to its competitors. Some providers like CyberGhost or ExpressVPN offer much more variety with respectively 9,600+ and 3,000+ servers spread over more countries.
In short: iTop VPN's server network is quite impressive and provides adequate global coverage. Whether you're looking for a server for streaming, gaming or social networks, iTop likely has an option that suits you. The variety of servers and ease of use make iTop a solid choice for those looking for a VPN offering great flexibility.
Customer service: you can only count on yourself (or almost)
A responsive and competent customer support is one of the keys for a quality VPN experience. Unfortunately, on this point, iTop VPN's customer service leaves something to be desired.
Yes, even though iTop VPN offers several contact methods, their inefficiency can be frustrating.
No live chat:This absence can be handicapping since it is one of the fastest and most effective ways to get help.
The support is mainly via an Assistance Center and a Feedback page.
Users can contact support by submitting a ticket via an online form.
The ticket is labeled "Feedback", which can be confusing.
You can also contact them via Facebook Messenger.
The estimated response time varies from 24 to 48 hours for email queries.
You will therefore mostly have to fend for yourself in case of trouble using the self-help resources available to you. However, these lack precision and comprehensiveness.
The support pages provide links to FAQs, how to activate them, and user manuals for different applications.
The manuals do not contain a guide for the VPN, focusing instead on other applications.
The site also offers a blog section with varied content in several languages.
In short: iTop VPN's customer support could be greatly improved. Notably missing is an exclusive support system for paying members. Customer service plays an important role in user experience and potential users who value this factor are advised to consider busier providers like ExpressVPN or NordVPN who offer 24/7 live chat.
What is the price of iTop VPN?
Well, now that we know a little better what iTop has in its belly, you may be ready to take the plunge. However, one essential piece of information is missing: the price.
On this point, iTop offers several offers that adapt to all budgets as you can see below :
Subscription
Price
Features
Free
0€/month
700 MB data cap per day+10 servers only
Slower speeds
No servers for streaming
No customer support
Monthly
9.99$/month
Unlimited data transfer
Specialized servers for streaming and torrenting
Protection against ads and malware
7-day money-back guarantee
Semi-annual
4.99$/month (billed every 6 months)
Same as the monthly plan + 15-day money-back guarantee.
Annual
3.99$/month (billed annually)
Same as the monthly plan + 30-day money-back guarantee.
Three years (pop-up offer on the site)
1.66$/month (billed every three years)
Same as the monthly plan + 30-day money-back guarantee.
A free VPN is always tempting. However, as you probably suspect, the free option is quite limited… However, it may be sufficient for occasional use. For more advanced use, opting for a paid version is essential.
You want to go for the paid version? iTop accepts various payment methods such as PayPal, major credit and debit cards, and electronic bank transfers.
However, it does not accept cryptocurrency payments. Finally, they offer a money-back guarantee of up to 30 days depending on the duration of the plan subscribed to. So you can try the software before you buy it.
Main advantages and disadvantages of iTop
After scrutinizing various aspects of iTop VPN, it's time to take stock of the advantages and disadvantages of this service.
The key points to remember are grouped in the following table:
| | |
| --- | --- |
| Positive Points | Negative Points |
| Strong 256-bit encryption. | Inconsistent speeds, which can lead to a loss of up to 80% of the initial network speed. |
| Built-in ad blocker. | Risks of DNS leaks. |
| Easy installation, user-friendly applications. | No live chat for support. |
| Offers a limited free version. | The kill switch can fail in some situations. |
| Works with several streaming platforms, including Netflix. | Difficulties using and lack of responsiveness of applications on various platforms. |
So despite some flaws to correct, iTop VPN remains an attractive service with an affordable price and decent performances in several key areas such as streaming or gaming. It will surely be appreciated by those looking for a balanced mix between cost and features.
The best alternatives to iTop VPN
As the VPN market expands, options are becoming increasingly numerous. While iTop VPN has its merits, there are other solid VPN service providers that may be a better option depending on your specific needs.
Here are some of iTop's best competitors on the market:
Each of these VPN services offers superior quality in certain specific categories, whether in terms of speed, privacy, ability to unlock content or value for money. It is therefore essential to evaluate your specific needs before making your choice.
Our final review on iTop VPN
Our test of iTop VPN has highlighted its strengths and weaknesses.
Despite some flaws, notably in terms of variable speeds and customer support that could be improved, iTop VPN has several strong points.
Its impressive number of servers, its flexibility of use and its affordable price make it an attractive option for those looking for a versatile VPN.
However, it's important to note that other providers offer more consistency in terms of speed and better coverage for streaming, which can be an important criterion for some users.
In addition, iTop's privacy policy could be more transparent and detailed to fully reassure its customers about their anonymity.
In short, in our opinion, iTop is a good choice for users looking for an easy-to-use VPN service with varied functions and servers at a reasonable price. For those who prioritize speed, customer service or the ability to unlock all streaming content, it may be wise to examine other options on the market.