Ivacy VPN: our complete review
Are you looking for a safe and reliable way to protect your online privacy? Ivacy VPN might just be the perfect solution for you! But to know that, you need to test it… And since, at Debugbar, we know your time is precious, we've tested it for you.
In this article, we will present in detail Ivacy VPN and give you our opinion on it. So let's go ahead and discover Ivacy VPN together!
What is Ivacy VPN?
Ivacy VPN is a virtual private network (VPN) service that was created in 2007 in Singapore. Its goal is to protect internet users' privacy by encrypting their data and masking their IP address.
But that's not all. By masking your IP, this VPN also allows you to bypass geographical restrictions to access streaming content normally blocked or access sites inaccessible in some countries.
If you are new in the wild world of VPNs and want to learn more about the benefits of using VPN gateways for remote access, this article might give you some useful information.
Also read : Surfshark: Our Complete Test and Review of this VPN!
What are the main features of Ivacy VPN?
This VPN obviously offers an IP masking service but it does much more than that. Here are some of the most interesting features of Ivacy VPN:
Secure encryption.
Cross-platform compatibility.
Bypassing geo-restrictions.
Multi-device protection.
Split-tunneling.
But it's true that, when you're not a cybersecurity specialist, these terms can be a bit confusing. So let's take a closer look.
Secure encryption
Ivacy VPN uses AES-256-bit encryption to secure user data while they browse the internet. This protects their personal information from hackers and other online threats.
To give you an idea, this is the encryption method used by armies and governments. So you can see that it's pretty safe.
The magic of compatibility
No matter what device you use, Ivacy VPN is there to meet your needs. Compatible with various operating systems such as Windows, macOS, Android, and iOS, it ensures optimal protection on all your devices.
In the context of compatibility, it's important to note that Ivacy VPN supports not only multiple operating systems, but also embraces new technology trends. For instance, it is compatible with the latest Windows 11 operating system. However, Windows 11 demands the TPM 2.0 (Trusted Platform Module) to be activated on your device for enhanced security. The TPM 2.0 chip works by generating and storing cryptographic keys, enabling secure boot, disk encryption, and password protection. Activating TPM 2.0 varies based on device manufacturer but it generally involves going into your device's BIOS or UEFI settings. For further clarification, you can refer to this guide on how to enable TPM 2.0. Therefore, for the smooth functioning of Ivacy VPN on a Windows 11 device, ensuring your device meets these system requirements is crucial.
Bypassing geo-restrictions
Do you dream of accessing exclusive content blocked in your country? Ivacy VPN can make that dream come true!
By virtually changing your location, it allows you to bypass geographical restrictions and access streaming content and websites worldwide.
Multiple protection
Why settle for protecting just one device when you can protect several? With Ivacy VPN, you can connect up to 10 devices simultaneously, providing complete protection for your entire family or team.
Split tunneling: the best of both worlds
With the Split Tunneling feature, Ivacy VPN goes even further by giving you total control over your apps.
This feature allows you to choose which apps will go through the VPN tunnel while leaving the others to use your normal internet connection.
Thus, you can enjoy the benefits of VPN security for some online activities while maintaining optimal speeds for others.
Our comprehensive test of Ivacy VPN
We put Ivacy VPN through the wringer to give you a complete overview of its performance and features. Here's what we studied and found out during our test:
Security: Good protection.
Speed: Could do better.
Streaming and downloading: Comes and goes.
Geo-restrictions: A real wall breaker.
Customer service: Responsive.
But let's go through all our tests in detail.
Security: a secure shield for your privacy
Ivacy VPN takes the protection of your online data seriously by implementing ultra-secure AES-256-bit encryption.
During our tests, we found that the VPN effectively masked our IP address and changed our location as well as our DNS address without any leaks.
However, we did detect some instability when connecting to certain servers. So you have to use the Kill Switch to guarantee a secure connection.
Moreover, although Ivacy VPN's privacy policy states it does not collect sensitive data, the company does retain some exchanges in case of technical issues or disputes.
We should also note that Ivacy VPN has not yet been subject to external security audits, which could raise some questions about the reliability of the service.
In summary, Ivacy VPN provides secure protection for your online privacy, despite some limitations and the absence of external security audits. Its performance in encryption and IP address masking is satisfactory and reassuring for users concerned about their online anonymity.
Speed: could do better
We submitted Ivacy VPN to speed tests to assess the quality of its connection on close and distant servers.
And the results we obtained somewhat dampened our enthusiasm…
Indeed, during our test on a nearby server (Luxembourg), using Ivacy VPN caused a significant increase in response time (ping).
On a distant server (Australia), the performance was even less satisfactory, with a very high ping and considerably reduced speeds.
This decrease in speed and stability translates into problems for streaming and downloads.
It should be noted that using the WireGuard protocol showed better results in some locations, but this is not enough to make up for Ivacy VPN's overall disappointing performance in terms of speed.
To sum up, Ivacy VPN is not outstanding in terms of speed and connection stability. If this aspect is important to you, we would instead recommend opting for ExpressVPN, which offers a much better user experience in terms of performance.
Streaming and downloading: highs and lows
Ivacy VPN performs quite well in terms of unlocking streaming platforms.
You will be able to fully enjoy your favorite series and movies on BBC iPlayer, Disney+, Amazon Prime, Hulu, and different Netflix regions without any major issues.
The app offers more than 70 streaming channels, including BBC, Amazon Prime Video (US), Hulu, HBO (Max and Go), Canal+, and France TV.
Moreover, Ivacy VPN provides servers optimized for streaming, ensuring smooth access to services such as Amazon Prime and Netflix with correct image quality (HD) and no buffering issues.
Fans of HBO Max and HBO Go series won't be left out either.
As for downloading, Ivacy VPN provides several servers optimized for torrenting (Secure Download tab), ensuring a hassle-free experience.
The addition of an integrated antivirus allowing real-time scanningof downloaded files is a real plus for your security.
However, if you plan to use the WireGuard protocol for downloading, be aware that it is unfortunately not compatible with these dedicated servers.
Longer loading times and interruptions during playback could tarnish your streaming and downloading experience.
In summary, while Ivacy VPN has some serious advantages for accessing streaming platforms and facilitating downloads, performance in terms of speed remains improvable.
Triumph over geo-restrictions
One of the most sought-after benefits of a VPN is its ability to bypass government restrictions in certain countries, such as China, Russia, and Turkey, where access to various popular content such as YouTube, Google, and Facebook is restricted.
Fortunately, Ivacy VPN stands out in this area. Numerous tests and user testimonials show that Ivacy VPN is effective in bypassing government censorship in China.
You can access blocked content by simply connecting to one of the VPN servers.
However, to fully enjoy this possibility offered by Ivacy VPN, it is strongly recommended to download and set up the software before arriving in a censored country.
Indeed, once on site, Ivacy VPN's website may be blocked and customer support inaccessible.
In short, bypassing censorship with Ivacy VPN is an undeniable advantage for people wishing to freely access online content from countries practicing government censorship. The effectiveness of Ivacy VPN in China reinforces this idea, although direct on-site tests have not been carried out.
This success against geo-restrictions is therefore a strong point of Ivacy VPN to consider when evaluating it.
A customer support up to the task
When it comes to VPNs, quality customer service is essential to help users resolve technical issues.
Ivacy VPN understands this well and offers customer support that will meet your expectations.
Several means are available for you to contact the Ivacy VPN team.
First, their FAQ is well stocked with technical guides, allowing you to quickly find solutions to your problems.
Then, a ticket system is accessible from your personal space, ensuring personalized and adapted follow-up.
Finally, live chat, available 24/7 from the official Ivacy VPN page or your personal space, guarantees immediate assistance in case of need.
The technicians of Ivacy VPN's customer support are quite pleasant and competent in their responses.
Moreover, they provide quick and quality responses to all your questions.
In summary, Ivacy VPN's customer service is an undeniable asset for its users. The different contact options, combined with the permanent availability of live chat and the satisfactory answers provided by technicians, make Ivacy VPN a reliable and reassuring solution to protect your online privacy.
Ivacy VPN pricing: it's suitable for all budgets
Ivacy VPN offers interesting pricing solutions to suit the needs of each user. Here's an overview of the different subscription plans available:
| | | | |
| --- | --- | --- | --- |
| Subscription plan | Monthly price | Single billing | Money-back guarantee |
| Monthly Subscription | 9.50 €/month | – | 7 days |
| Annual Subscription | 3.24 €/month | 38.93 € | 30 days |
| 3-Year Subscription | 1.60 €/month | 58 € | 30 days |
All subscriptions support up to 10 simultaneous connections and are compatible with various operating systems (Windows, iOS, macOS, Android, and Linux).
Finally, Ivacy VPN offers a 30-day money-back guarantee on most subscriptions (7 days for the monthly subscription).
If you are not convinced by their services after subscribing to one of these plans, you can request a full refund within the specified time frame.
These progressive pricing offers allow everyone to find a plan suitable for their needs and budget while enjoying the features and security offered by Ivacy VPN.
We've seen quite a few things. Let's summarize all this by addressing the advantages and disadvantages of Ivacy VPN.
What are the main advantages and disadvantages of Ivacy VPN?
To help you better understand the strengths and weaknesses of Ivacy VPN, here's a summary table of advantages and disadvantages:
| | |
| --- | --- |
| Advantages | Disadvantages |
| AES-256-bit encryption | Variable speed depending on servers |
| Cross-platform compatibility with various operating systems | Limited number of servers |
| Bypassing geo-restrictions | Lack of transparency on some information |
| Protection for up to 10 devices simultaneously | No free trial |
If Ivacy VPN doesn't appeal to you, or you need to compare before making your choice, rest assured that alternatives exist!
What are the 5 best alternatives to Ivacy VPN?
If Ivacy VPN does not fully meet your expectations, here are five alternatives to provide you with an optimal VPN experience:
ExpressVPN.
CyberGhost.
NordVPN.
Surfshark.
Private Internet Access.
Also read : Tuxler VPN: A full review
1. ExpressVPN
ExpressVPN is a reference in the world of VPNs, known for its high speeds and reliability. With over 3,000 servers in 94 countries, it offers excellent geographic coverage and is capable of bypassing geographical restrictions on most streaming platforms. In addition, it offers a 30-day money-back guarantee and allows up to 5 simultaneous connections.
2. CyberGhost
CyberGhost is another major player in the VPN market, offering over 9,000 servers in 91 countries. It is particularly appreciated for its user-friendly interface and features dedicated to streaming and torrenting. CyberGhost offers a 45-day money-back guarantee and supports up to 7 simultaneous connections.
3. NordVPN
NordVPN is a popular choice among VPN users thanks to its enhanced security and solid performance. It has an impressive network of over 5,500 servers in 60 countries, ensuring excellent speed and the ability to bypass geo-restrictions. NordVPN offers a 30-day money-back guarantee and allows up to 6 simultaneous connections.
4. Surfshark
Surfshark stands out from other VPNs with its competitive pricing and unlimited number of simultaneous connections. With over 3,200 servers in 65 countries, it offers good geographic coverage and fast connection speeds. Surfshark also offers a 30-day money-back guarantee, allowing you to test the service risk-free.
5. Private Internet Access (PIA)
PIA is a privacy-focused VPN with a network of over 12,000 servers in 78 countries. It is particularly suited for users concerned about their privacy and offers advanced features such as ad and tracker blocking. PIA allows up to 10 simultaneous connections.
| | | | | | |
| --- | --- | --- | --- | --- | --- |
| VPN | Number of servers | Countries covered | Simultaneous connections | Money-back guarantee | Notable features |
| ExpressVPN | 3000+ | 94 | 5 | 30 days | High speeds, effective unblocking of streaming platforms, enhanced security, wide geographical coverage. |
| CyberGhost | 9000+ | 91 | 7 | 45 days | User-friendly interface, servers optimized for streaming and torrenting, ad and tracker blocking. |
| NordVPN | 5500+ | 60 | 6 | 30 days | Enhanced security (double VPN), fast speeds, unblocking streaming platforms, CyberSec technology to block ads and trackers. |
| Surfshark | 3200+ | 65 | Unlimited | 30 days | Competitive pricing, unlimited connections, Camouflage mode to hide VPN use, CleanWeb feature to block ads and trackers. |
| Private Internet Access (PIA) | 12000+ | 78 | 10 | 30 days | Large server selection, strict no-logs policy, ad and tracker blocker, advanced features. |
You've weighed the pros and cons? You've decided to go for Ivacy VPN? Let's see how to install it.
How to install Ivacy VPN?
The installation of Ivacy VPN is simple and fast. Just follow these steps to install the software on your device:
Go to Ivacy VPN's official website.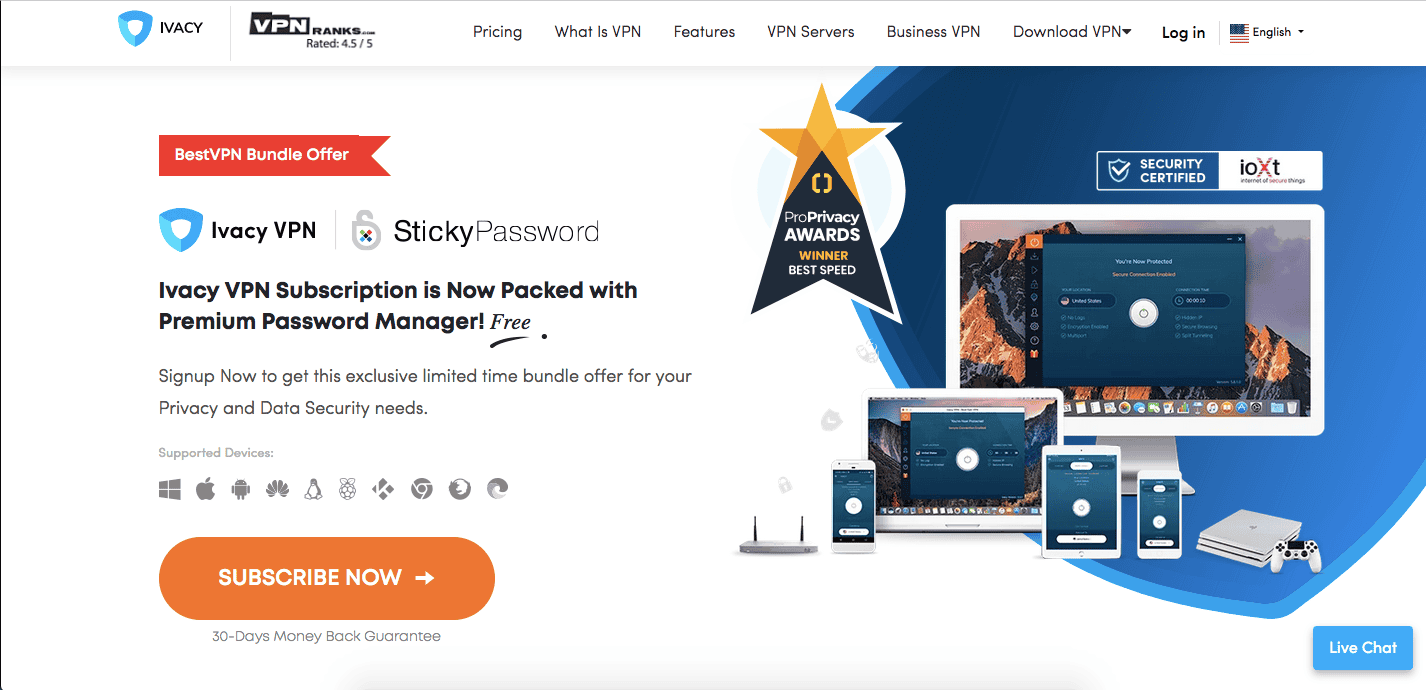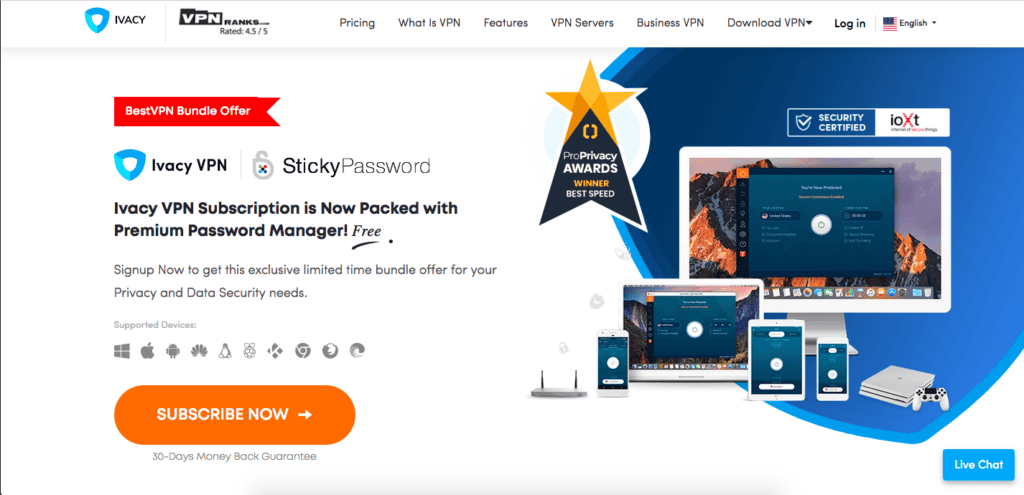 Choose your subscription plan and make the payment.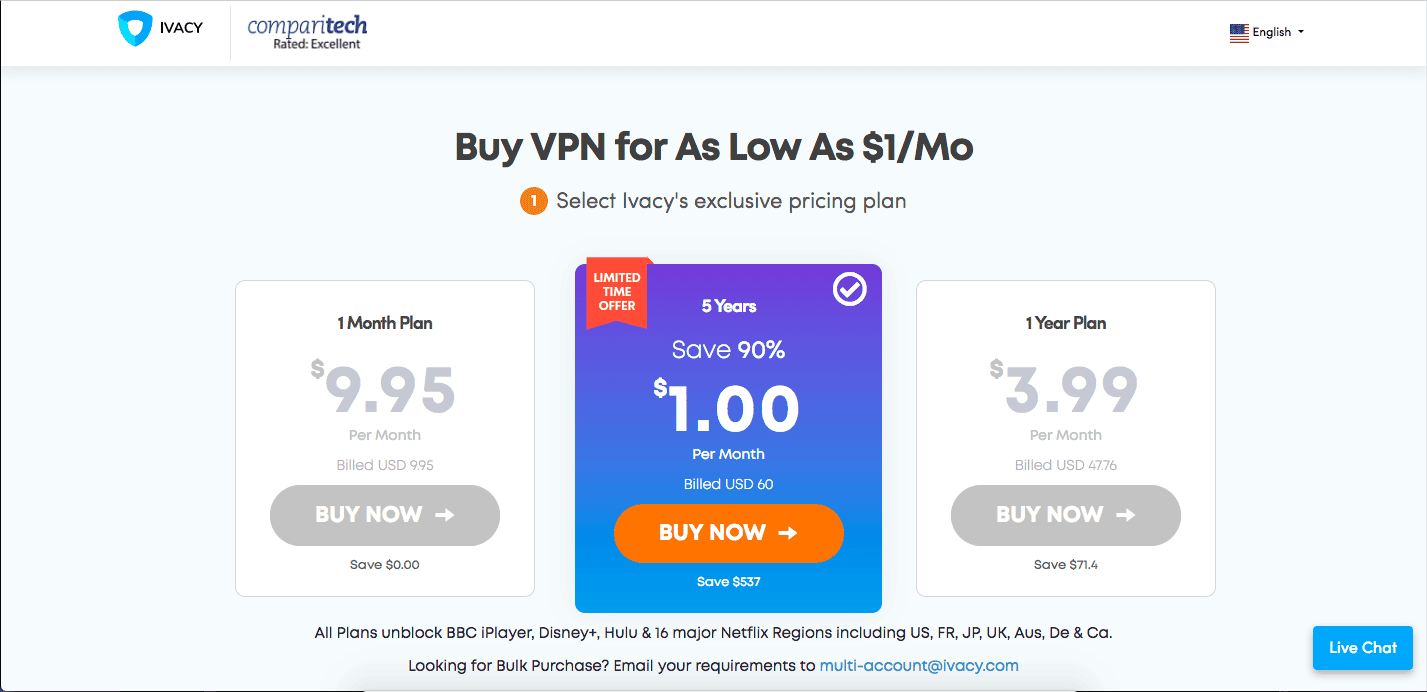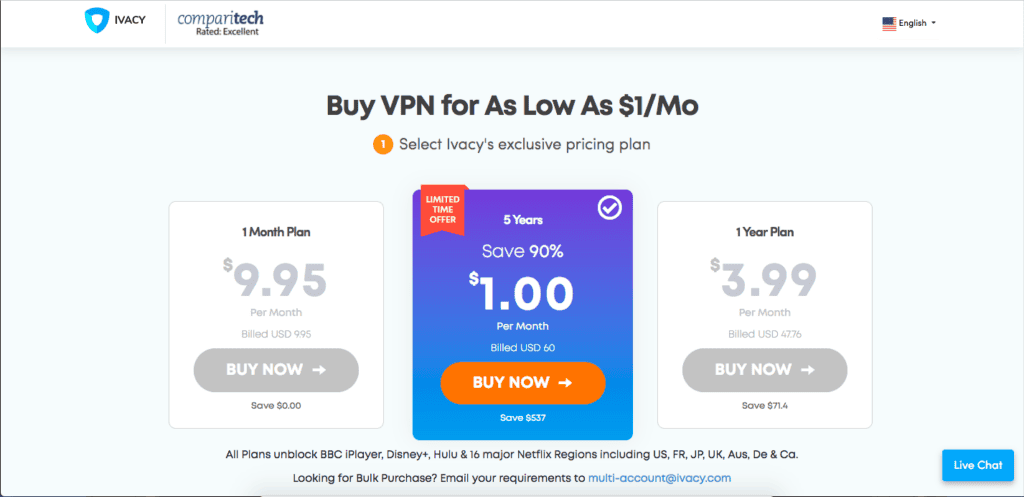 Download the Ivacy VPN app for your operating system (Windows, macOS, Android, iOS).
Install the app following the provided instructions.
Once the installation is complete, launch the app and log in with your credentials.
Select the server of your choice and activate the VPN connection.
How to use Ivacy VPN?
Using Ivacy VPN is a breeze, even for VPN novices. Follow these steps to fully enjoy its features:
Open the Ivacy VPN app on your device.
Log in with your credentials if necessary.
Select the server you want to connect to (you can either choose a specific server or let the app select one automatically).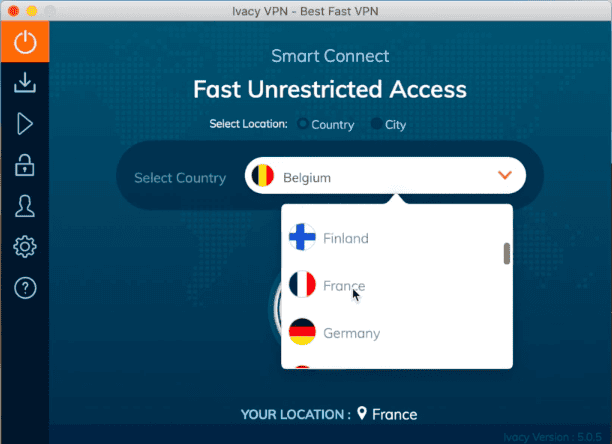 Activate the VPN connection by clicking on the corresponding button.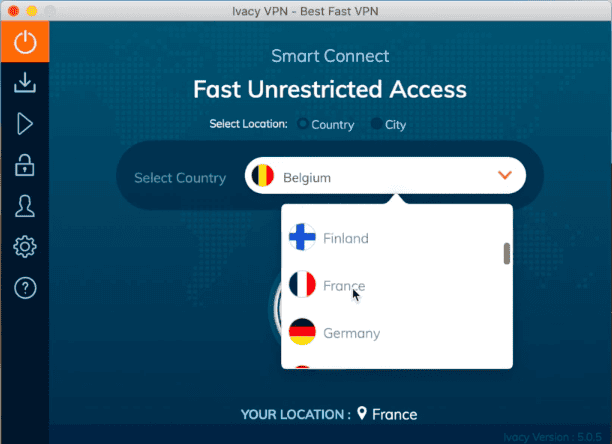 You can now browse the internet securely and privately.
Our final review on Ivacy VPN
In short, Ivacy VPN is an interesting VPN service with useful features and a good level of security. However, it does have some downsides, particularly in terms of connection speed and number of servers available.
We recommend that you test Ivacy VPN if privacy and bypassing geo-restrictions are your main concerns. However, if speed and performance are essential for you, other alternatives like ExpressVPN might be more suitable for your needs.
Here is a summary table of the main features of Ivacy VPN:
| | |
| --- | --- |
| Features | Ivacy VPN |
| Number of servers | 1000+ |
| Countries covered | 50+ |
| Money-back guarantee | 30 days |
| Simultaneous connections | 10 |
| Encryption | AES-256 bits |
| Cross-platform compatibility | Yes (Windows, macOS, Android, iOS, Linux)\ |