Learn how to use Opera VPN to surf safely
Whether it's for work, communication or even fun, the Internet has become an integral part of our daily lives. However, there are many threats online, which is why it's important to take steps to protect your privacy and sensitive data when surfing the web.
One of the best ways to do this is to use a virtual private network (VPN). A VPN can actually help you encrypt your Internet connection and hide your public IP address so that hackers can't access your personal data.
This type of software is especially useful when using public Wi-Fi networks, as it prevents third parties from seeing what you are doing online. In addition, VPNs can allow you to access certain content that is normally blocked in your country or region.
While VPNs can be valuable allies in preserving your online privacy, you need to choose yours carefully because not all VPNs are created equal.
Debugbar has tried the Opera browser's integrated VPN and explains how to set it up and use it to surf the web safely.
Opera browser: what is it?
Opera is a free web browser for Windows, Mac, Android and Linux that offers a full range of advanced features for optimized web browsing.
Launched in 1995 by the Norwegian company Opera Software AS, the browser is now available in more than 50 different languages and offers a wide range of advanced features such as :
customizable tabs,
intuitive extensions,
advanced PDF document management,
integrated Twitter and Facebook support
but most importantly, a VPN that allows users to surf the web safely.
Why use a VPN to surf safely?
A VPN offers many significant benefits, including
Improved privacy and data security,
unblocking geo-restricted content,
and protection against unsecured public Wi-Fi networks.
As you can see, VPNs are essential for protecting your privacy and sensitive information because they encrypt your data during transmission.
This means that even if someone intercepts your Internet traffic, they won't be able to see what you're doing online or access your personal information.
So with Opera VPN, you can browse the web safely without having to install any additional software. Just click a button to activate the VPN and start enjoying the benefits it offers.
How to activate Opera VPN?
The process of activating Opera's built-in VPN is quite simple. Here are the steps to follow:
Step 1: Download and install the Opera browser.
Step 2: Access the Opera VPN settings.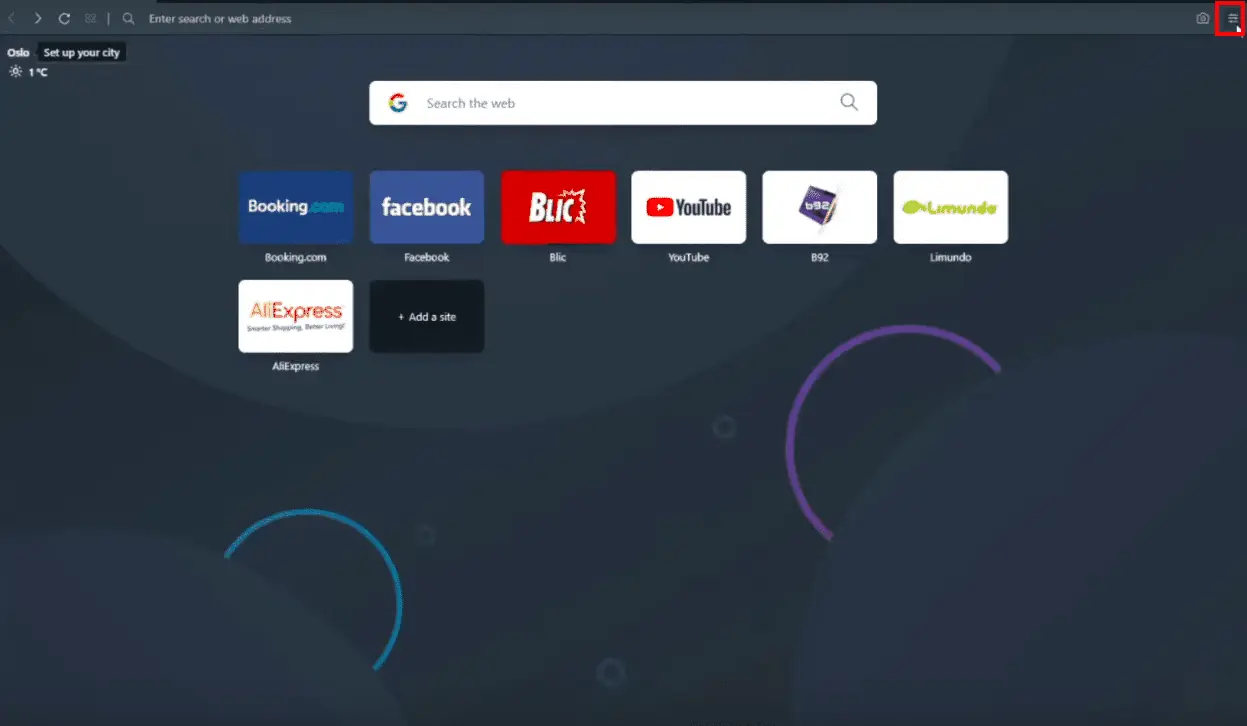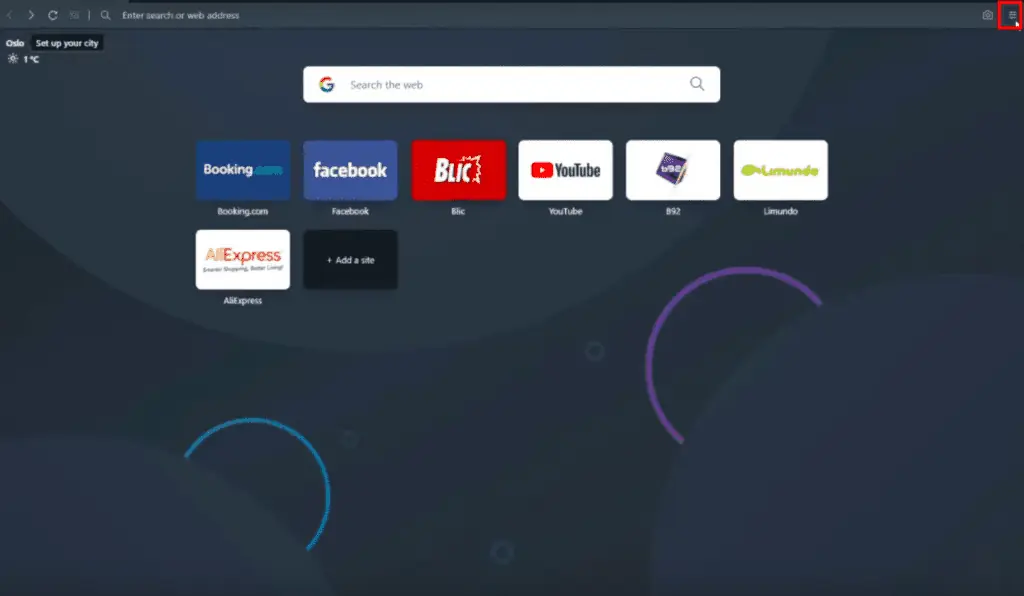 Step 3: Activate Opera VPN.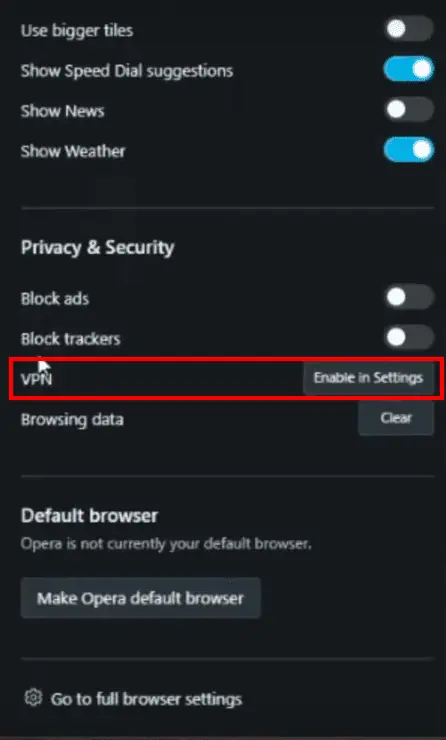 Once these steps are completed, you can browse safely with the Opera browser and its built-in VPN.
However, it is important to note that the VPN only works when you are using the Opera browser. If you use another browser or a third-party application, your connection will not be encrypted by Opera's built-in VPN proxy server.
How to use Opera VPN step by step?
Once you have enabled VPN mode in Opera browser settings, it's time to start using it to browse the Internet safely and without hassle.
Here are the steps you need to follow to properly use Opera's built-in VPN mode:
Step 1: Choose a server location.
When you click on the "Mode" icon located at the top right of the browser interface, a list of available servers located in different countries will appear on your screen. You can choose the desired location to direct your Internet traffic and click "Connect" to start browsing safely with your new virtual IP address.
You can change the server as many times as you want if you want to change the virtual location.
Once you have chosen a server location and pressed "Connect", your connection will be encrypted by this proxy server and masked by a different virtual IP address depending on the chosen location.
You'll then be able to browse the internet anonymously and be protected from potential hackers.
You can therefore go to any website completely anonymously because no one will know which public IP address is associated with your activity. This will also allow you to access geo-restricted content (like Netflix US).
What are the advantages of Opera free VPN?
Opera's built-in VPN offers a variety of benefits to users, including:
Online privacy protection.
Bypassing censorship.
Secure browsing on public Wi-Fi networks.
Access to geo-restricted content.
The Opera browser also comes with a "Kill Switch" that automatically interrupts your Internet connection if the VPN stops working. This ensures that your browsing will always be encrypted and protected.
What are the limitations of OperaVPN?
Although Opera Browser's built-in VPN is very convenient and easy to configure, it has some limitations:
Connection speed sometimes lags: Some users have reported a drop in throughput when connected to Opera VPN. While this isn't too noticeable, it can be a problem if you need to download large files or watch streaming videos on Netflix or any other platform.
There are a limited number of server locations: The Opera browser currently only offers a handful of different locations for proxy servers. This means you won't have as many options as you would if you were using a third-party VPN service with multiple server locations to choose from.
Conclusion: Opera's VPN is still pretty good
The Opera browser is a great option for those looking for a quick and easy way to browse the web securely.
However, it's still limited, and you'll probably have to turn to a third-party Virtual Private Network (VPN) to get access to more advanced protection.
Check some other VPN