Pipedrive: the most popular CRM for small businesses
Pipedrive is a CRM (Client Relationship Management) that allows you to manage your customer relationships and optimize your sales process.
Do you want to optimize your entire sales cycle? Do you want to increase your productivity and revenues in no time? Then there is no doubt that you need a CRM app. And Pipedrive could be the one for you. But you'll know that after reading this complete review!
What is Pipedrive?
Pipedrive is a customer relationship management tool that allows companies to track and optimize their sales process.
Simply put, with this tool it's easy to:
track your sales performance,
reach your sales objectives quickly and efficiently.


And if you can do all this so easily, it's thanks to the many features offered by the tool.
What are the key features of Pipedrive?
Pipedrive offers a full range of features to help you better manage your sales strategies. Some of the ones you will inevitably need are:
The business tracking system,
Task and calendar management system,
Communication tracking,
Automated tasks and reminders,
Real-time notifications,
Integrations,
Business intelligence tracking.
But let's talk about each of them in more detail.
The business tracking system on Pipedrive
This feature allows you to efficiently manage your sales pipeline by tracking all your current deals very closely.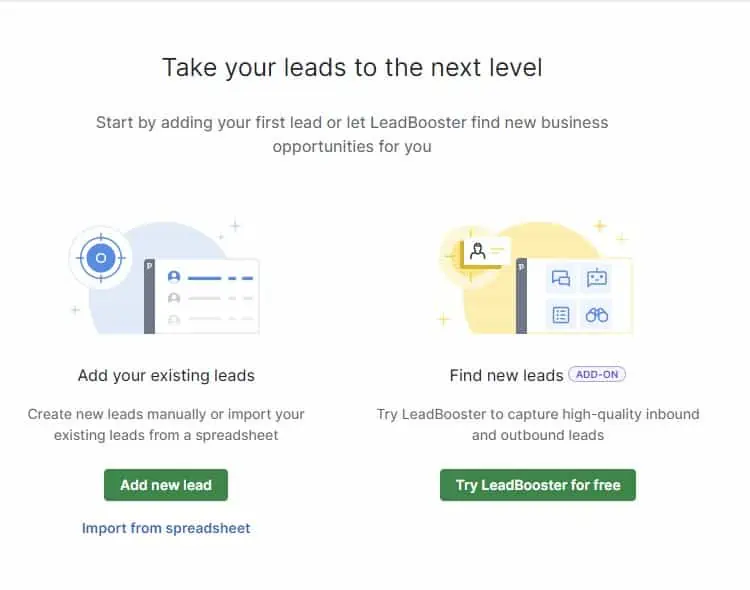 With it, you can:
Customize all your reports to get an overview of current performance and gain insight into future trends. This will help you stay ahead of the curve and make the best possible decisions.
Enable your salespeople to take a proactive approach by quickly identifying any potential problems in their pipeline or opportunities they may have missed.
Facilitate collaboration between your teams since all members of a project can consult the same data in real time. Each team can work together on common goals and achieve them more easily.
The task and schedule management system
The pipedrive task and calendar management system allows you to
prioritize each work based on importance or urgency,
assign them quickly and efficiently,
set deadlines,
and manage team calendars.
This makes it easy to keep track of all your sales activities, from follow-up calls to meetings.
This feature helps teams stay organized and ensures that everyone is on the same page.
Communication Tracking
The communication tracking feature allows you to track all interactions you have had with your customers. You can keep track of all exchanges, whether by email, phone calls or text messages.
Communication tracking allows you to keep track of key data such as:
the date of the communication,
contact information (email address, phone number…),
and the content of the message.
This means that it is an indispensable function for both:
for your sales teams, as it helps them keep track of all their exchanges with customers.
and for your managers, as it allows them to monitor team performance and identify areas where improvements can be made.
Automated tasks and reminders
Pipedrive's automated tasks and reminders help salespeople stay on top of things and not forget any tasks.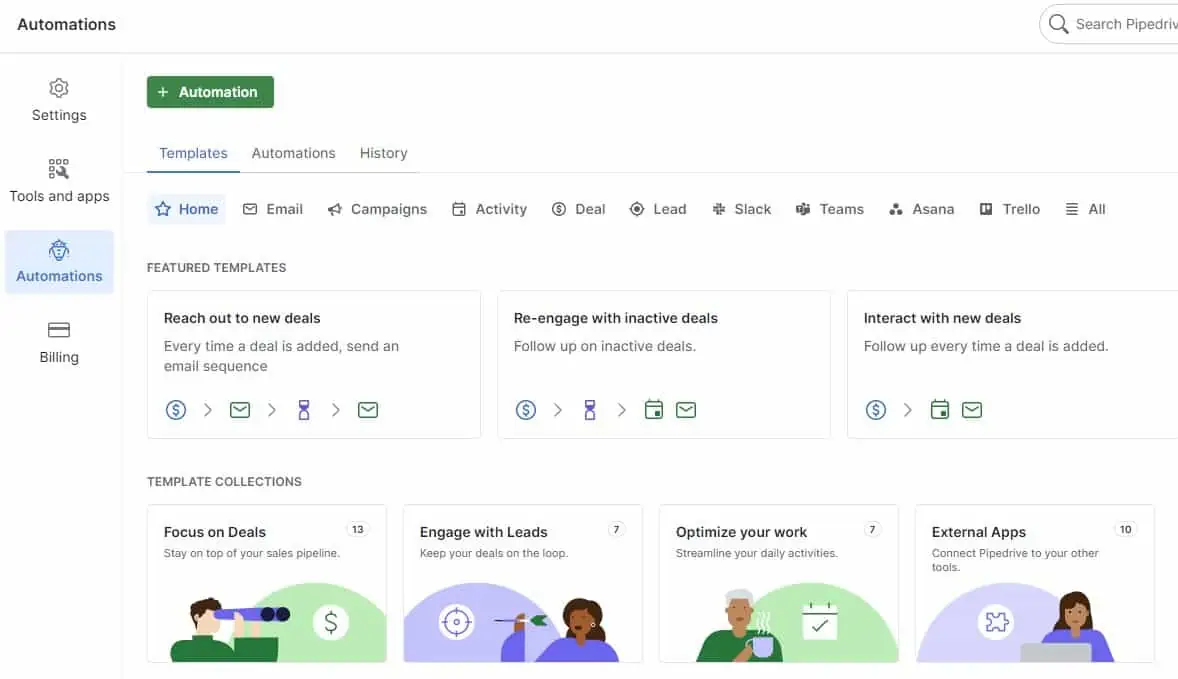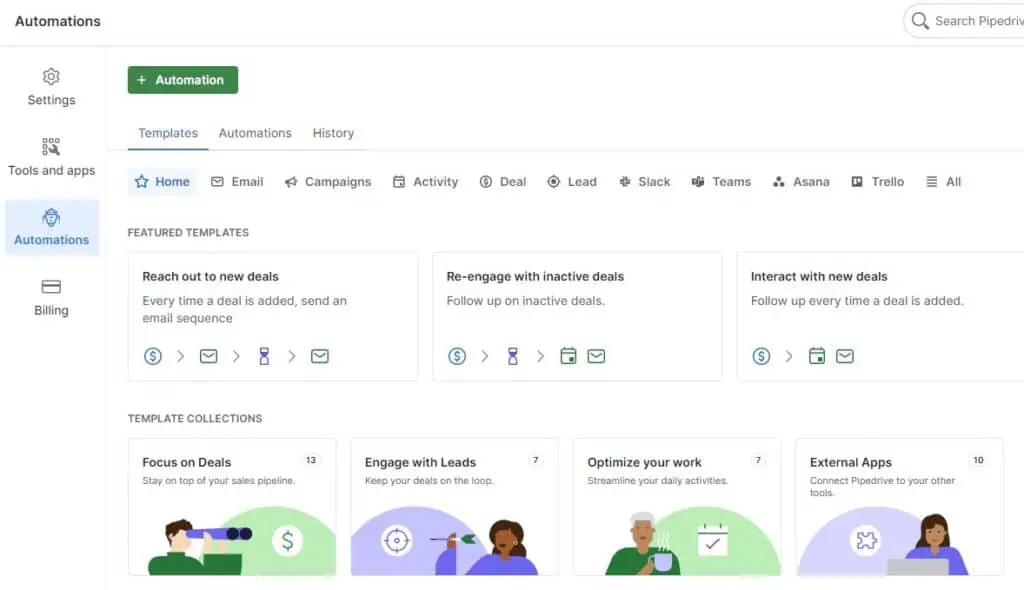 For example, if a customer / lead doesn't respond to an email, a task can be automatically created to follow up. This feature saves your salespeople time from having to create and assign tasks manually.
Real-time notifications
This function allows you to stay informed of all events related to your current business in real time.
In concrete terms, thanks to this, Pipedrive sends you an alert as soon as there is an update on one of your files. This way, salespeople are informed of events that affect their sales pipeline, so they can make quick and efficient decisions.
It is also extremely beneficial for your customers because it allows you to stay in touch with them and respond to their requests more quickly.
Integrations
Pipedrive also offers a series of integrations with the most popular applications in the industry, such as Google and Microsoft Office 365.
These integrations allow CRM users to synchronize their data and access information from multiple sources in one place.
For example, you can use the Google Calendar integration to stay on top of scheduled events or use the Office 365 integration to collaborate more effectively.
Business intelligence tracking
Pipedrive's business intelligence tracking feature allows companies to gain insight into their business performance.
They can analyze their leads and identify areas for improvement.
This tracking is especially useful for sales teams, as it gives them a clear view of their performance and allows them to track their progress over time.
So you can see that with all these tools there is plenty to do. Having trouble seeing how Pipedrive could be useful to your business? Then the following should help you see it more clearly.
How can Pipedrive be useful for your business?
Pipedrive is a very versatile tool. It can be used in different ways depending on your business needs. Here are some examples of how Pipedrive can be used in different types of businesses:
For product sales companies: Pipedrive can help you track your leads and customers, manage your sales offers and monitor your performance.
For example, you can use it to create sales pipelines, which are key steps in your sales process (such as sending a quote or signing a contract).
These steps allow you to better understand where your current business is and to identify potential conversion barriers.
Thanks to Pipedrive, you can better understand the status of your current projects and identify any additional resources that may be needed to accomplish your work.
As you can see, Pipedrive can be very useful. But in order to optimize the tool's capabilities, it must be well integrated into your sales process.
How to integrate Pipedrive into your sales process?
To integrate Pipedrive into your sales or project process, here are some steps to follow
Define your sales or project objectives: What are the results you want to achieve with Pipedrive? Do you want to increase your conversion rate or revenue? Do you want to better track your projects or improve your productivity? By defining your objectives, you can better target the Pipedrive tools that will be useful to you.
Create your sales or project pipeline: Define the key steps of your project. Assign managers to each stage and set due dates for each deal or project.
Import your contact and customer data: If you already have a contact or lead database, import it into Pipedrive so you don't have to waste time manually entering information.
Use Pipedrive's communication and follow-up tools: Pipedrive has a lot of communication tools at your disposal (emails, messages…), use them!
For example : if a lead doesn't answer an email you can send him/her another one with a promotional offer to conclude a deal.
Track and monitor your progress: Use Pipedrive's reporting tools to track the progress of your sales or project objectives. Keep an eye on key metrics (such as conversion rates, number of deals closed, number of good/bad reviews, etc.) and adjust your strategy accordingly.
By properly integrating Pipedrive into your sales or project process, you will be more successful in achieving your business goals.
Pipedrive Pricing: Choose the plan that suits you best!
Pipedrive offers a range of plans from Essential to Advanced:
| | | | | |
| --- | --- | --- | --- | --- |
| | Essential Subscription | Advanced Subscription | Professional Subscription | Enterprise Subscription |
| Price | $18/month | $33/month | $59/month | $99/month |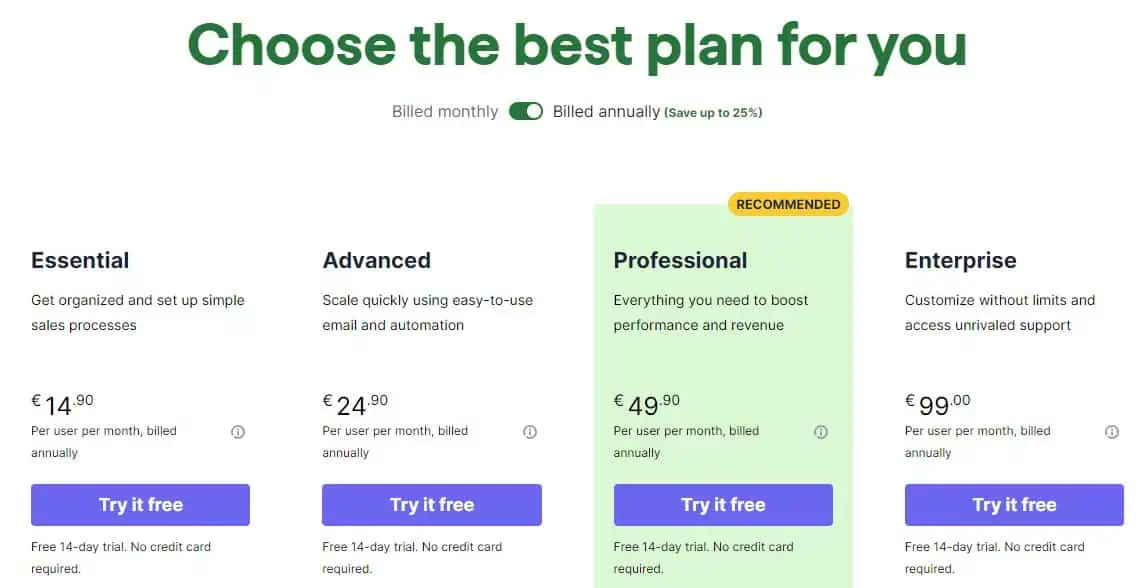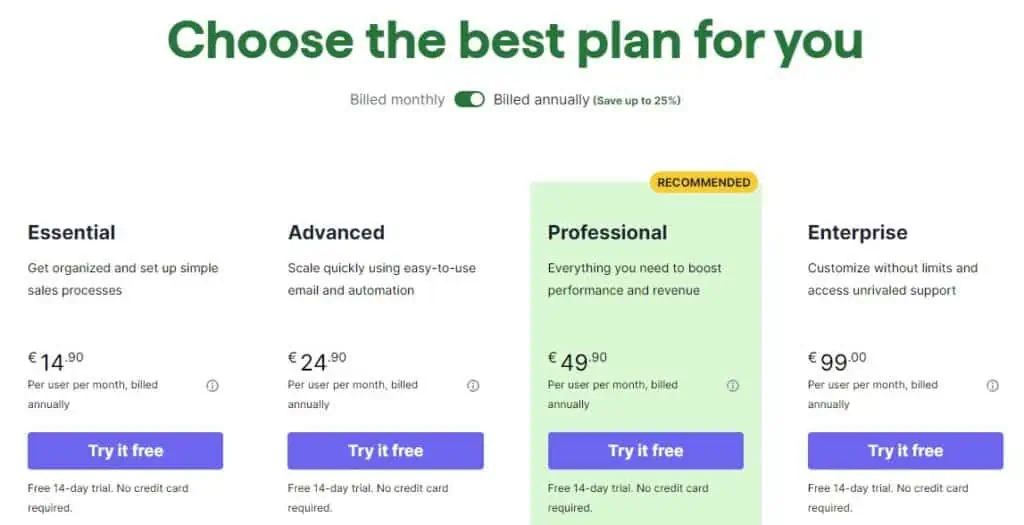 Billed monthly or annually, each plan includes 24/7 support and over 300 integrations with other popular tools.
Note: Pipedrive doesn't offer a free plan but you can try it for free for 14 days.
Not convinced by Pipedrive? Not sure about another CRM app (Hubspot, SalesForce, Zapier, etc.)? Then here are some advantages that could tip the balance in its favor.
Advantages of using Pipedrive compared to other CRM apps
Pipedrive has some rather interesting advantages over its direct competitors (Hubspot, SalesForce, Zapier…).
For example, Pipedrive is known for its ease of use and flexibility, which makes it an ideal solution for SMEs.
Moreover, Pipedrive offers a wide range of integrations with other productivity tools, such as Google Calendar and Slack, which allows you to better integrate the CRM into your workflow.
On the other hand, we regret the lack of marketing tools in Pipedrive compared to some of its competitors like Zapier.
But of course, each company has its own methods. Pipedrive may not be suitable for you. In these cases, rest assured, there are plenty of other CRM apps. It's up to you to try and make up your mind!
Pipedrive: our opinion in a few words…
In short, Pipedrive is a CRM software that is quite interesting in its kind. It really offers a lot of useful features that will allow you to optimize your sales processes.
On the other hand, if you are looking for a CRM software with a lot of marketing features, Pipedrive will probably not suit you and it will be better to turn to a CRM more focused on marketing such as Hubspot or Zapier.
Pipedrive is a customer relationship management (CRM) tool.
It allows you to manage your contacts data and to improve your sales strategy.
The CRM allows you to easily communicate with your contacts.
When you close a deal with a lead, don't forget to send an email asking for a good review.
Pipedrive includes 24/7 support.