GMB : How to delete a Google Business Profile account ?
Google My Business is a tool that helps you to improve the visibility and online reputation of your company. Setting up a GMB listing for your establishment optimizes your local SEO.
For a variety of reasons – multiple negative reviews that can't be removed, changes to your account that have caused it to be suspended, or simply closing your establishment- you may decide to delete your business page.
Learn more about how to remove a Google My Business (GMB) account.
What are the reasons to delete a company account on Google business Profile (GBP) ?
There are several reasons why a business owner may want to delete their account on GBP. Here is a list of some of these reasons.
A shutted business
If your company is closing down, it is normal to delete the GBP page. You need to remove all references to your business' online presence so that you do not continue to offer its services.
A change the location of your business
If your establishment changes address, you can delete your account and create a new one, but we advise against it. You would lose all your reviews, your history and the optimizations made on the page.
You do not have to delete your record. You can directly modify the location in the management interface of your company's account. The new location must be validated (the means of validation is very variable: postal mail, sms, video, …).
Note that the page remains visible while the new address is validated. You do not lose anything during the process.
Creation of several company files
In your eagerness to be visible online, to build a good reputation and to attract more customers, you have created more than one listing, for example if the first one had difficulties to be referenced.
In this case, do not wait to delete the duplicated one. Indeed, Google could suspend your two listings if it finds that they are identical. Moreover, this can be disturbing for the users.
Problem of validation of your Google Business Profile account
You have just created a GMB account to manage your company's online reputation. But you encounter some difficulties to finalize the page of your establishment.
All your efforts to validate your Google My Business account are in vain. You then decide to delete it to recreate another one.
Before doing this, contact Google support to try to find a solution to your problem and only delete the account as a last resort.
Negative customer evaluations
When customers leave negative evaluations on your Google page, you have a lot to worry about. Negative customer evaluations can damage your reputation.
GBP is a double-edged sword. It builds your reputation, as much as it can destroy it.
Anyone (customers and competitors) can leave evaluations on your Google My Business page. By doing so, your competitors are free to sully your reputation with negative comments, rightly or wrongly.
To protect the reputation of your company, you would probably be tempted to remove negative customer evaluations. In extreme cases, you'll seek to delete your business account.
Buyout of an establishment
You have just bought a new company. This establishment may have received several negative evaluations on its GBP page. All these bad evaluations from customers are surely hurting its reputation.
In order to avoid the effects of its bad reputation, you decide to change its name and start again on a better basis. In this case, you can delete the Google my business account created by the previous owner.
After deleting the listing, you'll be able to add the page of your establishment. You'll be able to build a new reputation for your company on the Internet and hope for better customer evaluations.
How do I delete my Google Business Profile page?
To delete or remove your establishment's Google my business page, you have two options:
Delete your GBP page;
Indicate that your establishment has been permanently shutted.
Delete the Google Business Profile listing of your establishment
There are several steps to delete a business listing.
1. Log in to your GBP account from your computer.
2. Open the GBP menu. You can do this by clicking on the three small bars at the top left of your screen.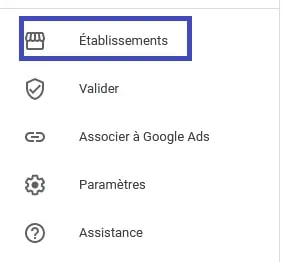 3. Now go to the INSTITUTIONS submenu.
​​4. Then select the facility whose GBP record you wish to delete. To continue to erase the record, click on ACTIONS.

5. Finally, press on DELETE ESTABLISHMENT.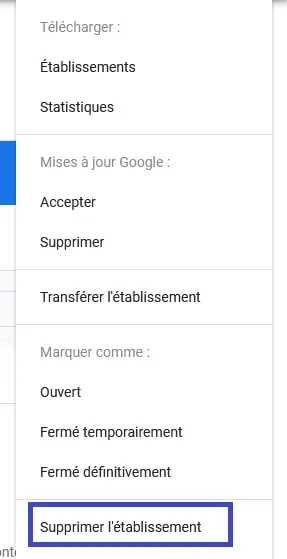 6. You'll see an information message on the screen. Press on DELETE again to confirm the deletion.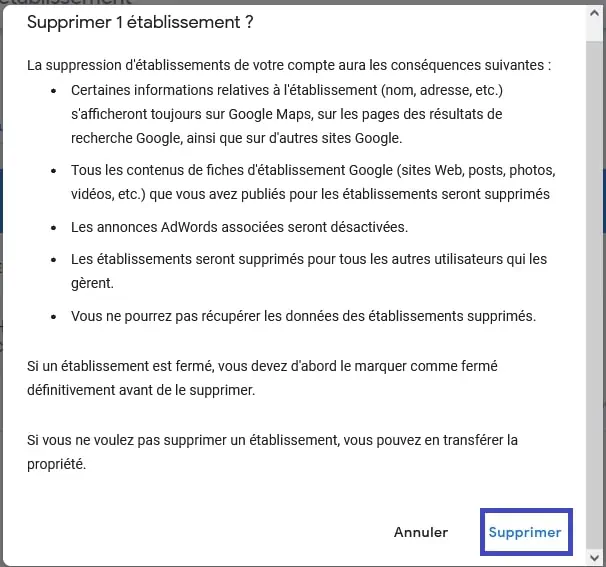 7. After deletion, you'll receive a feedback from Google within three days. If you don't receive a message, it means that Google may not want to accept the removal of your listing.
Keep in mind that even after deletion, your business information won't disappear from the internet. Your company name, positive and negative customer reviews, address, everything remains on Google.
This information remains visible in search results for at least 6 months. It will also be displayed on other Google platforms.
So you realize that this is not actually a deletion of a listing. It is in fact deleting your property associated with the GBP page of the establishment.
Google's goal with this procedure is to allow Internet users to access information in order to be better informed. In fact, it prevents companies from permanently removing negative customer evaluations or any other information from the internet.
Indicate that the establishment has been permanently shuted
There are 3 steps to do so :
Step 1. From your computer, sign in into your GBP dashboard. Go to the menu located on the left side of your screen.
Step 2. Click on FACILITIES. Select the establishment you want to shut. Find and click on ACTIONS in the toolbar. Finally select CLOSE DEFINITELY.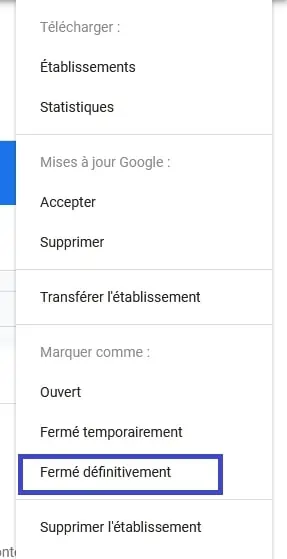 Step 3. A panel with warning information appears on the screen. You can complete the process, by clicking on MARK INSTITUTION AS DEFINITELY CLOSED.

By doing this, your company will no longer appear in search results. However, if users enter your company name directly into the search bar, Google will show your listing.
This time, it will say PERMANENTLY CLOSED .
This procedure to close your establishment page can also be done from a mobile device.
Permanently close your business from a mobile device
From the device, open the Google my business mobile application. Go to the list and select the concerned establishment. Click on profile and go to the bottom of the page. You'll see the option MARK AS DEFINITELY CLOSED, click on it.
A dialog box will appear asking you to confirm the procedure. Tick yes.
Finally, press on SAVE to complete the process. Your establishment now appears as permanently shut on Google.
If you intend to reopen the business after a while, instead of the DEFINITELY CLOSED option, you can choose TEMPORARILY CLOSED.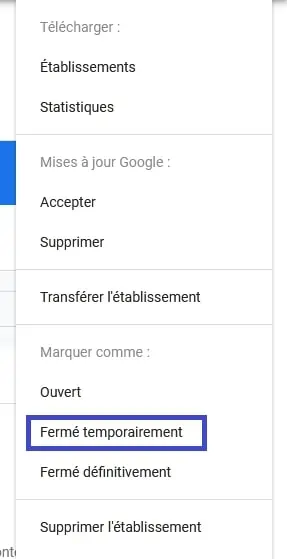 Why mark your business as shuted ?
Marking your business as permanently shut allows you to inform your customers of your current situation. On the other hand, it is not actually a permanent closure.
It is much more like a temporary closure. Indeed, at any time, you can decide to reopen your business. By marking it as shutted on GBP, you can use the same data again.
You'll be able to use the same reviews (positive or negative). You'll be able to use the same photos, the same opening hours, the same address, the same phone number, etc.
This option actually allows you to put your GBP page on standby. You then activate it if you need it again.
To reopen a permanently shutted business on GBP, you need to go to your account. Open the GBP menu and click on FACILITIES.
Select the facility in question.
Then click on ACTIONS in the toolbar and then on OPEN.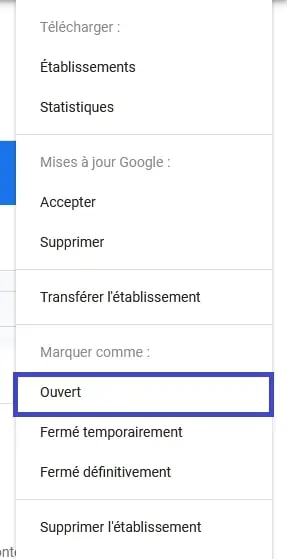 Note that it is possible to delete or reopen several establishments at the same time.
Remove your business from Maps
If you are not satisfied with the previous alternatives, there is one last option. This is to remove your store from Google Maps.
To make the removal request, you need to sign in to Google Maps.
Now click on the SUGGEST CHANGE setting. Select the option to MARK THIS LOCATION AS CLOSED, NO LONGER EXISTING OR DOUBLED. Specify your reason for making this request.
Finally, click on SUBMIT. If Google validates the request, your store will disappear from Maps.
Some tips to make a Google Business Profile listing disappear quickly
The removal of a GBP listing is not automatic. Moreover, as stated above, your information does not disappear from the search results. To go faster, you can use some tips.
Change category
Changing the category allows your business to disappear very quickly on Google. If, for example, you had originally listed yourself as a hairdresser, you can change your category to plumber, for example.
By doing so, your listing will no longer appear for queries related to the hairdresser category. Since your activity is not really referenced in the plumbing category either, you'll not be displayed for queries targeting plumbers.
Remove the website linked to your business
To remove an establishment from GBP, you can go through its website.
After submitting the deletion of your listing on GMB, you need to delete the business's website as well.
Then, do the undo of the website's publication on Google my business. By doing this, the review submissions on the establishment too should stop.