GMB : The best Google Business Profile plugins on WordPress
Google Business Profile (formerly Google My Business) is a very useful tool to manage the online presence of your company. But for more efficiency it can be interesting to link your Google My business account with your website. Don't worry, thanks to the extensions it's a piece of cake.
You have a WordPress website? You have a Google My Business page? Then, for an efficient SEO strategy, it is strongly advised to link the two. But don't panic, it's not rocket science. We explain everything you need to know to do it in this article.
Google My Business (GMB) is the information sheet of your business
Linking this page to your website allows you to increase your online visibility
Customer have direct access to reviews and trust you more easily
Linking GMB listing to your website can boost your sales
Integration is easy with extensions
What is Google Business Profile ?
It's a free tool that allows you to improve the online visibility of your company at the local level. Basically, it is the information sheet of your company.
You can include :
Your contact information
Photos of your establishment
The comments left by your customers
Upcoming or ongoing events
Product release notification
To be more concrete, let's take an example :
Let's imagine that you have a bicycle repair shop in Washington. A visitor to Washington who types in the query "bike repair shop" will see a window appear in the search engine.
This window contains the listings of the closest stores. If he clicks on one of these inserts, he will open the corresponding workshop's file.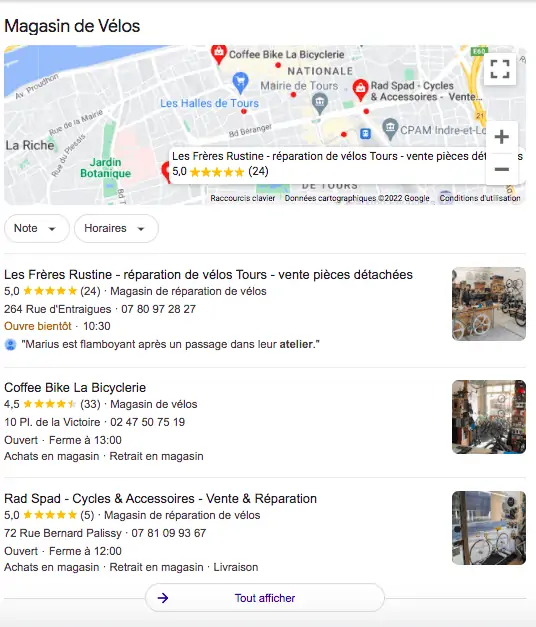 It is therefore an extremely effective tool to improve your local referencing and gain visibility. What's more, it's very easy to use and completely free.
As you can see, Google My Business is a real ally to improve the visibility of your company. But for an even more successful digital strategy, it can be useful to link your GMB profile with your WordPress site.
Why link WordPress and Google Business Profile ?
Linking your WordPress site with your Google My Business profile has 3 major advantages. It allows you to :
Improve your SEO
Give visitors confidence
Increase your sales
To improve your SEO
Search Engine Optimization is the key to online visibility. And that's good because Google My Business offers you a free way to improve it. Yes, by deciding to link your site to your GG account, you optimize the visibility of your site.
In concrete terms, your listing links to your site. People who access your page can then go directly to your site. You make your site more visible and generate more traffic.
To give confidence to your prospects
Displaying the notes left by your satisfied customers is a good way to gain the trust of Internet users who hesitate. Linking your two accounts can allow you to display Google (GG) reviews directly on your site.
This way, no matter how you acquire traffic, Internet users have access to the comments left on your establishment.
To increase your sales
This point follows directly from the first two. If people find you more easily and trust you, they will take action. By linking all your media, you give yourself every chance to increase your sales.
Are you convinced of the importance of linking GoogleMyBusiness and WordPress ? Now you're wondering how to do it ? Let's see it together.
Of course, it is possible to integrate manually thanks to the key API. But if you are not necessarily a computer expert, there are much simpler solutions, the extensions.
Let's start by looking at the publishing plugins.
The 3 best extensions to link the contents of your website with Google Business Profile
Google Business profile allows you to post content regularly. This feature is very useful to keep a close link with your customers and inform them about the latest news.
However, creating content for your website and for your GG page is time consuming… Fortunately, there are extensions that allow you to automatically publish your WP content on your GG page.
The 3 best ones in our opinion are :
Revive Old Posts
GoogleMyBusiness Auto Publish
Post to GoogleMyBusiness
Revive old posts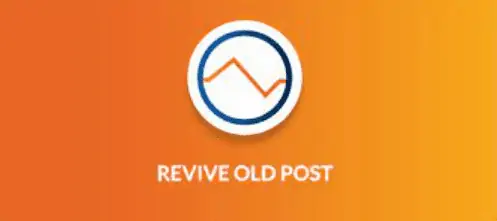 Revive Old Posts is a very efficient plugin. It allows you to share content from your WordPress blog directly on your GMB listing. But the plugin doesn't stop there as it also allows you to share your content on social networks.
Basically, you ensure your presence on all your online media from your WordPress blog. This is a considerable time saver for you.
In summary: This is one of the best extensions of its kind. Too bad you have to pay to link it to GMB.
| | |
| --- | --- |
| Features | Automatic content sharingSelection of content to shareScheduling of publicationPossible connection with some social networks |
| Advantages | Very efficient |
| Disadvantages | You need a premium subscription to have the GoogleMyBusiness functionality |
| Price | Lite : FreePremium (required): $75/year |
Google My Business auto publish

This extension is a bit in the same vein as the previous one. It allows you to create and publish articles directly from your site to your GoogleMyBusiness page.
What is particularly appreciable with this tool is that it allows you to plan and personalize your publications.
In short: Ideal to save time by centralizing everything.
| | |
| --- | --- |
| Features | Content customizationFiltering of content to be publishedScheduling of publications |
| Advantages | Easy to useEfficientLightweight |
| Price | Free |
Post to Google My Business

Post To Google My Business is another plugin for managing publications. It allows you to create and manage everything from your WordPress dashboard.
This tool is exclusively dedicated to the relationship between WordPress and Google. You will not be able to feed your social networks with it.
On the other hand, the nice thing is that it is able to handle multisite support. You can manage multiple sites directly with this plugin.
In summary: It is ideal for businesses that have multiple sites to manage.
| | |
| --- | --- |
| Features | Customization of publicationScheduling of publicationsSelection of the content to publish |
| Advantages | Exclusively dedicated to GG MBEasy to useCompatible with the main manufacturers (Elementor, Gutenberg, etc…)Supports multiple sites |
| Disadvantages | Limited free version |
| Price | Lite : FreePremium: $79.99/year |
The 3 plugins to integrate Google Business Profile reviews to your WordPress site
Your customers' ratings are precious because if they are good they can convert leads. So why not include them on your WordPress site ? Rest assured, the process is quite simple. We have selected 3 extensions that will allow you to do it easily.
Google Reviews Widget
This plugin has no less than 80,000 users worldwide. This makes it one of the most used extensions to integrate Google comments on your site.
This very complete plugin is appreciated because it optimizes the presentation of comments in the form of a widget. It shortens the longest reviews and integrates a call to action button to access your Google My Business listing. So the consumer only has to click on the button to reach your Google Business Profile listing.
We particularly appreciate the possibility left by the tool to set a rating filter to show only the desired ratings.
It is also possible to add on your site the notes left on social networks.
In summary: Google Reviews Widget is useful if you have reviews on several platforms that you want to centralize on your website.
| | |
| --- | --- |
| Features | Synchronization of notes left on social networksChoice of widget appearanceChoice of locationSelection of ratings to display |
| Advantages | Compatible with most page buildersEasy to setMultilingualLightweight |
| Disadvantages | Limited Lite version |
| Price | Lite : FreePremium: $85/year |
WP Google Review Slider
WP Google Slider is a dynamic plugin. It allows you to scroll through several reviews on your site as a carousel.
The extension makes regular updates to show only the most recent reviews. But more than that… Review slider allows you to filter the comments to enhance your image with Internet users.
We also appreciate the possibilities of customizing the appearance of the widget. This feature allows you to match the theme of your website.
The tool is free but it is possible to add more features with the premium version.
In summary: Complete and cheap, it is the ideal tool for small businesses.
| | |
| --- | --- |
| Features | Selection of reviews to showDisplay of the latest reviewsChange the appearance of widgetsConnection with social networks |
| Advantages | Easy to set and useExtensive FAQResponsive customer support |
| Disadvantages | Limited features |
| Price | Lite: FreePremium : $29 |
WP Google Reviews & ratings
This plugin is equivalent to the other two. It is able to display 5 reviews at the same time.
The good thing is that it automatically updates itself by retrieving the most recent reviews. This way you can offer your visitors the most relevant reviews.
We particularly appreciate the feature that allows users to leave their opinion directly on your website. In addition, the tool is very customizable to easily adapt to all themes.
In summary: A good plugin. Ideal to allow your customers to leave their review on the desired platform. The solution is however a bit expensive considering the services included.
| | |
| --- | --- |
| Features | Automatic sharing of the latest reviewsPost comments directly on the site |
| Advantages | CustomizableAdaptable to almost any themeResponsive |
| Disadvantages | Expensive compared to the services offered |
| Price | $34 |
As you can see, linking GMB to your website can be a powerful business asset. So, why go without it?
GMB is the information sheet of your company
Linking this form to your website allows you to increase your visibility and your sales
The integration of GMB and WordPress is very easy thanks to extensions