How long are YouTube shorts?
How long are YouTube shorts?
YouTube shorts can be 15 to 60 seconds long. This short form is exactly the same as tiktok or instagram videos and allows the users to switch from a video to another.
This short duration is perfect for those who want to consume content quickly without having to commit to a longer video. It's also great for creators who want to quickly and easily make engaging content that can be consumed in a short amount of time.
Want to create youtube shorts ? Want to know how to produce quality short content? So this article is made for you !
How long can YouTube shorts be ?
They can be from 15 to 60 seconds long. This duration is similar to that of TikTok or instagram videos and allows the user to quickly watch a lot of content.
But why is the video duration limited on Youtube Shorts ? Let's see that.
Why is there a time limit for YouTube shorts ?
There is a time limit for YouTube Shorts because YouTube wants to encourage users to watch more videos.
This is beneficial for both YouTube and its viewers :
YouTube benefits because it can show ads more often,
and viewers benefit because they can consume more content in a shorter amount of time.
So, as you can understand, there is a time limit for YouTube Shorts films. But that's not the only requirement to respect.
What are the other requirements for a YouTube short video ?
In order for your video to be considered a youtube short, it must meet the following requirements :
Format: It must be vertical.
Aspect ratio: The aspect ratio must be 9:16 (1080×1920 px).
Length: It must be 60 seconds or less.
Content: It can be a continuous video or several 15-second videos combined.
Audio: It must use music from the YouTube catalog.
If you want to make a youtube short, you need to keep these requirements in mind. By following these guidelines, you can create engaging and successful content that will reach a large audience and enjoy all the benefits of making a youtube short.
What are the benefits of creating YouTube shorts ?
Making YouTube shorts is very interesting because :
You can quickly and easily create engaging content.
You can reach a larger audience with your content.
You can get more views and subscribers.
You can make money from ads.
You are convinced that youtube shorts have a lot to offer you? You want to get started? Then let's see how to do it.
How to create a YouTube short ?
Making a youtube short is easy and only requires a few simple steps :
Connect to your youtube account using your app.
Tap "create".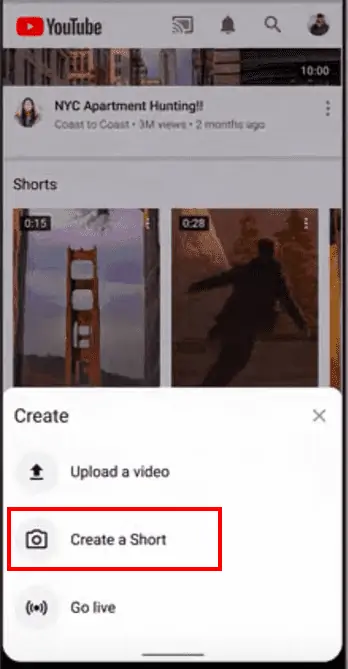 Choose your video type.
Select the songs you want to use from the YouTube catalog.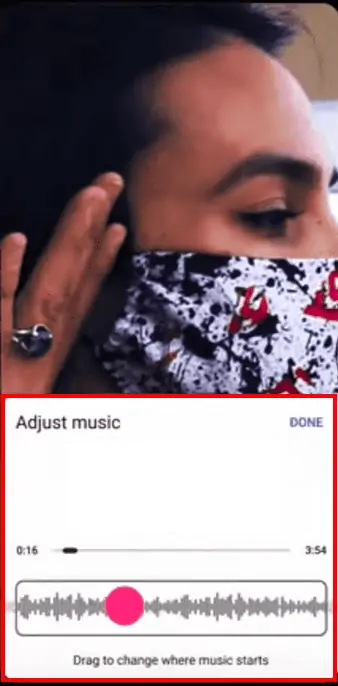 Record your video. (to record a video that lasts more than 15 sec you have to press the 15-second button located above the record button).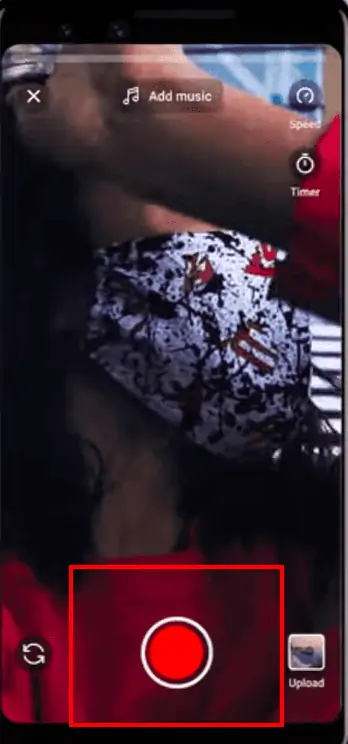 Tap "next".
Add a title and description to your video.
Select a thumbnail for your video.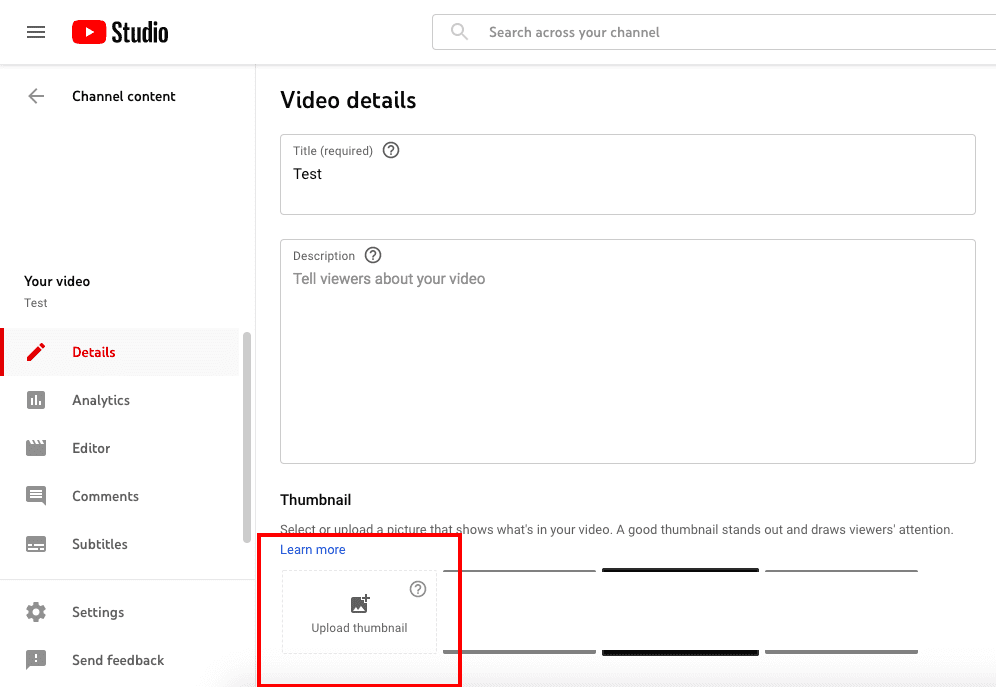 Choose whether or not to add tags to your video.
Tap "publish" to post it on your channel.
You're done ! You have successfully created a youtube short.
Looking for inspiration for your videos? Then get inspired by what works!
How can I make my YouTube Short successful?
There is no guaranteed formula for success on YouTube, but there are a few things you can do to increase your chances of success.
Find your niche. Choose a niche that you are passionate about and that has a good following. This will help you to create content that is genuine and engaging.
Make sure your video is high-quality and engaging. If your video is low-quality or boring, people will not watch it. Try to make something catchy and don't forget to add some music!
Use keywords and tags to help people find your video. Choose keywords that are relevant to your video and that people are likely to search for.
Create an eye-catching thumbnail. This is the first thing people will see, so make sure it grabs their attention.
Promote your video on social media and other websites. The more people who see your video, the more likely it is to be successful.
Engage with your audience by responding to comments and messages. This will help to build a community around your channel.
Be consistent with your posting schedule. The more frequently you post, the more likely you are to get noticed.
Finally, don't give up! Making a successful YouTube video takes time, effort, and perseverance. If you keep at it, you will eventually find success.
No inspiration? Want to know what types of videos work on YouTube Shorts? Then the following should help.
Which type of Shorts are most viewed on YouTube?
Finding ideas for regular content is not always easy for a video creator. Rest assured, Debugbar has done the research for you and unearthed the most successful types of videos, with examples to prove it!
Cooking and recipes: Share quick and easy recipes or cooking tips. For example, a short video on a quick breakfast recipe or a kitchen hack.
DIY and crafts: Highlight brief DIY activities or craft tutorials. A video demonstrating how to make a handmade greeting card or a speedy home decor DIY project can capture attention.
Fitness and wellness: Offer brief fitness advice or home exercises that don't require equipment. A 5-minute full-body workout or mental wellness tips can be very beneficial.
Funny videos: People really like to laugh. If you post a good funny video you have all the chances to become viral.
Beauty and fashion: Videos on beauty tips, makeup tutorials, and fashion inspiration are highly sought after on the platform. A one-minute makeup tutorial or fashion tips can attract a lot of viewers.
Travel and adventure: Captivate your audience with short travel vlogs or snippets of your adventures. A 60-second video showcasing the highlights of a recent trip can be very engaging.
Music and entertainment: Capture attention with a brief cover of a popular song or a humorous skit.
Technology and gadgets: Attract tech enthusiasts with a brief review of a newly launched gadget or a technology hack.
Education and information: Educate your audience by sharing videos that debunk myths, provide fun facts, or offer educational content. A video debunking a common misconception or a brief history lesson can be very informative.
Reviews and recommendations: Product or establishment reviews are quite popular on YouTube Shorts. Consider sharing a brief review of a book you recently read or a restaurant you visited.
Tutorials and guides: Share tutorials, step-by-step guides, and how-to content. For instance, a quick tutorial on how to tie a tie or a step-by-step guide on how to plant a tree.
To sum up, the most popular type of shorts on YouTube are those that are :
funny,
entertaining,
or informative.
People love to watch videos that make them laugh, learn something new, or just take a break from the everyday grind. If you make a youtube short that fits into one of these categories, you will have more chances to find success on YouTube Shorts.
Some statistics about YouTube shorts
YouTube shorts had more than 1 billion views in the first week after launch.
In India, YouTube shorts are watched for an average of 40 minutes per day.
The most popular YouTube short is "How to make slime" which has been viewed over 100 million times.
Youtube channel "Wired" has over 2.4 million subscribers and 431 million views.
If you want to make a successful YouTube short, keep these statistics in mind. By creating high-quality content that people want to watch, your videos will have more success on YouTube.
YouTube shorts length in a nutshell
As you saw, the length of a YouTube short video must be between 15 and 60 seconds.
This length is ideal for users who want to consume content quickly without having to commit to a longer video.
For creators, this format is perfect for quickly and easily creating engaging content. Keep these guidelines in mind when creating your next youtube short and have fun!