How much does NordVPN cost per month?
As a digital guru, you're all about navigating the web safely and securely, right? That's where NordVPN comes into play.
But how much will this digital shield set you back each month?
Buckle up! We're about to embark on an in-depth tour of NordVPN's pricing model, exploring every nook and cranny to ensure you get the most bang for your buck.
| | |
| --- | --- |
| Key consideration | NordVPN |
| Monthly cost | Starts at $12.99 |
| Yearly cost | Starts at $4.99 |
| Discounts available | Yes, especially for students and during special occasions |
| Main features | Threat protection, dark web monitoring, split tunneling, etc. |
| Benefits | Global coverage, strong encryption, minimal logging, fast streaming, 24/7 support. |
| Disadvantages | More expensive monthly plan compared to competitors, Fewer server connections than other VPNs, Lackluster malware-blocking results, Limited utility of free Meshnet traffic routing. |
| Payment options | Credit or debit card, cryptocurrency, oogle Pay, Amazon Pay, etc. |
How much does NordVPN cost?
Let's cut to the chase: What are the digits that NordVPN is asking for? Below, we've compiled a concise overview of their price tags.
But remember, cost isn't everything! We will be discussing the many features and benefits that come wrapped up in these prices shortly.
| | | | | | | |
| --- | --- | --- | --- | --- | --- | --- |
| Plan | Price per Month | Annual Price (per month) | Two-Year Price (per month) | Cross-platform Password Manager | Data Breach Scanner | 1TB Encrypted Cloud Storage |
| Standard | $12.99 | $4.99 | $3.49 | No | No | No |
| Plus | $13.99 | $5.99 | $4.49 | Yes | Yes | No |
| Complete | $14.99 | $6.99 | $5.49 | Yes | Yes | Yes |
So, now we know prices for the VPN. But it's always better if it's possible to have a discount. So let's see if NorVPN offers any discount.
Are there discounts possible with NordVPN?
Because everyone loves a good bargain, right? NordVPN loves to pamper its users with occasional deals and discounts, particularly for long-term subscriptions. Seasoned digital navigators know that timing is everything!
By syncing your purchase with special times of the year like :
The Fourth of July
Thanksgiving
Black Friday
Cyber Monday
And NordVPN's anniversary in February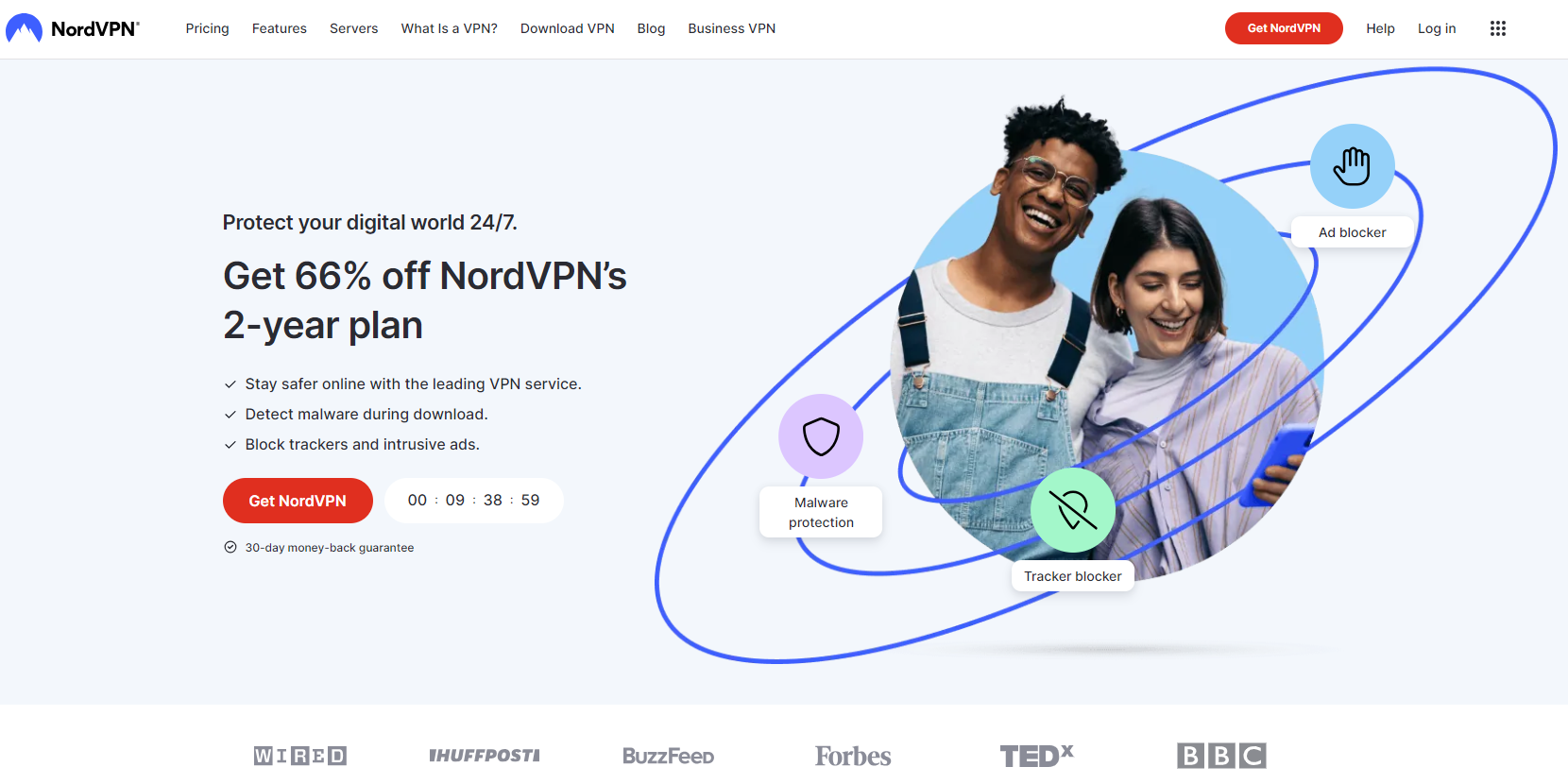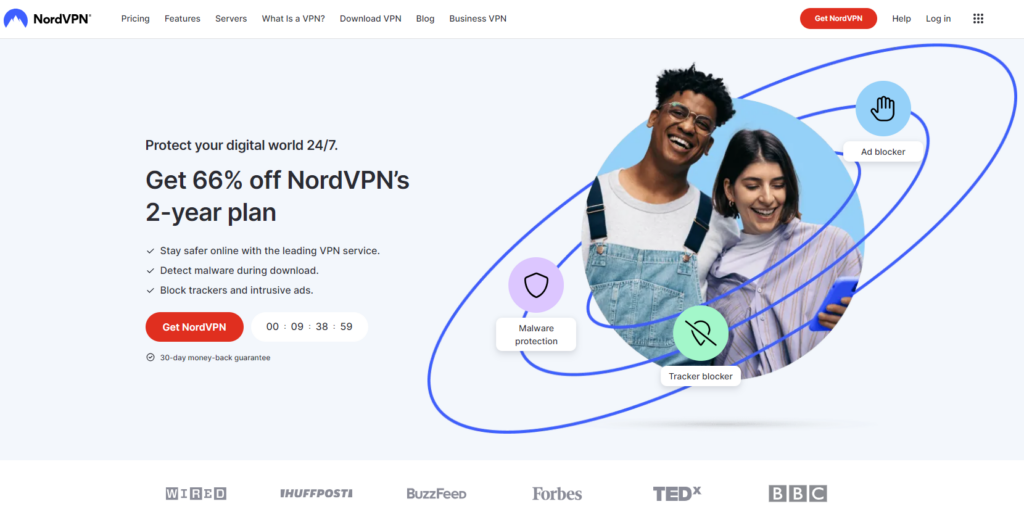 you can lock in a lower price than the standard rates.
If you're a student, a steady 15% discount is all yours on the two-year plan via Student Beans and Youth Discount (or Descuento Estudiante if you're in the E.U. or South America).
However, it's worth noting that this smarty-pants discount cannot be combined with other deals.
Not a student? No worries! Even without discounts, NordVPN is considered one of the best-value VPNs, with pricing that competes well with rival services.
To top it all off, new users are currently being welcomed with a special 63% discount on the monthly price when committing to a fresh two-year subscription. Plus, you get three extra months for free! Be sure to regularly check NordVPN's discounts page for the freshest deals.
What are the main features included in the subscription plan?
Now that we've covered costs and savings let's move to what these subscription plans pack under their hood!
The NordVPN subscription brings along a host of features that add value to the price. Here's what we will be diving into:
Threat Protection
Dark Web Monitoring
Meshnet
Kill Switch
Split Tunneling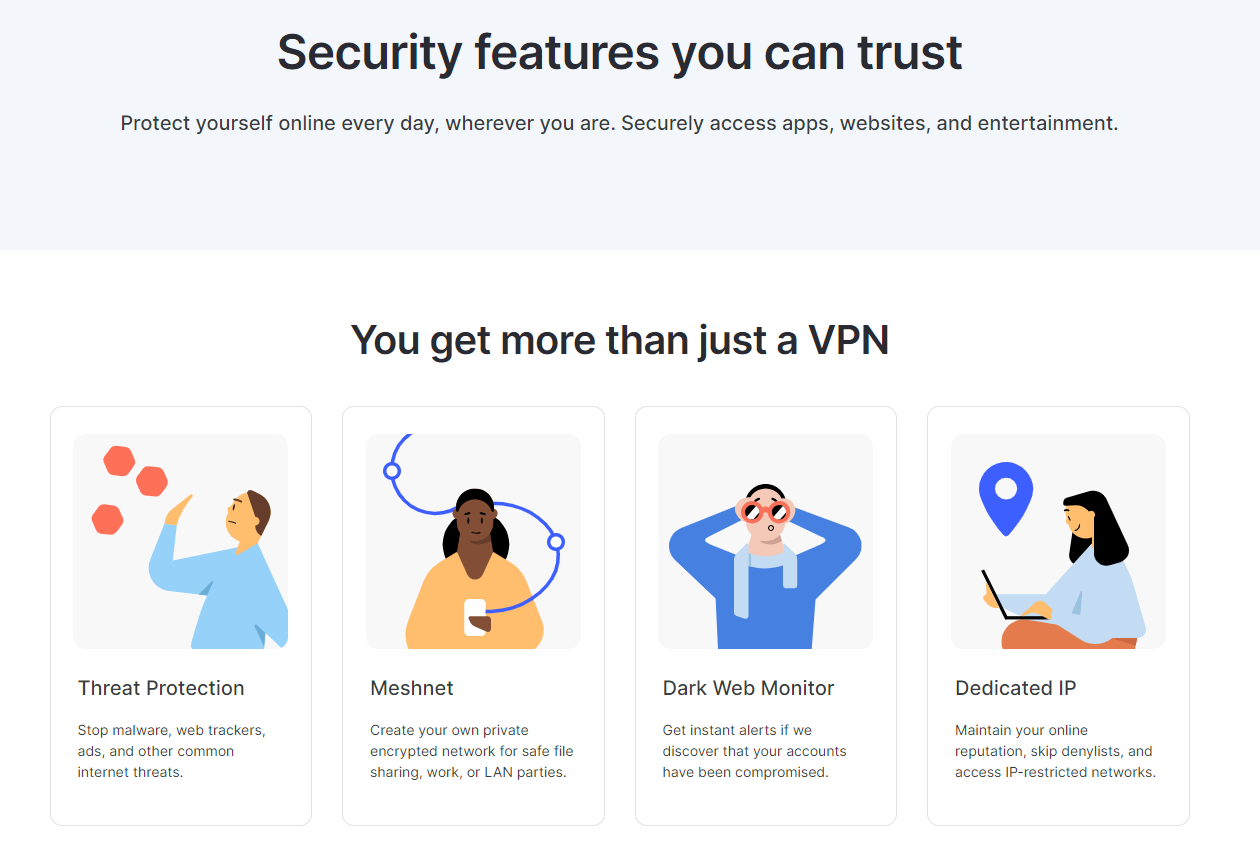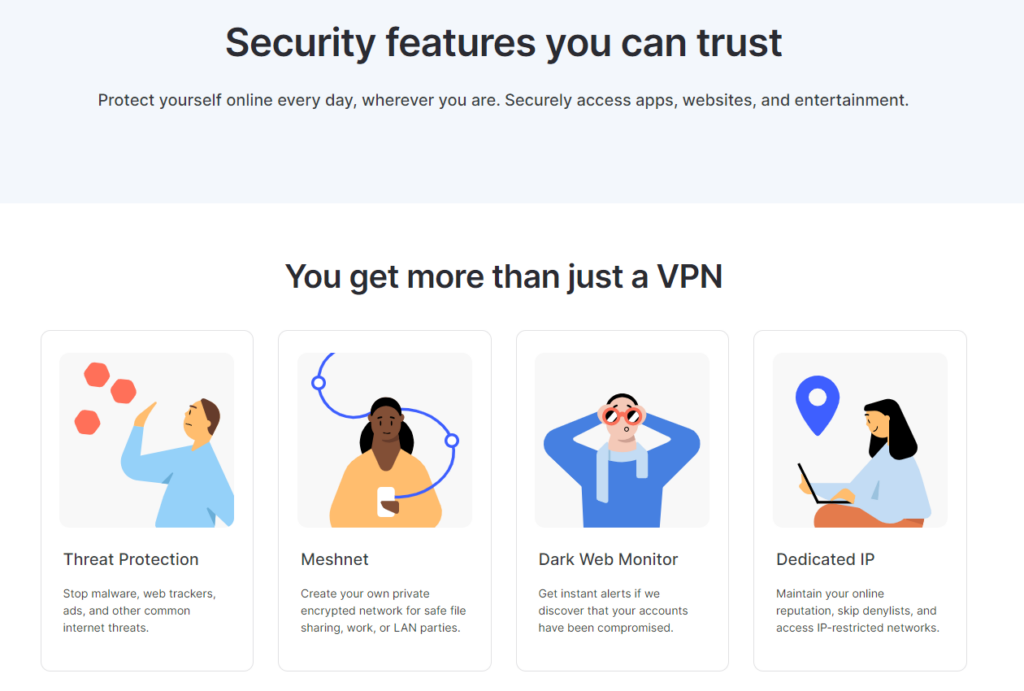 Threat protection
First stop on our feature tour is Threat Protection. This function keeps the dark underbelly of the web at bay by blocking:
Malware
Trackers
And ads while you surf the internet
Think of it as your personal bodyguard, neutralizing threats even before they can say "Hello"!
Dark web monitoring
Next up is Dark Web Monitoring – your very own cyber watchdog. NordVPN will alert you if your information appears in the notorious corners of the dark web, a handy early-warning system for potential data breaches.
Meshnet
The concept of Meshnet might sound like something out of sci-fi, but it's a neat networking trick! It allows you to establish direct connections with other devices via encrypted private tunnels – fantastic for file sharing and online gaming.
Kill switch
Introducing the Kill Switch, or as we like to call it, the "digital emergency brake". In a nutshell, this feature will automatically cut off your device's internet access if your VPN connection drops. Hello, seamless protection!
Split tunneling
With Split Tunneling, you're in the driver's seat! This function allows you to pick and choose which apps and websites need VPN protection and which can go without. A tailor-made security suit just for you!
What are the benefits of NordVPN?
A payment is never just about a money exchange; it's an investment into benefits galore! So what do these NordVPN subscription plans bring you? Let's find out:
Global Coverage
Strong Encryption
Minimal Logging
Ultra-Fast Streaming
Dedicated IP
P2P Sharing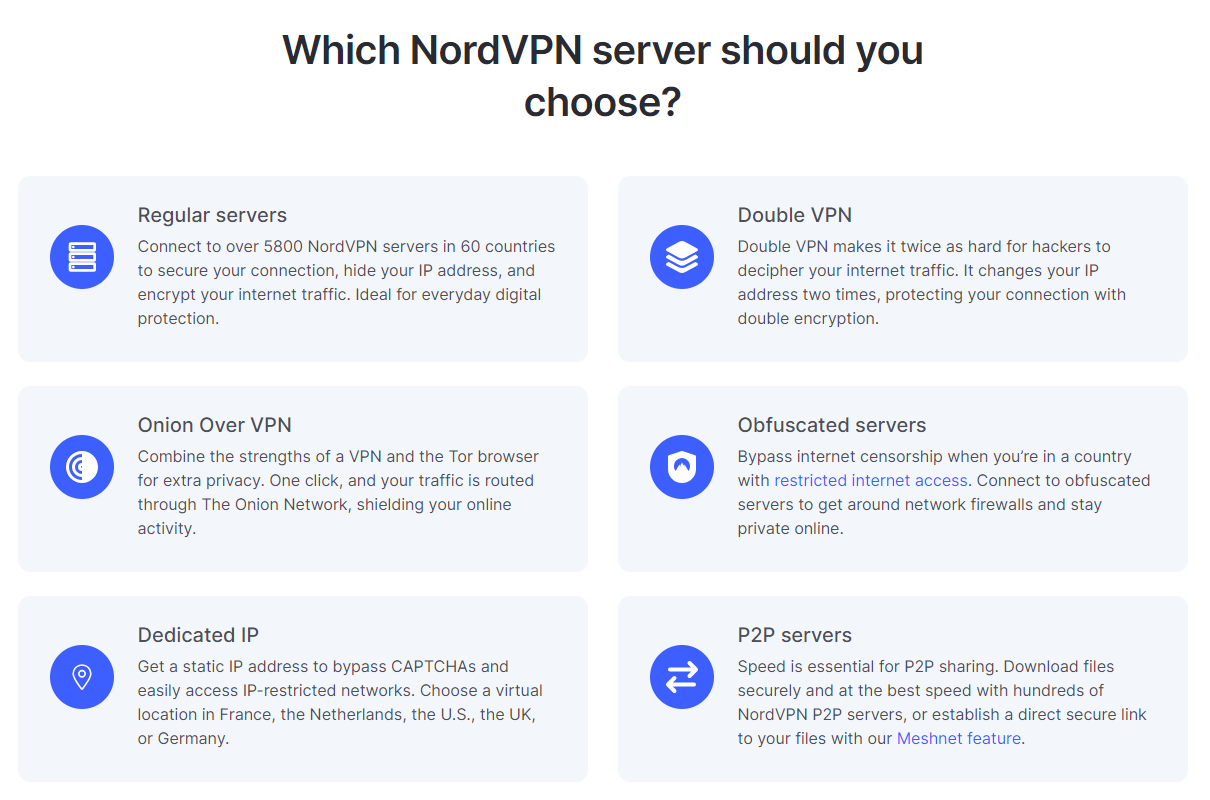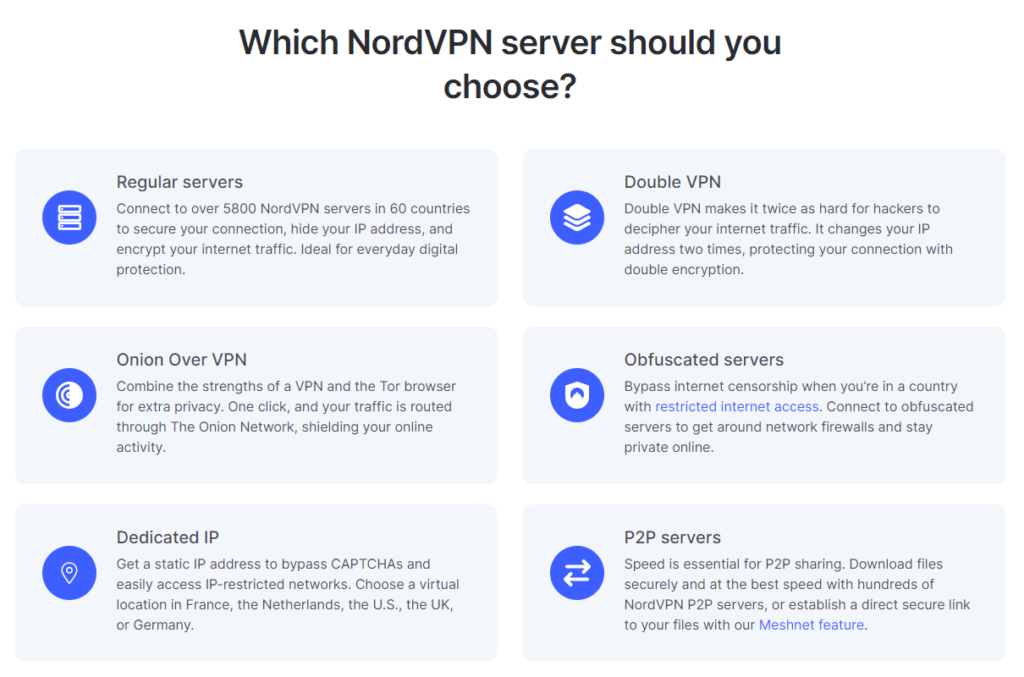 Global coverage
With NordVPN, borders and restrictions bow down to your digital freedom. Offering more than 5500 servers in around 60 countries and over 100 locations, global web coverage is yours for the taking!
Roam the digital world unrestricted, secure in the knowledge that your browsing is getting a VIP pass, wherever you are.
Strong encryption
NordVPN employs AES-256 encryption, a cybersecurity gold standard used by the US government to protect top-secret messages.
In essence, it's like sending your data through an online Fort Knox!
Minimal logging
Privacy-conscious folks are going to love this one: NordVPN sticks to a minimalist logging policy.
That means no collection of IP addresses, server details, visited websites, or downloaded files. It's as though your online footsteps are swept away the moment you make them!
Ultra-fast streaming
For the entertainment enthusiasts among us (so, everyone?), NordVPN is your ticket to a throttle-free, bandwidth-unlimited online streaming experience. Whether it's movies, sports, or live concerts – buffering is not invited to this party!
Dedicated IP
Last but certainly not least, let's talk about the Dedicated IP feature. NordVPN gives you your very own IP address — no sharing with other users. This is especially handy for smooth online payments and saying goodbye to those pesky CAPTCHAs.
Are there any downsides to using NordVPN?
Because keeping it real is our game! A well-rounded decision needs to weigh both the pros and cons.
So let's take a look under the bonnet at what could be potential drawbacks of using NordVPN.
Here are the potential challenges that you might face with a NordVPN subscription:
Pricey Monthly Plan
Fewer Server Connections
Higher Cost for Dedicated IP
Lackluster Malware-Blocking
Limited Utility of Free Meshnet Traffic Routing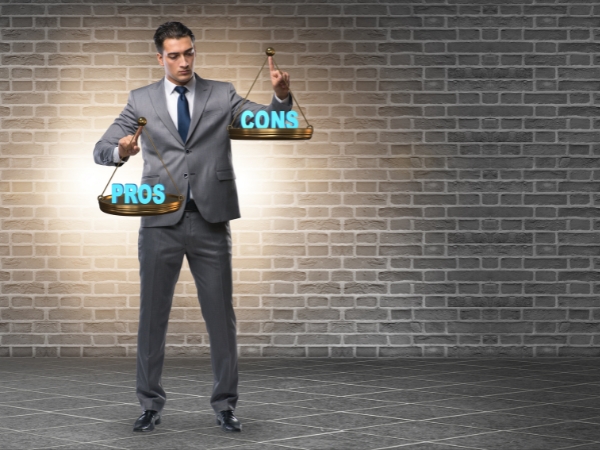 Pricey monthly plan
While NordVPN's feature-packed offerings make it an attractive choice, it's worth noting that their monthly plan is a tad pricier than some top competitors, including big names like ExpressVPN.
Fewer server connections
Fewer server connections might appear like a limitation as compared to other VPNs in the market. Particularly if you're a globetrotter or require a broader choice of server locations.
Higher cost for dedicated IP
Want a dedicated IP? Then be prepared to shell out a few extra bucks. As compared to some other VPNs, NordVPN will charge you more for this feature.
Lackluster malware-blocking
When it comes to malware-blocking, the jury is still out. Some users have reported less-than-stellar results with NordVPN's CyberSec feature falling short of completely blocking all malware threats.
Limited utility of free Meshnet traffic routing
Although Meshnet traffic routing is an innovative concept, its utility might be limited depending on your needs and use scenario. Do weigh in the relevance of this feature during your decision-making process.
| | |
| --- | --- |
| Advantages | Disadvantages |
| Global coverage with +5500 servers in 60 countries | More expensive monthly plan compared to competitors |
| AES-256 encryption for robust security | Fewer server connections than competitors |
| Minimal logging policy for enhanced privacy | Higher cost for dedicated IP |
| Ultra-fast, unrestricted streaming experience | Lackluster malware-blocking results |
| Dedicated IP for smooth online payments and less CAPTCHAs | Limited utility of free Meshnet traffic routing |
| 24/7 Support | |
NordVPN vs. others VPN: is it expensive?
Enough about NordVPN in isolation! Let's compare it with the competition so you can gauge if you're really getting a good deal!
| | | | | | | | |
| --- | --- | --- | --- | --- | --- | --- | --- |
| VPN Provider | Annual Plan | Monthly Plan | No. of Servers | The Countries Covered | Dedicated IP Server | Money-Back Guarantee | Additional Features |
| NordVPN | $59.88 | $12.99 | 5,442 | 60 | Yes ($70 extra per year) | 30 days | Antivirus and malware protection |
| CyberGhost VPN | N/A (only six-month plan at $41.94) | $12.99 | 6,800 | 88 | Yes ($51 extra per year) | 14 days | N/A |
| Private Internet Access (PIA) | $39.95 per year | $11.95 per month | 24,926 | 84 | Yes ($60 extra per year) | 30 days | N/A |
| IPVanish | $53.99 per year | $11.99 per month | 2,000 | 75 | No | 30 days | N/A |
| ExpressVPN | $99,95 | $12,95 | 3,000 | 94 | No | 30 days | N/A |
NordVPN vs. CyberGhost: The clash of the VPN titans
When NordVPN crosses paths with CyberGhost VPN, an intriguing showdown unfolds!
CyberGhost takes a leaner approach towards pricing and outmaneuvers NordVPN in terms of server count and locations covered.
It also offers a more affordable dedicated IP option.
However, NordVPN stakes its claim with unique additional features like antivirus and malware protection, which CyberGhost offers as add-ons.
NordVPN vs. IPVanish: A duel of features and flexibility
IPVanish matches up closely with NordVPN in terms of pricing under current promotional offerings.
What sets IPVanish apart is its unrestricted device connectivity, offering no limits compared to NordVPN's six devices (although it's possible to circumvent this by installing NordVPN on your router).
If a dedicated IP server is your priority, you might need to shift your gaze towards other VPN services, since IPVanish does not offer this feature. Now that we've compared prices, let's switch gears and talk about payment options!
NordVPN vs. Private Internet Access (PIA): A battle of affordable security
Private Internet Access (PIA) emerges as a strong contender with a notably cheaper annual plan when pitted against NordVPN.
When it comes to server count, PIA VPN steals the spotlight, offering more servers than any of its competitors. However, unlike NordVPN, PIA doesn't conduct independent audits, which is a crucial consideration for security-savvy users.
What payment options does NordVPN accept?
As a consumer, you want flexibility in your payment options and NordVPN understands that. That's why they roll out a wide variety of payment gateways to cater to their users:
Credit or debit card (VISA, MasterCard, Amex, Discover)
Cryptocurrency (Bitcoin)
Google Pay and AmazonPay
iTunes or Google Play (for mobile users)
UnionPay
Cash at select retail stores
Prepaid cards registered to a name and address
Interestingly enough, NordVPN does not have PayPal listed as a direct payment method. However, those who favor PayPal can still make use of it! How? Thanks to Paddle software which facilitates PayPal payments, available in a limited number of European countries.
If you are not satisfied by NordVPN, we made you a step-by-step tutorial to cancel your NordVPN subscription.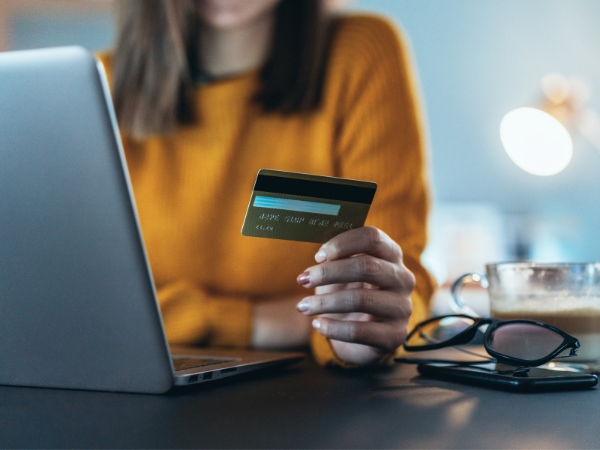 NordVPN cost per month: what to remember?
So here we are at the end of this comprehensive NordVPN pricing guide! But before we wrap up, let's summarize the key takeaways to keep in mind when deciding on your VPN purchase.
NordVPN's monthly pricing starts at $12.99, with discounts on longer-term plans.
Look out for discounts and deals, especially for students and during special occasions.
The NordVPN package includes a host of features such as threat protection, Dark Web monitoring, and Split Tunneling.
Despite its higher cost for the monthly plan, NordVPN offers robust global coverage, strong encryption, minimal logging, and fast streaming.
It's always a good idea to compare NordVPN's offerings with those of other market leaders to make an informed decision.
A variety of payment options are available, offering flexibility to the user.
The final word? Armed with these insights, you're ready to make an informed decision about investing in a VPN service. Remember, it's not just about cost; it's about the value that comes along with your investment!
Your questions > Our answers
Is NordVPN worth the money?

Absolutely! Nord VPN offers top-notch features like robust security, a multitude of servers, and a strict no-logs policy. While its monthly plan is on the pricier side, remember you're investing in value!

Do NordVPN offer any discounts?

You bet! There are frequent discounts available, especially during holidays and for students. So be sure to keep an eye on their deals page.

Does NordVPN offer a free trial?

Strictly speaking, they do not offer a free trial but they offer a 30 days money back guarantee.

Can I use NordVPN on multiple devices?

Yes, indeed! One NordVPN account can secure up to six devices at the same time. Your digital protection just went multi-device!

Furthermore, there's an app you can use on Apple and Android to browsing safely wherever you are.

How can I pay for my Nord VPN subscription?

NordVPN supports a wide array of payment methods including credit or debit cards, cryptocurrency, and Google Pay among others.

What makes NordVPN stand out from other VPNs?

Apart from providing top-tier security and privacy features, NordVPN stands out with its distinctive features like Dark Web Monitoring and Dedicated IP options. Plus, it's backed by independent audits that give an extra layer of credibility.
In conclusion, if you're looking for a feature-rich VPN service that offers great value for your investment, NordVPN ought to be on your shortlist!