Google Business Profile Posts (shortened to Google Posts)
Today, the majority of companies' marketing strategies are developed on digital channels. To build a brand image and attract more customers, establishments use several referencing tools among which Google my business (GMB) now called Google Business Profile (GBP).
This Google tool helps a business to improve its online visibility. To this effect, GBP has several features including Google posts. This option allows an establishment to keep its customers informed of its news. Find out more about what it is all about.
What is Google My Business?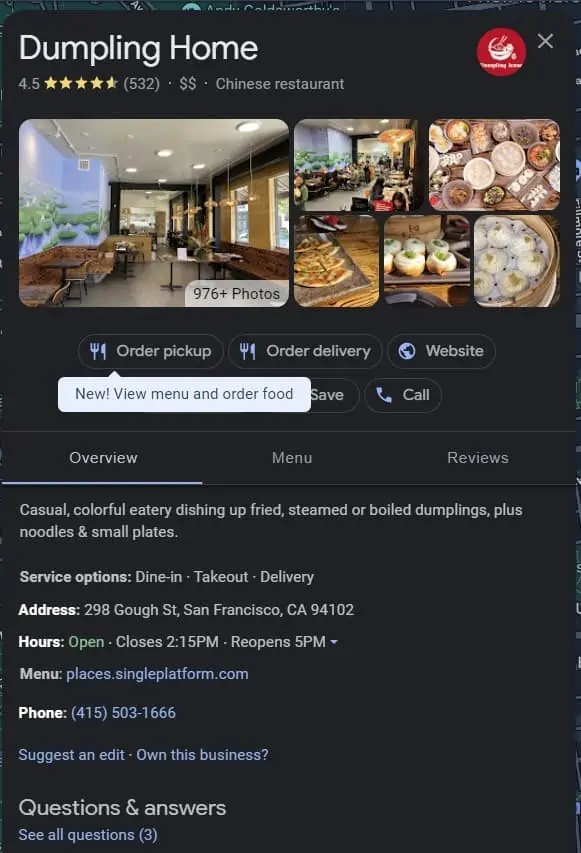 Google My Business was created in 2014 by the American internet search giant. The main objective of this referencing tool is to provide Internet users with information on companies offering products and services.
Indeed, Google My Business, thanks to a form informing customers or consumers on various points about a company. It is among others :
the activities of the company;
The geographical location of the establishment;
Its contact details, etc.
Thanks to this GMB (GBP) file, the Internet user can also interact with the establishment through photo publications, customer reviews, etc.
Google My Business is not aimed at any particular type of business. Any establishment, regardless of its size, can use it. Moreover, the use of GBP remains totally free and unlimited.
What is a Google Business Profile post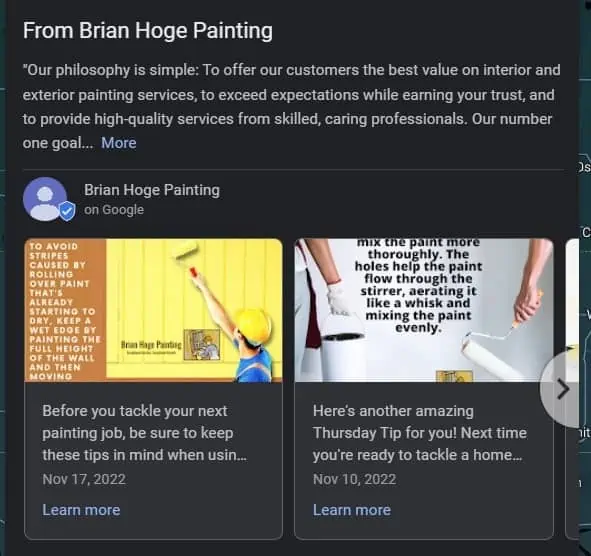 Originally, Google Posts were called Candidate Posts. This was because they were a way for political candidates to post. These posts could easily be consulted as soon as they were relevant enough to answer the query of Internet users.
Since 2016 when this GBP feature was launched, it has not stopped proving its effectiveness. Therefore, this publishing feature was not long in joining Google's enterprise SEO mechanisms.
A Google post is a Google news item published by a geolocated business. Google posts allow a business to share information about its activities on Google. By doing so, its customers or future customers can be informed about its promotions, events, etc.
Google posts have the same objective as Google Business Profile. That is to allow companies to get more visibility, and therefore more customers.
This feature is still little known. However, its results speak for themselves. Between a company that regularly publishes and an establishment that does not post, the difference is obvious.
A company's posts on Google appear at the bottom of the Google Business Profile listing . Posts also appear on Google Maps at the bottom of the Description section.
Unlike Google My Business, not everyone can access the Google post. In fact, some business sectors cannot post on Google.
Sectors such as pharmacies, hotels, plastic surgery and CBD stores are prohibited from Google Posts. Note that on the other hand, the use of Google post is totally free.
The different formats of Google Posts
There are several post types on GBP.
News
This kind of publication is used by an establishment to inform its customers of its news. It can be news about the company's stores or news about the establishment in general.
For example, if a restaurant has a new menu, it can share it in this type of post. The customers of the establishment and its future customers that are the Internet users will be informed if they search for the company on the Internet.
Events
Event posts are the kind of GBP post that a company can use to promote a particular event within its company. This type of publication is also used to announce a promotion established over a specific period.
This kind of publication can be confused with the previous one. However, there is a nuance between the two. The difference is actually in the date range.
Here, to set up the GBP post, you must define a date range during which the publication will remain visible. As a result, once it expires, the post will no longer be visible on Google.
An offer
This publication is useful when the company has an ongoing promotion. The company can also use this post to publish a spontaneous offer.
The product post
In this kind of publication, you can publish your products. It is also possible to publish your services in this kind of GMB post.
The Covid 19 info post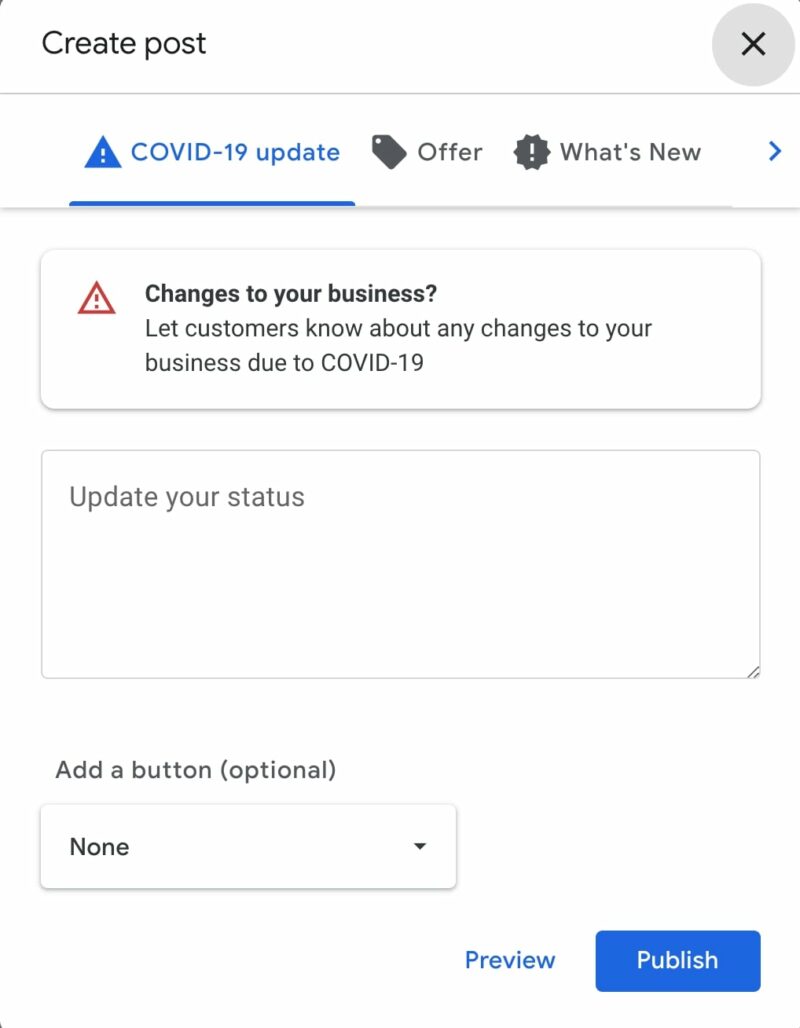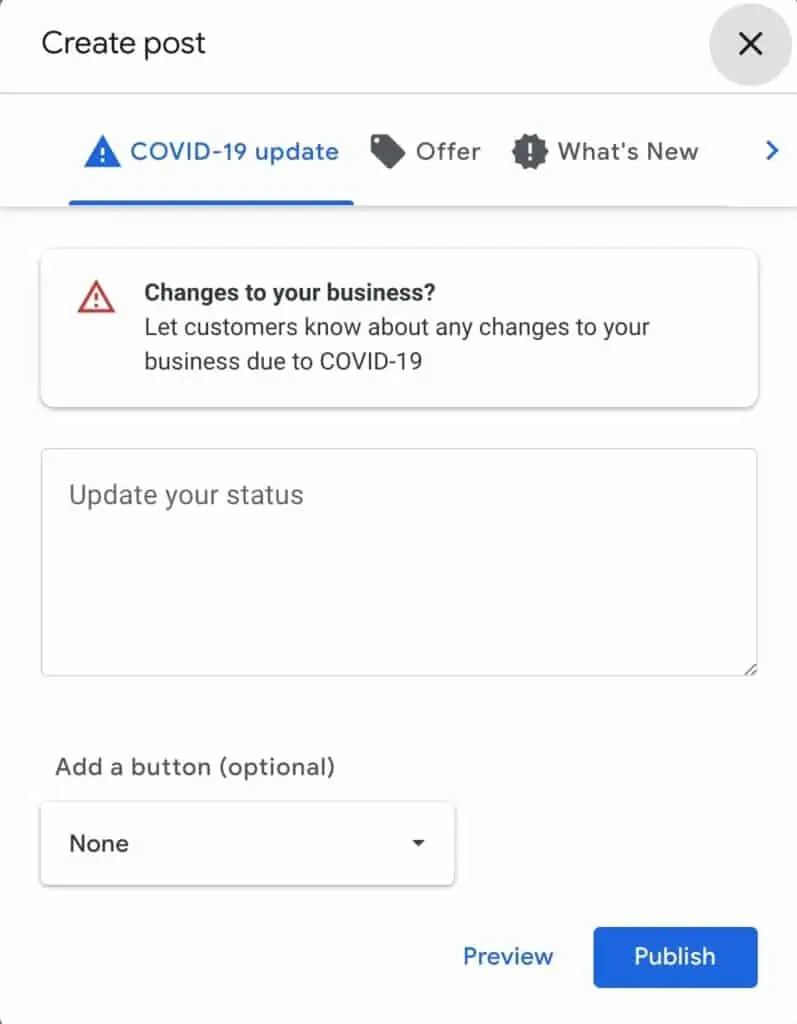 Newly arrived on Google Business Profile (in 2020), this kind of publication allows companies to communicate on their status during the difficult period. Establishments can use it to inform:
On new opening hours;
about their new sanitary measures;
or if they are temporarily closed.
This is the kind of publication that is most promoted on Google. It is identified with the banner "INFO COVID 19". However, with this post, GMB does not allow you to publish a visual such as an image for example.
What is the duration of a Google Business Profile publication?
The GMB post is a so-called news publication. From the moment it is published online, it has a maximum consultation potential. However, it loses this potential over time.
The Google post follows the same principle as a Facebook publication. Posts are only visible in the News Feed for a short time. When new posts are published, they disappear.
A Google Business Profile post lasts a maximum of 7 days and disappears except in promotions with an end date.
What is the interest of making Google Posts?
The main interest of using Google posts is to give your establishment's GMB page a certain visibility. It is therefore a strategy to improve the referencing of your Google My Business page.
With frequent publications, you can get better results in terms of your local referencing. That's why experts recommend making posts at least once a week.
In some fields of activity, making several posts per week is ideal. It is important to note that making posts on GMB is a way to advertise your business without spending any money.
A Google post brings your GMB listing to the forefront. It becomes visible in the Google search results. This way, there is a better chance that people will find your business when they search on Google.
Moreover, if they want to find out about businesses located in the vicinity of their geographical position, your business would appear in the suggestions made to them. This is a testament to the fact that you are dynamic and active in your locality.
With GMB publications, you get your customers to maintain constant contact with your establishment. It should be noted that customers or potential customers generally tend to click on a GMB listing with Google posts.
Indeed, it allows them to easily follow your activities on the one hand. On the other hand, they can quickly interact with your establishment by booking or ordering from your ads. However, SEO does not stop there.
The action of optimizing your GMB listing is only a small part of it. But it is still enough to bring visibility to your Google my business listing. Keep in mind that results vary from one industry to another.
Moreover, like any good online marketing tool, Google my business allows you to see the statistics of the posts you make. To check the visibility of a Google post, just click on it.
The number of views achieved will be displayed. You'll also see the number of clicks that users have made on the call to action button that accompanies it.
These statistics may seem limited. Nevertheless, a daily analysis of them can help to improve for a start. Moreover, making a post does not require a great effort.
Some tips to make your Google posts more attractive
For your posts to be validated, it is imperative that they respect certain rules. You should not publish false ads or publications unrelated to the activity of your establishment.
You must also avoid publishing adult or hateful content. Apart from these basic rules, there are some tricks that can make your publications attractive and allow you to get more customers.
Avoid overly commercial slogans
Overly aggressive commercial language (fast! get over 60% off!!! for example) is not allowed by Google. Posts are not meant to spam users with all kinds of ads.
Any post that violates this provision may be removed. Instead of aggressive advertising, let your customers know what's new at your establishment.
Each post should contain as much information as possible
For each post, you have various fields to fill in. Make the effort to fill them all in. This will help you position your posts better. Post a good quality and well targeted image.
Thanks to this, you'll stand out from all the competing companies. Then make a complete and relevant description of the article or event to be published.
Google may not specify it, but it is likely that the texts are analyzed to determine their relevance to the queries of Internet users.
Be timely and personal
With Google posts, businesses are encouraged to communicate through time-limited ads. They can communicate information such as seasonal promotions, temporary offers or upcoming events.
However, a business can delete posts that are no longer useful to them. They can also edit them if they no longer feel they are relevant to their marketing goals.
Share customer reviews in Google Posts
Google my business automatically suggests to its users to share their positive reviews in Google posts. In other words, these customer testimonials can be used as content for the regular publication of new posts on GMB.
So, check once in a week at least, the reviews left by customers. Make an effort to respond to those that need it. Then select the best reviews and publish them as Posts on Google my business.
Have a local SEO plan and optimize it
It may be that the ranking of each Google Posts is in direct correlation with the local SEO of its author. In fact, to guarantee a better visibility for its publications, it is essential to optimize its local referencing.
To do this, you must acquire links pointing to your Google my business page. You must also ensure that you produce high quality content (text, images, etc.). You must also make sure to get frequent positive customer reviews on your products and services.
Choose the right type of post and add a Call To Action (CTA)
Several categories of posts are available to publish on Google my business. Among all these types, you should choose the one that best promotes your company's news.
Making a wrong choice can mislead the Internet user or create confusion. As a result, they may not find your publication interesting anymore. This will undoubtedly impact your marketing results.
After choosing the type of post, you need to find a relevant title and a catchy content.
Don't forget to add a call to action button. This one must be appropriate to what you are advertising. It is this button that will incite Internet users to take action after reading your publication.
Use Google posts as a recurring communication tool
To give more impact to your ads, it is recommended to use the power of Google posts at each temporary event. By doing so, your publications will create news and will lead to a real emulation around your establishment. Thanks to this, your target group is regularly informed about your offers, your new products or special occasions.